Godzilla Costume Ideas
Feel like throwing down as Godzilla? We can't blame you one bit. What could possibly be better than transforming into a kaiju and going on a rampage? Godzilla's been on the map since 1954, and in that time, he's pretty much done it all. He's been the bad guy, the anti-hero, and he's faced off against basically everyone in the giant monster universe. Fellow kaiju, mechas, extraterrestrial threats—you name it, he's taken 'em on. We never said Godzilla doesn't have his work cut out for him! But you already know the history and that's why you're here. You're checking out a Godzilla costume because you're ready to be large and in charge. And we're ready to help you! We have a Godzilla costume for adults , for kids, and plenty of accessories so that any fan can imagine what it'd be like to battle in the countryside of Japan or wage war in the streets of Tokyo. Grab yourself an authentic Godzilla costume and you too will be ready for the action. You do have what it takes to suit up as the big guy, right? If you're confident you or your kiddo would make a real great Godzilla but you're not quite sure where to begin, we're glad to lend you a hand to help you make the right costume selection. That's what we're here for after all, it's the HalloweenCostumes.com way! Check out some of these Godzilla costume ideas to see if any of our costume selections seem like the right choice for you. With a variety of looks and styles, we're sure to have just the option to let you go G-G-G-GODZILLA!
Godzilla Inflatable Costume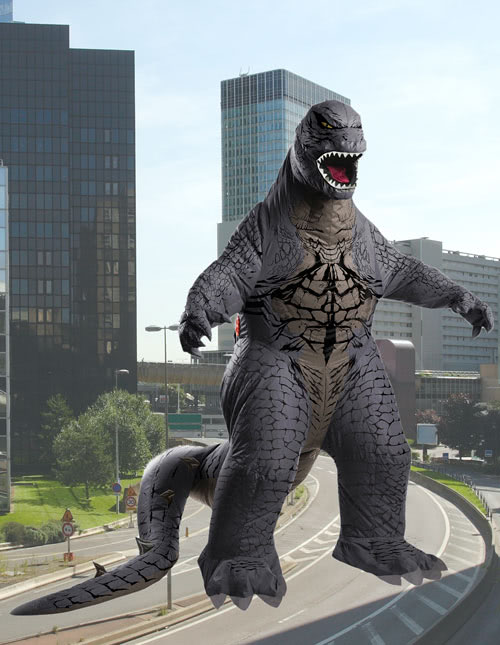 We can't transform you into a 164-foot beast, but we can do just a little something to help you bulk up. After all, if you're going to be brawling with super-sized opponents, you're going to need some extra girth! Just use this inflatable Godzilla costume to create the appearance of a supersized kaiju who's ready to throw down! It's the picture perfect adult Godzilla costume, but we also have a smaller version for children, too. And of all the Godzilla costumes for kids, we think this one is the coolest! Any little guy or gal will love having fun with the gigantic air-blown suit. (But we grown-ups can still have plenty of fun, too!) The polyester suit stays inflated with a battery-operated fan, and the battery pack slips into your pocket for easy wear and convenience. Just grab a few extra batteries, and you will be ready to hit the town. Let's just hope the "buildings smashed" count stays relatively low in your city!
Godzilla Costume for Kids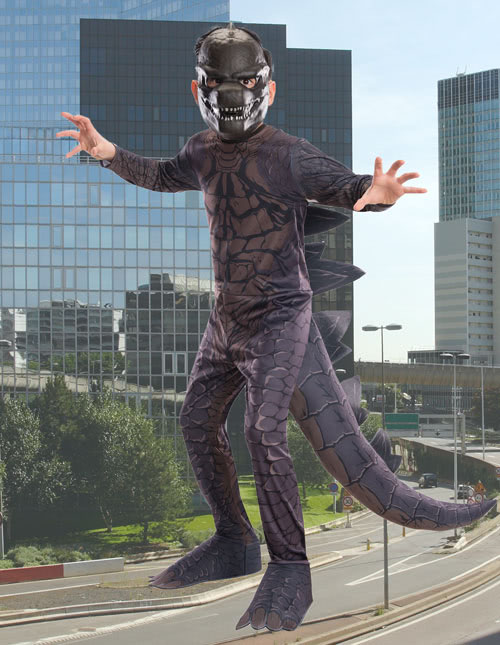 Maybe you prefer something a little simpler for your child? After all, it's not just the size of the monster that matters, sometimes all you really need is the fearsome face! You can outfit your child with this boy's Godzilla costume and they'll be ready to terrorize the town. A simple polyester jumpsuit has detailed printing of Mr. Zilla's scales, and naturally, the signature fearsome spikes are attached to the back. This costume includes a tail that can be attached with safety pins for extra optional fun. Just stuff it with newspaper or fiberfill stuffing and your boy or girl will have the added extra effect of a super-sized tail! Of course, the proof is in the pudding, and in this case, the pudding is the Godzilla mask! The simple foam mask perfectly captures the fearsome face of Godzilla, and it covers the front of the face so it's easy to wear and not a hassle to take off when it's time to rest. (We hear Godzilla likes to take lots of naps!) We're sure any boy or girl will love going on a kaiju rampage in this costume, but let's just be sure to build them a few cardboard skyscrapers so they don't destroy all of their favorite toys in the escapade!
Godzilla Mask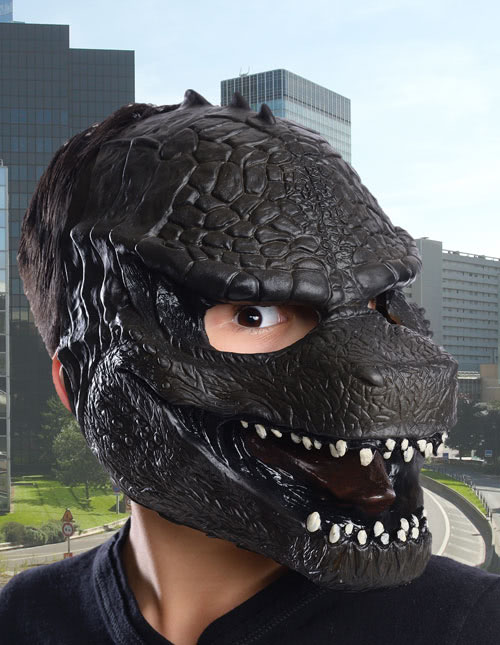 No kids' Godzilla costume is complete without the right face. After all, who's going to believe that your child is a monster with that gentle smile? Transform your kiddo into the fearsome kaiju Godzilla with this children's Godzilla mask. It's made of latex and it's the perfect upgrade from the standard issue mask available in our child Godzilla costume set. With detailed textured latex molding and realistic paint details, we're positive any little one will be able to live out their kaiju dreams just like in the movies. And even if their dreams are just devouring pizza, it won't be a pain since this half mask costume still comes off easily for snack time. After all, we're sure he's going to want to grab his share of the pizza before Rodan sneaks off with all the pepperoni slices!