Cheerleading Halloween Costumes
Put a little pep in your step and get everyone psyched up to wear costumes, collect candy, and take in all the spooktacular sights of Halloween by transforming into a plucky cheerleader. Our cheerleader costumes create the appearance of a well-trained athlete looking to flaunt their spirit fingers as much as possible. These spunky supporters clap, jump, shout and tumble their way to a team victory all while entertaining a fired up crowd.
Years of training and hard work are the typical requirements to become a cheerleader but if you're strapped for time and tossing a pair of pom poms in the air after a touchdown sounds exciting then suit up in our cheerleader Halloween costumes and experience all the fun. These women's cheerleader costumes are authentic so they'll make anyone look like a quintessential cheerleader. They also combine both sporty and feminine details to create the appearance of a well-seasoned cheer squad member. Of course, we want everyone to participate in the excitement so there are cheerleader costumes for all sizes and age groups. Plus, we're not holding any try-outs this year because everyone makes the Halloween Costumes cheering squad. HOO-RAY!
Girls and teens aren't the only ones who want to lead a pep rally. Adults want to be included in the cheer-fun too! Whether the end goal is to relive the good old days of being a teen cheerleader or other priorities kept you from joining the squad and reaching your cheerleader potential, our Halloween cheerleader costumes will (figuratively) turn back time to make teen dreams come true. From popular uniforms to famous pop culture cheer captains, our cheerleading costumes for adults will guarantee you're on top of the pyramid. So shake your pom poms, do a cartwheel, and practice the half-time routine one more time because a costume contest victory is right around the corner.
SNL Cheerleader Costumes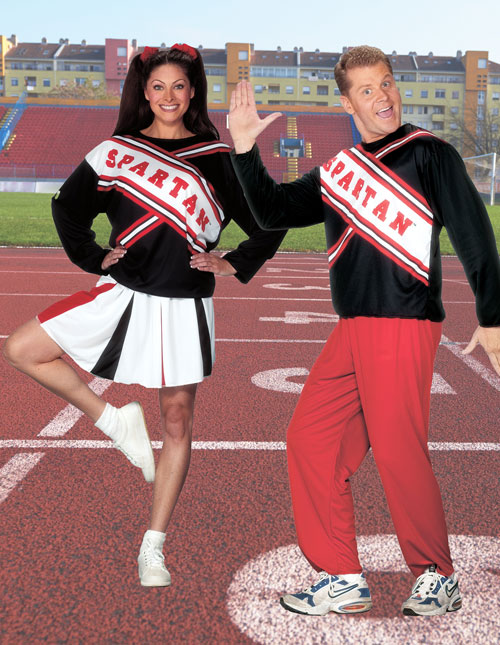 Cha cha booochie, cha cha cha boochie, roll call! It's time to get pumped up because you and your cheer partner don't have to sneak into the school gym after school hours for Spartan cheer practice. It turns out you two already made the squad, just don these iconic SNL Spartan cheerleader costumes and bring boundless energy. Officially licensed to perfectly match the uniforms worn by Craig and Arianna on the late night sketch comedy show, our SNL cheerleader costumes inject a large dose of pep and Spartan school spirit into any event. It's a great option for lively couples who want to get the party started. Both men's and women's Spartan cheerleader costumes feature preppy red, white, and black stripes to accentuate the other. Just rehearse your stomping, clapping, and backhand springs then take to the football field (or costume party) to show off those stunting skills. These coordinating outfits are the perfect cheerleading costumes for adults with fond memories of the hilarious duo, Will Ferell and Cheri Oteri. Please note we also sell these exact costumes in plus sizes.
Dallas Cheerleader Costumes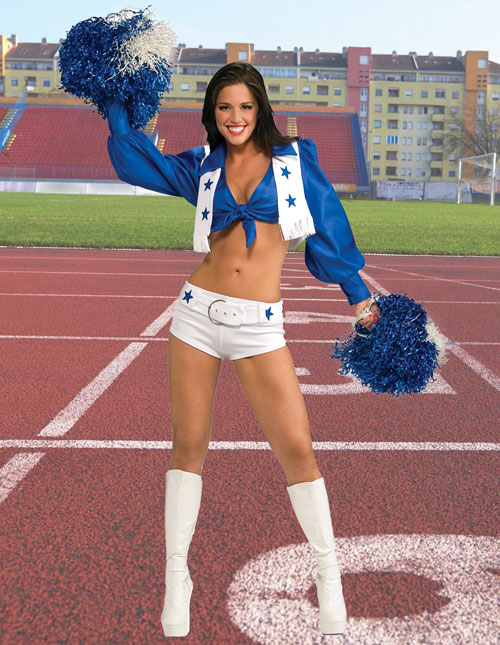 Becoming an esteemed Dallas Cowboys cheerleader is a grueling process. All the training, working out, and endless hours of rehearsal to become one of these celebrated athletes is excruciating, so if your friend squad wants to take the easy route by dressing in Dallas cheerleader costumes then that's understandable. (No time for practice when Halloween's right around the corner!) It's one of our most sexy cheerleader costumes, featuring a crop top and a pair of shorts to expose the midriff and legs, so pick up a pair of nude pantyhose and white go-go boots for extra coverage. To successfully entertain the rambunctious Cowboy fans, add matching pom poms and a megaphone to the ensemble. Everyone in the stands will be on their feet cheering for YOU.
Halloween Costumes Cheerleader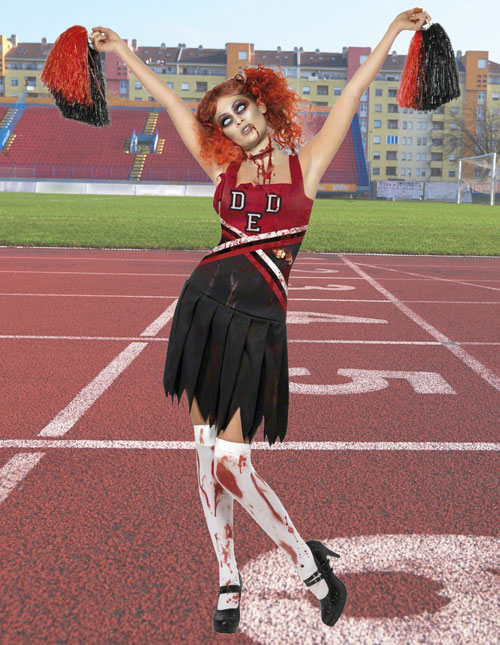 You better rah-rah-RUN because there's a zombie cheerleader on the loose and she's craving a brain or heart to devour or maybe even both! If combining scary with spunky is your costume goal then our selection of scary cheerleader costumes are the perfect solution. This particular Halloween costumes cheerleader portrays a soulless and spiritless zombie cheerleader who couldn't care less about sports. If you intend to scare instead of cheer then outfit yourself in this blood-splattered dress which features a fake exposed rib and the letters "D.E.D" on the front. This costume includes the black and red pom poms so all that's needed to mimic this look is the bloody thigh-high stockings.
Rydell High Cheerleader Costumes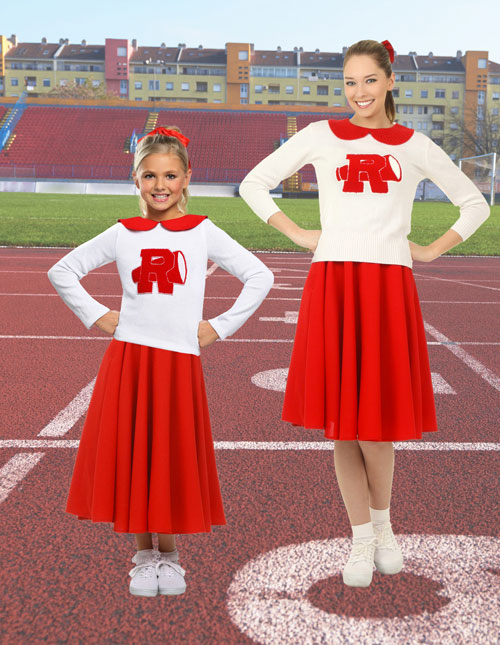 If hanging out with the Pink Ladies and Greasers isn't on your agenda then you consider trying out to be a Rydell High Cheerleader. They won't pierce your ears at a sleepover or sway you to race for pink slips either. Stomp and shout for a Ranger's touchdown wearing any of our Rydell High Cheerleader costumes (we have a plus-size version too) with all of your friends. This is a great group women's cheerleader costume idea. Get all your friends together to form the complete squad. (Form a pyramid if you're feeling brave!) It comes with everything needed (the sweater and skirt) to imitate this exact look. Accentuate the vintage theme by picking up some bobby socks.
Girls Zombie Cheerleader Costumes
It's a good thing we finally found our megaphone because there's a very important announcement that needs to be heard loud and clear by everyone interested in cheerleader costumes: love your look as a cheerleader! Whether it means modelling your costume after a favorite sporting team or personalizing it to match your style, it's imperative to feel comfortable and confident in your cheerleader costume. Since we're a Halloween costumes company, we thought adding a scary touch would be fitting. Our scary cheerleader costumes perfectly mix traditional with terrifying to create a sporty/scary look that's great for Halloween dances and other festivities. In this next section, we'll tell you what accessories are needed to emphasize all of our girls' zombie cheerleader costumes. Gain tons of social media clout (not to mention 'likes') by fashioning your pictures after our own. Don't worry, having school spirit is still possible for members of the undead and these pics prove it!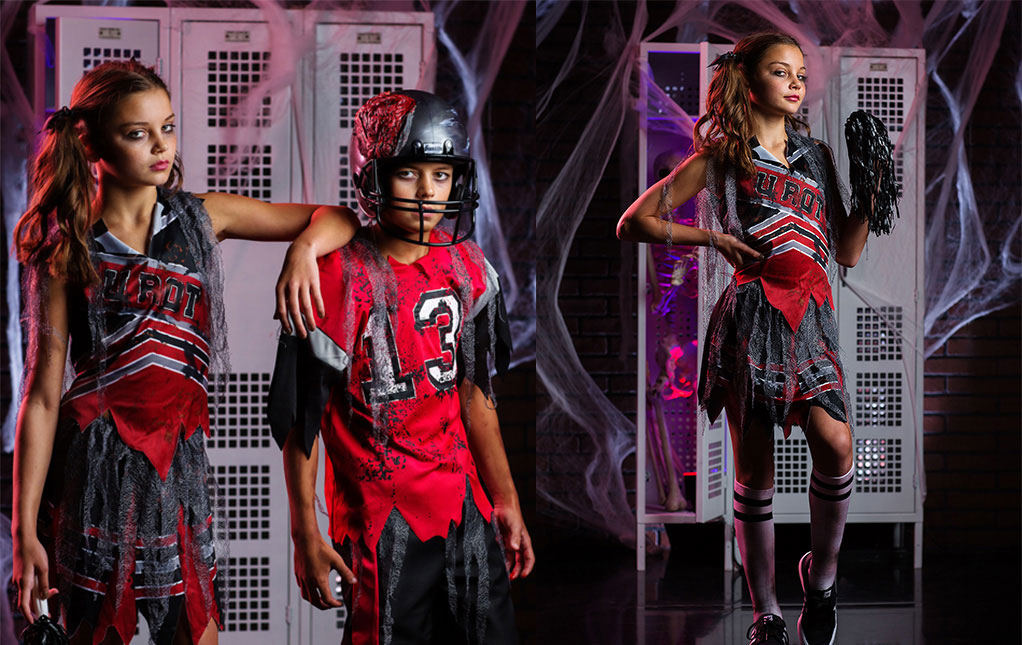 Give us an "F," give us a "U," give us an "N," what's that spell? Fun and you're about to have lots of it. Wearing any of our girls' zombie cheerleader costumes will inspire lots of ghoulish school games between you and your classmates. The zombie cheerleader costume pictured here is crafted to look like a tattered cheer uniform featuring dirty patches, fake cob webs, and a frayed hemline. Surprise a friend in the morning by jumping out from behind a locker so they'll be wide awake for first hour. Turn this into a BFF or couple's costume by outfitting a male friend in the coordinating zombie football player costume then take a cute picture or two. Snap a few selfies while still in the school setting and ask a friend to take a full-length shot while posing up against a locker. Practice an eerie zombie walk by extending your arms and slumping over while shuffling clumsily toward a group of unsuspecting students. Hone your zombie cheerleader costume with fake blood and black eye makeup to turn up the scare-factor a couple notches. Get the exact look pictured here by adding striped athletic socks to your cart and styling hair into two preppy pigtails.
Child Cheerleader Costumes
Get ready for your little girl to squeal in excitement and get all fired up over our cheerleader costumes. Your tiny tumbler isn't old enough to do a back handspring but she plans on it someday soon. Get her in the competitive spirit by outfitting her in our child cheerleader costumes. She can practice her showcase routine before the big game in a uniform to enhance her at-home rehearsal. We also have teenage cheerleader costumes for older girls intended on making their high school dance/cheer team. Most cheerleader costumes for kids have everything needed to achieve the advertised look but of course, there are always extra accessories added to enhance the costume.
Cheerleader Costumes for Girls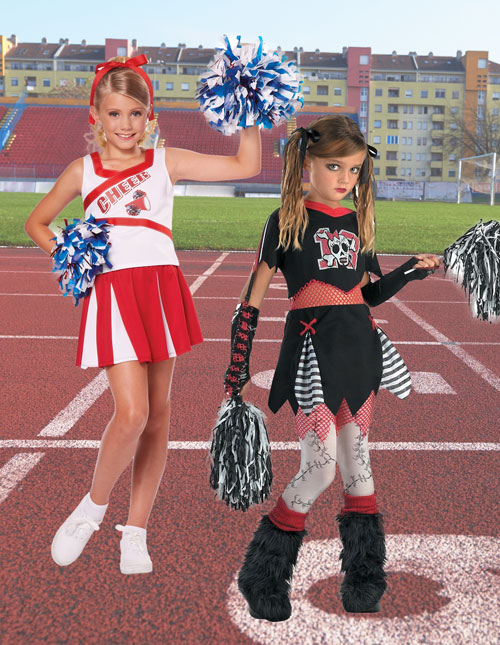 Cheerleaders come in all varieties. Some like to be decked out in glitter and others take the goth approach. The cheerleader costumes for girls pictured here illustrate both styles. Receive a sassy red hair bow and blue and white pom poms by purchasing the traditional high school cheerleader costume. Cheerleaders declaring the color black their favorite will flip over a gothic cheerleader costume. This costume is a black dress featuring a fishnet middle, sleeve garter straps, and striped pleats forming a one of a kind scary cheerleader costume. You'll receive the black and white pom poms but also consider picking up stitched tights and furry boot covers to call attention to every move you stick.
Cheerleader Costume Girl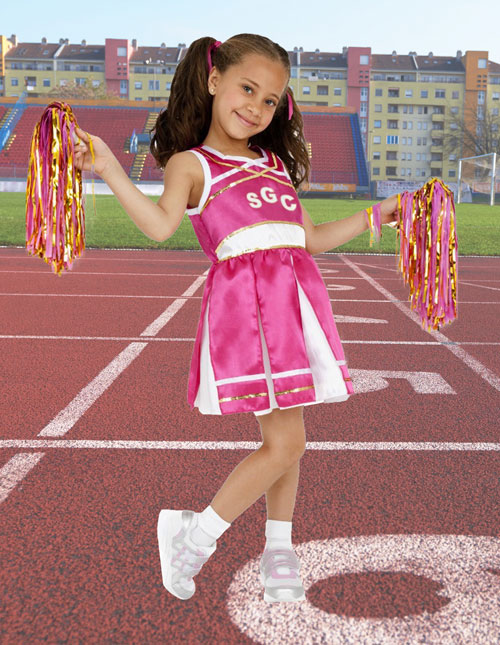 Little girls who've just mastered walking, running, and other basic motor skills are a few years off from joining the ranks of competitive cheerleaders but they can pretend whenever their heart desires. Our toddler cheerleader costumes are girly, spunky, and an overall joy to wear. The sleeveless pink dress features gold ribbon trim, glistening sequins, and printed lettering on the front advertising a fictional school. It transforms young girls who love playing dress-up into a cheerleader costume girl with big dreams of being on the tip-top of the pyramid. This product comes with metallic pom poms with pink and gold strips and comfortable plastic grips. This costume inspires plenty of spontaneous cheer shows starring your tiny cheerleader-in-training for your family.
Cheerleader Costumes for Kids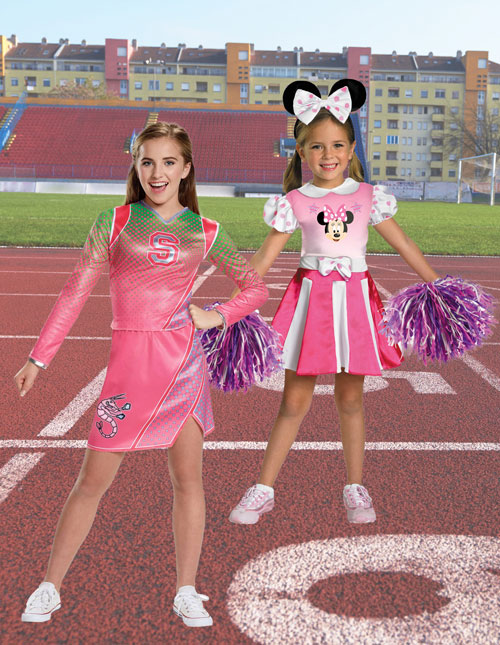 Cheerleader Halloween costumes for kids highlighting a famous animated character (ahem, Minnie Mouse) are popular among the younger crowd for an obvious reason. Incorporating lovable cartoons with bright-colored dresses creates an ultra-girly look the little ones love wearing for Halloween or dress up. This particular Minnie Mouse cheerleader costume has lots of adorable details like puffy polka-dot sleeves and a matching decorative bow in the center. This costume is topped off with a pair of pom poms (of course) and an ear headband so she's equal parts cheerleader and Minnie Mouse. She'll have a blast coordinating pretend cheer routines to some of her favorite Mickey Mouse Clubhouse jingles so you'll watch lots of "performances." Older girls, middle school and above, who love the songs in the Disney Channel movie, Zombies, will jump at the chance to wear an officially licensed Addison girls costume. It's one of our most stylish teen cheerleader costumes because it comes with a sleek long sleeved tee and a matching sporty skirt. The top features a silver "S" representing Seabrook High School. An image of the Mighty Shrimp, which the humans and zombies save during the cheer championship together, is printed on the skirt's bottom. Wear it while performing "Our Year" for all your school friends (zombies and humans alike.)
Cheerleader Costume for Halloween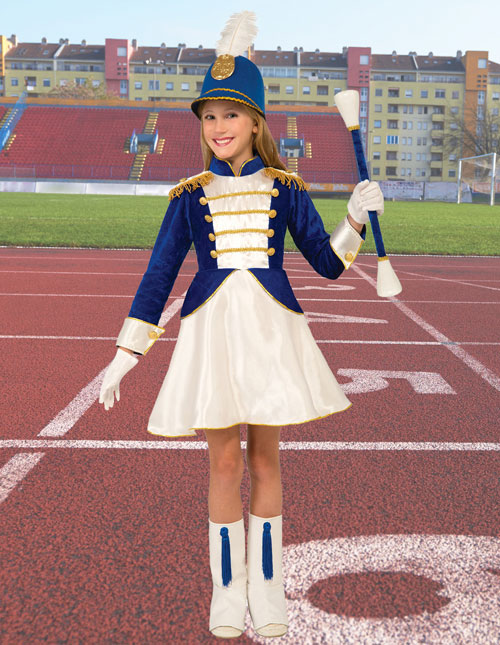 Sometimes cheerleaders don't carry pom poms and wear pigtails to pump up their crowd of supporters. Sometimes they twirl batons and lead the marching band. That's what majorettes do anyway. Not only can they do cartwheels (even flip sometimes) and twirl up to 4 batons at once, majorettes can also dance and incorporate rhythmic gymnastics into routines. If your daughter would rather catch a high-flying baton instead of catching a fellow cheerleader doing a basket toss then this cheerleader costume for Halloween is perfect for them. The dress features gold metallic edging, braided trim, and shiny medallions while fringe hangs off the shoulders. The hat, which is included, has a gold badge and an attached large white feather. If she wants the exact look pictured here then add the boot tops, gloves, and baton to your cart. A successful high school career as a majorette is right around the corner!