School Girl Costume Ideas
The bell is about to ring and class is going to start at any minute. You better grab your books and go because you definitely don't want to land in detention…again! With all your tests, quizzes, homework, and friend drama, the last thing we want you to stress over is your wardrobe. We'll help you figure out the school girl costume that will skyrocket you to the top of your class. Maybe you'll get invited to the National Honor Society in a nerdy school girl costume? Go ahead, and take a peek at all the adult school girl costumes we collected… we won't tell the teacher on you!
Plus Size School Girl Costumes
It's a fact: plaid and argyle look great on all shapes and sizes! If you want to flatter your full figure in a nerdy school girl costume that gives off the vibe that you're a bookworm who still knows how to cut loose, then you've come to the right place. Check out our selection of school girl costumes for plus size ladies before you crack open a history book and start studying. You'll be surprised at how much information you'll retain when you look both scholarly and sexy!
Plus Size School Girl Costume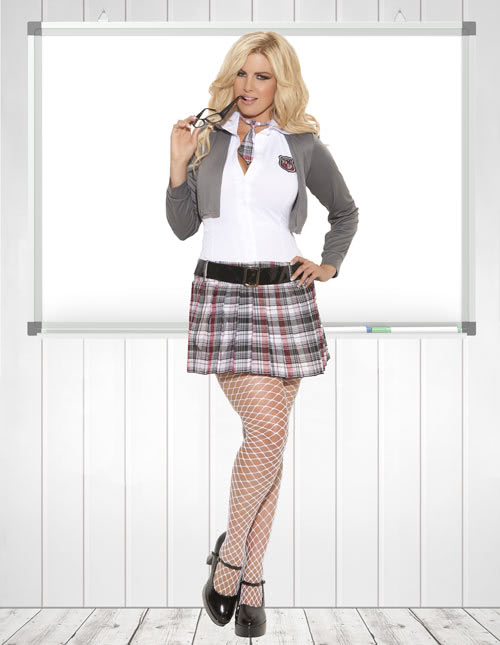 Were you the type of student who got busted for daydreaming or were you feverously taking notes the entire class period? Now you can relive your high school days by slipping into this plus size school girl costume . You'll instantly have the urge to rummage through your locker when you're clad in this belted dress. You'll love the small details like the school patch and the mini neck tie
Plus Size Frisky School Girl Costume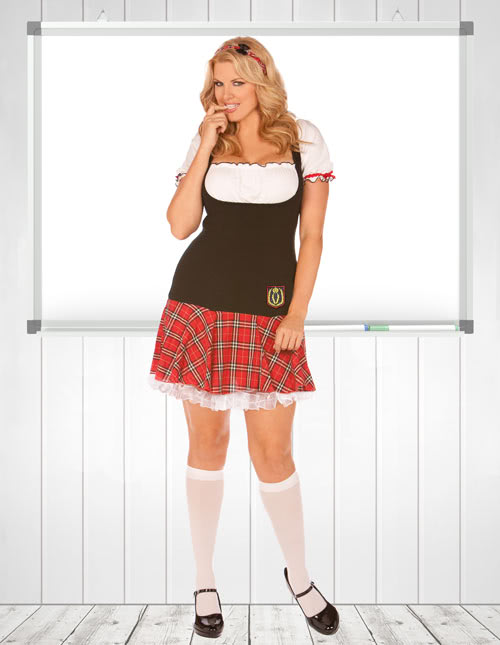 Are you searching for a way to land the title of "best dressed" for your class yearbook? Sporting a sexy school girl costume as much as possible is a great way to be given that superlative. You'll look bold and studious once you're wearing the ruffle trim dress featuring a preppy school patch. You'll have a head-to-toe ensemble that's worthy of an A+!
Nerdy Halloween Costumes
Maybe the "nerd group" at school didn't wear the most stylish clothes or get invites to the coolest parties, but they had something everyone wanted: the grades to get into Harvard! These days being a nerd doesn't have the same negative connotation that it used to have. If you have that "geek chic" flare that everyone is trying to tap into then you'll love these nerdy Halloween costumes. We'll gladly "talk nerdy" to you so you'll know everything it takes to transform into a full-fledged dweeb!
Nerdy School Girl Costume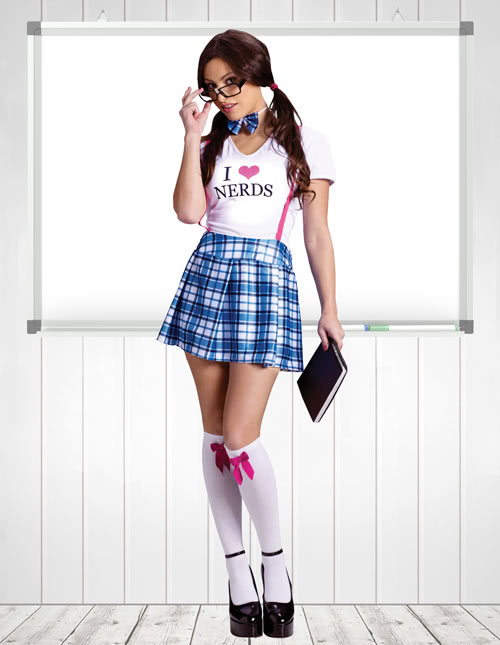 The popular clique can hate on your hot pink suspenders all they want, but they can't pull off this hipster trend like you can. Be proud of your love for graphic novels and your absolute disgust for P.E. class when you wear this nerdy school girl costume. You'll also receive a matching bow tie and cute black glasses. You'll definitely get the attention from both the captain of the football team and the president of the math club when you're wearing this outfit!
Naughty Nerd Costume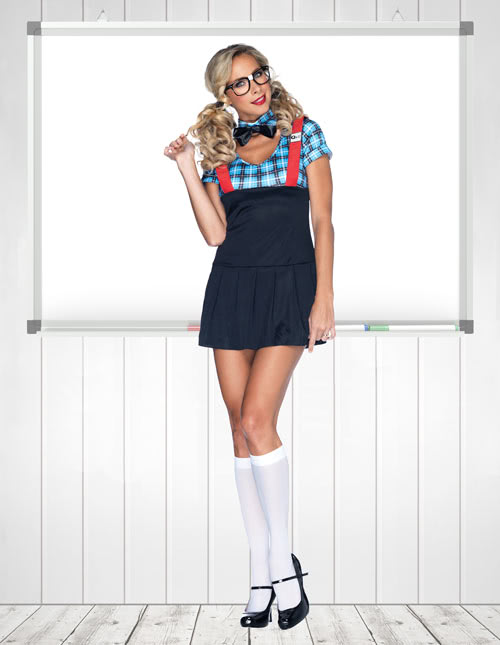 Not only did you finish your six page essay early, but you also managed to get the extra credit right! It's easy to see that you're the teacher's pet but if you want to advertise it to the entire student body then you'll love this outfit. This girl nerd costume comes with a high-waist dress with attached red suspenders. This costume puts other naughty school girl costume ideas to shame! The bow choker and the included taped glasses help to send the message that you rather be home studying than gossiping!
Class Nerd Costume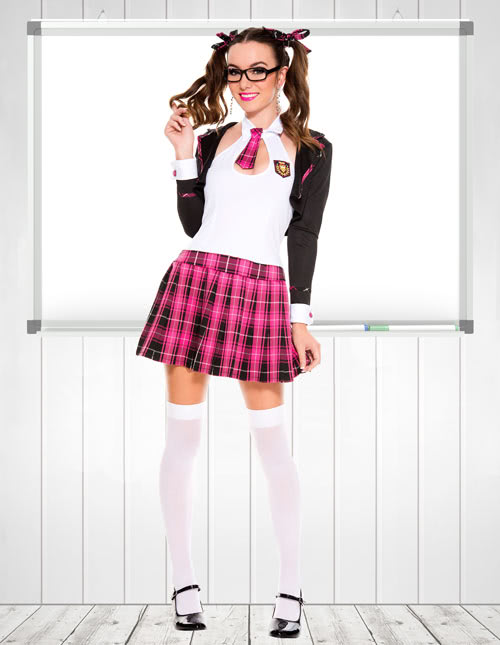 If you want to look like the girl who knows all the elements on the periodic table and also how to rock a unique pair of horn-rimmed glasses, then this nerdy school girl costume is for you. The dress features a hot pink pleated skirt and an attached necktie. Just throw the cropped jacket over your shoulders and you'll appear ready to ace your AP history test without breaking a sweat!
Nerd Accessory Kit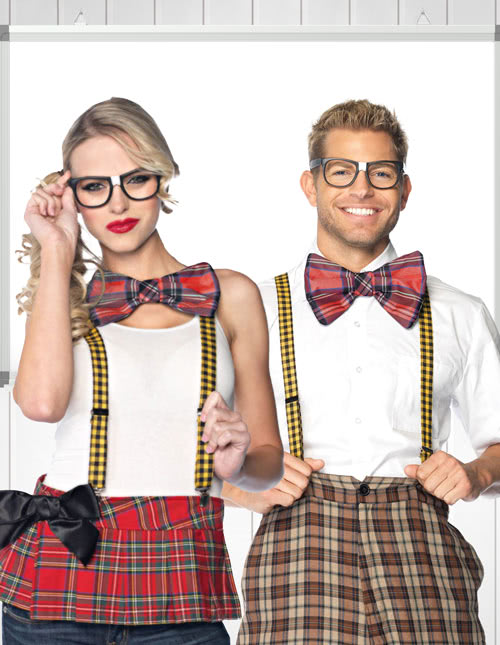 If we know anything about nerds, we are certainly aware that they love to finagle their own inventions. If you're the type who is looking to concoct their own one of a kind nerdy Halloween costume then you'll want to get your hands on this nerd accessory kit. You'll receive the glasses, suspenders, and extra-large bow tie. Now, it's just up to you to get some high-waist trousers and a pocket protector!
Zombie School Girl Costumes
It's no wonder why you're such a genus; your diet solely consists of brains! If you're in search of a Halloween costume that is both intelligent and scary, then a zombie school girl costume is right up your alley. You'll still get to be doused in blood and covered in bruises but you'll also get to sport some dorky suspenders and a pair of buck teeth. Pick out the costume that will transform you into the creepiest ghoul in class!
Zombie School Girl Costume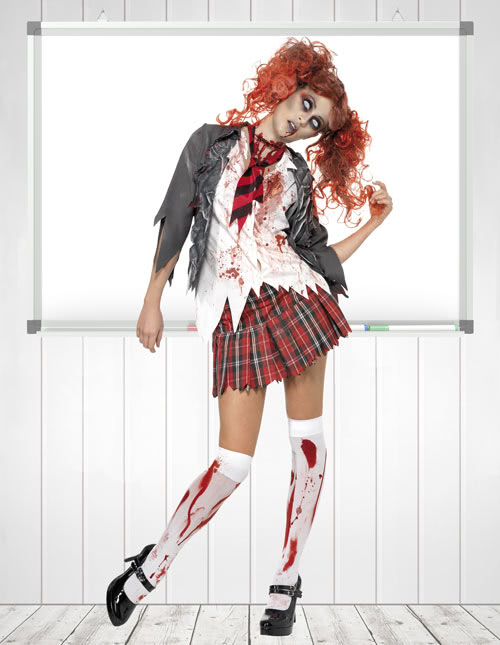 We have the overwhelming feeling that your favorite subject is anatomy mostly because you're dying to feast on a buffet of tasty organs. You simply won't be able to curb your insatiable appetite for humans once you're sporting this school girl zombie costume . The jacket with attached shirt has a tattered hemline and sleeves. The splattered blood throughout the shirt definitely won't go unnoticed. Just add a pair of bloody thigh stockings to complete the look!
School Girl Zombie Costume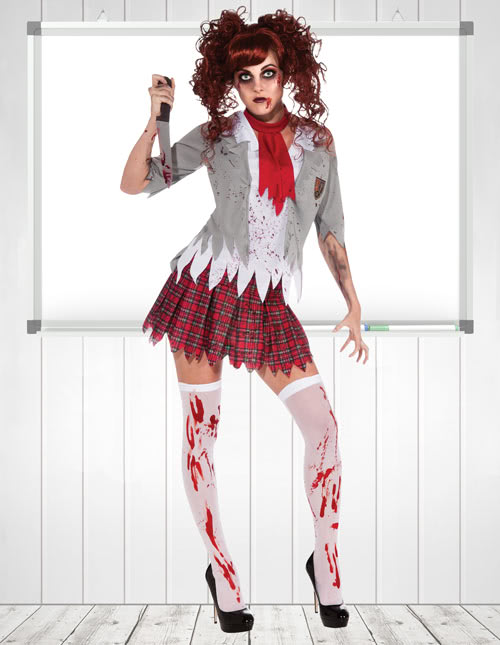 If you thought that you couldn't die from too much studying…think again! Just ask this zombie high school student. She stayed up late studying for physics and trigonometry exams so her head exploded. This dead school girl costume will make you look both scary and studious because the catholic school uniform is speckled with blood splatter. Add a knife accessory and some bloody high heels to create a killer look!
Zombie Cheerleader Costume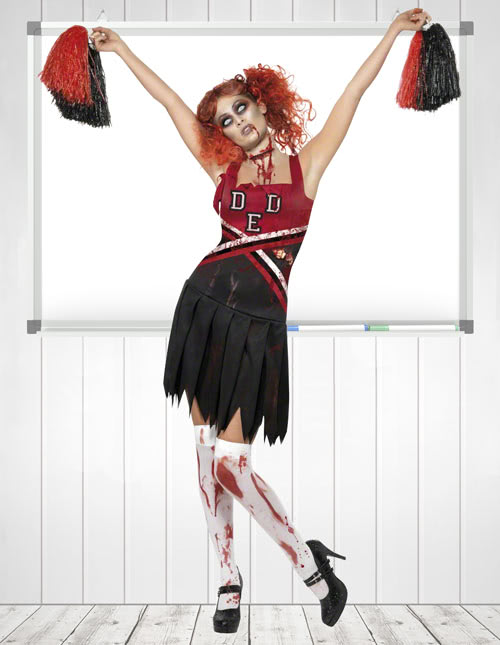 It's amazing how this zombie cheerleader doesn't have a soul but she still manages to exude school spirit! You'll have a blast cheering on the home team and shaking your "zom-poms" when you are wearing this zombie cheerleader costume . This scary zombie costume features a grotesque bloody rib and lots of dried blood stains. Not only will you receive the shabby dress printed with the letters "DED" on front, but you'll also receive the matching pom-poms….hip-hip hooray!
Zombie Prom Queen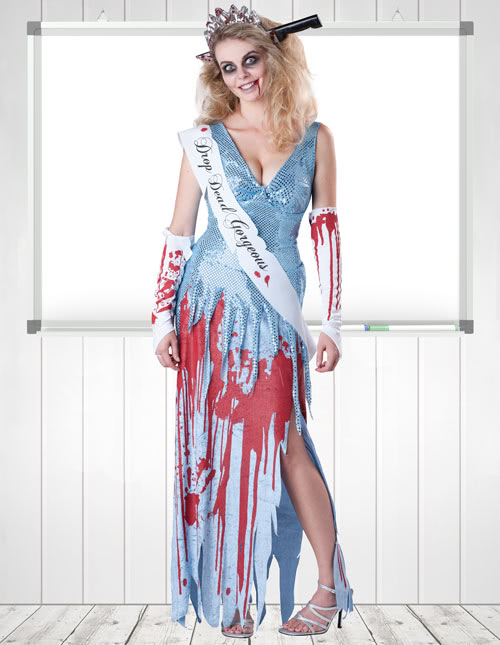 You're going to look drop dead gorgeous as the undead prom queen of your high school. We can see it now: you'll be wearing a glistening tiara and a beautiful dress covered in blood! This zombie prom queen costume comes with a long blue dress drenched in blood as well as a tiara with an attached hatchet. You'll look like you've come back from the dead to protect your prom queen status when you're outfitted in this dead school girl costume.
School Girl Costume Accessories
A good student knows that if you're prepared you will succeed! If you want your naughty school girl Halloween costume to succeed then you are going to need some key accessories. Luckily, you can find everything from bow ties to bobby socks right here. Browse our school girl costume accessories so your final look will make the grade!
Mary Jane Heels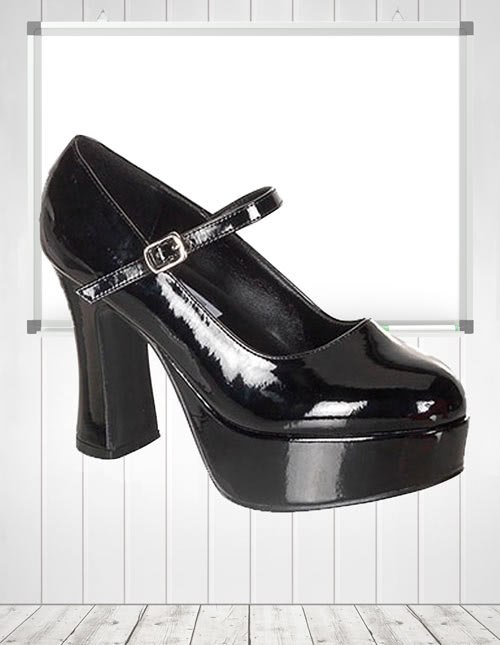 Mary Jane shoes and plaid prints always make for a winning combination! These Mary Jane heels have a sleek black patent leather finish and a classy one-inch platform heel.
Thigh High Stockings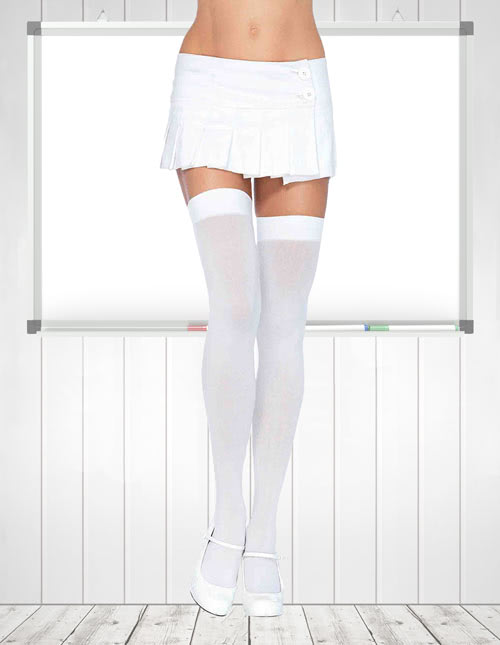 Turn an average school girl costume into a super sexy school girl costume by picking up a pair of thigh high stockings . White nylons that extend up to the mid-thigh will elongate your legs, plus they look cute with any school girl uniform costume!
Pleated Plaid Miniskirt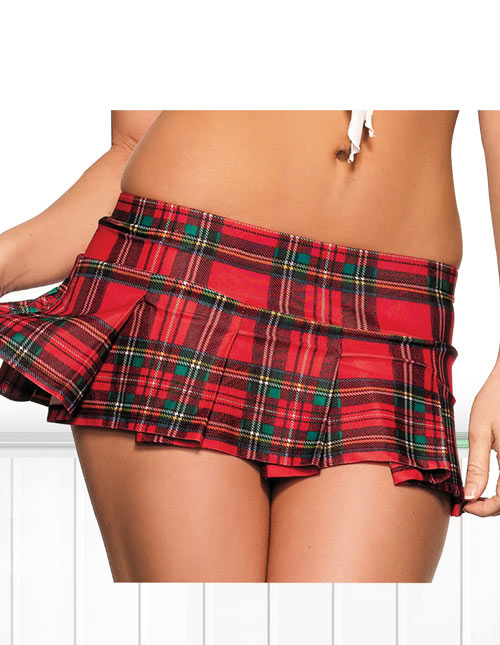 Go ahead and get crafty! Create your own school girl costume with the help of this pleated plaid skirt. Get a white button-up shirt and tie it up to expose your midriff area. You've also just constructed your very own Britney Spears school girl costume!
Grad Cap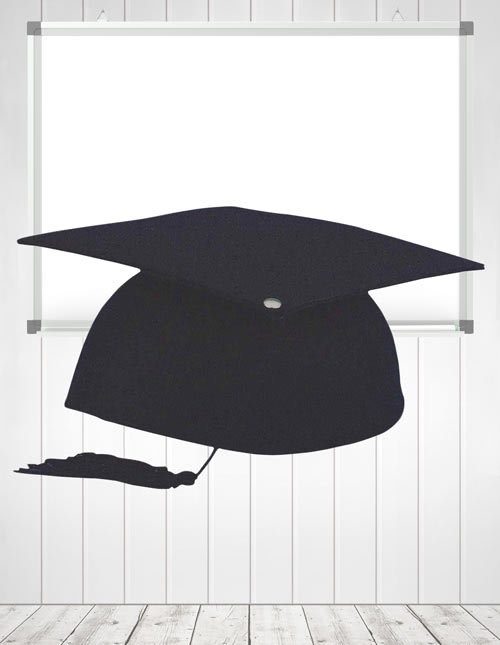 Congratulations, you did it! You just received your diploma so go ahead and take off your grad cap and give it a toss into the air. This graduation cap will give your school girl costume the celebratory touch it needs!