Medusa Halloween Costumes
In all the legends, few monstrous creatures are more mysterious than Medusa. Let's be honest! Dragons are great but other than fire-breathing flyers, there isn't always much to explore. Mermaids are pretty cool and they have a whole underwater world to explore, but once you get beyond the colorful scales and magical music, you've pretty much seen it all! Unicorns have a lot of tales to be told, but other than horses with nifty horns on their head while they run along a rainbow road, those equines are over!
Meanwhile, Medusa is a demigod gorgon straight out of ancient Greek mythology. She was a cursed creation formed from jealous deities and turned into the villain in the tale of Perseus. Other stories say that she was a legendary beauty who dared to turn from the goddess, so her stare became a thing of terror. The silver screen has given birth to numerous versions of Medusa, everything from a serpentine songstress to an archer with a wicked aim. Then some have her weaving those snakes into shape and sporting a hairdo that melts the hearts of mortals. Now it is your time to shine! Bring life to the tale of Medusa with our selection of costumes that will bring back the magic of Ancient Greece!
Medusa Cosplay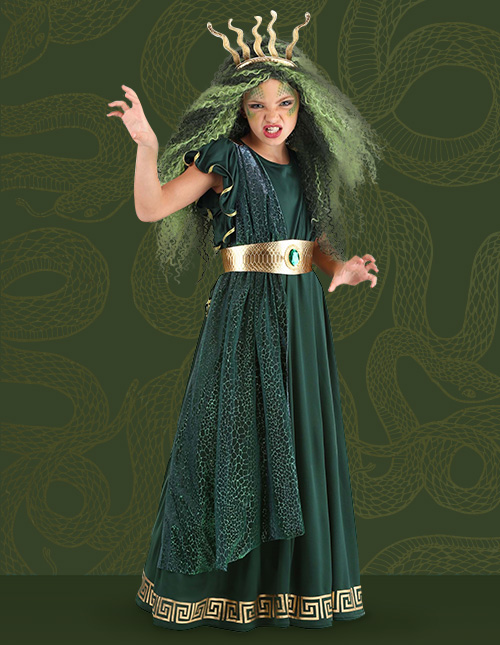 Medusa is a popular kind of character! She shows up in much more than just old books and quirky class topics. She's been a villain in anime, comic books, and movies. She can be a scary monster in tabletop games or even a heroine in modern stories. Now when you choose a Medusa cosplay costume, you can reinvent this iconic character in your own way!
Sexy Medusa Costumes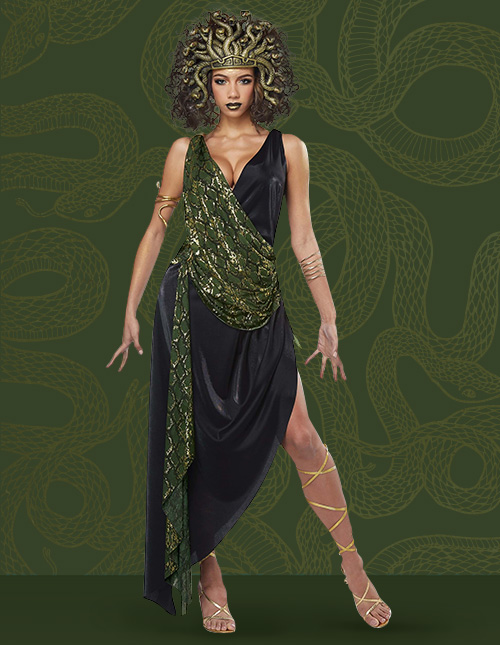 No matter how monstrous she may appear, Medusa's story suggests she started out as a goddess of supreme beauty. She had Poseidon's attention and even had Athena feeling just a bit jealous. So, if you are looking to make a scene at the next party or costume event, petrify everyone into wide-eyed awe when you show up in a stunning Medusa costume.
Medusa Couples Costumes
Many stories of Medusa portray her as an isolated creature in a dim, dank cave. We have to roll our eyes at that notion. Medusa is a mighty marvel that anyone would be lucky to stand beside. (Okay—maybe they want to make sure they don't stare right into her eyes, too, but who likes that level of eye contact, anyway!?) If you want to pair your Medusa look with another to truly captivate the audience, there are a few options to set out on the right step! While you could pair together with a host of serpents or other mythological creatures, we recommend choosing one of these classic duos for your Couples' Costume.
Medusa and Perseus Costumes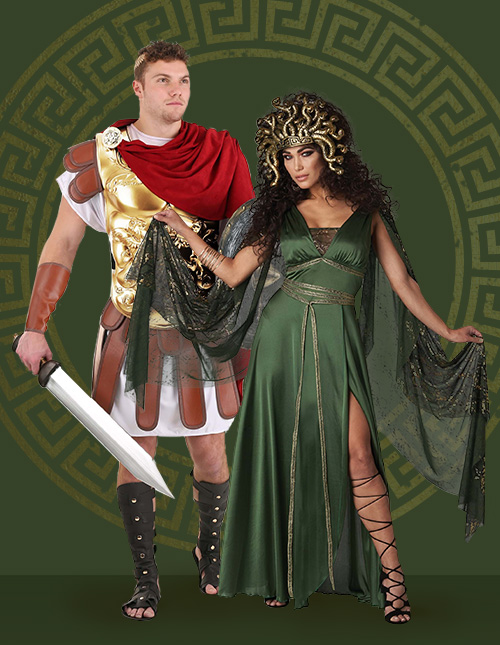 Have you heard the classic tale of the Clash of the Titans? The legend tells of a hero descended from the deities who tried to save his beloved Andromeda from certain doom while taking down a vicious kraken. Of course, he couldn't do it alone. Only the mighty power of Medusa could turn the creature to stone. But imagine if Perseus would have just asked the Gorgon for help. Not only could a lot of trouble have been avoided but Medusa would have a night on the town!
Medusa and Poseidon Costumes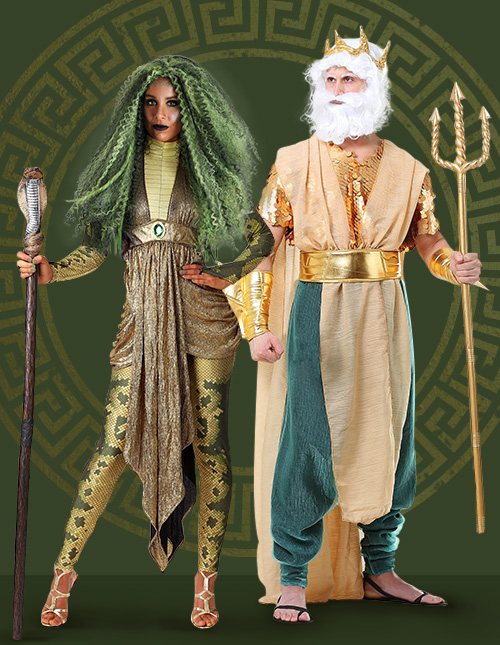 There's always a lot of scheming going on between the ancient Greek gods. When one is mad at another, a whole tidal wave of trouble is sure to be sent! Mortals usually get rather caught up in the wake, too. If you want to help the world solve its problems more subtly, just step into the roles of the deities themselves. When Poseidon and Medusa go hand-in-hand, we have to wonder what miracles are on their way! (Let's start with those amazing Instagram shots.)
Medusa Costume DIY
With so many incarnations of Medusa out there, perhaps you have a few ideas of your own! Well, when you're looking for a Do-It-Yourself costume, we're here to offer several Medusa Accessories to help you start out. Begin with an existing Medusa costume and update your look with some of these or start with a modern outfit and add some serpentine splendor! Better yet, create the ultimate mashup character when you give the stony style of Medusa to an existing character costume. What would happen if Wonder Woman took some lessons from another Greek beauty? How about if your favorite little mermaid just happened to have some gorgon blood running through her veins, too!? The possibilities are endless, so look at some of these Medusa DIY suggestions to start your story!
Medusa Costume Headpiece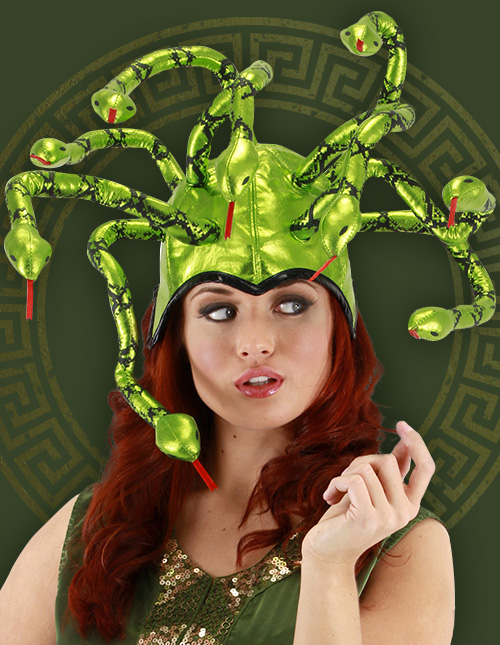 One of the biggest struggles with serpentine fashion is keeping those snakes under wraps. They tend to slither everywhere! (You think you've had a bad hair day? Just imagine when that snake nest gets literal!) Fortunately, there are plenty of ways to slink your way into a marvelous Medusa look without negotiating with a bunch of serpents. Pick your favorite of our Medusa hats and you'll have the look without a hiss of trouble.
Medusa Costume Crown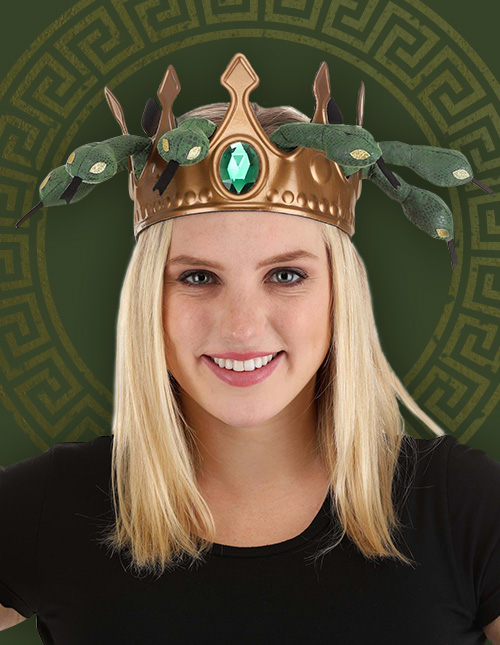 Some legends say that Medusa isn't simply a magical woman. She's also a mystical queen! In that case, we have to wonder why she isn't depicted wearing a crown more often. For those of you who want to show the regal side of the gloried Gorgon, try out a Medusa crown. You can choose a tiara with serpentine designs for an illustrious look or take a playful twist with a shining crown complete with a couple of snakes peaking out for a picture!
Medusa Costume Makeup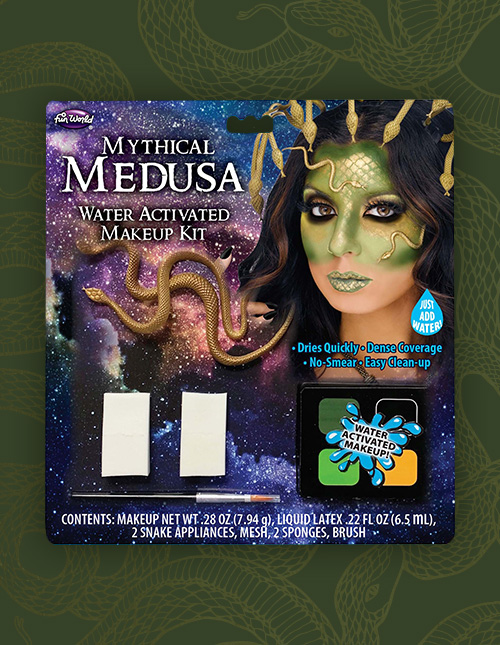 So, you've got the dress. You've got the headpiece. You might even have a spear, a bow, or a pet snake at your side. Still, you feel something is missing. One look in the mirror proves that you have a stunning stare at the ready, but you need something to tip the scales. A-ha! It's time for a makeup kit that features some scaley stencils and the perfect shade of green. Make everyone stoneface jealous by adding some Medusa makeup to your cart!
Medusa Wig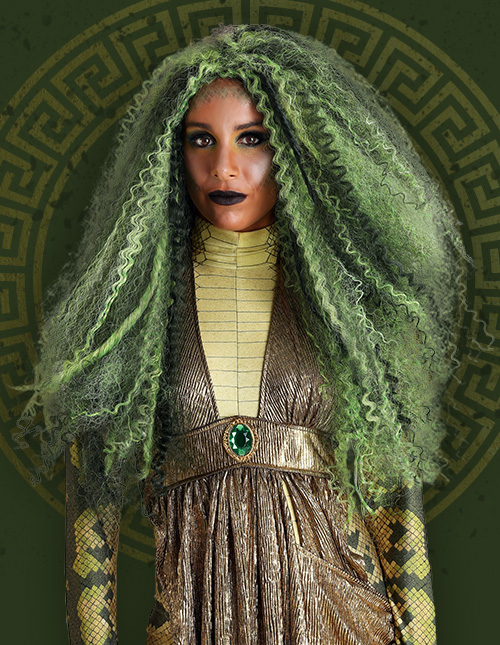 Snakes not your style? But you still have some major motivation to be Medusa? Fear not! Translate that serpentine swagger into waves for days when you wear a Medusa wig. You have a ton of options. From long wigs that blend black and green hair into crimped strands resembling snakes to sultry braids or dangling dreads, the style of Medusa wig you choose may be the beginning of an entirely new legend. (Plus, no hissing in your ears!)