Luna Lovegood Costumes
Luna Lovegood may be a character with her head in the clouds, but her heart is certainly in the right place. Our favorite Ravenclaw student is kind, forgiving, and willing to help at any time, but also a little strange. You'll rarely see her without the Quibbler, her father's magazine, which is where she gets quite a few of her funny ideas about magical creatures. Unicorns definitely exist in Luna's world, but she never has found a Crumple-Horned Snorkack. Despite her weirdness, she becomes one of Harry Potter's best friends and most loyal supporters. She proves that she belongs in Ravenclaw with her cleverness and develops into a hero and leader of the resistance at Hogwarts. We definitely love her for her quirkiness and hope you do too!
Luna Lovegood Halloween Costumes
If you grew up loving the world of Harry Potter like we did, you were sorely disappointed when you turned 11 and no Hogwarts acceptance letter came to your house by owl. Now you can sort yourself into Ravenclaw without the Sorting Hat! If you'd like to be a truly good witch this Halloween, you've come to the right place. Luna Lovegood's Spectrespecs and interesting earring choices make her outfits a little odd, but still adorable. We've collected some options for you, whether you prefer her robes or her muggle clothing, as seen in Harry Potter and the Order of the Phoenix. Find the perfect costume for yourself or surprise your child with her own Hogwarts letter and set of robes. Either way, it will be pretty magical!
Luna Lovegood Ravenclaw Robe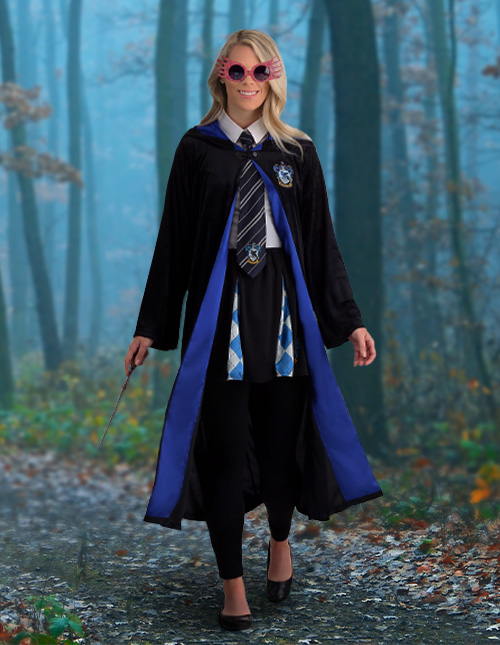 All of the different houses at Hogwarts have their own charm. Gryffindors are brave, Slytherins are ambitious, and Hufflepuffs are hard workers. All those characteristics are certainly admirable, but if you're a person who values intelligence and wit, you'll want to show that off in your Ravenclaw robes! After all, someone has to keep the Hogwarts professors on their toes. (We wouldn't want those classes to be boring.) Don't forget to complete your outfit with one of Luna's hats, some lovely blue socks, or a scarf. And you'll definitely need a wand. We know Luna and others can cast nonverbal spells, but wandless magic is a bit harder to master. Even if you are very clever and great at studying, it might take you a long time to learn!
Pink Luna Lovegood Outfit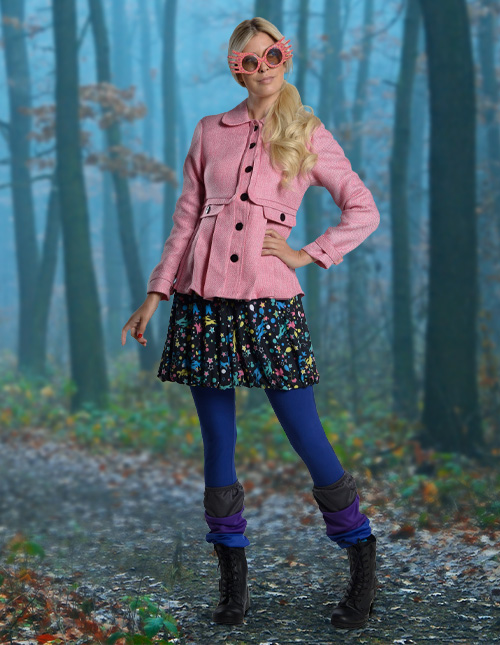 Luna definitely has her own style, and we love her for it. She may not always dress like a princess, but she certainly still looks fabulous. She's definitely not the type of person to do what everyone else is doing, and that's all the more evident when she doesn't have to wear her uniform. Luna's outfits seem to be inspired by vintage fashion, although we can't quite pinpoint the decade. It's not exactly hippie, but maybe something similar. You can get her unconventional-but-still-adorable Muggle look with this pink Luna Lovegood outfit. This set even includes her famous Spectrespecs so you can watch out for Wrackspurts! We wouldn't want them to make your sharp Ravenclaw brain "go fuzzy" like Luna claims they do.
Luna Lovegood Costume for Kids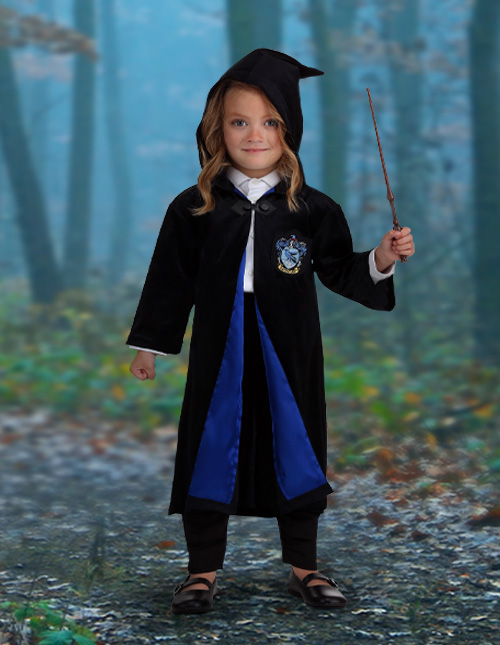 Luna was one year behind Harry, Ron, and Hermione in school but became good friends with them in later years. We're not sure if she always knew she would be sorted into Ravenclaw, but if Luna dreamed of it as a little kid, maybe she had some robes that looked like these. If you know someone on the smaller side who can't wait to start their magical education, perhaps they need some of these miniature Ravenclaw robes. It's the perfect outfit for them to begin practicing their spell casting. (And we know you'll think it looks magical.) Like a true Ravenclaw, they can start reading complicated spell books and studying for any magical subject, like Charms, Potions, or Divination (which is basically fortune-telling).
Wacky Luna Lovegood Clothes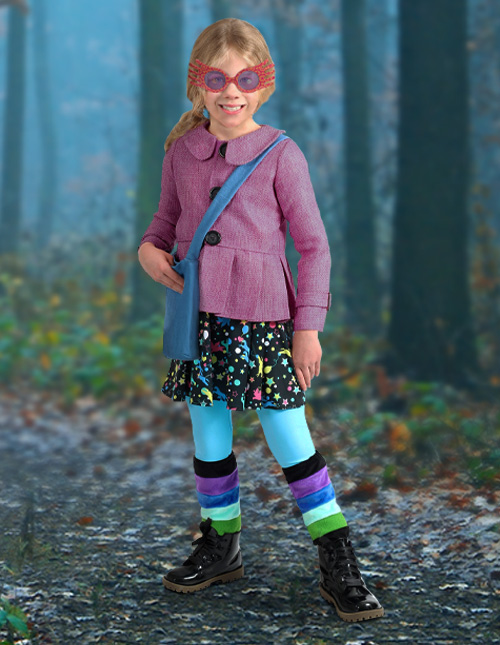 When left to dress themselves, some girls reveal a fashion sense that is…well…unique. Sometimes they're the only person who thinks it's cute, but other times, they manage to pull together an outfit that works out so well that it must involve some magic! That's how we feel about this Luna Lovegood costume for kids. It's really adorable, but we can't quite figure out why. Regardless, your child will undoubtedly have fun dressing as Luna, especially if they love magical creatures as much as she does. And even if we think her leg warmers or her glasses are a little silly, we must remember that she's a powerful witch who helped lead Dumbledore's Army in some of the darkest times. Appearance isn't everything!