Gorilla Costumes
Alrighty, costume shoppers. Let's go gorilla! We know, we know. Maybe a gorilla wasn't your first choice for a Halloween costume this year, but face it, it really should be! These mighty primates are the largest apes in the world and are amazingly awesome when you learn about them. They're smart, social, and primarily plant-eaters. And, with their big muscles and furry faces, they make for great costumes! Check out these top Gorilla costume options to see if we've got a Gorilla suit that's just right for you.
Gorilla Costume with Mask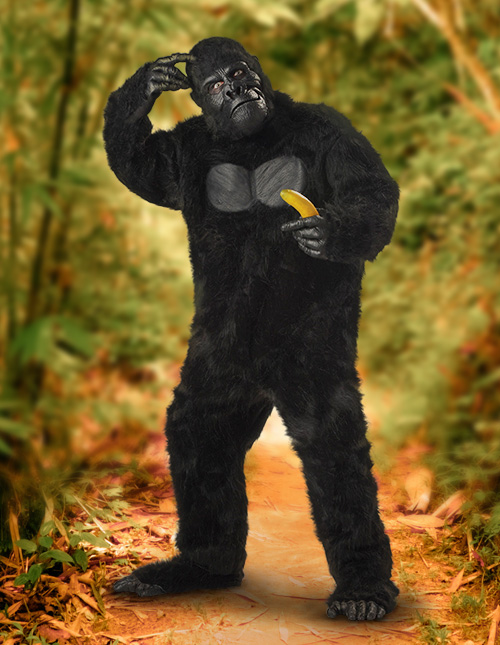 You can slip into a crowd totally incognito in this Gorilla costume. Of course, the folks around might be a bit shocked to find a gorilla out and about in public, but you can always give them a friendly hello to let them know that you're a friendly ape! This adult gorilla suit is the go-to classic ape costume. A customer favorite for viral videos, fun runs, and of course, Halloween, it has all the details just right! The oversized furry suit has a vinyl chest piece to add pectoral muscles to the chest, and molded vinyl fingers and toes for more realistic detail. The molded vinyl face on the gorilla mask is sculpted with extra attention to detail, too, so that you can be quite a convincing gorilla!
Made By Us Gorilla Costume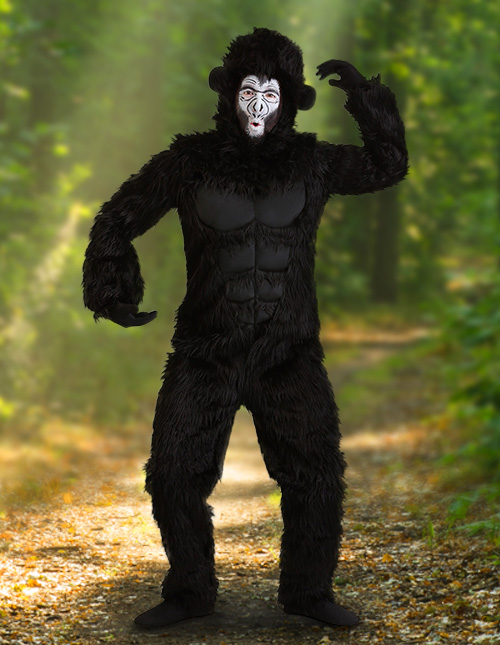 Our in-house costume team wanted to offer another excellent option for adult gorilla costumes, so we crafted this exclusive gorilla costume. It's a comfortable outfit with a smart design. It also skips the mask that's common on other Gorilla outfits but does include a headpiece with ears that leaves the face uncovered. You can complete the look with face paint like we have pictured, or just wear your regular face for a casual gorilla look! The costume has fabric, fiber-filled muscles on the chest, so there's no clunky vinyl pieces either. When it comes to gorilla suits, this Made By Us costume is one of the sharpest looking costumes you're going to find!
Kids Gorilla Costume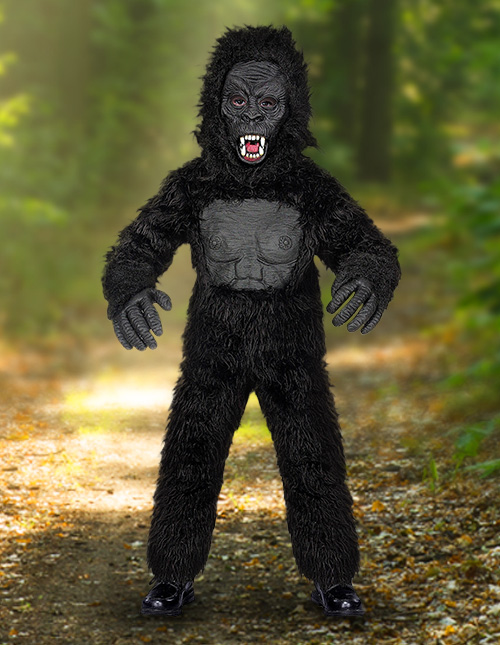 If your child sometimes acts like an ape around the house, well, let's get them some fur to match all that rambunctiousness. With this realistic gorilla costume for kids, they'll be able to run around on all fours without raising eyebrows! This costume features molded latex pieces on the mask, chest, and hands for a lifelike look. The mask even features the gorilla character showing off his fangs, so you know any child will love it! Perfect for posting videos with their friends or for costume parties, this Gorilla outfit is sure to be a hit. Just be sure your little one minds their manners if they wear it out for trick or treating. It can be a bit frightening, so we don't want the neighborhood to think there's a live gorilla on the loose on Halloween night!
Gorilla Cage Costume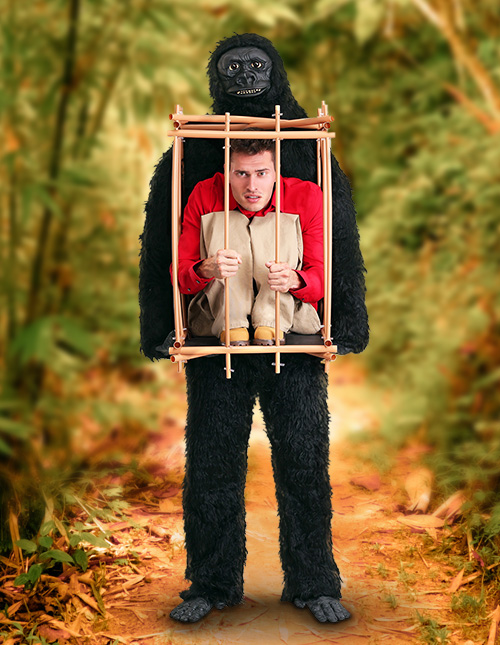 When discussing Gorilla costume options, there's one hilarious choice we don't want to leave out. Because the Trapped in a Gorilla Cage Costume is a true classic! This comedic costume takes the simple premise of a gorilla flipping the script and locking the human up in a cage. This adult outfit achieves that effect with a simple costume trick. The costume opens at the waist, and your torso and up are in the cage! It just takes some stuffing and a pair of pants and boots to complete the effect. This costume is a fun choice for Halloween, and it's guaranteed to get a great response at a costume party!
Gorilla Halloween Costume Ideas
You might not be totally sold on the idea of a Gorilla costume for Halloween, but we've got a few ideas that are sure to put you over the top. Just consider who else you're celebrating Halloween with, and coordinate your costumes for an awesome ape theme! We have plenty of other primate costumes that go great with gorilla suits, so check out these top options for a gorilla and friends costume theme!
Gorilla and Sasquatch Costume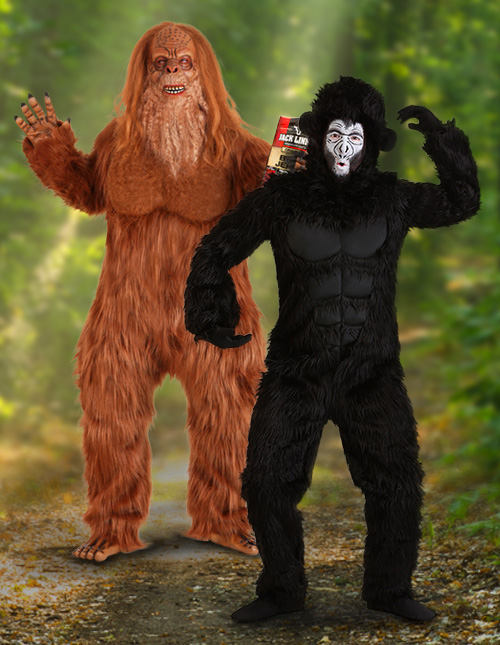 So, we don't have any reports of Sasquatch sightings in Africa—yet. This probably means that Bigfoot and the big ape live in entirely different biomes and never get to hang out. Which is a dang shame! As the two biggest ape animals in the world, we're sure gorillas and squatches would be the best of friends. Or, at the bare minimum, they'd have a mutual respect for each other's impressive brawn and bulk. So what we're saying is, you should team up in a gorilla costume and a sasquatch costume for the ape dream team duo! Our top choice for sasquatch costumes is our own exclusive Jack Links Sasquatch costume. Designed after the iconic Messing with Sasquatch commercials, it'll be the perfect look to complement any of our realistic gorilla costumes.
Adult and Kids Gorilla Costume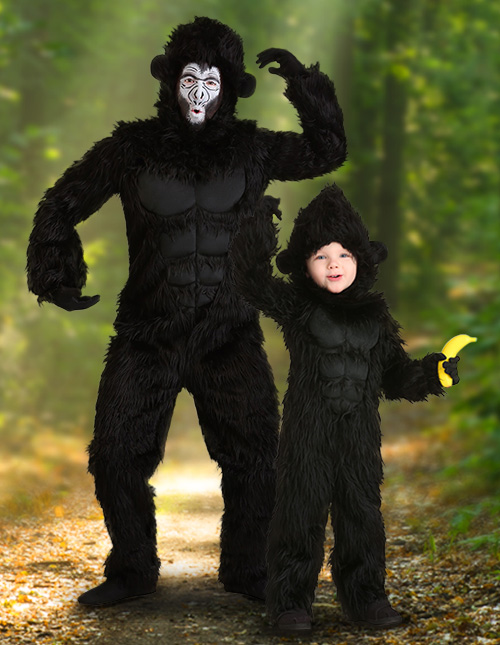 When kids want to suit up as zoo critters, most of them love being the fun-loving monkeys they see flying around in the trees. Well, we think they oughta consider being the big primate of the jungle, because a parent ape and child ape would be a fantastic father and son costume! (Also true for a mother and daughter outfit, of course!) Just grab our toddler gorilla costume for your little guy, and he'll be the cutest ape kid around. The costume features the same design as our adult gorilla costume but is sized just right for tots and toddlers. This means you'll be a picture-perfect ape parent and gorilla kid when the two of you are out in the wild!
Gorilla and Toddler Monkey Costume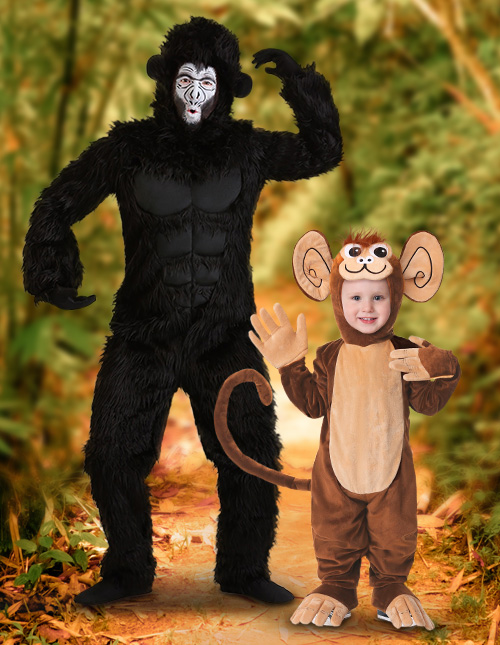 Monkeys do offer a lot of great traits that the ground-dwelling gorillas don't have. They're smaller and cuter, and they're super excellent climbers. And some of them even have prehensile tails that let them grab limbs! So, if you're thinking about a gorilla and monkey parent-child costume, we're sure it'd be awesomely adorable. An excellent toddler costume to pair with our gorilla costume is this Toddler Funky Monkey Costume. It embellishes the look of a fun monkey with zany features like a bendable tail, googly eyes, and super-sized ears. With it, your tot is sure to look super cute in your gorilla arms when you're out trick-or-treating for Halloween!
Gorilla and Orangutan Costume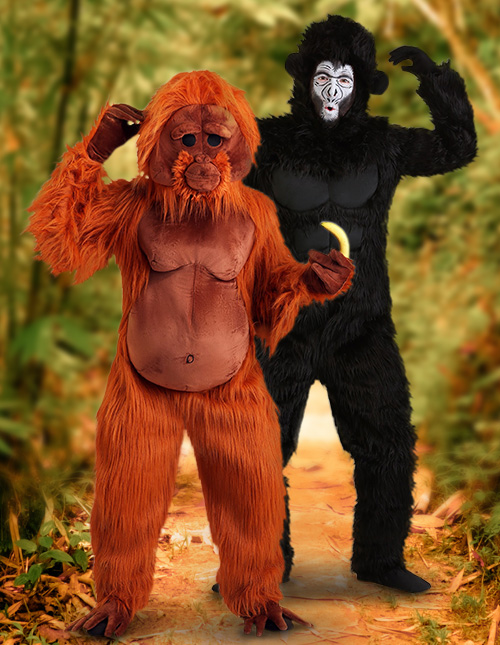 Our last costume combo combination for a pair of friends is certainly not one to overlook. Because we'd like to suggest that your costume duo become the top two primates on planet earth—the gorilla and the mighty orangutan! Orangutans might not look quite as intimidating as gorillas, but pound for pound, they're just as strong. Either one is many times stronger than the strongest human, so it's safe to say that these two primates together would make a team that's tough to beat. You'll just want to get our adult orangutan costume to go with our gorilla costume. It features an Orangutan with wide cheek pads and a belly denoting an alpha male orangutan. When you suit up in these two ape costumes to hit the streets, we're sure it's going to be a ton of furry fun!
Gorilla Mask and Accessories
When shopping for your gorilla suit and making a costume plan, you'll want to carefully consider each piece. And if the gorilla costume you like has a mask that's sub-par, you'll definitely want to upgrade it! The same goes for the hands and feet, as we've got gorilla gloves and shoe covers that look just like gorilla feet. Shop all of our top accessories to make sure your gorilla performance is picture perfect!
Gorilla Mask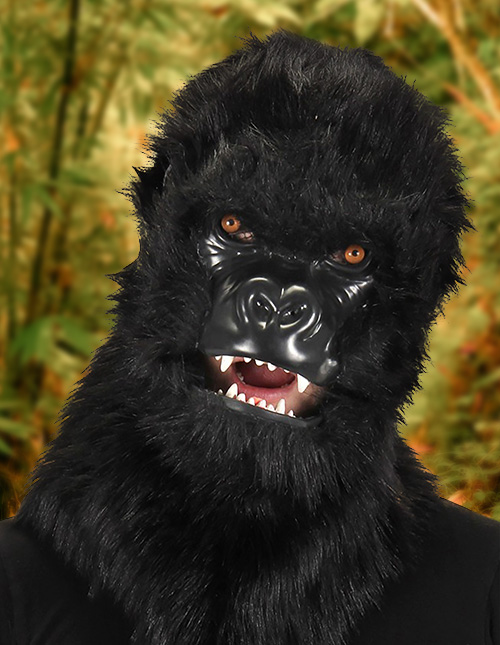 There are lots of choices when it comes to adult gorilla masks, and you'll want to carefully consider which features to look for when assembling your full costume. However, one thing to look for is a moving mouth, as a mask with motion adds incredible detail and realism to your outfit! With this gorilla mouth mover mask, you could play the part of a trained gorilla who's grunting to go along with sign language. Or you could recreate scenes from Planet of the Apes!
Gorilla Gloves
Nothing will ruin the costume effect of an ape suit quicker than seeing human hands where ape hands should be. So don't forget to make sure you get a pair of gorilla gloves to complete your ape outfit! These Made By Us gorilla gloves look great, and they're a super comfortable option. They have a thick tuft of fur on the top of each hand so they'll look great with any gorilla costume. But, instead of latex fingers, they feature vinyl gloves so that you can keep your human hand dexterity throughout your ape costume performance.