Greetings, golden-haired guys and gals! If you're hoping to skip wearing a wig this Halloween, you're in luck—because there are TONS of blond character costumes for women and men. Superheroes, Disney characters, celebrities, movie and TV costume favorites are all at your fingertips. Keep reading to see all the possibilities when picking the best costumes for blonds!
1. Harley Quinn Costume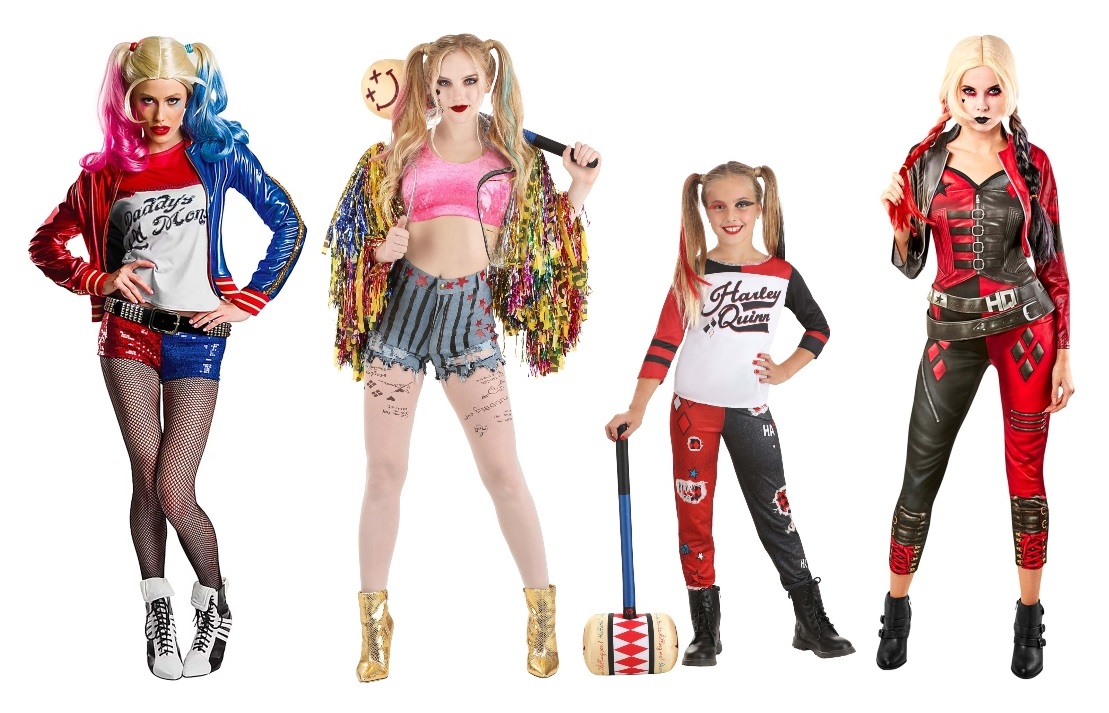 Our gal Harley Quinn has so many cool costume ideas that you may find it hard to pick just one! Her classic outfit doesn't show off her lovely locks, but the Suicide Squad Harley Quinn costume and a few of her Birds of Prey outfits are great for blonde women. You can also find kids' Harley Quinn costumes if you create a family group costume. Just make sure to keep an eye out for Batman and company.
2. Tinkerbell Costume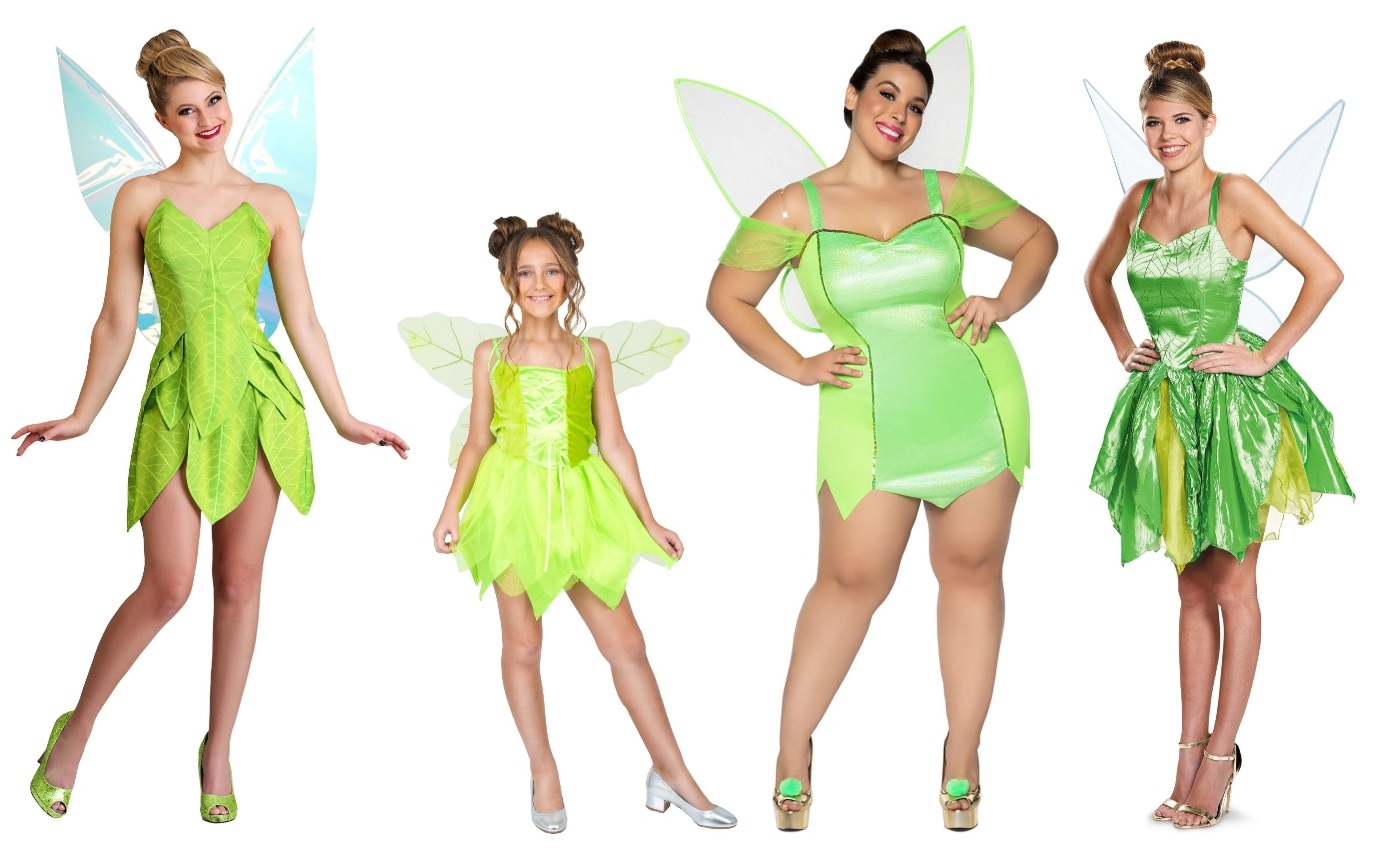 All it takes is faith and trust and a little bit of pixie dust. That is, according to Peter Pan. You may not be able to fly with these Tinkerbell costumes, but you'll certainly feel like a fairy! If you have long blond hair, you can even style it into a high bun, just like Tink in Disney's Peter Pan. Your hair is the best costume accessory for this cute Halloween costume idea!

3. Lola Bunny Costume
Believe it or not, Lola bunny from Space Jam has a shock of honey-colored hair! Sure, you might not be covered in tan fur, but your blond hair is just what this Tune Squad costume needs. You also have the option to make this a sexy costume idea or keep it cute. If you go full makeup, don't forget to add long top lashes and a blush purple eyeshadow!

4. Bride of Chucky Costume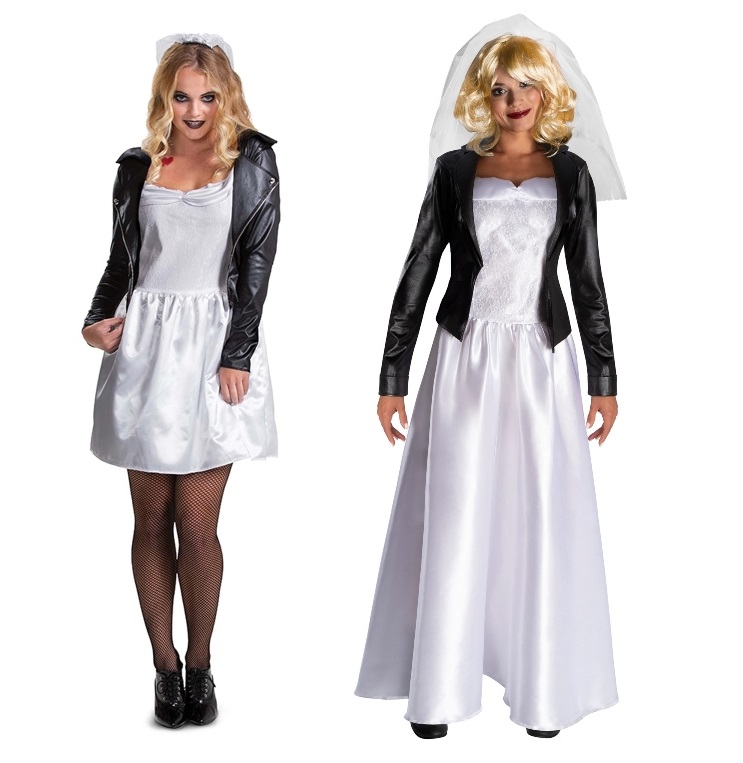 Halloween is prime time to wear a horror movie costume, and Tiffany from Bride of Chucky has to be one of our favorites for blonds. Wear this costume alone or paired with a Chucky costume for a great couples' costume idea. (And the best part is that you won't have to participate in any rituals to get your man to dress in costume with you...probably.)

5. Britney Spears Costume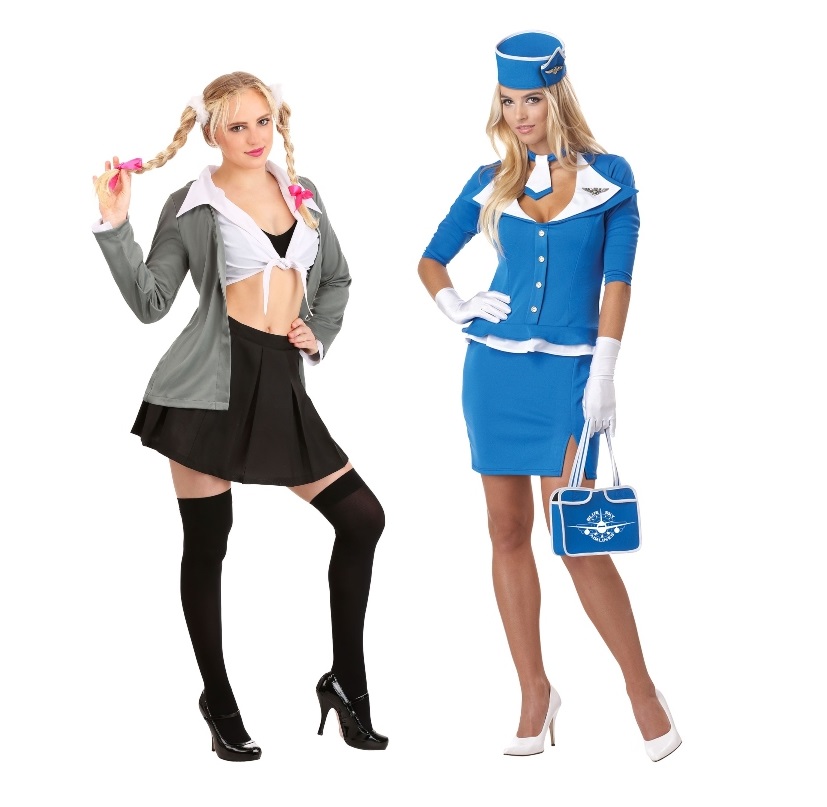 Give us a sign that you're picking the best blond Halloween costume! (Hopefully, we won't need to tell you one more time.) Britney Spears had a stranglehold on pop music in the 90s and 2000s, making her an excellent costume idea for a 90s party. She has a few other looks as well, so you may be able to find a similar sexy cop costume or red bodysuit to create other Britney Spears costumes. Once you get In the Zone, you'll find Britney costume ideas everywhere!
6. Princess Peach Costume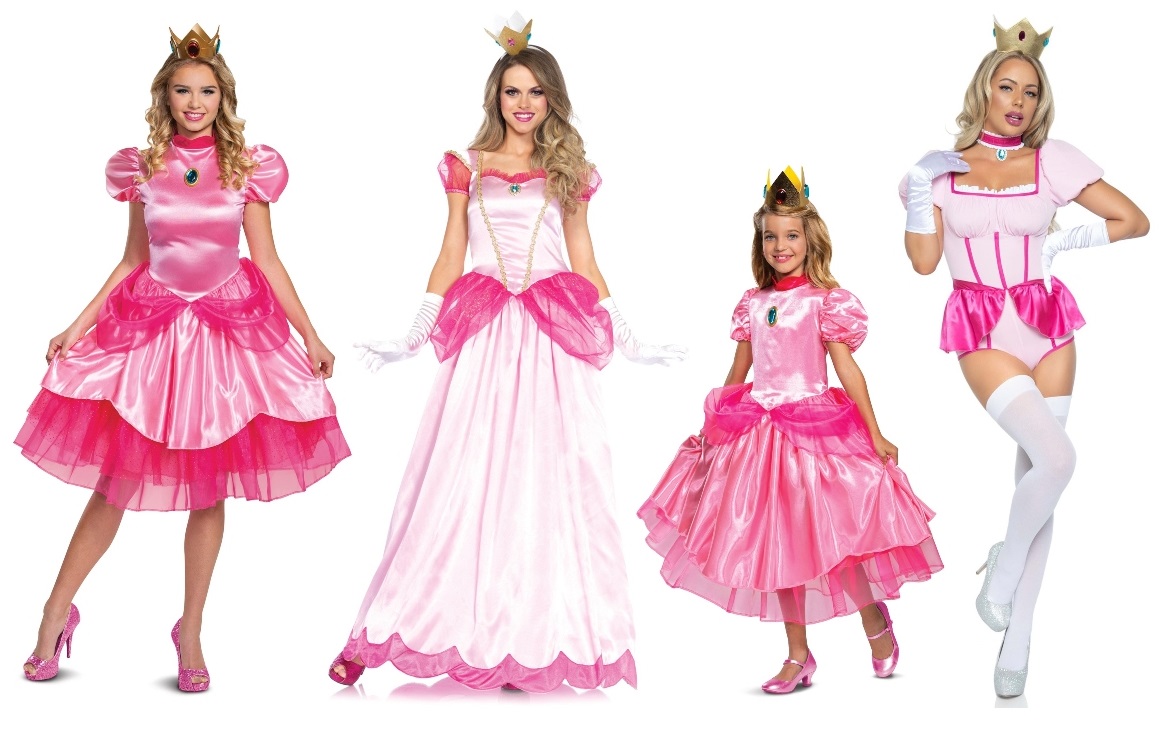 When playing any one of several Super Mario Bros. games, we have to ask—who do you main? Do you rock Luigi playing Mario Tennis, or are you more of a Bowser Kart person? The one truth that seems to be universal is to always keep an eye out for gamers who play as Princess Peach! Channel your royal energy into these Princess Peach costumes, and you'll be the star of any Halloween party or gamer convention. You can even add more Mario Bros. characters for a fantastic group costume idea!

7. Captain America Costume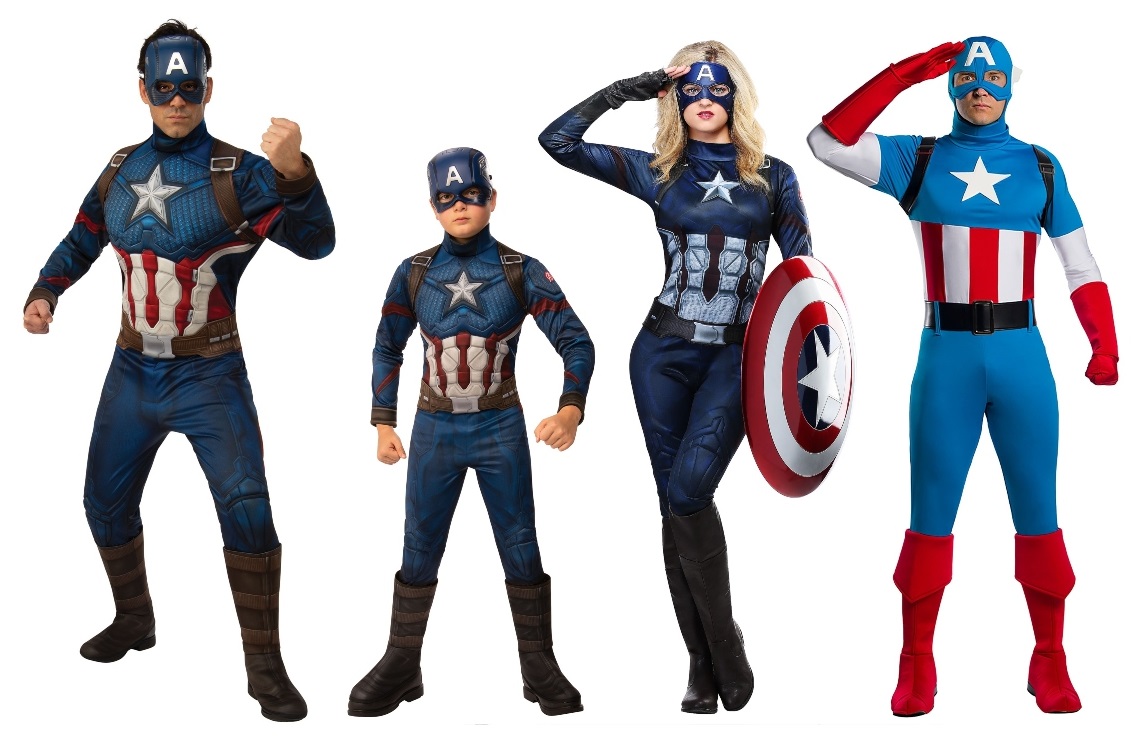 If you're wondering how many Halloween costume ideas for blonds we have—we can do this all day! If you're a Marvel fan, Steve Rogers as Captain America is an obvious costume idea for blond guys. Honey-haired kids and adults will love dressing as America's golden boy. Add a shield costume accessory, and you'll be prepared for every convention and costume party.

8. Elsa Costume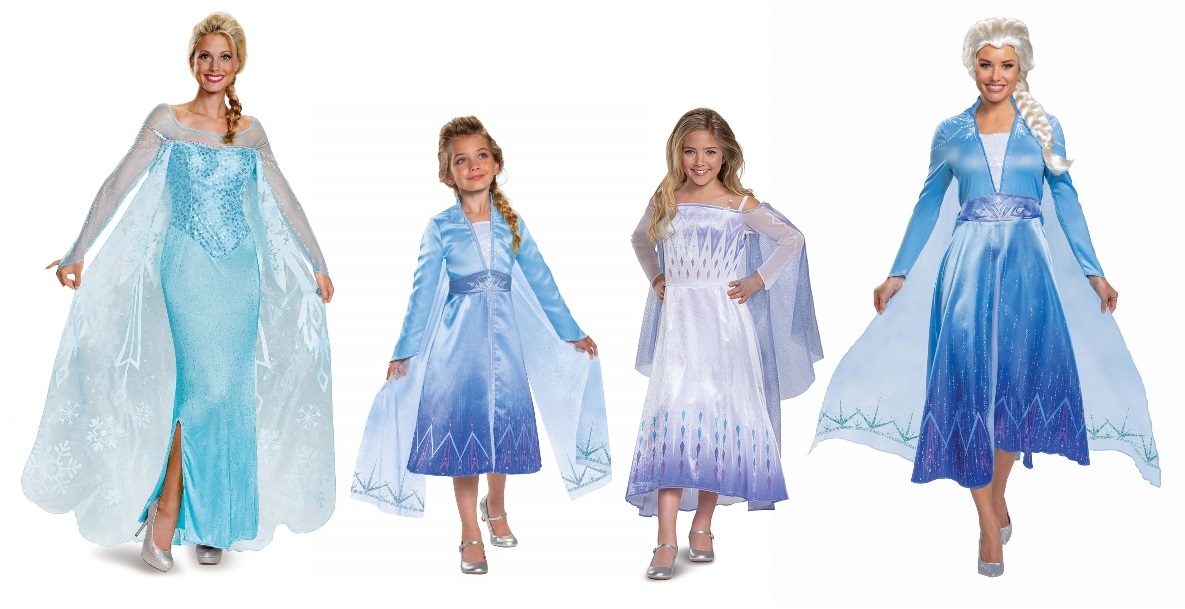 As we all know, blond hair comes in many different shades. Some may be more of an ashy blond, while others are straight platinum. If you are a girl or woman with very light blonde hair, an Elsa costume could be perfect for you! There are several blonde Disney princesses, but Elsa is probably the most familiar with kids. Just be aware that you may be expected to belt out "Let it Go"!

9. Cinderella Costume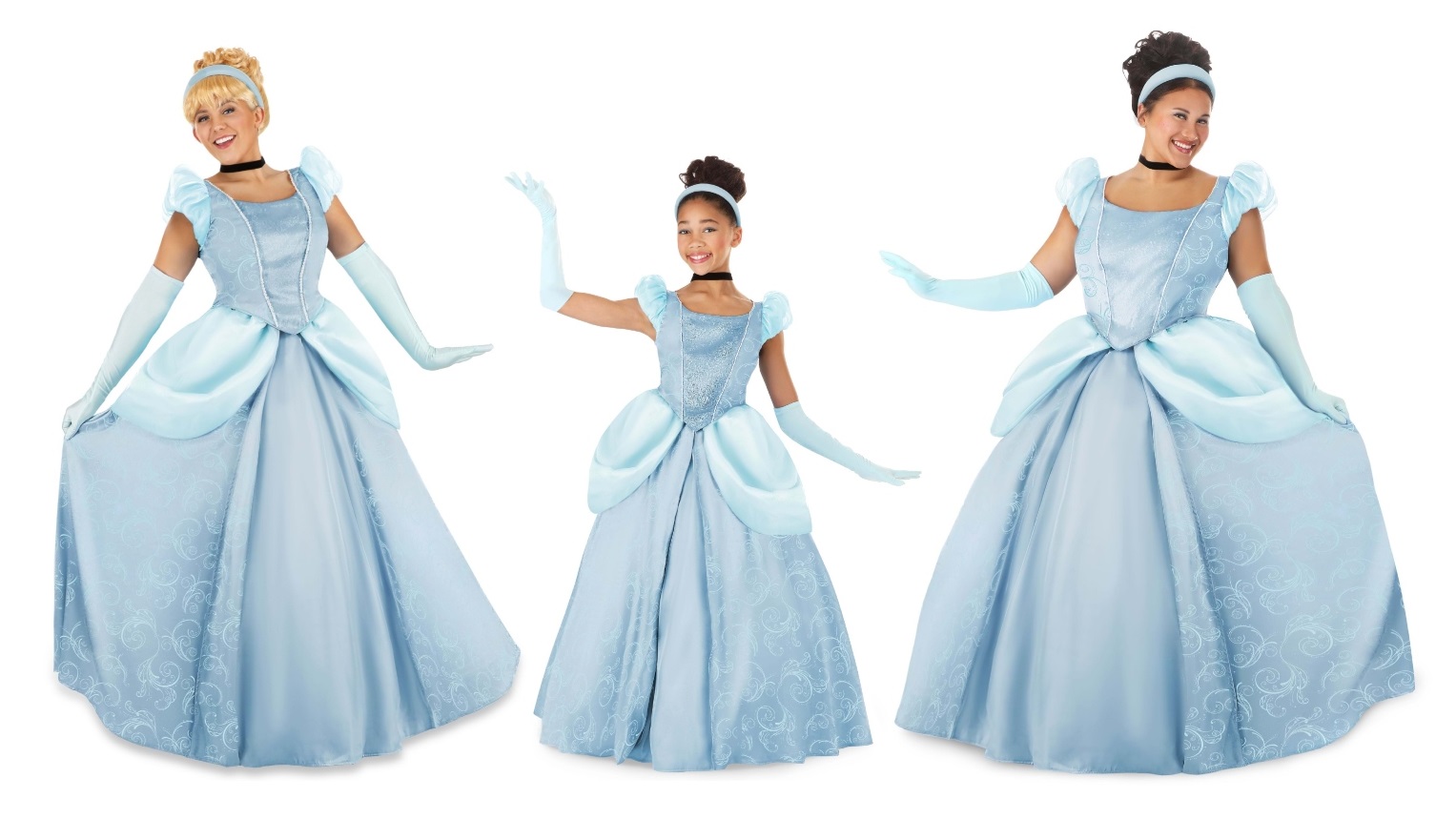 Now that we hopped aboard the Disney train, we may as well visit one of Disney's classic blond Princesses—Cinderella! Her blue ballgown will have you feeling like a princess in no time, and you can even include her carriage as part of a wheelchair costume idea! These Cinderella costumes are best paired with her glass slippers and a black choker to match the animated film. Now, if you'll excuse us, we have a fairy godmother to find.

10. Thor Costume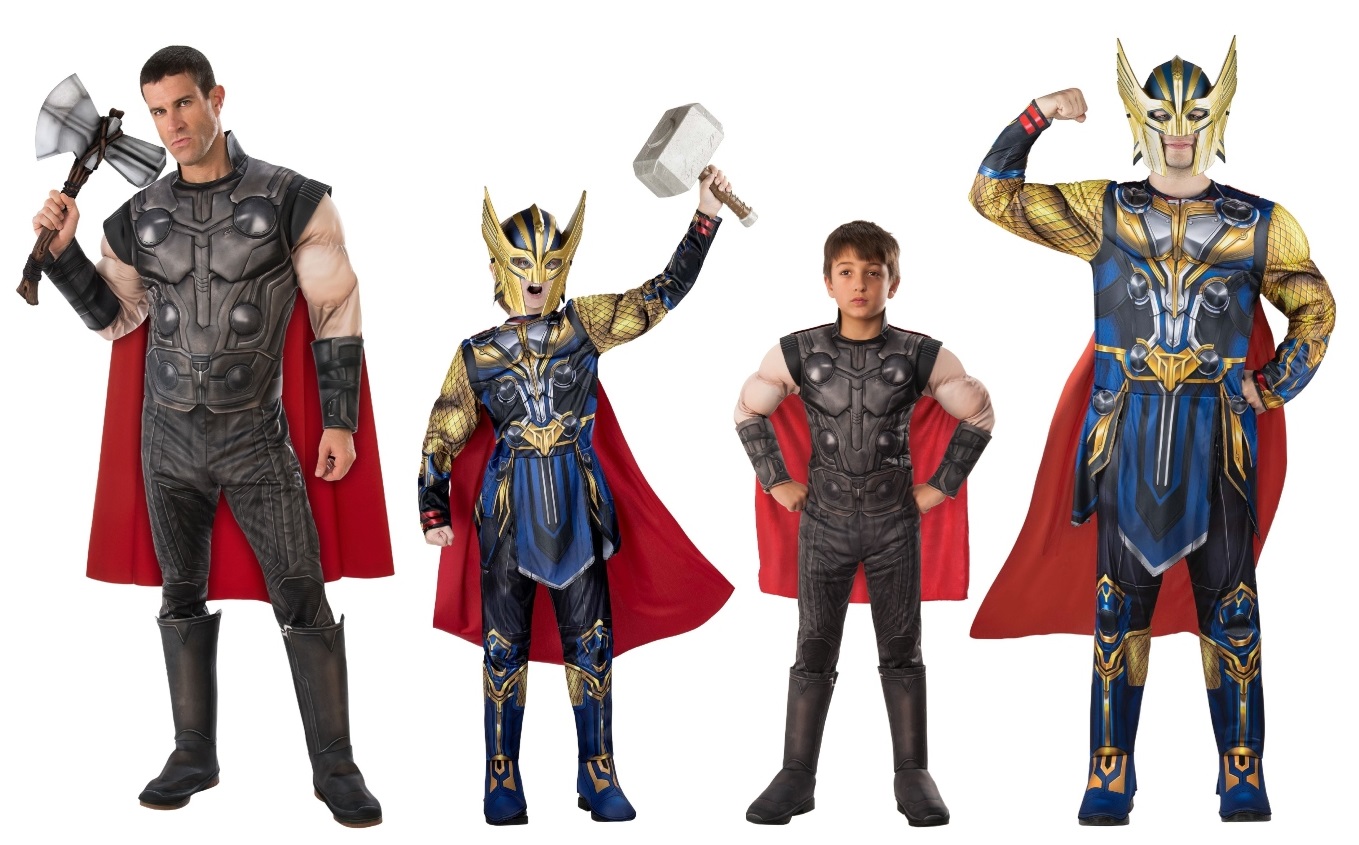 People will be thunderstruck when they see you wearing a Thor costume for Halloween! Everyone's favorite god-turned-superhero is well-known for his flowing locks of golden hair, so you can use this to your advantage! (It's also much easier to wear Thor's helmet without a wig.) Also, while your dog may not technically be blond, it was too cute not to mention! (Kudos if you happen to have a golden retriever.)

11. Sarah Sanderson Costume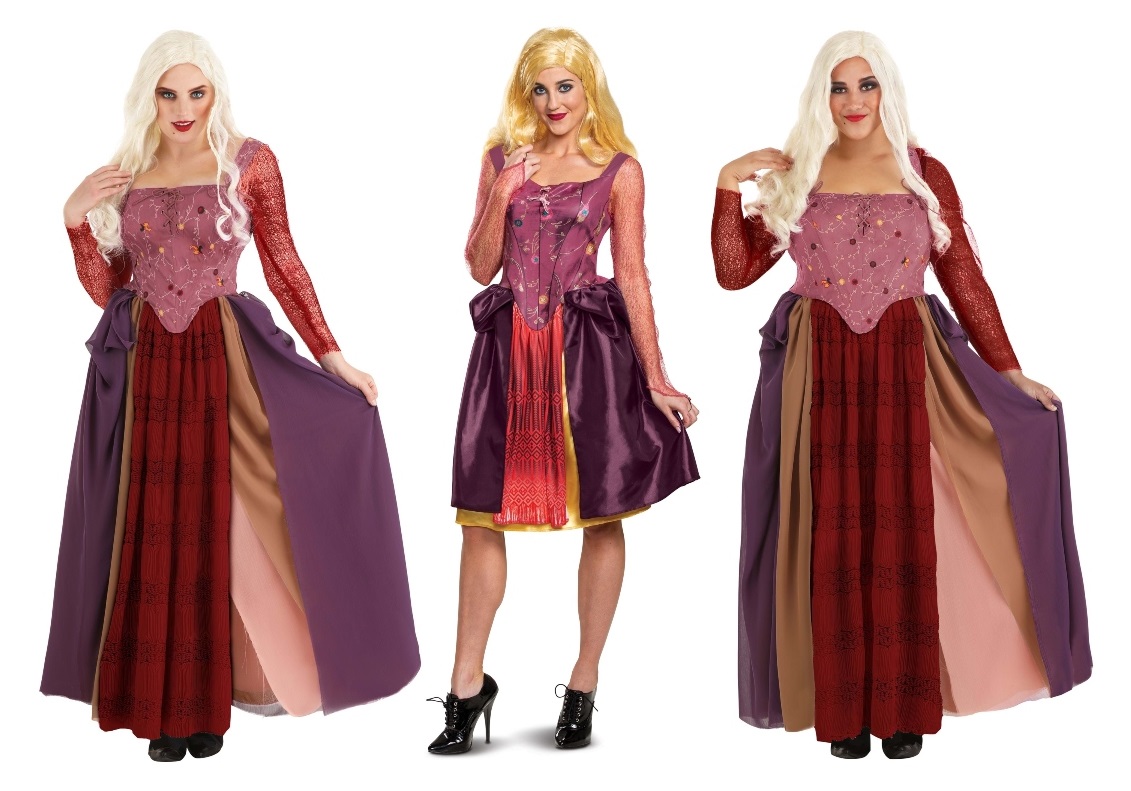 Put a spell on party guests with this Sarah Sanderson costume from Disney's Hocus Pocus! Easily one of the best costume ideas for a group of three, we know you will look amazing as the sinister siren. Sarah may perpetuate the stereotype of a "dumb blond" with her air-headed nature, but she lures unsuspecting children to their witch hut like a pro. (Let's see Winifred try that!)

12. Rapunzel Costume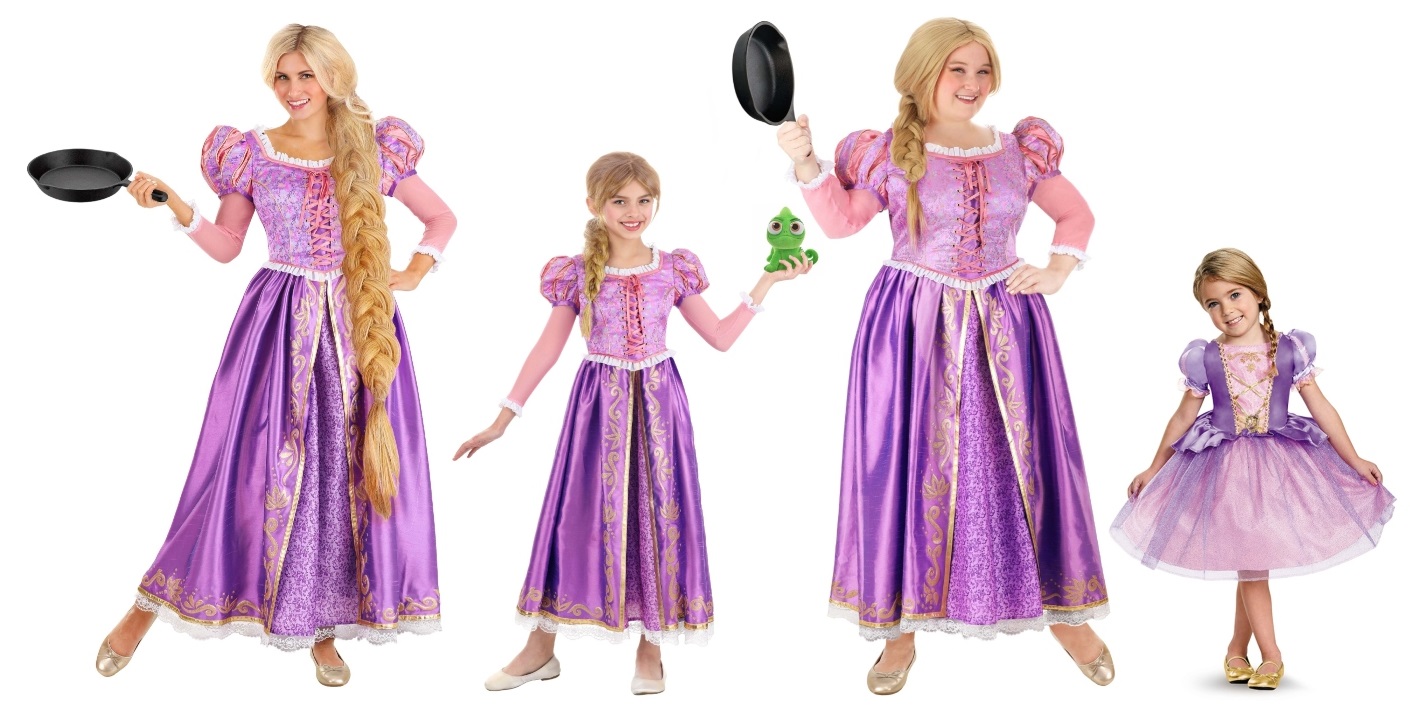 Rapunzel, Rapunzel! Let down your hair! Probably the most obvious costume for long hair, your blond hair is an absolute asset here. You can choose to wear it long or braid it with flowers, just like the movie wig. You can also wear a Disney Rapunzel costume like these purple dresses. Or, if your hair is long enough, you can go full fairytale with a Renaissance dress and your blond locks. Either way, it should be obvious who you're dressing as for Halloween!

13. Clueless Cher Costume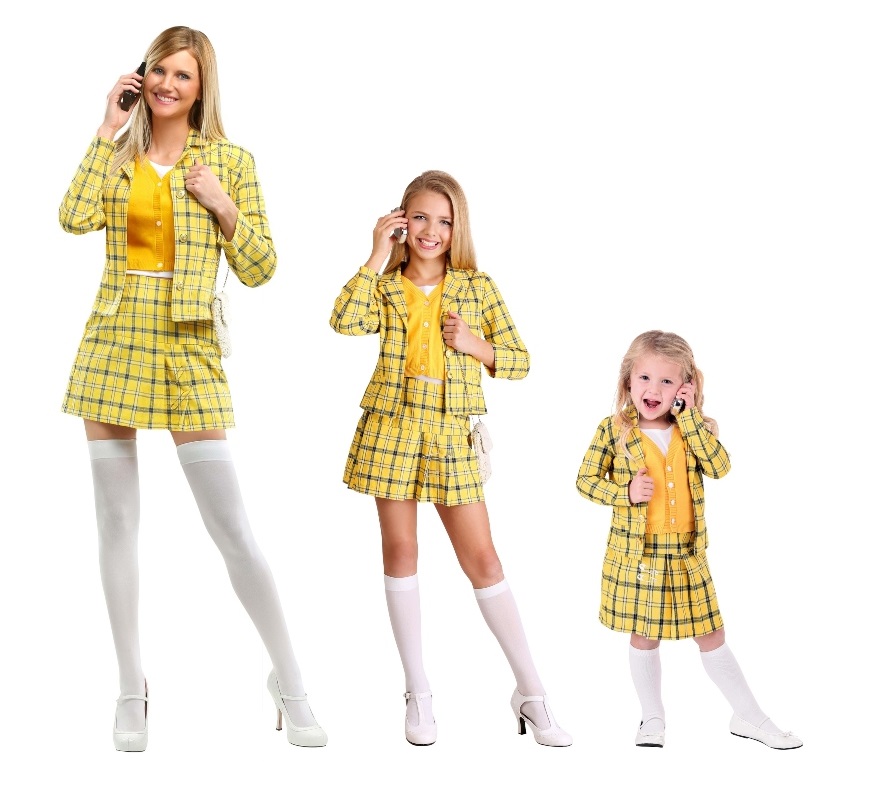 We love costumes of beloved TV and movie characters, and Cher from Clueless should be a no-brainer for blonds. (Duh!) If you're a fan of Clueless, you know all of the best quotes and one-liners to carry you through a costume party as the most in-character person! If not, we guess you'll just have to consult with Cliff's Notes. Grab some Dee and Tai Clueless costumes, and you'll have the perfect group of three costumes.

14. Bo Peep Costume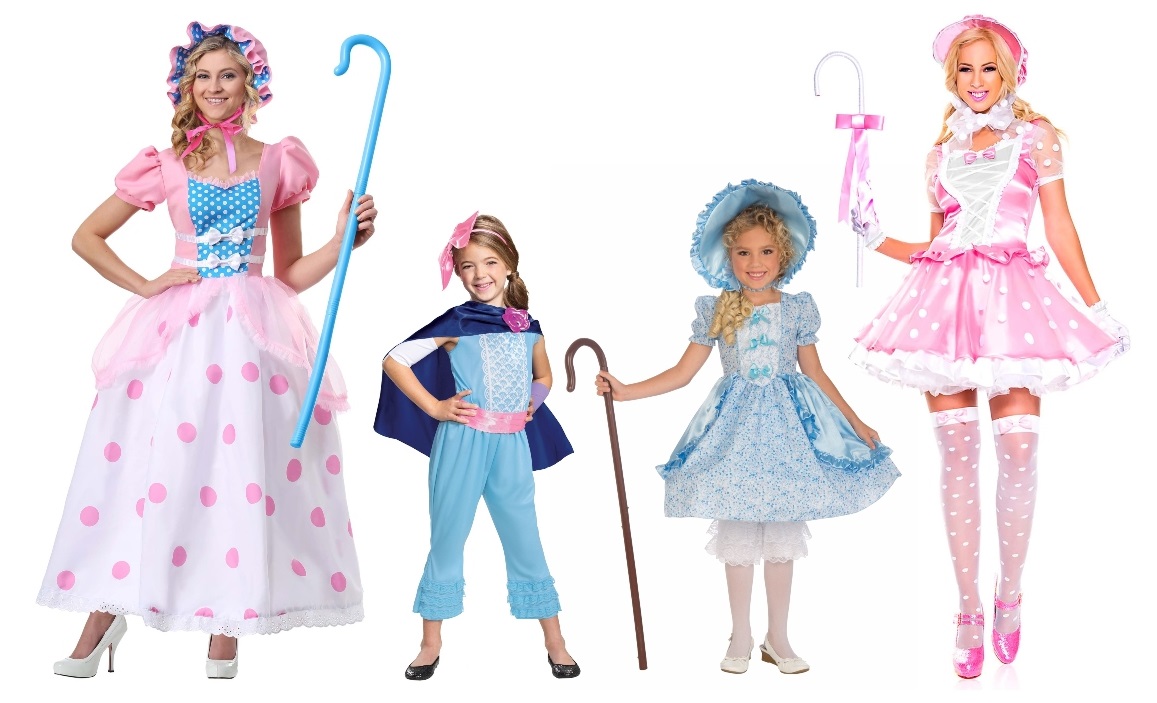 As a character, Bo Peep has a lot of history. She's featured in nursery rhymes and was given new life as a character in multiple Toy Story movies. Bo Peep is often depicted with yellow ringlet curls, and there's no better excuse to try this hairstyle! Add in a few people in sheep costumes with your Little Bo Peep costume, and you can accommodate a couple or group costume of whatever size suits your fancy.

15. Cat Noir Costume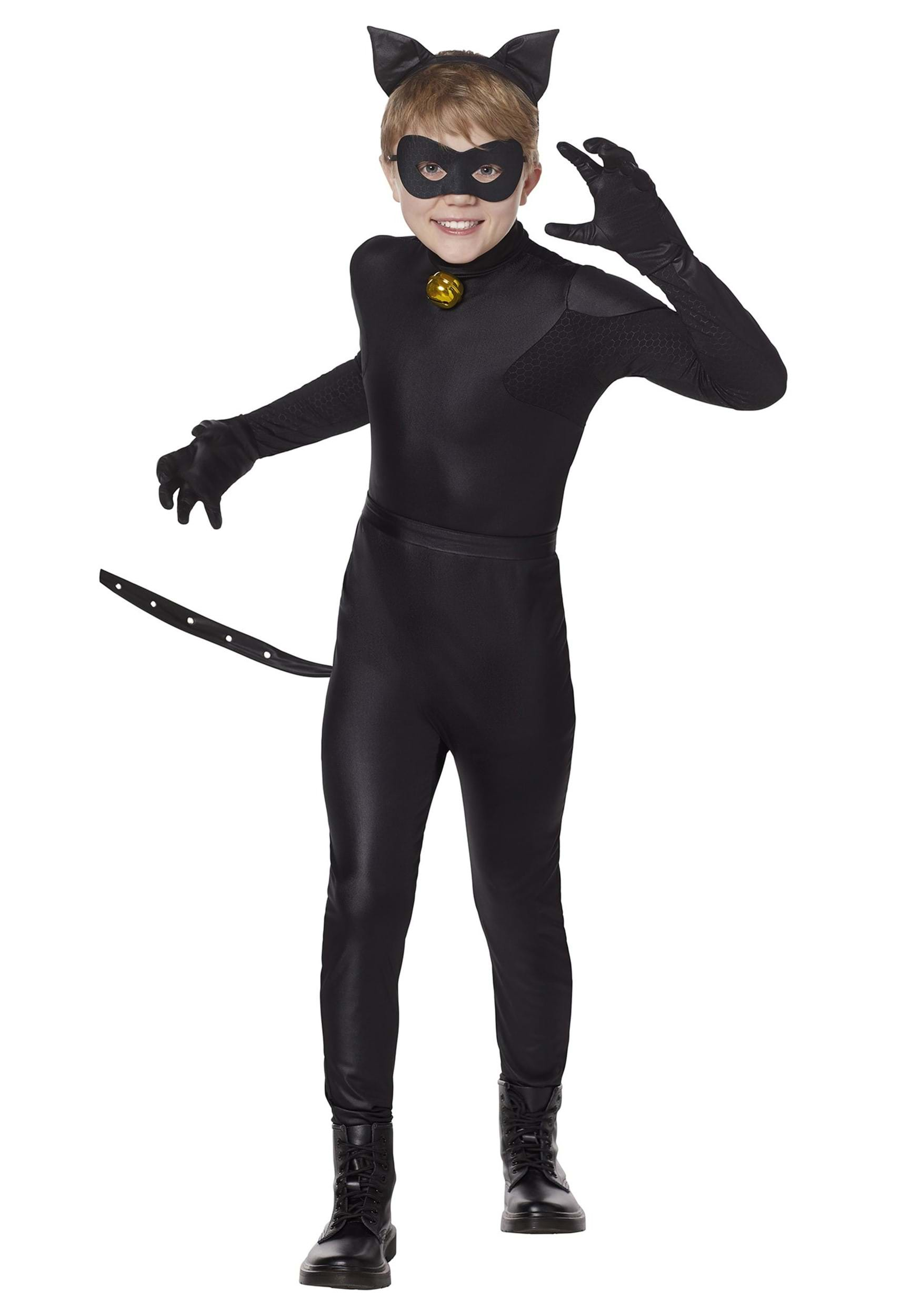 If you're looking for a superhero costume for a blond boy, purrrhaps he'd enjoy dressing as Cat Noir from Miraculous Ladybug. He's agile, smart, and witty, not to mention his cool superhero outfit! And who wouldn't want a miniature black cat Kwami? (Plagg is super adorable.)

16. Captain Marvel Costume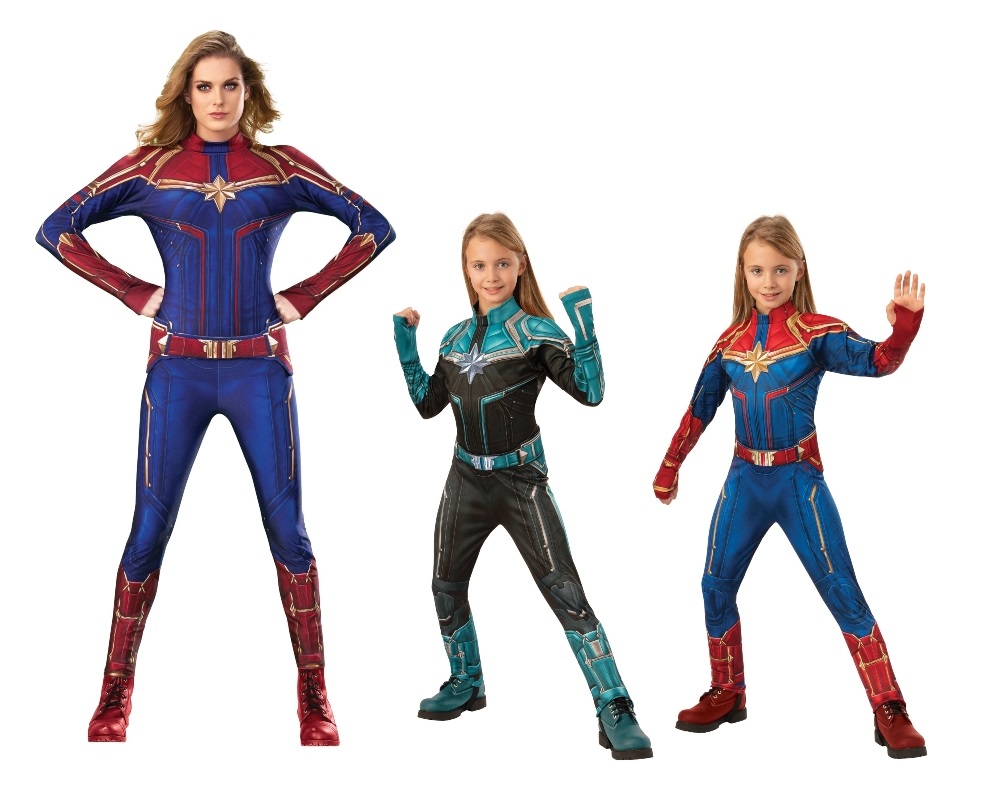 These Captain Marvel costumes will have you going higher, further, faster than anyone else at the Halloween party! Easily one of the most powerful superheroes in the MCU (and likely Marvel Comics in general), Captain Marvel is an excellent character for Halloween or cosplay. We're the most familiar with her MCU costume, but if you like the DIY approach, we made a Captain Marvel costume evolution with tons of other great cosplay ideas!

17. Regina George Costume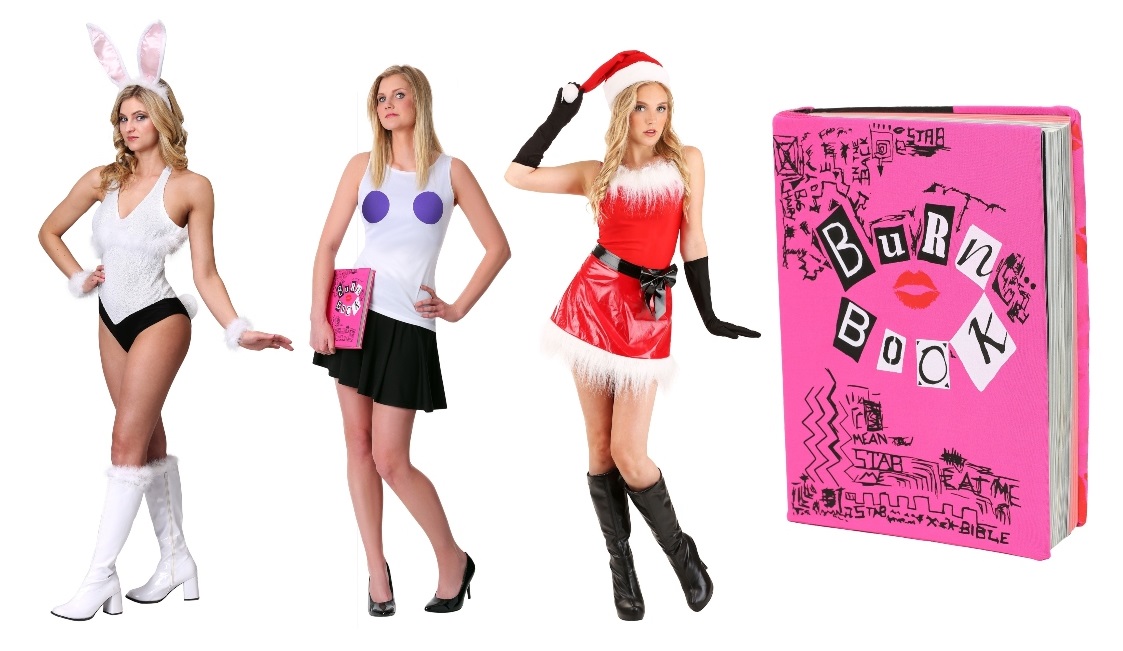 It's tough work being the queen bee, but someone's gotta do it. As the head of the Plastics, Regina George kept her squad in line with a set of strict rules. You could only wear a ponytail once a week, and tank tops were not to be worn two days in a row—and on Wednesdays, they would wear pink. Then there's the matter of the Burn Book, an accessory that your Mean Girls costume should not be without! You can add another blonde costume if you find someone to be your Karen Smith!

18. Elle Woods Costume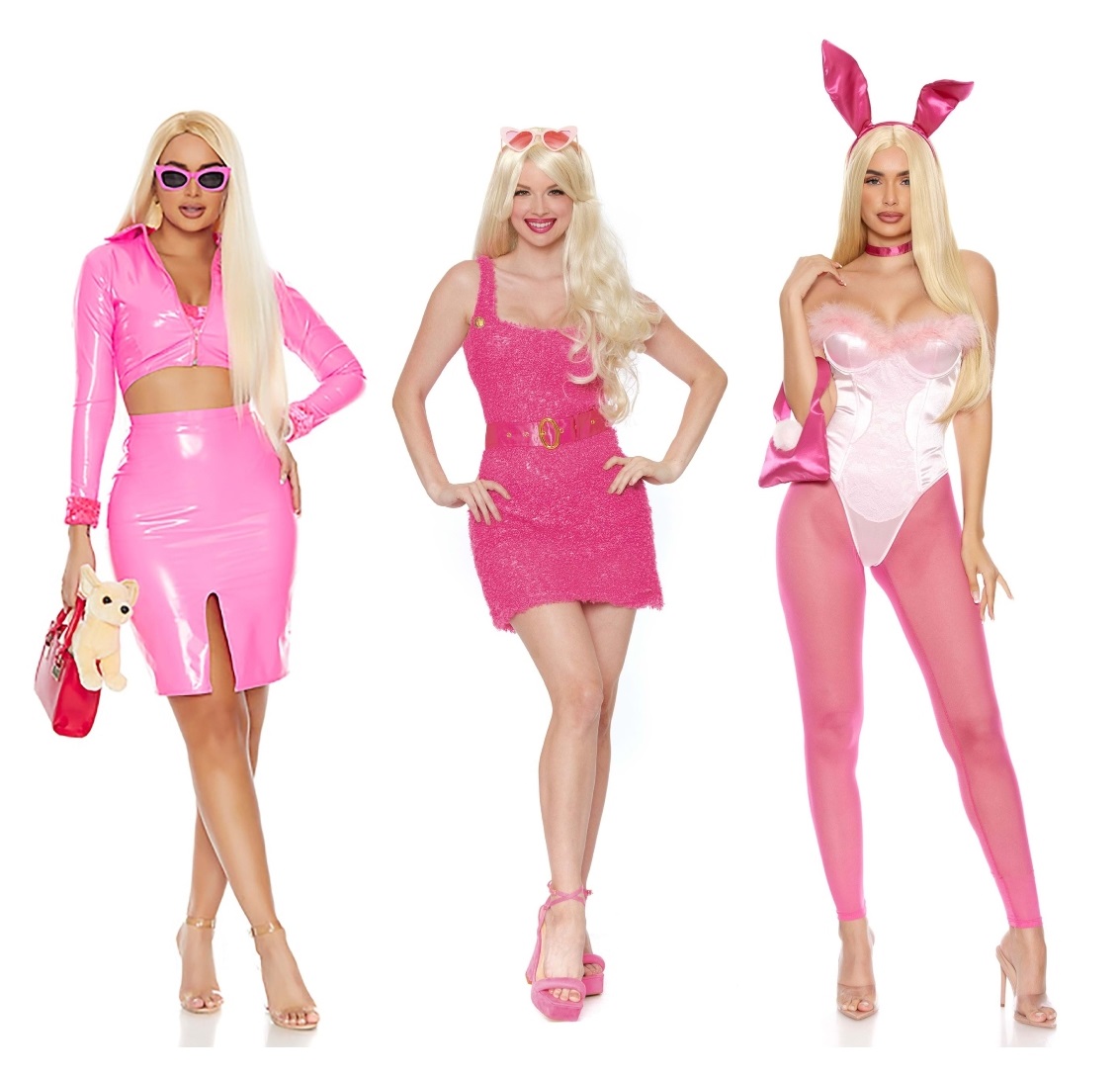 You can't be sexy and smart? We object! Never one to be underestimated, Elle Woods showed us just how capable a "dumb blonde" could be. Now, you may not be able to crack a case wide open like Elle did, but you can channel one of your favorite movie characters with these Legally Blonde costumes! We're sure your women's blonde Halloween costume will be a smash hit at the party.
19. Supergirl Costume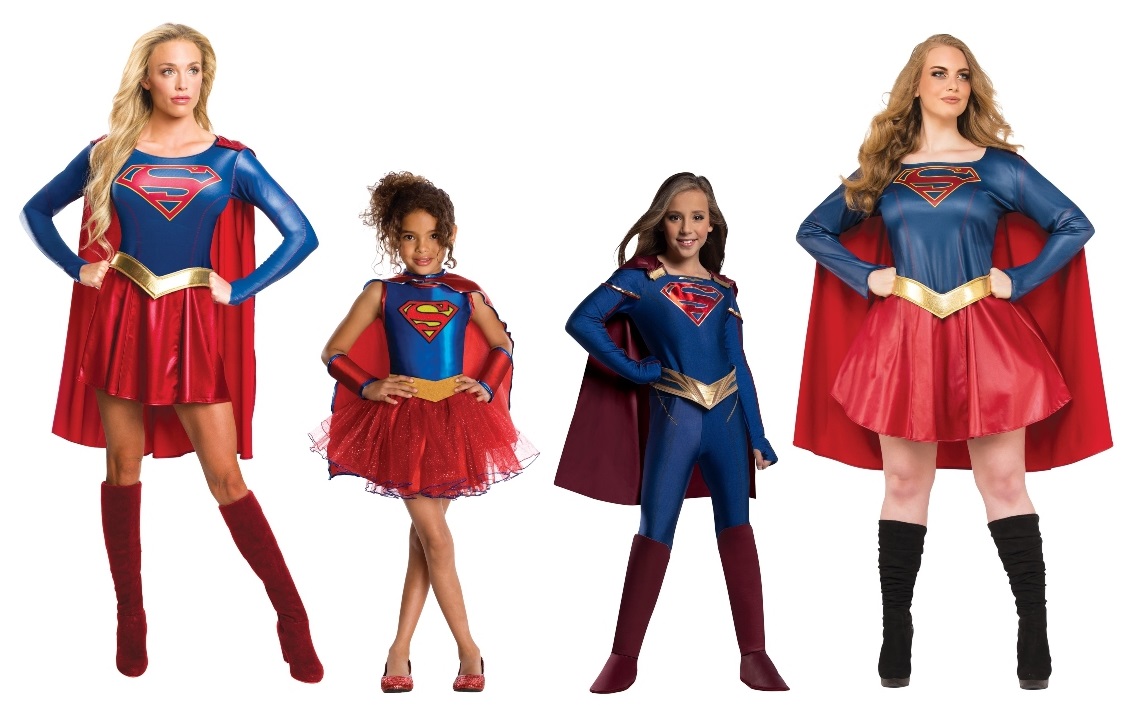 Supergirl first appeared in comics in the late 50s, but we're glad she managed to stick around! She has similar powers to the Man of Steel himself, but she arrived in a capsule as a teenager and not as a baby. Spunky and impulsive, Supergirl is a fun costume for blond girls and women. At least you don't have to deal with the growing pains of balancing superhero powers, school, and being a teenager!

20. Link Costume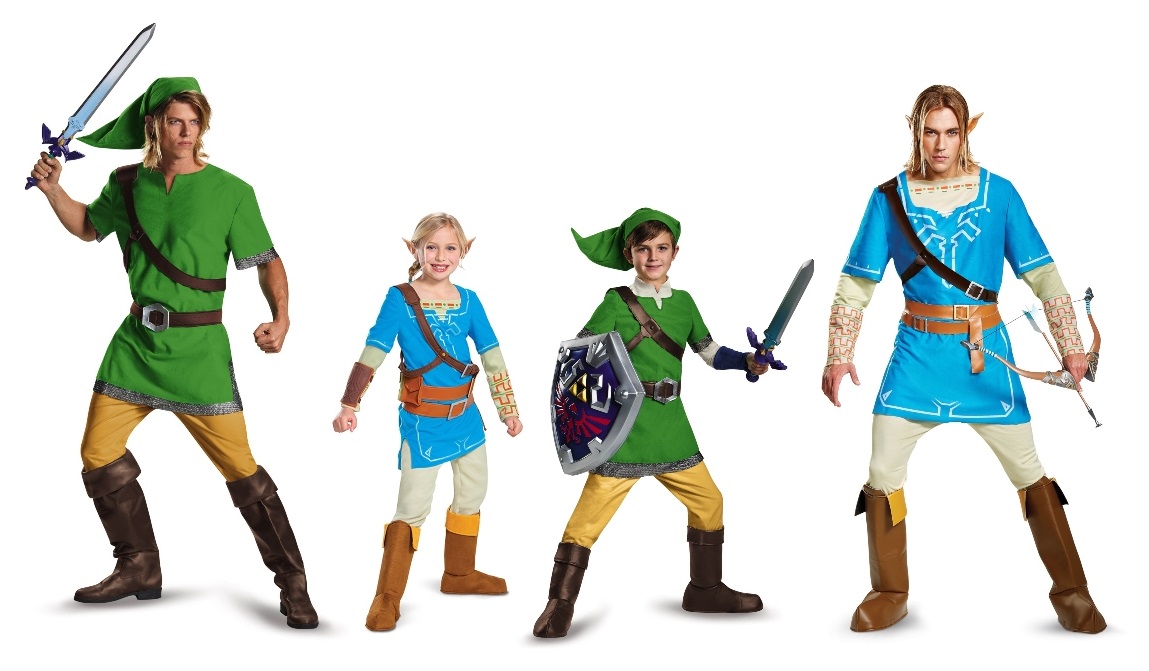 Hya! Hei! Haaaah! Oh, you can't understand that? If you happen to catch our drift, maybe you'd be interested in wearing a Link costume from either the classic games or Breath of the Wild. Link is an excellent costume for blond boys and men, but your gamer girl can get in on the fun too! After all, who doesn't want to wear a pair of elf ears while wielding the Master Sword?
21. Luna Lovegood Costume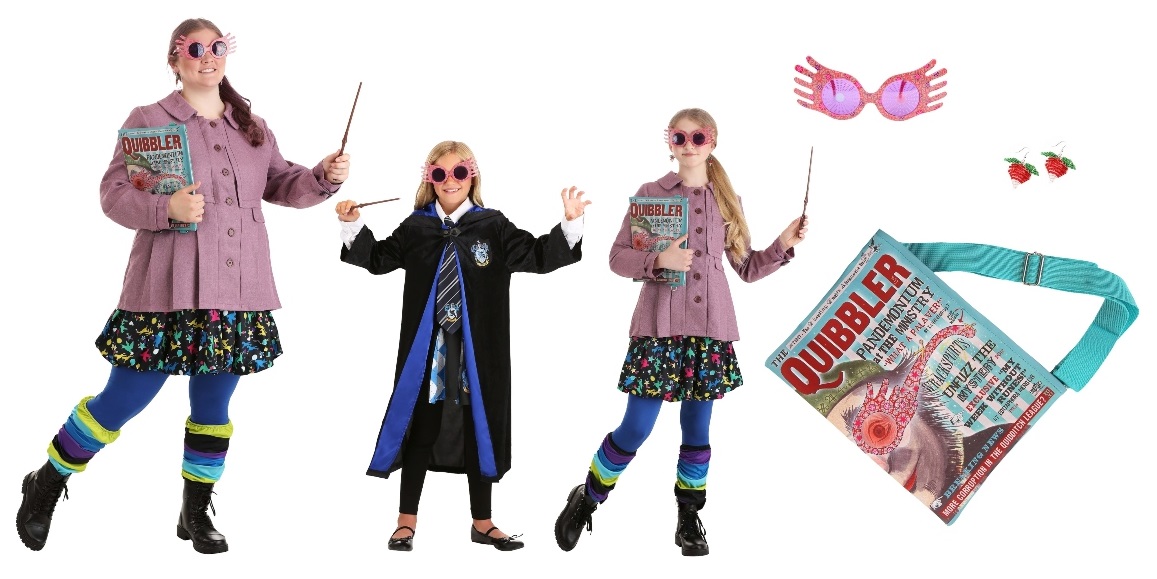 Harry Potter has a massive cast of characters, including a few blond characters perfect for your next cosplay event or Halloween party. However, we must admit that the quirky Luna Lovegood has our hearts. You can wear a Ravenclaw robe or a full Luna Lovegood costume, and it never hurts to have additional accessories on hand. Make sure to buy your costume well before your event, so the Nargles don't get to them!

22. Luke Skywalker Costume
Star Wars fans, you probably saw this one coming a galaxy away! As the main protagonist of the original trilogy, Luke Skywalker has a few outfits from which to choose. Blond guys can easily rock his classic tan outfit, but don't forget about Luke's Dagobah costume or his appearance in The Last Jedi. There are also Luke costumes for kids and adults, so you can share your passion with the next generation. (Did any Star Trek fans catch that?)

23. Dolly Parton Costume
Bring on the fringe and rhinestones! Dolly Parton's outfits are unmistakable, not to mention iconic. Her attire in Stallone's Rhinestone is gorgeous with the silver and white on black, and she rocks a fringe jumpsuit like none other. If you have medium-length blonde hair, this celebrity costume was practically made for you! Throw in a microphone prop to pull it all together, and you have an award-winning costume idea.

24. A League of Their Own Costume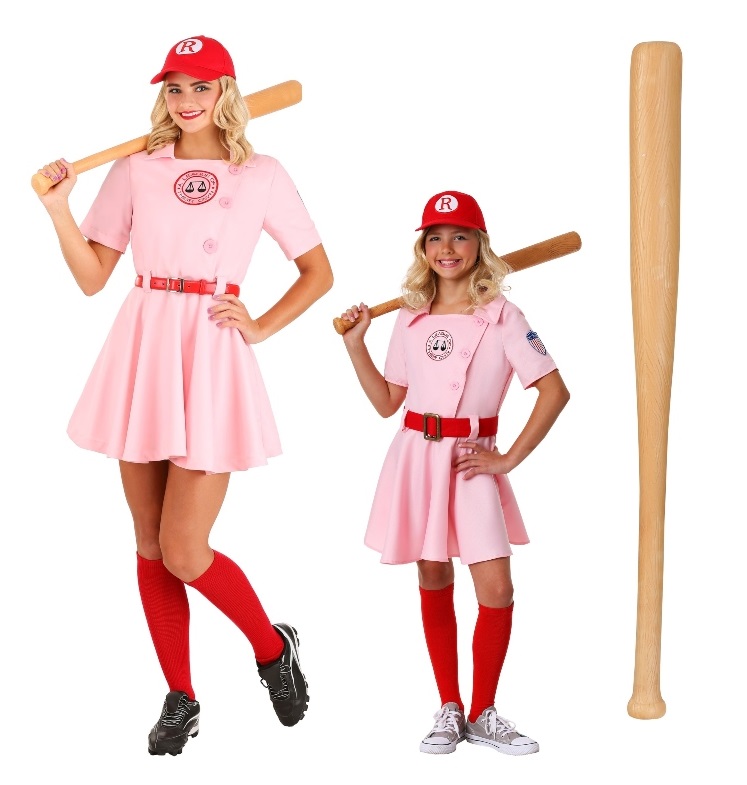 Don't fret when picking your Halloween costume this year. (After all, there's no crying in Halloween costumes.) Our A League of Their Own costumes are truly in their own league, with regular and deluxe versions for everyone. While you can make this a Dottie costume, you can just as easily be another blond-haired baseball player. Don't forget to add a bat prop for a more authentic experience!

25. Sleeping Beauty Costume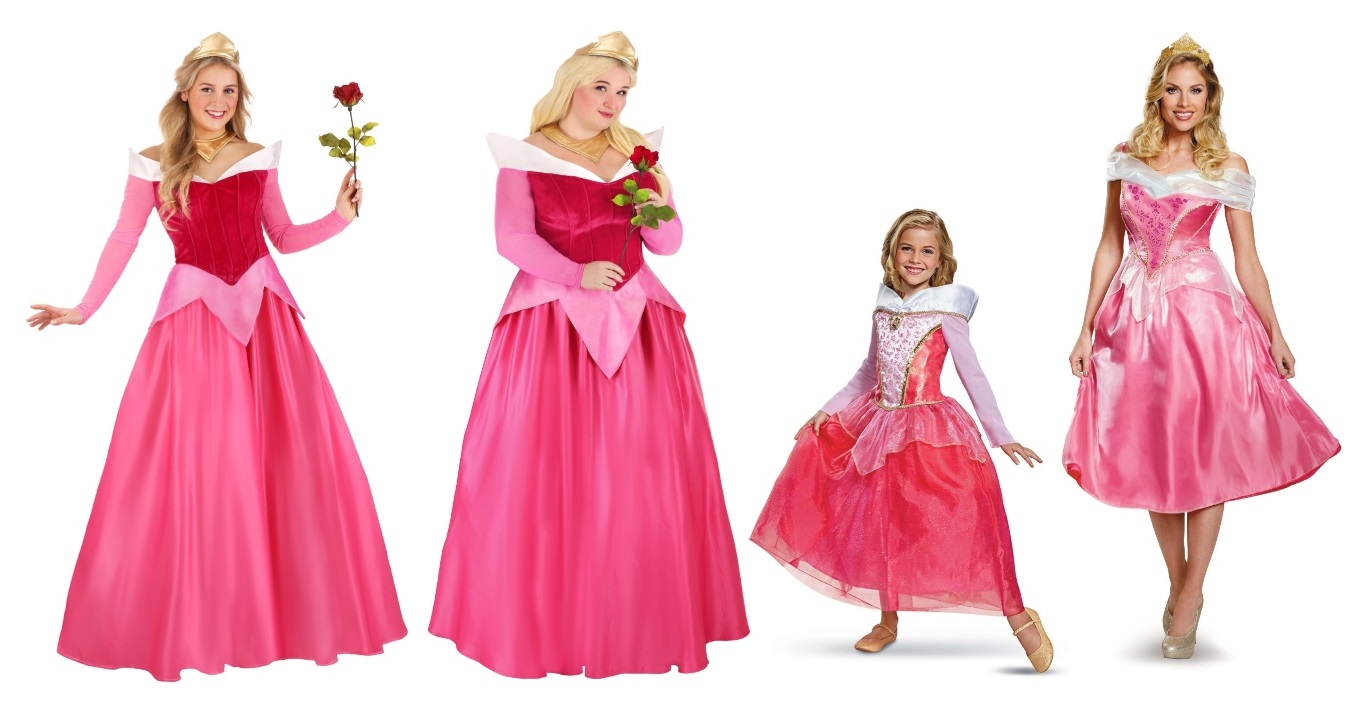 If you feel that your golden strands are worthy of a pretty pink princess dress, maybe a Sleeping Beauty costume is right for you! Princess Aurora has one of our favorite dresses from the classic Disney princesses, not to mention a gorgeous tiara! While this Disney costume is great for Halloween, your little girl may want to hang onto it for dress-up opportunities. We love it when costumes can get used again and again!

26. Tiger King Costume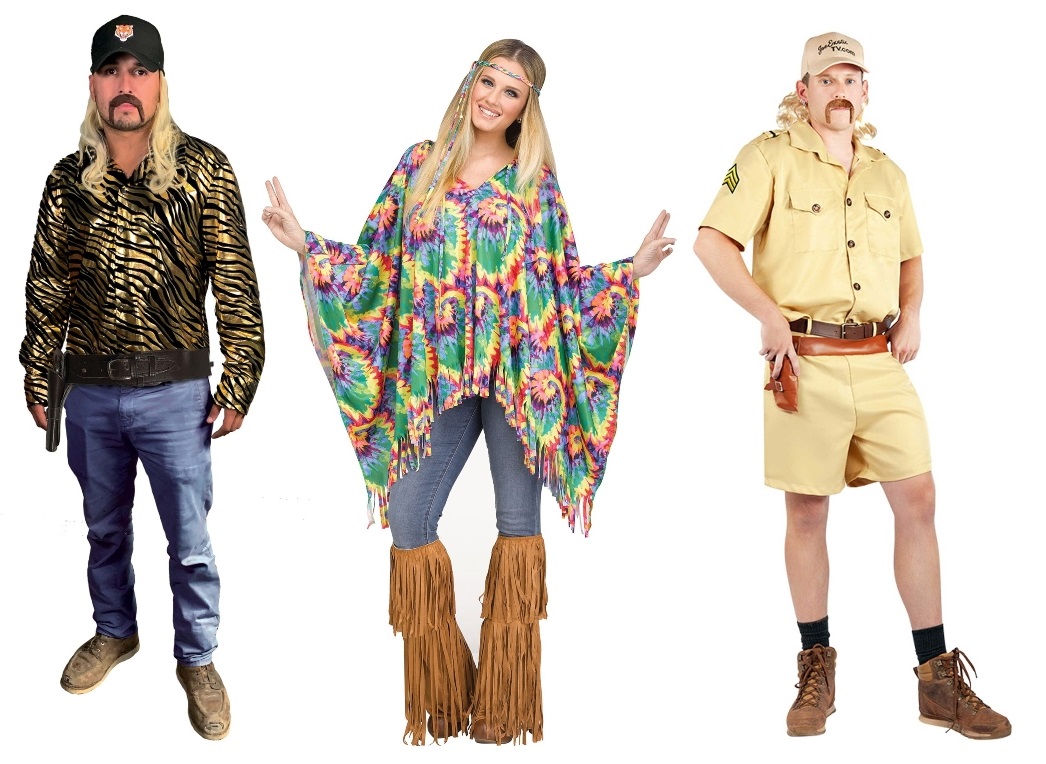 Netflix's Tiger King may have debuted in 2020, but we're still reeling from the effects of the show years later. Exotic zoo owners and animal rights activists became overnight celebrities, for better or worse. But they're all characters in their own right, and they became hit Halloween costume sensations! If you're a guy rocking a blond mullet, don't pass up on the opportunity to wear a Joe Exotic costume. However, Tiger King costumes also have an option for ladies in Carole Baskin! These are blond costumes for only the coolest cats and kittens.

27. Zelda Costume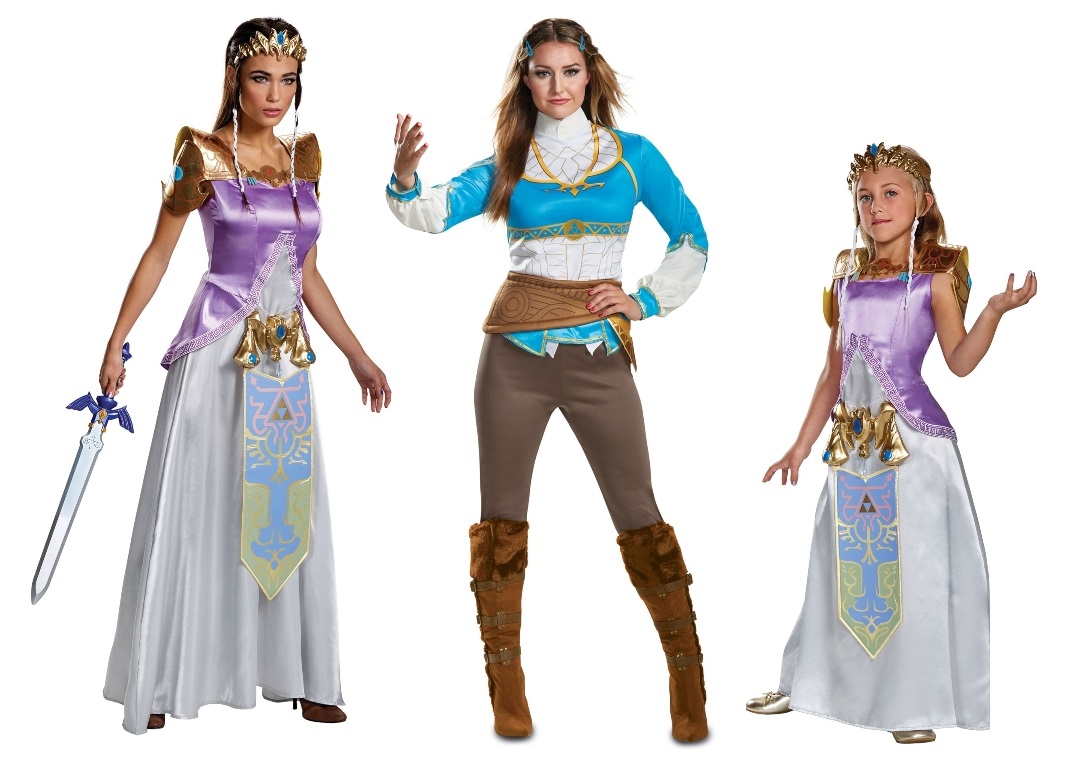 We know that Link is the main character of the series, but it wouldn't be The Legend of Zelda without Zelda! This blond-haired Elf wears a similar dress in most games, although she did have a style change along with Link in Breath of the Wild. Whether you love classic Zelda or the newer version, these Zelda costumes will make you feel like a flaxen-haired Elven princess.

28. Aquaman Costume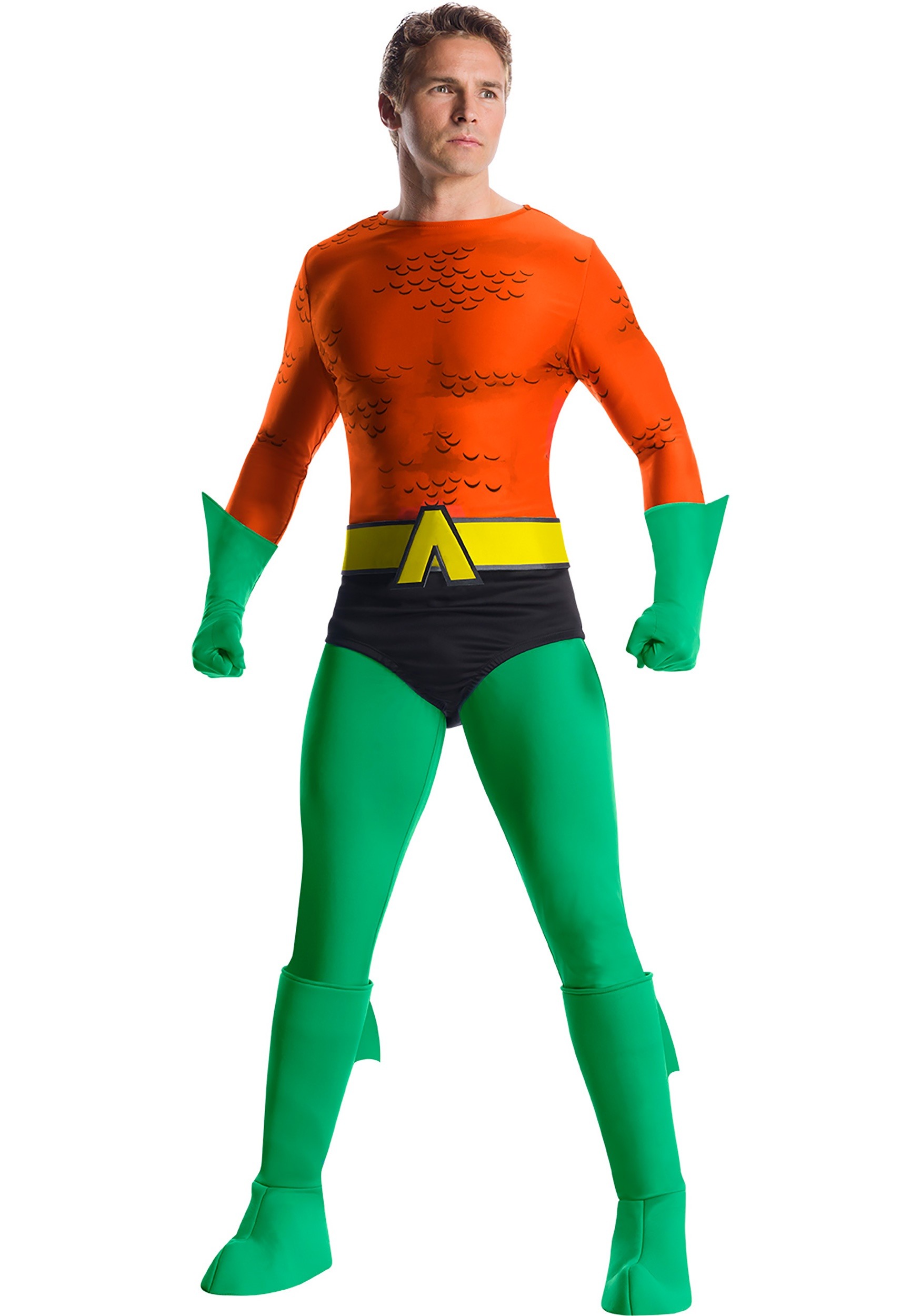 Before the current DCEU movies, Aquaman was a blond superhero. (He also wore orange and green together in one outfit like no one's business!) If you're a fan of classic DC superheroes, Aquaman might be a good choice for you. You're cosplay-ready with this Aquaman costume, perfect for Comic-Con and pop culture conventions! Add a gold trident prop, and you'll feel like the king of Atlantis.

29. Taylor Swift Costume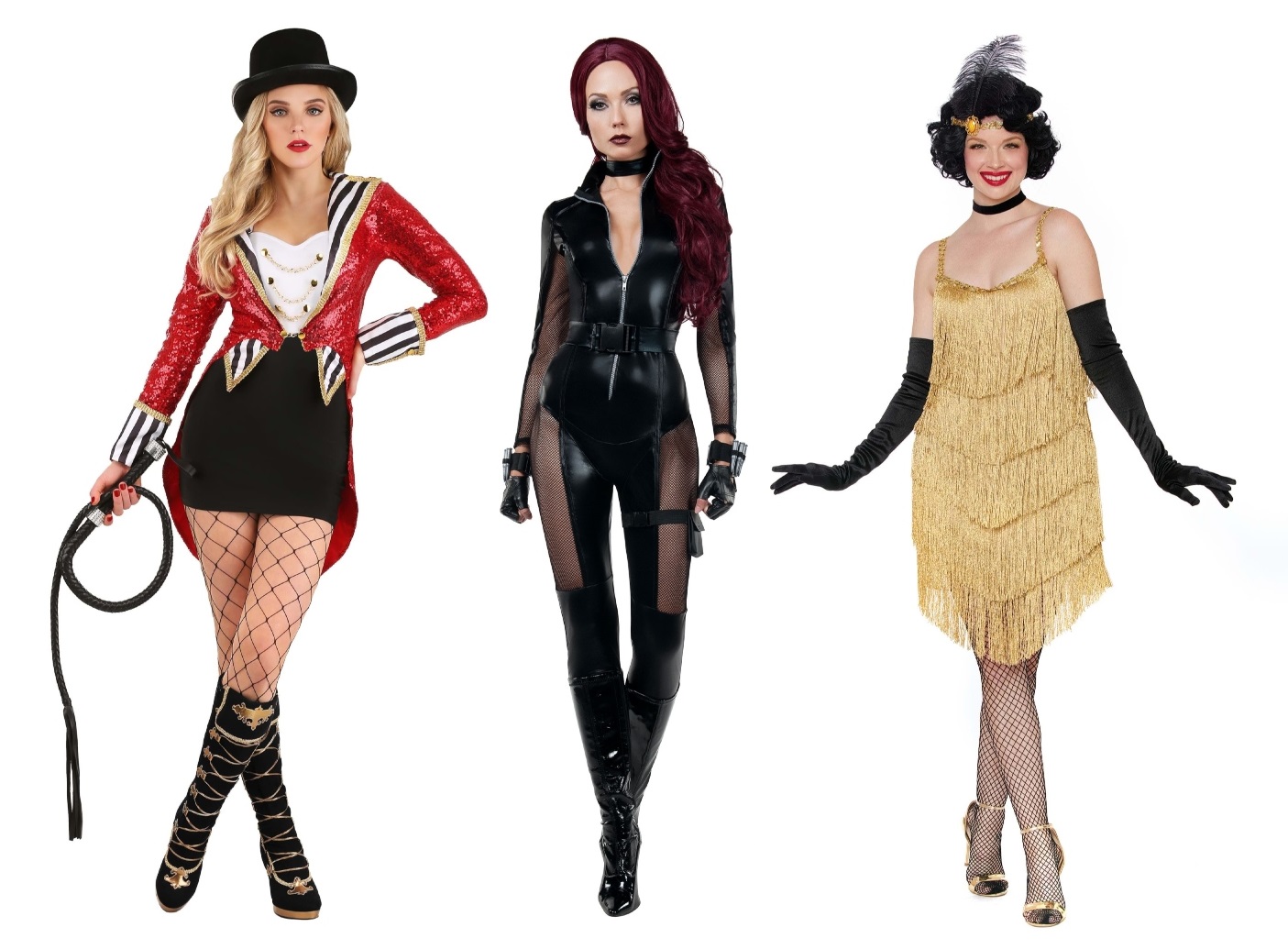 If you're looking for a great blond celebrity costume, why not choose one of the best-selling musicians of all time? (That goes double if you're a Swiftie!) Some of her more costume-like looks include a sexy ringmaster costume, a gold-fringed dress, and a white and gold drum majorette costume. Of course, we won't stop you if you want to wear a different Taylor Swift costume. What can we say? You're gorgeous.

30. Marilyn Monroe Costume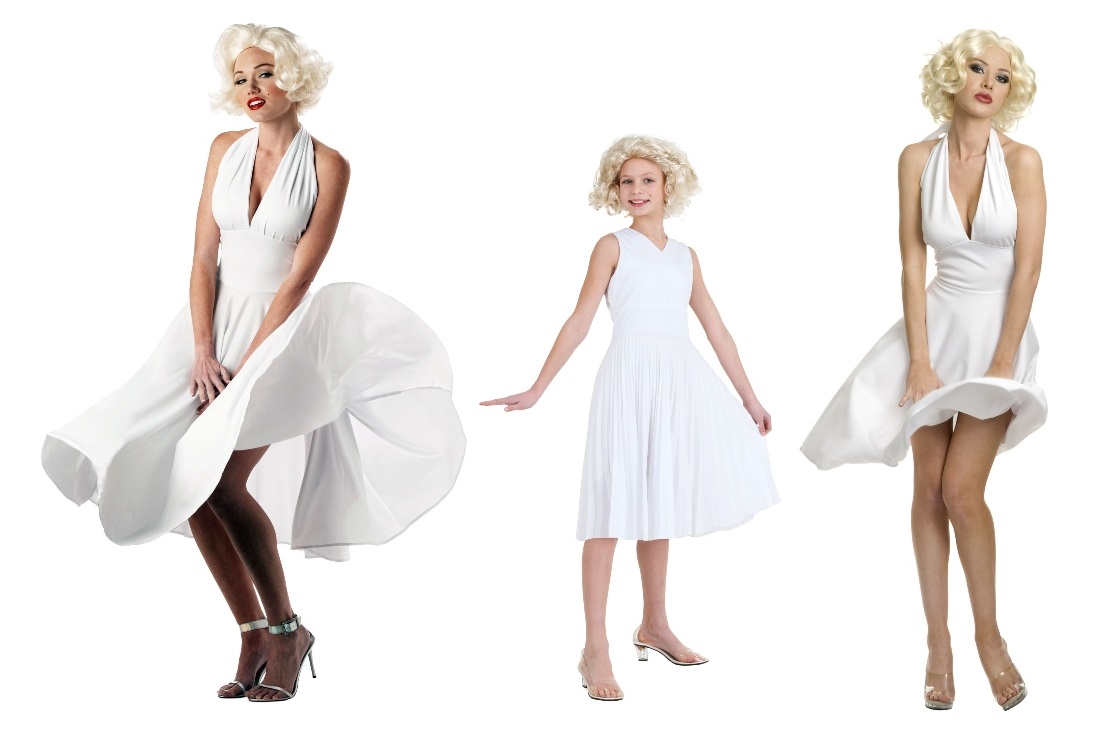 Feel like a starlet this Halloween when you wear a Marilyn Monroe costume! This talented movie star was famous for her role as a blonde bombshell, and is there anything more iconic than her white dress in The Seven Year Itch? You may not have a subway grate to stand over to imitate that particular scene, but with the right hairstyle and a beauty mark, there shouldn't be any question about your costume.

31. Madonna Costume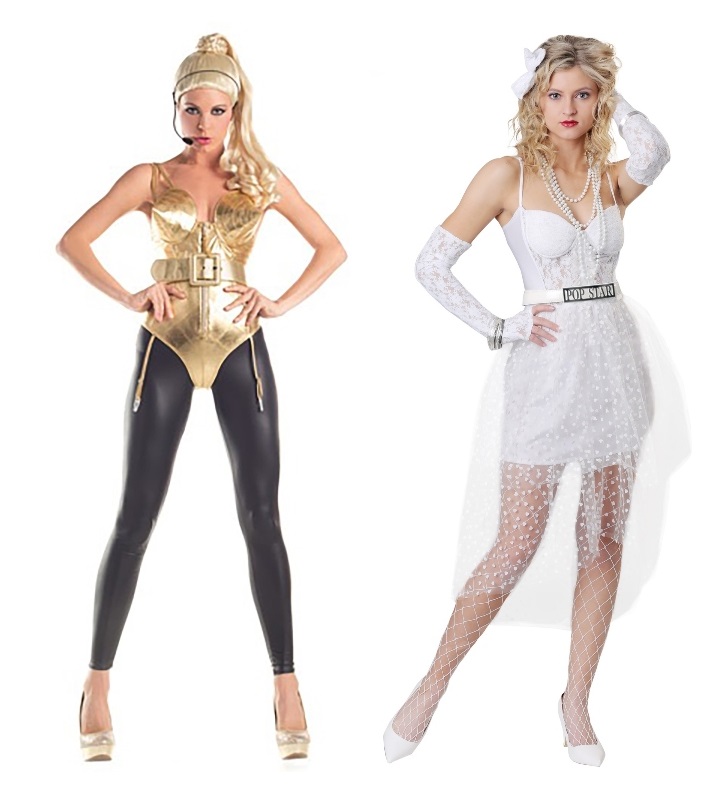 Blond-haired material girls will want these Madonna costumes for 80s costume parties and Halloween! The pop singer had many wild outfits that kept her in the media spotlight, from cone-shaped bustiers to lace dresses and giant hair bows. Madonna certainly wasn't afraid of the attention! These show-stopping costume ideas for adults are bound to bring back nostalgic 80s memories.

32. Hulk Hogan Costume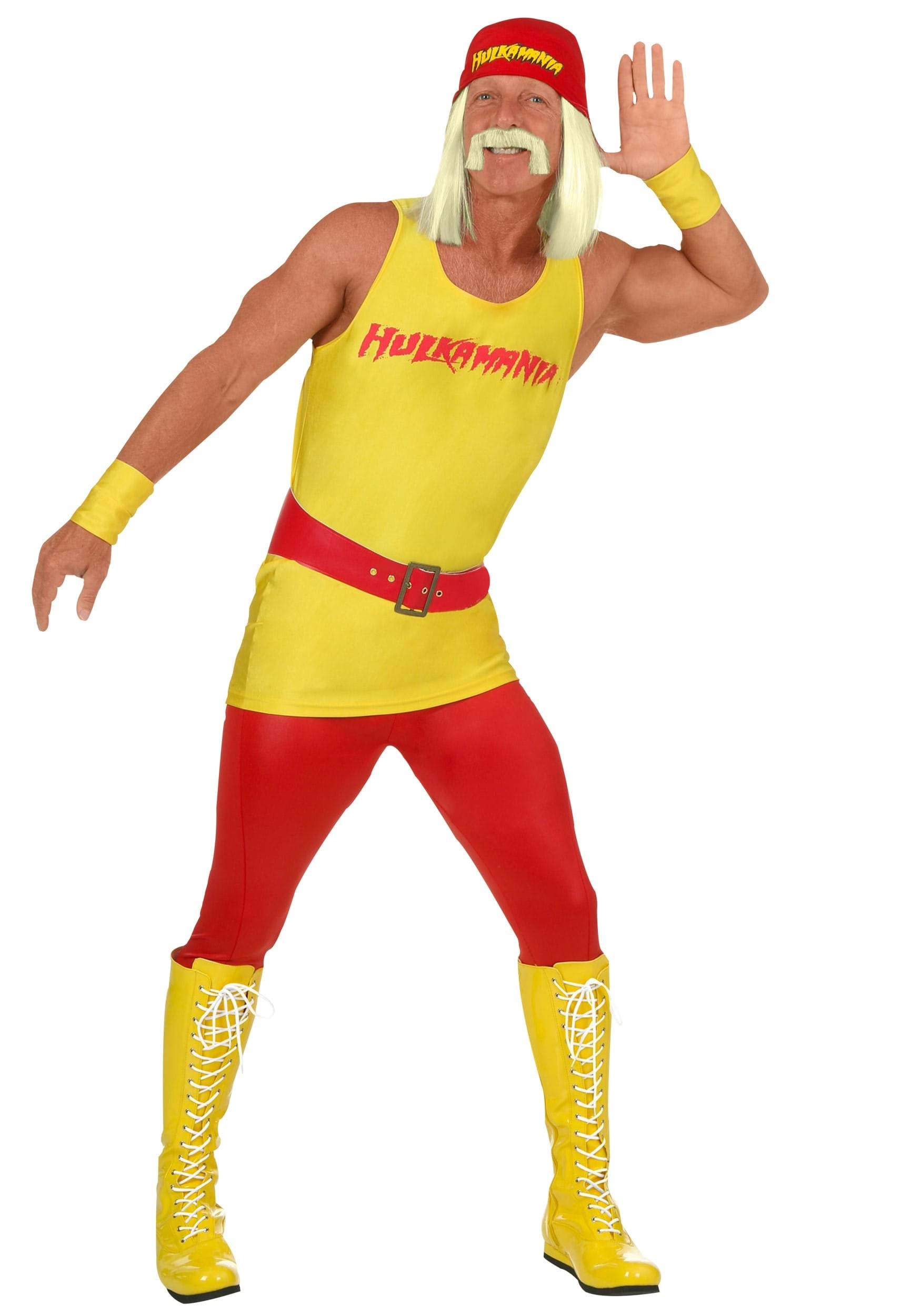 It's safe to say that few sports stars have stood out from the crowd as much as professional wrestler Hulk Hogan. Blond guys, if you can grow a mean mustache, this may be a great Halloween costume option for you! Hulk Hogan was one of WWE's most decorated wrestlers, creating a pro wrestling boom in the 80s. Even outside the world of wrestling, he had a presence in movies and on TV. While he's retired from wrestling, his yellow and red wrestling suit is unmistakable!

33. Barbie Costume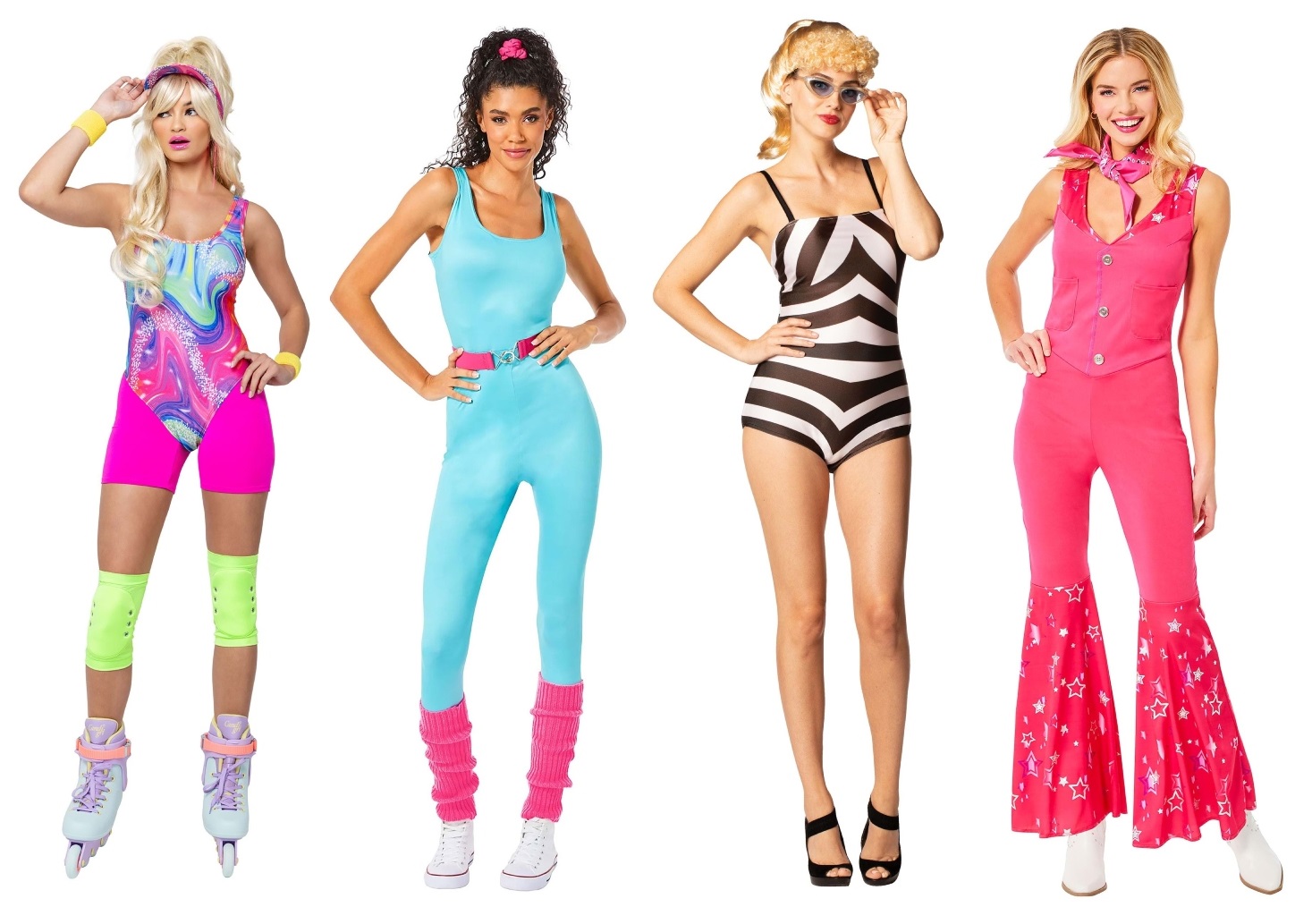 Come on, Barbie, let's go party! The world's most famous doll comes in all shapes and sizes these days, but she was originally a blonde woman. (A stereotype that still holds true to this day.) Barbie also has quite the impressive resume to boot—from a fashion model and astronaut to a doctor and even the president. A Barbie costume is bold and instantly recognizable, not to mention a great sexy costume for blonds!

34. The Dude Costume
You could say that this costume really pulls the room together. Be extra comfy as The Dude in either his iconic bathrobe with a t-shirt and sandals, or chill out in a cool cardigan. Blond guys will love this Big Lebowski costume idea for Halloween. If you're a guy with long hair, even better! Make sure to distress it a little, so it feels more authentically frizzy.

35. Eleven Costume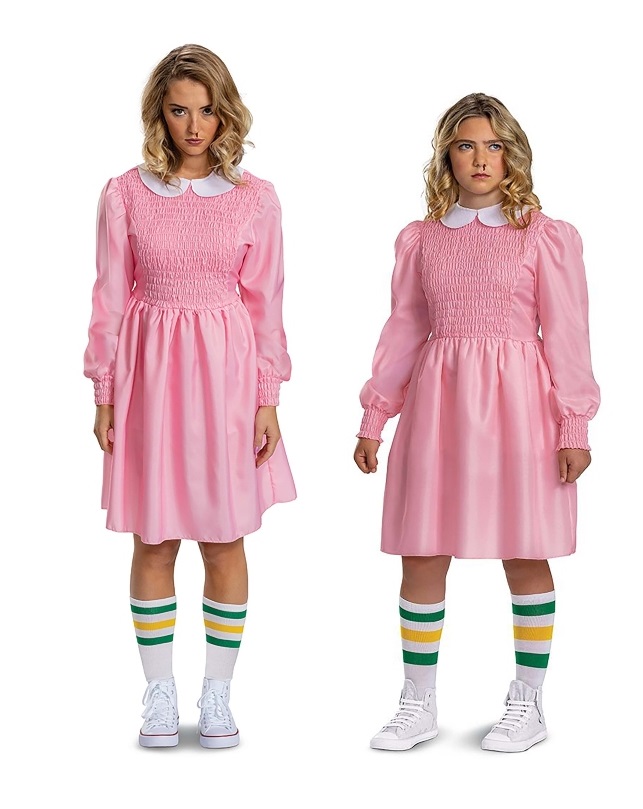 Yes, we know Eleven isn't a natural blonde, but her pink dress outfit is perfect for blonds who don't want to wear wigs. Make sure to wear white sneakers and her signature striped socks, and it never hurts to have some Eggos along. However, if you need to add another blond to your Stranger Things costume group, you can always channel your sassy Robin with a Scoops Ahoy uniform.

36. Fred Costume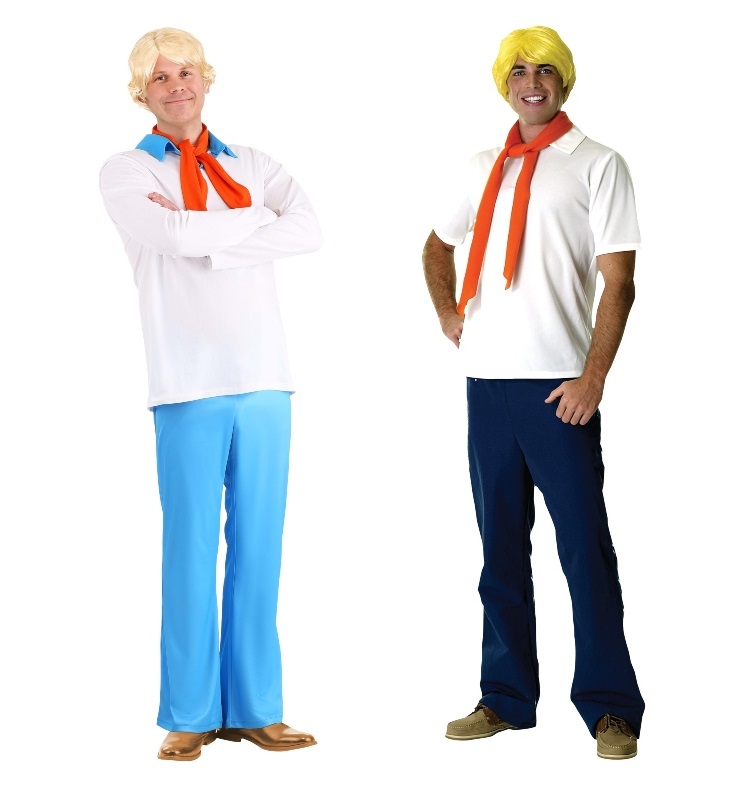 Sometimes it's tough to be the leader, but someone has to do it. Fred may not have Velma's wits or Scooby's danger sense, but he was usually the one talking with people that needed a mystery to get solved. (Let's face it—some of us introverts would rather just do the job and let someone else handle the communication!) Fred always kept his cool, which was a great balance with Shaggy and Scooby chickening out. The best part about this Fred costume is that you can easily accommodate a group of friends in other Scooby-Doo costumes!
37. Blades of Glory Costume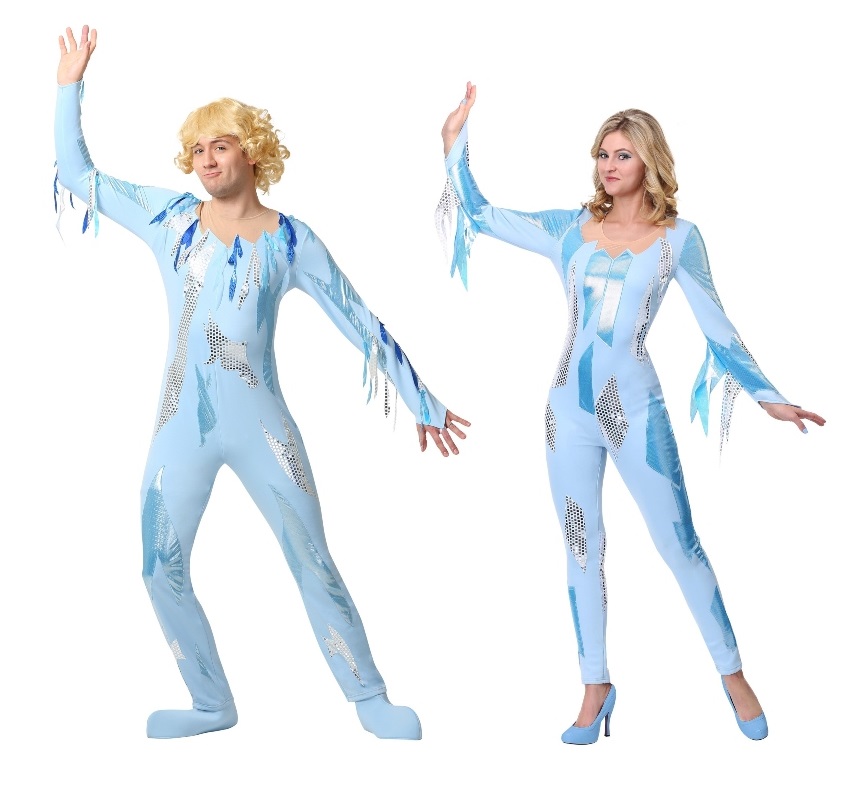 Get ready for some hilarious sports comedy costumes! Jimmy MacElroy, played by Jon Heder, was the "ice" half of the fire and ice skating duo, and it's a great Halloween costume idea for blond adults. We have these Blades of Glory costumes in men's and women's sizes, so you can feel fabulous no matter who you are. Grab a brown-haired bestie, and you have a hilarious best friend costume on your hands.

38. Kristoff Costume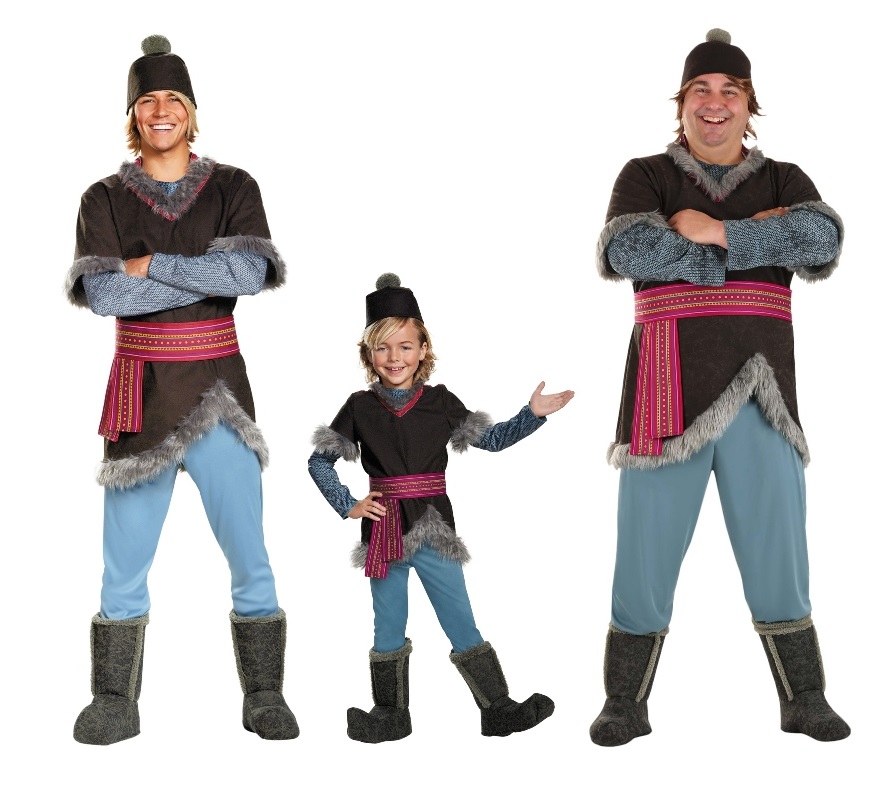 Blond-haired guys can wear Disney character costumes too! A more recent addition to the Disney lineup, Frozen's Kristoff has a head of golden hair under his knit cap. While this is a popular costume idea for kids, dads may find themselves being the Kristoff to their Anna or Elsa when taking the kids trick-or-treating. You can just as easily turn this into a family affair by adding Frozen costumes for your wife, kids, and pets!

39. Wendy Peffercorn Costume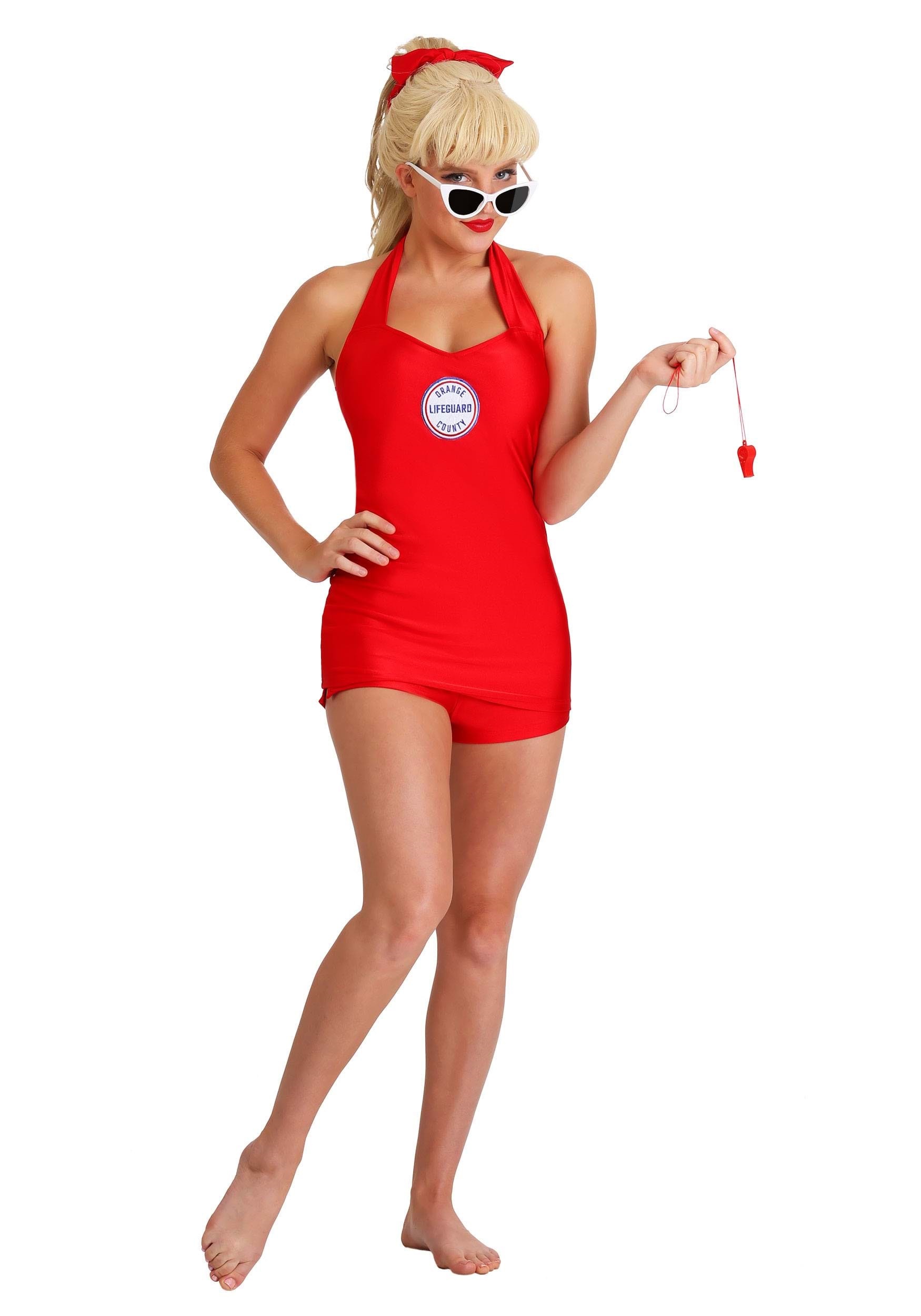 Fans of classic coming-of-age films are probably familiar with The Sandlot's Wendy Peffercorn. She was, of course, the hottest lifeguard at the local pool. This Sandlot costume would make a great couples' costume idea with your significant other as Squints, but there's no shame flying solo either. Grab your favorite pair of white sunglasses and you'll be telling people to walk, not run, in no time.

40. Goldilocks Costume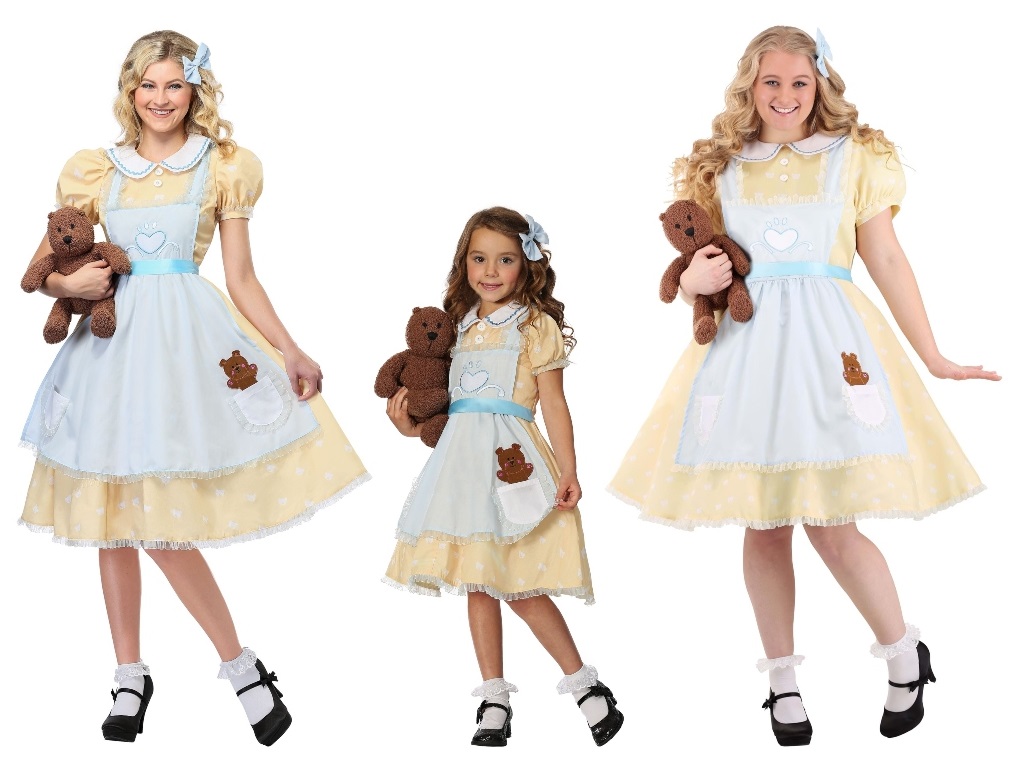 With a name like "Goldilocks", you already know what you're getting into. Also, if you're familiar with the story, you have a group of 4 costumes as an option with Goldilocks and the Three Bears. These cute Goldilocks dresses cover a full range of sizes, so any girl with blond hair can be the main character surrounded by three bears. However, if you're not ready to attend your Halloween event with three people in bear costumes, take a teddy bear as a prop for Goldilocks instead!

41. Dumb and Dumber Costume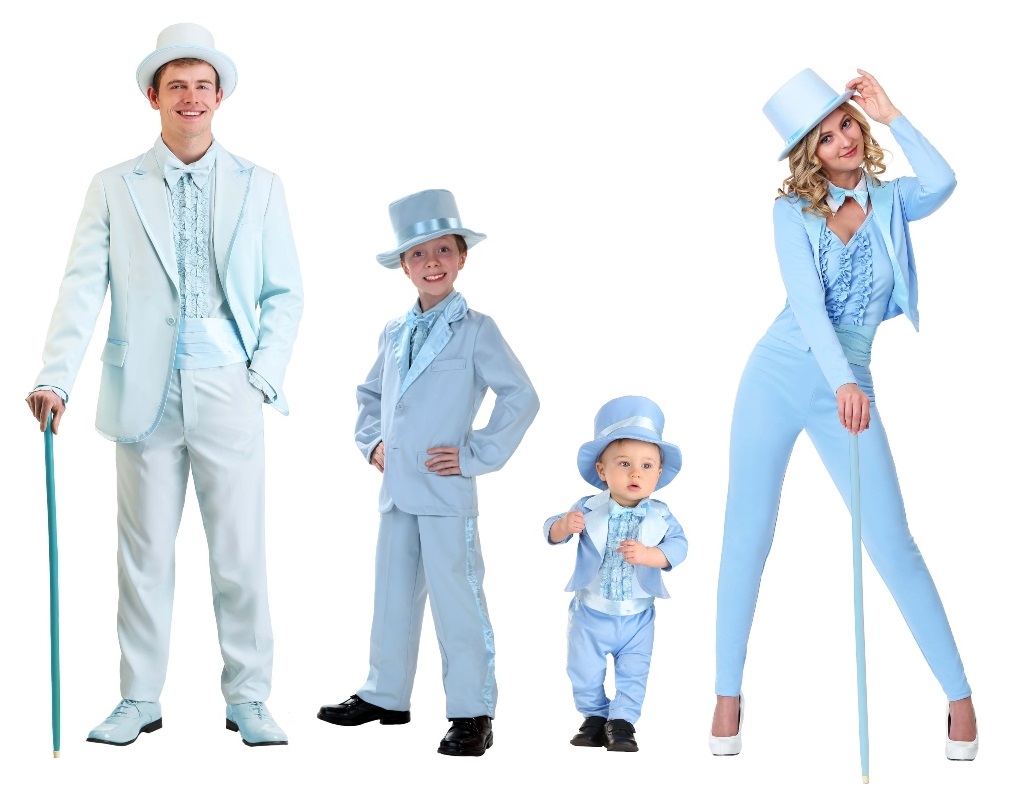 The blue half of our favorite daft duo was blond, so why not pull out some blue and orange tuxedos for Halloween? Add a blue top hat and cane if you must, and don't forget the shoes! (We'd be utterly flabbergasted if you managed to pull up in a Mutt Cutts vehicle too.) At least you won't have to worry about your Halloween party dying when you arrive Dumb and Dumber style.
42. Alice Costume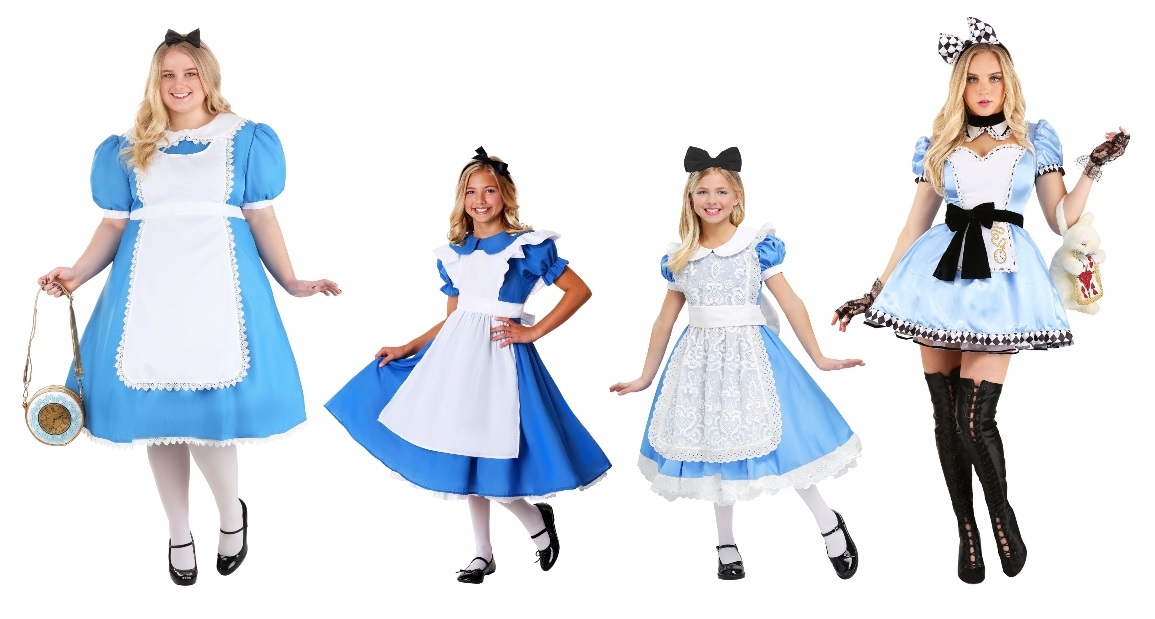 These blond costumes keep getting curiouser and curiouser! Lewis Carroll's Alice is generally depicted as a blond girl in most of her movie and TV appearances. Due to the character's popularity, there are tons of great Alice in Wonderland costumes! The question is, how many characters are coming along with you to the Halloween party?

43. Sandy Costume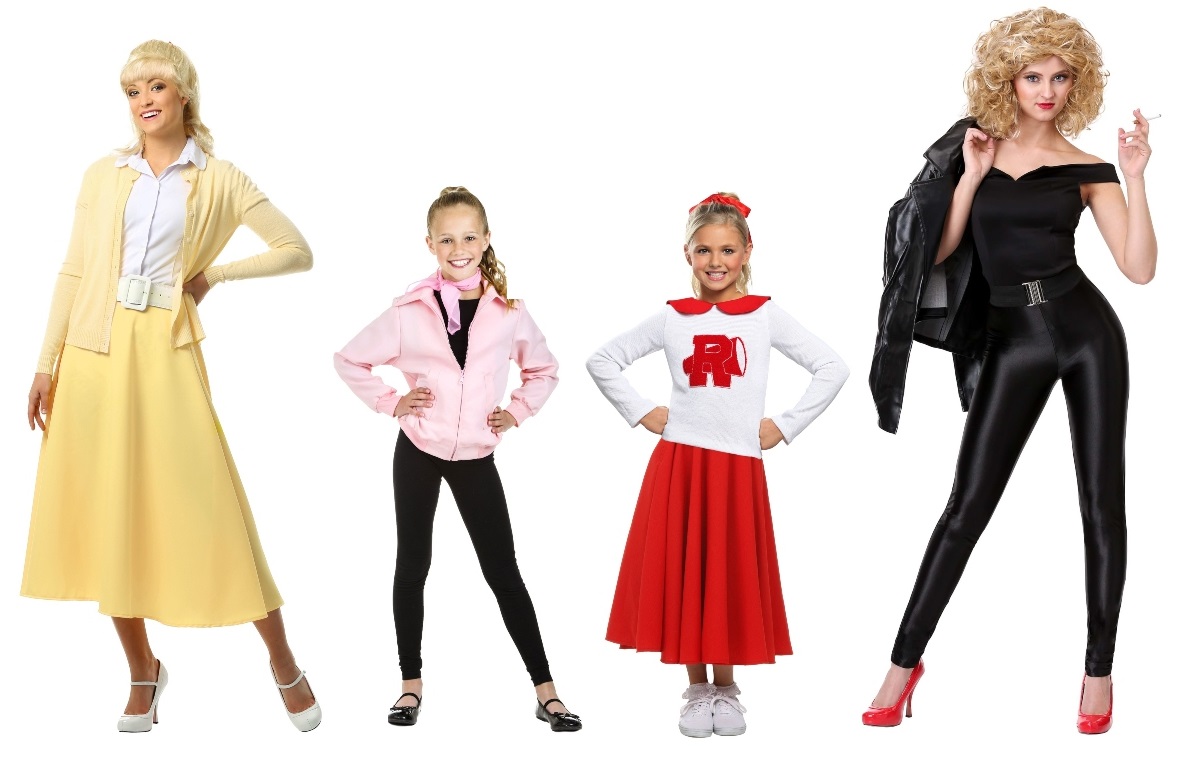 We've got chills—they're multiplying! Grease costumes are popular for Halloween, especially the iconic Pink Ladies jackets. However, if you're looking to dress like Sandy, we have more than just one outfit for her. Flaunt your favorite 50s style with Sandy's everyday outfit, or channel your cheer in a Rydell High cheerleader uniform. Even if you want to get down with your bad self as Sandy from the movie's end, you can find it at HalloweenCostumes.com!

44. Princess Buttercup Costume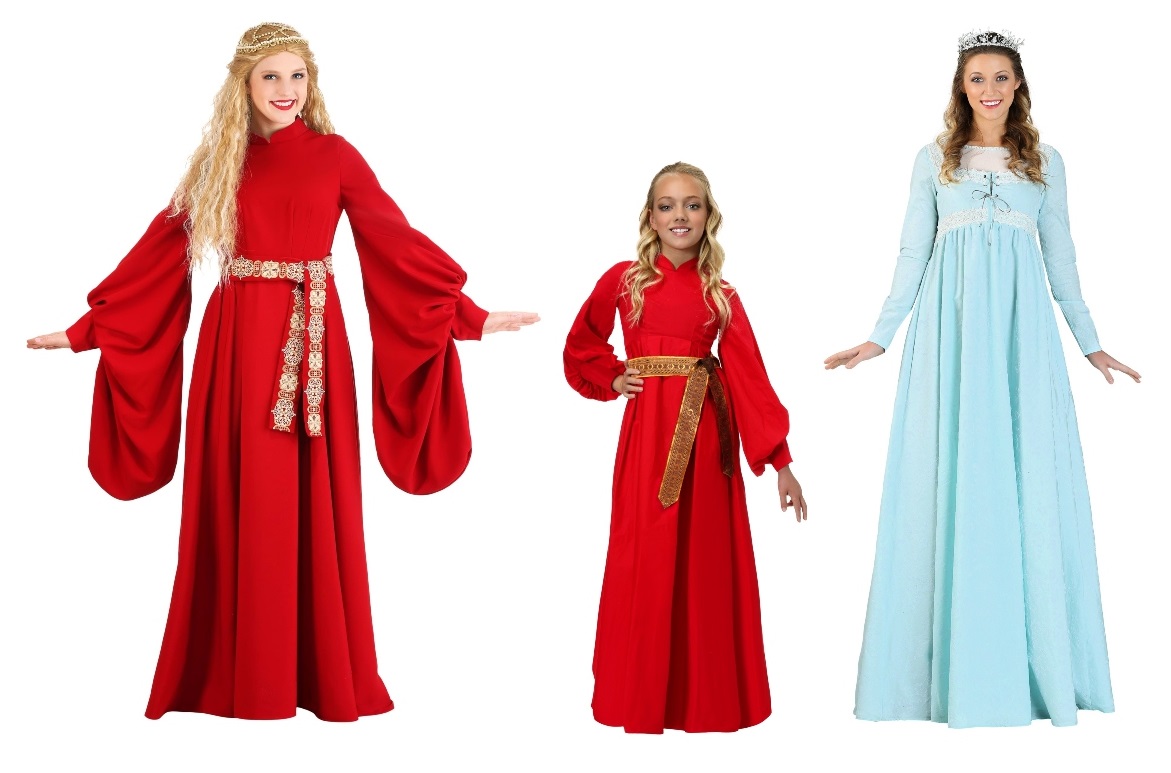 Do you have a favorite 80s movie? The Princess Bride ranks near the top for us! Are you kidding? Fencing, fighting, torture, revenge, giants, monsters, chases, escapes, true love, miracles... We could go on. The best part is that The Princess Bride features a pair of blond protagonists, so you can easily turn it into a blond couples costume. Now, if you'll excuse us, we need to help Inigo track down the 6-fingered man.

45. Jay and Silent Bob Costume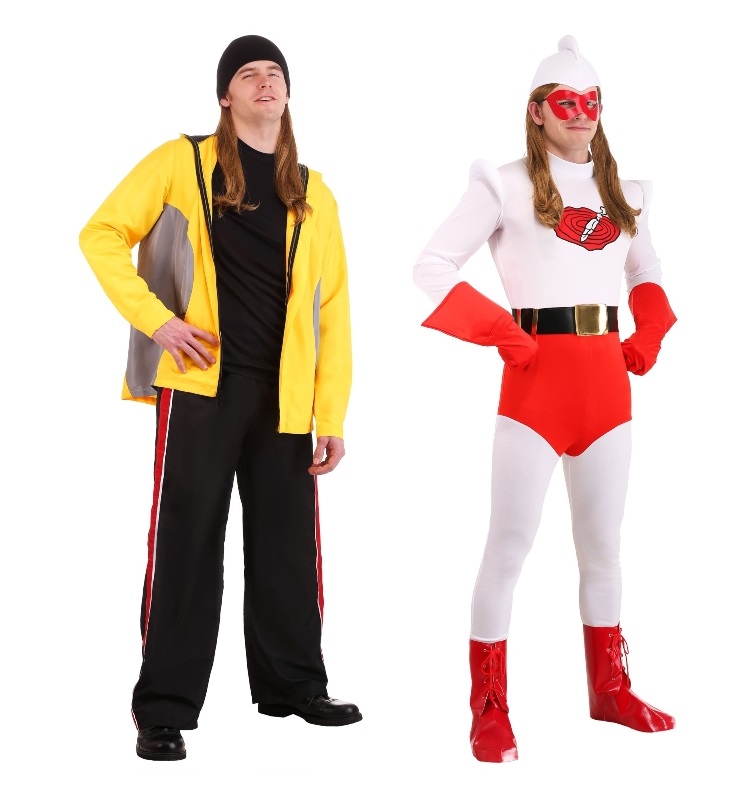 We're not sure who would pay to see a Jay and Silent Bob movie—or buy these Jay and Silent Bob costumes. But the option is there if you're a blond guy with long hair! There's a classic Jay costume with a brightly-colored jacket and pants, but you have to provide your own beanie, dude. You can also try out a Chronic costume if you're a fan of Jay's comic book persona. (Just make sure to get the rights and follow all agreements before making any of your own movies!)

46. Legolas Costume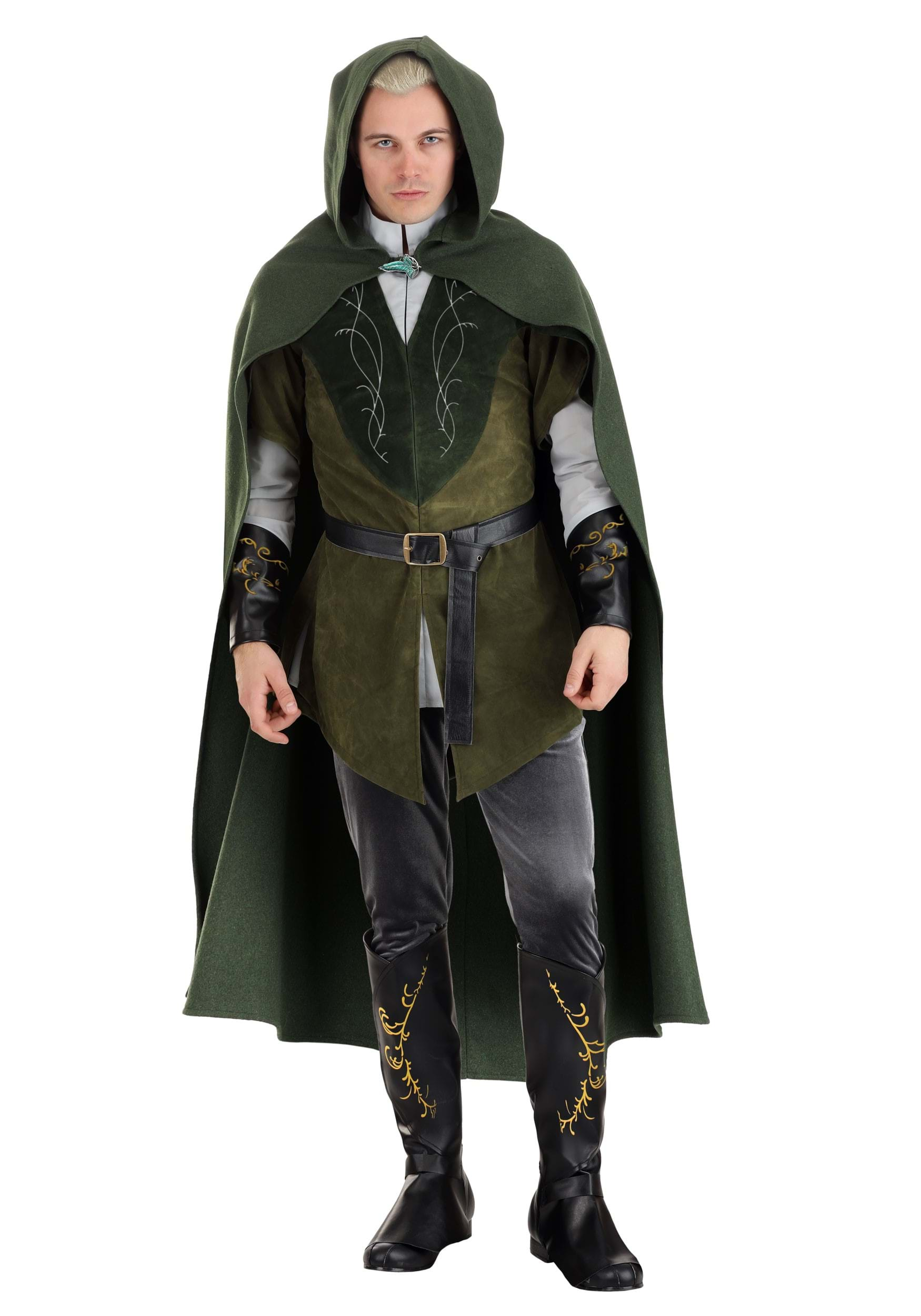 Fantasy fans, fear not! We couldn't possibly leave out The Lord of the Ring's Legolas. While it's less likely that you have very long blond hair to pair with this costume, there's no shame in wearing a wig. (But if you have the hair for it, flaunt it!) You'll also want to snag a pair of elf ears, and it never hurts to have a bow prop on hand. If anything else, come equipped with a few of your favorite Legolas quotes. "They're taking the Hobbits to Isengard!"

47. Baby Spice Costume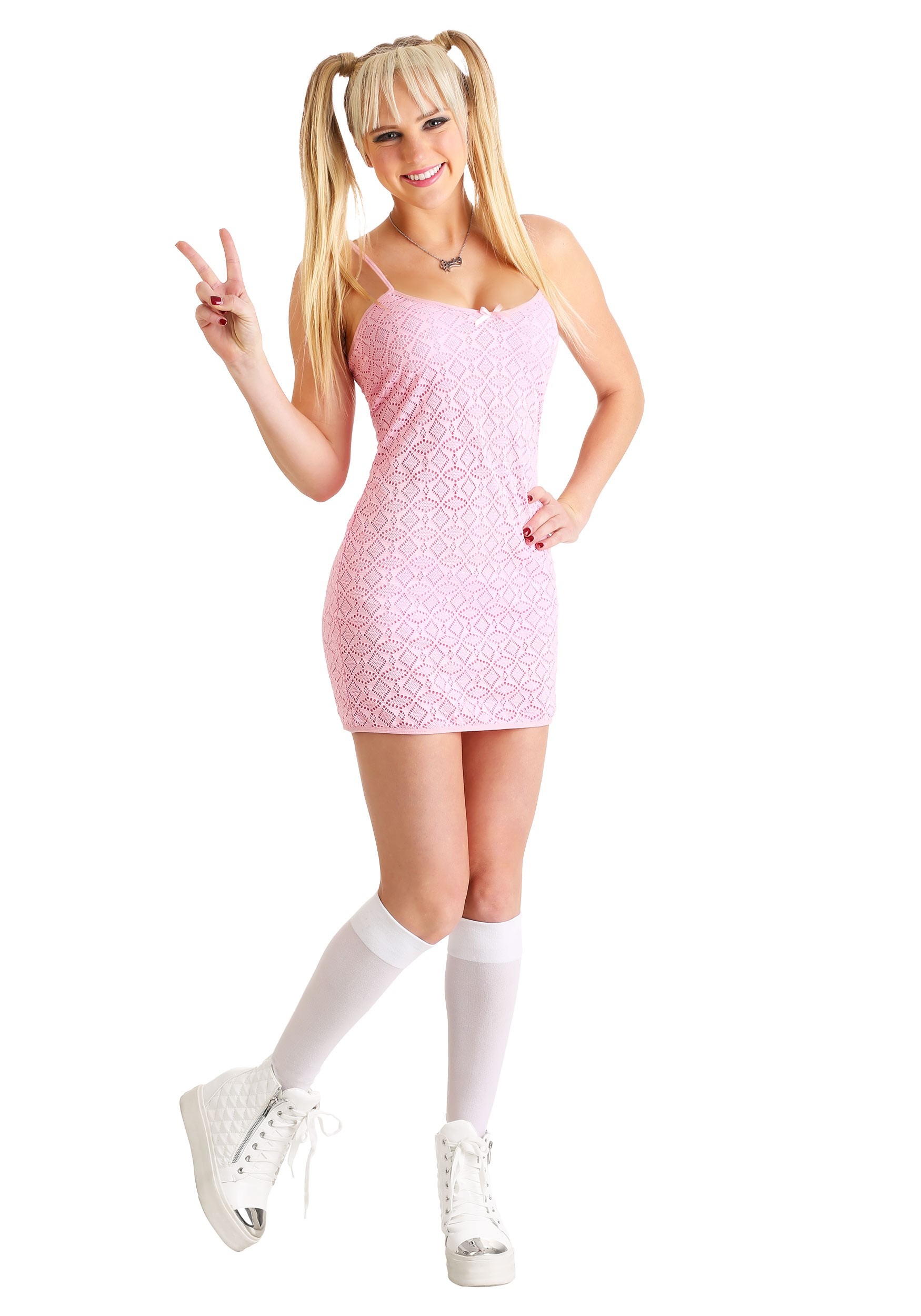 So tell us what you want, what you really, really want! If the answer was a Spice Girls' costume, you got it! Channel your favorite 90s pop music hits with blond singer Baby Spice. It's time to break out the platforms and pigtails for this costume. You don't necessarily have to know all the words or even sing any of their greatest hits, but if you can, more power to you!

48. Smurfette Costume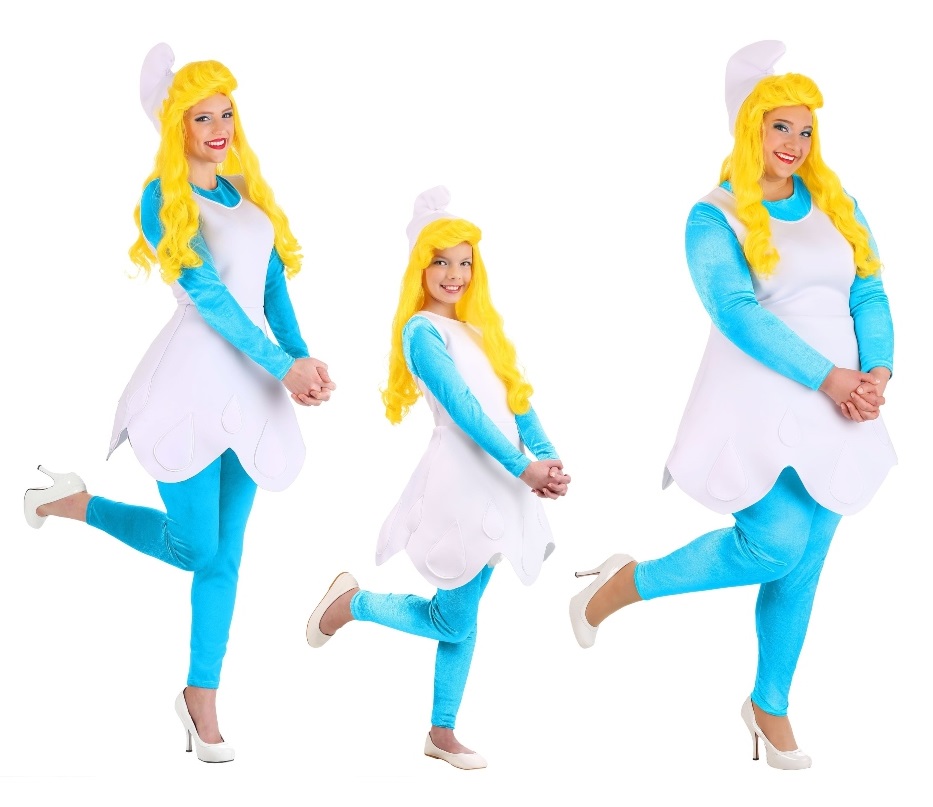 Why is it that so many of the Smurfs don't have hair? We're not sure, but Smurfette stands out from the crowd with a shock of yellow hair. Whether you're wearing some cartoon costumes with friends or reminiscing over your favorite 80s TV series, you can't go wrong with a Smurfette costume! The show ran for eight years, which is pretty crazy if you think about it.

49. Barney Rubble Costume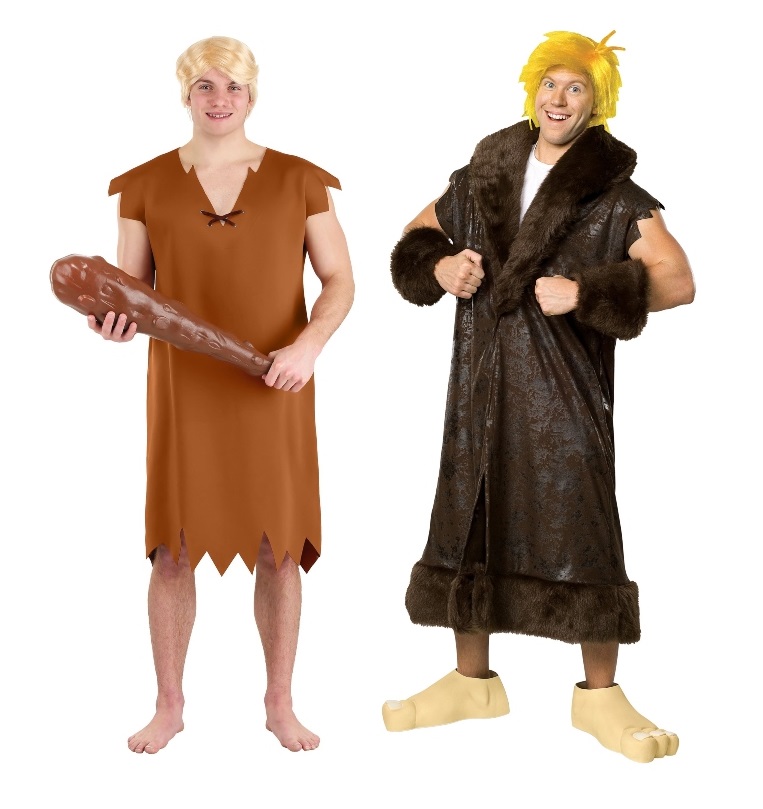 You could say that people have been keeping up with the Joneses since the Stone Age. (Or, in this case, keeping up with the Rubbles!) Fred and Barney have an interesting neighborly relationship, but it always feels like Barney effortlessly comes out on top. His carefree attitude and ability to succeed make Fred rather jealous. Wear a Barney Rubble costume with a friend as Fred Flintstone, and you have the best pair of Flintstones costumes!

50. Ellie Sattler Costume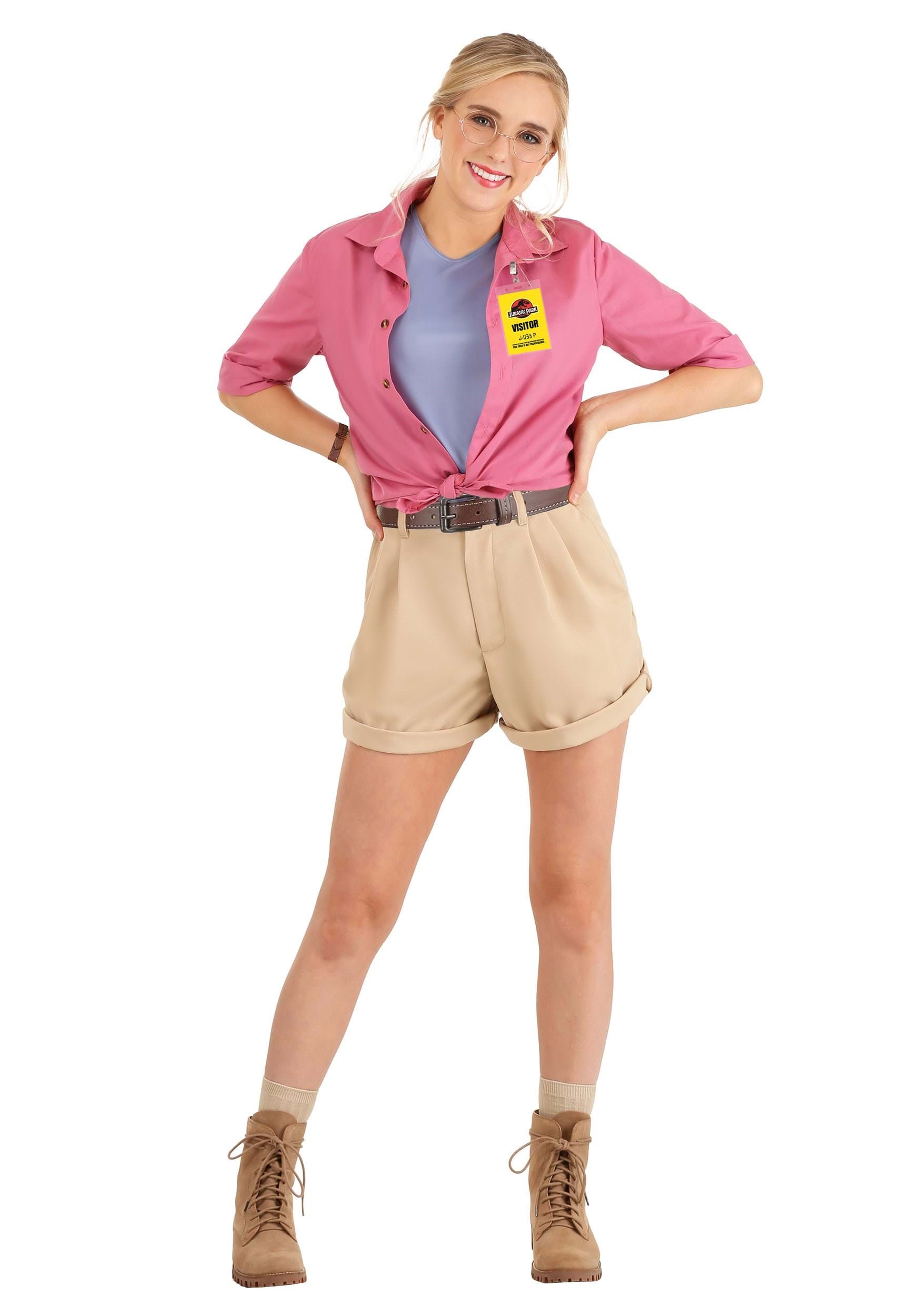 Ellie is far from being your stereotypical "dumb blond" character. She's a Paleo-botanist with a Ph.D, and she's not afraid to use it! While she was initially excited about her work at Jurassic Park, she showed early concerns about the deadly plants and animals involved. As we all know, her intuitions were correct—with Jurassic Park devolving into a disaster zone of, well, Jurassic proportions. Add even more Jurassic Park costumes into the mix, and you have a dino-mite group costume idea!
51. Draco Malfoy Costume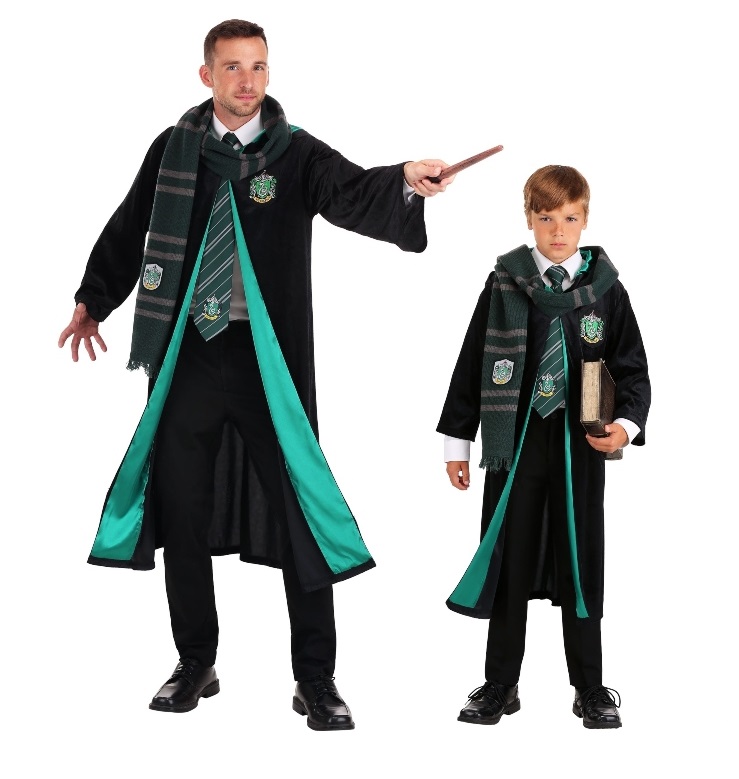 While Luna has to be our favorite blond in the Harry Potter universe, it's hard to forget about Harry's rival, Draco Malfoy. A product of Death Eater parents, it's no wonder he was brought up to hate people like Harry Potter. Still, it's hard to imagine Harry Potter without Draco Malfoy. Whether you want to dress up like the bad boy himself or you're part of house Slytherin, these Slytherin costumes are exactly what you need!

52. Daenerys Costume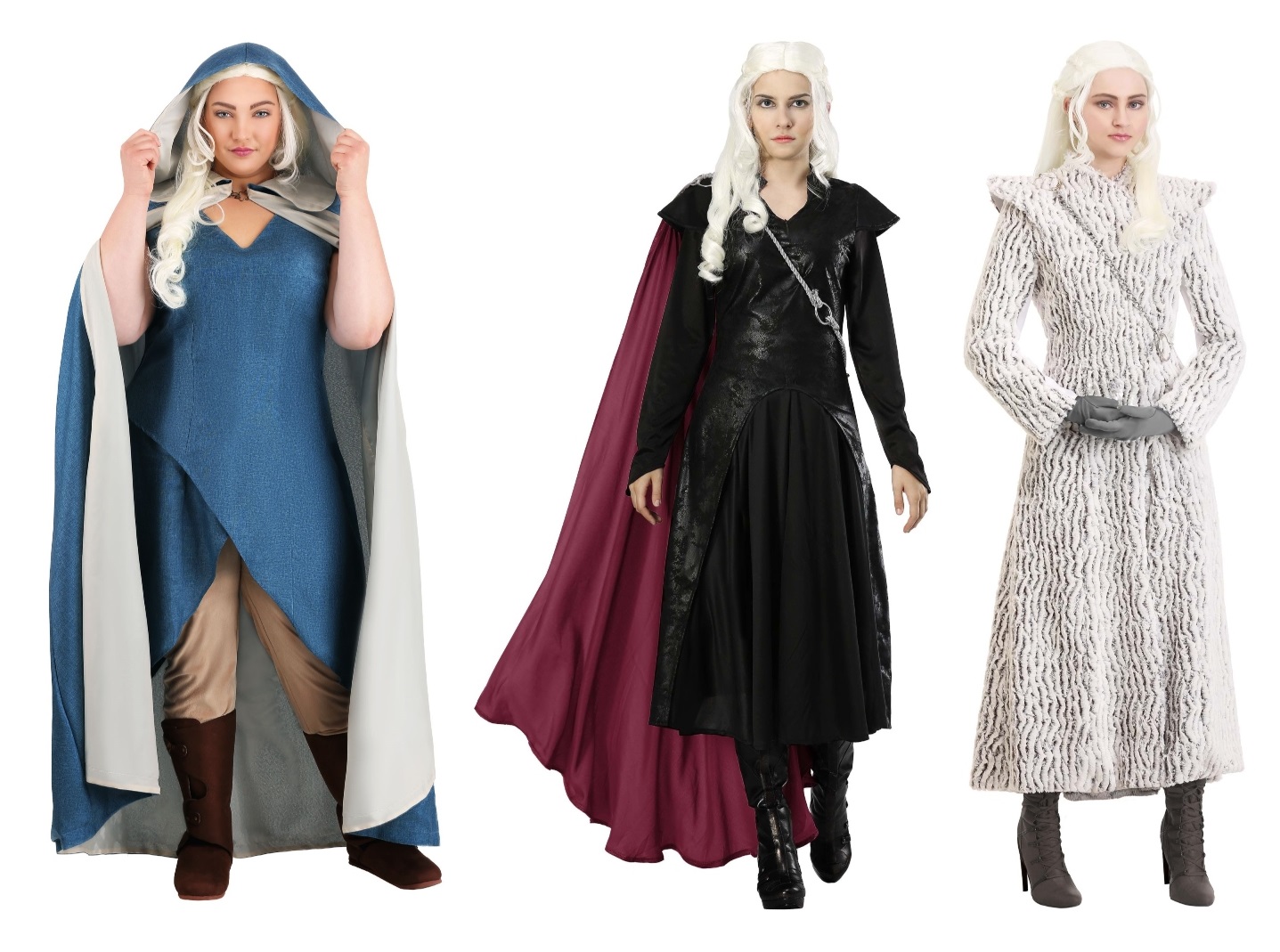 It's a shame that her ambitions went to her head in Game of Thrones, but Daenerys Targaryen was a force to be reckoned with and a wonder to watch. Daenerys is definitely a costume for the platinum blonds! If your hair is so light blond that it practically looks white in the sun, you know what you must do. This is your moment! (Just don't try to take over the world or anything with your personal dragon entourage.)

53. Kill Bill Costume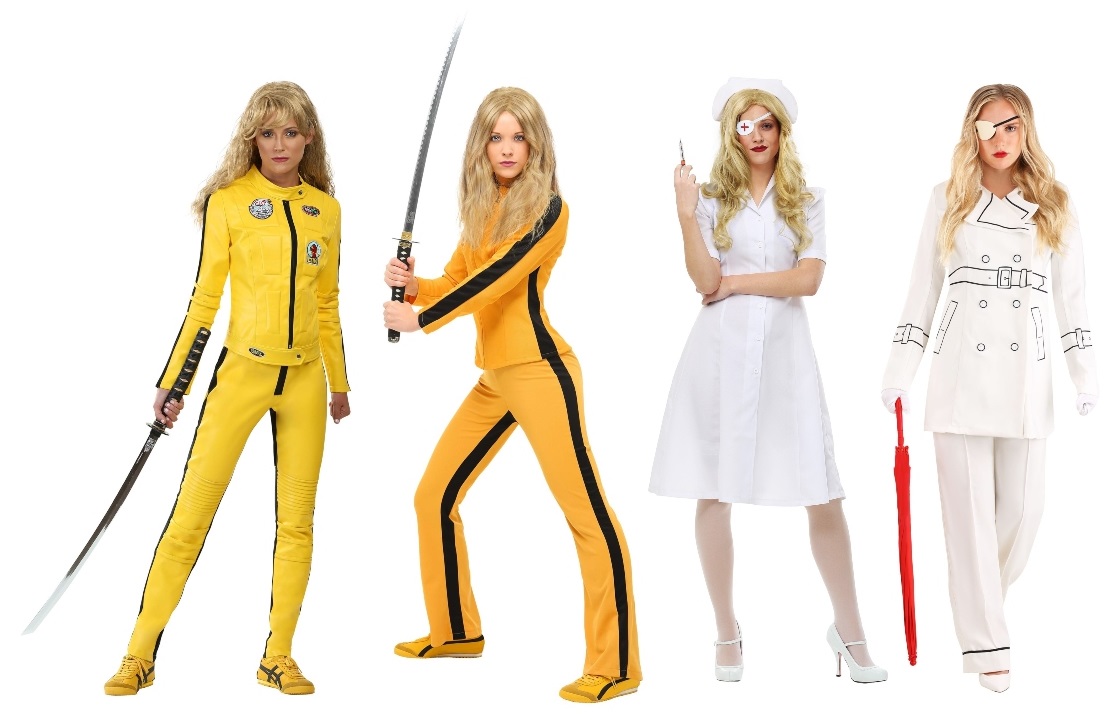 If you're looking for action movie costumes with blond women, look no further than Kill Bill! The action sequences are top-notch, the music is fantastic, and can we show some love for the costumes? Kill Bill delivers on so many fronts that we're sure you'd love to step into a Kill Bill costume for yourself. Beatrix Kiddo, our heroine, is an absolute force to be reckoned with. However, Elle Driver trails her with a tenacity that would make a tiger blush. Anyone looking for a pair of Halloween costumes for blond women will want to consider Beatrix and Elle Driver seriously. Plus, who doesn't want to pose with a prop katana in their Halloween photos?

54. Jareth Costume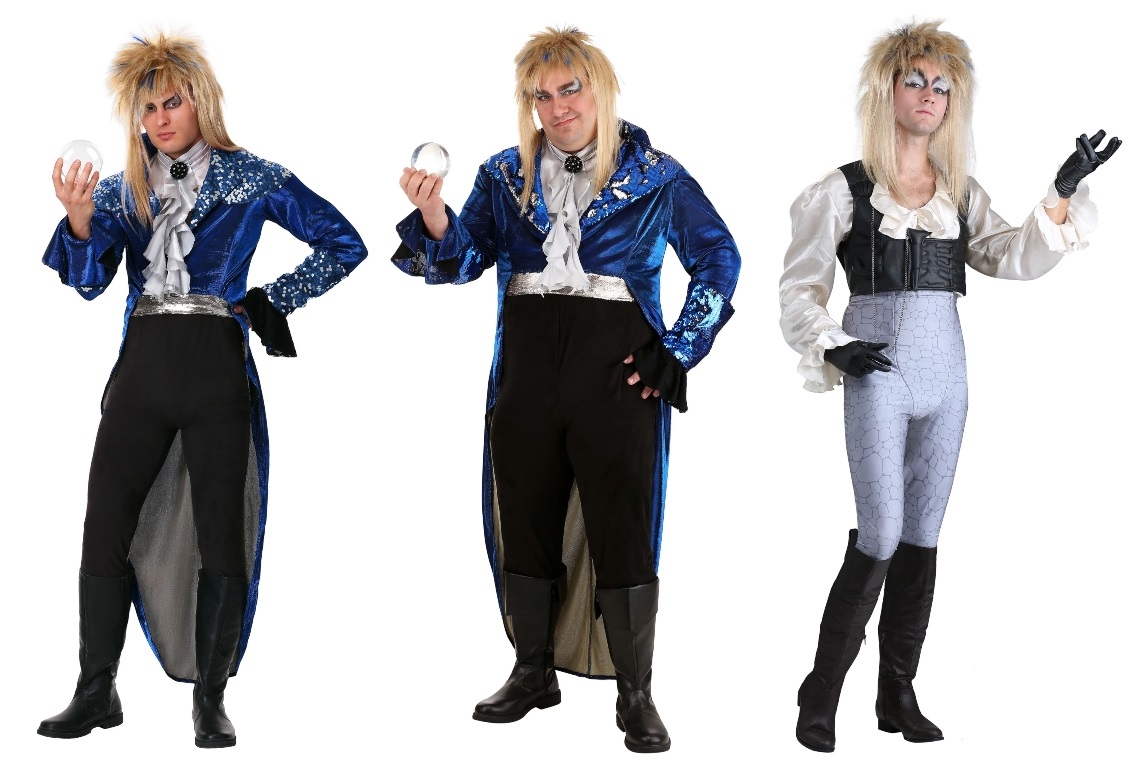 What would Labyrinth be without David Bowie? It wouldn't be the same movie that we know and love, that's for sure! The Goblin King had several regal fantasy outfits that work well for both Halloween and cosplay. If you're willing to use your natural blond hair for this cosplay, you'll need some wicked 80s styling, not to mention blue hair color! No matter your chosen method, we're sure you'll be the most stunning man at the Halloween party in these Labyrinth costumes.

55. Johnny Lawrence Costume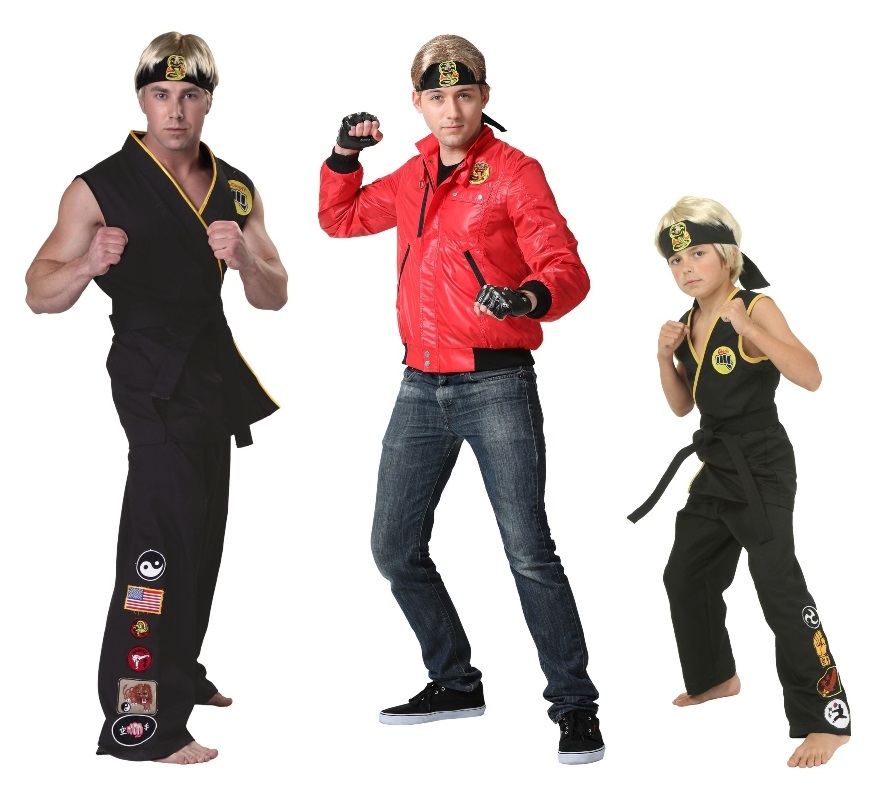 Karate Kid's bad boy has a new lease on life with the Cobra Kai TV series, but you're welcome to be whatever version of Johnny Lawrence you prefer! Not only do we have authentic Cobra Kai costumes with embroidered patches, but there's also Johnny Lawrence's red jacket from the original movie. He was a bit of a punk in his younger years, but we're glad that Johnny got the redemption arc he deserved.
56. Romy and Michele Costume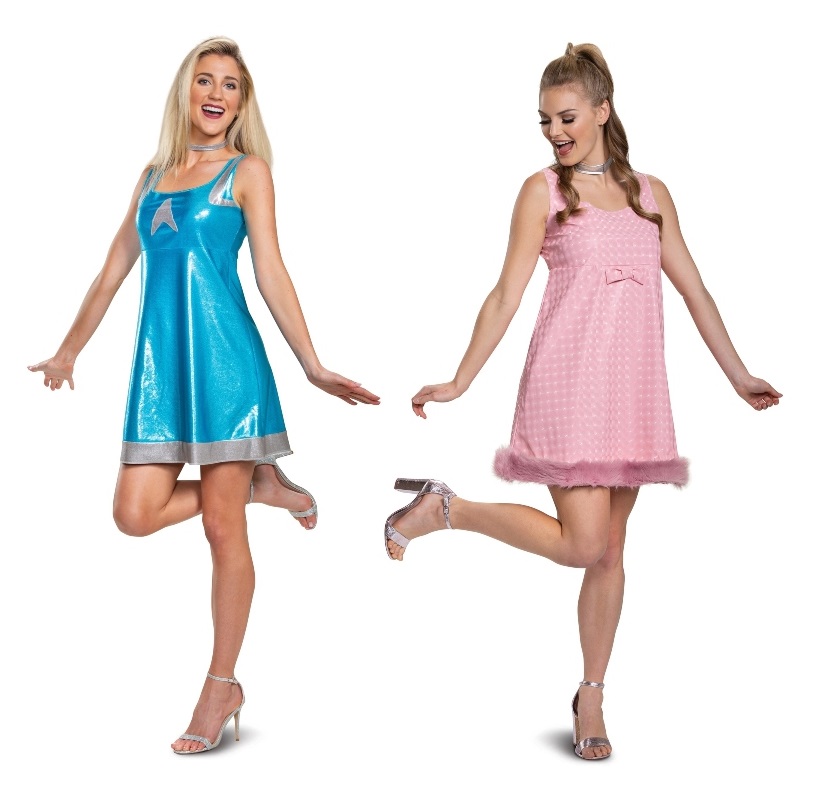 A comedy of blonders, Romy and Michele is comedy gold. The duo has been getting by after high school, but the sting of success lingers when they decide to show up to their high school's 10-year class reunion. Instead of being themselves, they go into over-the-top antics to feel successful enough to attend, comedy ensues, and we love this movie! Grab your blonde bestie and how up to the Halloween party in these Romy and Michele costumes. On the plus side, no antics are required to attend a Halloween party.

57. Incredibles Costume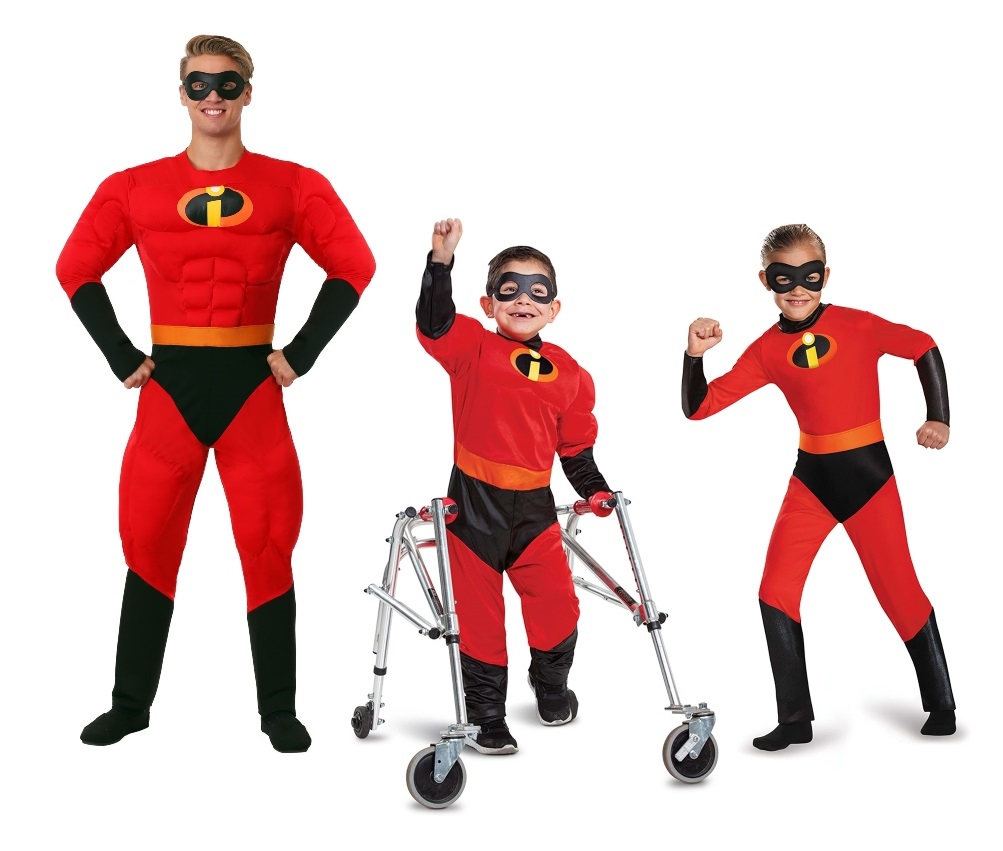 The Incredibles have always been popular costumes for families, but Mr. Incredible (or Dash) is also an excellent choice for a guy with blond hair. We love a good superhero costume, and you're sure to stand out in these bold red and black suits. (Thanks, Edna!) Now, get out there and save Halloween!
Do you have your heart set on dressing up as a blondie this year? Who is your favorite sandy-topped character? Is it true that blondes have more fun? There are tons of other blond characters, so you'll want to give our character costumes a look!