Dark hair is the most common hair color, which gives plenty of options when it comes to picking character costumes for Halloween! Whether you're hunting for brunette Halloween costumes or costumes with black hair, the world is at your fingertips. There are also tons of costume ideas if your dark hair is curly, long or even short! Keep reading to see what dark hair costume ideas HalloweenCostumes.com has to offer!
Brunette Halloween Costumes
There's an astronomical number of characters with brown hair, so we'll be mentioning some of our favorites here. You can have your pick of superheroes, Disney characters and other Hollywood classics. That's not to say that you can't find another brown hair costume idea that's all your own! Keep reading to see which brown-haired characters would make great Halloween costume ideas for you!
1. Wonder Woman Costume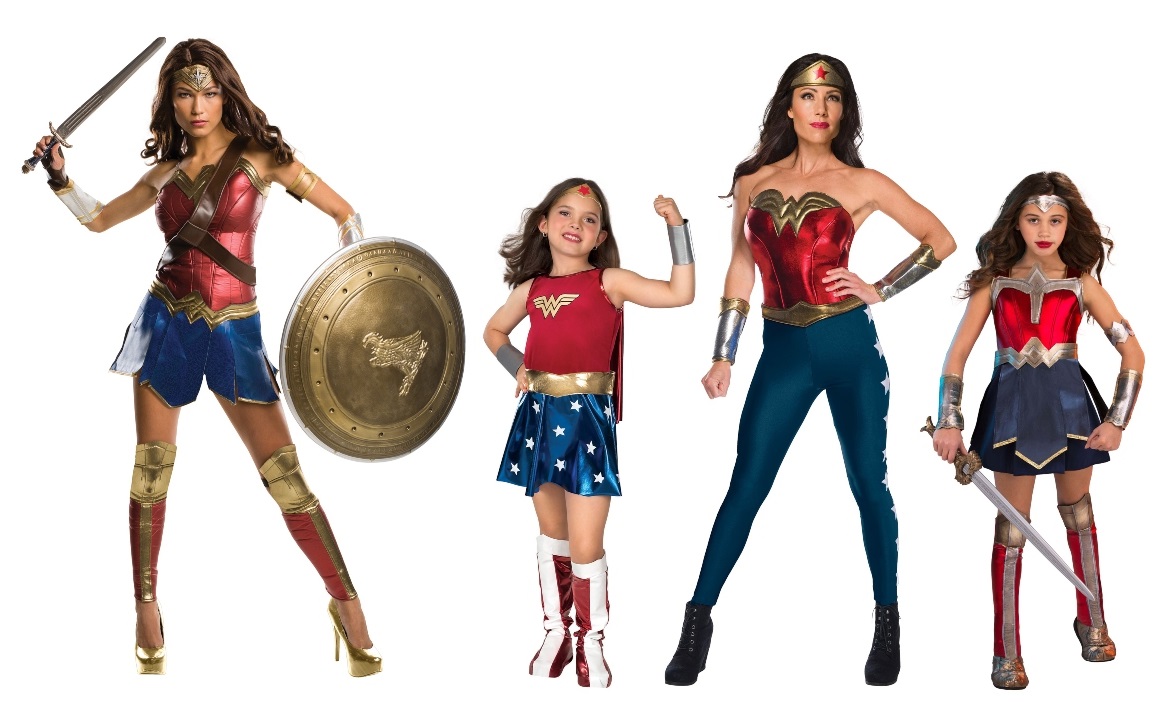 There are so many women superheroes, and Wonder Woman is undoubtedly one of the best! She has gone between having brown and black hair, especially considering her live-action movie presence and comic book appearance. (And we have Wonder Woman costumes based on both of these as well!) Girls and women with brown hair will love these brunette costume ideas.
2. Catwoman Costume
"I'm a woman and I can't be taken for granted." Catwoman is one of Batman's many villains, and she doesn't let anything get in the way of what she wants. (You could say that she's a material girl.) There are many versions of this famous character, from the 1960s Batman Catwoman played by Julie Newmar and Eartha Kitt, and The Dark Knight Rises Catwoman played by Anne Hathaway. No matter which Catwoman you decide to emulate, you know that your Catwoman costume is purrrfect!
3. Princess Leia Costume
Star Wars has a massive cast of characters, but none have stood out quite as fashionably as Princess Leia. Her white outfit from A New Hope is simply iconic, but we also fell in love with her Hoth and Endor outfits as well! If you're a woman with brown hair, you'll love trying to recreate her famous space buns hairstyle with these Star Wars costumes.
4. Ghostbusters Costume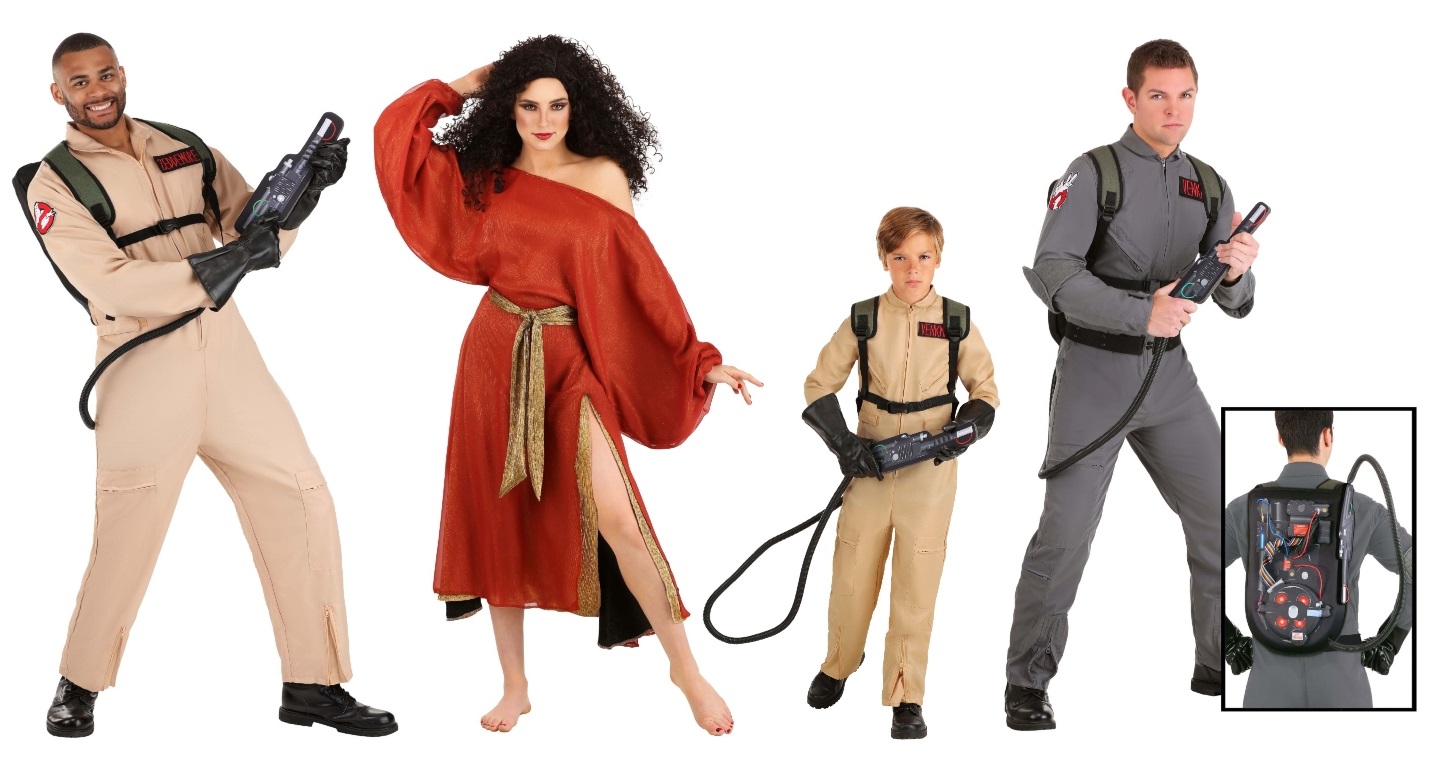 You know who to call if you're dealing with ghosts. The original Ghostbusters cast all had dark hair, so you can easily be any one of the main four—Peter Venkman, Ray Stantz, Winston Zeddemore or Egon Spengler. These Halloween costumes come equipped with all the nametags you'll need if you're doing a Ghostbusters cosplay. However, feel free to be your own character too! We have tons of other Ghostbusters costumes if you're looking for some ghosts to bust as part of a group costume idea.
5. Velma Costume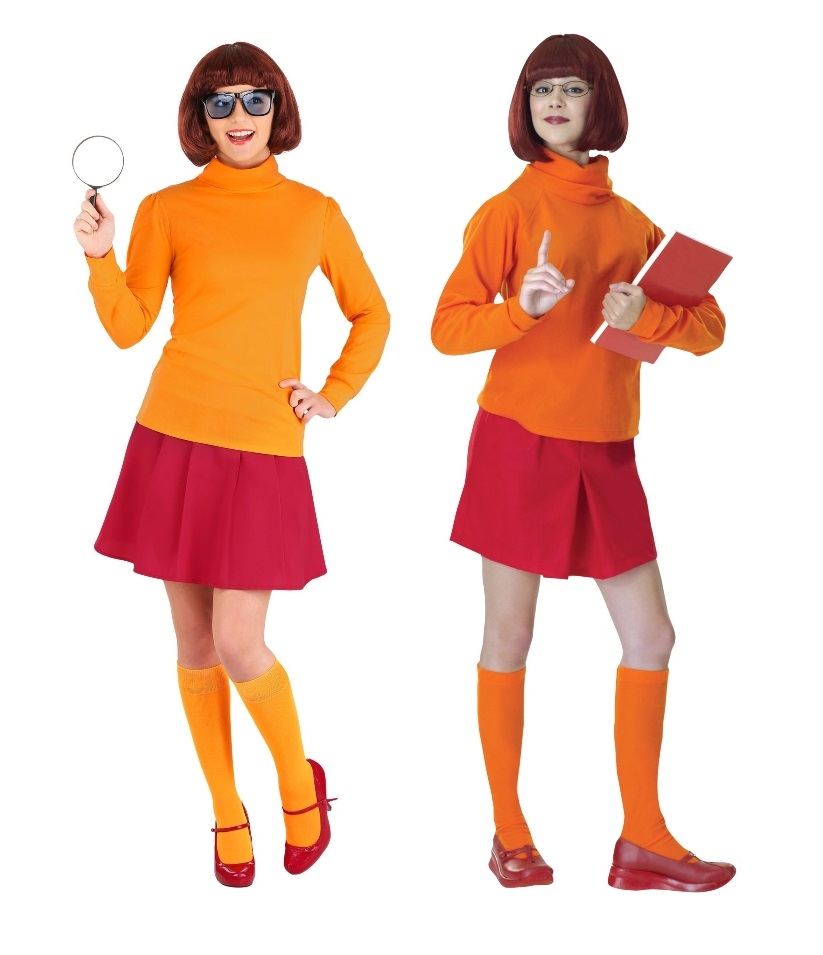 Velma is the backbone of Mystery Incorporated, and you can't convince us otherwise. While everyone is looking around for clues without much direction, she's researching the history of the locations and people who worked there, uncovering their potential motives. She also somehow made turtlenecks and skirts fashionable, and we're here for it. Take advantage of your brown hair to become this brunette character, and perhaps add some friends in Scooby-Doo costumes as the rest of the meddling kids. (And their dog, too!)
6. Dorothy Costume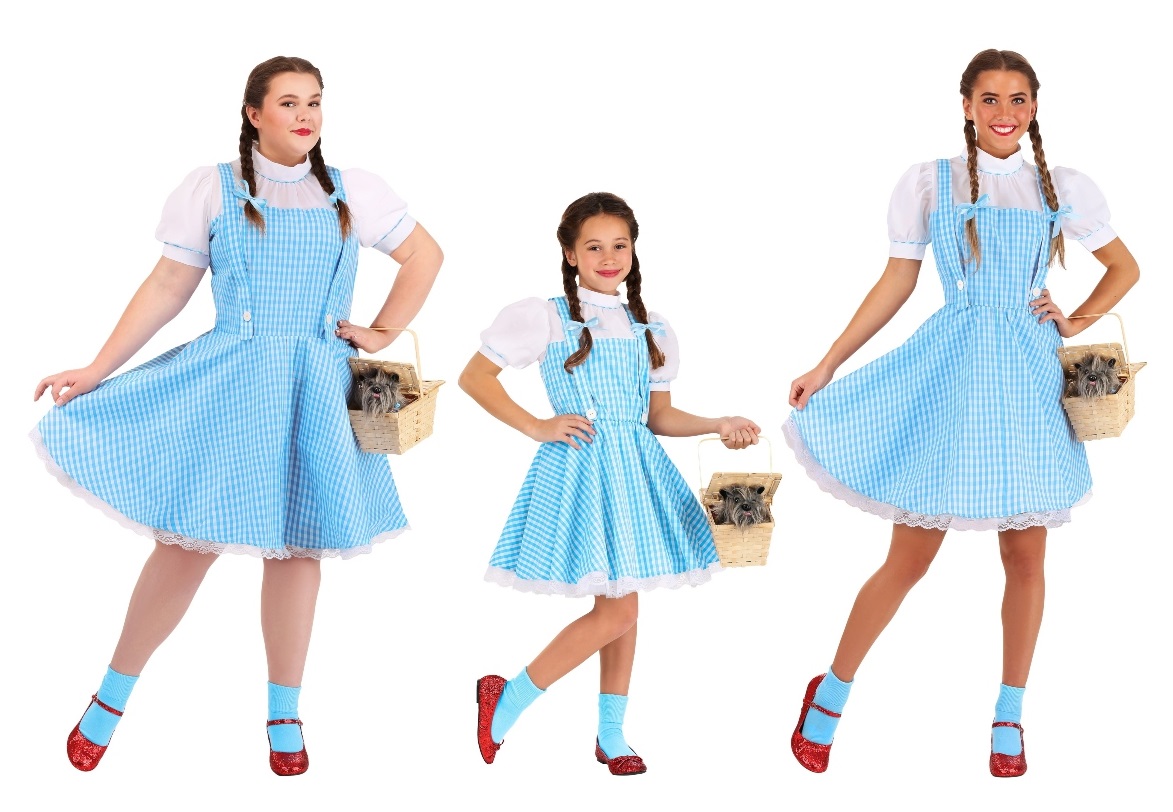 Is it even Halloween without a few Wizard of Oz costumes? These movie characters are all iconic, but none stand out quite as much as Dorothy in her blue gingham dress with red, sparkly shoes and braided hair with matching hairbows. This costume for brunettes also pairs well with a pup! Now, all that you have left to do is to follow the yellow brick road.
7. Moana Costume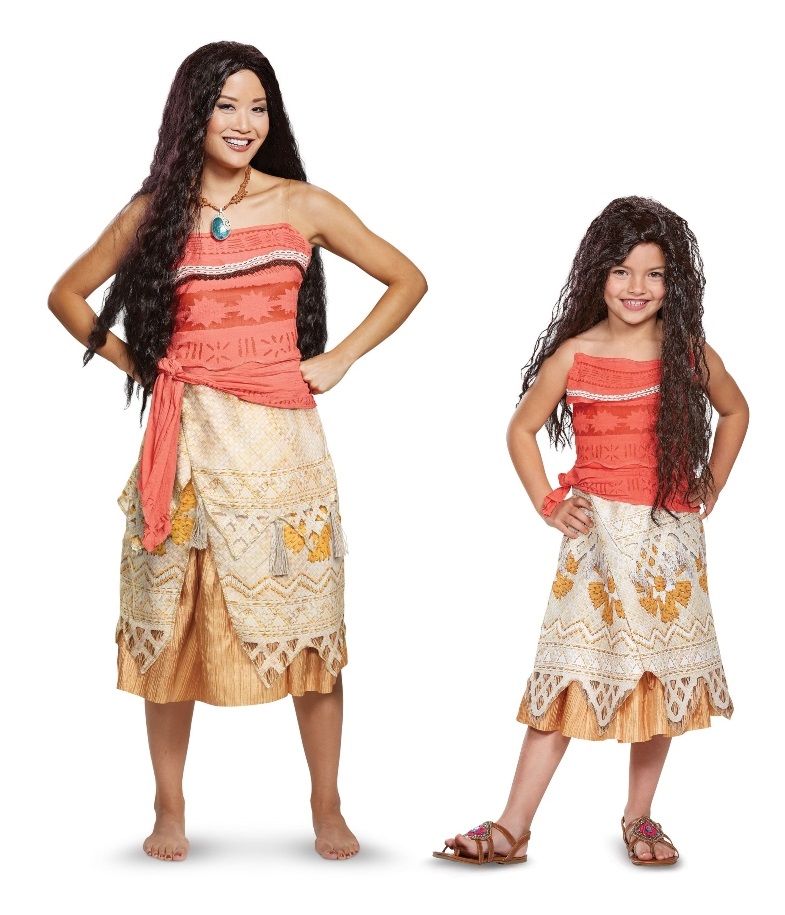 No one knows how far you'll go in this Moana costume. While you could just be walking around the neighborhood trick-or-treating with your child, maybe you're planning an adventure to a pop culture convention! What we do know is that your long, curly brown hair is perfect for this costume. (Seeing as you probably can't take a rooster with you wherever you go!)
8. Belle Costume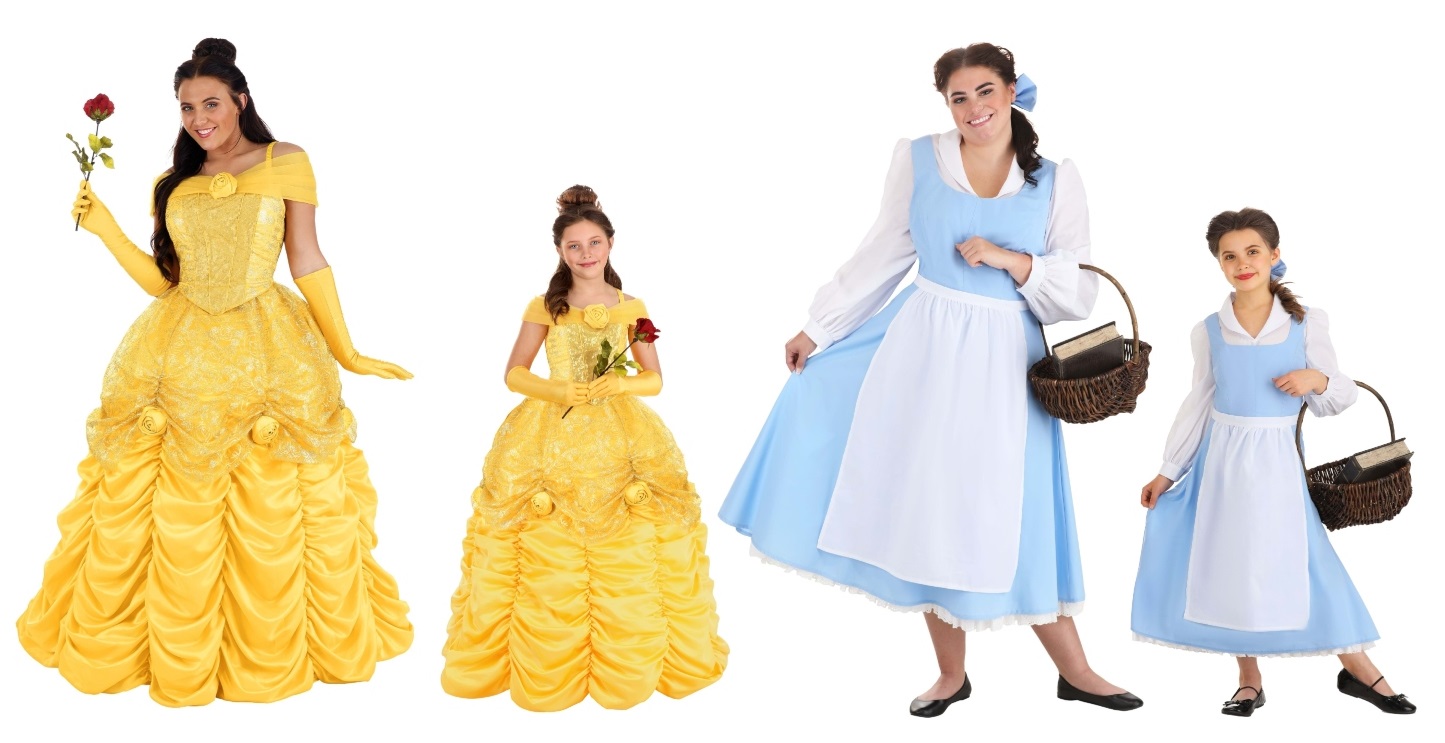 There are a couple of brunette Disney Princesses, and of course, we couldn't leave out Belle! Whether you're in love with her nerdy book-loving village outfit or her yellow princess dress, these Belle costumes pair well with your brown hair. Just know that ditching Gaston for the Beast was a good call.
9. Austin Powers Costume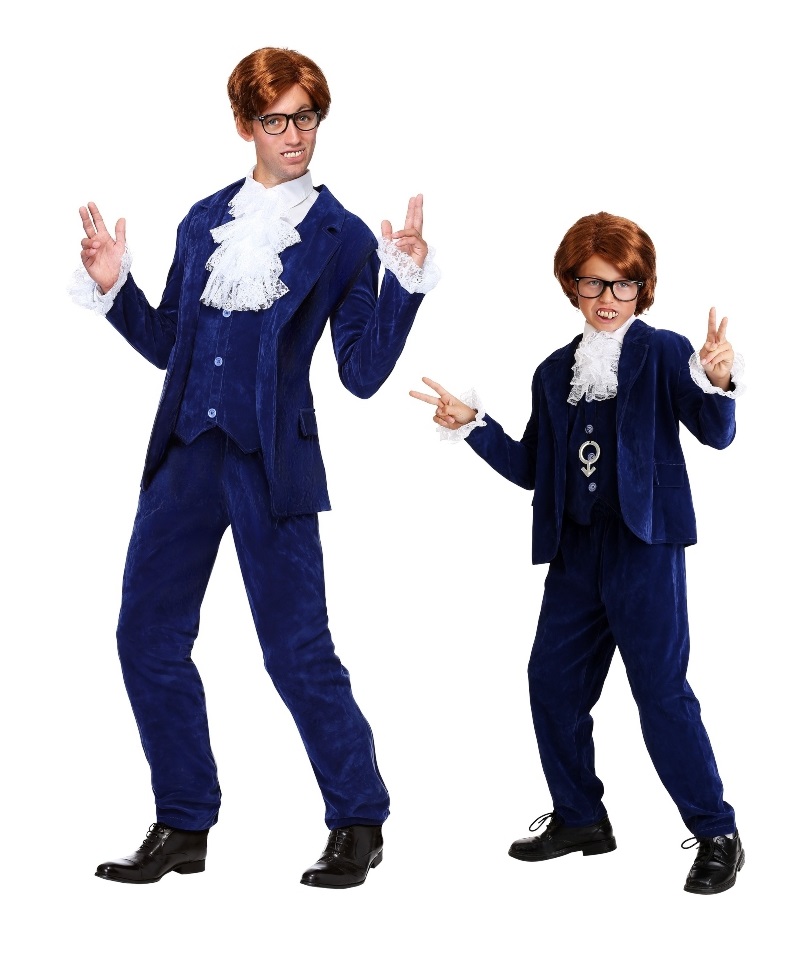 "Allow myself to introduce...myself!" This international man of mystery may be less mysterious than he'd like to believe, although we do wonder how he manages to be such a chick magnet. If you're a brown-haired guy who loves comedy movies, you're going to love these Austin Powers costumes. You'll have all the license you need to talk about sharks and laser beams and stuff.
10. Lara Croft Costume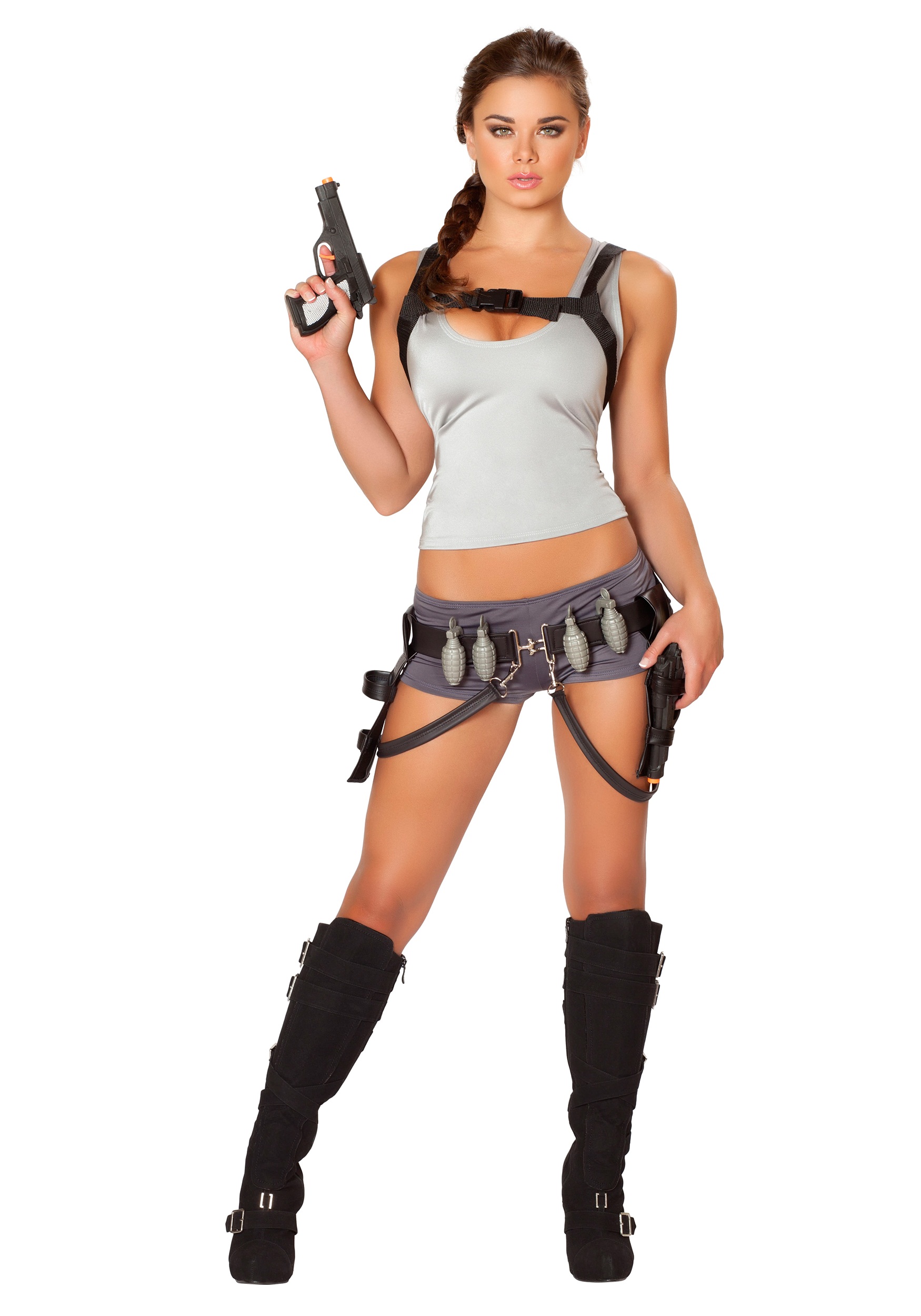 There are quite a few different takes on Tomb Raider's Lara Croft throughout the years, but one thing always stays the same is her brown hair. This is a pretty easy DIY Halloween costume for brunettes, but you can find versions to purchase online as well if you're not feeling so crafty. Just make sure to check up on local mandates for fake guns if you're planning on wearing this out in public for Halloween.
11. Woody Costume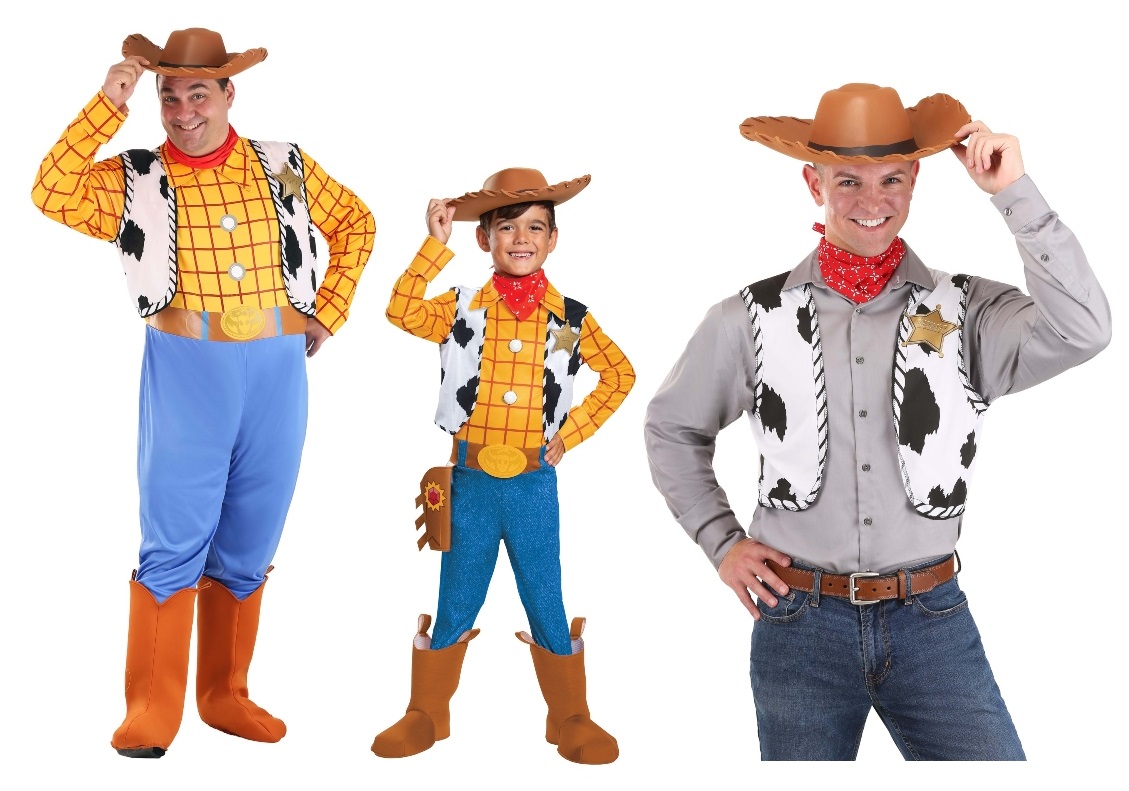 "Howdy partner, my name's Woody!" There are tons of great Toy Story characters, and Woody has been one of the main characters since the first movie. Kids and adults will love this Toy Story costume idea, and it never hurts to add in some family members as the other characters! You'll love sharing your favorite quotes in character.
12. Jack Sparrow Costume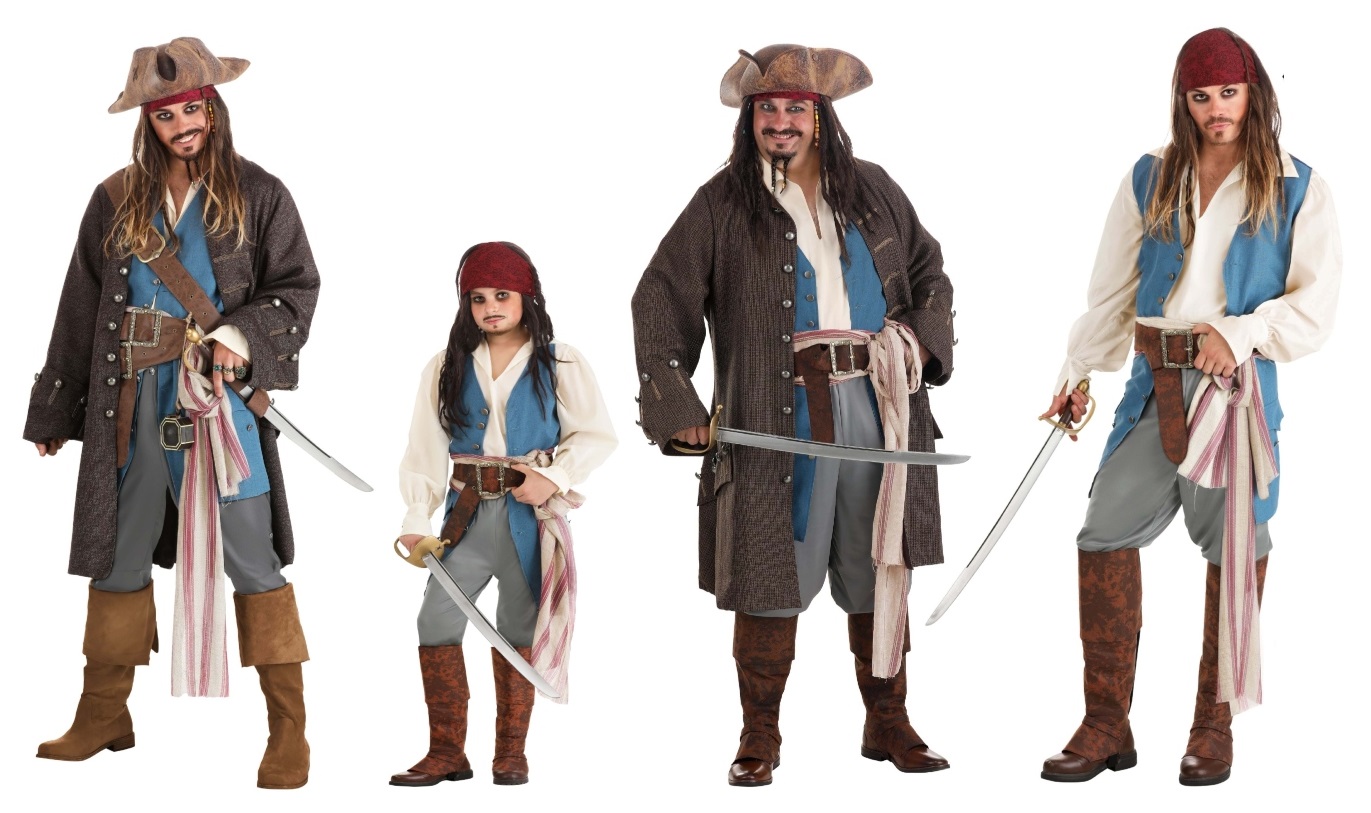 Everyone knows that the best character in the Pirates of the Caribbean movies is Captain Jack Sparrow. This dastardly daredevil has an infectious charm, and it's hard not to love him even if he is a bit of a scoundrel. There are quite a few Pirates of the Caribbean costumes for you to choose from, but there remains one constant—his iconic hairstyle. His wildly unkempt brown hair has beads hanging from a few strands, and who could forget his beard? Don't forget to ask why the rum's always gone.
13. Mary Poppins Costume
If you're looking for a Halloween costume idea that's practically perfect in every way, you'll love these Mary Poppins costumes. This magical nanny has such a way with children (and their parents), teaching them life lessons through song and dance. Her stay may have been brief, but we do hope her lessons stuck around in the most delightful way!
14. Hermione Costume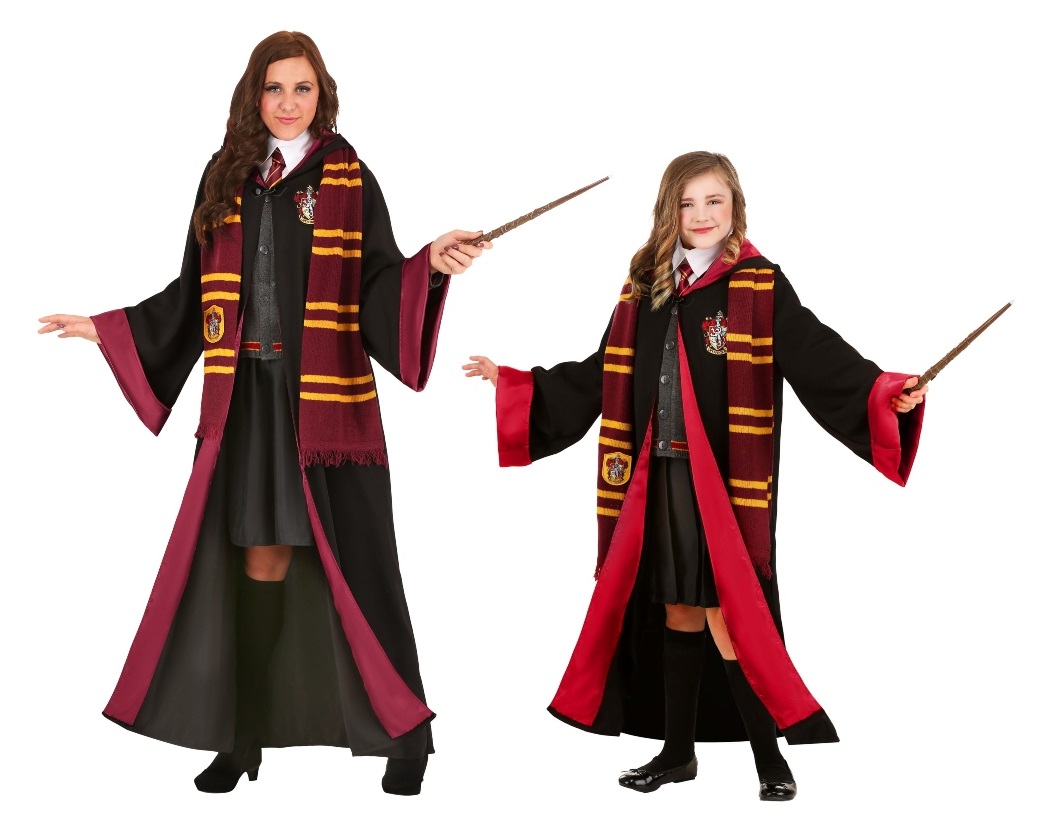 Honestly, where would Harry and Ron be without Hermione? She's clearly the brains of the outfit, and she saved their skin time and time again. Maybe you can relate to this witchy brainiac with unruly brown hair. Perhaps she's somewhat of an inspiration for you too! You can pair your Hermione costume with any number of other Harry Potter costumes for a spellbinding group Halloween costume idea.
15. Wreck-It Ralph Costume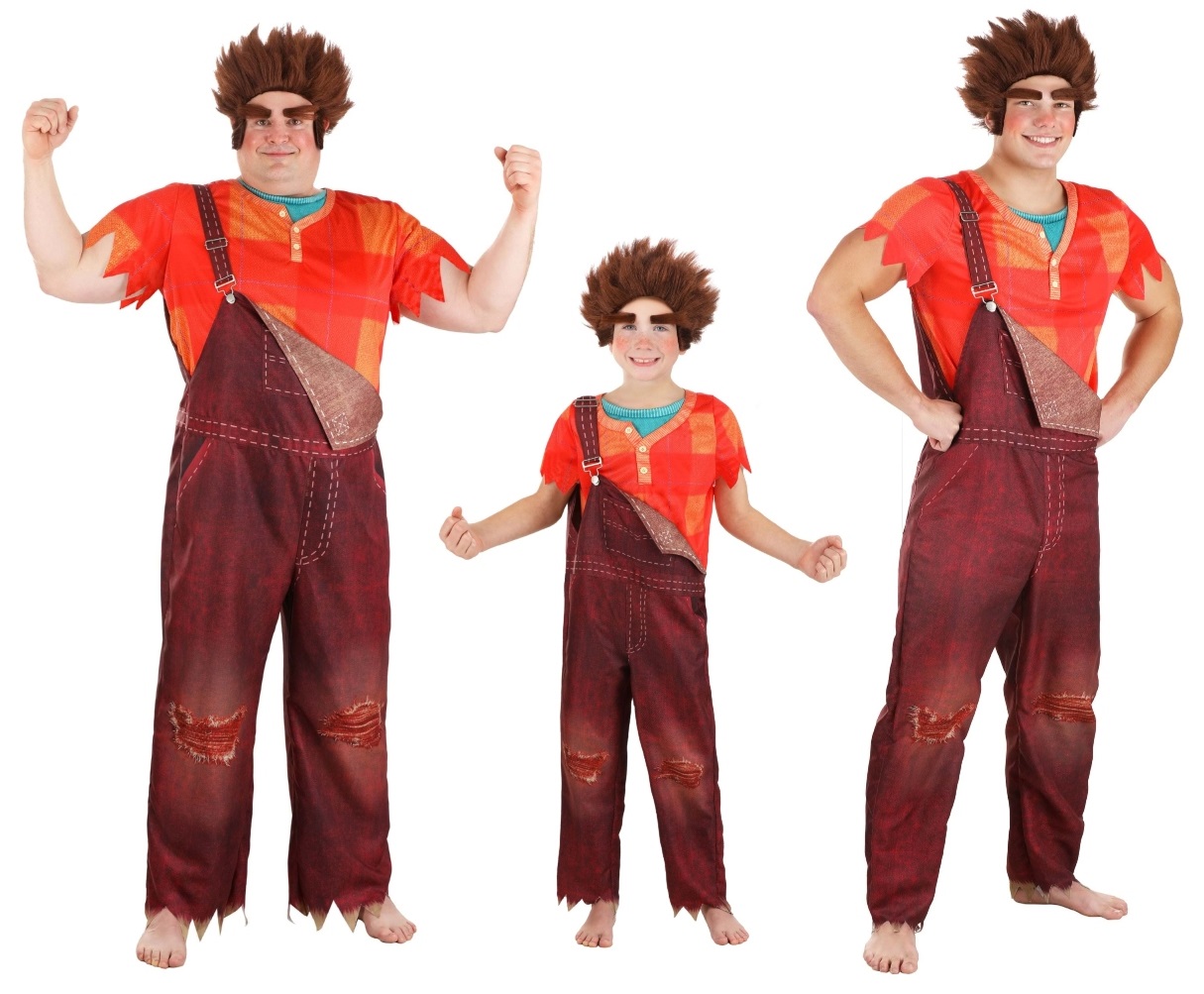 Do you ever wish you could be the hero? Ralph may not have seemed like the hero type after being the villain in his own video game for so long, but he got his chance to help Vanellope regain her status as a main character. If you're a guy with brown hair looking for a costume idea, perhaps Ralph is just the character you're looking for! And Vanellope has dark hair as well, so this could easily become a costume idea for two.
16. Rosie the Riveter Costume
There are plenty of famous posters and propaganda from World War II, but none have had the iconic staying power of Rosie the Riveter. While the poster had limited spread as part of war efforts, it later became a famous icon used by feminists to show that women can do the same jobs as men! Should you already happen to be the proud owner of a pair of blue coveralls, simply wrap your brunette locks in a red bandana to recreate this Rosie the Riveter costume!
17. Eleven Costume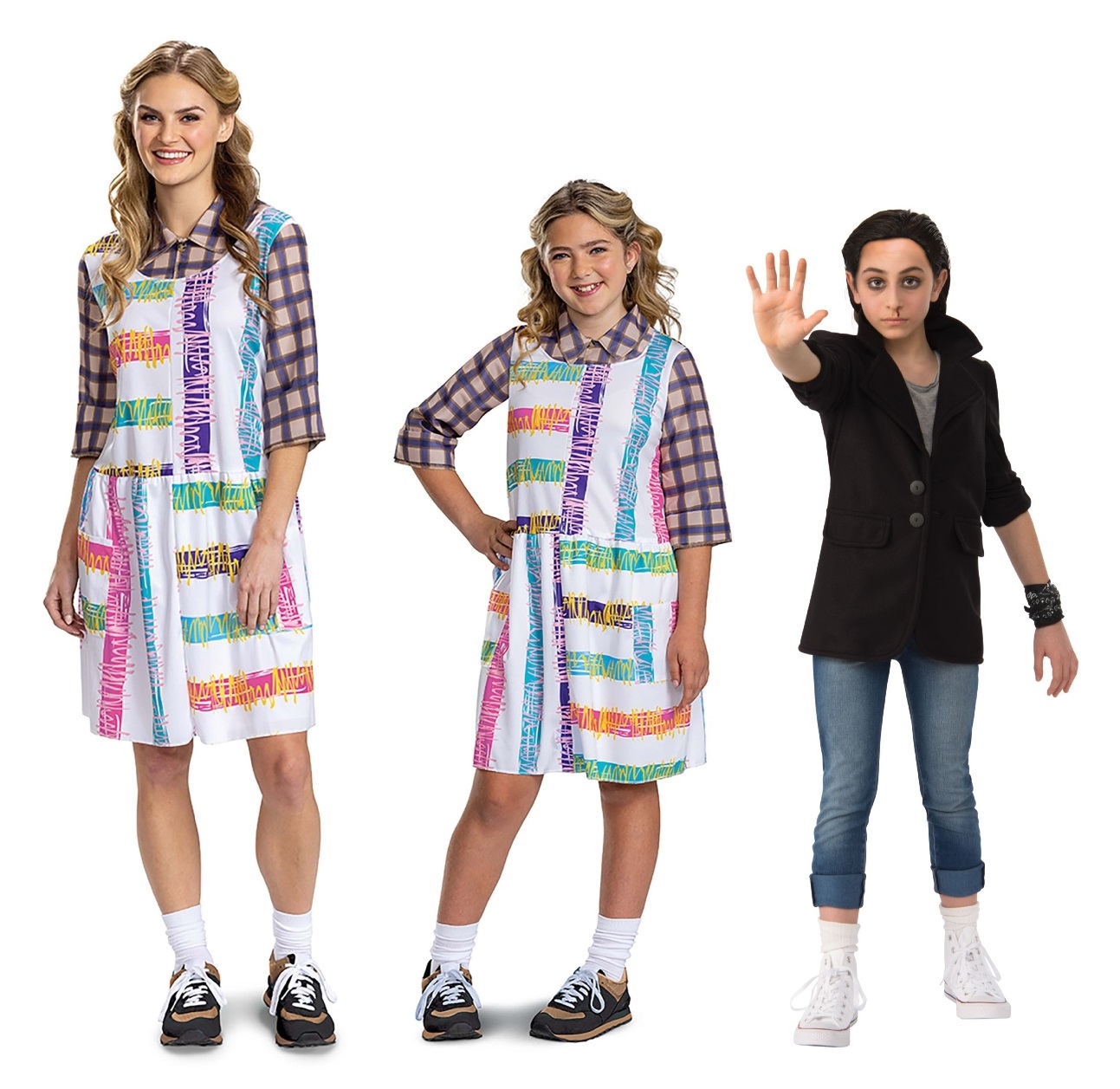 Few shows have given us the 80s nostalgia that we crave quite as well as Stranger Things. It delivered on all fronts, from arcade adventures to mall shopping and tearing through the neighborhood on bikes. Of course, one of the most enduring characters from the show is Eleven, and she has several great outfits that make great Stranger Things costume ideas. You even have the option to add some blood drip makeup under your nose, just like Eleven in the show! While we didn't include her pink dress outfit because she's technically bald and wearing a blonde wig, your brown eyebrows will make it seem more realistic to the character if you're still determined to go that route.
18. Macho Man Costume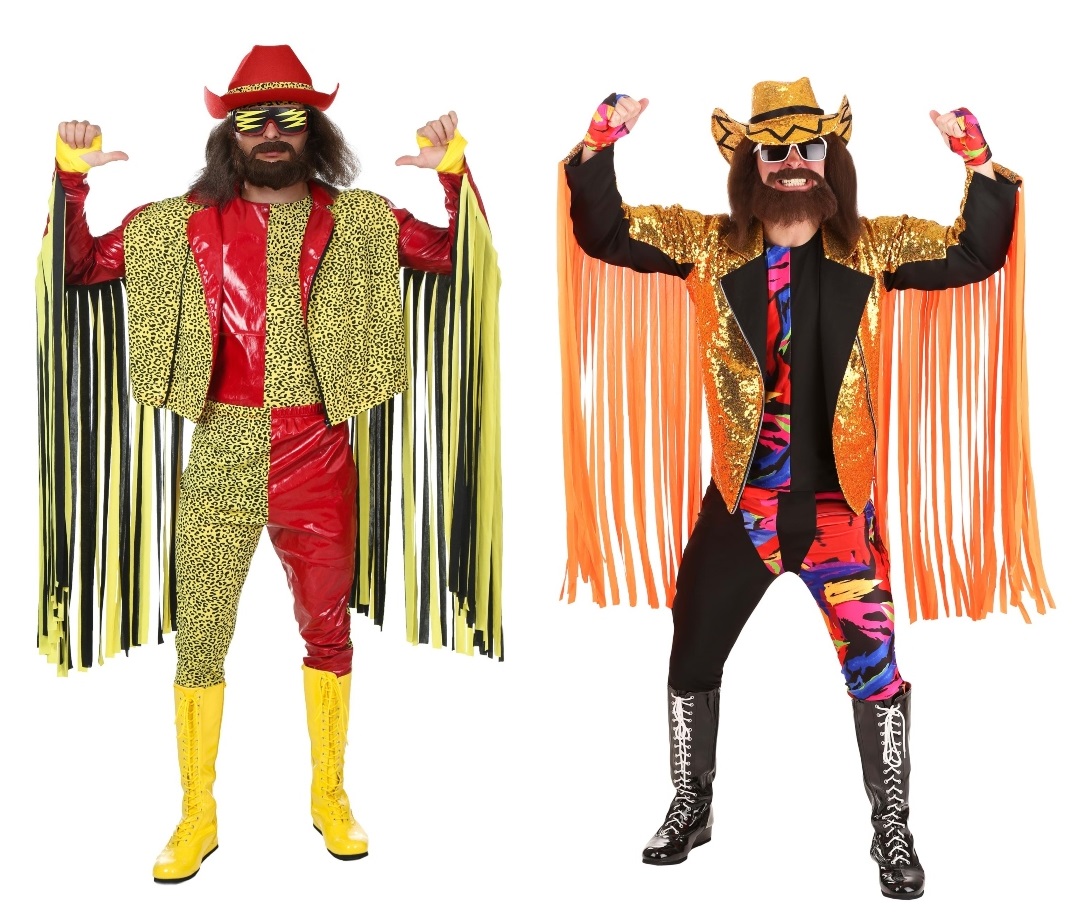 Ohhhh yeaaaaaahhhhh! Dudes with long brown hair and some serious facial hair will absolutely love these loud Macho Man costumes. (He's not one to be shy!) The red and yellow outfit is reminiscent of his Slim Jim outfit, but who could pass up a sequin jacket and cowboy hat combo? Make sure to have your shades handy and be ready to shout a few "oh yeah"s.
19. Flynn Rider Costume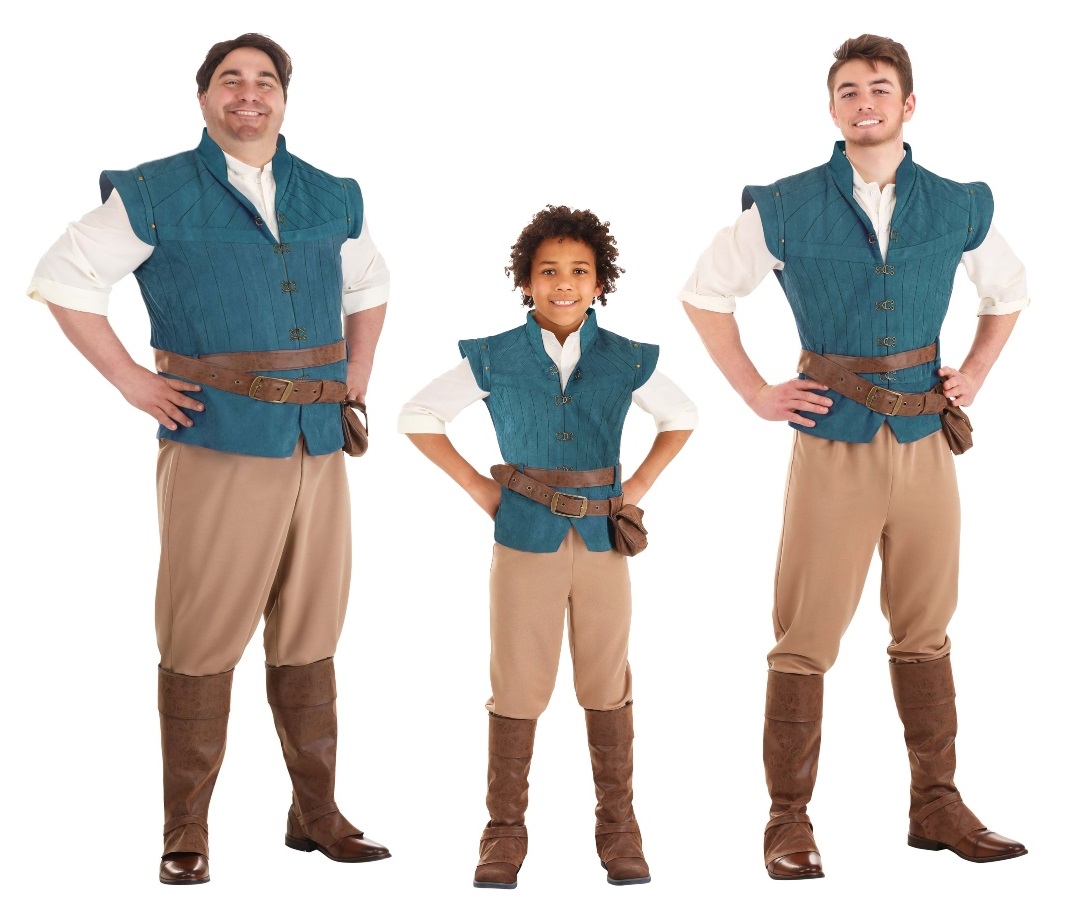 Guys haven't always had as much of a presence in Disney Princess movies as their female counterparts, but Flynn Rider from Tangled is certainly a memorable Disney Prince. (And not just because he gets hit in the head with a skillet, although we'll admit we giggled when it happened.)
20. Ferris Bueller Costume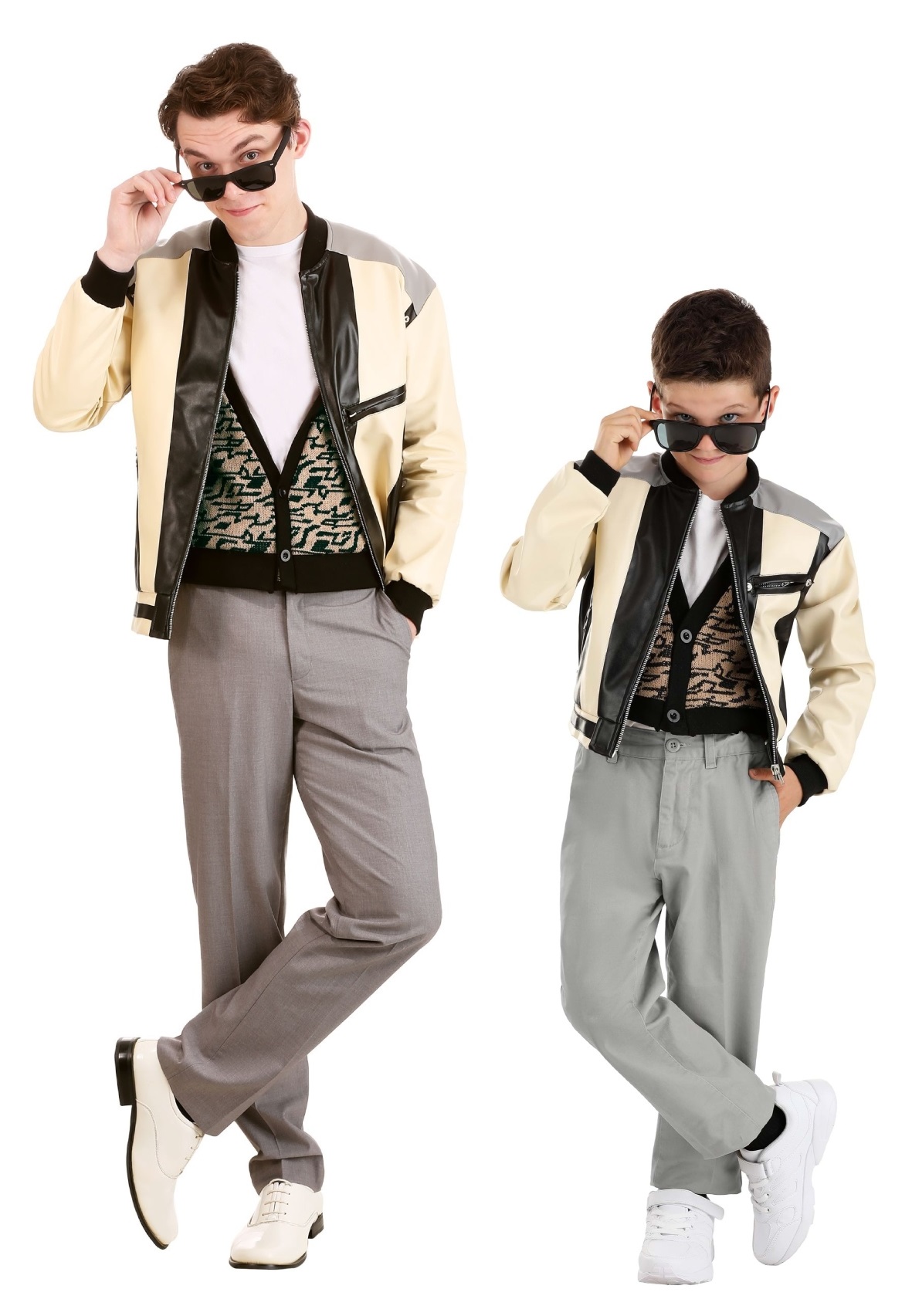 We hope you don't need to fake an illness to get a day off like Ferris Bueller, but we hope you manage to pack your leisure time with tons of fun! Sure, you might not be in the right spot to enjoy a day trip in Chicago, but we're sure you can think of something. His outfit in the movie is simply iconic, and you'll look great while out on the town. However, his comfy bathrobe look is great if you simply want to kick back and stay cozy on Halloween. What are you still doing here? Go home!
21. Shining Twins Costume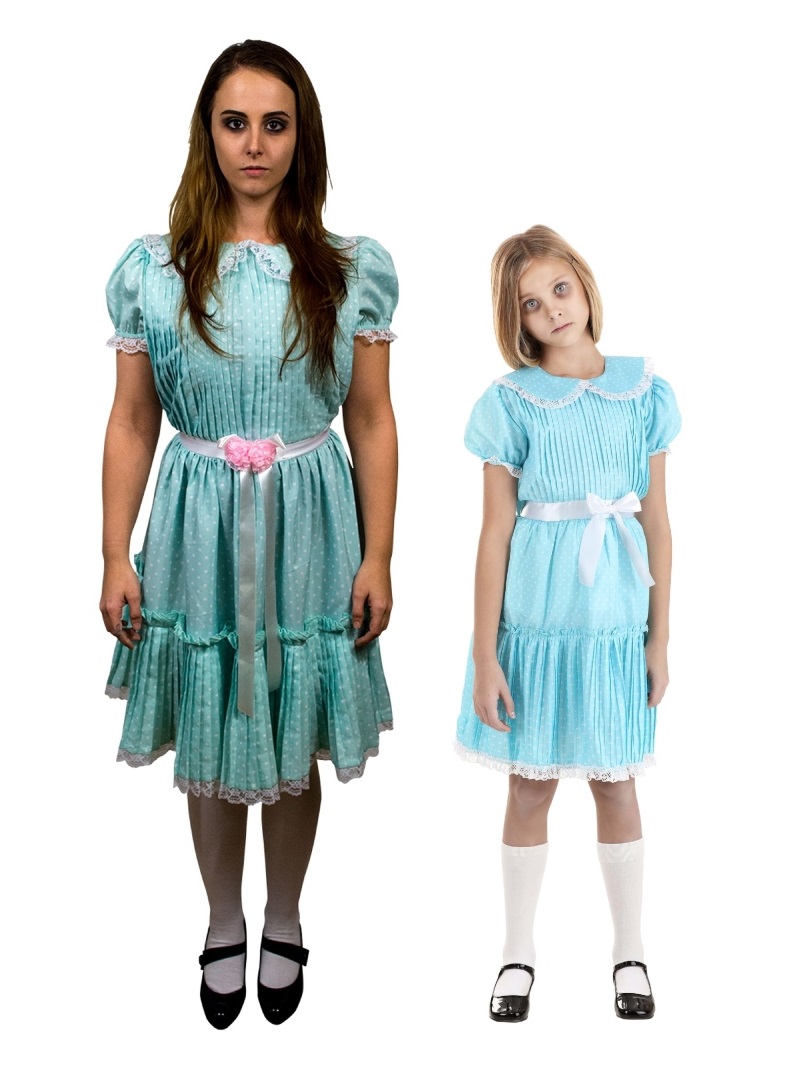 If you're a gal who holds horror close to your heart, you can put your brown locks to use with this creepy twin costume reminiscent of The Shining. Grab a friend and you have an instantly awesome costume idea on your hands! You can even find Grady twins costumes for kids should you be looking for the perfect costume for your twin girls. There are so many fun ways to wear this costume that you have to try it sometime!
22. Holly Golightly Costume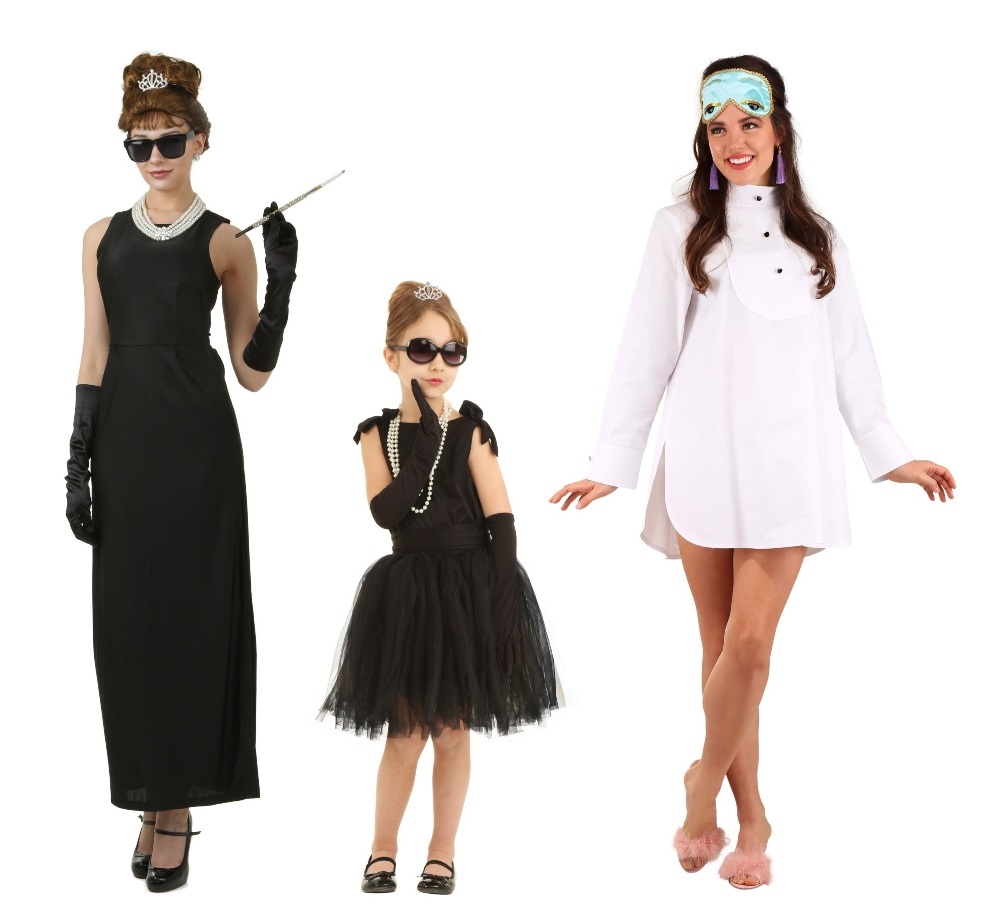 It's tough to spot a brunette Hollywood star as iconic as Holly Golightly in Breakfast at Tiffany's. Her slinky black dress, miniature tiara and sunglasses are an entire mood, and we're here for it! Even her pajamas are fabulous paired with a cute eye mask and tassel earrings. Whether you're a fan of vintage Hollywood movies or you're just in love with this iconic outfit, you were made to rock this classic movie costume as a brunette.
23. Forrest Gump Costume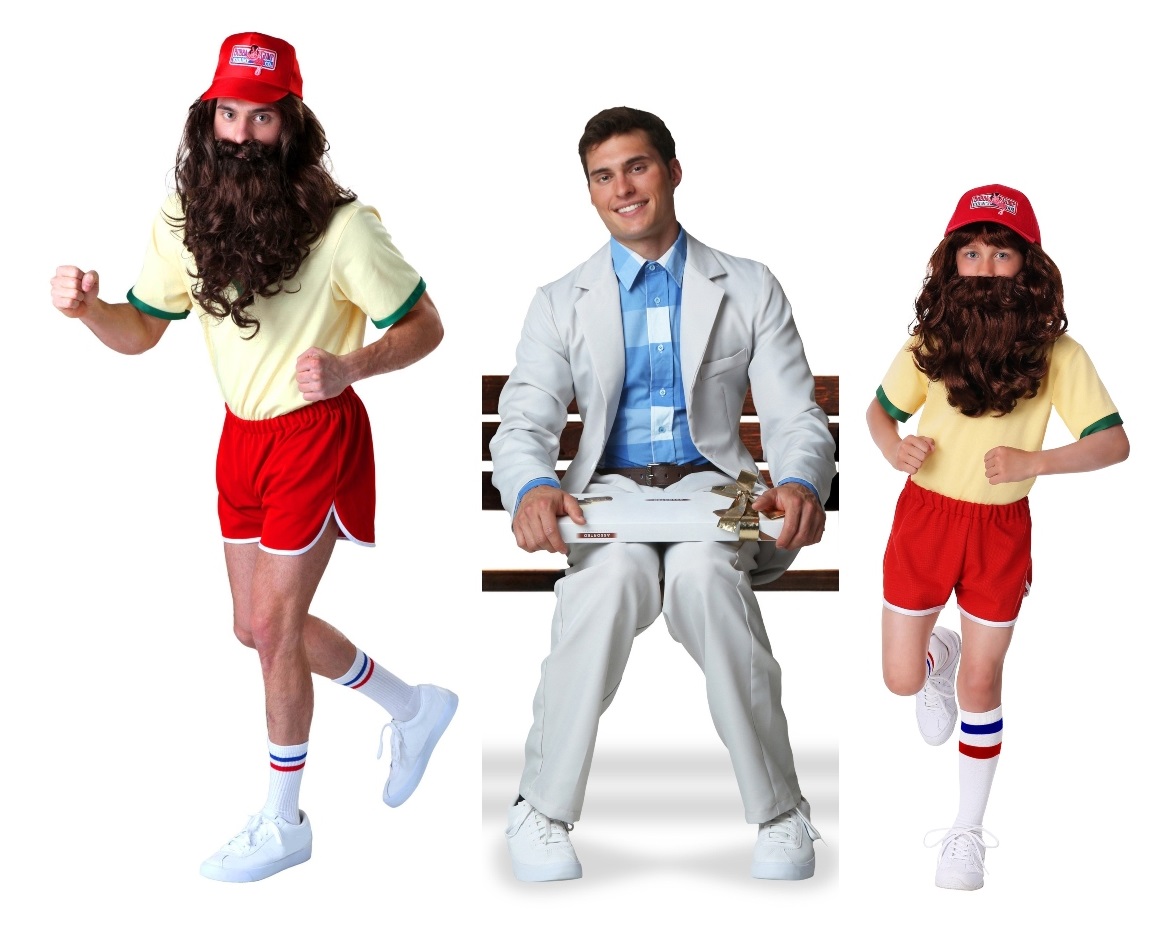 If you're a guy with brown hair, it's hard to deny that you have some options when it comes to Forrest Gump costumes. You have long hair and a long beard too. Well, there's a friend for you in running Forrest when he was on his cross-country trips. Maybe you're clean-shaven with short brown hair? Classic Forrest Gump would be great for you, and don't forget a box of chocolates! (You'll definitely be a favorite at the party if you share.)
24. Inigo Montoya Costume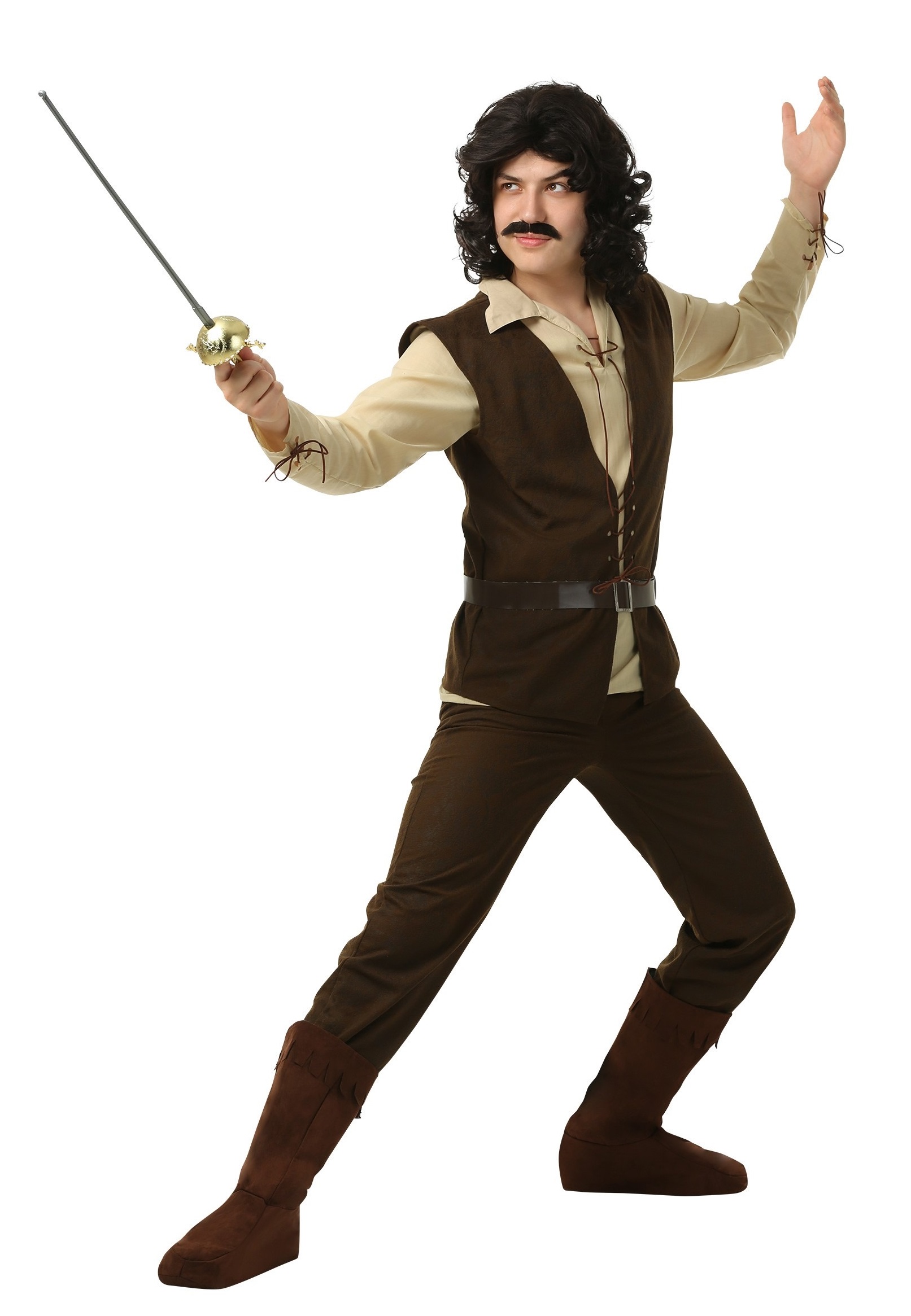 "Hello! My name is Inigo Montoya." Few lines have the impact of Inigo's famous greeting. And we'd argue that simplifying this costume to a silly name tag doesn't have the same feeling either. If you're looking for a costume for a guy with brown hair that's long and wavy like yours, Inigo is your man! He also has a mustache which would be cool to emulate as well, but there's always adhesive mustaches if you're not blessed with facial fuzz.
25. Mona Lisa Costume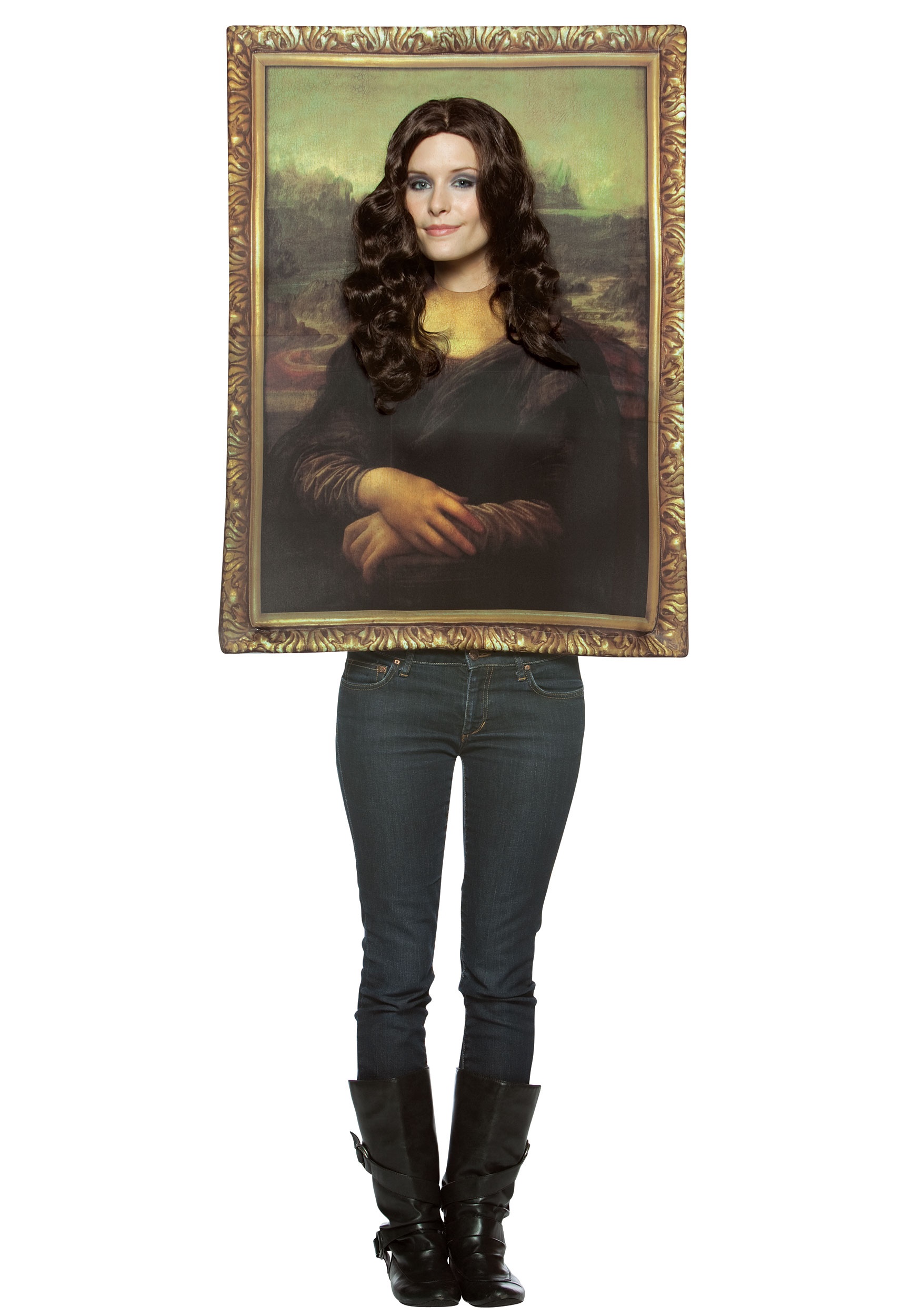 Do you fancy yourself to be a bit of an art buff? Take full advantage of your dark hair with this Mona Lisa costume kit! We don't know what the rest of her outfit looked like in the original painting, so feel free to dress in casual clothes that won't distract from the painting. Or, you could put a fun spin on it and try wearing a similar dress to what you can see in the photo! Either way, you'll be recognized instantly as one of the most famous paintings in the world.
Costumes With Black Hair
As we mentioned earlier with Halloween costume ideas for brunettes, there are simply too many Halloween costumes with black hair for us to mention here. We'll look at some of our favorites, but we're sure that you can think of something great when you get your creative juices flowing! You'll see many hairstyles for black hair represented here as well, whether yours is curly or straight, long or short. We're going to be sticking more to character costumes, but that doesn't mean that you can't take advantage of your 'fro to become a mean disco queen.
1. Wednesday Addams Costume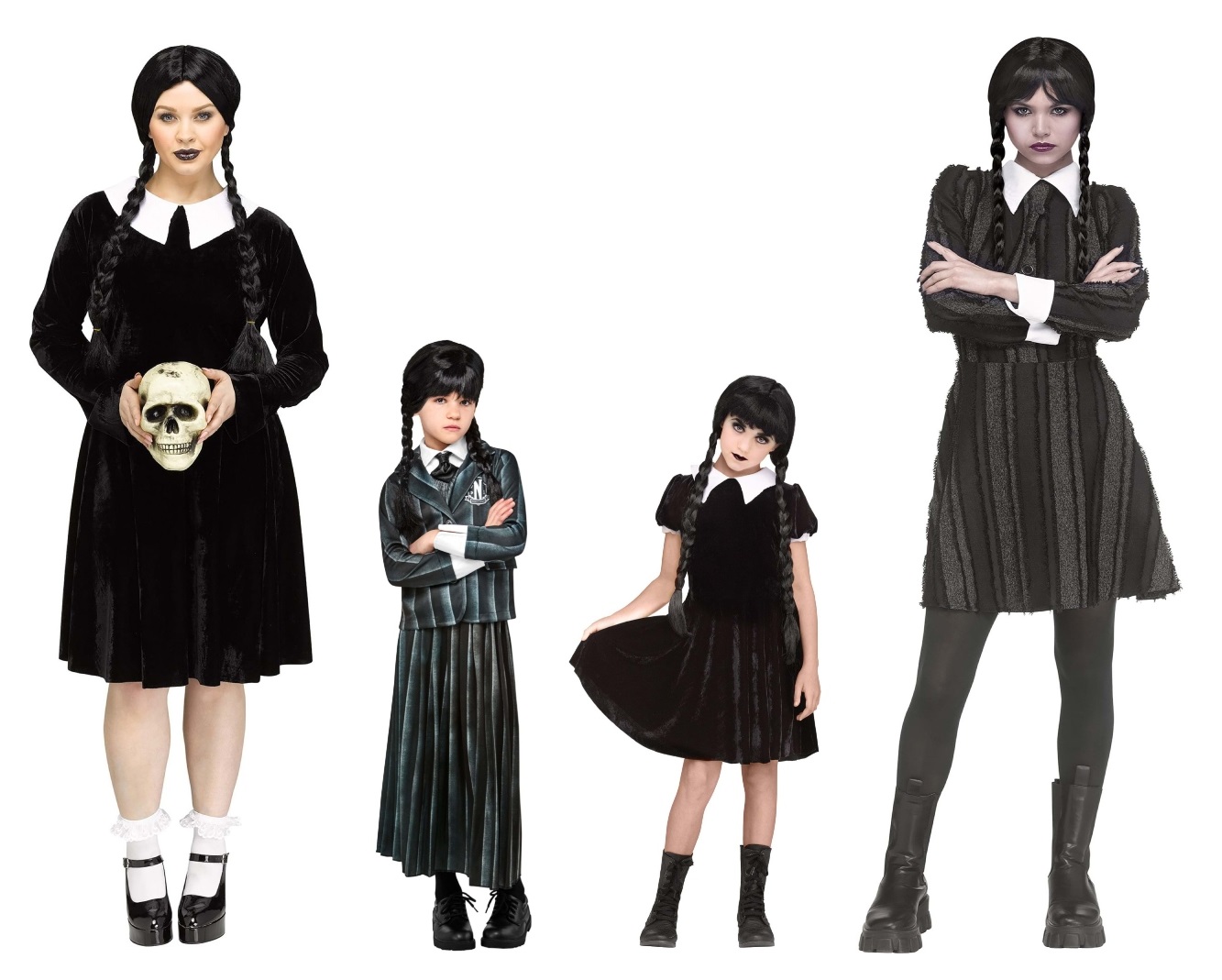 Most of the Addams family has dark hair, but Wednesday stands out as one of the fan fave characters from the classic show and subsequent movies and TV series. Her simple black outfit with a white collar gives us some serious goth girl vibes, and her black braided hair is simply iconic. This Addams Family costume is easily recognizable, so feel free to add a personal touch if you'd like to explore some new makeup or hairstyles.
2. Black Panther Costume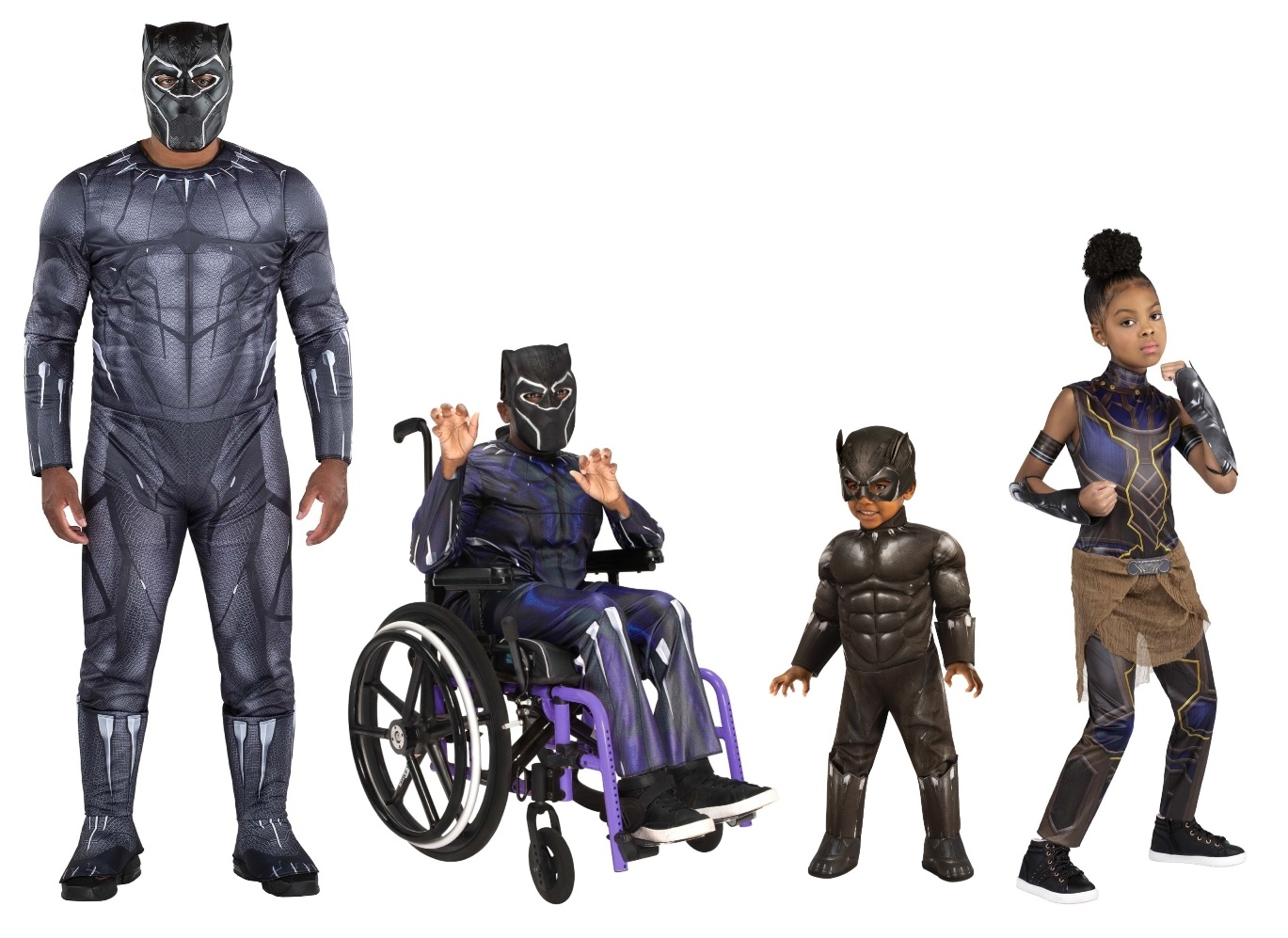 One of Marvel's most impressive solo hero movies, Black Panther has a huge cast of characters that make great costume ideas for people with black hair. There is, of course, Black Panther himself, but Shuri and the Dora Milaje shouldn't be overlooked. Whether you're planning to fly solo on your costume mission or you're hoping to get a group together, you're going to love wearing all of these Black Panther Halloween costumes.
3. Shego Costume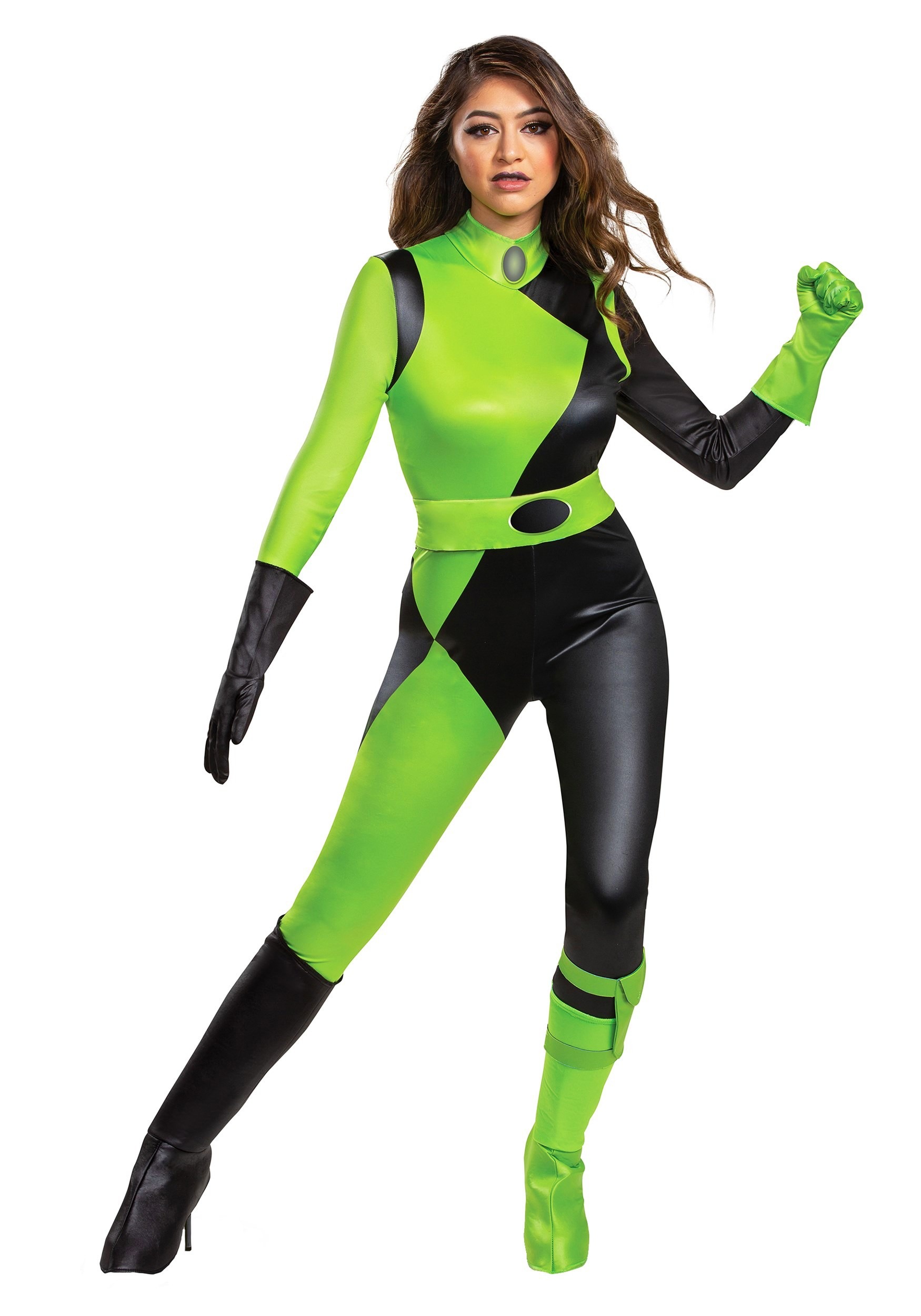 Kim Possible may be the star of the show, but it's hard not to love one of her greatest adversaries, Shego. This sidekick to Dr. Drakken has impressively long black hair, with a bright green and black outfit. We do wonder how she ended up as the sidekick instead of the main villain—of the two, she appears more competent—but it is what it is. Still, we live for her witty comebacks!
4. Selena Costume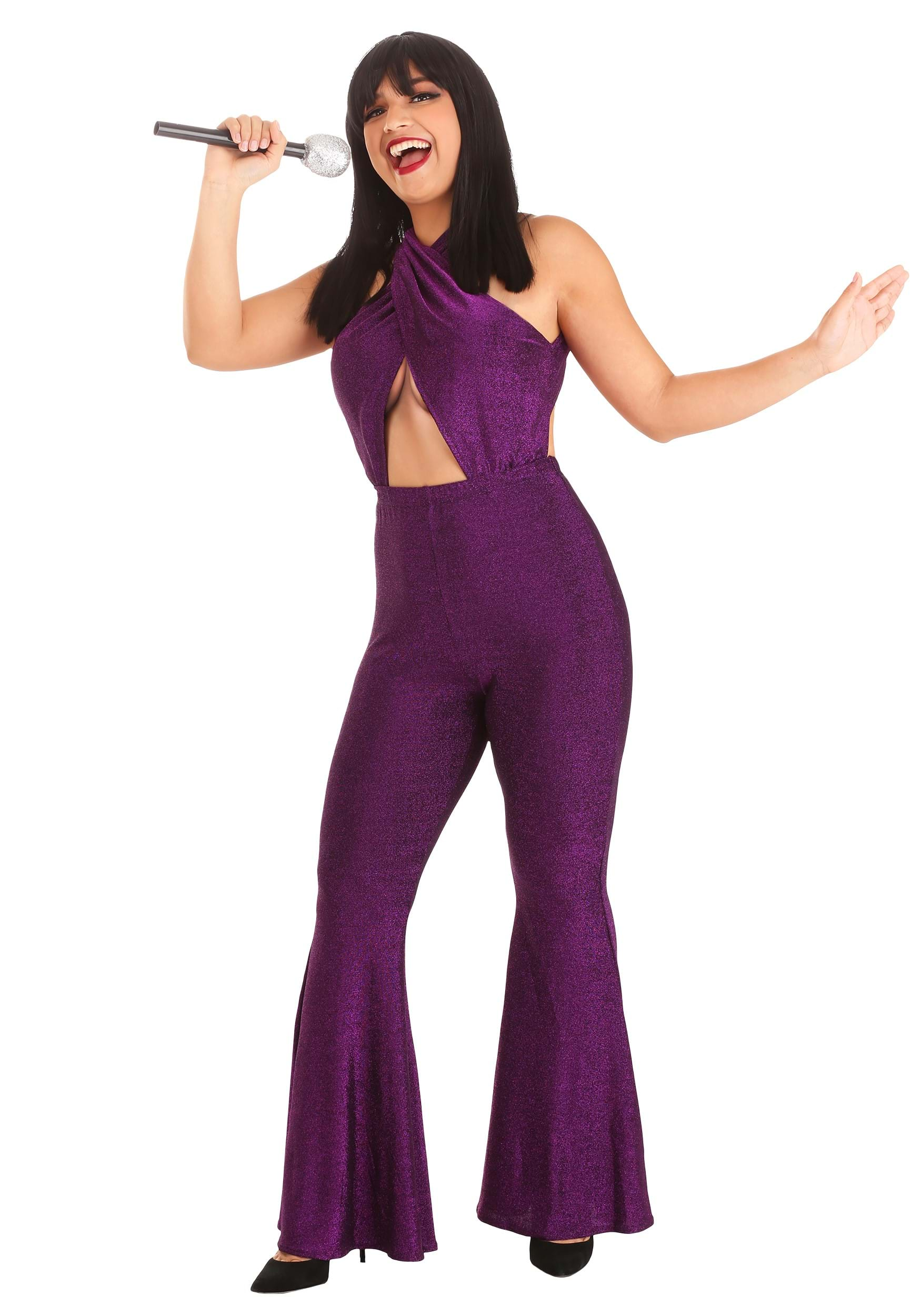 She may have left us too soon, but Selena's legacy lives on. She was the first Latin artist to top the Billboard 200, and she was often referred to as the "Tejano Madonna" for her sense of fashion. (In addition to being a singer and songwriter, she was also a fashion designer and model, so it's no wonder that she has great style!) She has many iconic ensembles that would make great Halloween costume ideas, although we have to admit that the burgundy outfit is one of our favorites.
5. Us Costume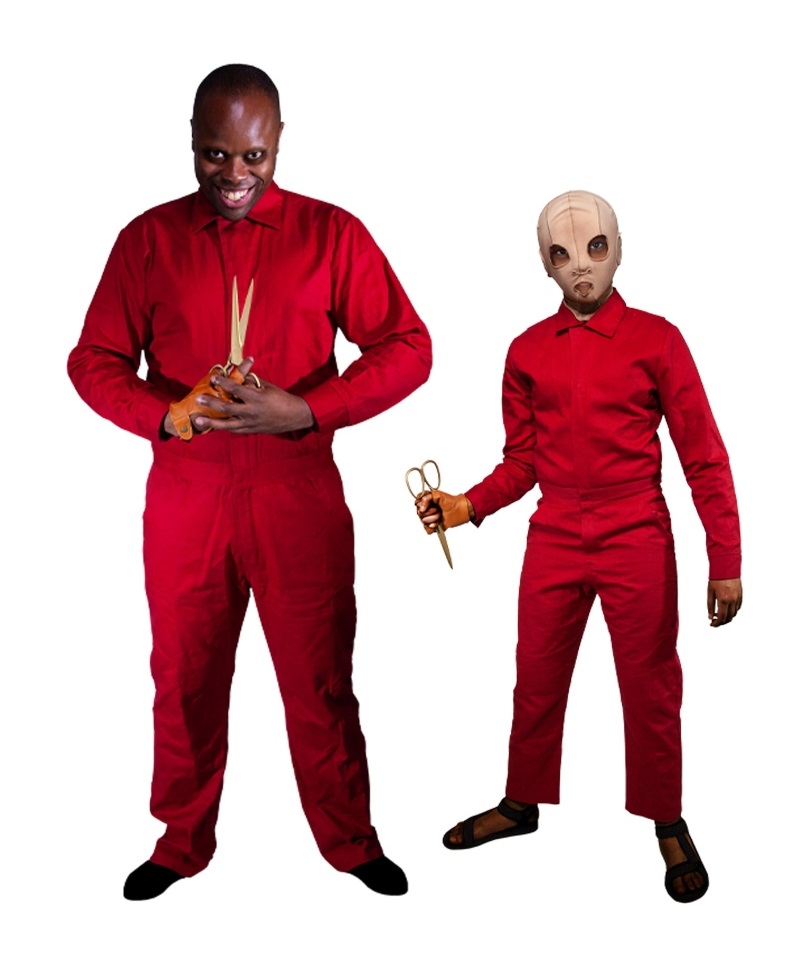 If you had to fight a twisted version of yourself, do you think you'd win? Is there anything as terrifying as the Tethered from Us? While these Tethered costumes can be used to cosplay as any one of the movie characters, there's nothing stopping you from being your own doppelgänger! These red coveralls are sure to remind people of the movie, but it wouldn't hurt to have a pair of scissors as a prop. Get out there, and get ready to scare!
6. Jasmine Costume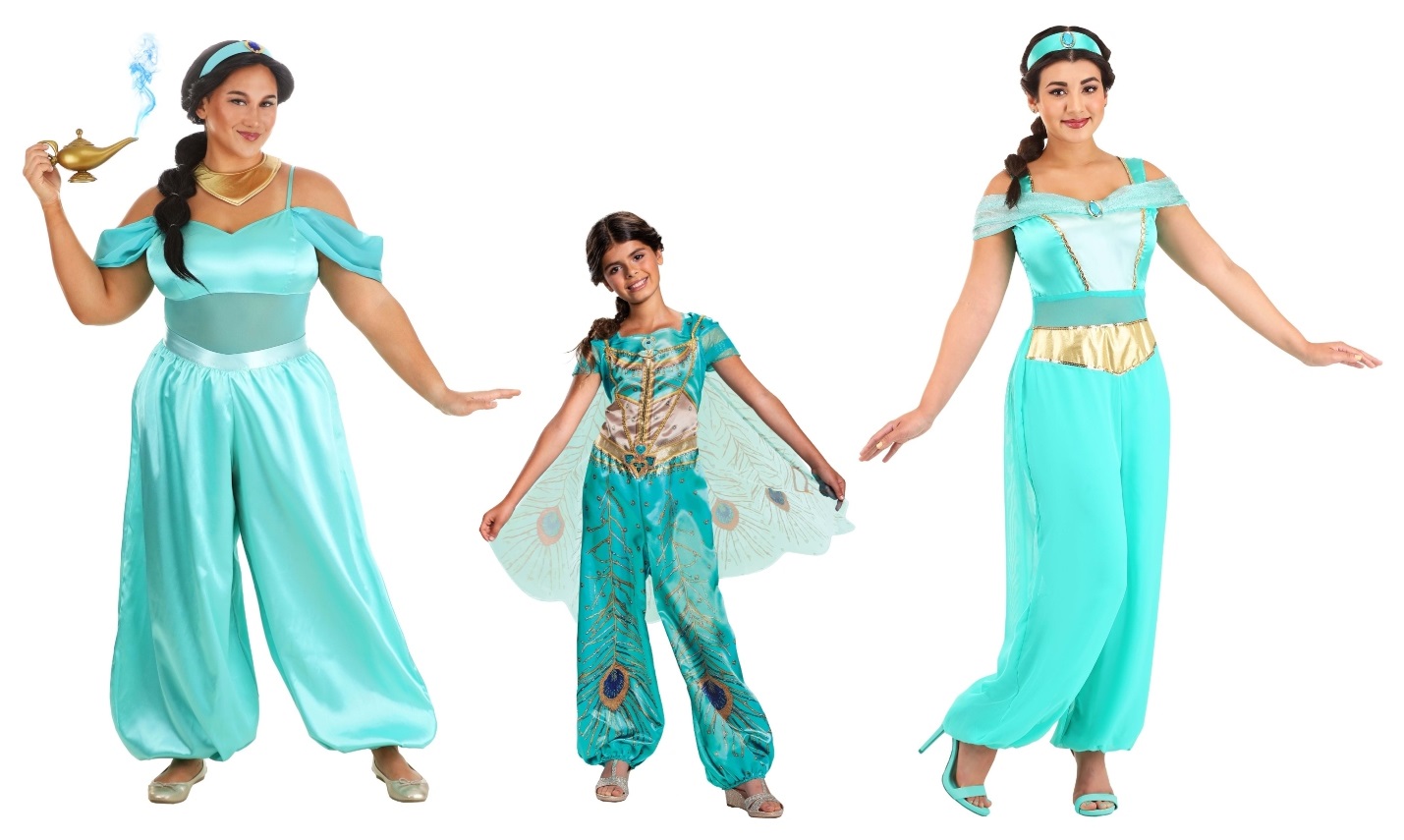 How many of us have wished to have Princess Jasmine's hair? Maybe you're one of the lucky ones that do, so you can take full advantage of these Princess Jasmine Halloween costumes! Although we may not have realized it as kids, Princess Jasmine knew that the laws in her country needed some updating, and she was not in agreement with her father over them. Against her father's wishes, she left the confines of the palace and even got married to a commoner. You go, girl! She was also Disney's first diverse princess, leading the way for other princesses of color.
7. Lilo Costume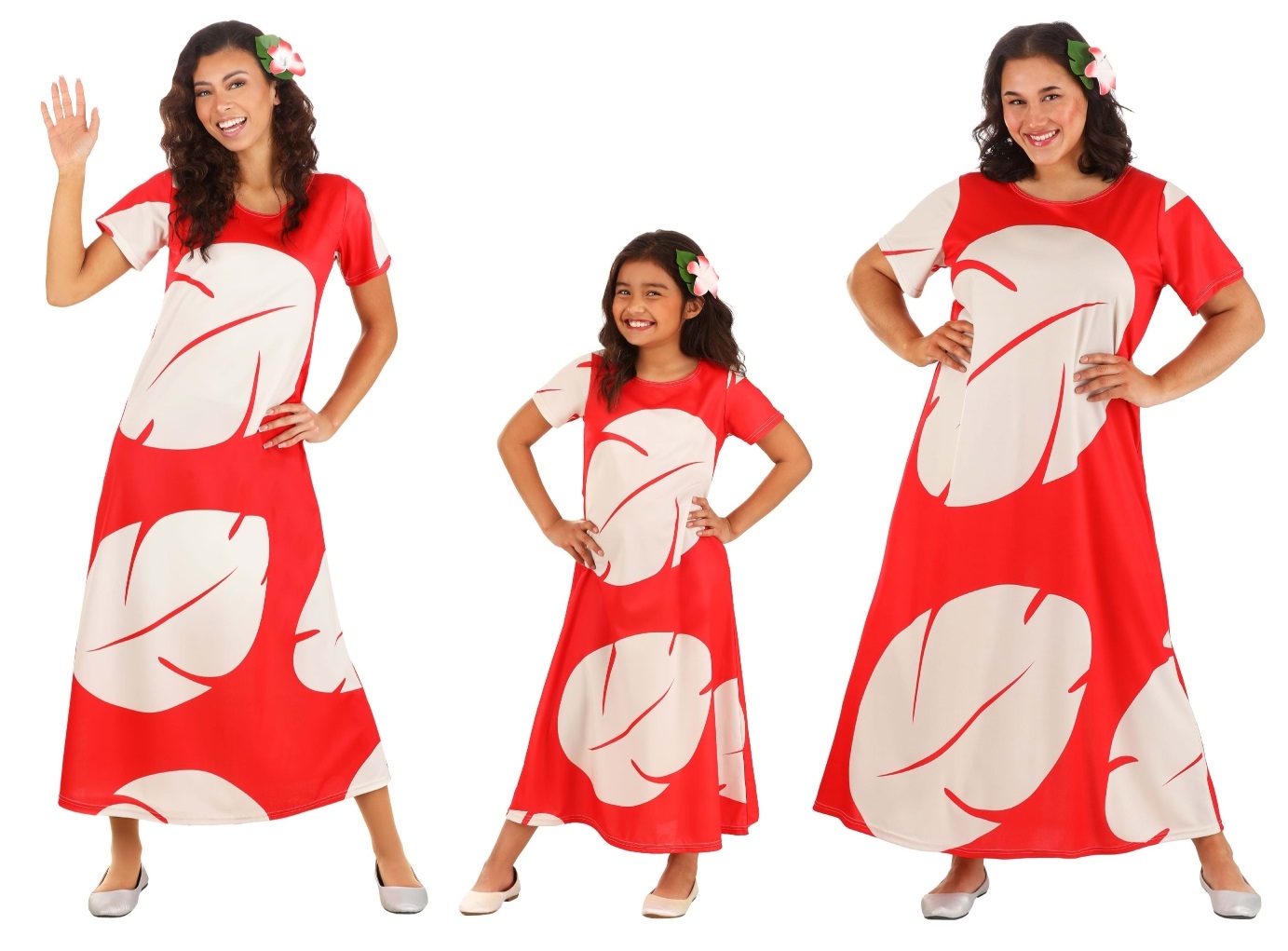 Cute as a button, we're not about to tell Lilo that she didn't actually adopt a dog. (She figured it out in her own time.) The movie is all about the importance of family, so why not find a friend or family member to wear a Stitch costume with you? Disney fans will probably stop you to ask for photos because this is such a cute costume idea!
8. Loki Costume
Speaking of loveable scoundrels, Loki from the MCU is just that. While Thor is pretty cool, how many of us are bigger fans of Tom Hiddleston's Loki? He's a wonderful adversary, with a sharp wit and some of the best lines in the movies. Just...uh...make sure to watch out for anyone in a Hulk costume.
9. Cleopatra Costume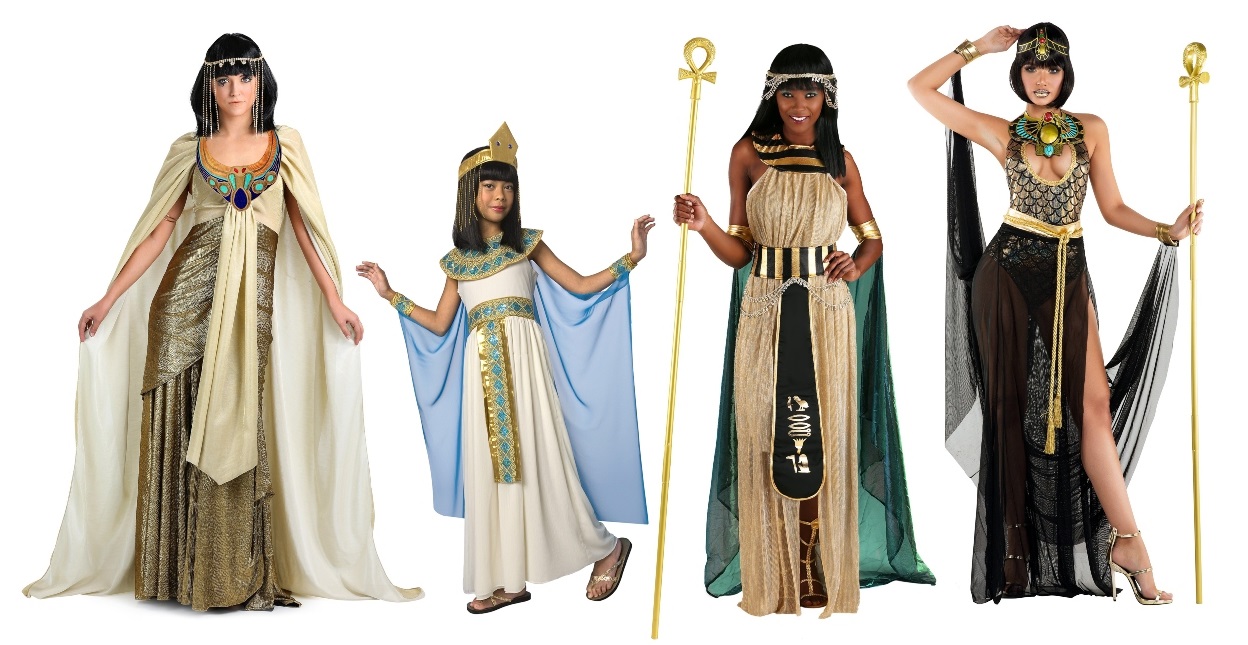 While we don't have any photographs from ancient Egypt, ruler Cleopatra is often depicted with black hair. What we do know is that she was a remarkable woman who ruled over the Ptolemaic Kingdom of Egypt. Romance, war, assassinations—her life has inspired a great number of books and Hollywood movies. If you're a big fan of history, you're going to love these Cleopatra costume ideas!
10. Michael Jackson Costume
If you can't appreciate a good Michael Jackson costume, just beat it. Few musicians have had the influence of Michael Jackson. He was just as much of a dancer as he was a singer, performing moves like his famous moonwalk to enamored crowds. There are plenty of Michael Jackson costumes to wear, but if you're hoping to be authentic, you'll need to need to brush up on those moves!
11. Snow White Costume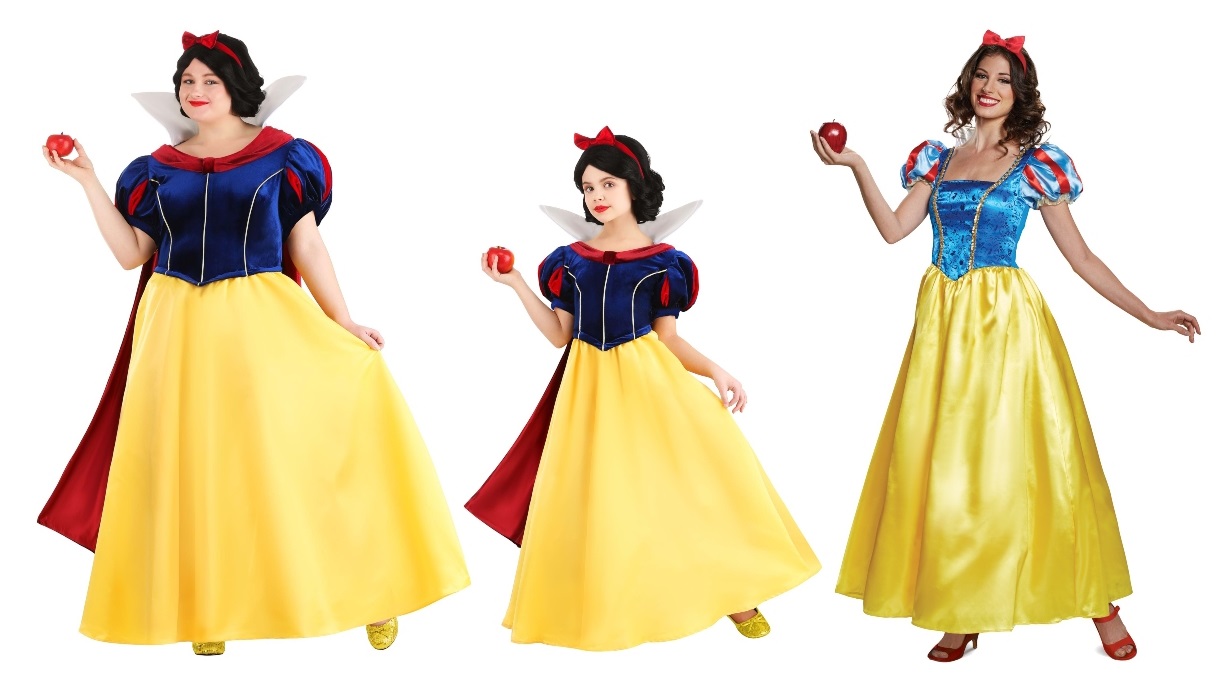 "Lips red as the rose, hair black as ebony, skin white as snow." The Evil Queen only needs these clues to determine that Snow White is the fairest one of all. If you're blessed with raven-black hair, you can pull off a Snow White costume without needing a wig. She also has serious group costume potential with seven dwarfs, the Evil Queen and the huntsman. Kudos to anyone who goes out of their way to DIY the magic mirror!
12. Goku Costume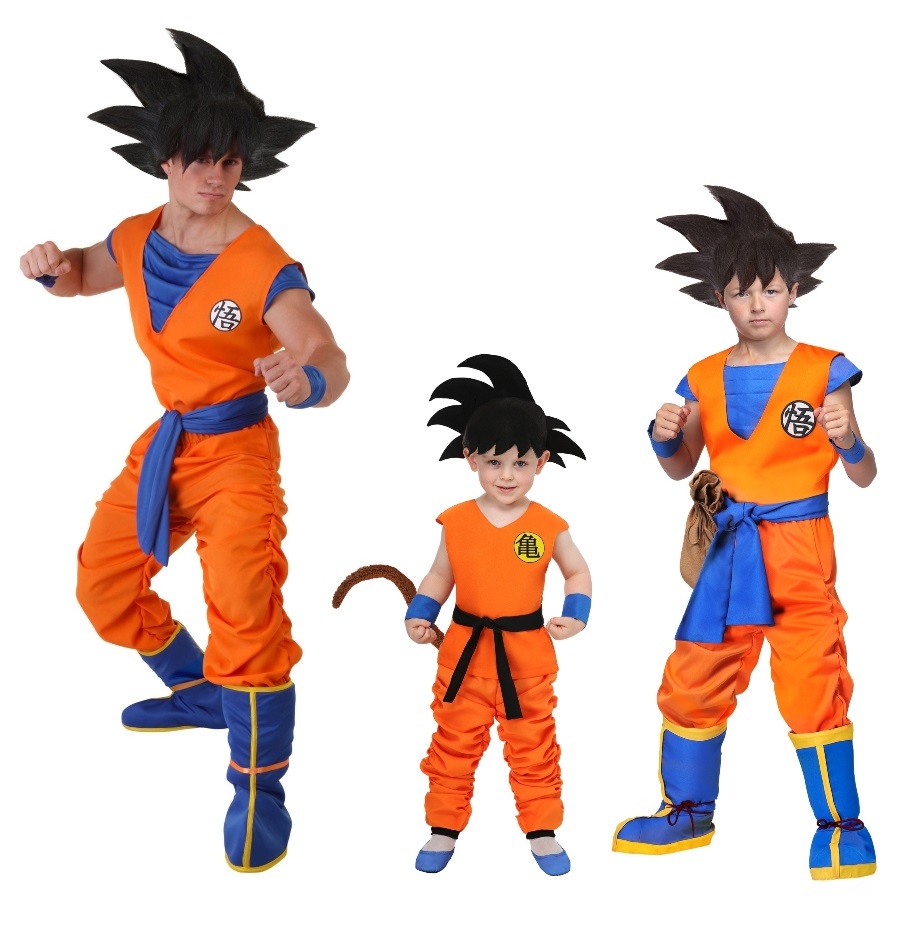 "Kamehameha!" Likely one of the most recognizable lines from any anime series, you'll likely be yelling Goku's signature attack at least once while wearing these Goku cosplay costumes. When he's not going Super Saiyan, Goku's big, bushy hair is jet black. Most try to pull it off with a wig, but with your black hair, you might be able to style it yourself and make it look more natural. It's a tough hairstyle to master! Still, if you love Goku, you know that practice makes perfect.
13. Clovers Costume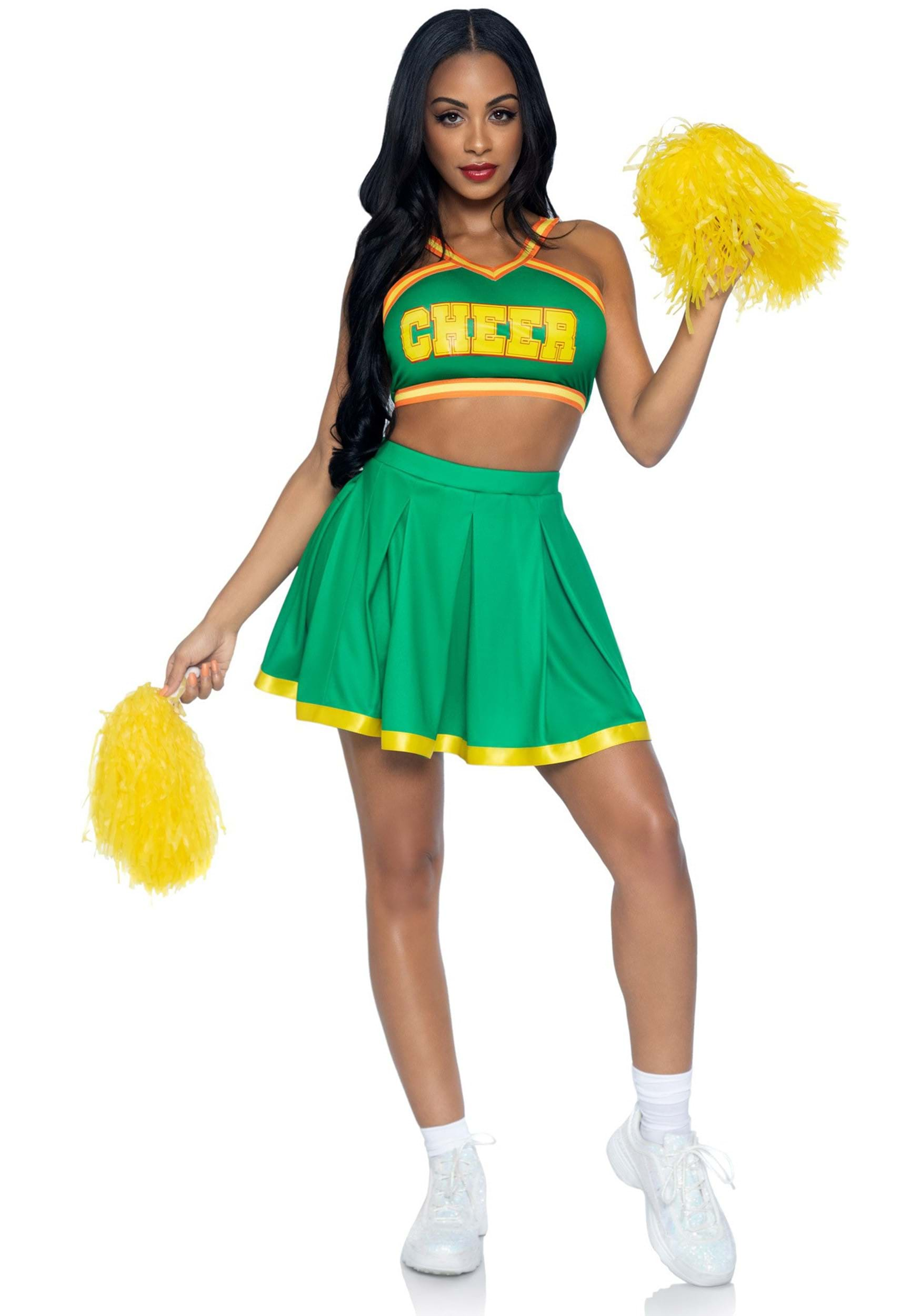 Many teen comedies came out in the late 90s and early 2000s, and Bring it On from 2000 is still a favorite decades later. While the movie focuses a lot on the Clover's rivals, the Toros, it turns out that their routines have been stolen from the Clovers, so their success isn't even really theirs. Ultimately, the Clovers win the national Championship as they deserved. If you're hoping to channel Isis this Halloween, you'll want to pick up one of these green cheerleader costumes to look the part!
14. Aladdin Costume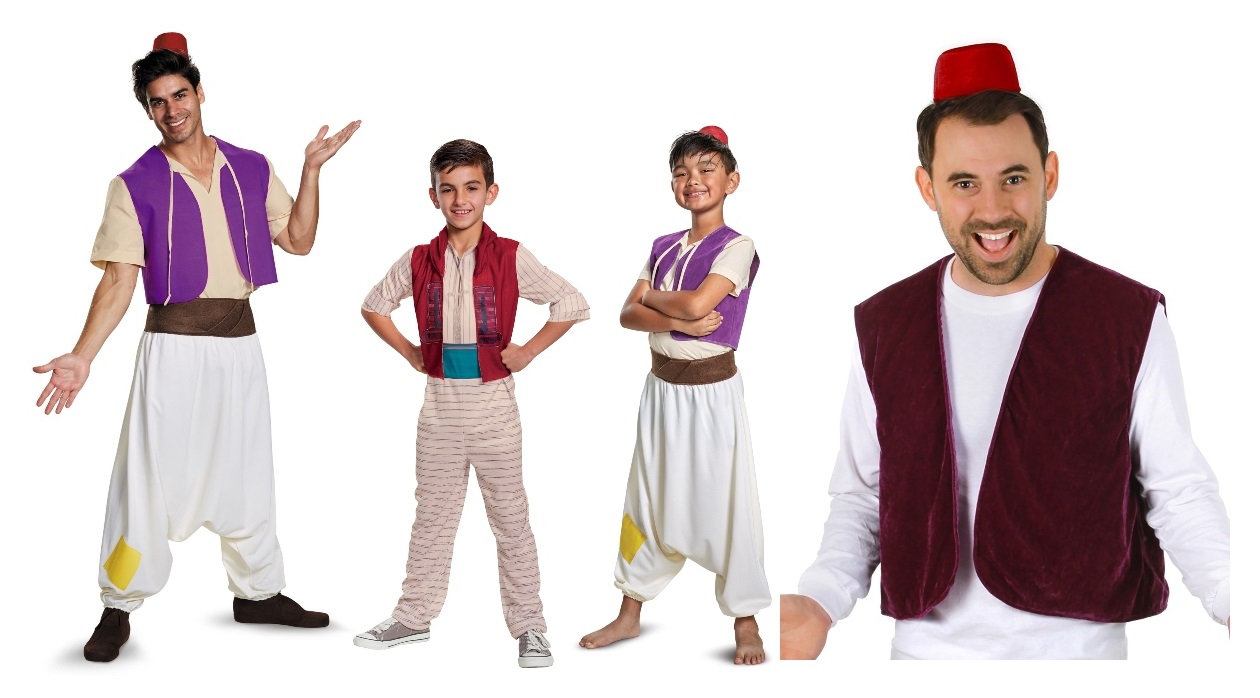 Remain one jump ahead of the competition this year with an Aladdin Halloween costume. It doesn't matter whether you prefer the animated Disney classic or the live-action version, because your short dark hair will work with either of these costumes! Now, all you have left to do is track down a few friends for the rest of the gang. Maybe forget about having a real live tiger, though.
15. Tiana Costume
Newer Disney Princess movies have been offering us morals to their stories along with adventure and excitement, and we love how Tiana teaches us about the value of hard work. She had a vision and she executed! While Tiana didn't need to become a princess to achieve her goals, her misadventures with Naveen did help them to grow closer together. Your little girl will love this Princess Tiana costume, and we hope that someday she will achieve her dreams too!
16. Cher Costume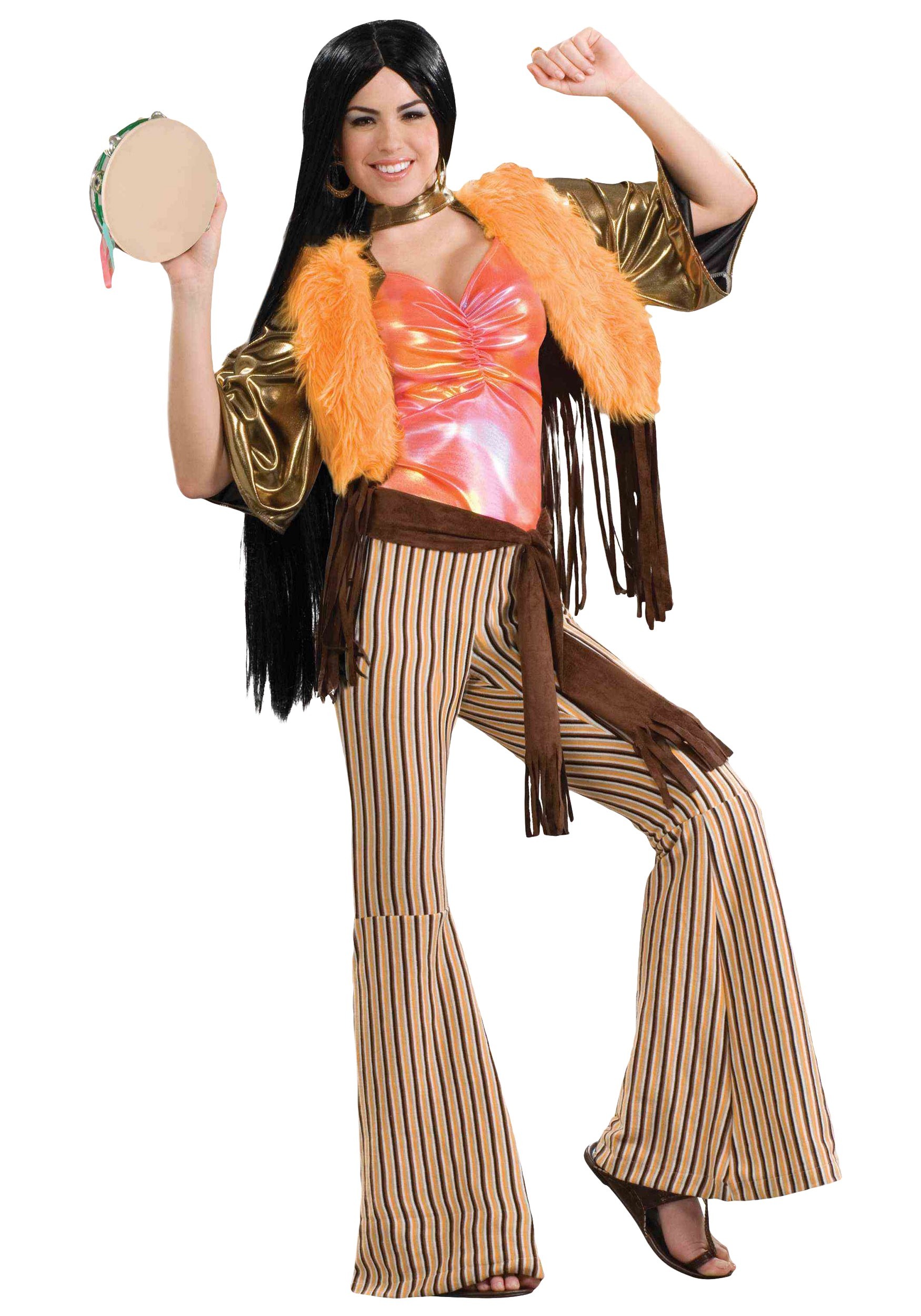 One half of the famous 60s singing duo, Cher continued to sing after Sonny and Cher split. She even spent some time performing on Broadway! Cher and her song "Believe" can also be credited for the prevalent use of Auto-Tune in popular music! Auto-Tune was designed to automatically correct off-key singing—as the name suggests—but Cher instead used it as an effect. Her long, black hair has remained iconic to this day, so pick up a tambourine and dance to the music!
17. Betty Rubble Costume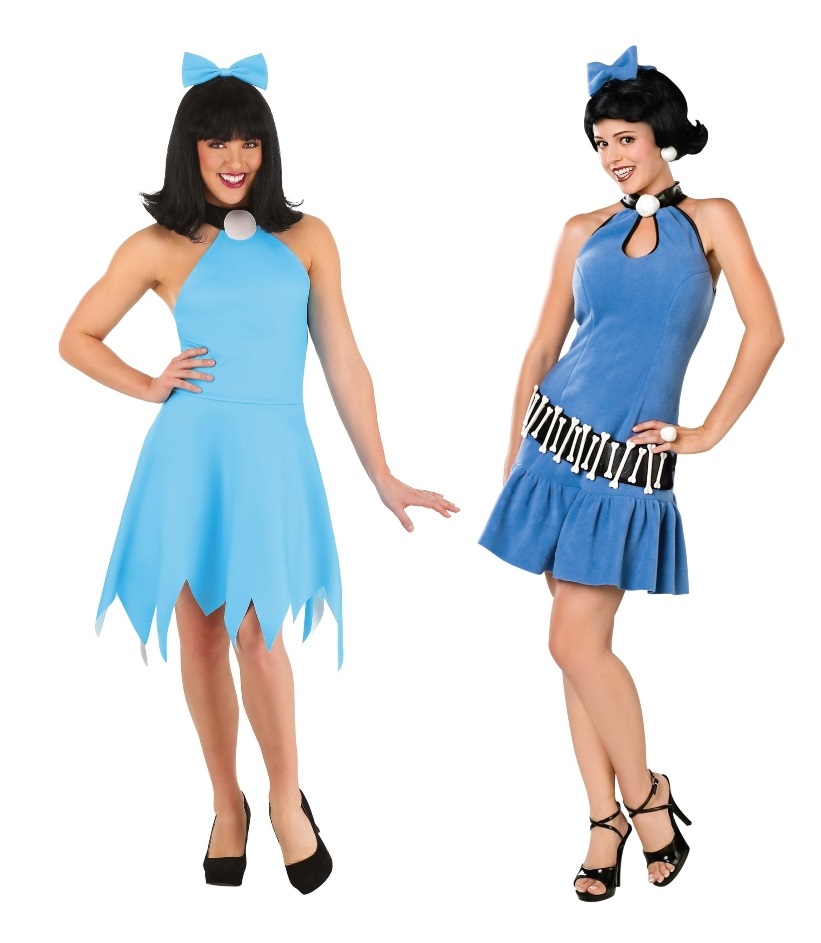 Wilma Flintstone may get a lot of attention for her red hair, but Betty Rubble's family seems to have their act together. A lot of the drama in The Flintstones revolves around Fred doing his best to keep up with the Joneses, or in this case, the Rubbles. Still, there are times where Betty needs to bail Barney out of trouble. (Men, are we right?)
18. Gaston Costume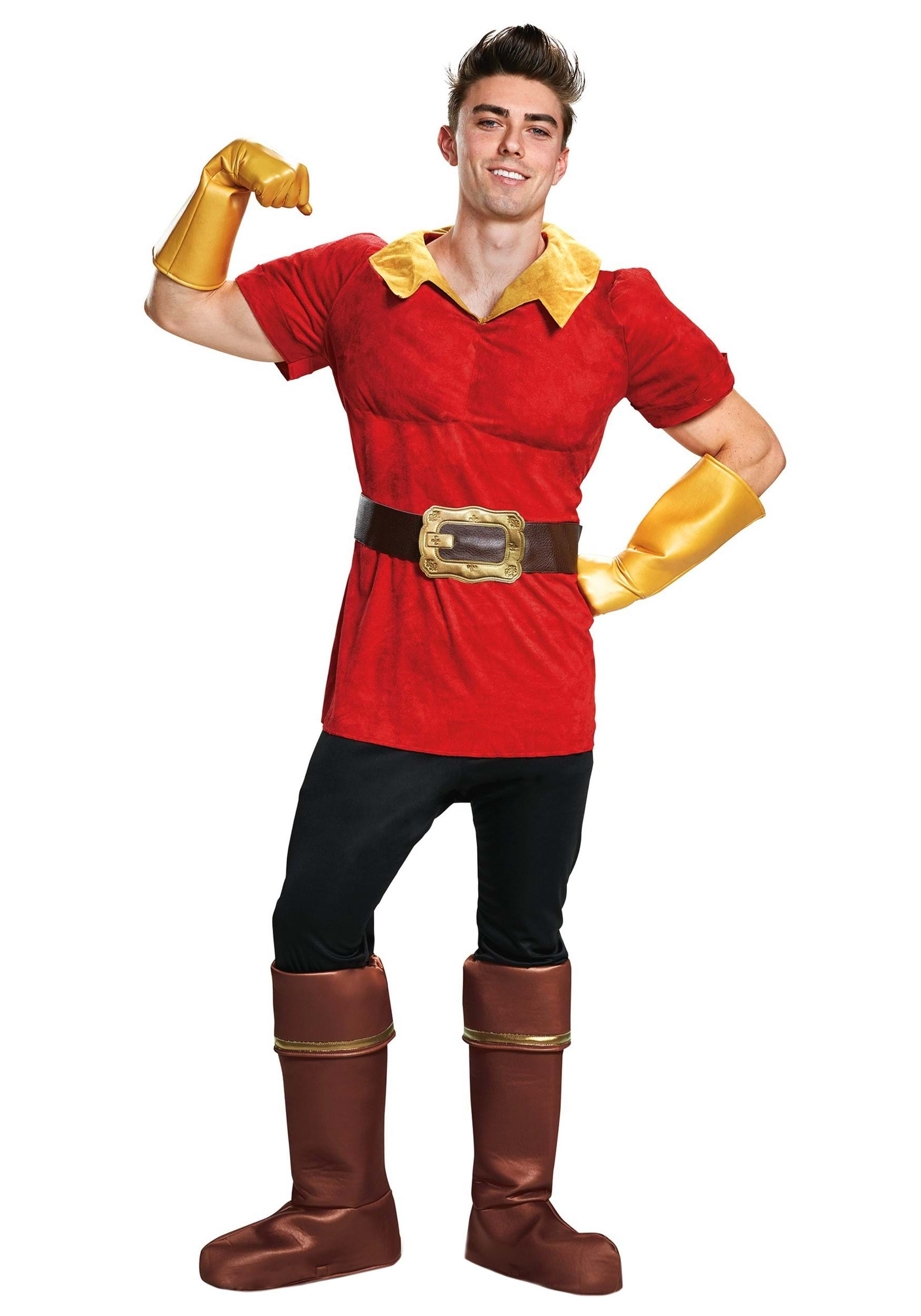 What a guy, that Gaston. People often fawn over him for his muscles and supposed bravery, yet Gaston can't get over the fact that he cannot seduce Belle. While he ends up coming off as slimy and vain, Gaston is the type of villain you're more likely to meet in real life. (You know—how many times are you going to get cursed by an evil enchantress?) While Gaston isn't the most upright citizen as he'd have you believe, this Gaston costume pairs well with Belle or perhaps in a group with other Disney villain costumes.
19. Mavis Costume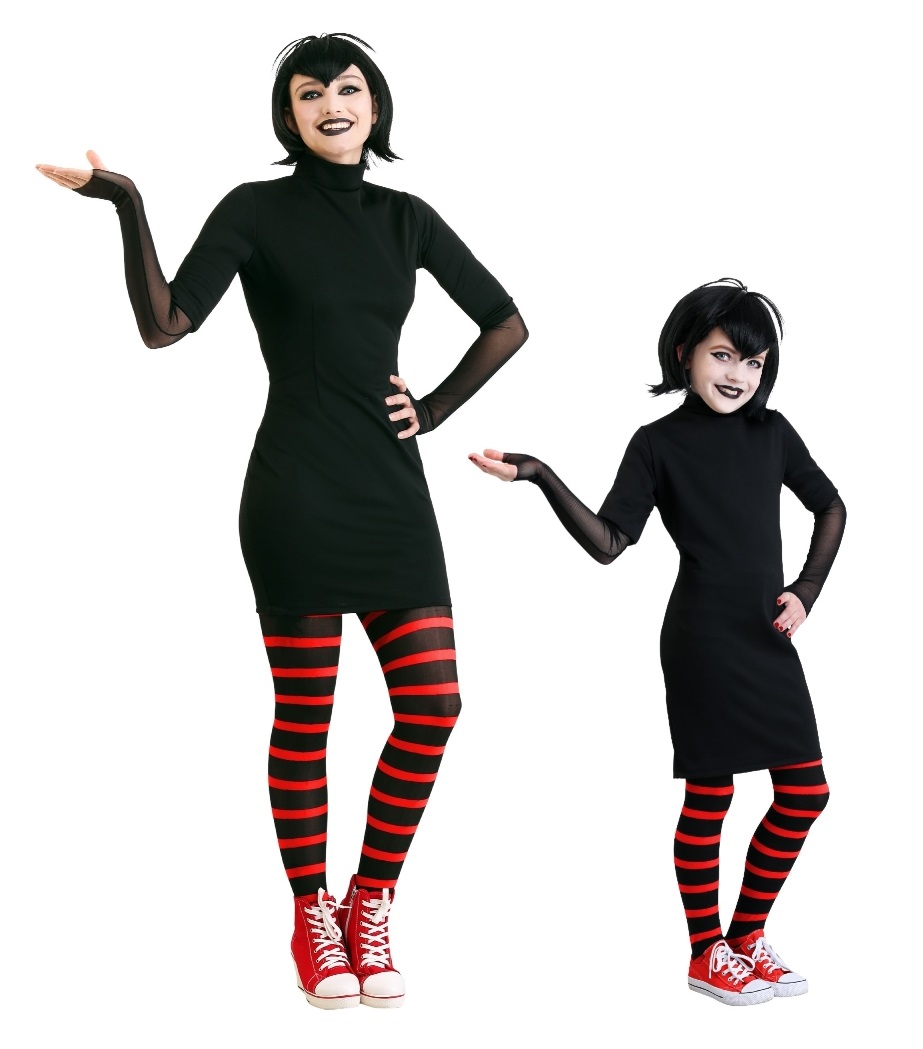 Vampires are often depicted as having dark hair, and our girl Mavis is no exception! Her simple outfit is fairly easy to DIY, but you can also find Mavis costumes online as well. As Dracula's daughter, she has lived a rather sheltered life. (His concern for her is actually pretty sweet, given how she's a vampire and all that.) The movie spawned several sequels, and this Halloween costume idea for people with black hair is sure to be loved by all the kids you meet!
20. Coming to America Costume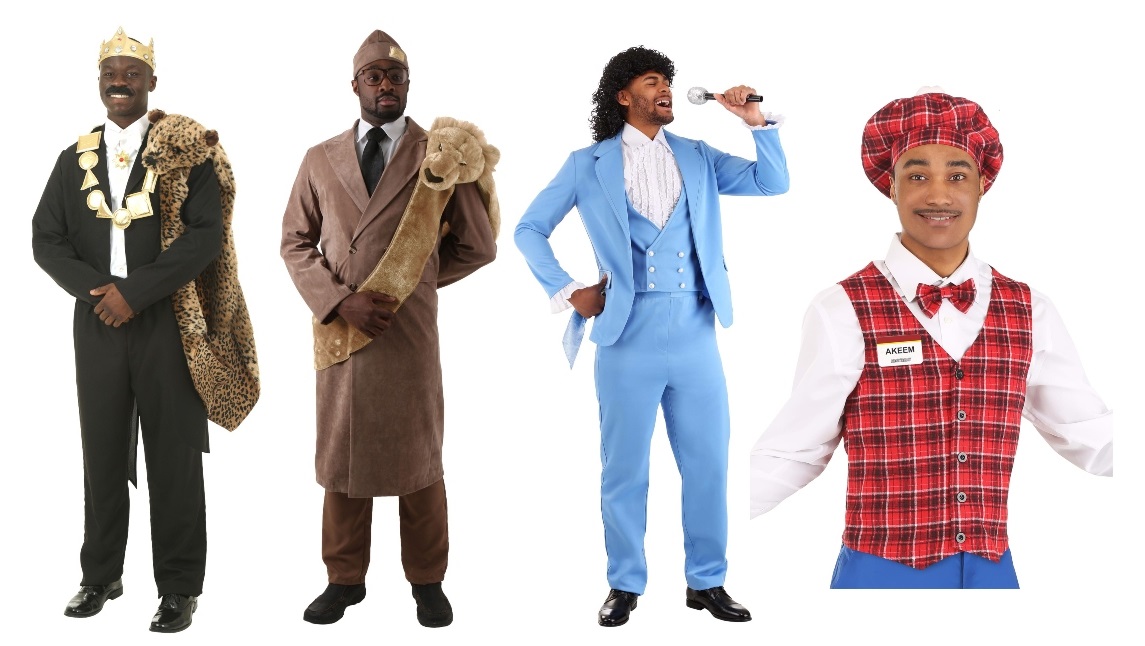 Eddie Murphy and Arsenio Hall stole the show on this one. Granted, it's easy to do when you play four characters each! You probably can't wear all of these Coming to America costumes on Halloween night by yourself, but grab a few friends and you're sure to win the crown for the best group costume.
21. Mother Gothel Costume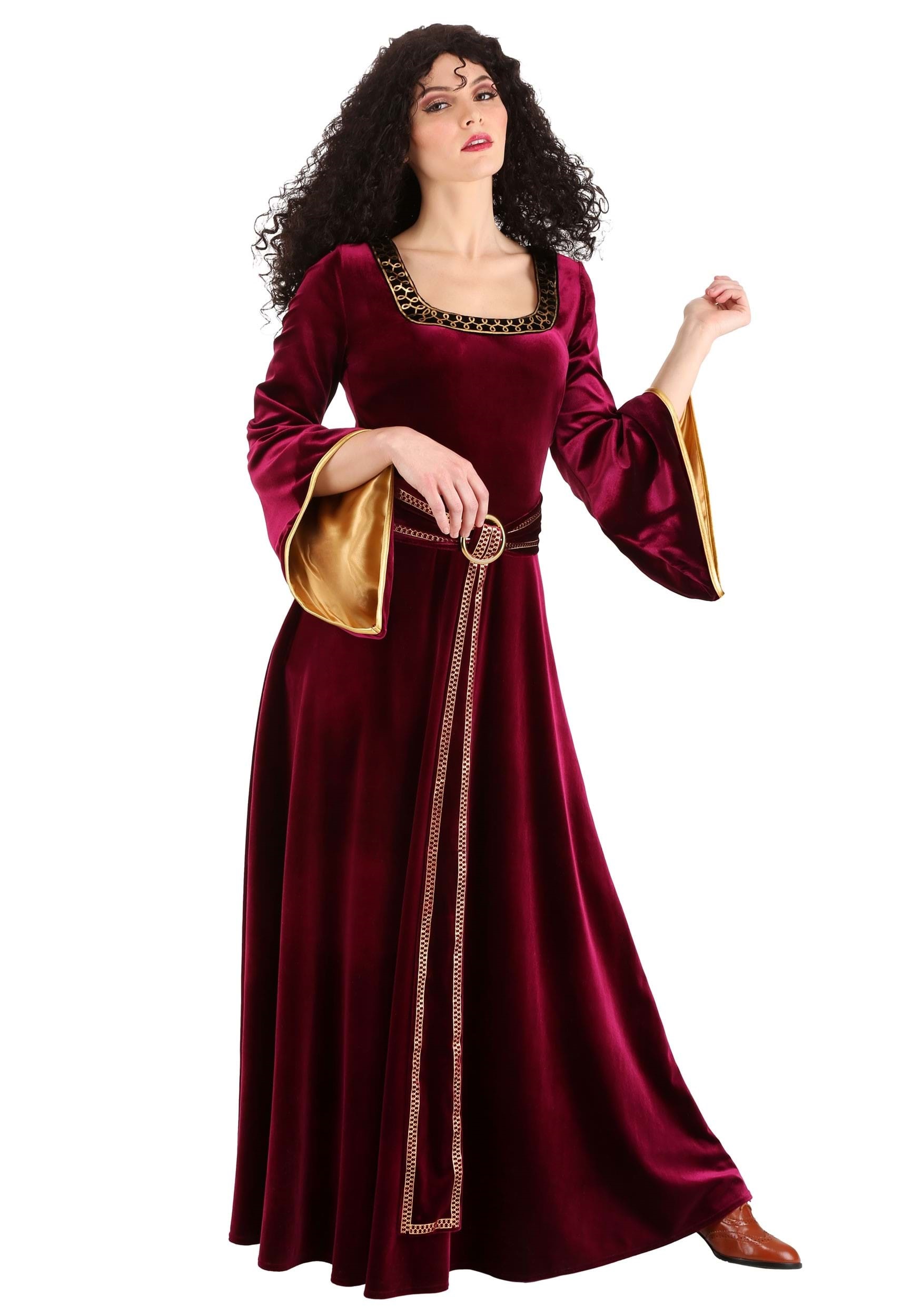 This Disney villain has long, curly black hair and a lust for immortality that knows no bounds. In reality, she's hundreds of years old, preserved by a magical flower that transfers its natural healing abilities to Rapunzel. Mother Gothel is still obsessed with youth and beauty hundreds of years after first discovering the flower, but can we really blame her? (Ok, maybe we can, given how many years she held Rapunzel in the tower by herself.)
22. Jimi Hendrix Costume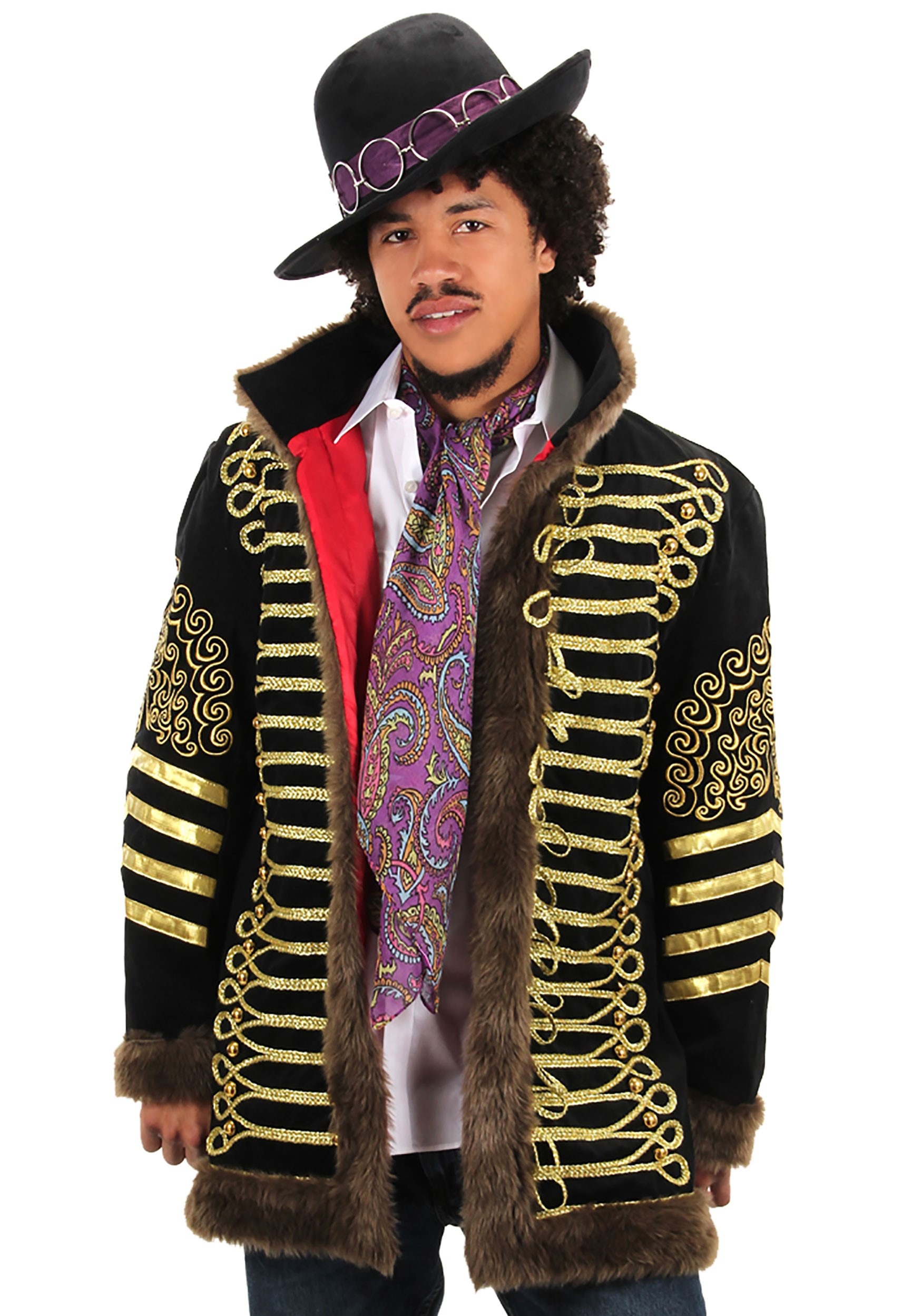 "'Scuse me while I kiss the sky." This line from Jimi Hendrix's "Purple Haze" is one of the most famous misheard lyrics in music, but there's much more to Jimi Hendrix. He was only with us for a short time and yet he had a massive impact on rock and roll! He was the beginning of the modern style of electric guitar playing, experimenting with previously unwanted guitar feedback sounds. Jimi Hendrix also headlined at Woodstock, and he developed a technique that allowed him to play rhythm and melody simultaneously on his guitar. He also has quite a few different outfits, so if you're not fond of his jacket outfit, you can easily pick up a hippie costume and tie a headband around your afro. Add a guitar as a prop, and everyone should know who you are this Halloween!
23. Fresh Prince Costume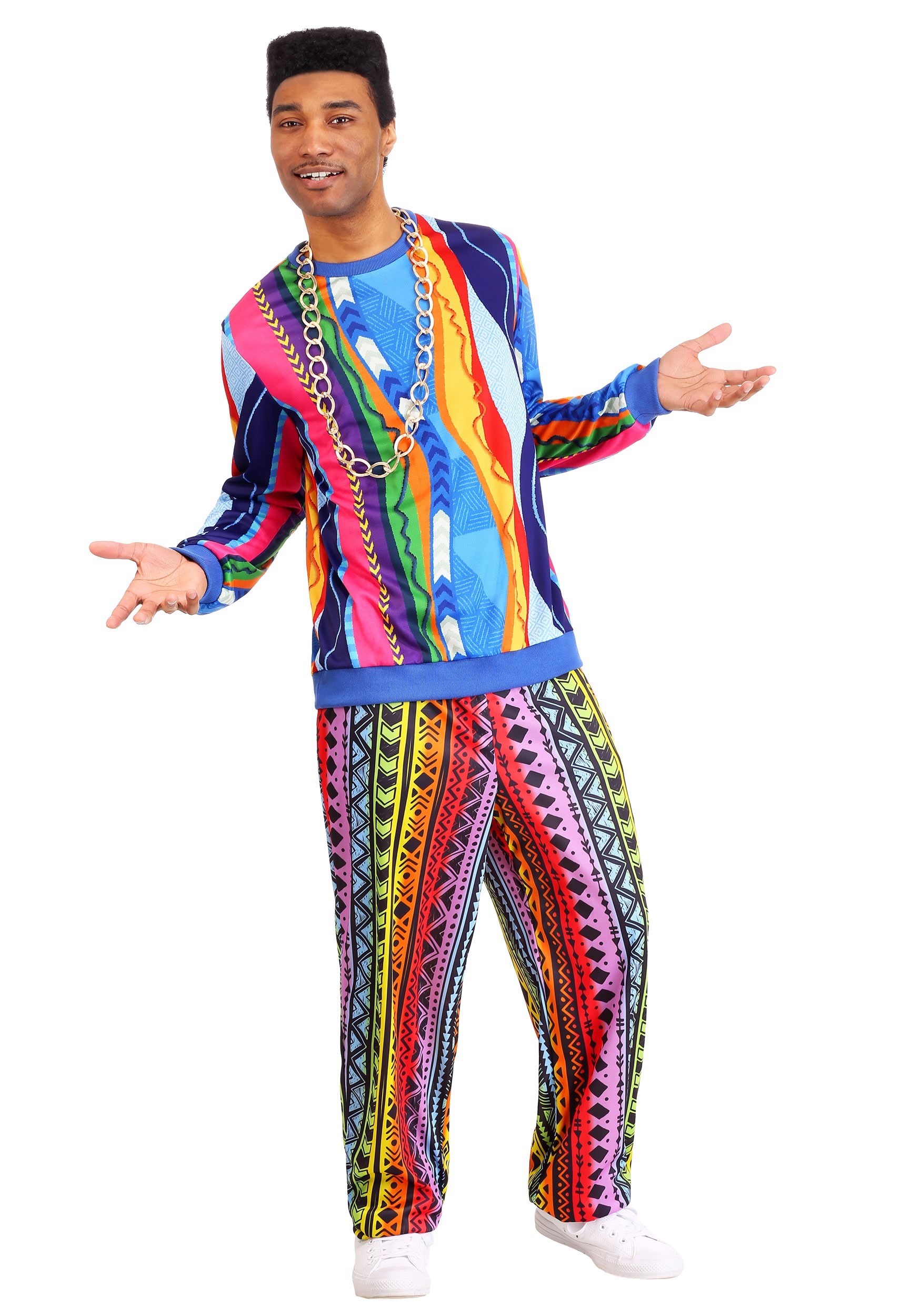 It's not unusual if the theme for The Fresh Prince of Bel-Air already started playing in your head when you saw this costume. (Frankly, us too!) Will Smith's wild 90s outfits are Halloween costume gold, especially for 90s kids. If you're feeling up to the challenge, get a friend to go as your Carlton for a duo costume idea that's dynamite—bonus points if your friend can also nail the Carlton dance!
24. Uhura Costume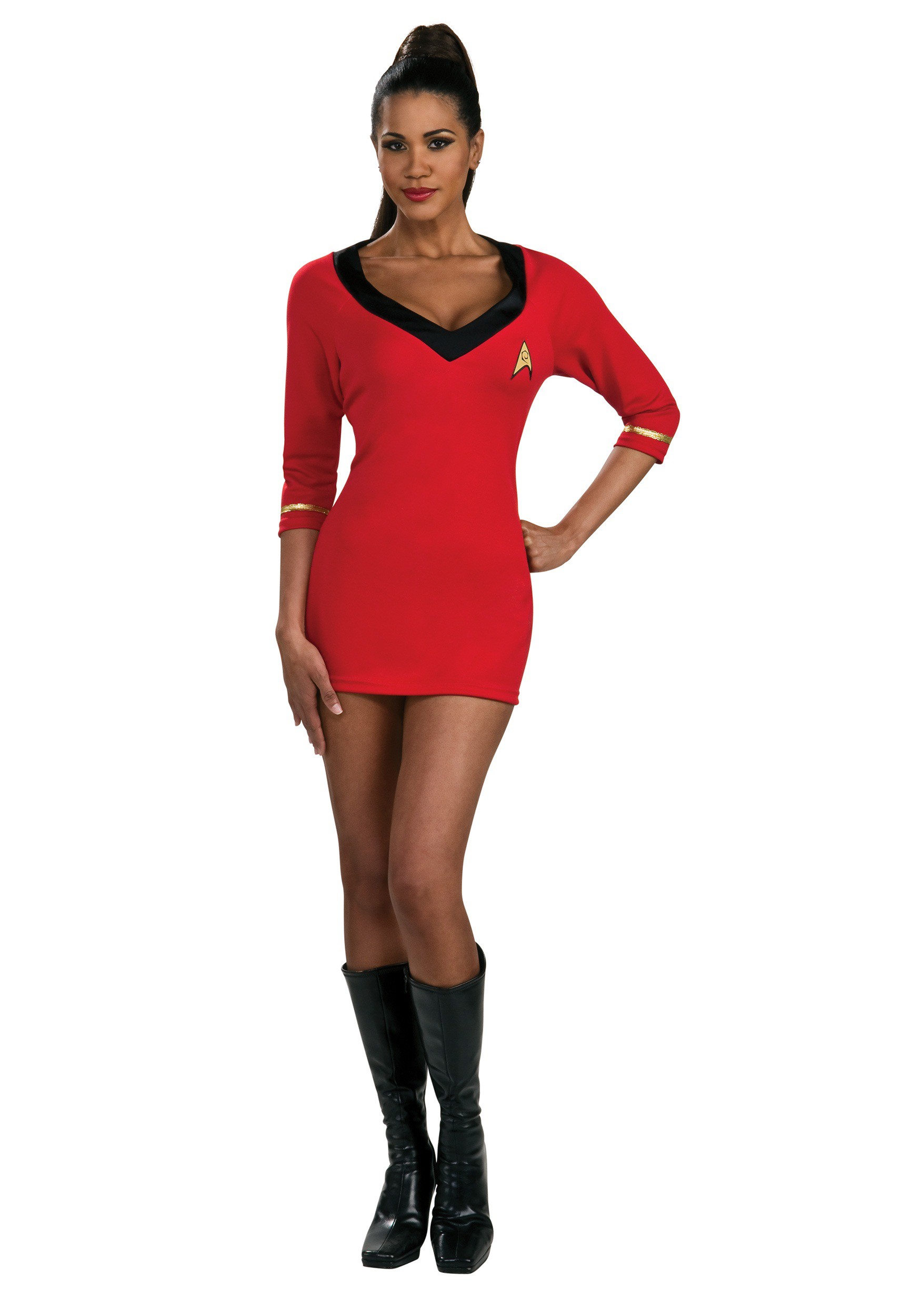 Star Trek fans were probably waiting to see this one, but we couldn't forget Uhura in our round-up of black hair costumes. She manages to wear the infamous red Star Trek uniform and survive, so more power to her! She was also the translations and communications officer on the Enterprise, one of the first black characters to have an important role in a TV series.
25. Dee Costume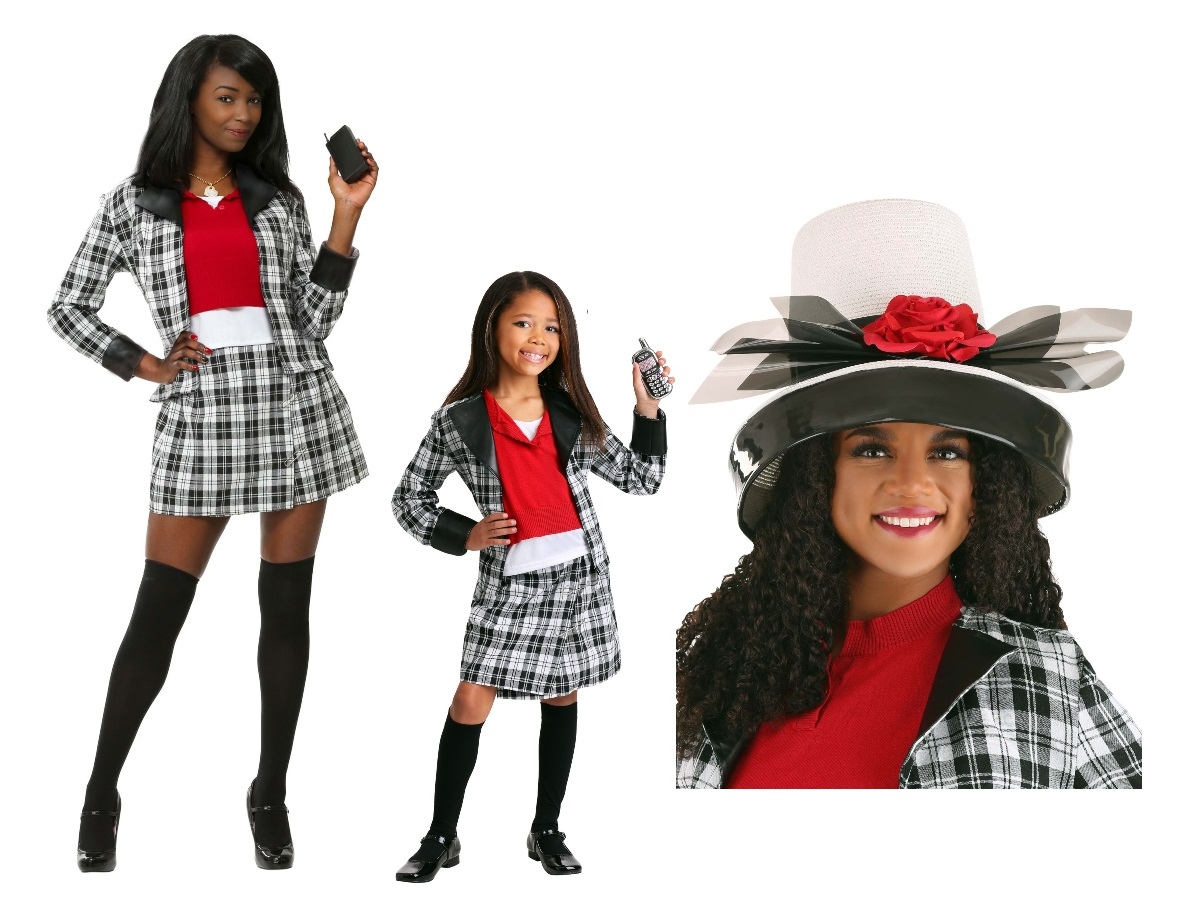 As the best friend to Cher, Dionne is one of the most popular girls in the school. She's smart, funny and extremely fashionable. You can easily rock a Dionne costume by yourself, or grab a friend so you can hit the town as a pair! This Clueless costume is going to give everyone those 90s movie vibes. If you're able to add a flip phone to complete your outfit, that would be stellar.
26. Yellow Ranger Costume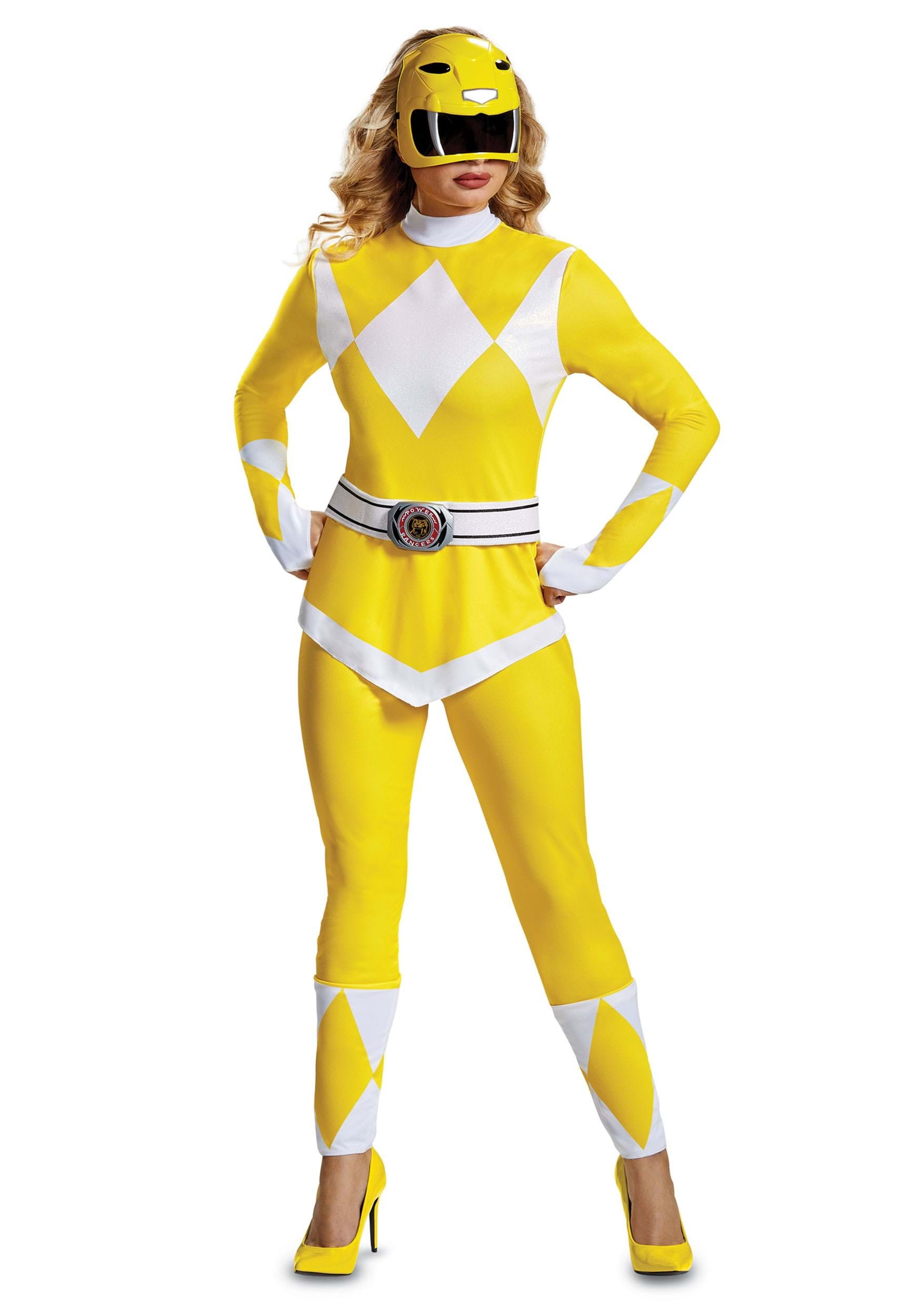 "It's morphin time!" Any 90s kid that hears these words knows that they're in for a good time and ready to watch some Mighty Morphin Power Rangers. There were two different Yellow Rangers in this series, and both of them had black hair! Whether you're hoping to channel Trini Kwan or Aisha Campbell, the first step is getting the correct Power Rangers costume. Then all you have to do is nail your moves!
We hope you're feeling extra inspired with these costume ideas for dark hair. Did you manage to find your perfect costume for Halloween? Are there any characters that you think we should add to this list? Share your thoughts with us in the comments below! We hope you have a happy Halloween!