Wizard of Oz Costumes
MGM's 1939 version of The Wizard of Oz brought L. Frank Baum's classic fairytale to life in a way that its predecessors never could – in amazing Technicolor! So naturally HalloweenCostumes.com worked directly with the Wizard himself to bring your family the best in Emerald City fashions. Now you can relive generations of the film's favorite adventures, like: The celebration in Munchkinland, the release of the flying monkeys, the rescue of Dorothy, visiting the castle of the witch, and finally reaching the palace of Oz – all in authentic character!
But just in case the idea of going in costume from such an iconic franchise seems a little intimidating, we've decided to put together this handy visual guide complete with tidbits about each character that will help you put the finishing touches on your authentic Wizard of Oz costume! Check out our guide for background information, along with our favorite poses to make sure that all of the Instagram pics from your event are flawless. (And we've even included tips on how to throw your own DIY Wizard of Oz picnic. Bonus!)
Wizard of Oz Family Costumes
Winning a costume contest is no longer just about what you wear; it's also about how you act. A couple of choreographed group poses could be the determining factor in taking first place in the contest. Or it could be even be the key to making sure you get the most likes when you share online!
For the groups who are into obscure facts, you could belt out songs from Pink Floyd's 'Dark Side of the Moon' album, or for those who are more apt to a comedy routine you may want to get the gang into a simple, unified yoga position. Just leave Tin Man standing up in the middle (he's not so flexible). No matter what poses you choose to do, you can guarantee you'll be Instagram-famous by checking out these timeless poses.
Wizard of Oz Group Costume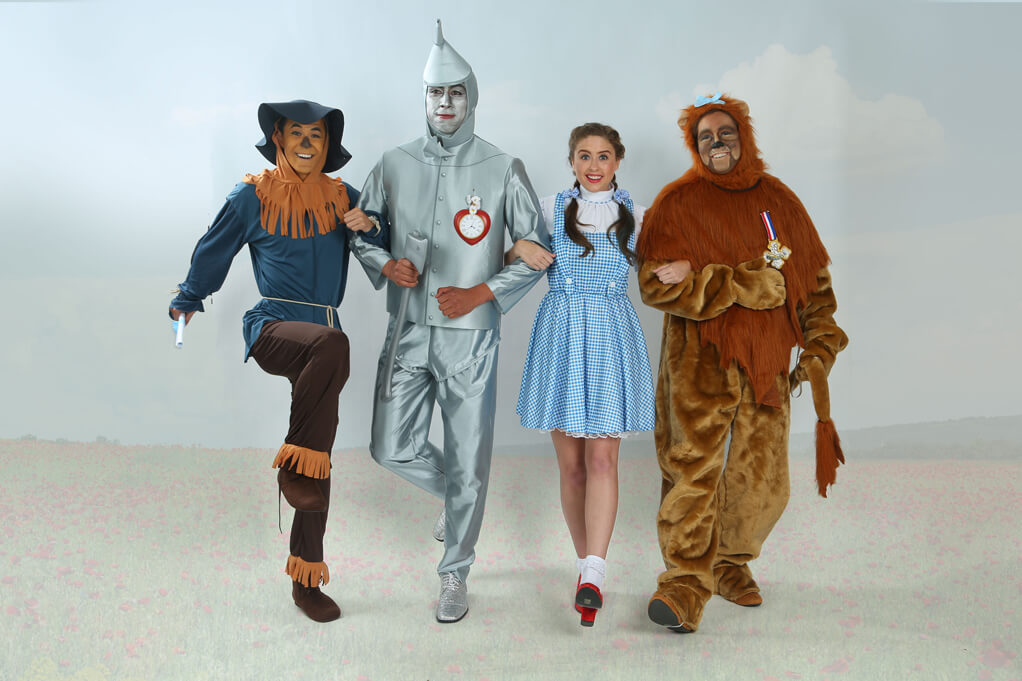 The Follow-the-Yellow-Brick-Road-Arm-Link is a must-have in your posing arsenal. Skipping together in time is going to take some work, and Scarecrow's supple joints are enviable, but this is still THE way to enter the party together... and to make sure you'll be going up on stage to collect your prize!
Wizard of Oz Picnic
Summer means that you could host another hot-dogs-and-hamburgers-on-the-grill get together at the park... or you could follow the yellow brick road to fun with a Wizard of Oz-themed picnic party! You've got the brains, heart and courage to become the host with the most, and HalloweenCostumes.com will gladly stand behind the curtain to help you infuse the celebration with touches of pure magic. Here's Glinda's wand – simply wave it over each of the details below to create a whimsical experience of your very own.
Totos a-Plenty!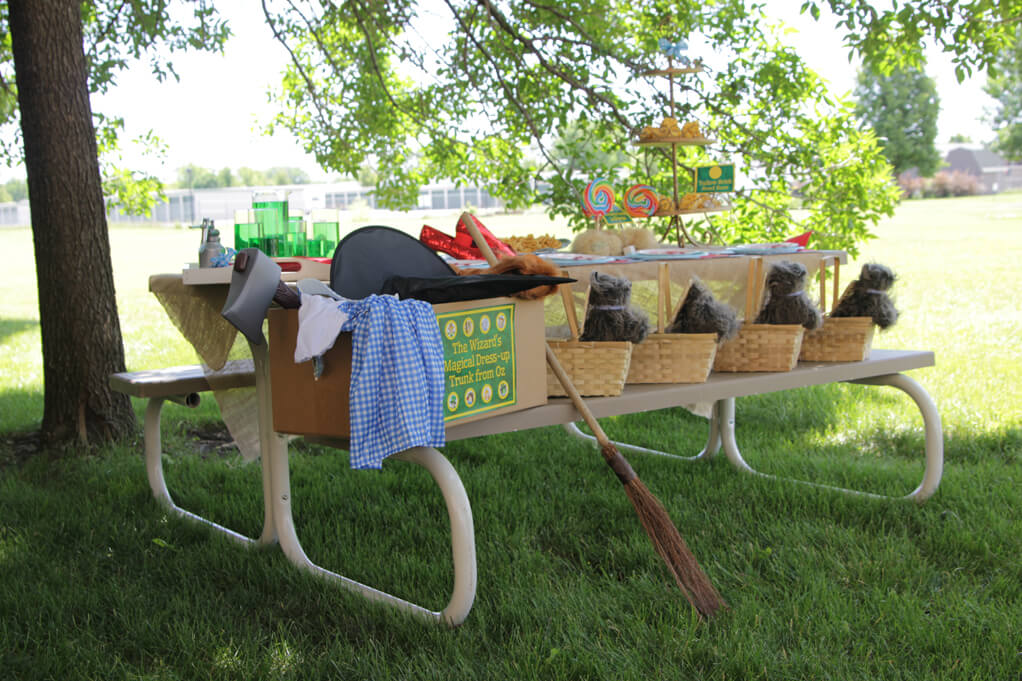 First, you'll want to set the scene. A lush, tree-filled park is the perfect backdrop to conjure Emerald City's vibe. Top a picnic table with simple burlap and bring it to life with gingham-printed placemats and a ruby slippers centerpiece. Gold serving pieces will add to the dreamy table-scape. Little touches – like gingham ribbon napkin rings, a bouquet of balloons in a rainbow of colors and Toto-in-a-basket placeholder favors – will go a long way in giving your decoration dimension. In fact, let's take a moment to high-five the dads spray-painting brick pavers a yellow-gold right now.
Setting Fit for a Wizard (of Oz)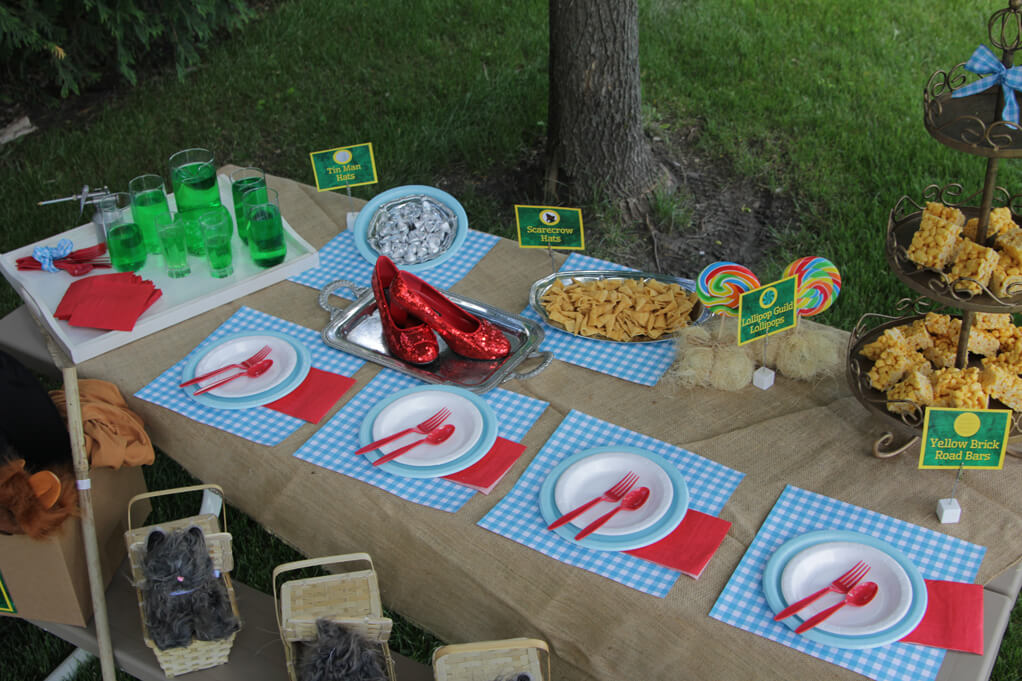 The menu isn't fussy: Emerald City punch (we mixed lemon-lime Kool-Aid with pineapple juice, but feel free to add your own touches – ginger ale for a sparkle or lime sherbet for a classic "punch" recipe), Lollipop Guild lollipops, Bugles chips (for Scarecrow hats), Yellow Brick Road cereal bars and chocolate kisses for Tin Man hats. You could even do animal crackers and frosting "dip" (Lions, Tigers and Bears, Oh My!) or cheddar cheese cubes (Yellow Bricks) – whichever you choose, finger foods reign supreme for a quick and easy setup/cleanup.
Get Your Imaginations Ready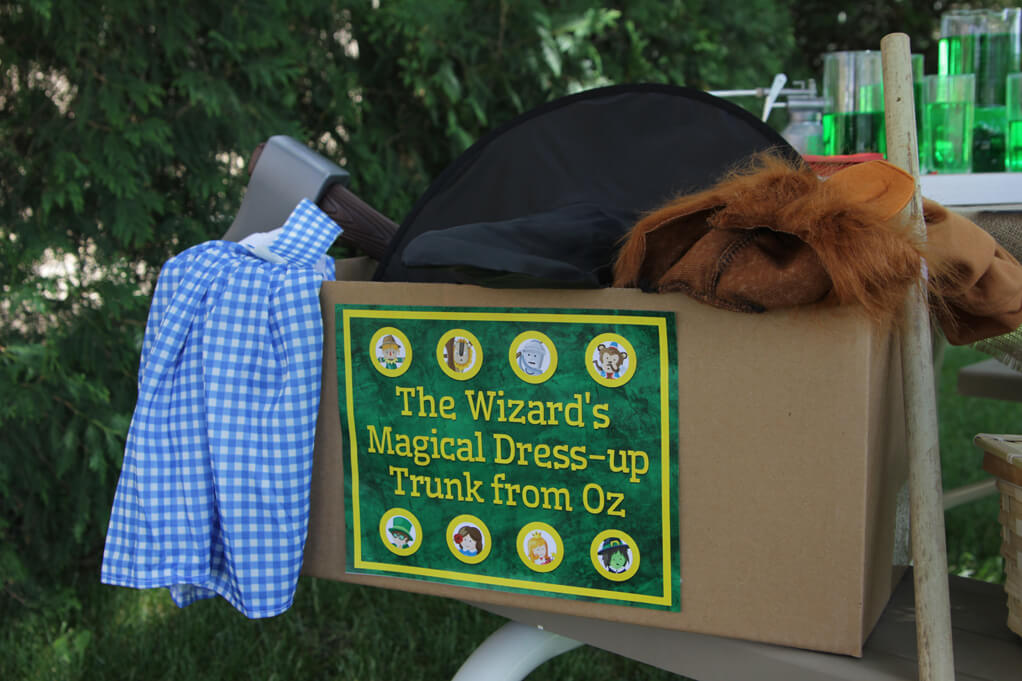 The showstopper will be the Wizard of Oz dress-up box. You could turn it into a fun relay race game (kids run to the end of the line, dress up as one of the characters, and then tag the next child until all of the "characters" are back over the start line), or you can just let them use their imagination – teach them the famous lines: "I'll get you my pretty, and your little dog, too!"/"Toto, I've got a feeling we're not in Kansas anymore."/"There's no place like home." – and watch (take pictures!) as they reenact the movie or make up their own storylines.
There's No Plate Like Home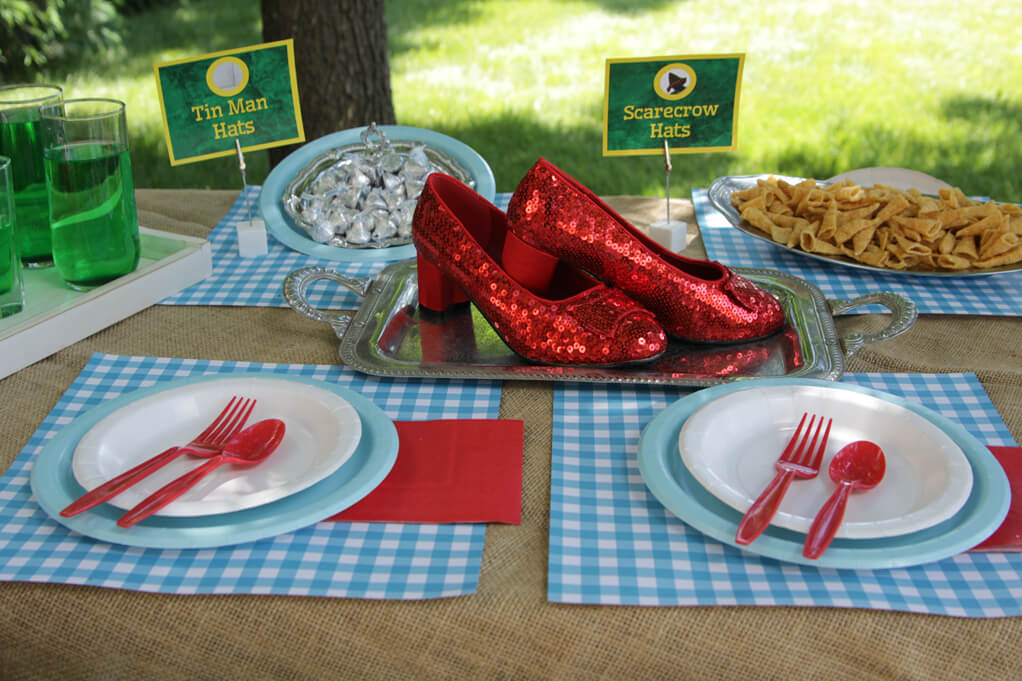 The best part of a Wizard of Oz party is that it blends with so many occasions. Make this event your own with exciting details, like a photo booth (they're in costume anyway – plus, it's a super fun thank you note add!), playing the soundtrack in the background (or the movie if you have the equipment), dressing up and reading the story, decorating UNDER your house with the Wicked Witch of the East's "legs" near the entrance, adding a broomstick race or even stuffing take-home scarecrows to the activities… the sky's the limit in the land of Oz!