Wizard of Oz Munchkin Costumes
Has it ever occurred to you that we don't really know much about Munchkins? Honestly, what does the inside of a Munchkin home look like? There are rows of homes in The Wizard of Oz but there's no reason to step inside. We never get to see if they always have holiday decorations up or if the walls are sparse—or worse, bare. Maybe Munchkins actually live in garden plots like the few flower Munchkins that pop up to greet Dorothy when she lands in the center of town. Don't you want to know if a Munchkin closet is full of candy-colored outfits that match the single ensemble we see them in? Wouldn't it be fascinating to know so much more? If you're here for a Munchkin costume that's above and beyond your friend's Wizard of Oz Halloween group costume, there must be another curiosity you're looking to satisfy. And if you're anything like us, it's a love and interest in Munchkins. So, while web searches list munchkin cat descriptions when you go hunting for Munchkin lore, here you have the chance to deeply explore the world in which Munchkins might live. All you need is one of our exclusive costumes to start dreaming up your Munchkin reality.
Adult Munchkin Costume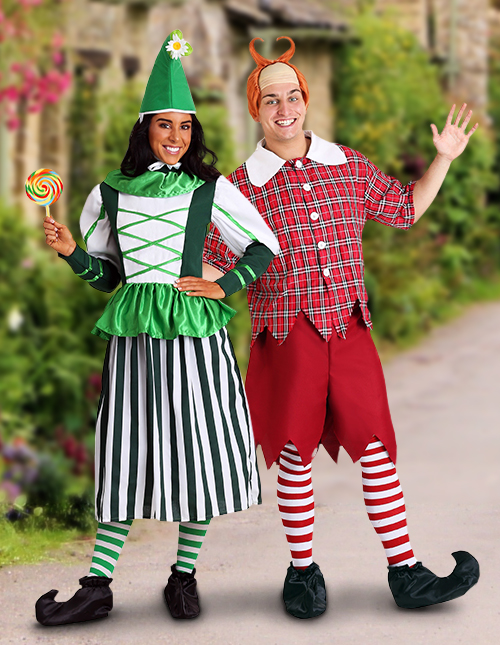 How were you introduced to the Munchkins from the Land of Oz? Was it your grandparents' or parents' favorite movie? Perhaps you stumbled upon it while bored and flipping through TV channels. Either way, once you got a load of the cheery Munchkinland villagers, there was no turning back. Because even though the Lollipop Guild and Lullaby League didn't stick around for very long, you were hooked. The spell was cast. You were ready to dive into the rest of the magic. In fact, you wouldn't have minded an entire movie dedicated to any of the Munchkins. The Coroner seemed like an interesting guy. And what about those flower Munchkins? We're still wondering if they actually live in garden plots! Revisit the mysterious village with Munchkin costumes for adults. Whether you've always wanted to lead the Lollipop Guild or take on the role of Mayor, these exclusives will get you outfitted for the job!
Munchkin Outfit for Kids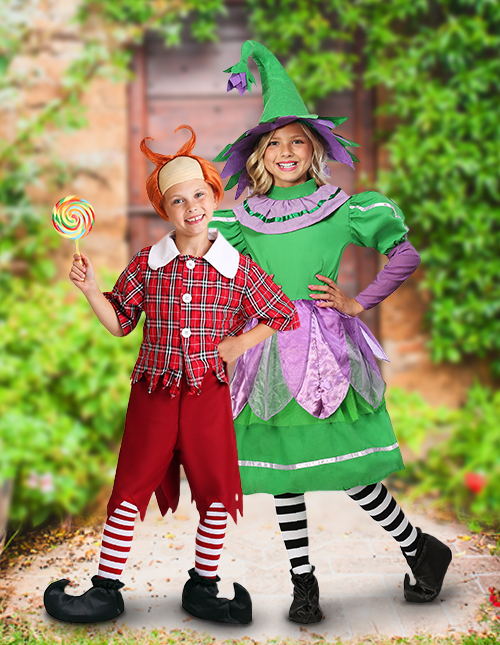 Feeling a little stumped on what Munchkinland might actually be like? Get your kids in on the fun with costumes made just for them! With their wild imaginations and wide-eyed wonder of the world, kids are perfect for the role! While we might think the Mayor runs the town like a fine-tuned machine, your kiddo could believe the Mayor has declared Friday is parade day...or that Sunday is for three square meals centered around sundaes. Where adults might think the Lullaby League has an outfit for every day of the week, your child wouldn't imagine anything but a wardrobe full of gorgeous ballerina costumes. Whether your child is the one clamoring to visit Oz or it's all your idea to have a Wizard of Oz-themed Halloween, our munchkin-sized Munchkin costumes are sure to help explore all Munchkinland has to offer!
Munchkin Halloween Costumes
Is there a Munchkinland resident you're most interested in? Are you reenacting the entire Munchkin celebration sequence with your theater buddies? Don't forget your lolli-props and tutus! Though, maybe you just need an average Munchkin villager to accompany your Wizard of Oz group costume. After all, without those helpful villagers, how would Dorothy have known which road to follow? Or perhaps that darling group of flower Munchkins is still stuck in your mind as much as ours. Don't let the mysteries and fun of Munckinland escape you. Take Halloween, playtime, and your local stage production of The Wizard of Oz to the next Munchkin-loving level! Discover how magical their world really is with any of the Munchkin costumes available in our Made By Us collection!
Munchkin Mayor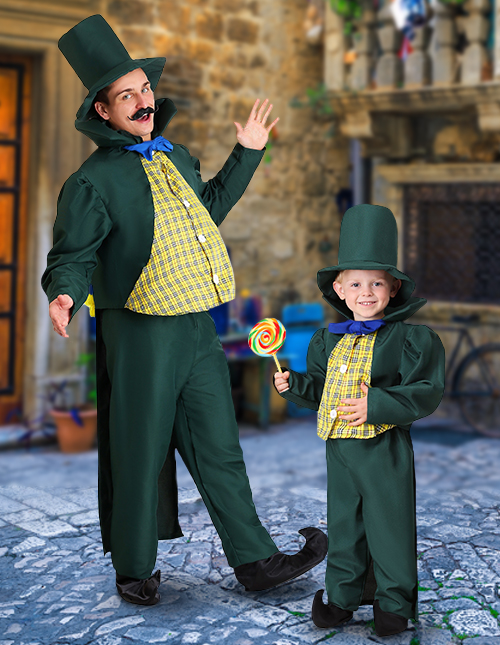 The good ol' Mayor of Munchkinland, huh? Where do we begin? He seems prudent—not allowing the village to celebrate until the Wicked Witch of the East is confirmed deceased. However, he also appears to be a little cheeky—just look at that vibrant green tuxedo! And paired with curly-toed shoes, a plaid vest, bow tie, and a top hat? He's clearly a bit of a fashion icon in the village as well. But what else does the man enjoy? Does he have a pet? He could if you pair our exclusive Munchkin Mayor costume with any animal costume from our selection. Is that wispy mustache standard? Maybe your child thinks the Mayor needs a new set of whiskers! Play with the look and style of your own story about Oz's most intriguing Mayor!
Munchkin Coroner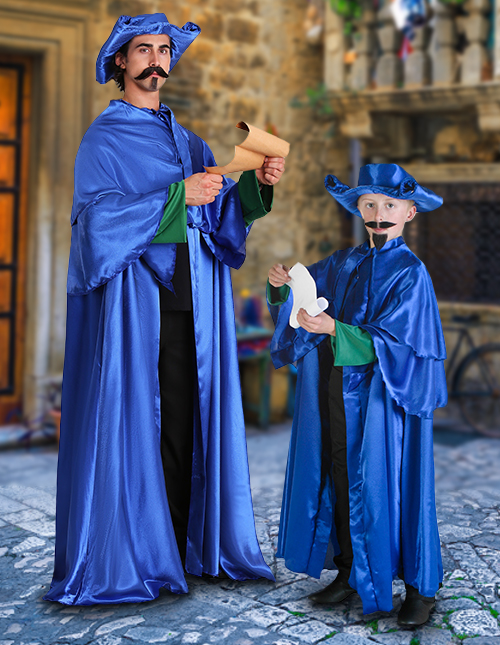 You may be more curious about the Coroner. That's fair. In gorgeous blue satin and a hat unlike any we've ever seen, there are a lot of questions to ask. How can a coroner wear such ritzy clothes in their profession? Shouldn't the uniform be a touch more practical—like a doctor's robe? Did the coroner really even need to be asked if the Wicked Witch was KO'd? She was under a full house—maybe he just wanted to be why the Mayor gave the command to celebrate. More importantly, though: what's the hair under that hat look like? Does it match other villager's red curls? Maybe it's something wackier like what you can find in our wild wig collection. Whatever reason you're interested in the coroner, we'll help you solve the mystery—or at least invent your own story. With adult and children's sizes for this character's to-die-for costume, everyone can enjoy a day spent learning about Munchkinland's party-starter.
Lollipop Guild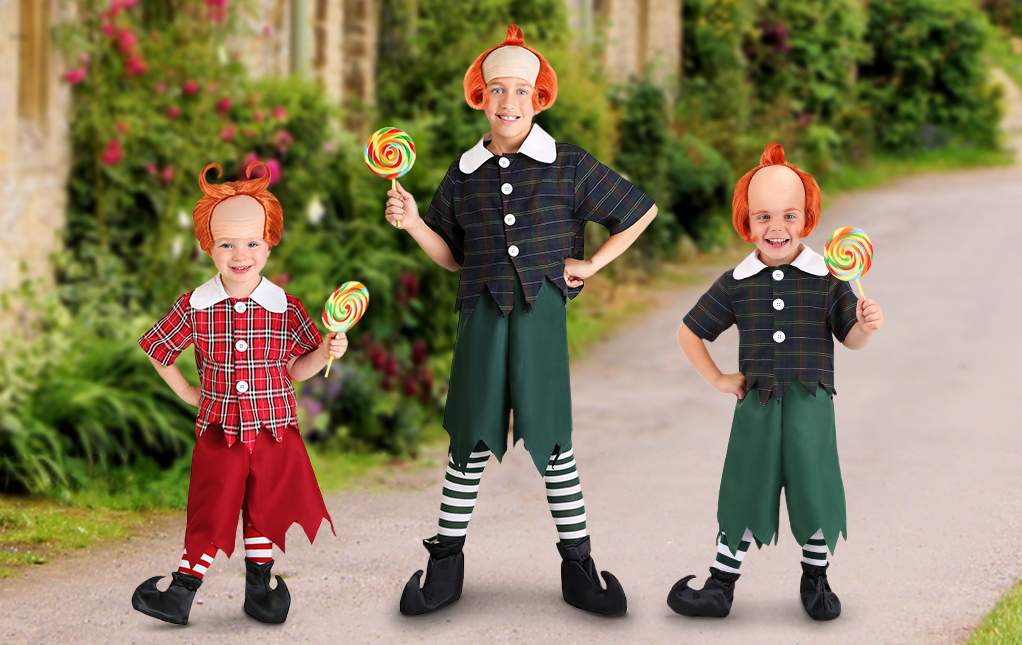 Okay, if the Mayor or Coroner aren't your favorite Munchkins, it has to be part of the welcome wagon. We mean, who wouldn't love the Lollipop Guild members? They sing their greetings and hand out lollipops to visitors! You either want to be the visitor or the person spreading that kind of sweetness, right? But, what other wonderfully kind and childlike activities do the lollipop guild members get up to? We bet your child would suggest making, collecting, and taste-testing every piece of candy ever made is part of the job. Dressing as part of the guild for Halloween will require carrying more than just one trick-or-treat pail, something no child would protest. You might consider joining the guild to earn a cut of the Halloween candy. Or to ensure the little Dorothy in your Wizard of Oz crew gets to enjoy a giant lollipop on her walk along the trick-or-treat road.
Ballerina Munchkin Costume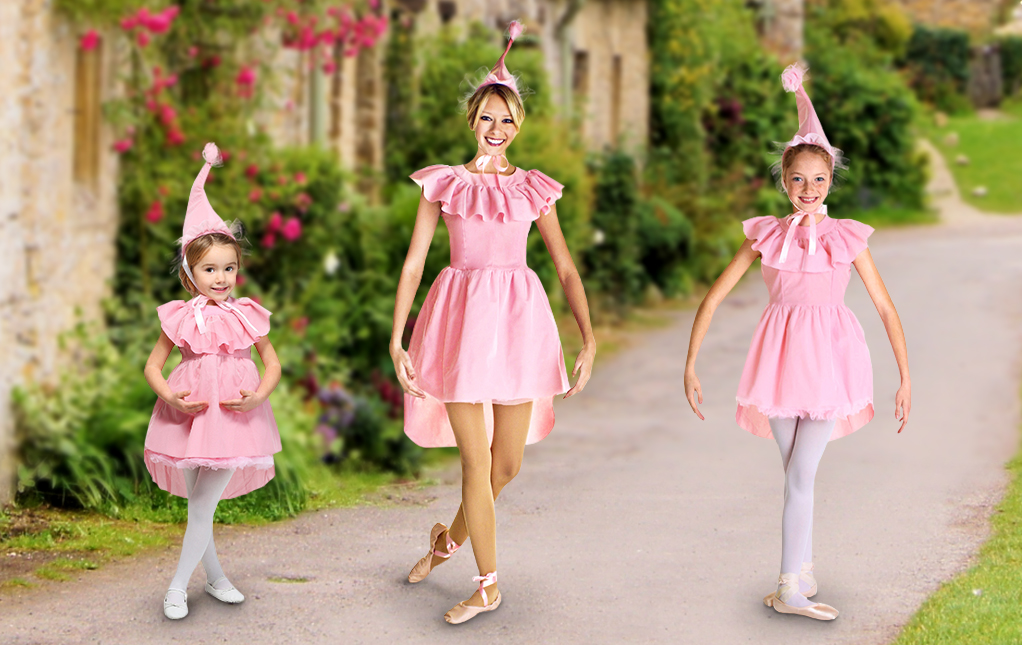 We feel safe in assuming that the Lullaby League of Munchkinland is very dedicated to their talents. Of course, there's no real way to confirm if they have weekly or daily ballet and voice lessons. Just like we can't confirm whether the dreamy dance ensemble they wear to greet Dorothy isn't their only look. With more warning of a performance, do they add jewels to their makeup? Is there a flashier tutu they'd have worn? Maybe the dancers have fantasy-themed outfits for certain routines. After all, they are called the Lullaby League, and if their sweet singing is going to lull audiences to sleep, we'd have to assume they're trying to encourage peaceful dreams. Fairytale costumes would surely help them there. Whatever you believe of the darling ballerinas, our inclusive sizing and expansive collection of costumes are sure to help you dream up new stories for the Lullaby League to tell!
Wizard of Oz Character Costumes
Imagine, if you will, that the Munchkins are involved outside of Munchkinland. It doesn't seem far-fetched that they'd want to explore beyond the red-brick road that tours through their village. And they do know where the yellow-brick road leads, so they must have followed it at least once. What kind of adventures would they be a part of? Was there another Mayor before the portly charmer Dorothy met? Did they take a trip to Emerald City and fall in love with the color so much they decided to stay? Maybe a few members of the flower Munchkins are the real reason that sleepy field of flowers exists—they do seem like a dozy bunch. Perhaps a member of the Lollipop Guild volunteered to help Dorothy and Toto follow the yellow-brick road but were told to stay put. We'd like to know how much smoother the journey would have been with a resident of Oz leading the way. See how far you can take Munchkin lore by pairing your favorite Munchkin costume with any of our exclusive Wizard of Oz costumes!
Dorothy Gale Costume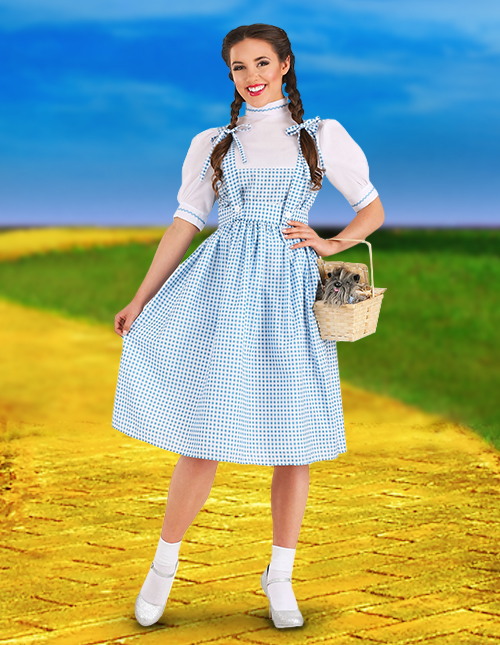 Now that we think about it, Dorothy really should have had a guide while walking the yellow-brick road. Even if just until she met the Scarecrow. A guild member would have been able to provide sugar, thus keeping her spirits and energy high. We can only imagine her nerves were a little shaky after landing somewhere over the rainbow. But while traveling with a resident of Oz, Dorothy may have known to avoid that field of sleepy daisies. If they live in garden plots, the flower Munchkins must be familiar with other flora of Oz. Maybe they also have some magic they could use to turn themselves and Dorothy into a full flower! We're not sure what that would do to help bypass a massive field of flowers, but maybe camouflage is a wise choice when traveling in fantasy realms. Come up with your own version of the story with a Dorothy costume to match your Munchkin outfit!
Toto Costume
After the Munchkins met Toto, do you think they all adopted little pets of their own? Maybe they managed to get a dog exactly like Toto. You certainly could make it happen by dressing in one of our dog costumes or even bringing your own pup along for some Halloween mischief-making. With our selection of pet costumes, the possibilities are endless! Maybe the Munchkins started with puppies in baskets like Dorothy, then found something more exotic, like a dinosaur skimming along the forest line. Once domesticated, dinosaurs or any creature could make an excellent pet for a Munchkin. Here, you get to decide! With the vague lore and short stay we all enjoyed, there's plenty of opportunities to elaborate. Make up the rules, if you will, or simply complete your Wizard of Oz group costume with a Toto costume for human or pet!
Glinda the Good Witch Costume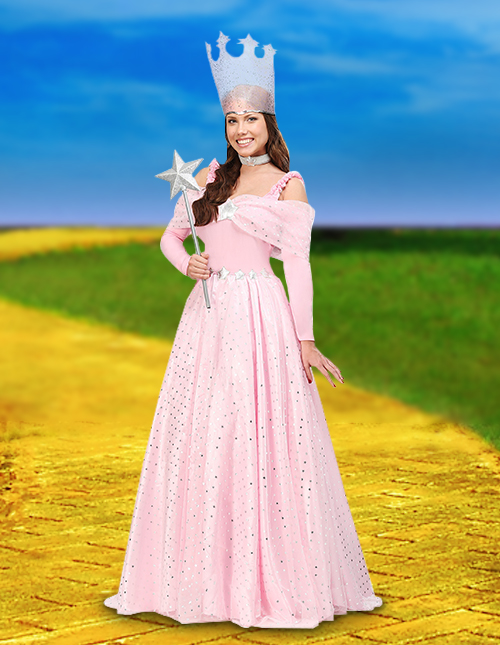 This one we know for sure! Glinda the Good Witch was friends with the Munchkins. So, your Munchkinland exploration wouldn't be complete without Glinda around for the fun. That bubblegum pink ballgown and towering crown are what costume dreams are made of anyway. From head to toe, you get to sparkle! Our deluxe costume brings Glinda to life, but you get to choose how glittery you become. Maybe add some shimmer to your hair with hair color sprays. Or choose a wand and accessories that don't just shine with sequins but flash with multicolored lights. With Glinda as part of your Munchkinland adventure, you may finally discover all the answers about the Munchkin's ways. Maybe the guild doesn't make their lollipops. Maybe Glinda magics them into existence. And perhaps those Munchkins sleeping in flowerbeds are actually sprites that Glinda granted a more human existence.
Wicked Witch Costume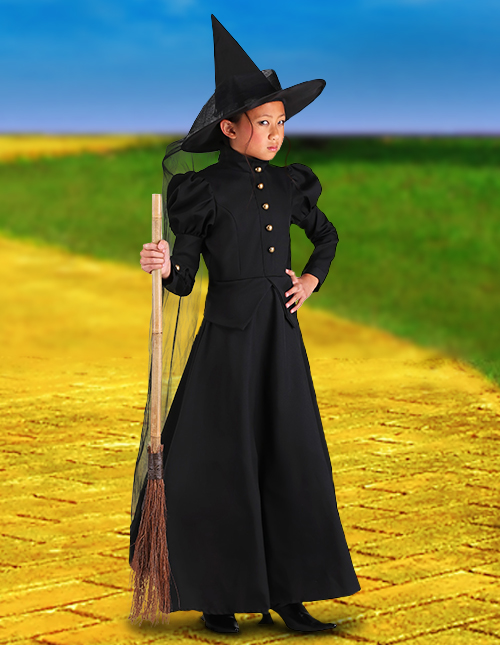 Now, the Munchkins really, really dislike the Wicked Witches. We mean, they legitimately celebrate being rid of East and scurry away at even the mention of West. But, what if a couple of her winged monkeys are Munchkins turned bad? Who's to say? If the Munchkins did follow the yellow-brick road and wound up in her neck of the woods instead of Emerald City, they may have been transformed to fit her uses. Or perhaps they willingly visited her lair. Magic is a powerful draw, after all. Imagine a Munchkin in darker shades of green or with black hair instead of fiery red. Whatever you believe her part to be in the Munchkins' world, we can get you and yours outfitted to play the role. Just don't forget a good layer of green body paint. You don't want to look like any old witch. And if you're not on her side, you can recreate the melty moment that West met water.