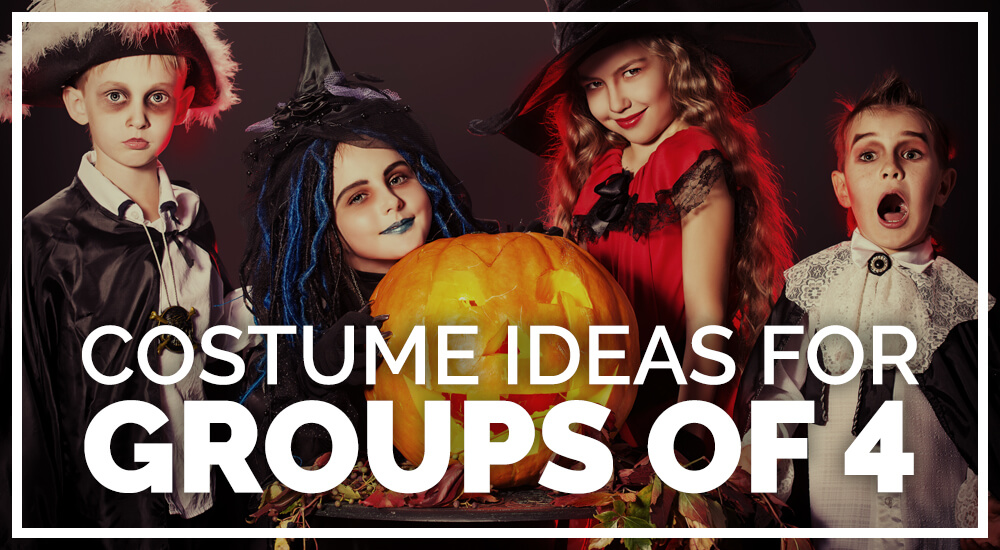 2020 Update: We've updated adding new costumes and groups.
"What are you gonna be for Halloween?" It's a hard enough question to answer for yourself sometimes, but it can be nearly impossible to decide when you are looking for Halloween costume ideas for friends. But you have to think of all the advantages that go with a group costume: awesome photo opportunities that are sure to be good enough for a picture frame (or Facebook profile picture), you'll be a shoo-in for costume contests, and you'll never lose your friends at a crowded party. Still not sure what to dress up as? Don't fret, we here at HalloweenCostumes.com have put together an awesome guide to help you find group costume themes with enough characters for a group of four!
Descendants Costumes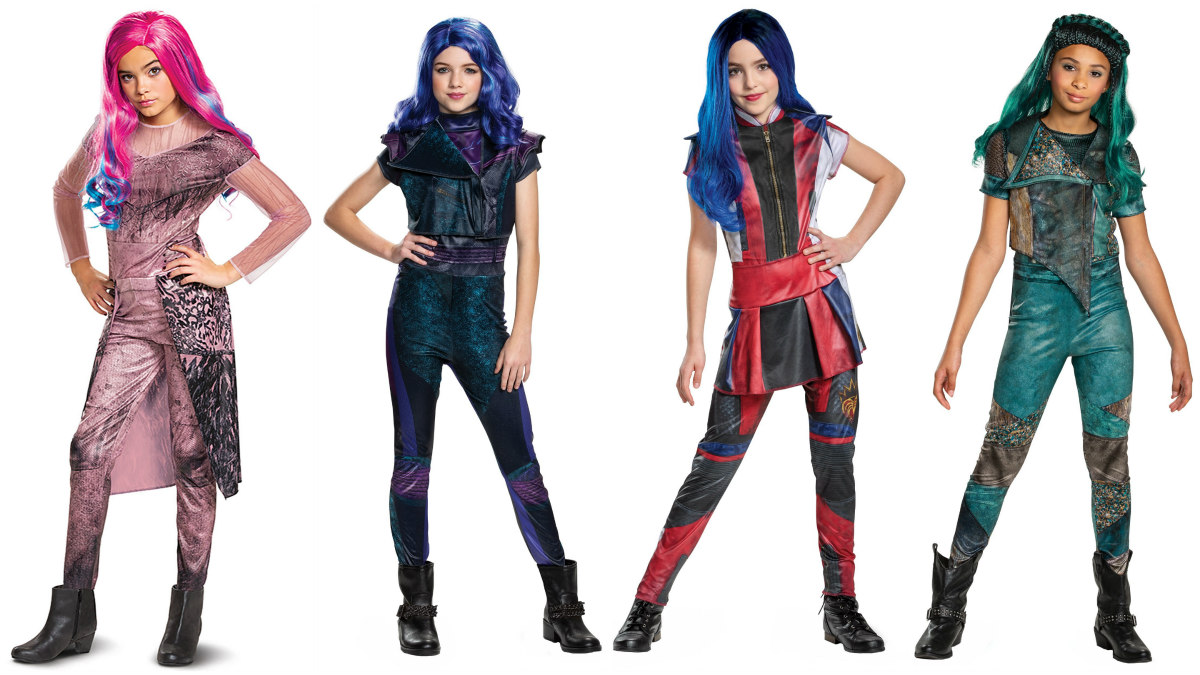 The teenagers of Disney's most infamous villains returned in 2019 with Descendants 3. Evil Audrey was added to the lineup, rounding out a perfect group of four costumes. Sure, some of them are villains in the movies but in the end they're all friends so why not head to the Isle of the Lost for a Halloween you'll never forget.
Frozen Costumes
Elsa took us by storm in 2013 with the release of Frozen. And with Frozen 2 released in 2019, you can bet that storm continues. Join the sensation by going as Anna and Elsa and the rest of the gang. We may not know what their next story will be, but you can have a great Halloween journey with these Frozen costumes.
Fortnite Costumes
Fortnite remains one of the hottest games out there, so of course we've got Fortnite Halloween costumes. Whether you're planning on trick-or-treating as a Skull Trooper or Cuddle Team Leader, HalloweenCostumes.com has you covered. We also have alternate versions of many of these costumes, so be sure to check out our full range of Fortnite costumes. Then pick out the accessories you need, like the Rainbow Smash Pickaxe and Rift Edge harvesting tool. And also remember to thank the bus driver!
Back to the Future Costumes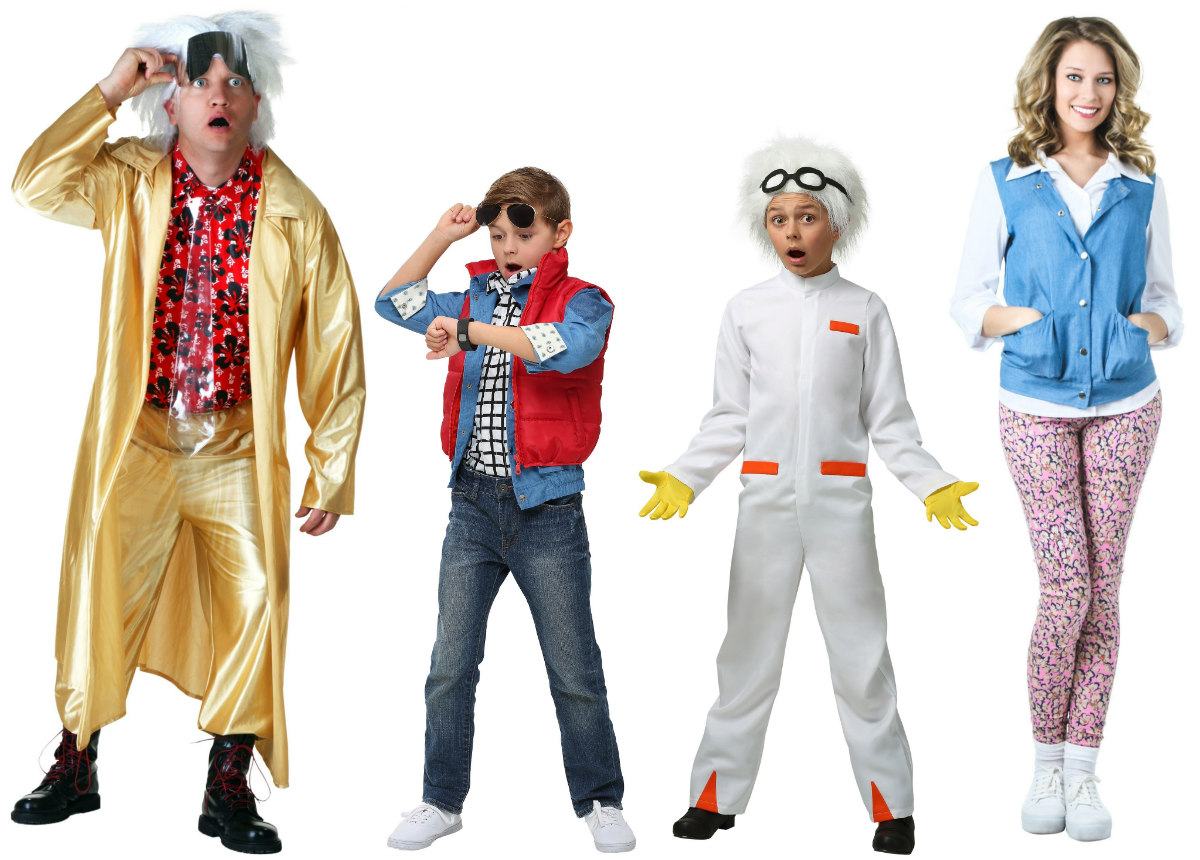 Great Scott, these Back to the Future costumes make the perfect group of four family costumes. With Doc Brown and Marty, the night is sure to be an adventure no matter the year you're in. As they say, "where we're going, we don't need roads." And you don't need roads to find Back to the Future costumes online, although they're helpful to get the packages delivered.
The Wizard of Oz Costumes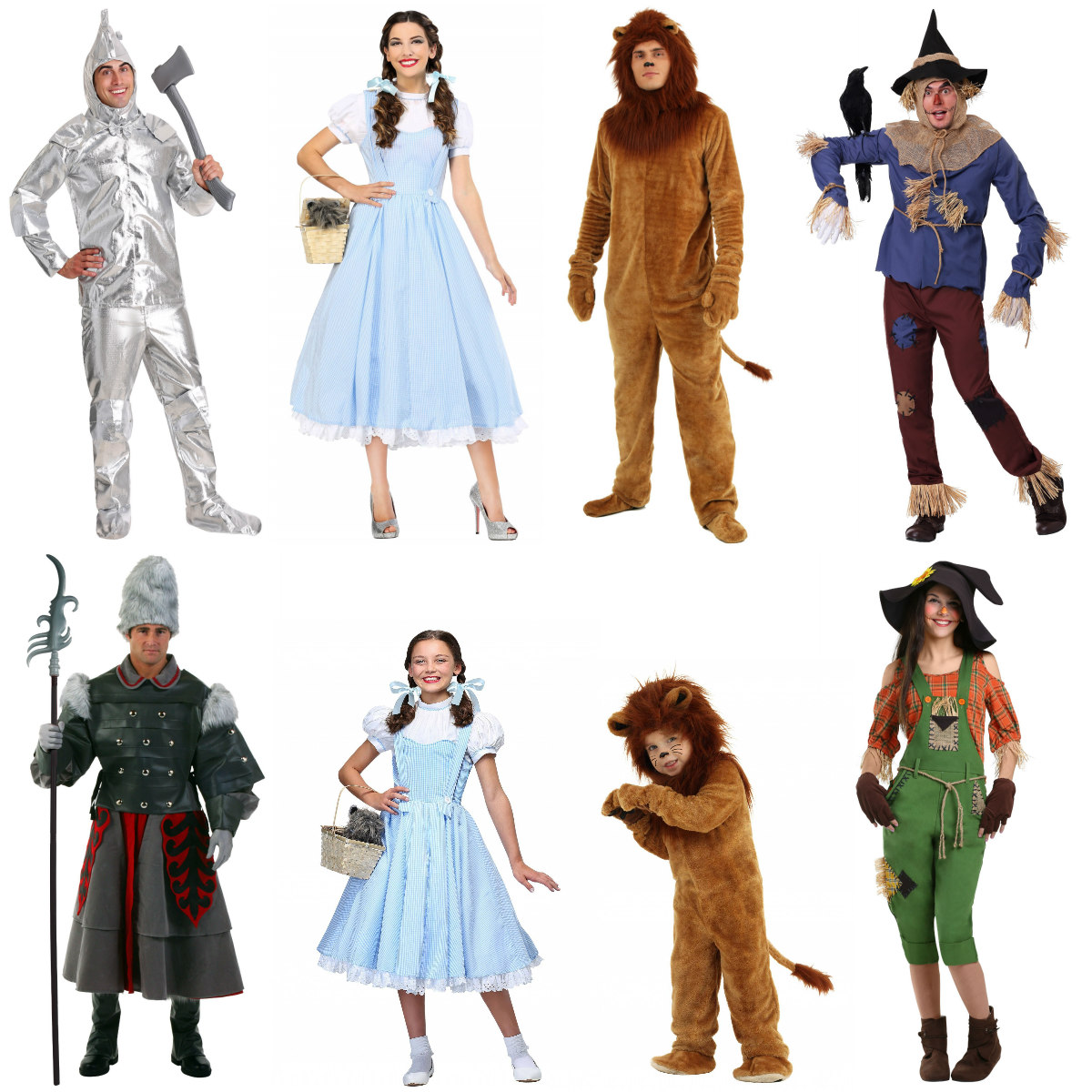 Ah, can you think of a more classic movie foursome than the main characters in The Wizard of Oz? (The Wizard of Oz is one of the best group costumes out there!) Follow the yellow brick road to your Halloween party as Dorothy, Scarecrow, the Tin Man (or Woman), and the Cowardly Lion. Look through more of our Wizard of Oz costumes and decide what works best with your group. Are you looking to create a family group? Is your squad more interested in being as movie accurate as possible? Don't forget, if you're feeling more sinister for the holiday, you could also go as a pack of four flying monkeys.
Alice in Wonderland Costumes
Going in four Alice in Wonderland costumes works perfectly for a group. There's a balance between men and women characters in the story, and they're all equally exciting and crazy, so no one will feel like they got 'the boring one'. Your group could dress as Alice, the White Rabbit, the Red Queen, and the Mad Hatter. There are more Alice in Wonderland costumes to choose from, too! If your group is a fan of Disney movies, remember that Alice in Wonderland is a Disney movie! Feel free to check out our other Disney costumes if you're looking for more Disney group costume ideas.
Vikings Costumes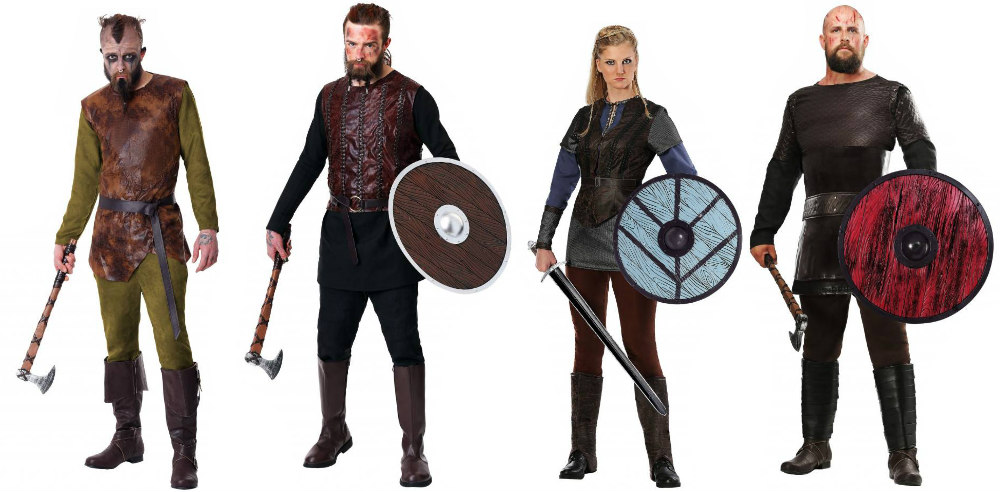 Become the legendary Norse hero Ragnar Lothrok and his crew as you raid England to become a King. The History Channel's Vikings, inspired by the saga of Ragnar, makes the perfect group of four costumes for those looking for a more rugged and dangerous costume.
Teenage Mutant Ninja Turtles Costumes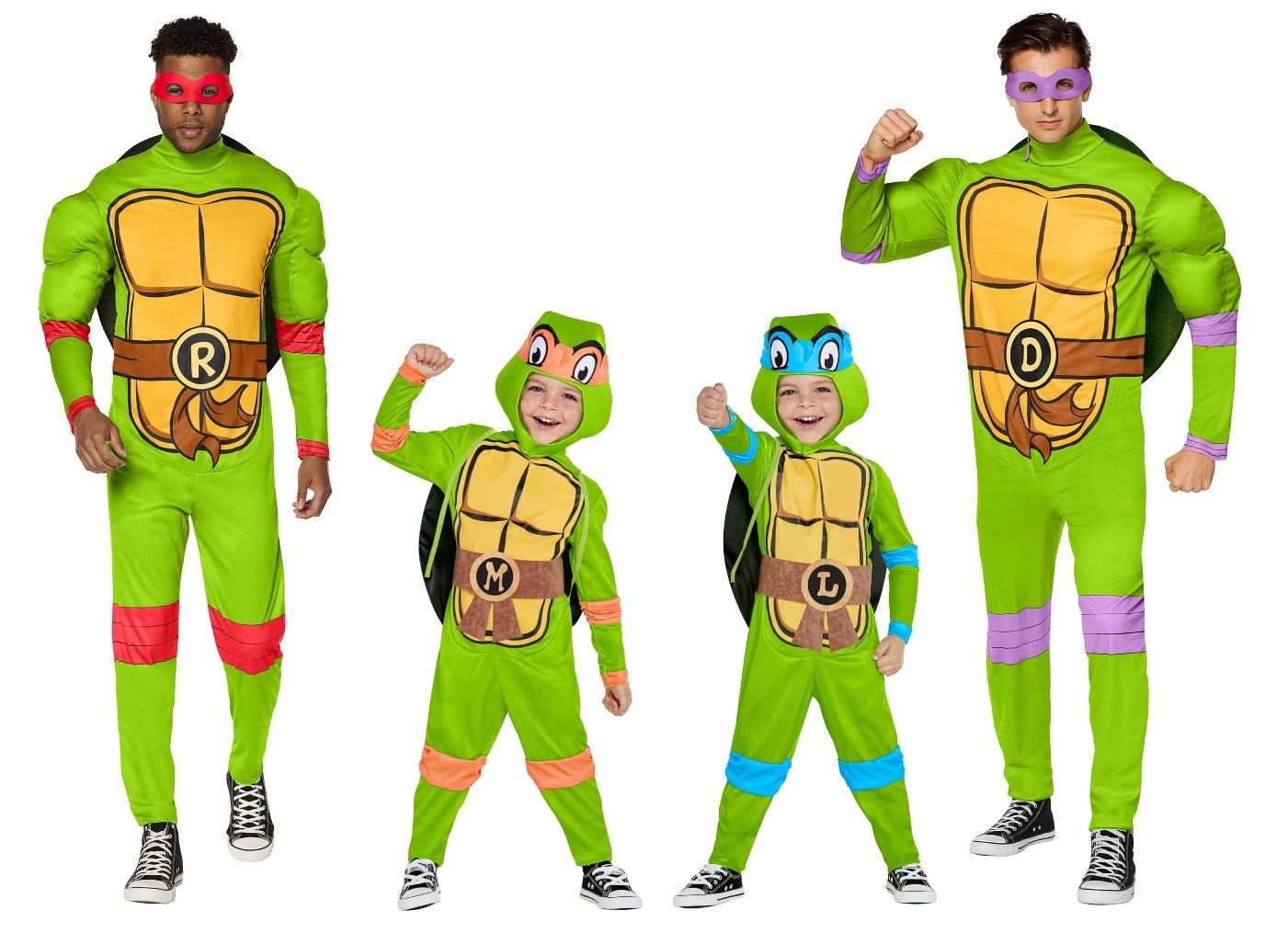 If you're feeling particularly retro this Halloween, you and your group of four might want to consider going as the Teenage Mutant Ninja Turtles. (Admit it, you knew that TMNT would be in a list of costume ideas for 4 people!) This crime-fighting quartet covers all the basic personality types: the leader, the silly one, the geeky one, and, well…the crabby one. Does this fit your group? Awesome! Grab a pizza and head out, your costume is set!
Animal Costumes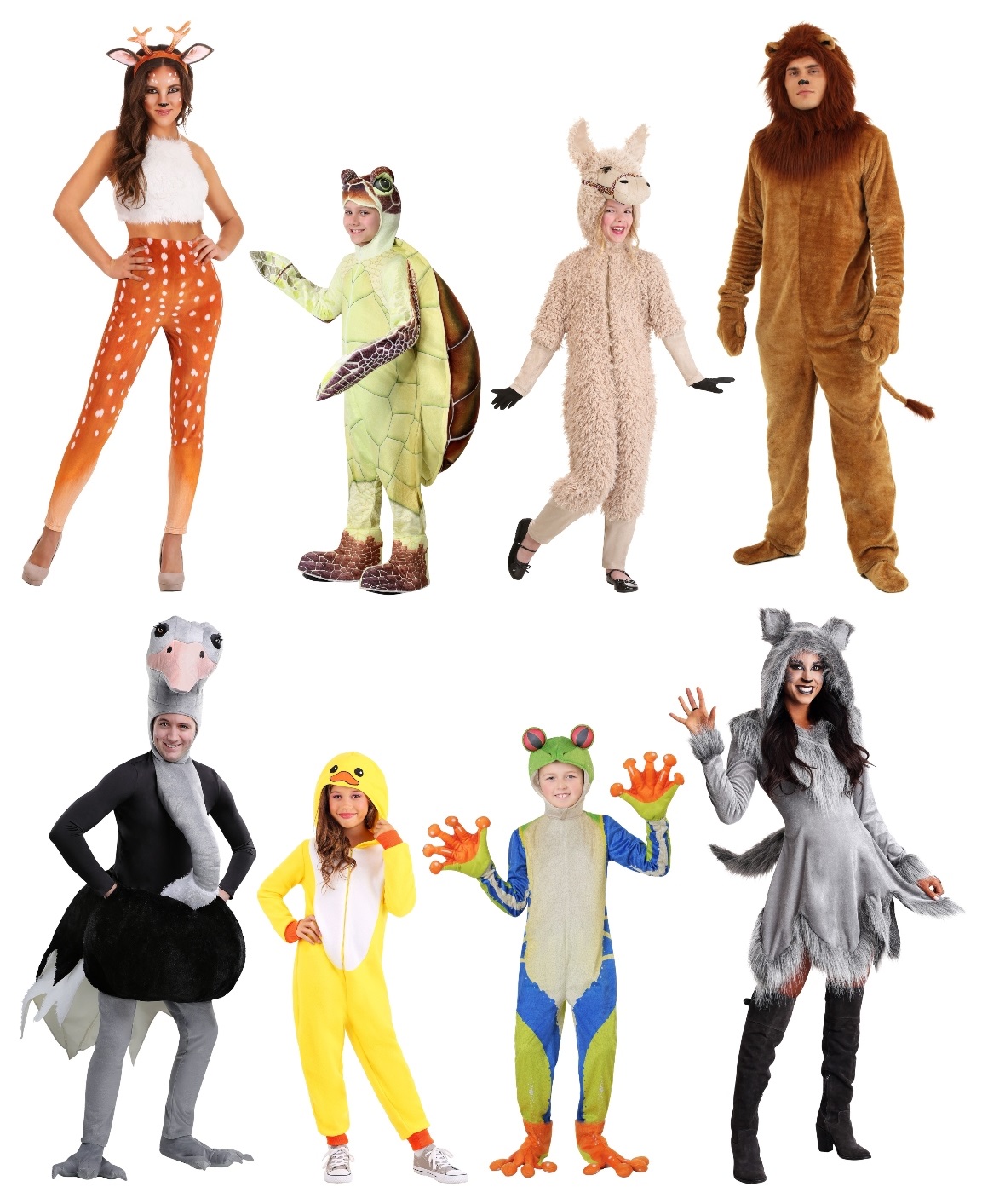 Get in touch with the animal kingdom by dressing as a group of cute creatures! Pick your favorite critter and create your own group of 4 costumes. Your mood can dictate how the night goes in this group costume: you can be sweet and cuddly, or you can bare your fangs and show off your claws. Take a peek at all of our animal costumes to decide which suits you and your group best.
Mythical Creature Costumes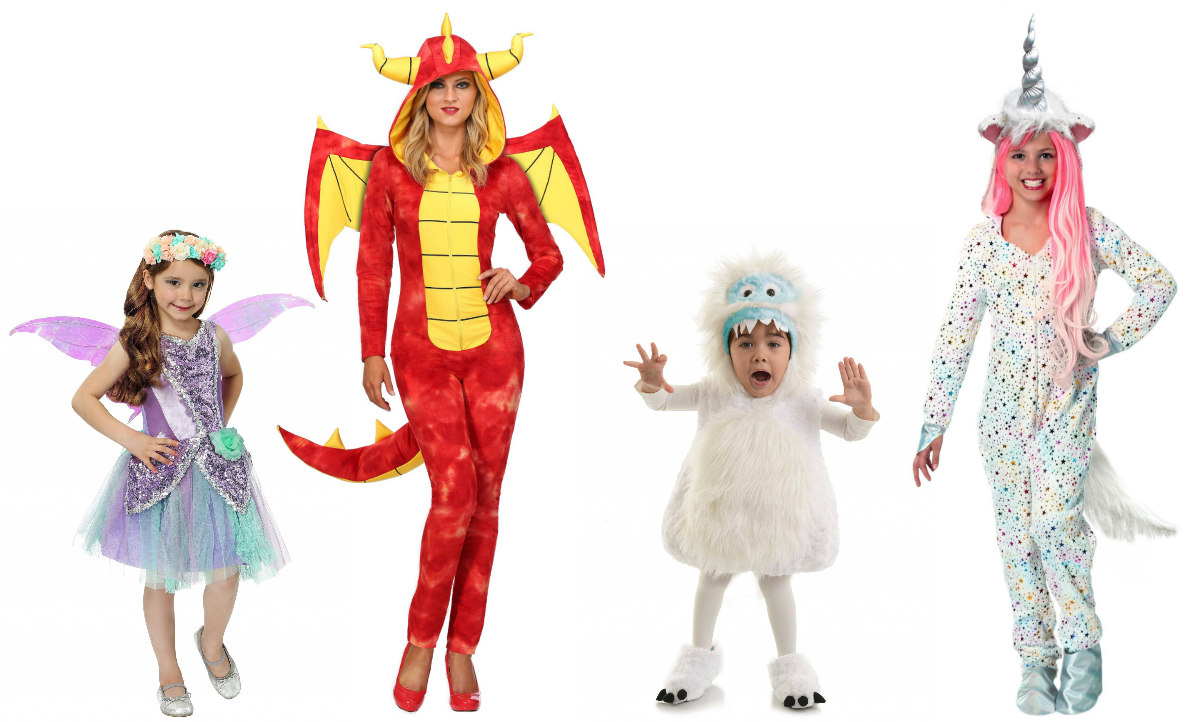 Mythical creature costumes are another one of those great family costume ideas. Think about it, they're alluring and unique. Which is how your family is to you, so it makes perfect sense! If you want to make it more of a theme, then you can think of all those that have horns or wings. There's bound to be one that your family loves and wishes were real.
Superhero Costumes
A superhero theme can fit so many different types of groups. Would you like to get a couples' costume? Then you can go out with your best friends and rock the town as a pack of superheroes. Is your group a family of famous crimefighters? Buy a superhero costume online and you might just save Halloween!
Mean Girls Costumes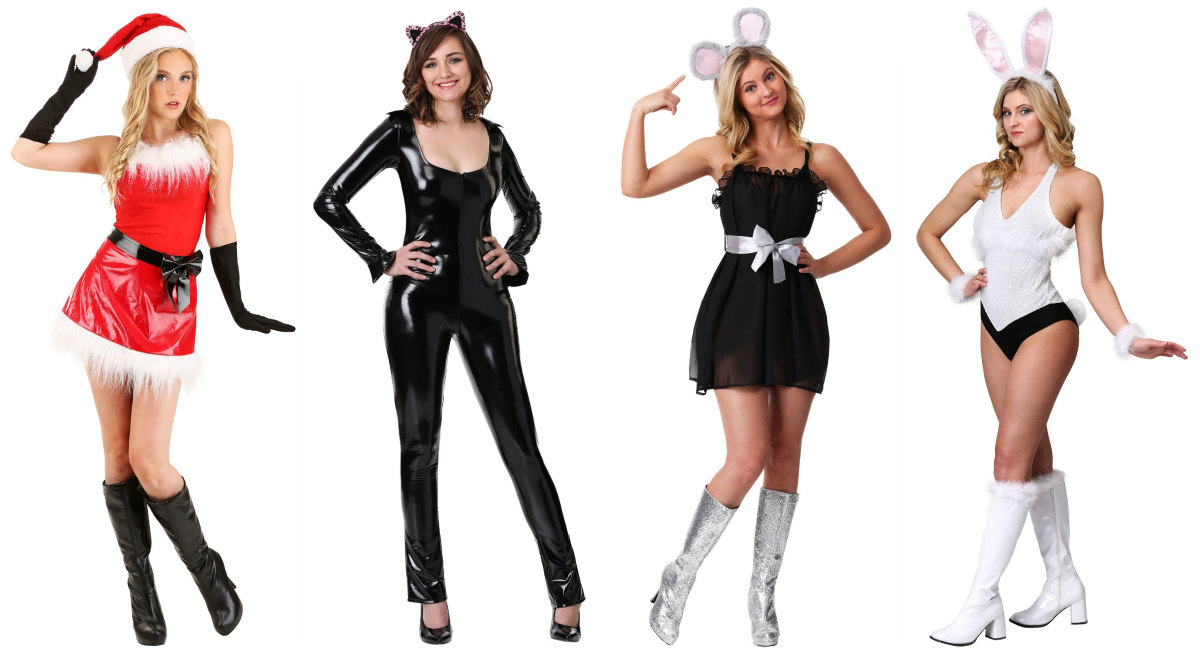 "That's so fetch!" We mean these officially licensed Mean Girls costumes, of course. Grab your girlfriends and create the famous Plastics group. Go as their famous sexy Halloween costumes or grab a bunch of sexy Santas and mimic their Jingle Bell Rock all night long. You'll be ruling the school in no time!
Sports Fan Costumes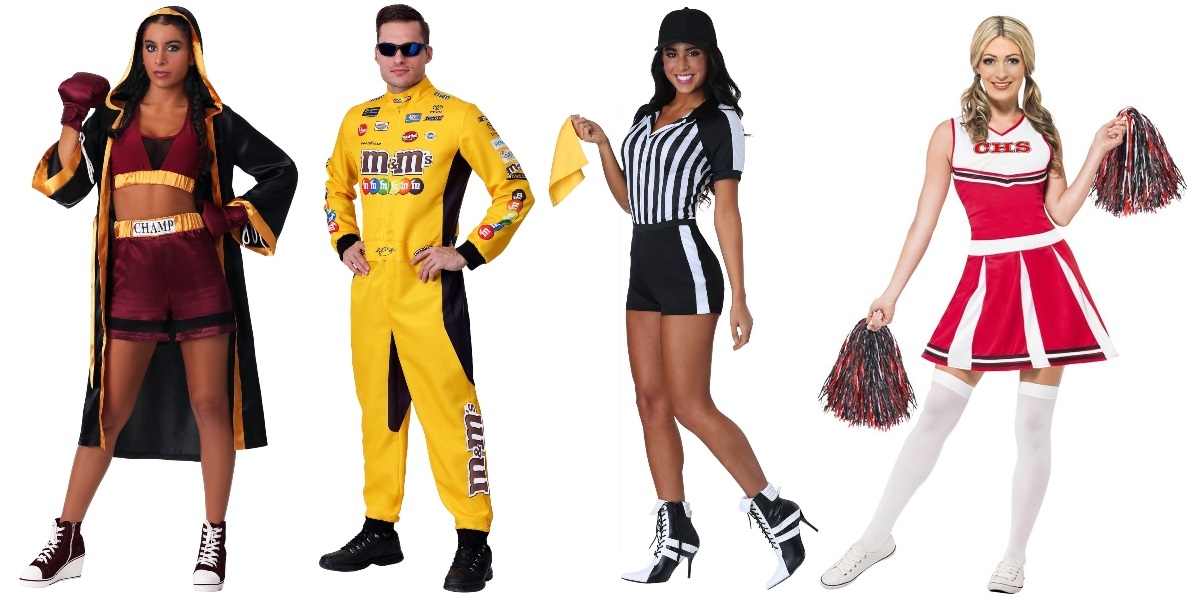 Not really interested in movie character themes? Is your Halloween group more into going to the stadium than the movie theatre? Perfect! Hit your Halloween party as a pack of athletes. You and your friends could go as racecar drivers, baseball players, boxers, basketball stars, football quarterbacks, golfers, or even a referee. We have a ton of sports costumes to choose from, so everyone can find a uniform from their favorite sport.
WWE Costumes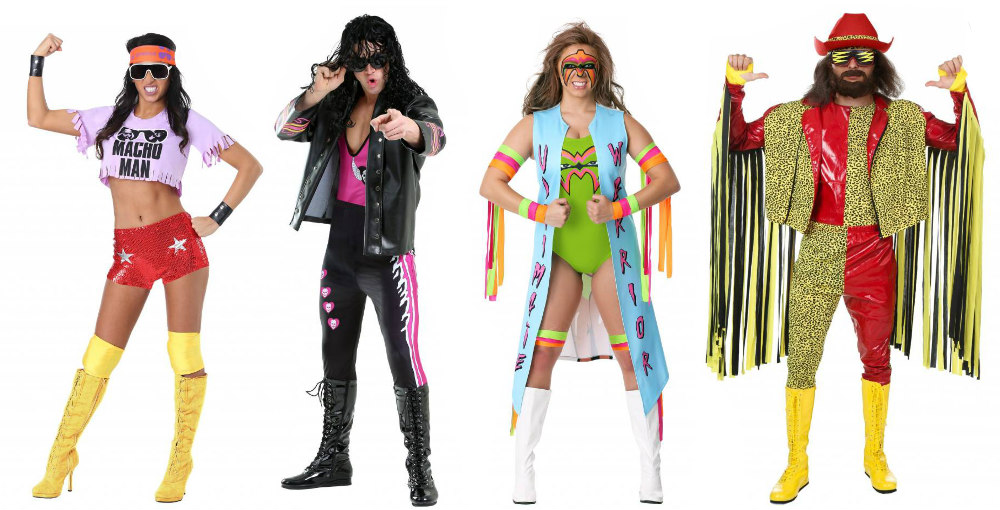 Want to step into the ring and deliver a crushing move to your biggest rival? Then you should grab some friends and these officially licensed WWE costumes to make the ultimate wrestling group. There's even a WWE makeup kit so you can get the look just right.
Super Mario Costumes
Dress as characters from Super Mario Bros and reenact your favorite party games with your group of four this Halloween! Or better yet, throw your own Mario party for the holiday, complete with a go-kart track in the backyard and selection of mushrooms and shells to use as party favors!
Sailor Moon Costumes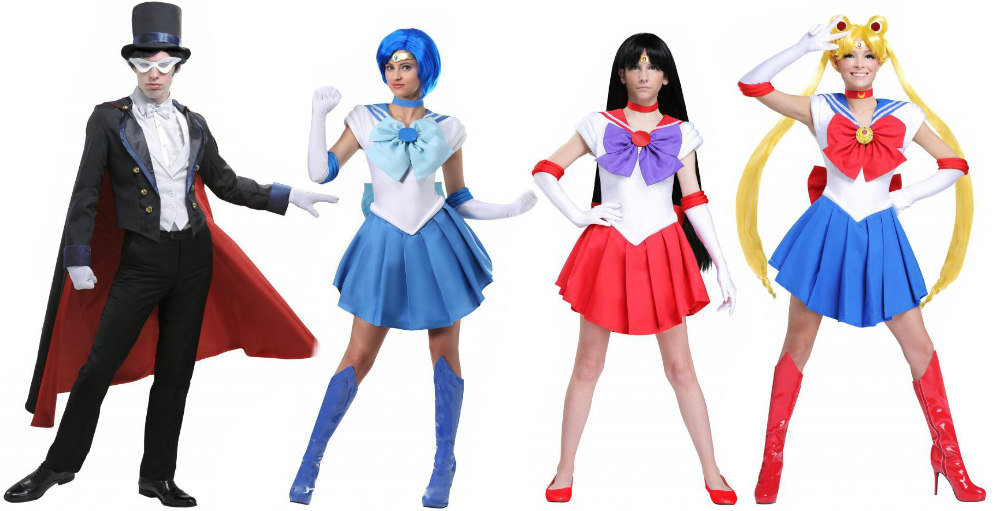 "In the name of the moon, I'll punish you!" If you're planning on wearing a Sailor Moon costume, you're going to want to remember her signature phrase. Get some gal pals together as Sailor Mercury and Sailor Mars for extra girl power. But if you really want to round out your group of four, you're going to need a Tuxedo Mask. He is Usagi's main squeeze, after all! These Sailor Moon costumes are perfect for cosplaying at anime conventions as well as dressing up for Halloween outings, so you have more excuses to wear them throughout the year.
KISS Costumes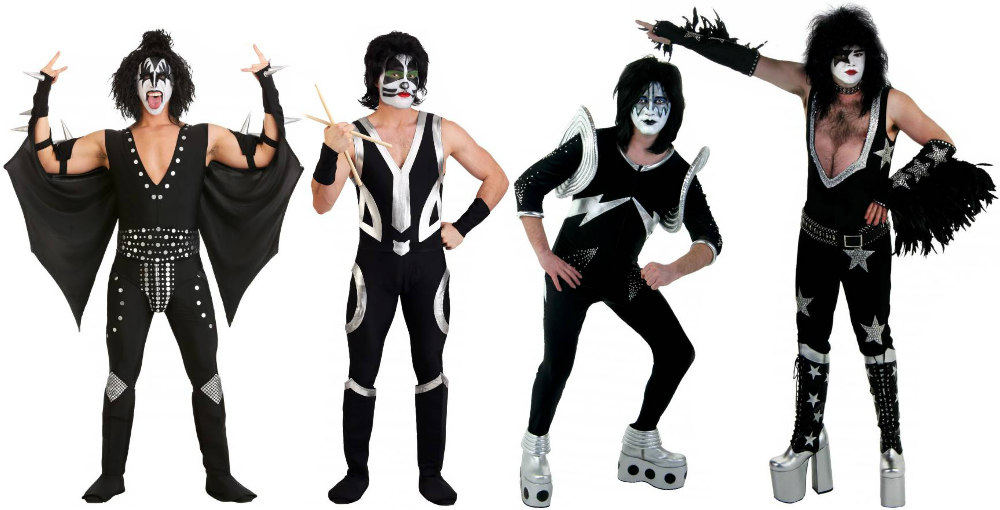 KISS is one of rock's most famous quartets—which means if you dress up as this band for Halloween, you and your group of four will be the most famous guests at the party! And, we all know KISS's party anthem, which will help you bring excitement to any place you go, all night and every day. Go all out and dress in full, authentic KISS gear to really impress your friends.
Grease Costumes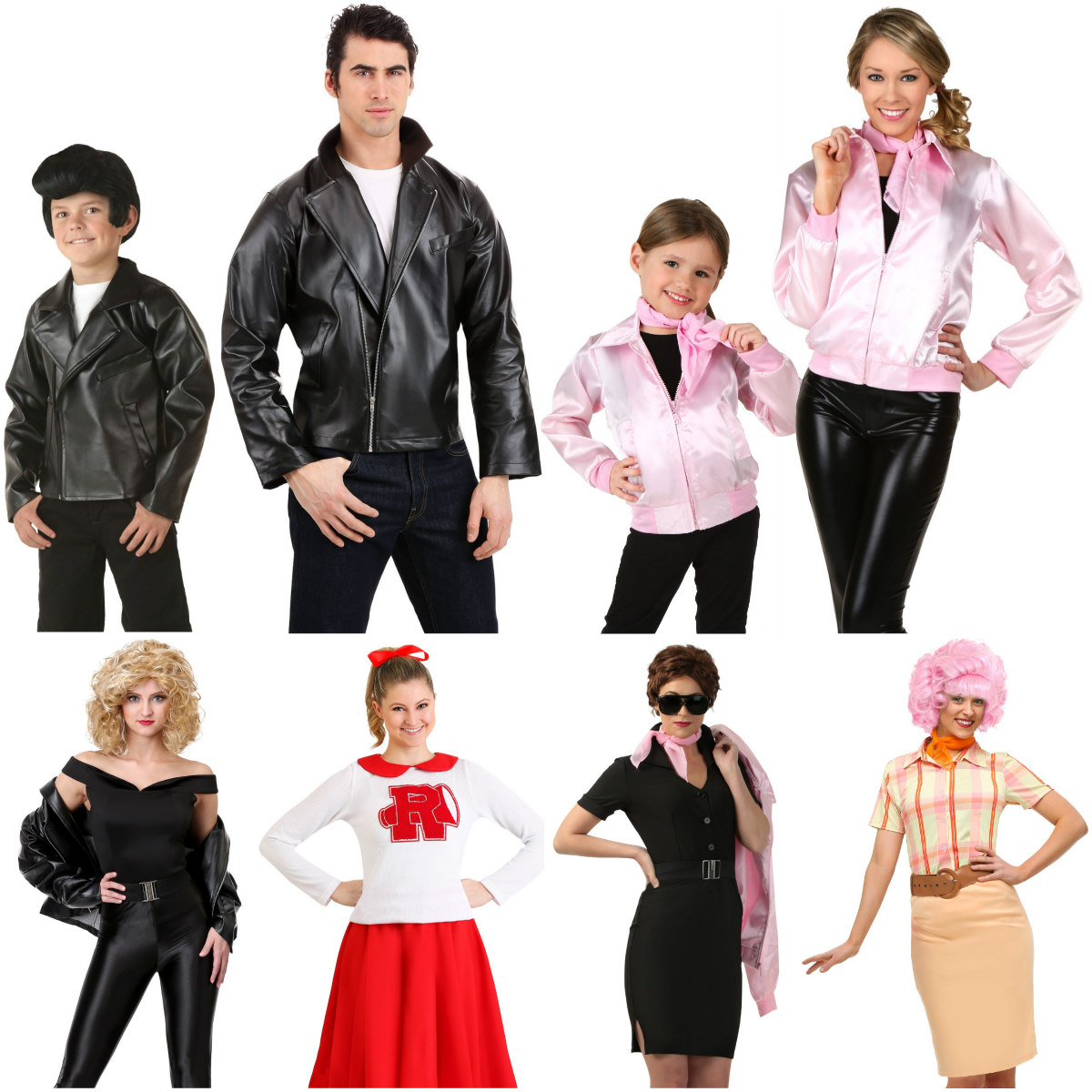 The perfect group costume for mixing and matching, the characters from Grease allow you to create a great group or family costume. The Pink Ladies and T-Birds jackets make for the perfect combos—and if you don't want to dress as one of them, you can don a Rydell High Cheerleader costume or go as Frenchy or bad Sandy. Be sure you know some lines from "Greased Lightnin'" and "You're the One That I Want" since you'll be singing all night!
Batman Villain Costumes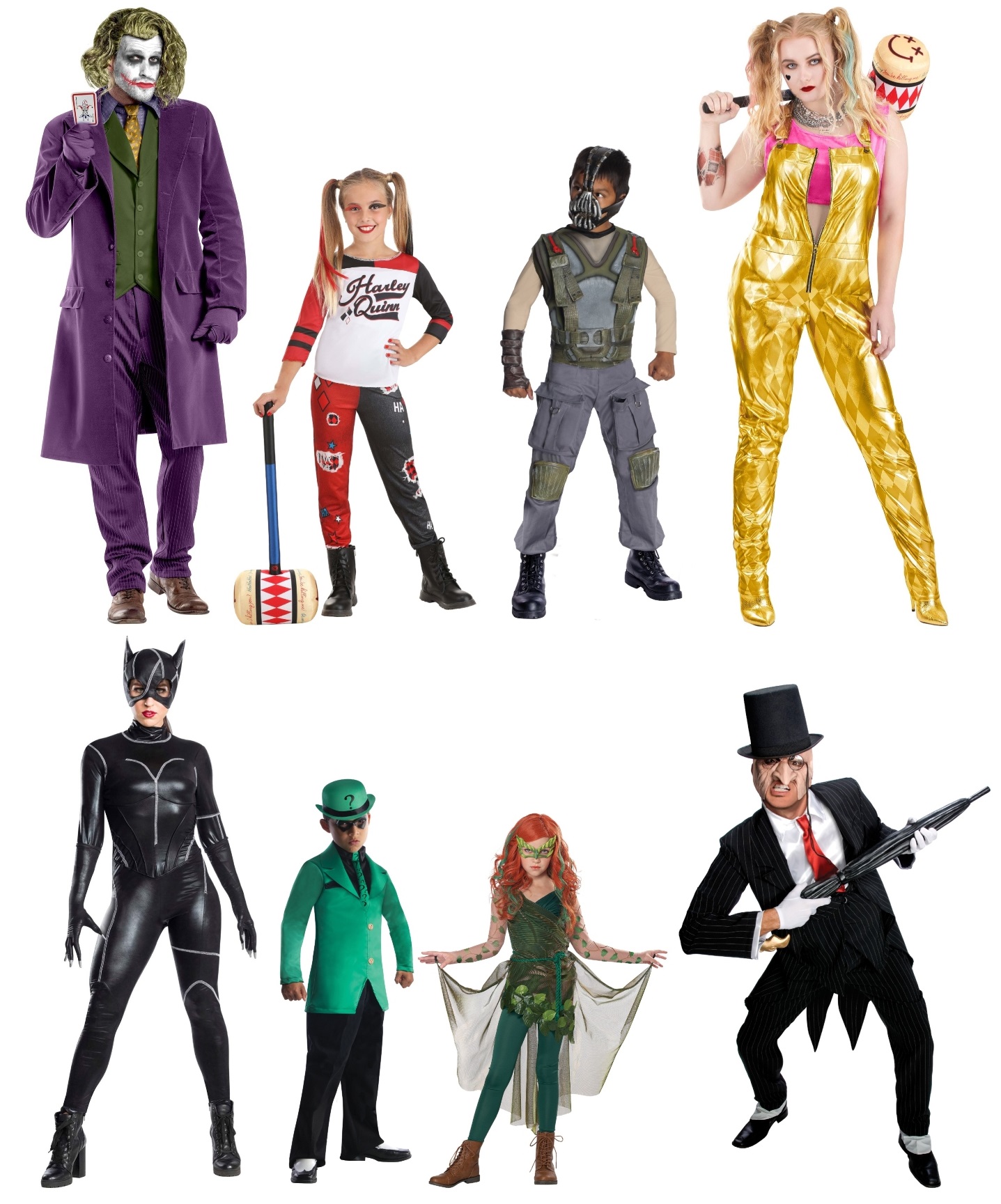 It's so good to be bad. Few superheroes have as colorful a Rogues Gallery as Batman. From the crazy antics of the Joker and Harley Quinn to the quizzical conundrums of the Riddler, there are few group costumes that will be as recognizable on Halloween. One of the more iconic Batman stories is even called The Long Halloween—so get your crew together and cause some havoc! You can see all of our Batman costumes, hero and villain alike, in our store.
The Addams Family Costumes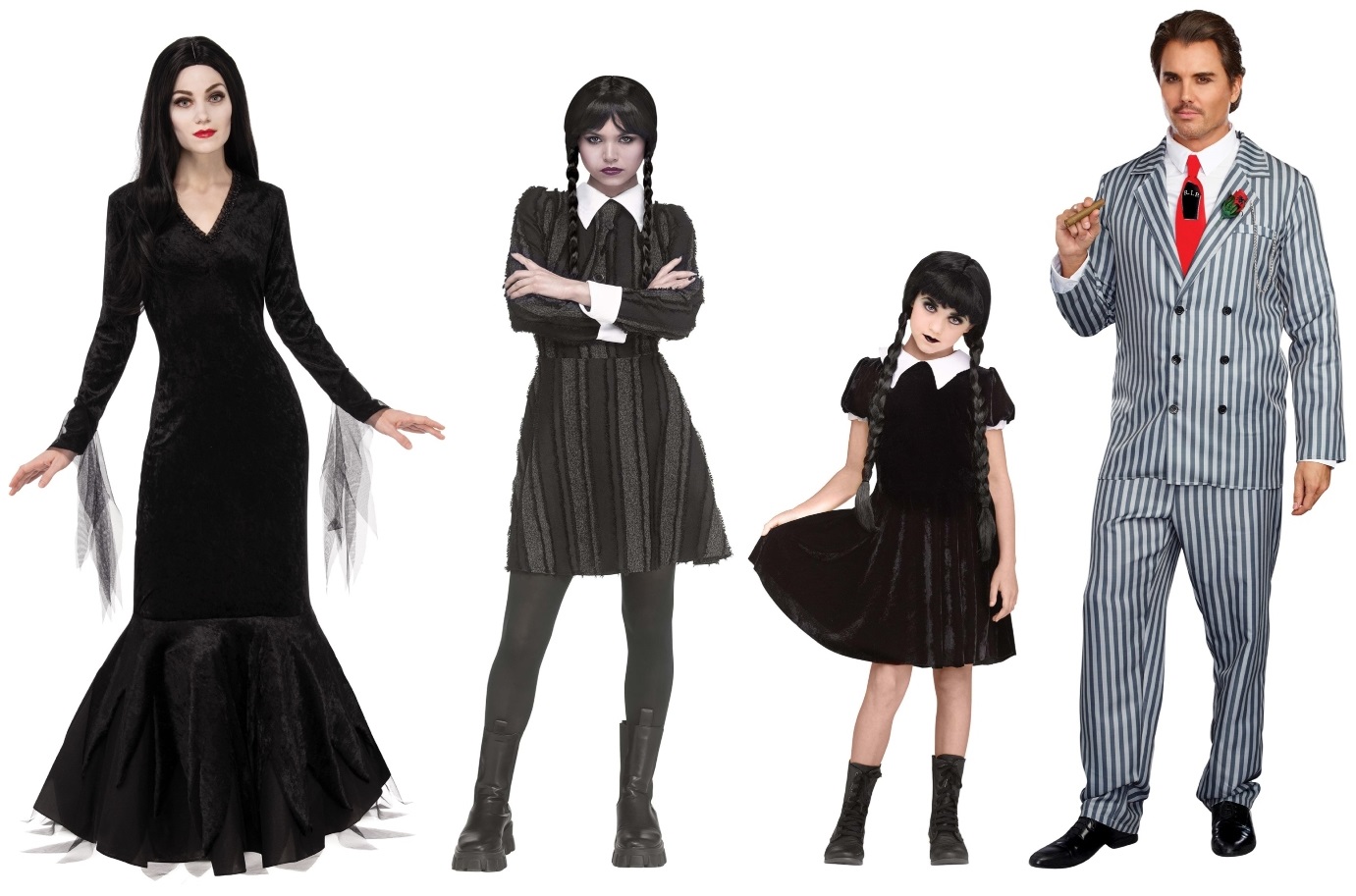 "They're creepy and they're kooky. Mysterious and spooky. They're all together ooky. The Addams Family!" Do we need to keep going? The Addams family makes a great 'creepy but not too scary' family costume idea. Your family will be the envy of everyone on the block with these Addams Family costumes.
Hocus Pocus Costumes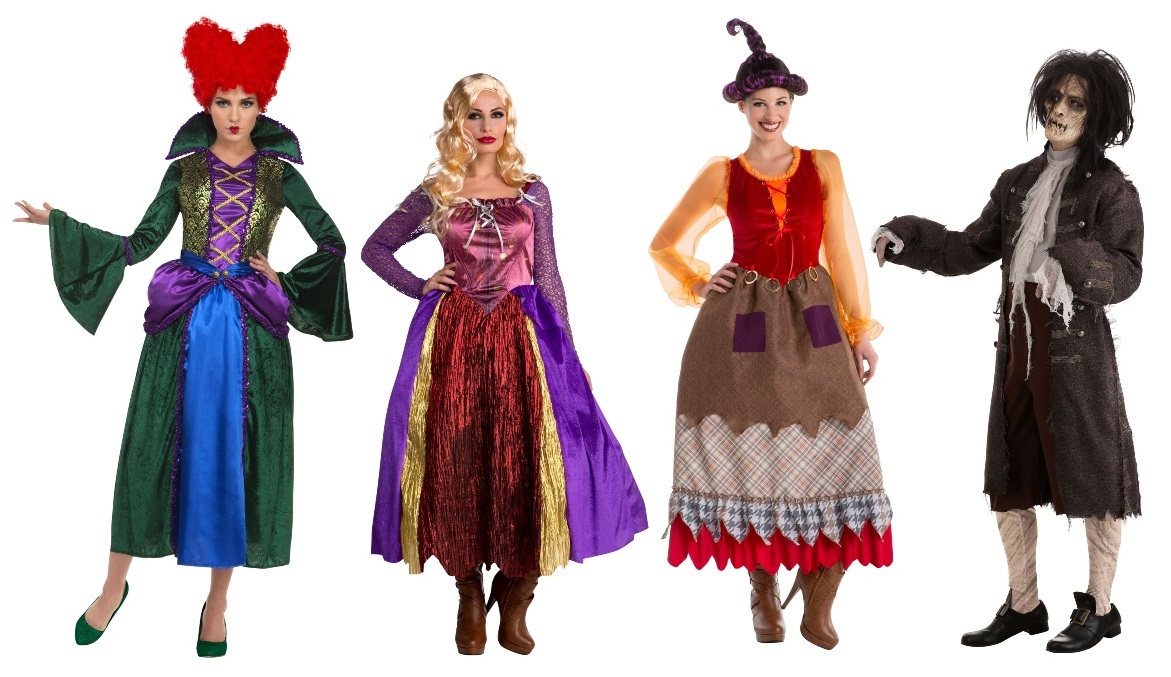 We suggest forming a calming circle before freaking out about how cute your girl squad will look in these Hocus Pocus costumes. The Sanderson sisters make a perfect group of three costumes, but you can stretch it to a group of four with a black cat costume! The adult black cat onesie is a unisex costume, so whether your squad is comprised entirely of ladies or if you have a man in the mix, you'll be ready to run amok.
Beatles Costumes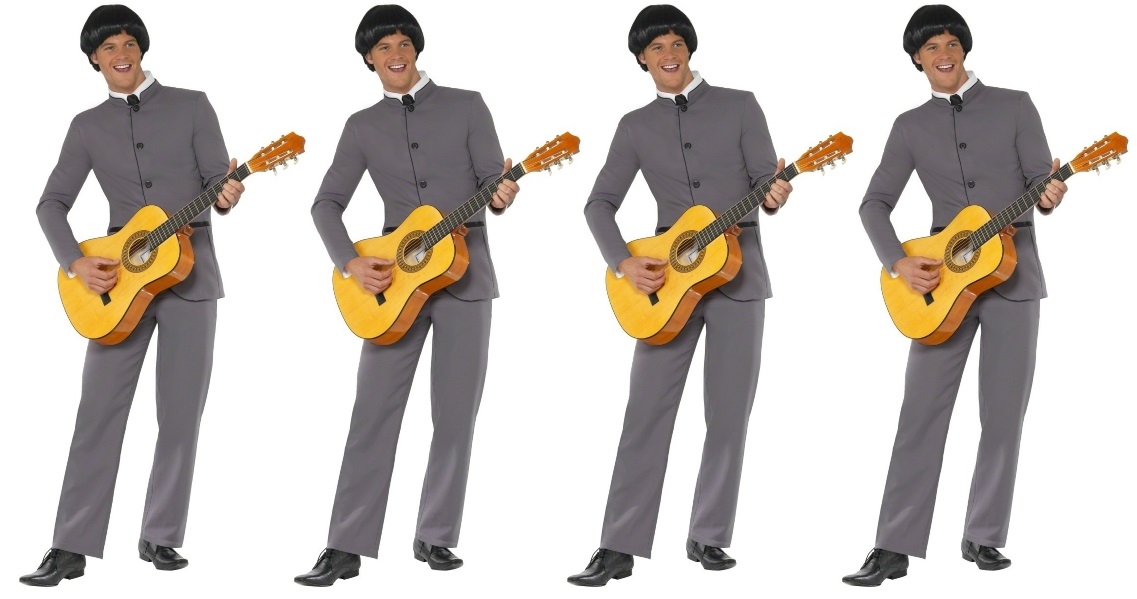 One of the most iconic groups of 4 guys is, of course, the Beatles. (Also known as the Fab Four!) Grab a few of your buddies, wear these iconic gray outfits and make the ladies swoon. You probably won't get mobbed by ladies like the Beatles used to be, but you could still put on a show with some karaoke.
Spider-Verse Costumes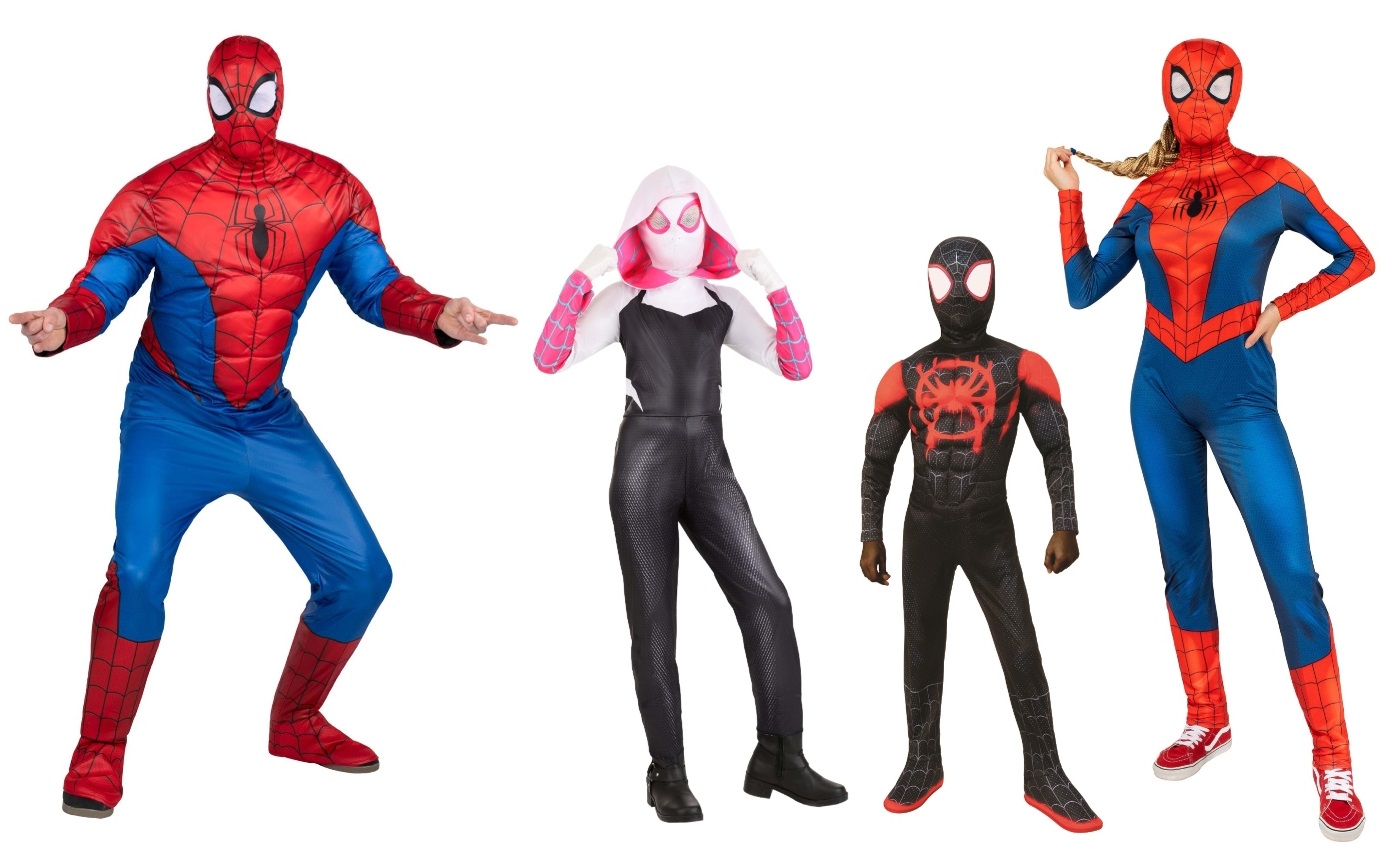 Spider-fam, Spider-fam! After watching Into the Spider-Verse, you might have been bitten by the Spider-Man bug. Why not get the entire family involved by wearing Spider-Man costumes? Characters like Miles Morales and Spider-Gwen are certainly favorites with kids, so this is one family costume idea for four that everyone will love!
101 Dalmatians Costumes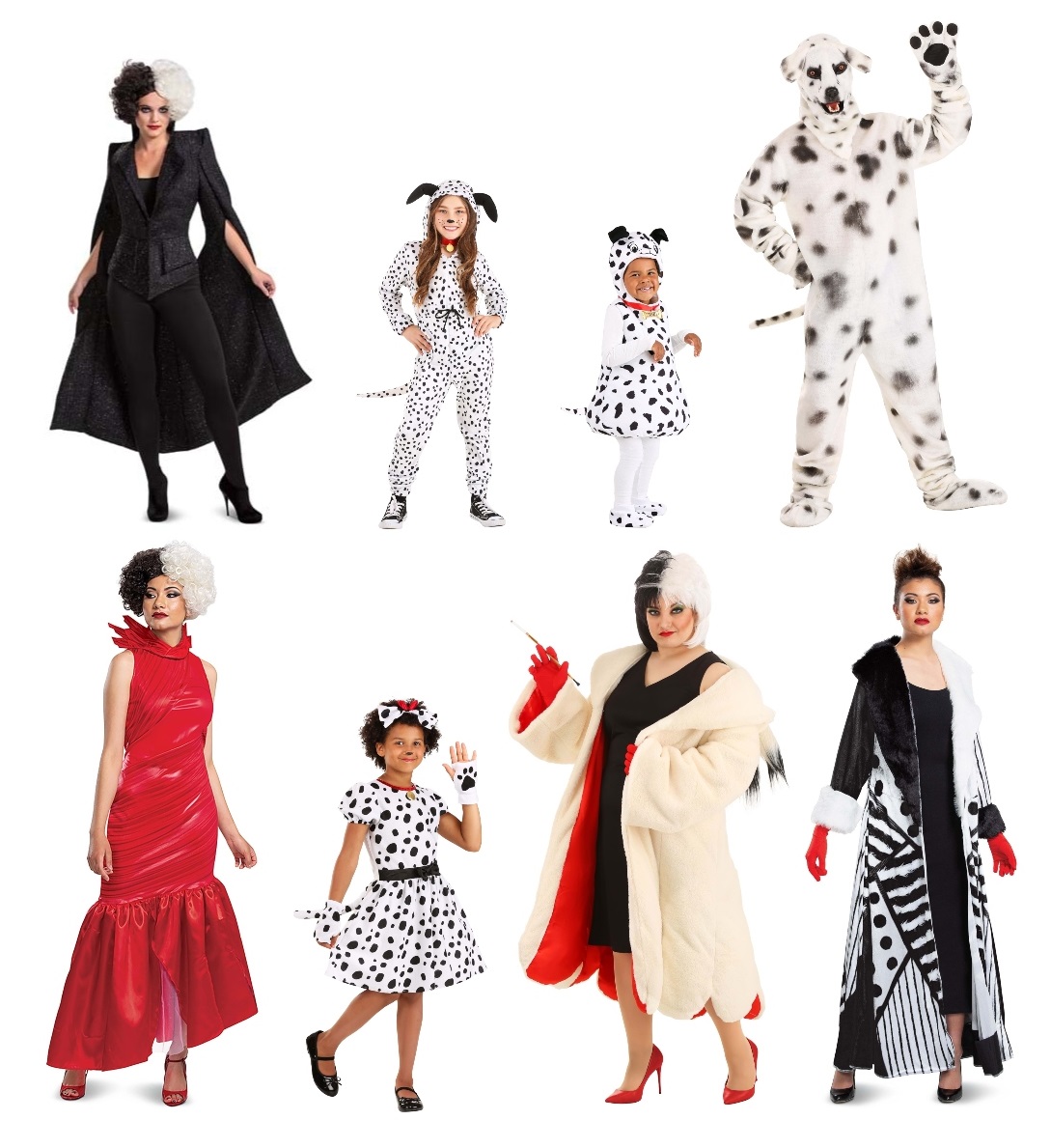 While a group of 101 Dalmatians costumes could easily accommodate a gathering of any size, this costume idea works really well for a family of four. Mom makes a really good Cruella, but you can always mix it up and have a baby or child Cruella too! Everyone else gets to be dalmatians, unless you can DIY some Horace and Jasper outfits. (We have faith in you!)
Ghostbusters Costumes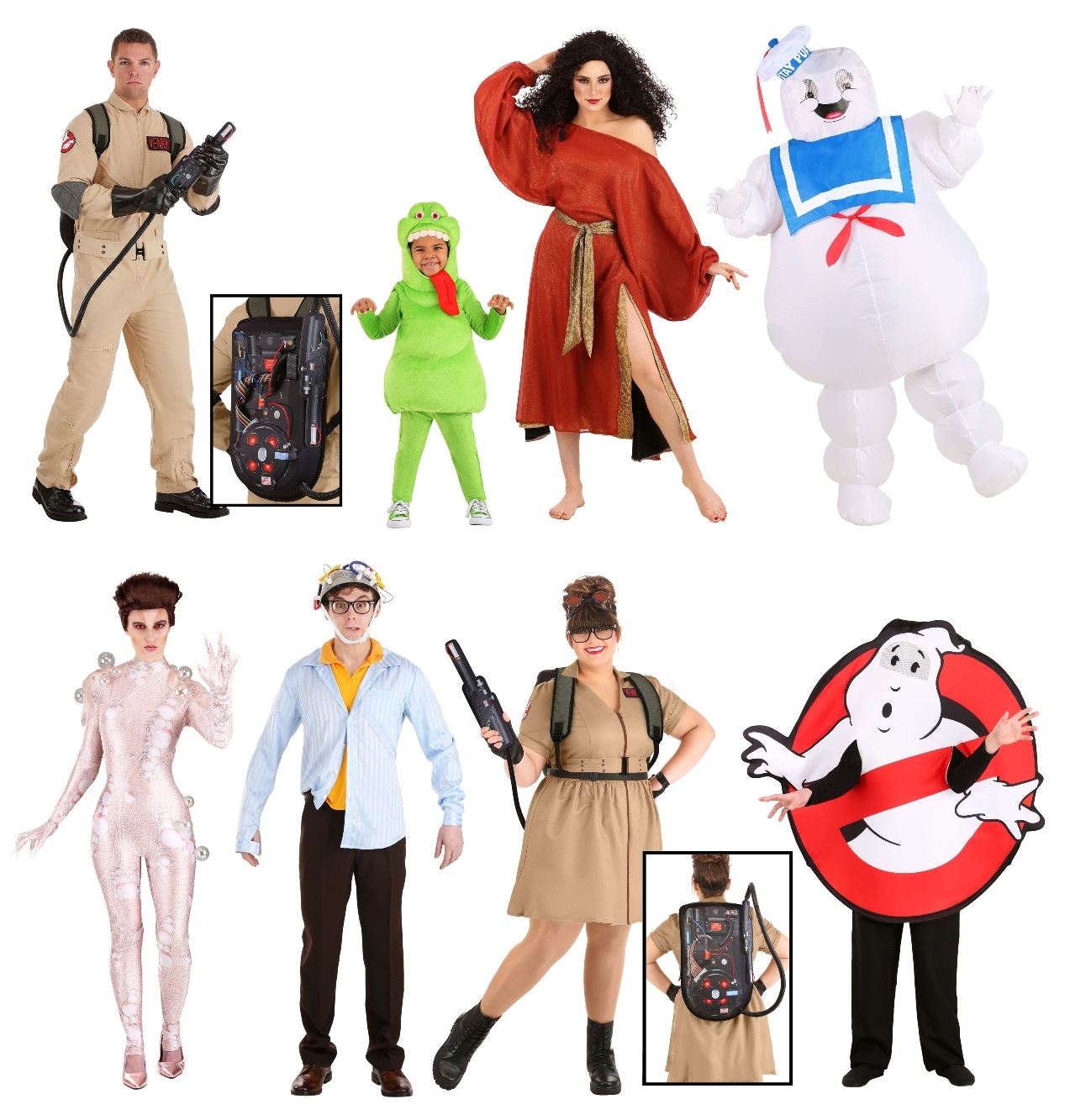 Who you gonna call? Ghostbusters! Here at HalloweenCostumes.com, our Ghostbusters costumes come in all shapes and sizes, so any of your family members can be whatever character they want to be. You can even have all four Ghostbuster characters for mom, dad and the kids. (Maybe even throw in the family pet as a ghost?) Once you're all ready in your Ghostbusters outfits, you'll be more than prepared to bust some ghosts!
Scooby-Doo Costumes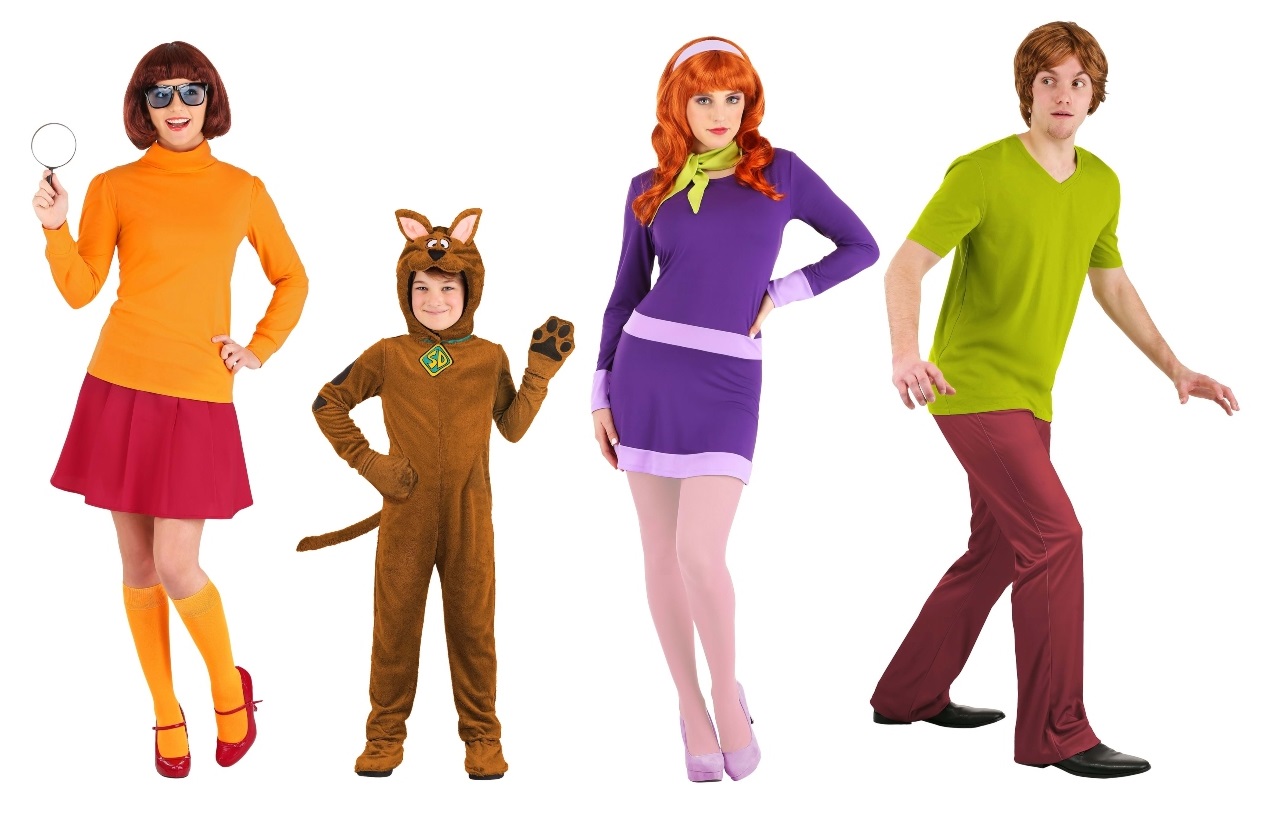 The Mystery Machine gang is on the case! Scooby-Doo costumes are great for groups of four people, whether you want to be all 4 of the human characters or have Scooby in your squad instead. Just make sure you solve that mystery! Of course, there are plenty of Scooby-Doo costumes for kids as well as for adults, so you can always turn this group idea into a family costume, too.
Peter Pan Costumes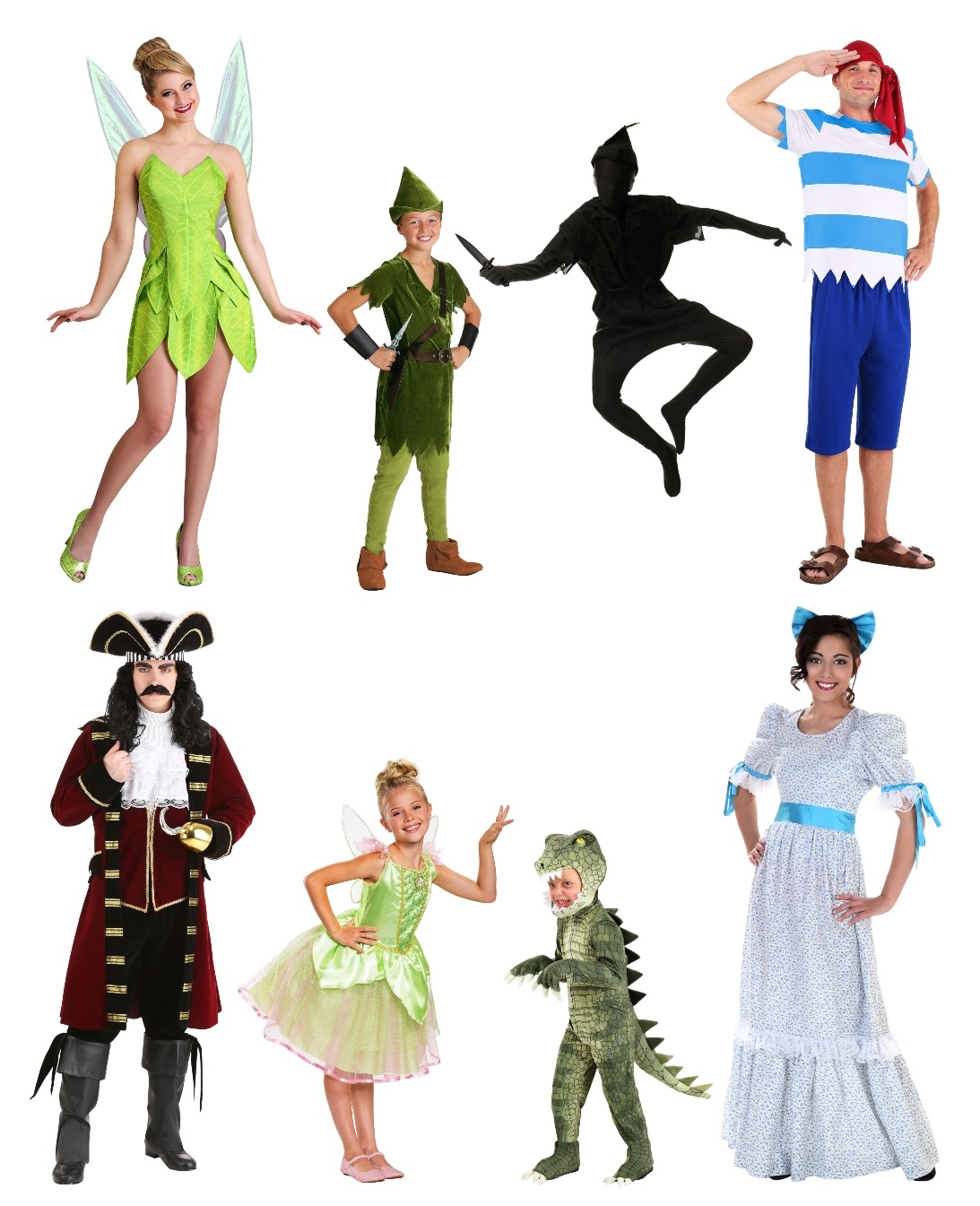 Your child might not want to grow up, so why not try out this Peter Pan group costume idea? With classic characters like Peter Pan, Captain Hook, Wendy, Smee, Tinkerbell and others, you can feel Neverland-ready on Halloween. Maybe you could even add a crocodile costume to your group! This squad costume is great because it can accommodate a group of any age or gender. There are so many ways to dress up!
Toy Story Costumes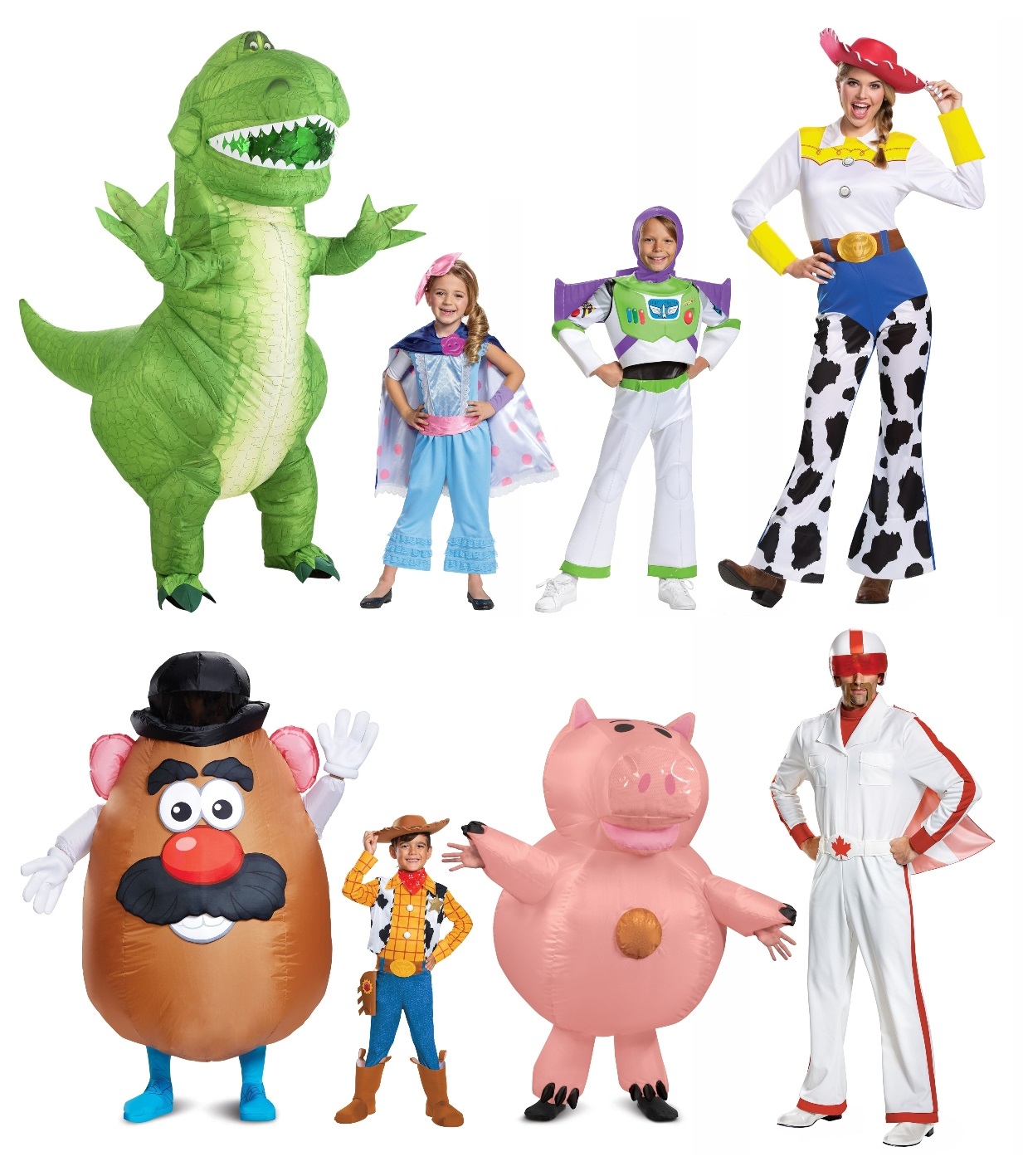 To Infinity and beyond! Toy Story is one of the best and most beloved Pixar franchises, with tons of cool character costumes. Whether you enjoy new characters like Duke Caboom and Gabby Gabby or classics like Buzz and Woody, we have all of the Toy Story costumes your group could want. You know that you're going to make everyone jealous when your gang shows up dressed in these Pixar costumes!
The Price Is Right Costumes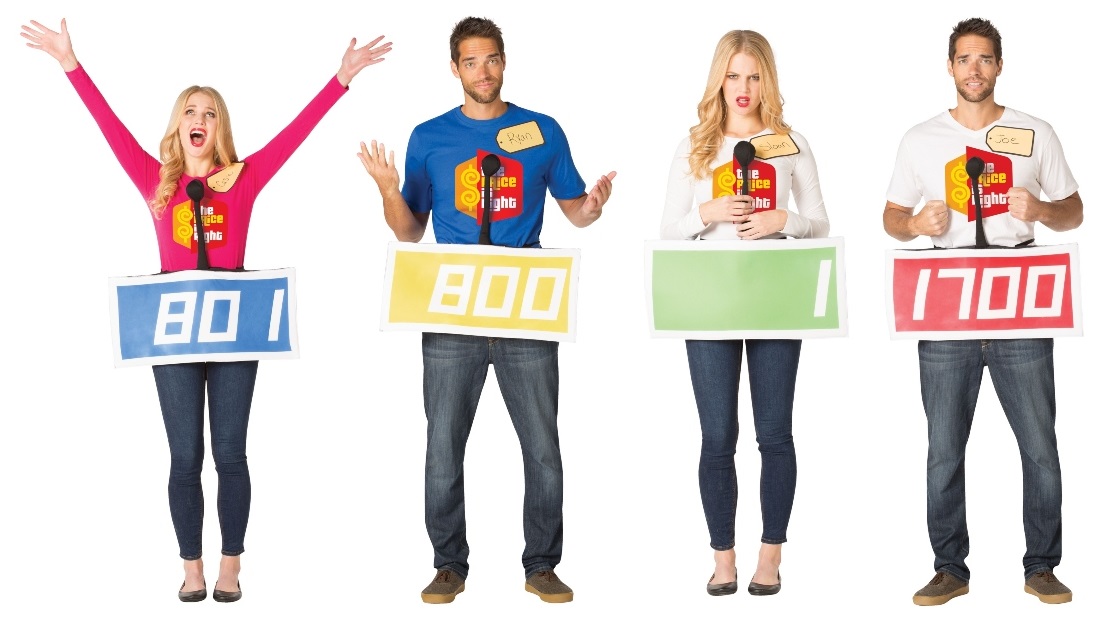 Your group will win big when you wear these The Price Is Right costumes. These unisex costumes are great for any group, and you'll love taking silly pictures with everyone. Sure, your score may not look great, but that can change at any time. No matter which color you end up with, just know that you're all winners when it comes to this group Halloween costume idea!
Flintstone Costumes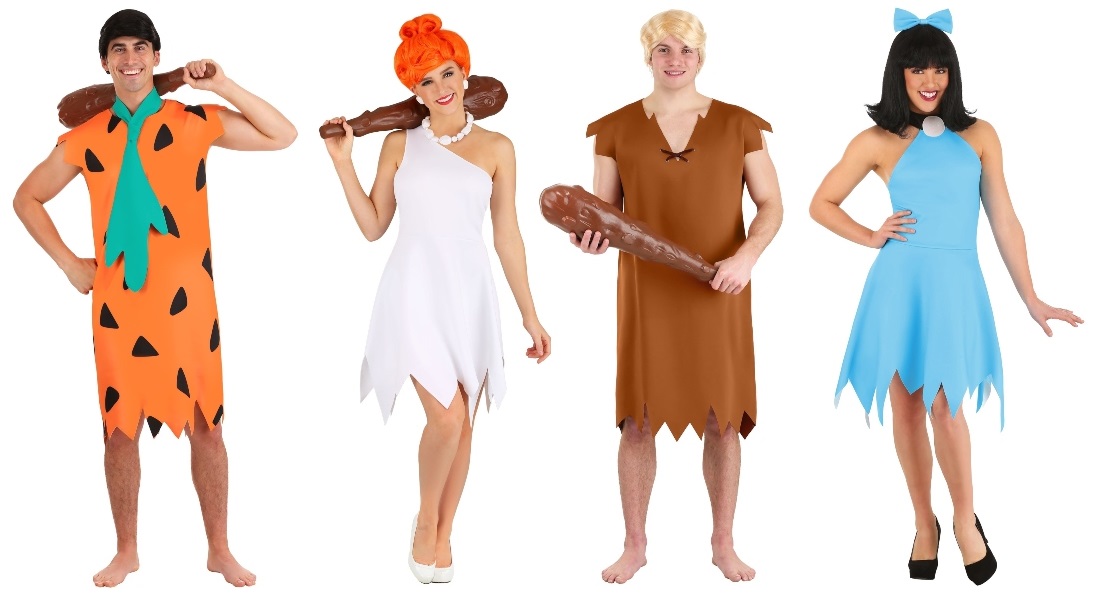 If you're a couple of couples looking for the perfect double couples costume idea, look no further than these Flintstones costumes! These stone-age neighbors are always competing, but in a fun and friendly way. There are also a few other characters like Dino, Pebbles and Bam-Bam if you'd like to switch things up, too!
Harry Potter Costumes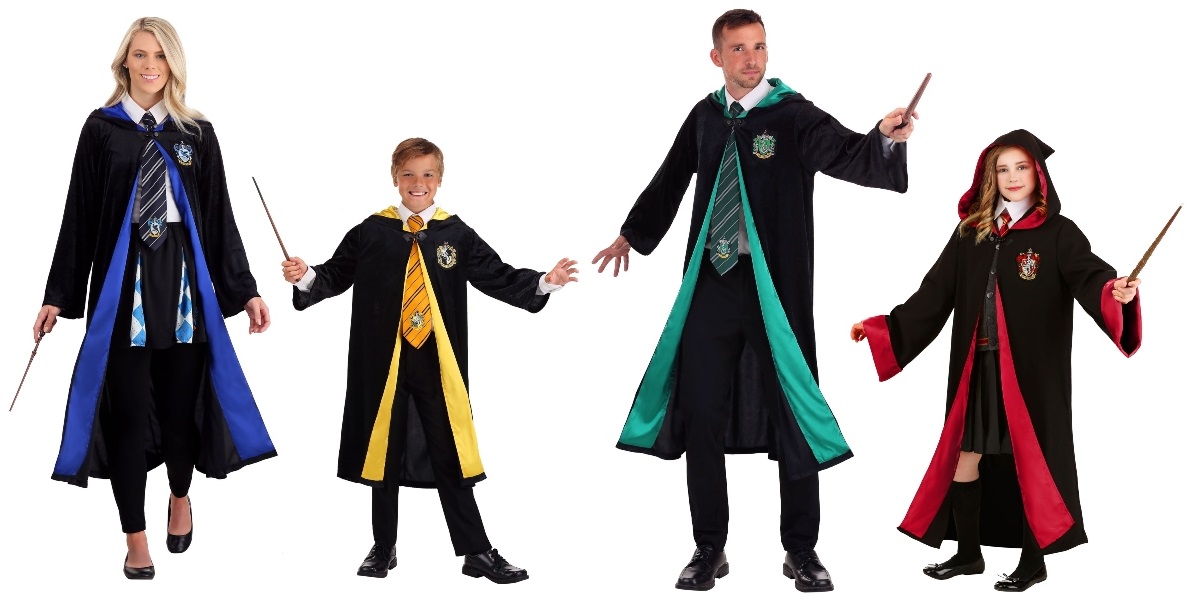 Create your own magic when you wear any of these Harry Potter robes. You can represent any of the four houses! We also have plenty of other Harry Potter costumes for some of your favorite teachers and students. While these book costumes would be great for a group of four, they can accommodate a group of any size. Get ready to attend the wizarding world of Harry Potter as any number of your beloved characters!
Nightmare Before Christmas Costumes
If your family can't decide between spooky and kid-friendly, why not do both? Nightmare Before Christmas is a timeless Halloween movie classic, filled with loveable characters and child-approved spooks. These Halloween movie costumes are also instantly recognizable, so much so that you might get pulled aside and asked for pictures! Don't forget to take your own family photos to share on social. #ThisIsHalloween
Circus Costumes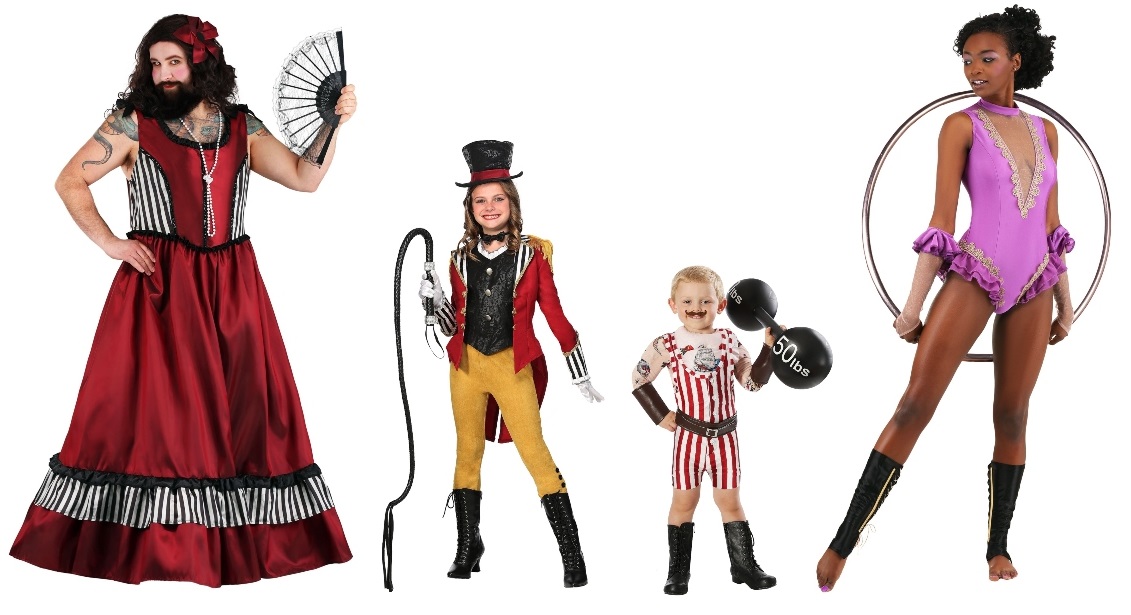 Be the family circus with our large selection of circus costumes! Whether you're more of a traditionalist or you'd like to mix it up with some dark circus costumes, there are so many roles for your group to play! Choose any one of a number of ringmaster costumes, strongmen, lions, clowns and more. You can even add the family dog into the mix with a tutu if they're great at tricks!
When it comes to Halloween, the sky is the limit! There are so many things you can be in your group of four: animals, zombies, musicians, cops & robbers, the Flintstones, movie characters, bugs, cartoon characters, pirates and more. Another fun idea would be to pick a color and base all your costumes around that, or pick separate colors for a rainbow-themed costume group. Be sure to look through our group costumes to see what else we've come up with and hopefully it'll give you some inspiration. Once you have the perfect group costume set, you can focus on the most important thing: having fun. The more the merrier!
Top Costume Ideas