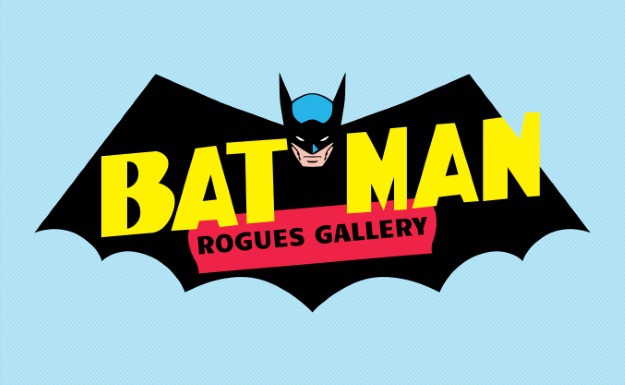 Batman has a lot of enemies. These villains are often called the Rogues Gallery, a reference to the mugshots and other documents–about their hideouts, known associates, and so on–that early police departments used to identify and catch criminal suspects. Batman's Rogues Gallery ranged from common criminals to well-known Batman super villains and criminal masterminds like the Joker. In this infographic, we cataloged the first comic book appearance of every Batman Rogues Gallery villain, and also highlighted some of the more iconic supervillains.
Click Image to See Large Version

[Click infographic for a larger size]
Embed This Image On Your Site:
Batman Rogues Gallery Transcript
Since his first appearance in 1939, Batman and his "Family" (including Robin and Batgirl) have defeated hundreds of villains in numerous comic book series. These include the classic Rogues Gallery, supervillains and lesser villains, even everyday criminals. This timeline shows the first appearance of each named Batman Family villain in comics.
1939:
Alfred Stryker, Frenchy Blake, Dr. Death, Mad Monk, Joe Chill, Professor Carl Kruger
1940:
Whip, Professor Hugo Strange, Catwoman, Joker*, Lex Luthor, Tony Zucco, Clayface, Wylie, Puppet Master
Joker
Joker was introduced as a serial killer, dispatching hapless victims with his grin-inducing Joker venom. He would later be written as a sadistic criminal mastermind, the embodiment of chaos and dark humor. Joker is the iconic archnemesis and antithesis of Batman, obsessed with hurting him in any way possible, including murdering the second Robin (Jason Todd) and paralyzing Batgirl (Barbara Gordon).
1941:
Scarecrow, Penguin, Professor Radium
1942:
Adolf Hitler, Salvatore "The Boss" Maroni and the Maroni Crime Family, Two-Face*, Rag Doll
Two-Face
Detective Comics Issue #66 (August 1942)
Harvey "Apollo" Dent was once the district attorney of Gotham City, an ally of Batman and then-Police Captain James Gordon. But after getting scarred by acid, he becomes Two-Face, a villain with multiple personalities who bases his decisions upon the flip of a coin.
1943:
Tweedledum and Tweedledee, Crime Doctor, Rob Callender, Mr. Lyon, Cavalier
1944:
Solomon Grundy
1946:
Crazy Quilt
1947:
Clock II, Huntress, Penny Plunderer, Gentleman Ghost
1948:
Mad Hatter, Riddler
1949:
Tiger Shark
1950:
Deadshot, Matt Thorne
1951:
Key, Killer Moth
1952:
King of Cats, Trapper, Firefly
1953:
Gorilla Boss, Stranger
1954:
Mr. Camera, Mirror Man
1956:
Mole, Hatman, Lew Moxon
1957:
Brainy Walker, Professor Milo, Signalman
1958:
False-Face, Terrible Trio, Calendar Man, Dr. Double X
1959:
Mr. Freeze, Crimson Knight, Blue Bat, Thor, Bruno Groft and Lekkey
1960:
Zebra-Man, Spinner, Graham, Atomic-Man, Kite Man, Catfoot Regan and Beetles Branagan, Dummy, Gentleman Jim Jansen, Rainbow Beast
1961:
Raven, Wasp, Brand, King Cobra, Elemental Man, Planet Master
1962:
Mr. Polka-Dot, "Brains" Beldon, False Face Society
1963:
Catman, Dr. Hurt, Gorilla Gang, Dr. No-Face
1964:
Zodiac Master, Composite, Superman, Owlman*, Outsider
Owlman
Justice League of America Issue #29 (August 1964)
Owlman is the reverse-Batman of Earth-Three, a member of the Crime Syndicate of America—the opposite of the Justice League of America—with mind control powers and night vision. In later issues, Owlman is actually Thomas Wayne, Jr., the older brother of Bruce Wayne.
1965:
Getaway Genius, Johnny Witts, Blockbuster, Eivol Ekdal
1966:
Bouncer, Bizarro-Batman, Royal Flush Gang, Monarch of Menace, Cluemaster, Lord Death Man, Captain Calamity, Poison Ivy, Silken Spider, Dr. Tzin-Tzin, Dr. Zodiac, Eraser, Spellbinder
1967:
Bag O'Bones
1968:
Fearsome Foot-Fighters, Batman Revenge Squad, Copperhead, Proteus, Sensei
1970:
Man-Bat, Dr. Ebeneezer/Ebenezer Darrk, Ten-Eyed Man
1971:
Ruby Ryder, Ra's al Ghul*, Ubu, Dark Archer, Reaper
Ra's al Ghul
Ra's al Ghul and his League of Assassins seek to bring about world peace by purging the human race. Batman and Ra's al Ghul respect each other as formidable opponents, and their adversarial relationship is complicated by the fact that Ra's al Ghul knows Batman's true identity, and Batman has been tied romantically to Ra's al Ghul's daughter.
1972:
Dr. Moon, Lump, Colonel Sulphur
1973:
Spook
1974:
Werewolf, Harvey Bullock
1975:
Bronze Tiger, Sterling Silversmith, Lady Shiva
1976:
Gustav DeCobra, Kobra, Underworld Olympics, Amba Kadiri, Captain Stingaree, Duela Dent, Black Spider, Calculator
1977:
Tobias Whale, Dr. Phosphorus, Rupert Thorne, Professor Ojo
1978:
Madame Zodiac, Count Vertigo, Thanatos
1979:
Maxie Zeus, Gregorian Falstaff, Firebug
1980:
Deathstroke, Squid
1981:
Electrocutioner, Snowman, Commissioner Peter Pauling, Wa'arzen
1982:
Dagger, Mayor Hamilton Hill, Mirage, Mr. Cipher
1983:
Killer Croc, Savage Skull, Cheshire, Nocturna, Agent Orange
1984:
Cryonic Man, Dr. Fang, Masters of Disaster, Anti-Batman, New Olympians
1985:
Onyx, Black Mask
1986:
Bad Samaritan, Bruno, Mutant Leader, Mutants, Film Freak, Amanda Waller, Magpie
1987:
Arnold John Flass, Carmine "The Roman" Falcone and the Falcone Crime Family, Commissioner Gillian B. Loeb, Branden, James Gordon, Jr., Strike Force Kobra, Mime
1988:
Ventriloquist, KGBeast, Ratcatcher, Corrosive Man, Red Hood Gang, Deacon Blackfire, Cornelius Stirk
1989:
Kirigi, Henri Ducard, Mud Pack, Anarky
1990:
Crimesmith, NKVDemon, Lark
1991:
Abattoir, Lynx, King Snake, Synaptic Kid
1992:
Victor Zsasz, Harpy, Amygdala, Egghead, Mayor Armand Krol, Benedict Asp, Metalhead, Ugly American, Chancer, Headhunter, Misfits
1993:
Bane*, Cypher, Harley Quinn, Tally Man, Baffler, Mekros, Trigger Twins
Bane
Batman: Vengeance of Bane Issue #1 (January 1993)
Bane was Raised in a prison, where he heard tales about Gotham and became convinced Batman was the monstrous bat haunting his dreams. Unlike any other nemesis, Bane uncovers Batman's true identity and nearly kills him. Azrael must then temporarily replace Batman while Bruce Wayne recovers from the broken back suffered at the hands of Bane.
1994:
Gunhawk, Pistolera, Jackie Glee
1995:
Bonaventure Strake, Commissioner Grogan, Steeljacket, Actuary, Sleeper Killer, Silver Monkey
1996:
Lock-Up, Marcosis, Panara, Ogre and Ape, Torque
1997:
Lady Vic, Cyber Cat, Ernie Chubb, Faceless Killer, Lazara, Gearhead
1998:
Prometheus, Weasand, Brutale, Answer
1999:
David Cain, Boone
2000:
Able Crown, Kyle Abbot, Mayor Daniel Danforth Dickerson III, Whisper A'Daire, Mabuse, Orca, Sylph, Zeiss
2001:
Black and White Thief, Matatoa
2002:
Onomatopoeia, Nicodemus, Mortician, Hush*, Athena, Network, Pix
Hush
Batman #609 (January 2003)
Coming from similar backgrounds, Tommy Elliot and Bruce Wayne were childhood friends. When Bruce Wayne's parents were tragically killed, Bruce inherited their fortune and became Batman. Tommy Elliot, on the other hand, killed his own parents and became Hush. Driven by anger and jealousy, Hush stalks Batman, attempting to destroy everything that he represents.
2003:
Charlatan, Doodlebug, Great White Shark, Jane Doe, Junkyard Dog, Lunkhead, Humpty Dumpty, Nyssa Raatko, Condiment King, Alpha
2004:
Mayor David Hull, Johnny Warlock, Fright, Billy Numerous
2005:
Tigris
2006:
Facade, Enigma, Jezebel Jet, Sewer King, Famine
2007:
Dodge, Flamingo, Jackanapes, Max Roboto, Professor Pyg, Weasel, Doctor Hurt and Black Glove
2008:
Id, Johnny Stitches, Globe, March hare, Clock King II, Club of Villains, King Kraken, Mr. ZZZ, Swagman, Bad Cop
2009:
King Tut, Circus of Strange, Mr. Toad, Phosphorus Rex, Big Top
2010:
Mayor Sebastian Hady, Heretic, Mirror House Cult, Leviathan
2011:
Absence, Dealer, Dr. Dedalus, Peter Pan Killer, Son of Pyg, Roadrunner, White Knight, Spiral, Architect, Ray Man, Siam, Sister Crystal, Skin Talker, Son of Man, Dollmaker, Dollmaker Family, Jack Forbes, Nobody, White Rabbit, Bentley, Dollhouse, Jack-in-the-Box, Mr. Toxic, Olivia Carr, Orifice, Sampson, Wesley, Mathis, Court of Owls, Talon
2012:
Eli Strange, Mr. Mosaic, Hypnotic, Imperceptible Man, Jill Hampton, Mr. Combustible, Snakeskin, Birthday Boy, Knightfall, Terminus and Villains, Emperor Blackgate
2013:
Merrymaker, League of Smiles, Fishnet, Volt, Brute, Malicia, Professor, Wolf-Spider, Erin McKillen
2014:
Kings of the Sun, Rex Calabrese, Mr. Bygone, Dr. Falsario
Sources: Wikipedia, Wikia
Images: Batman #1 (April 1940), Detective Comics #66 (August 1942), Justin League of America #29 (August 1964), Batman #232 (June 1971), Batman: Vengeance of Bane #1 (January 1993), Batman #618 (October 2003)
What did you think? Did we highlight your favorite villain or was there someone else we should have picked instead? Feel free to yell at us in the comments below. And remember that our selection of Batman costumes includes characters from both the Batman Family and Rogues Gallery!
Infographic Design Credit: Travis Green