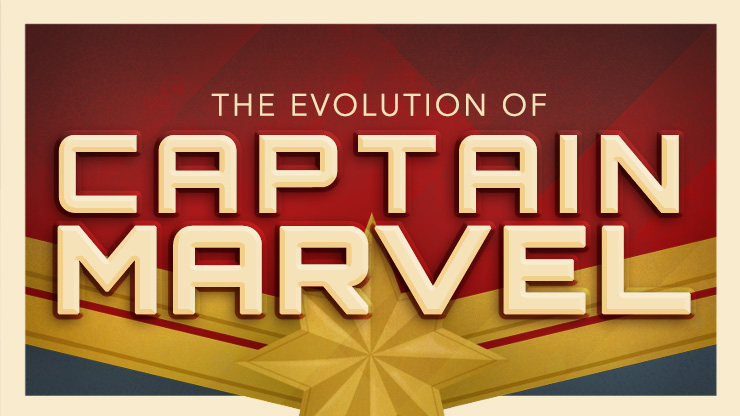 Carol Danvers debuted in the pages of Marvel Comics more than 50 years ago. In that time she has gained and lost fantastic superpowers and fought alongside many of the iconic superhero teams. She's also been known as Ms. Marvel, Binary, Warbird, and Captain Marvel. Her upcoming solo film, Captain Marvel, marks her first appearance in the Marvel Cinematic Universe where she is one of the most powerful superheroes—if not the most powerful superhero. That's because Captain Marvel has unbelievable strength, speed, and can fly. (Even in space!) Plus she can shoot energy from her hands and maybe even travel through time. So that's pretty cool. How she got there is also pretty cool, so let's look at how Carol Danvers evolved to become Captain Marvel!
Click on Image for Larger View

Embed This Image on Your Site:
The Evolution of Captain Marvel Transcript
Since 1968, the superhero Carol Danvers has appeared in Marvel Comics as Ms. Marvel, Binary, Warbird, and now Captain Marvel. This infographic looks at all of her main continuity costumes and codenames through her Marvel Cinematic Universe debut in 2019's Captain Marvel.
Carol Danvers
Carol Danvers first appeared in Marvel Super-Heroes #13 (March 1968) as the security chief of a secret missile base, where she met Mar-Vell, the original Captain Marvel. Artist Gene Colan drew Danvers in casual civilian clothing despite her being an officer. In Captain Marvel #18 (November 1969), Mar-Vell saved her from Yon-Rogg and his Psyche-Magnatron device.
Original Costume
The Psyche-Magnatron energy combined Danvers' DNA with that of Mar-Vell to give her superpowers. Her first solo series debuted in January 1977, drawn by artists John Romita and John Buscema and written by Gerry Conway. (Chris Claremont would take on writing duties from issue #3.) Ms. Marvel's costume was a skimpier version of Captain Marvel's uniform.
Original Costume (Variant)
Ms. Marvel's costume was revamped slightly to cover her midriff by artist Dave Cockrum in issue #9 (September 1977). Carol Danvers also wore this costume on the Disney XD animated television series The Avengers: Earth's Mightiest Heroes from 2010 to 2013, although the boots were extended to cover more of her legs.
Classic Costume
In Ms. Marvel #19 (August 1978), Danvers was injured and her costume partially shredded. Her red scarf was turned into a makeshift sling. The costume saw a complete overhaul in issue #20 (October 1978), also from artist Dave Cockrum and writer Chris Claremont. The new suit was black, accented with a yellow lightning bolt, and that scarf became her iconic sash belt.
Binary
Alien insects The Brood experimented on Ms. Marvel, giving her fantastic powers. She dropped the Ms. Marvel moniker and became known as "Binary" in The Uncanny X-Men #164 (December 1982), again from artist Dave Cockrum and writer Chris Claremont. Her costume was white and red (often with black accents) and she was covered in flames, including around her head.
Red Zone
In the "Red Zone" story arc—The Avengers #65 (May 2003) through #70 (October 2003)—from artist Olivier Coipel and writer Geoff Johns, the Avengers spent much of their time in protective hazmat suits due to a viral threat. When not in that suit, Danvers wore metal body armor over her classic black costume. She still went by the codename "Warbird" so this is often called her Warbird costume.
Captain Marvel (Comics)
The September 2012 reboot of Captain Marvel from writer Kelly Sue DeConnick and artist Dexter Soy (plus cover art from Ed Mcguinness) saw Danvers become the 7th Captain Marvel. Jamie McKelvie designed her costume to resemble the original Captain Marvel uniform, with stripes to reference her origin in the Air Force. He also returned her red Ms. Marvel sash.
S.H.I.E.L.D.
Danvers had worked with S.H.I.E.L.D. on and off through the years, but she rejoined in Avengers #35 (November 2014) in order to track a team of superheroes known as the Illuminati. As pictured on the cover of Avengers #37 (December 2014) by artist Jamie McKelvie, she wore a black, grey, and white version of her Captain Marvel costume.
Captain Marvel (Movie)
For the 2019 solo movie, Captain Marvel wears a costume from designer Andy Park, who credited earlier work from Jamie McKelvie and Kristafer Anka. The costume takes cues from the earlier S.H.I.E.L.D. and MCU costumes, including textures similar to Captain America's Ultimates-inspired uniform. Danvers also wears a green variant uniform that references the Kree Starforce.
Chewie/Goose
Flerken, loyal friend, and pet to Carol. Truly one good girl.
Sources: Marvel Comics, Marvel Database, Wikipedia, CBR, ComicBook.com, Den of Geek, Nerdist, Newsarama, Polygon, Screen Rant
What did you think? Are you looking forward to Captain Marvel as much as we are? Tell us all about it in the comments. And if you're confused about Marvel's Captain Marvel and DC's Captain Marvel, also known as Shazam...well, that's a story for another day! If you're thinking about cosplaying as Captain Marvel or dressing as her this Halloween, keep in mind that we have all kinds of Captain Marvel costumes!
Infographic designed by Kady Jaspersen