Kill Bill Character Costumes
Nothing could prepare audiences for the action-packed thrill ride that Quentin Tarantino unleashed upon the world in 2004. Then, he followed up with the bloody sequel with a Kill Bill Vol. 2, which finished the Bride's tale in a spectacular fashion. Of course, fans have been clamoring for more, even over a decade later. It's no surprise that Kill Bill costumes are as great of a choice today as they were when the movies first came out, especially at any sort of cosplay event!
The great news is that we have made our own line of exclusive costumes and we've even made a full batch from the Kill Bill movies, including some of the most popular characters from the film. This quick little guide will highlight some of the most popular characters and costumes, and it should help you decide which costume is the right choice for you. We'll also show you a few toy weapons and accessories based on the movie, so you can perfectly accessorize your ensemble to look like you stepped right out of the movie.
The highlight of any Quentin Tarantino movie is, of course, the wild and interesting characters. From Pulp Fiction and Reservoir Dogs to Hateful Eight, his movies contain some rare windows into the lives of strange and extraordinary people. Kill Bill is no different. It looks into the lives of a group of assassins trained in the deadly art of swordplay… and that makes for one heck of a movie.
Which character best fits your look and personality though? Are you a Black Mamba kind of person, or are you more of a California Mountain Snake? Maybe you're no Deadly Viper Assassination Squad member at all! Maybe, you're a little more on the unpredictable side, like Gogo Yubari. Well, whichever category you fall into, you can find your costume below.
Beatrix Kiddo Costume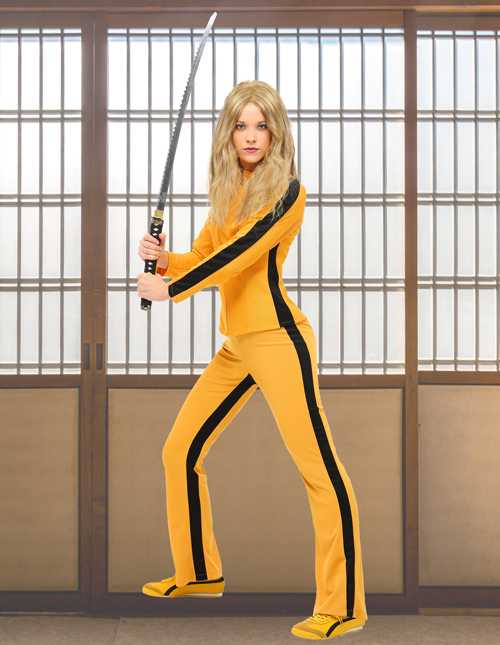 Of course, we must begin with the central protagonist of the movies, Beatrix Kiddo (spoilers, sorry), more commonly known as The Bride (not just A bride but THE Bride). Her tale is a tragic one! She merely attempted to quit her job to have a child with a run-of-the-mill kind of man, only to have her wedding interrupted by her ex-associates. Of course, you might have to expect that when your former line of profession lies in assassination! She uses nothing but her elite ninja skills to wreak havoc upon the Deadly Vipers Assassination Squad and eventually gain her revenge. If you're a tenacious woman with some crazy ninja skills, then this Beatrix Kiddo costume might just be the look that's perfect for you.
Gogo Yubari Costume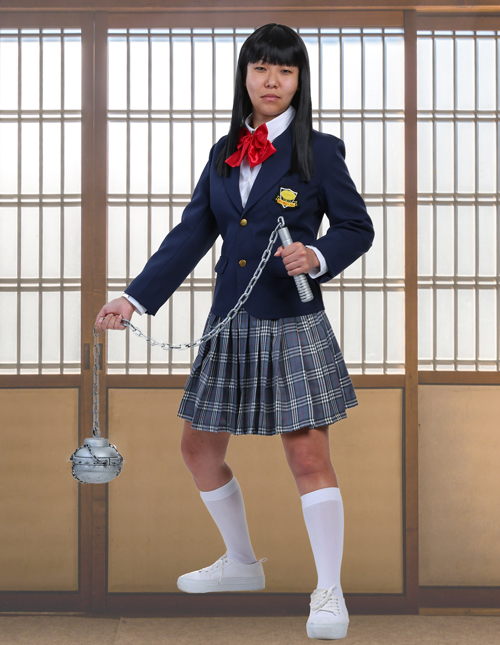 Gogo Yubari is a little bit unhinged, but you have to respect an unpredictable girl who wields a meteor hammer with deadly accuracy like her. She's O-Ren Ishii's right hand girl and she doesn't play around (despite the fact that she wears a school girl outfit). If you're the cute-but-dangerous and totally unpredictable type, then you might want to consider dressing up as Gogo. This officially licensed Gogo Yubari costume is a simple school girl style outfit, but it comes with small details from the movie, like a school crest on the jacket and a plaid skirt that matches the one from the film.
Elle Driver Costume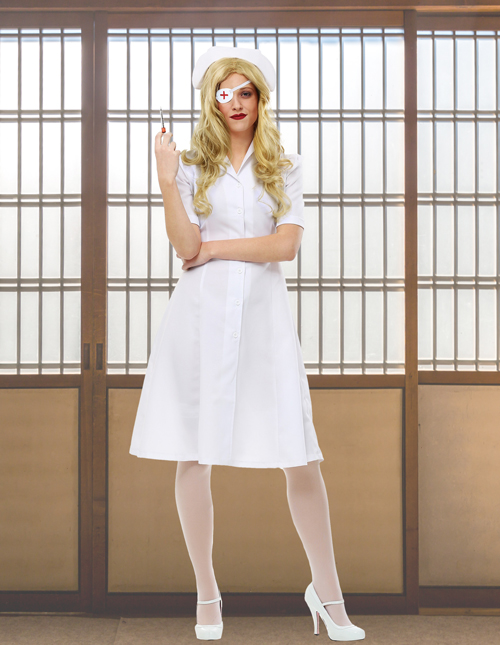 Few women are as cunning and deceptive as Elle Driver, known as the California Mountain Snake in some circles. She's a master of the sword, but she prefers more sneaky methods of fighting her foes. She even attempted to finish The Bride off once and for all while she lay in her hospital bed. She's definitely a cut-throat kind of woman who does whatever it takes to get what she wants. If that's your kind of style, then maybe you're an Elle Driver kind of person. This Elle Driver costume recreates the outfit worn by Darryl Hannah (you might remember her being a mermaid in the 80s) from the early scenes of Kill Bill Vol. 1. It's a simple nurse costume with a pirate-style eyepatch to enhance your deadly style.
Kill Bill Motorcycle Suit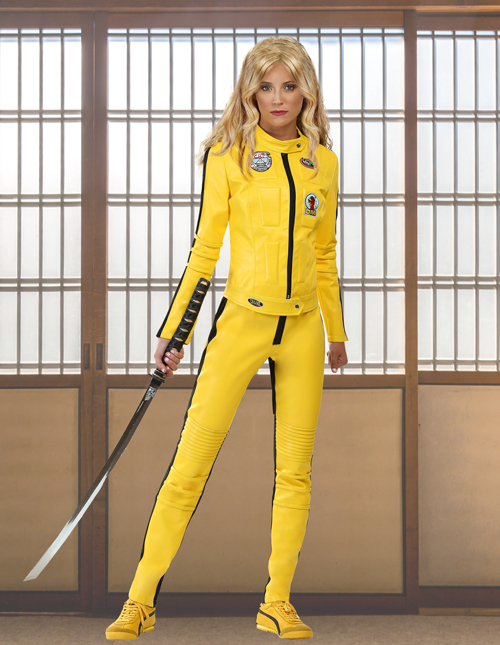 If ninja skills weren't already cool enough, The Bride is also quite skilled at riding a motorcycle. She tracks down the Crazy 88 gang while riding her yellow bike and she's definitely dressed for the occasion. She wears a stylish yellow motorcycle jacket that matches her bike and her Bruce Lee inspired fighting outfit. If you want to recreate that rebellious look, then you're going to want this Kill Bill motorcycle suit. It comes with a faux leather coat and a matching pair of pants to help you look like the most stylish assassin around.
DIY Crazy 88 Costume
O-Ren Ishii was a pretty big deal in the movie. Not only did she seize full control of the Yakuza, but she also employed a sizeable gang of the best fighters around. The Crazy 88 consisted of various swordsmen of skill, but according to Bill, there probably weren't a full 88 members. There may have only been around 40 members. Also, Tarantino may have been making a musical reference with their name and style, as a piano has 88 keys and the Crazy 88 wear black and white, much like the keys on a piano. The good news is that this black-and-white motif and the large number of members in the group make this a fairly easy do-it-yourself costume and it even makes for a great group costume.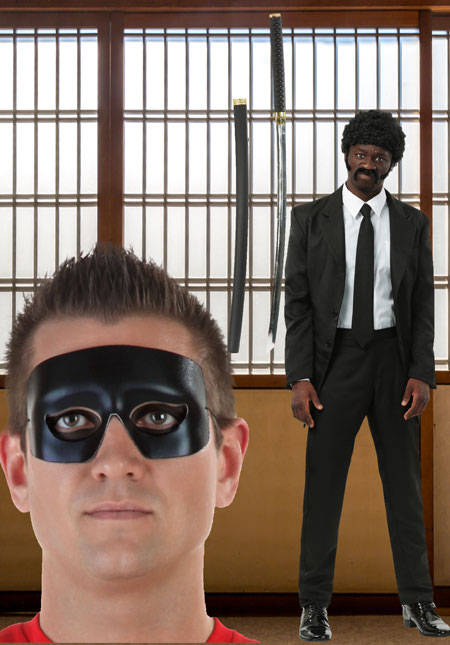 To make this costume, all you'll need is a few items. First, you'll need a black suit. We happen to have one designed for Pulp Fiction costumes, but since it's a basic black suit, you can use it here. Next, you need to recreate the mask. Each member of the Crazy 88 wears one of these black eye masks in Kill Bill Vol. 1, so wearing one is essential. That look can be achieved with this black eye mask accessory. Lastly, you're going to need a sword. The members of the Crazy 88 are known for their skills with a blade, so you'd better be packing a sword. Our officially licensed Kill Bill sword works well, as do many of our other toy swords. It's really all about selecting a sword that suits your own personal tastes. Once you've put the look together, you'll look fierce and stylish enough to defeat The Bride in 1-vs.-1 combat, or at the very least 1-vs.-88 combat!