Aquaman Halloween Costumes
DC Comics did what the masses never thought was possible, took Aquaman's costume, and made it cool. Arthur Joseph Curry, aka Aquaman, was notorious for having a silly costume. It really was a hard reputation to shake. Aquaman had to lose a hand before people realized how much of a bad behind he was.
The Aquaman movies did a number to elevate the character back to his Silver Age comic days. First of all, they took the orange from his original costume and decided to turn them into almost gold scales. It looks impressive and is appropriate for his underwater King status. They even toned down to the green, which was also a good move.
We think Arthur Curry is not only underrated but underappreciated. He is the king of the oldest city on the planet (that we know of) and rules 2/3rds of the Earth. Green Arrow or The Flash might be, well, flashy and exciting, but none of them hold a (waterproof) candle to our seafaring superhero! If you agree, you must check out our Aquaman Halloween Costumes.
Mera Costumes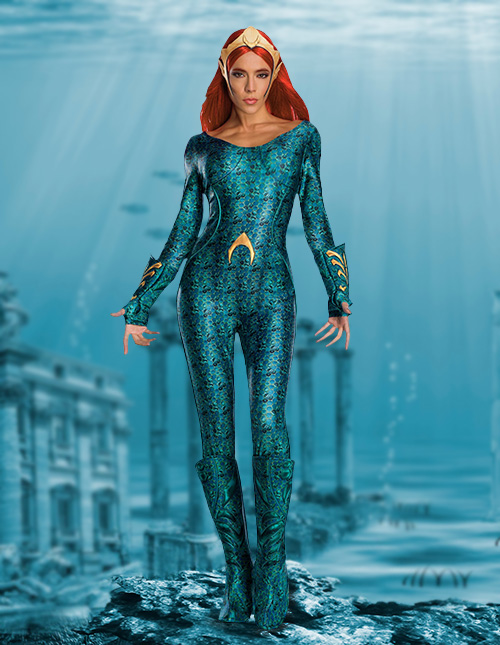 Mera is a fantastic choice if you are looking for a strong female character. For a long stretch of her comic book career, she only played a supporting role to Arthur. In recent comics, she has been featured more prominently (even in the Justice League!). It is interesting seeing her ruling style versus Aquaman's.
Mera is a native Xebellian, so she is a bit more war-hardened than Aquaman. Aside from her warrior prowess, she has some pretty extraordinary hydrokinetic abilities. She's even been a sorceress in other DC Comics. If you are looking for a great Halloween look, check out this Mera Costume.
Adult Aquaman Costumes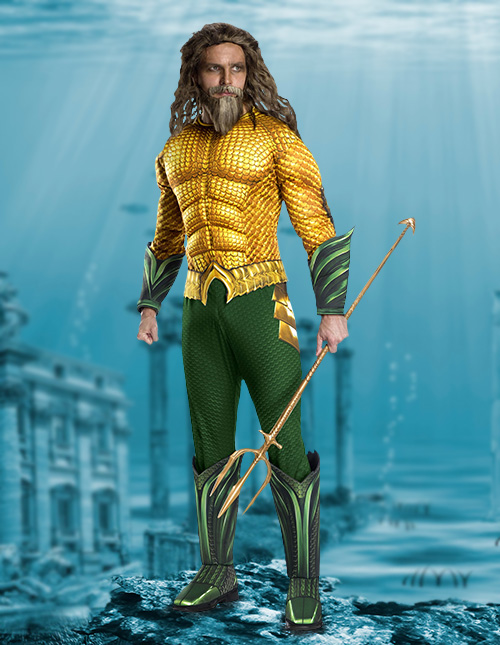 People give Aquaman a hard time, but he is a powerhouse, even compared to Superman. Think how strong you must have to be to survive deep underwater without a diving suit. Atlanteans don't seem to mind at all, especially the ultra-strong Arthur Curry.
Due to his human/Atlantean physiology, Aquaman also has the bonus of not getting as dried out when he is on land for a prolonged period. However, his strength increases tremendously when he is in or near water. If you want to improve your costume game this Halloween and need an underwater hero, check out our Adult Aquaman Costume.
Kids Aquaman Costumes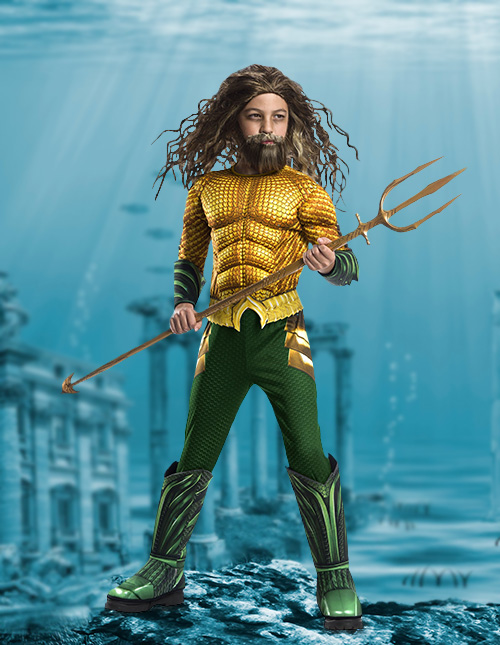 Can you imagine being Aquaman? Growing up your whole life "talking to fish" and knowing you are different from anybody you have ever met. Thank goodness Nuidis Vulko provided him with guidance, or the poor prince might have thought he was going crazy.
Kids have wild imaginations. If you want to help foster your child's wishes for underwater powers, you must check out our Kids Aquaman Costume. Your child will have a ton of fun using their aquakinetic abilities while washing their hands or running the bath. Have a blast while making a splash with this Kids Aquaman Costume!
Classic Aquaman Costumes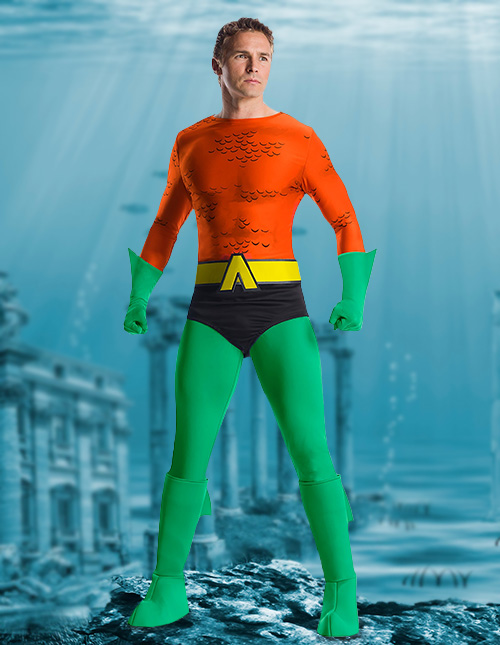 Classic Aquaman gets a terrible rap for some reason. It may be the whole "talks to fish" thing, but if you really sit down and think about it, being able to communicate with sea life is a pretty fantastic ability. And we don't care what anybody says—going jet-skiing on dolphins looks sick.
Aquaman isn't just your everyday hero. Like many heroes who are also rulers of large ancient kingdoms, Aquaman spends much of his time helping surface dwellers but gets a little scorn from his fellow Atlanteans for this. Give Arthur Curry a little support and check out this Classic Aquaman Costume.
Aquaman Costume Accessories
Every superhero has their unique gear. Well, most superheroes do. Aquaman is one of the rare characters who has everything he needs in hand. There have been countless Aquaman stories where he infiltrated a sub-marine station with nothing but his bare hands. We'd like to see Batman do that!
Seriously, every superhero has their own strengths, but the right equipment can make the difference between saving the day and world domination. Okay, that might sound like an exaggeration, but it's a legitimate concern when you live in a galaxy where aliens could land any minute!
Aquaman's powers are pretty well known: super strength and durability, marine-life communication, and insane swimming speeds. He needs his Trident to manipulate water as he does in the movies. When Arthur really concentrates, he can pull off some amazing feats with his weapons. If you want to work on your Trident skills, then check out our Aquaman Costume Accessories.
Aquaman Trident Replicas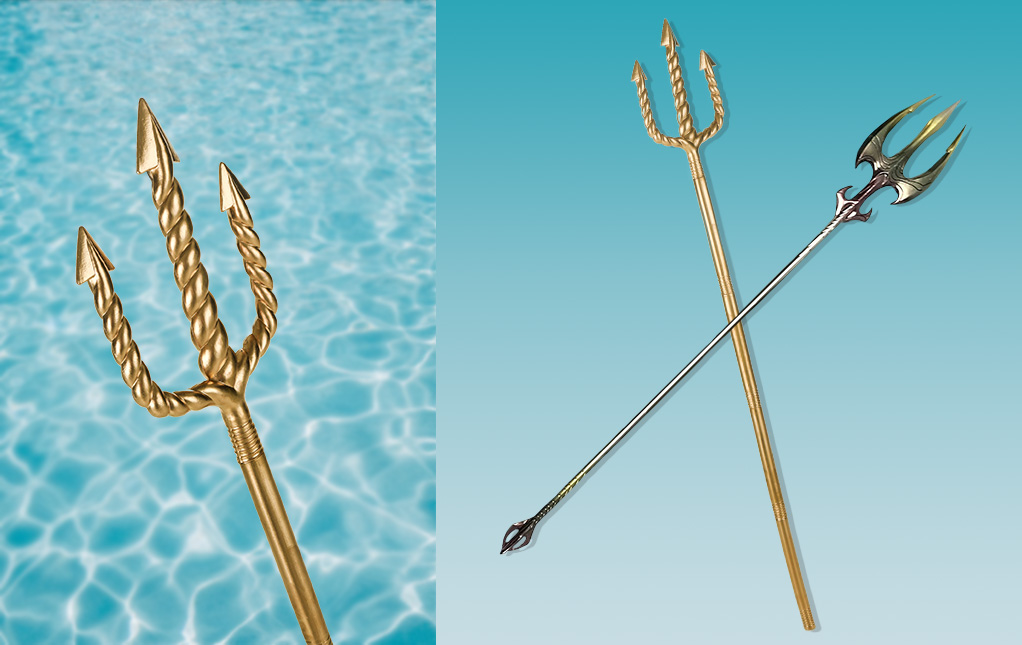 Aquaman's Tridents has a lot of symbology. In the DC Extended Universe, he can channel his powers into the Trident to significant effect. In the comics, the Trident was King Atlan's, but it was given to him by his Queen Mother Atlanna in the movies, as it is technically his birthright.
The weapon is referred to as the Trident of Neptune in the graphic novels. It is made of an ancient metal (Nth metal, it's a whole thing), with various mystical properties and near unbeatable strength. We can't promise that our Aquaman Trident Replica will give you a superpower, but it will make you look superb.
Aquaman Wig and Beard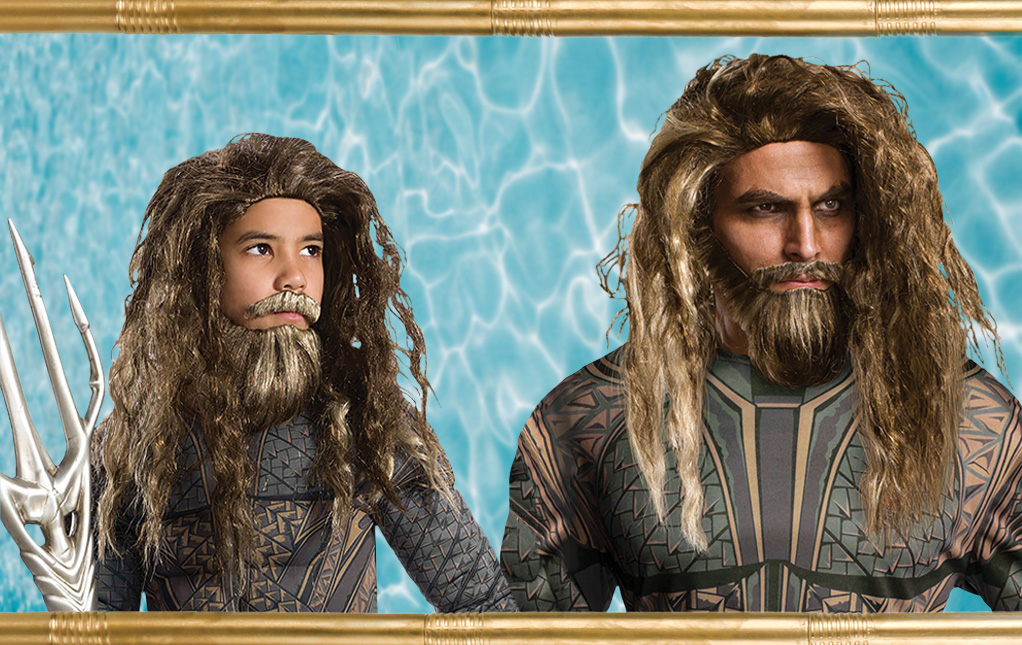 Aquaman wasn't always the rugged warrior that we know of today. Back in the day, he used to be a clean-cut, pretty blonde. Truthfully, we like both character iterations, but the newer, tattooed version of Aquaman simply cannot be denied.
Arthur was an excellent amalgamation of both versions of this character in the old, animated DC shows. He was still a gorgeous blonde, but he had a nice and rugged beard and long flowing dredded-up locks. If you are a fan of Aquaman and want to complete your costume, you must check out this Aquaman Wig and Beard.