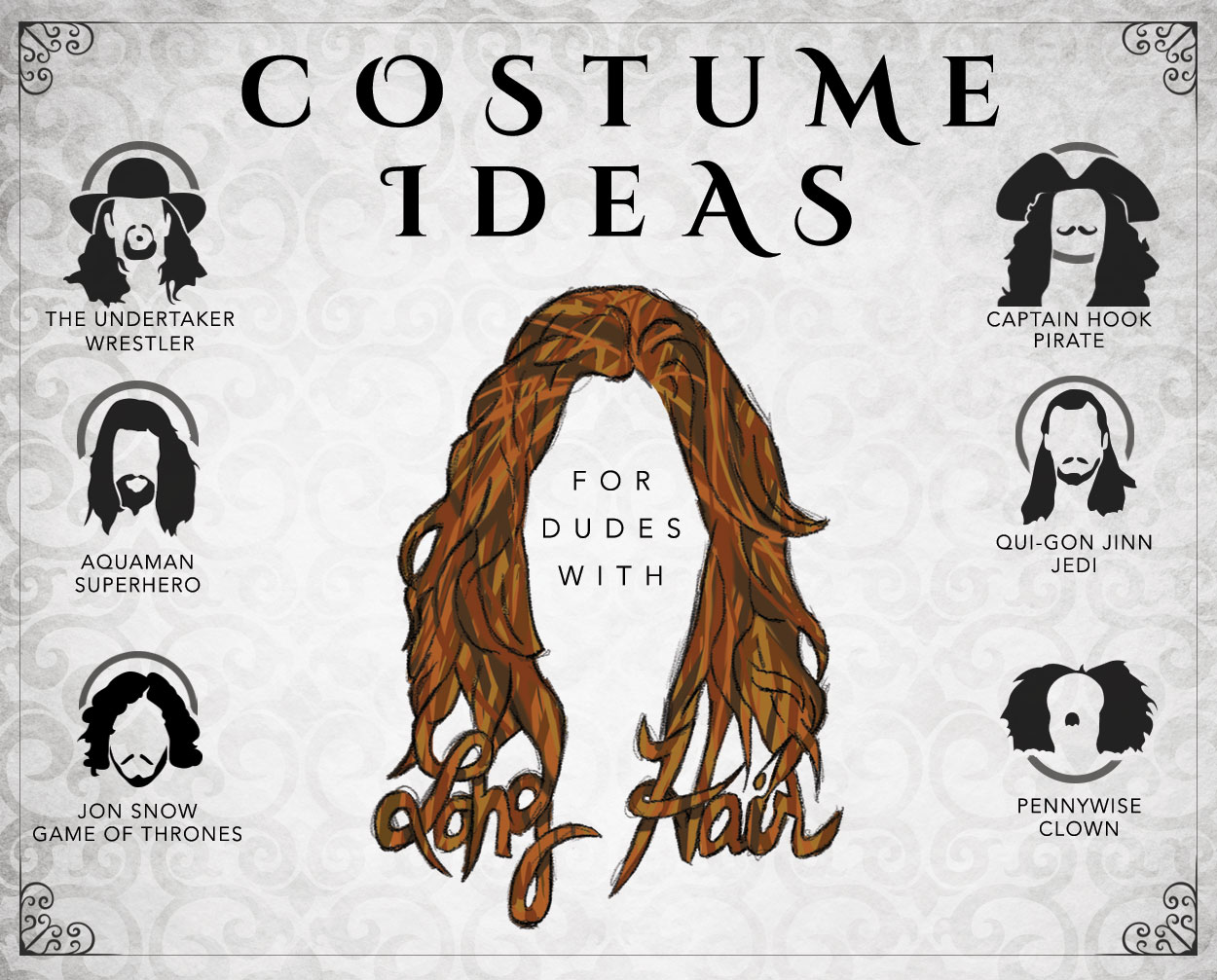 Hey long hair guys, do you need a costume for Halloween, a party, a comic book convention, or any other special event? Well, we have some great outfit ideas for guys with long hair! It's important to take advantage of those long, luscious locks of hair when coming up with costume ideas. After all, there are people who pay a premium for wigs to go with their costumes, and wigs are certainly not as comfortable as the hair on their head! Sure, you could DIY men's Halloween costumes, or you could check out our ultimate guide that's full of costume ideas for guys with long hair. You've already got the hair, so your costume is halfway complete!
1. Joker Costumes
DC's famous Joker wouldn't be anything without his green hair. He pulls it off in many of his multiple appearances, and in an incredible performance by Heath Ledger in The Dark Knight, he rocks mid-length green hair that matches his vest. You've got the hair, now just get the Halloween costume and you're set! Should you feel more of a connection to the Clown Prince of Crime's more cartoonish clothes, simply slick back your long green hair for another sinister style. We have quite a few Joker costumes to satisfy your inner villain.
2. Pennywise Costumes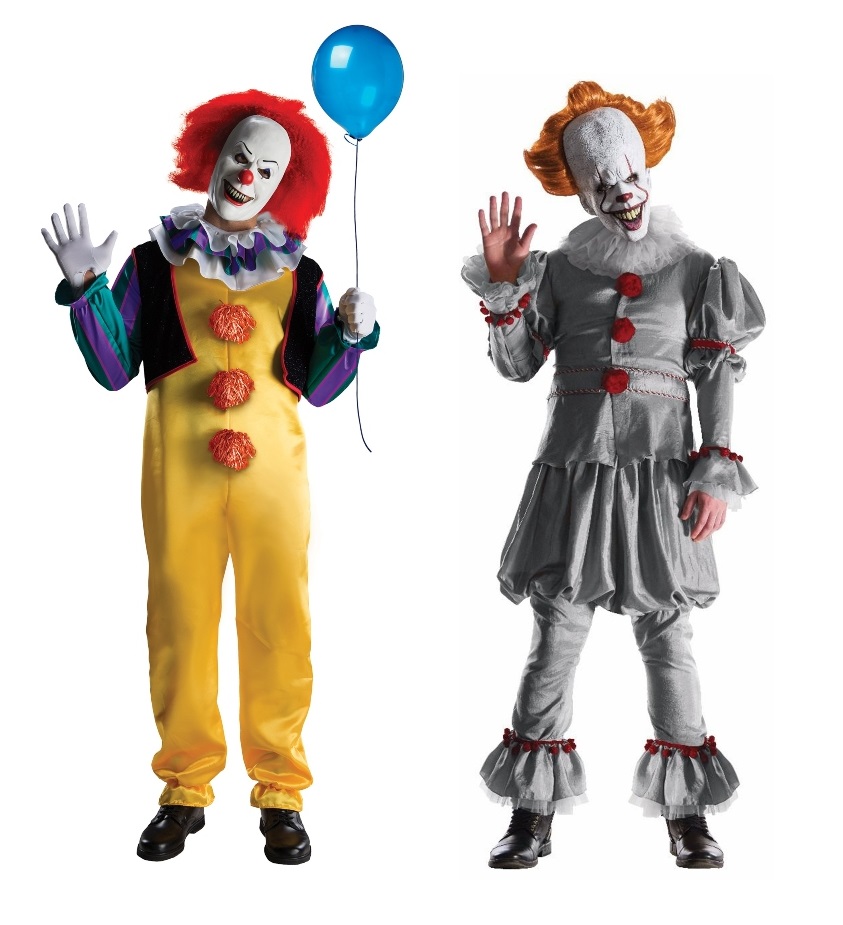 Even if your hair is only a few inches long, that's long enough to stand it up for a crazy style. Typically, the hair is the identifying factor saying "this guy is a little bit off the rails". These Pennywise costumes show off our favorite evil clown's signature bald style with bright, long clown hair. While this is typically achieved with a number of Halloween masks, if you can rock it with your own natural hair, flaunt it.
3. Beetlejuice Costumes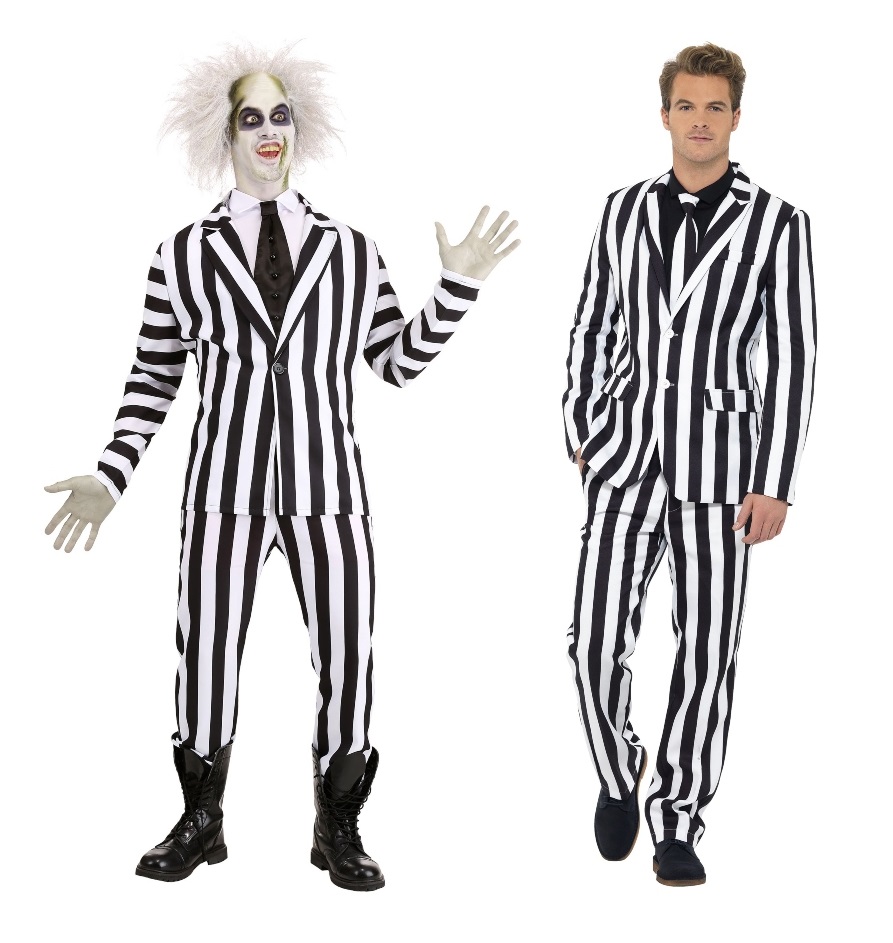 As long as we're talking about men with crazy hair, you can't pass up the iconic Beetlejuice. He has a shock of medium-length white hair that's sticking out in all directions, not unlike Albert Einstein. (Although he's not exactly a genius, as he gets outsmarted by a goth teenager and a dead couple.) Just make sure that if you dress in a Beetlejuice costume, you bring enough energy and weirdness to the character you're portraying!
4. Hippie Costumes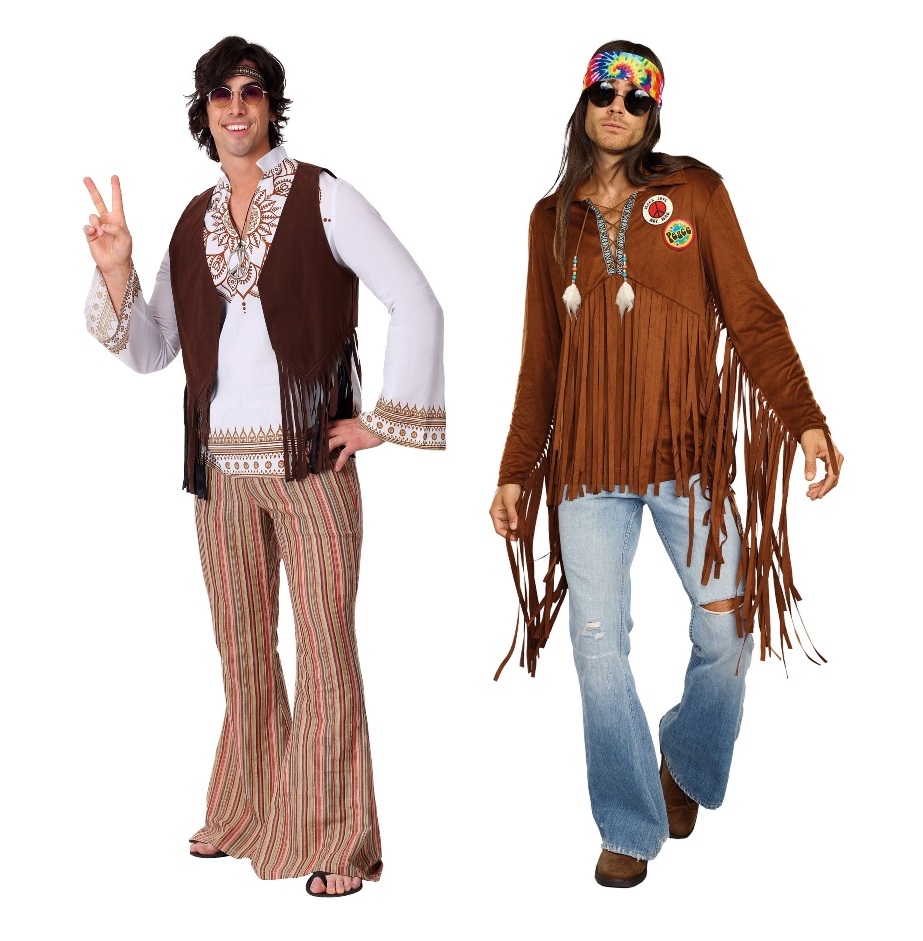 Want some more options? Take a trip through history and you'll find a wide selection of costumes with long hairstyles. Eras like the 60s and 70s were years of rebellion, which included refusing to cut your hair to conform. These hippie costumes are perfect last-minute costume ideas if you have long locks that you like to leave without styling. Don't forget to top it off with a cool headband!
5. Mad Hatter Costumes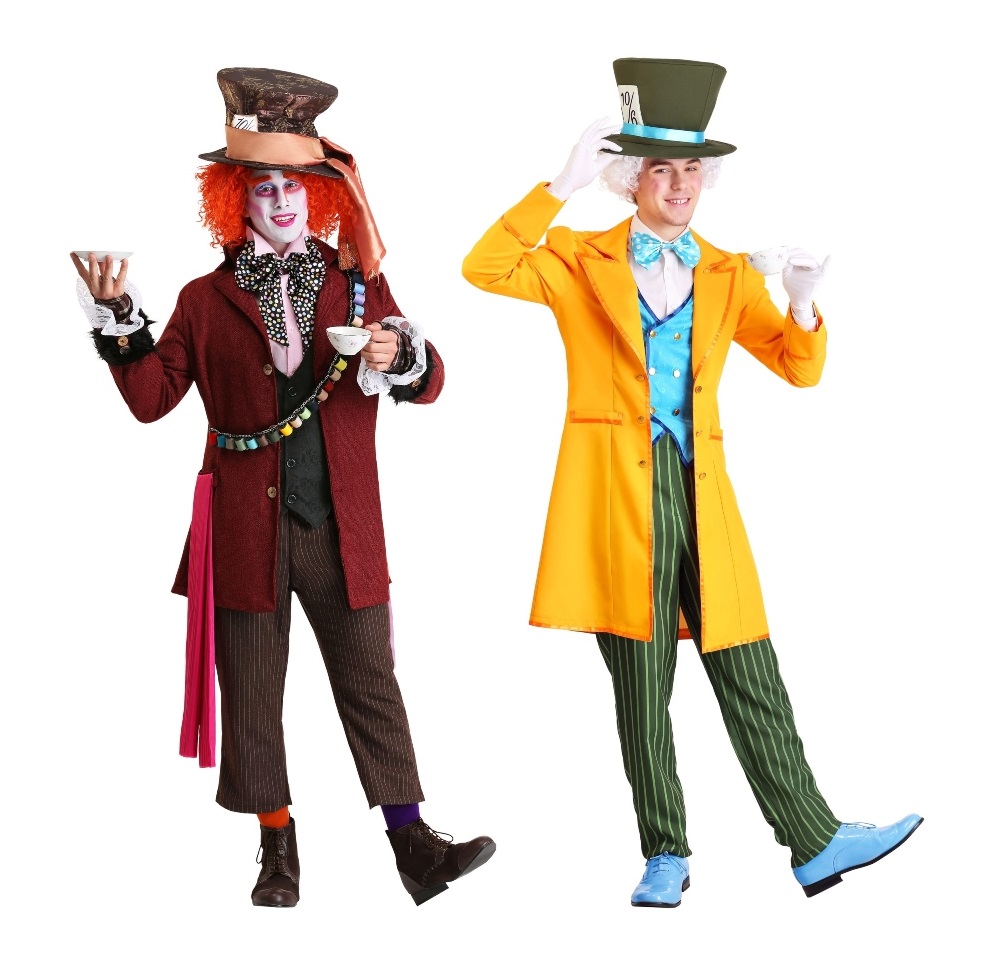 No other character is quite as prolific as the Mad Hatter. This book character has been portrayed so many times, from cartoon and live-action movies to TV shows and even video games. Naturally, you can find tons of different Mad Hatter costumes! He's often depicted with mid-length to long hair that's also a bit wild and puffing out from under his oversized hat. Don't forget to wish everyone a Merry Unbirthday!
6. Randy Watson Coming to America Costumes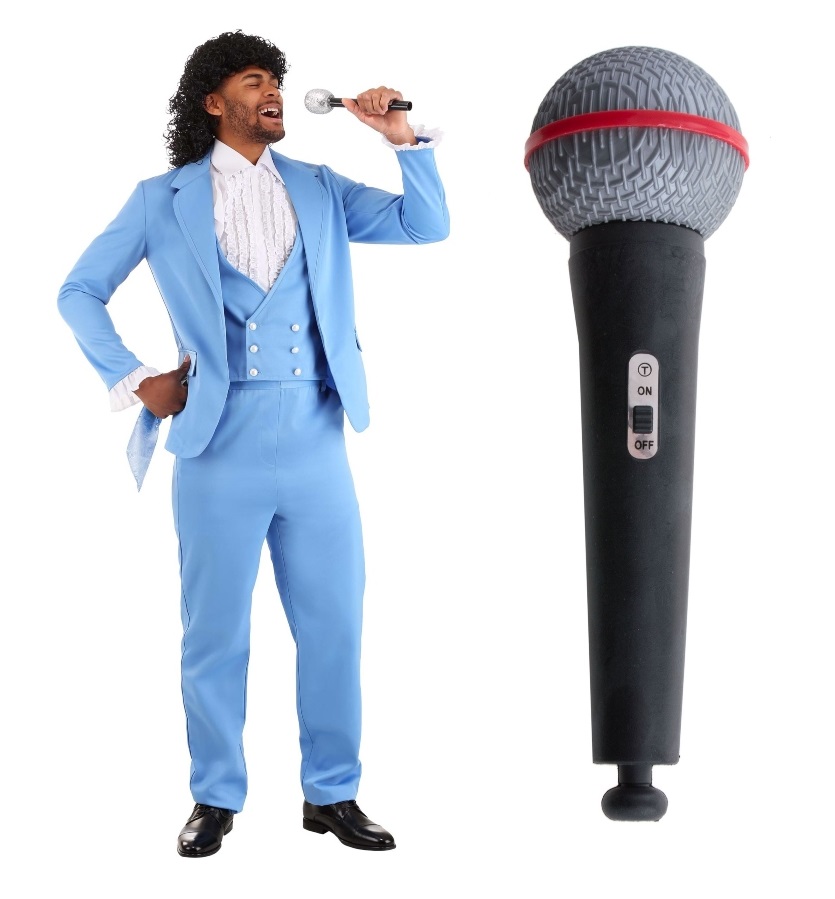 Perhaps you're so proud of your luscious mane that you'd like to dress up in a fancy blue suit! It's hard to forget Randy Watson from Coming to America and his band's performance. Sure, this frontman lacks talent and probably only was able to land a gig at his local church, but his hair is the real star here. This Eddie Murphy costume is sure to be a favorite for fans of the iconic actor!
7. Thor Costumes
From Norse god to Avenger to honorary Guardian of the Galaxy, Thor's just one of those guys that can do it all. If you're a dude blessed with long, blond locks, this Thor costume was made for you! (We know you have always wanted to see if you were worthy of wielding Thor's hammer!) Bro Thor is even a good option for big and tall guys that love superheroes (and video games). Just...maybe don't use your Asgardian status to get back at snarky little kids on Fortnite.
8. Jack Sparrow Costumes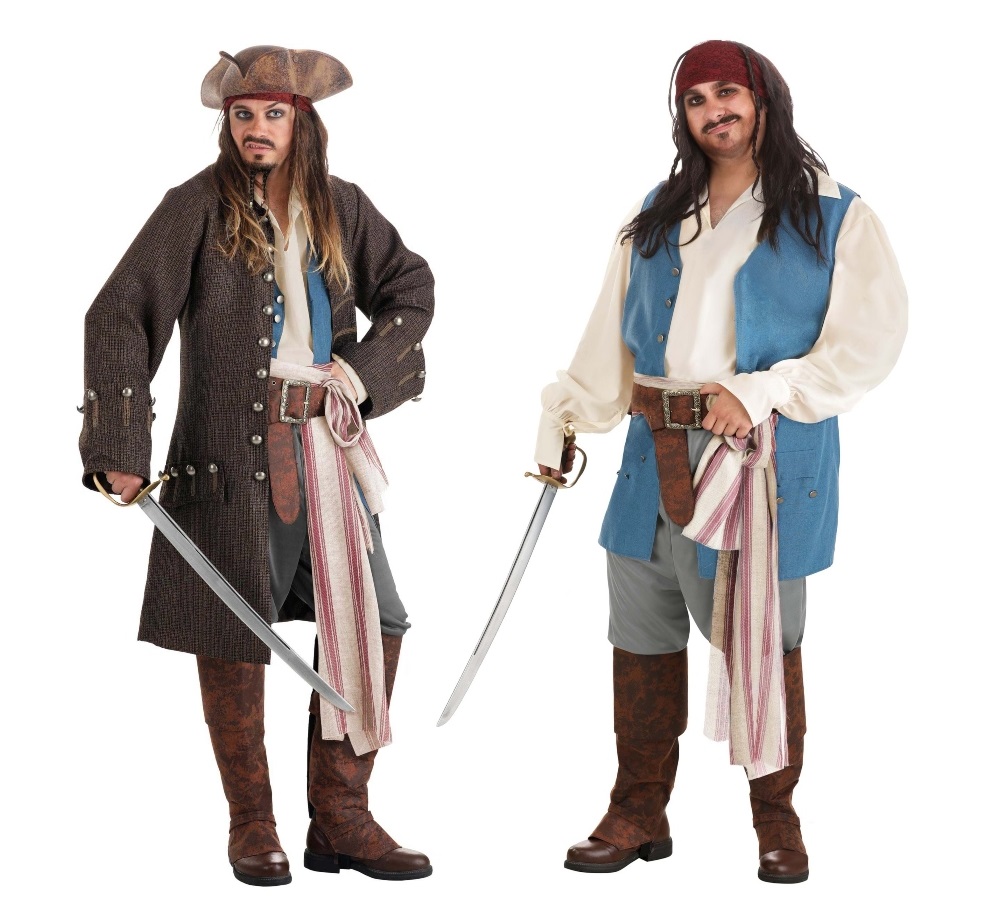 There are a lot of identifying factors when it comes to pirates. Jack Sparrow may be one of the most familiar after so many Disney movies, but his long locks are identifiable anywhere. However, it feels like most pirates have long hair. (Of course they do! There's no barbers of the seven seas.) You may end up with an accidental haircut during a sword fight though. You can even look on Pinterest for some long hair ideas for guys, because pirates with long hair often have it curled, wrapped or beaded. Once you've got your hair accessories planned out, just order a pirate costume online and you'll be ready to sail the seven seas of Halloween. (Is that a thing? It is now!)
9. Aquaman Costumes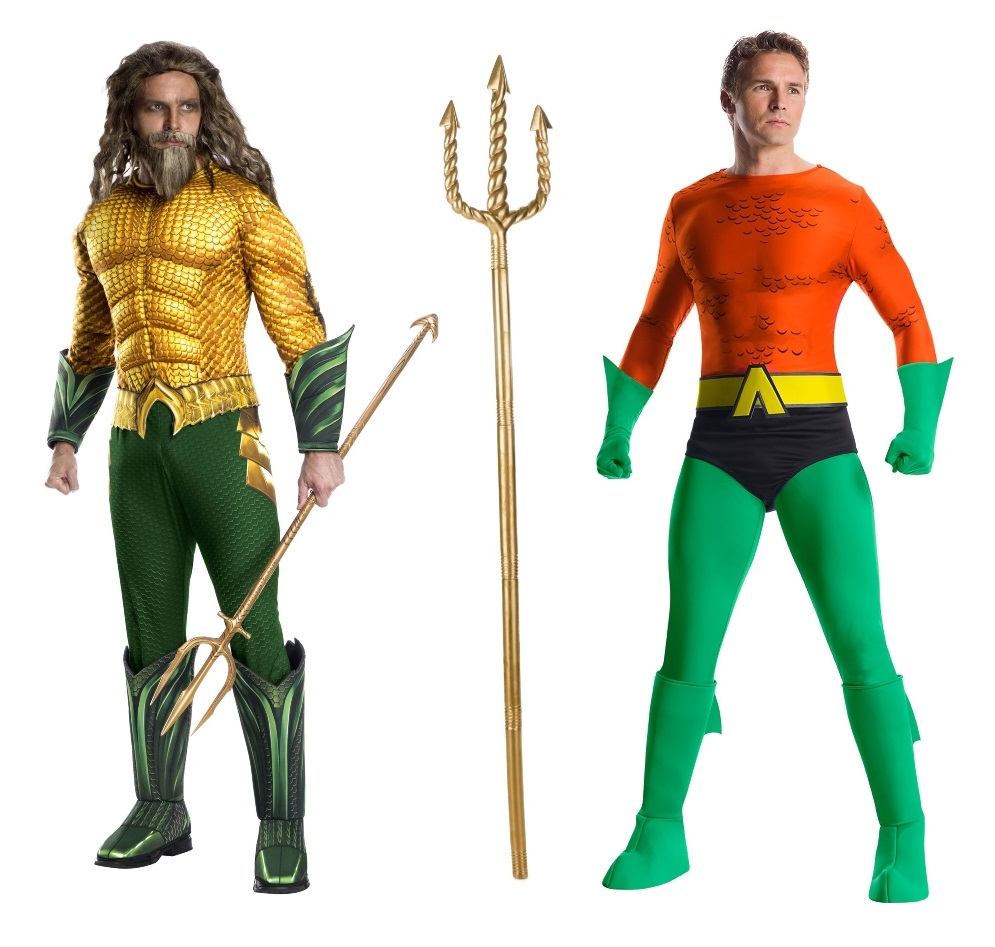 Jason Momoa's live-action depiction of Aquaman is one of our favorites. His long, flowing brown locks give us some serious merman vibes. Even his typically blond comic book appearance let his hair down in recent years! It doesn't matter if you prefer classic Aquaman or his movie counterpart—your long hair is all you need to pull off this Aquaman costume! (Although a gold trident wouldn't hurt, either.)
10. Forrest Gump Costumes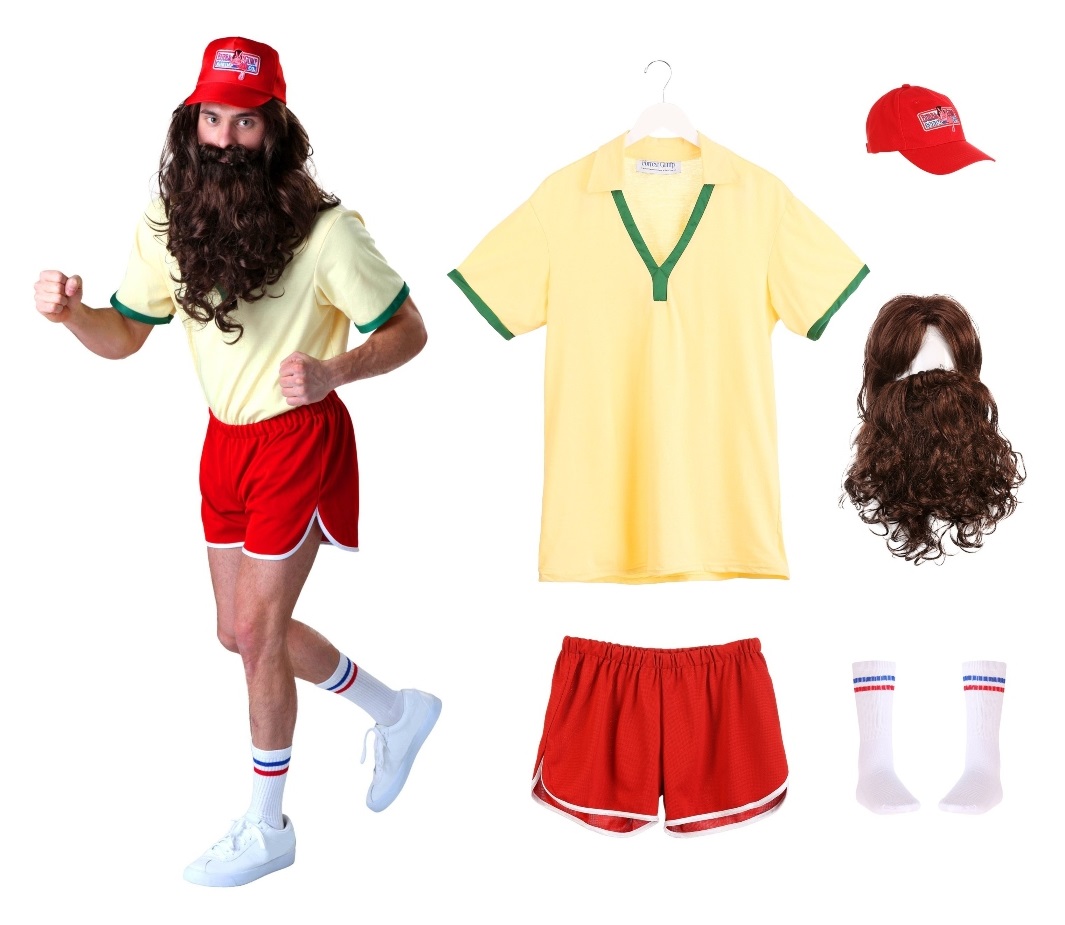 Are you hunting for an iconic movie costume for guys with long hair? Maybe also a costume that's extremely comfortable? Get the best of both worlds with this running Forrest Gump costume. Forrest didn't always have long hair, but he really let it grow out when he decided to run across America. If you're a guy with long brown hair, this is one costume that you shouldn't miss!
11. Renaissance Costumes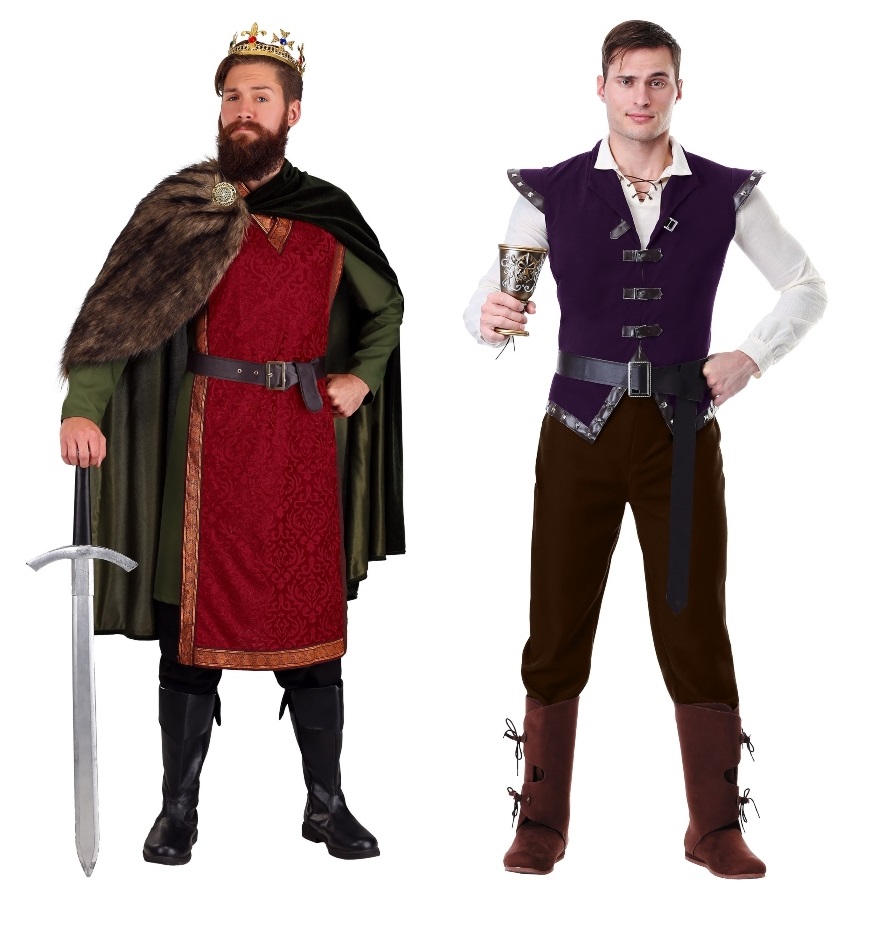 Just like men now, men historically sported a number of different hairstyles from short and trimmed to long and flowing. If you're a dude with long hair, there's no doubt that you can pull off any one of our Renaissance costumes. Maybe you're a history buff, or you just like eating turkey legs and drinking mead at the Renaissance Festival. You can choose to dress like royalty or one of the common folk, and your hair will support you no matter what.
12. Captain Hook Costumes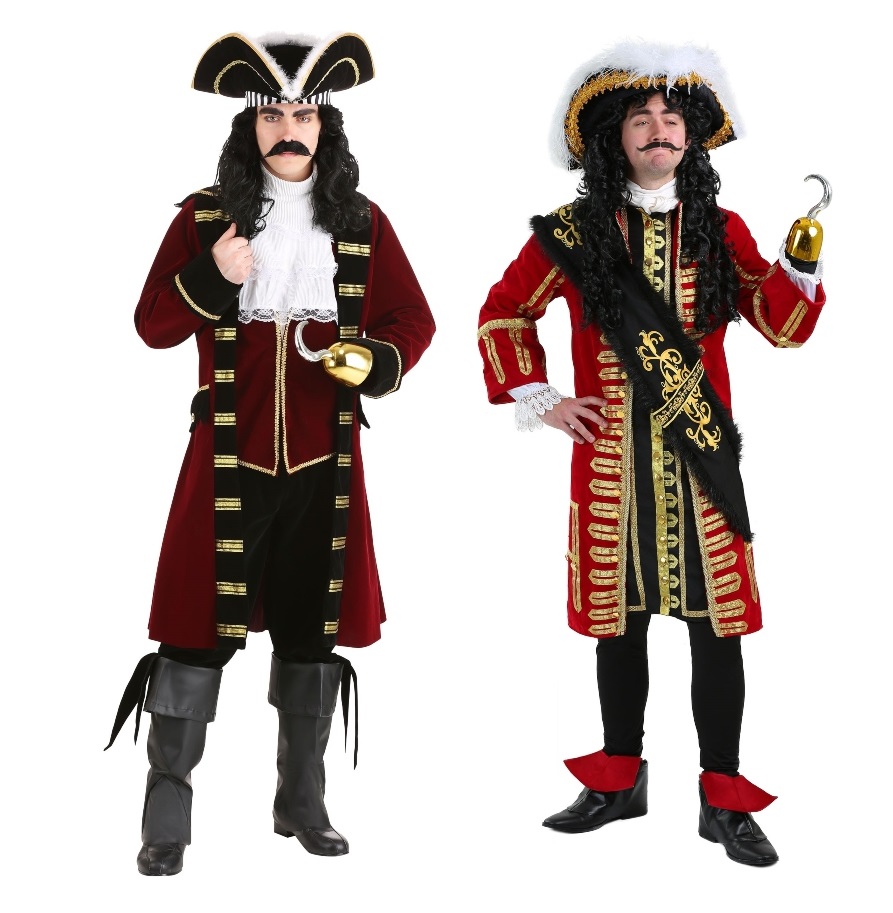 Pirates may not have had their own personal barbers while at sea, but Captain Hook has to be the exception. (His hair is immaculate!) Captain Hook is often depicted with long black hair, which is usually wavy or even curled, and without a hair out of place. He also has a long black mustache that he loves to twirl when he's feeling just a bit evil. We'd love to see how you decide to wear your own Captain Hook costume! (Make sure to keep an eye out of ticking crocodiles.)
13. The Dude Costumes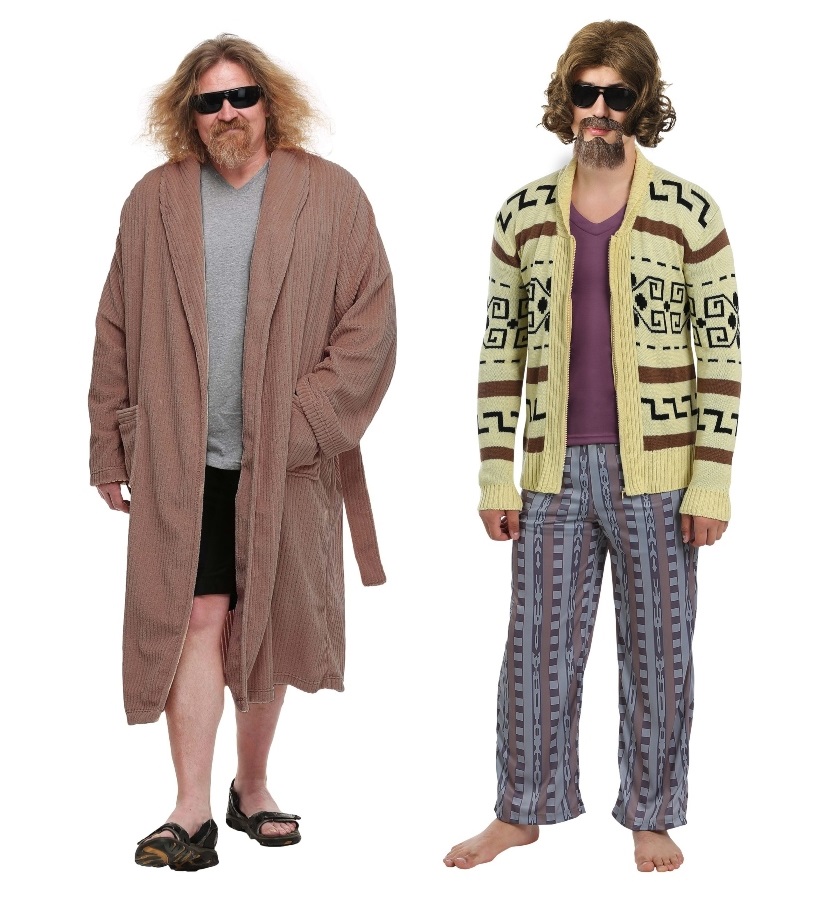 While there aren't many Halloween costumes for guys that will give you the license to wear a bathrobe out on the town, The Dude is a great exception to that rule. (As an added bonus, you can also keep a White Russian beverage on hand as a "costume prop".) The Dude's easy-going attitude and lifestyle only make this The Big Lebowski costume that much more appealing if you want a license to chill on Halloween.
14. Michael Jackson Costumes
Are you ready to tear up the dance floor at your next Halloween party? perhaps you're already picking out the karaoke songs you'd like to perform. Long hair is synonymous with some of the biggest rock legends of all time. Whether your costume is equipped with psychedelic colors, leather jackets, face paint, or anything else, the hair is what lets people know "I'm here to get loud". Throw on your rock star costume, grab a mic, and get ready to make a scene on Halloween. If you can pull it off, a signature Michael Jackson moonwalk always goes over well.
15. Macho Man Costume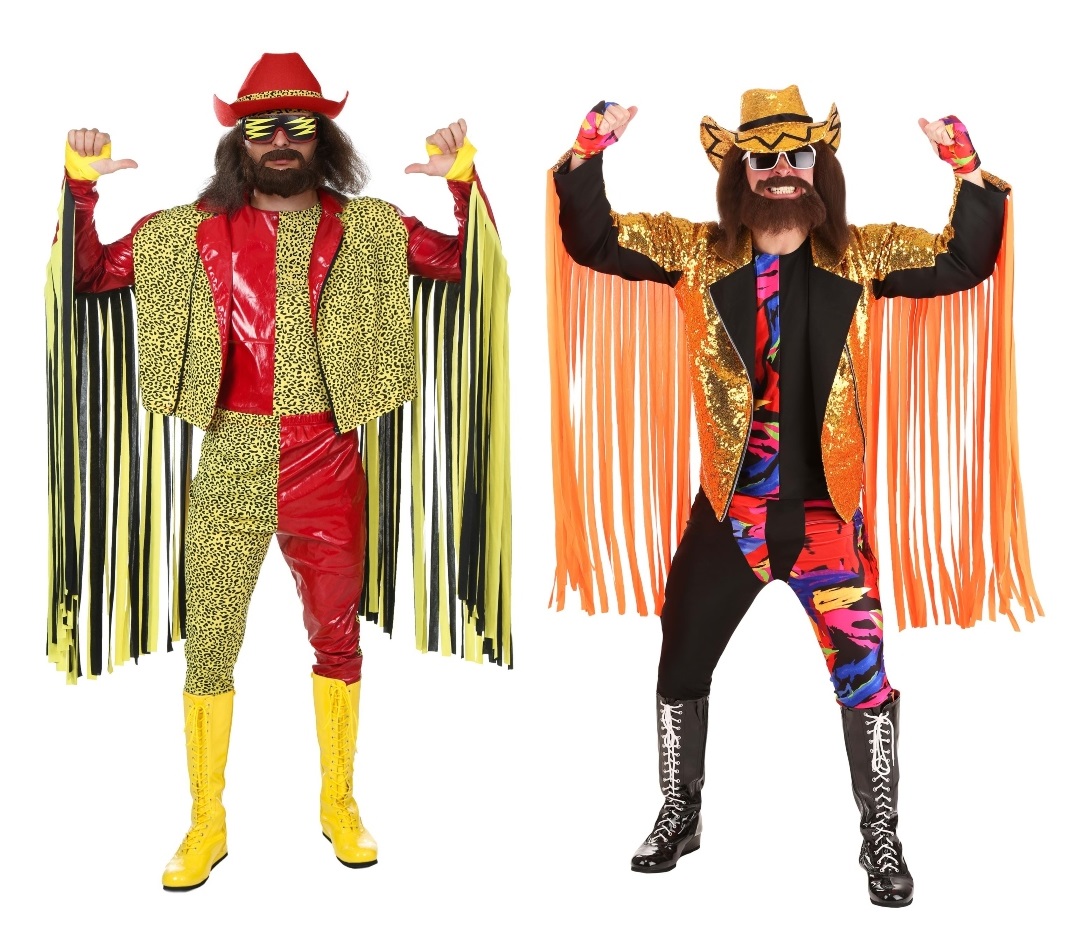 Ohhh yeah! Some of the most legendary professional wrestlers kept their hair long, including the iconic Macho Man. Maybe they felt that it was an important part of their distinguished look? But, it sure didn't help when someone would pull them by their hair, or grab it in order to smash their face into the turnbuckle or the ring. Thankfully, you only have to worry about looking cool in your WWE Halloween costume.
16. Gandalf Costume
Maybe you have weathered a few Halloweens, and your once colored hair is now simply long and gray. Well, that doesn't mean you have to stop having fun on Halloween! Maybe you could try harnessing the powers invested in your gray locks with a Gandalf costume from Lord of the Rings. As the most powerful character on screen, there are so many people that only wish they were as cool as Gandalf! When you look at younger wizards such as Harry Potter and his Hogwarts acquaintances, nobody seems to be growing their hair out. There must be a point in a wizard's life when they become too busy for hair maintenance. Since these are essentially just robes, they make for great, easy costume ideas for guys.
17. Jon Snow Costumes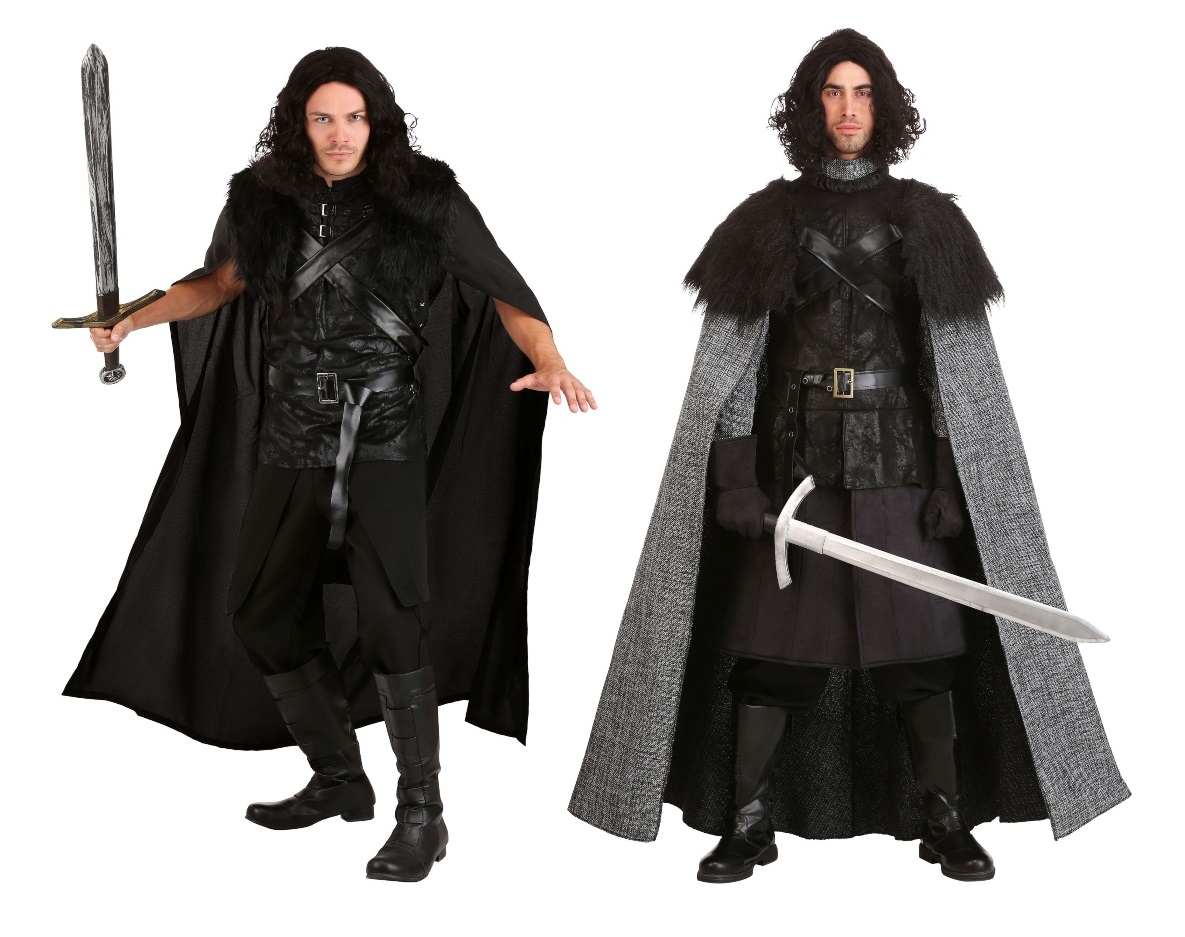 When you play the Game of Thrones, you either win or you die. However, if you dress up as Game of Thrones characters, you'll always live to fight another day. (Even so, you'd have to survive a lot of battles for your hair to get as long as Khal Drogo's!) A more realistic hair length lies with favorites such as Jon Snow or Ned Stark. Find these and similar Game of Thrones costumes at HalloweenCostumes.com.
18. Hulk Hogan Costumes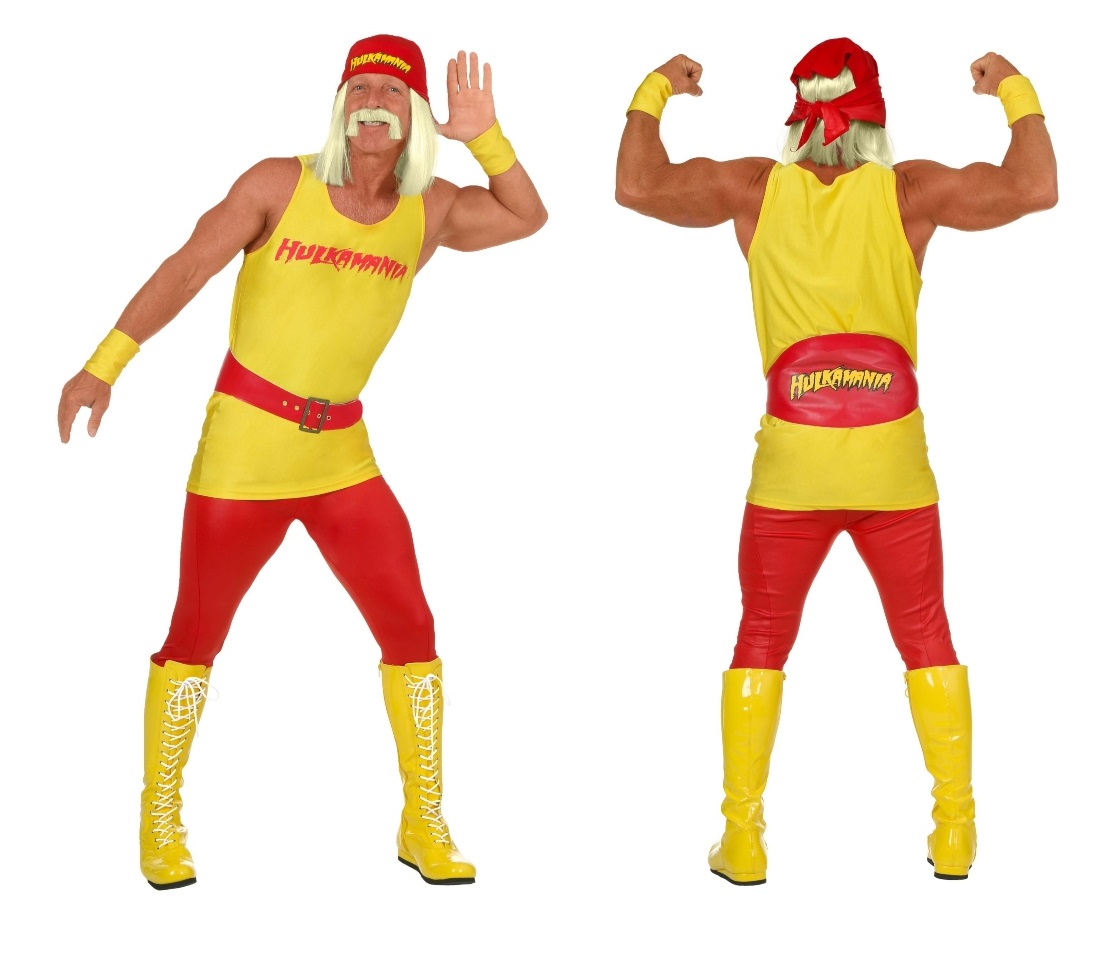 Do you remember what we said earlier about guys in professional wrestling with long hair? Well, it would be a shame If we left out Hulk Hogan! His shoulder-length blond hair and iconic mustache made some serious waves in the ring, so you know you're a winner when you wear this Hulk Hogan costume.
19. Caveman Costumes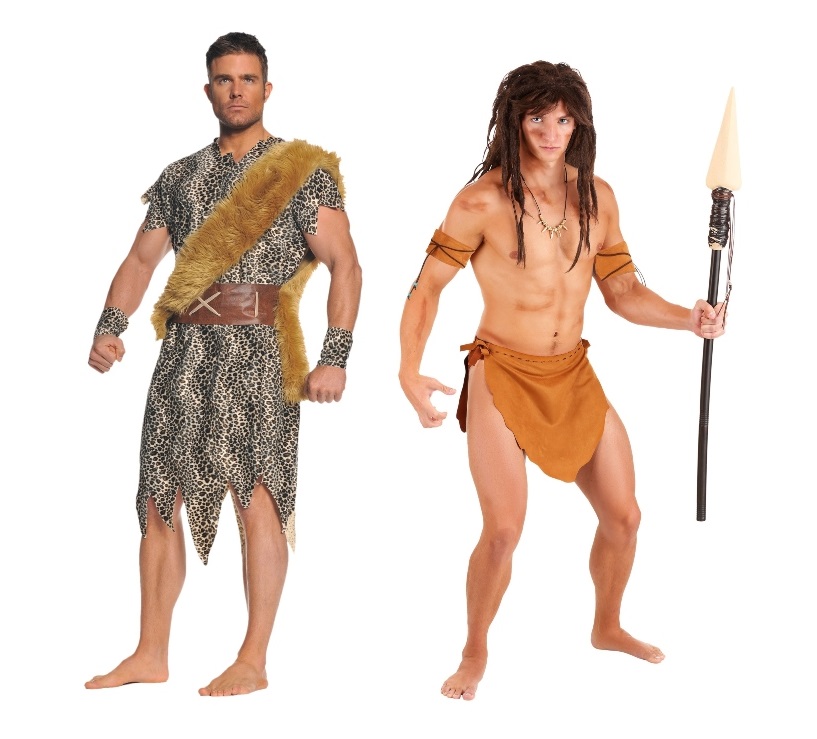 Want some more options? Obviously, there were no barbers in the days of cavemen, so long hair goes well with these prehistoric costumes. (Somehow, that didn't keep Fred Flintstone from maintaining a clean look!) Cartoon characters aside, a Tarzan costume also works well as a caveman too. However, should you want to lean into the Tarzan theme instead, you're more than welcome to it!
20. Doc Brown Costumes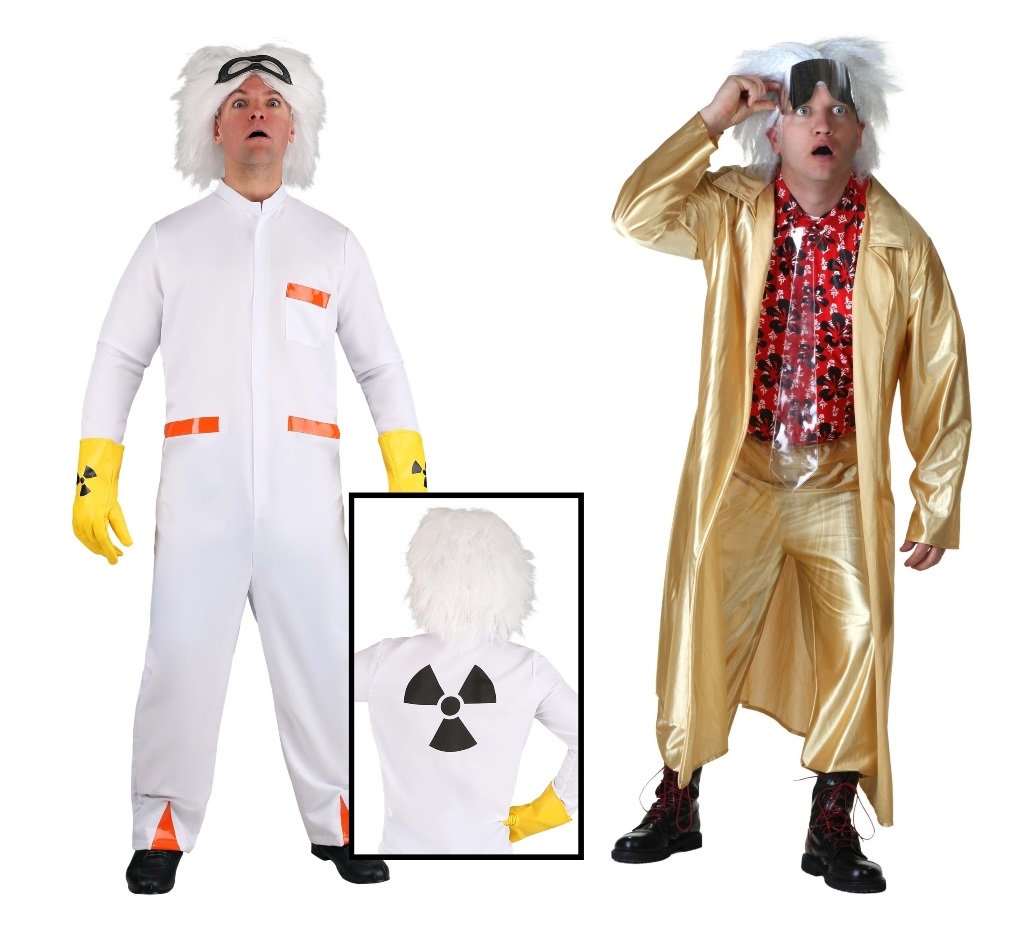 You may not have a handle on time travel yet, but you are capable of wearing these Back to the Future Doc Brown costumes! With his shock of wild white hair, you don't have to worry about styling much. Guys with white hair are absolutely perfect for this costume, but you can also use white hair spray to achieve a similar effect. If you have the hair for it, it's often much more comfortable than wearing a wig for Halloween!
21. Dr. Gonzo Costumes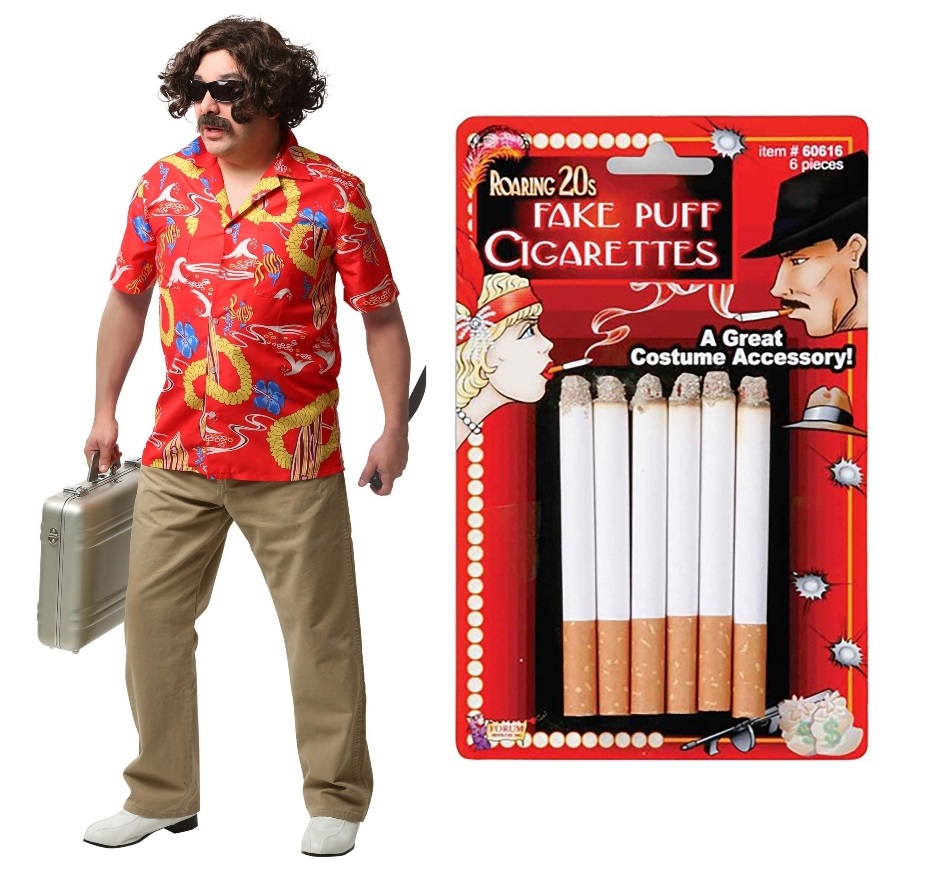 Dr. Gonzo from Fear and Loathing in Las Vegas has a shock of wild hair that also fits his personality. While he accompanies Raoul Duke on a trip to Las Vegas, they go through one misadventure after another. His outfit is fairly simple with this wild printed shirt and khaki pants, but the hair is the key to unlocking this Halloween costume's full potential.
22. Blades of Glory Costumes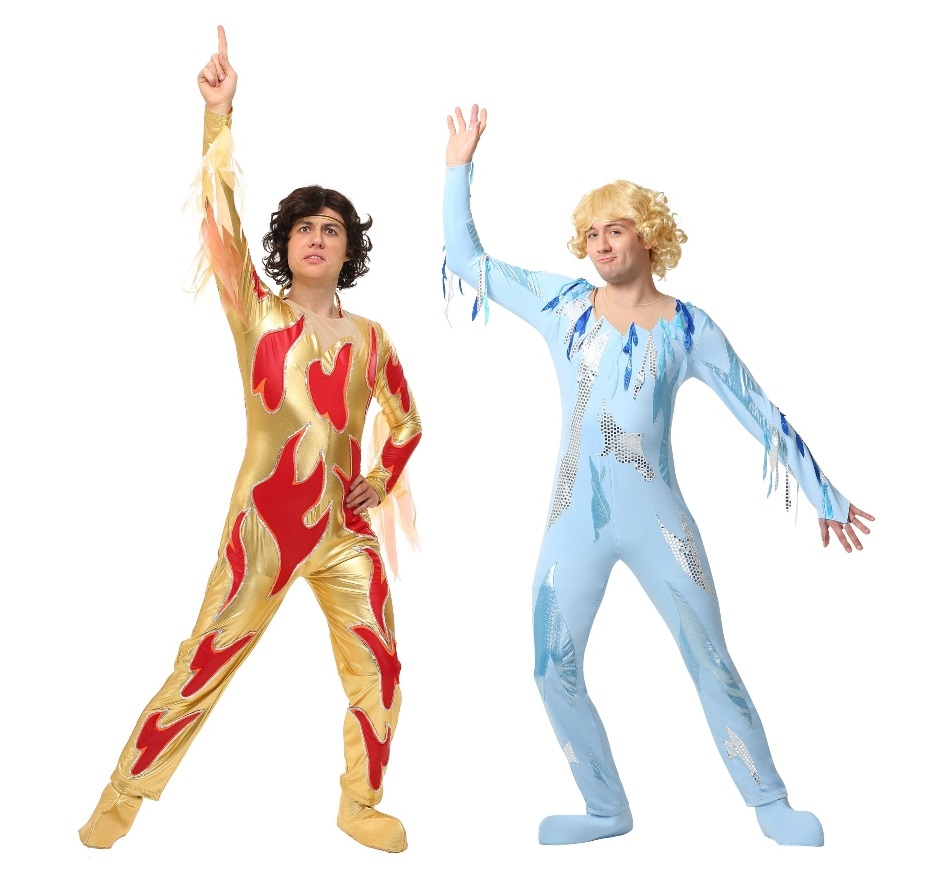 There are some costumes that just work better as a pair, and it's hard to overlook these Blades of Glory costumes when they have not one, but TWO guys with long hair. If you're in the market for funny Halloween costumes for guys, this comedy movie duo is sure to please. They may not have the longest hair on this list, but some of that length is of course hidden in the wondrous waves. Regardless of how long your hair is, you'll be able to easily portray these iconic characters from cinematic history.
23. Witcher Costumes
Most of the long-hair costume ideas on this list have been from TV shows and movies, but we simply can't overlook Geralt of Rivia from the popular Witcher video games and novels. This silver fox of the School of the Wolf fights monsters with two swords, and he wears his long hair in a variety of ways. Just...make sure not to slay any monsters at your next convention or Halloween party while wearing your Geralt cosplay.
24. Legolas Costumes
As a guy with long blond hair, you may have been compared to Legolas—and we'd call that a compliment! He's one of the best fighters in the fellowship, capable of taking down Oliphaunts in the heat of battle. Naturally, you need a Legolas costume to seal the deal. Perfect for Halloween, you can easily pull out your Legolas Halloween costume again for pop culture conventions and Renaissance festivals too! We love a good, versatile outfit.
25. Jay and Silent Bob Costumes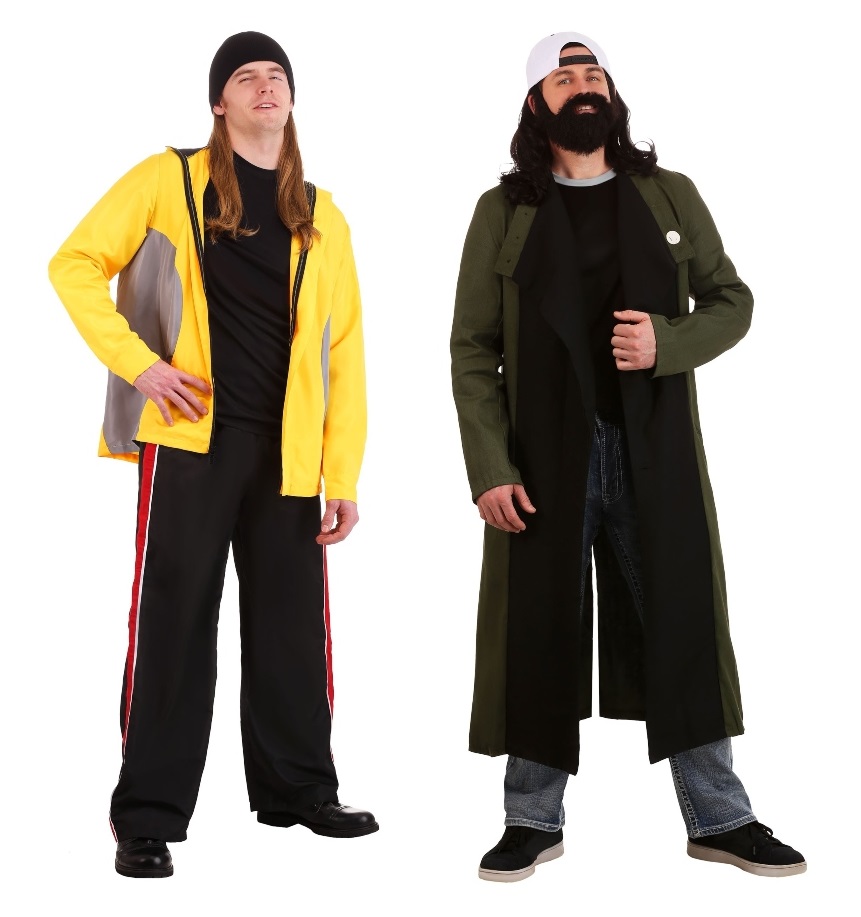 It's hard to mention long-haired duos without including our buddies Jay and Silent Bob. These two characters appear in a number of projects by Kevin Smith, including Clerks and Dogma. True to his name, Silent Bob rarely speaks, so hopefully your buddy dressed as Jay knows you well enough to converse for you on Halloween.
26. Qui-Gon Jinn Costumes
If the Force (and the hair) is strong with you, maybe you want to rustle up some Star Wars costumes and dress as Qui Gon Jinn. This Jedi master had long, flowing hair, so use it to your advantage! If you're looking to be more authentic you may want to swap for darker brown cloth pants, and of course, don't forget his green lightsaber! The only thing left is to hand out sage advice such as, "There's always a bigger fish".
27. Undertaker Costumes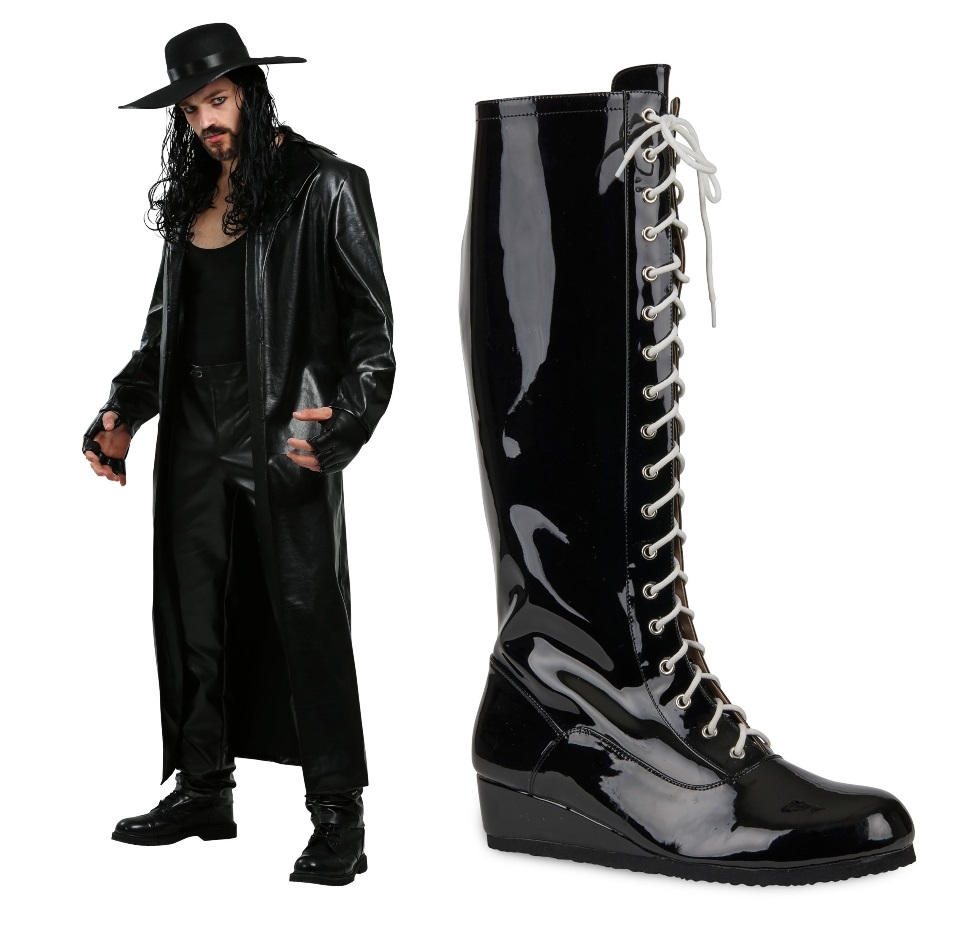 Yet another WWE wrestler on this list, The Undertaker is a much more sinister character with his black trenchcoat and long black hair. And don't forget the wide-brimmed hat! Be afraid...be very afraid! The Undertaker is an imposing character with stats to back up his tough demeanor, so any fan of the WWE would love to try out an Undertaker costume.
28. Kiss Costumes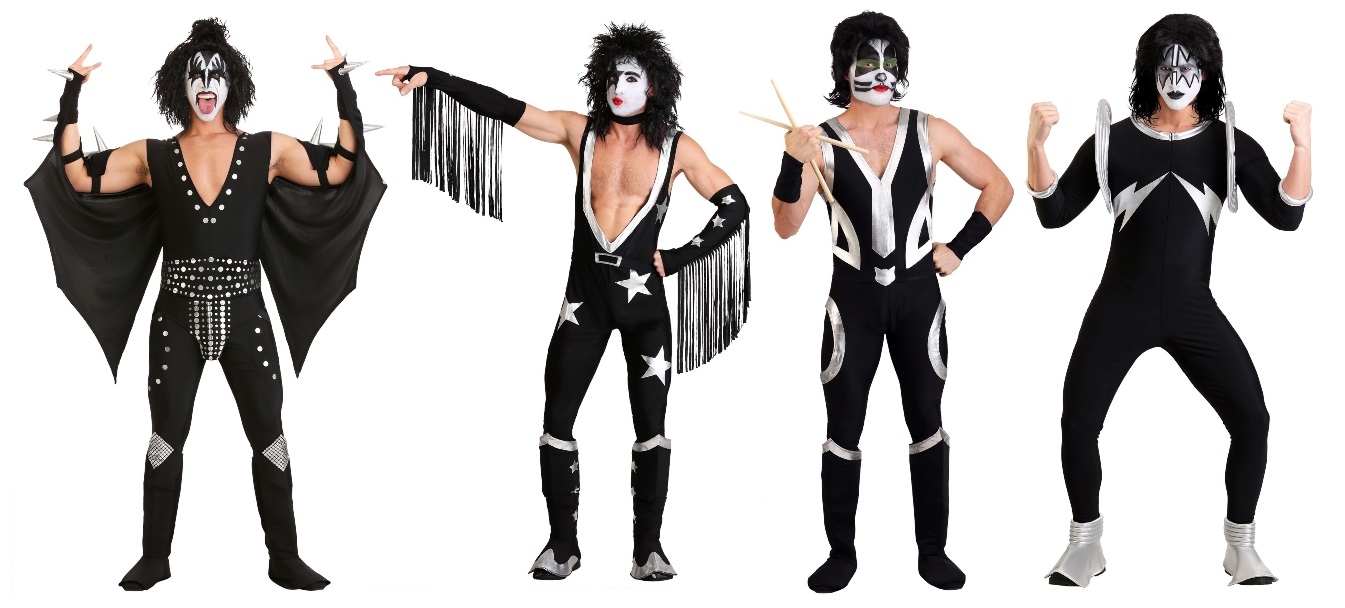 While it's not exactly common to have a group of 4 costumes with long hair for guys, there is an exception when it comes to KISS. This rock and roll quartet is famous for its members' monochromatic costumes and makeup, which skyrocketed them to fame. While you and your friends will probably fight over who gets to be Gene Simmon's Demon, we're sure you'll all look great as any of the 4 band members!
29. Khal Grogo Costume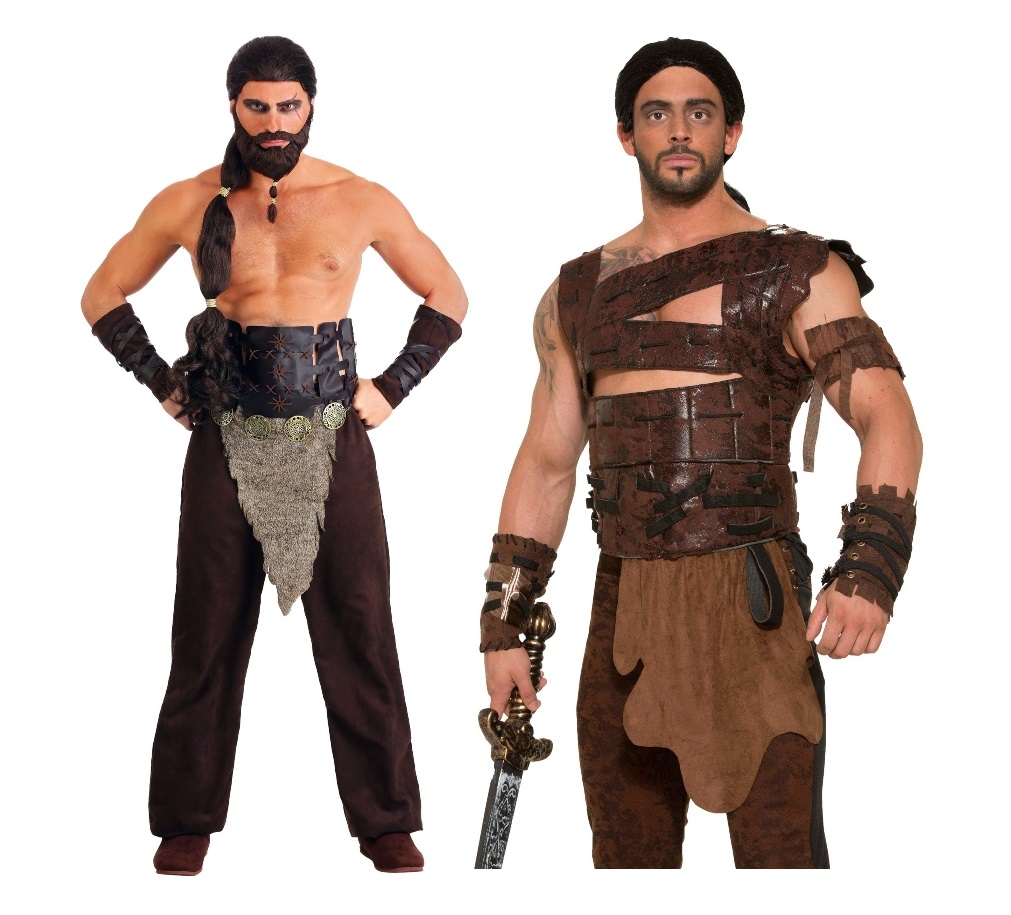 As the man with the longest hair on this list of long-haired costumes for men, we salute you if your hair is naturally this long. (It must have taken ages for you to grow that out!) You probably were already asked by a female friend or significant other to dress the part at least once already so she could be Daenerys, but it's nice to know that there are some Khal Drogo costumes available for you. Bonus points to you if you can also ride a horse.
30. Biblical Costumes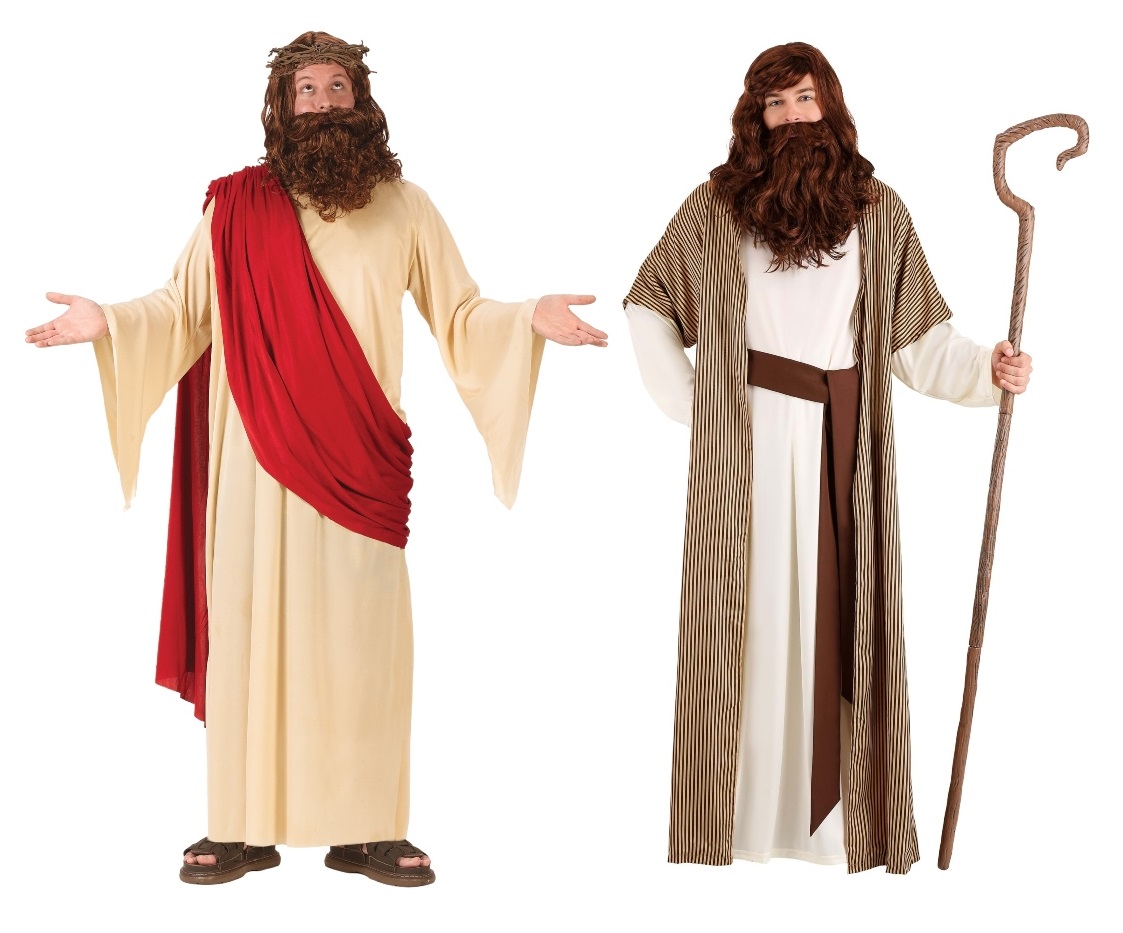 If you have long brown hair in combination with facial hair, there's a chance that someone might have told you that you look like Jesus. Why not lean into your likeness and dress like Jesus or another Biblical character for Halloween? It's sure to be one of the easiest and comfiest Halloween costume you have ever donned. Just know that you probably won't be able to change any water into wine for your Halloween party.
31. 80s Rocker Costumes
Welcome to the jungle! If you're a guy with long, curly hair, you'd fit right in with 80s glam metal and the hair band era. While you can find a few 80s rocker costumes, these are easy enough to DIY too. When you look at images of bands such as Van Halen and Poison, the hair is really the focal point of every outfit!
32. Jareth Costume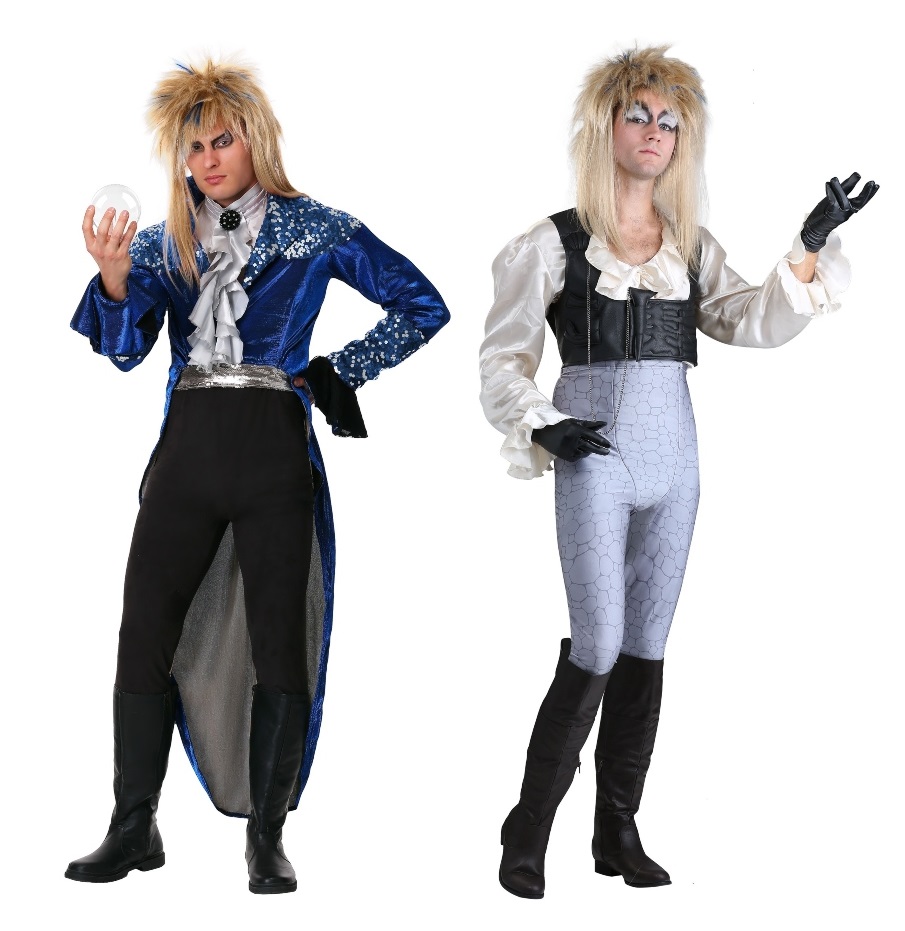 Long hair really had its chance to shine in the 80s. Between the hair bands and 80s movies like Rambo and The Lost Boys, there are so many styles from which to choose! However, nothing stands out quite like Jareth from Labyrinth. (Or should we say that nothing stands out like his hair?) Fluffy and voluminous on top and long on the sides, you'll probably need to seek out a stylist for this one.
33. Inigo Montoya Costumes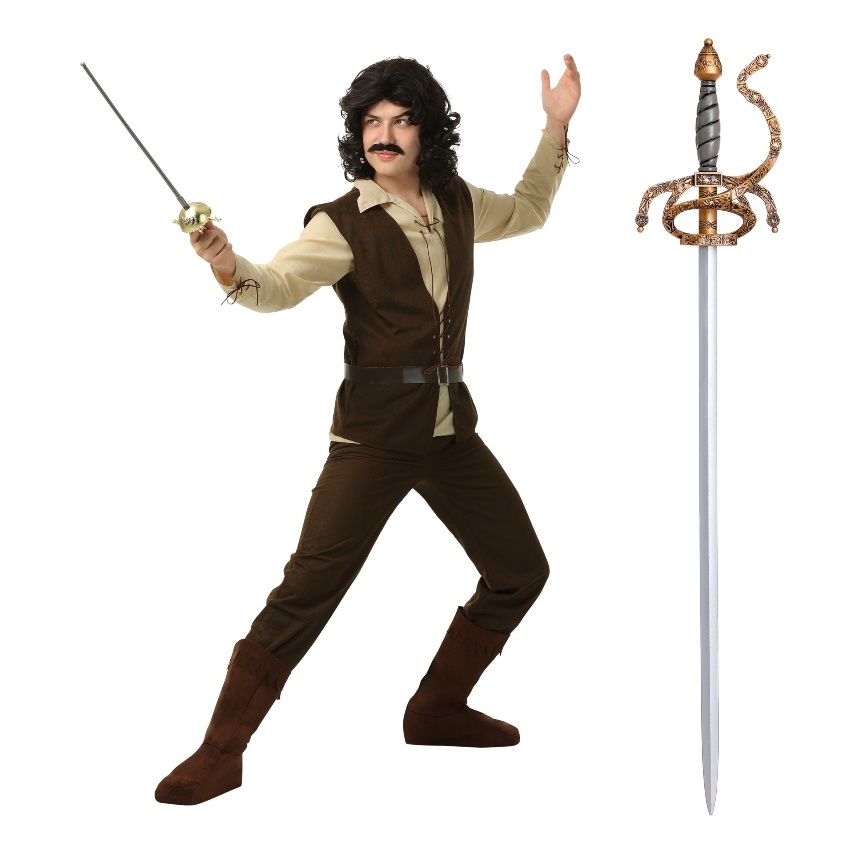 Speaking of beloved 80s movies, it's hard to talk about long hair costumes for men without our favorite Spaniard, Inigo Montoya. He may have found his match in the Dread Pirate Roberts, but he's a decent fellow. If you have the hair to pull off a real Inigo Montoya costume as opposed to a silly name tag version, you know what you have to do! Just make sure to keep an eye out for the six-fingered man.
What do you think? Did you come across any great long hair costume ideas for Halloween? Let us know what your favorite long-haired character is. Be sure to check out more posts on our blog if you're looking for ideas. We have ideas for bald guys, guys with beards, and more! You can also view our collection featuring hundreds of men's Halloween costumes and pick out some of your favorites.