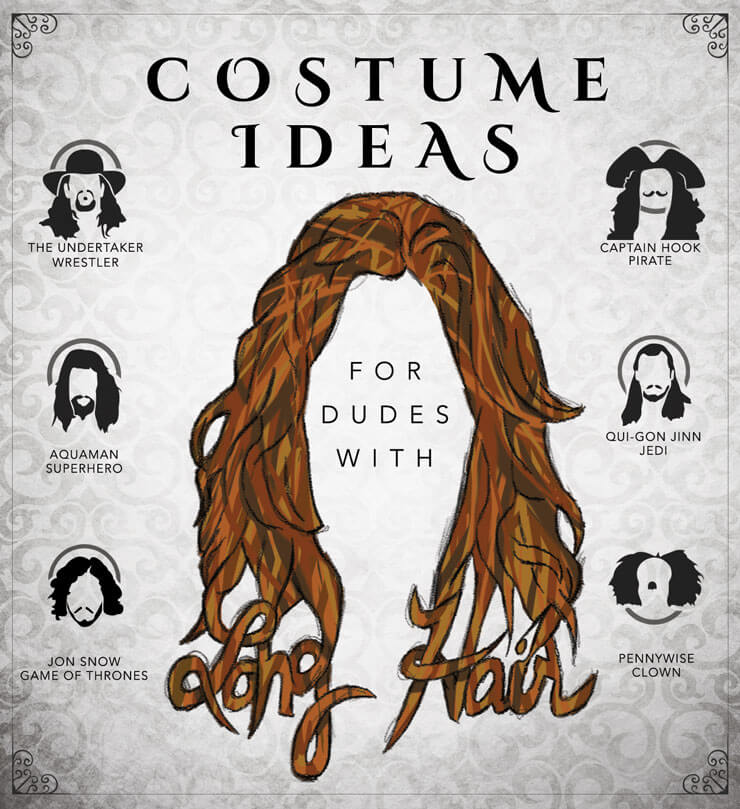 Hey long hair guys, do you need a costume for Halloween, a party, a comic book convention, or any other special event? Well, we have some great outfit ideas for guys with long hair! It's important to take advantage of those long, luscious locks of hair when coming up with costume ideas. After all, there are people who pay a premium for wigs to go with their costumes, and wigs are certainly not as comfortable as the hair on their head! Sure, you could DIY men's Halloween costumes or you could check out our ultimate guide that's full of costume ideas for guys with long hair. You've already got the hair, so your costume is halfway complete!
Superhero Costumes for Long Hair Guys
Thor Costumes Aquaman Costumes Joker Costumes
Both Thor and Aquaman are appearing in their own movies in the coming year, as well as superhero team-up movies with the Avengers and Justice League, respectively. Chris Hemsworth and Jason Mamoa make for the perfect male actors with long hair. We don't think you'll be able to find anyone in Marvel or DC movies with better hair. The only other character who compares is the clown prince of crime, the Joker: in an incredible performance by Heath Ledger in The Dark Knight, he rocks mid-length green hair that matches his vest. You've got the hair, now just get the Halloween costume and you're set!
Game of Thrones Costumes for Men with Long Hair
When you play the Game of Thrones, you either win or you die. However, if you dress up as Game of Thrones characters, you'll always live to fight another day. Even so, you'd have to survive a lot of battles for your hair to get as long as Khal Drogo's. A more realistic hair length lies with favorites such as Ned Stark or Jon Snow. Find these and similar Game of Thrones costumes at HalloweenCostumes.com.
Movie Costumes for Long Haired Men
Forrest Gump Costumes Blades of Glory Costumes Big Lebowski Costumes
Star Wars Costumes Jay Costume Silent Bob Costume
Princess Bride Costumes Fear and Loathing in Las Vegas Costumes
The list of guys with long hair in movies is endless and make the most outrageous and funny Halloween costumes for guys. If the Force (and the hair) is strong with you, maybe you want to dress as Qui Gon Jinn. Other duos like Jay and Silent Bob or James MacElroy and Chazz Michael Michaels make for some entertaining long-haired duos. Regardless of how long your hair is, you'll be able to easily portray some iconic characters from cinematic history.
Rock Star Costumes for Guys with Long Hair
Michael Jackson Costumes KISS Costumes
Wigs Celebrity Costumes 80s Costumes
Long hair is synonymous with some of the biggest rock legends of all time. Whether your costume is equipped with psychedelic colors, leather jackets, face paint, or anything else, the hair is what lets people know "I'm here to get loud". Throw on your costume, grab a mic, and get ready to make a scene on Halloween. If you can pull it off, a signature Michael Jackson moonwalk always goes over well.
Pirate Costumes for Long Haired Men

Captain Hook Costumes Pirates of the Caribbean Costumes
There are a lot of identifying factors when it comes to pirates. Skull and crossbones, parrots, swords, peg legs, and triangular hats with feathers in them. But one other thing you'll notice about most pirates is they have long hair. Of course they do! There's no barbers of the seven seas. You may end up with an accidental haircut during a sword fight though. You can even look on Pinterest for some long hair ideas for guys, because pirates with long hair often have it curled, wrapped or beaded. Once you've got your hair accessories planned out, just order a pirate costume online and you'll be ready to sail the seven seas of Halloween. (Is that is thing? It is now!)
Wizard Costumes for Long Haired Guys
Gandolf, Dumbledore, Merlin, Jareth; aside from being wizards, they all have something in common in their lengthy hair. However, when you look at younger wizards such as Harry Potter and his Hogwarts acquaintences, nobody seems to be growing their hair out. There must be a point in a wizard's life when they become too busy for hair maintenance. Since these are essentially just robes, they make for great, easy costume ideas for guys.
Crazy Hair Costumes for Men
Back to the Future Costumes Pennywise Costumes
Beetlejuice Costumes Mad Hatter Costumes
Even if your hair is only a few inches long, that's long enough to stand it up for a crazy style. Typically, the hair is the identifying factor saying "this guy is a little bit off the rails". Just make sure that if you dress as Beetlejuice, Doc Brown, or any of these other eccentric people, you bring enough energy and weirdness to the character you're portraying.
Wrestling Costumes for Guys with Hair
Some of the most legendary professional wrestlers kept their hair long. Maybe they felt that it was an important part of their distinguished look? But it sure didn't help when someone would pull them by their hair, or grab it in order to smash their face into the turnbuckle or the ring. Some of these costumes are also relatively easy costumes for guys to DIY with a white collared shirt or a long black trench coat and a black brimmed hat.
Other Long Hair Costume Ideas for Men
Hippie Costumes Disco Costumes
Caveman Costumes Renaissance Costumes
Want some more options? Take a trip through history and you'll find a wide selection of costumes with long hairstyles. Obviously, there were no barbers in the days of cavemen, which somehow didn't keep Fred Flintstone from maintaining a clean look. But eras like the 60s and 70s were years of rebellion, which included refusing to cut your hair to conform. It's all good because you've got the hair that completes the look of the costume.
What do you think? Did you come across any great costume ideas for Halloween? Let us know what your favorite long-haired character is. Be sure to check out more posts on our blog if you're looking for ideas. We have ideas for bald guys, guys with beards, and more! You can also view our collection featuring hundreds of men's Halloween costumes and pick out some of your favorites.