Disco Halloween Costumes
They say disco died. That may be true. But that means two things. It didn't stay down—couldn't be kept down. It's an undead thing, making it perfect for Halloween! On top of that, you've come to one of the grooviest collections of disco costumes around! And you're in for a treat! Whether donning disco duds for a costume party, bach bash, or time travel, our disco selection has something to get everyone looking and feeling fab! Shop Made By Us disco threads that'll keep on truckin' from Halloween to a disco-era revival. Score on-sale styles for one-time events. Or shop disco accessories to ensure your existing closet is off the hook! From all-inclusive to a la carte, we've got the lowdown on what's needed for all your disco costume ideas!
Adult Disco Costumes
Picking an outfit for any occasion can take a minute. Especially when the event has a theme! If you're heading to a casual holiday party, the solution is simple: holiday sweater! But heading into a disco-themed work party or best pal's engagement celebration can cause pause. Luckily, our adult costumes include disco costumes spanning from playful to formal! So, whether you order a full ensemble or just the platform shoes, you'll have a stellar look to fit the occasion!
Women's Disco Costumes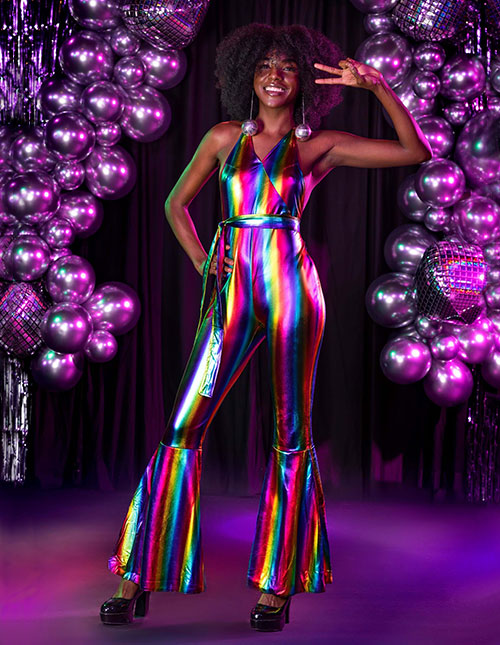 Does your disco event demand classic women's style? Take it to the max with our exclusive rainbow disco jumpsuit! We may be biased, but we believe this slammin' style hits all the right notes with its close-fit, backless, illusion-wrap halter, bell-bottom design. Plus a metallic rainbow finish? You'll stun under a spinning disco ball before jewelry, makeup, or nails!
Men's Disco Costumes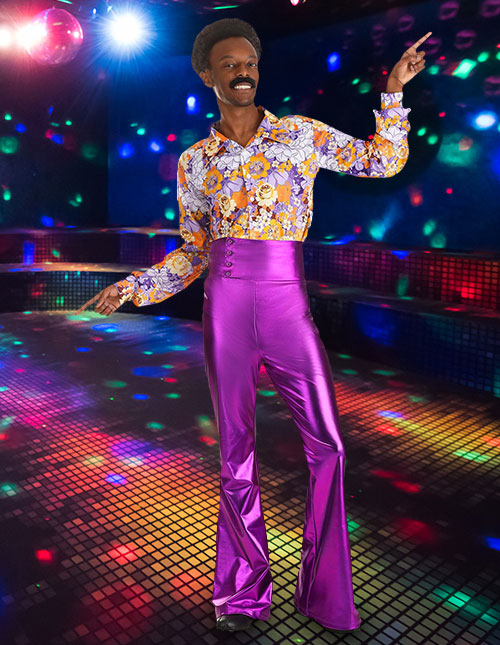 Groovy gentlemen agree that our exclusive men's purple disco costume is great for discotheque and Halloween parties alike! Packaged as two pieces, it's a versatile option as well. Wear the floral top and metallic purple pants as-is for a look as easy as it is nifty! Or explore our full men's costume collection for far-out costume garments to mix and match!
Plus Size Disco Costumes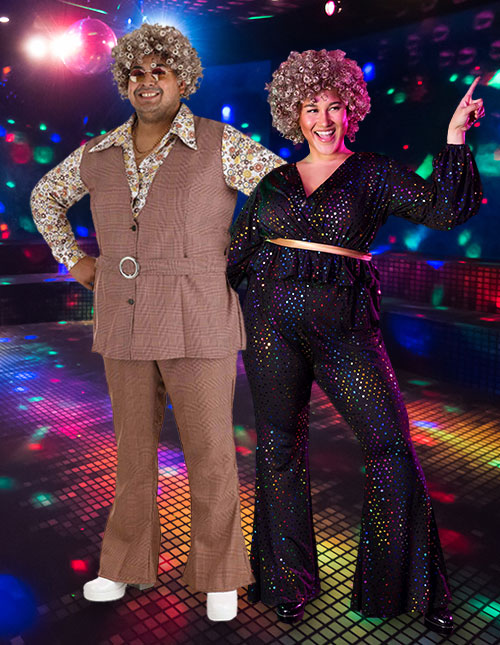 When it's time to strike a pose at the discotheque, everyone deserves their chance. Like all our available plus-size, our disco options ensure everybody looks and feels totally fab! Go glitz and glam like a true disco queen in this shimmering jumpsuit. Or choose this polished men's disco suit that's promising to bring classic 70's color schemes to the mainstream!
Sexy Disco Costumes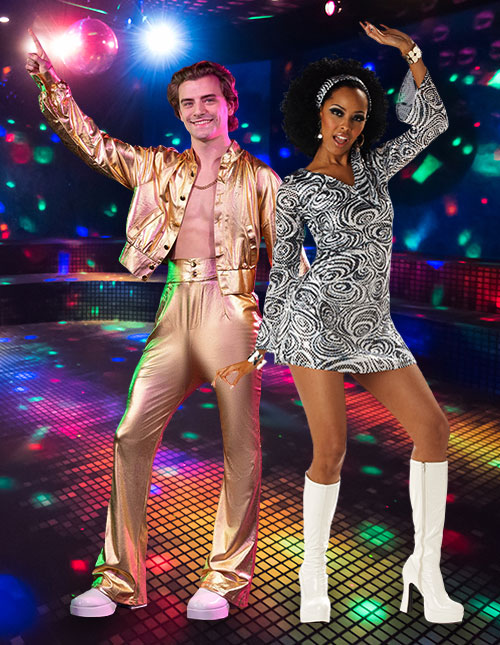 Time to turn up the heat? Cool things down? Either way, our sexy costumes are here to get every disco diva feeling foxy for the dance floor! Go classic sexy with this psychedelic silver mini dress or our golden two-piece men's exclusive that reveals a bit of skin. Or explore disco-ready catsuits just begging to bring the groovy decade back with shimmer, fishnets, and 70's wigs!
Kids Disco Costumes
From nursery rhymes to funky tunes, most kids can't help but groove to the music! Throw kids' costumes into the mix and their impromptu dance parties are sure to last all evening, especially when the costumes are made for every silly or smooth move. Inspire and keep the good times going strong with exactly that when you shop our disco costumes for kids! Whether planning a far-out family costume or reviving the decade for a little diva's solo look, we've got the threads!
Disco Ball Costumes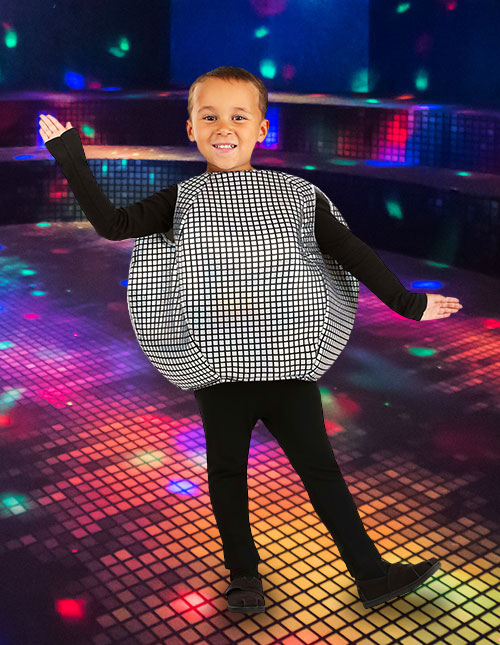 Discos are generally more fun with a crowd. Whether bringing family together, planning a 4th birthday party, or ensuring every playtime is outta sight, our exclusive disco ball costume makes your tot the unifying piece of the flashy affair! Pair the shining tunic with stockings or tights that suit their style and ensure the exclusive look is fit for make-believe and trick-or-treat!
Toddler Disco Costumes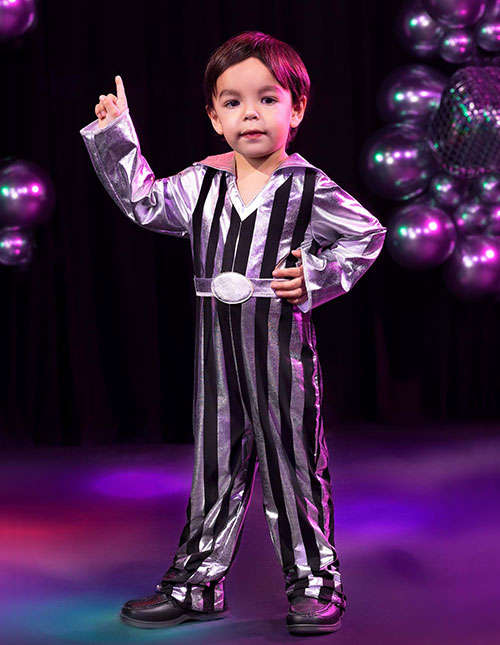 Kids learn the iconic disco point fast! And soon it's indicating which trick-or-treat bag they'll carry with their chosen costume. Ensure they're ready to boogie through the neighborhood and back to playtime discos with our dazzling disco costume for toddlers! Made with metallic fabrics and classic 70s detailing, this exclusive toddler style is sure to make Halloween shine!