Poison Ivy Costume Ideas
Are you dying for Dr. Pamela Lillian to make an appearance in the Suicide Squad sequel? We'd love to see Poison Ivy using her prowess for plant life manipulation to get the attention of Joker and Harley Quinn. Of course, we'll just have to wait and see if our super villain cinematic fantasies come into fruition. Until then, we'll have to impersonate the botanist baddie for ourselves even if it means wearing the Poison Ivy Uma Thurman costume from the one Batman film we've all tried hard to forget. If you're interested in disguising yourself as the red-headed Gotham City sinner, then you're in luck because we have a Poison Ivy Halloween costume that will intoxicate you. From Poison Ivy accessories to couples' costume suggestions; you've come to the right place to truly get into character! Take a look at all of our ideas for your regular and sexy Poison Ivy costumes; it's guaranteed to make others green with envy.
Poison Ivy Couples Costume Ideas
Although she's a notorious super villainess, Poison Ivy doesn't ever have any problem snagging a date. Even though her personal principles are questionable, what she lacks in morality, she makes up for in beauty. So if you choose to dress as Poison Ivy from Batman, then you can rest assured that you will have many dates to choose from. You can have your beau dress up in any of the following Batman themed costumes for men and you two will have a very pertinent and powerful couple's costume!
Poison Ivy and Bane Costumes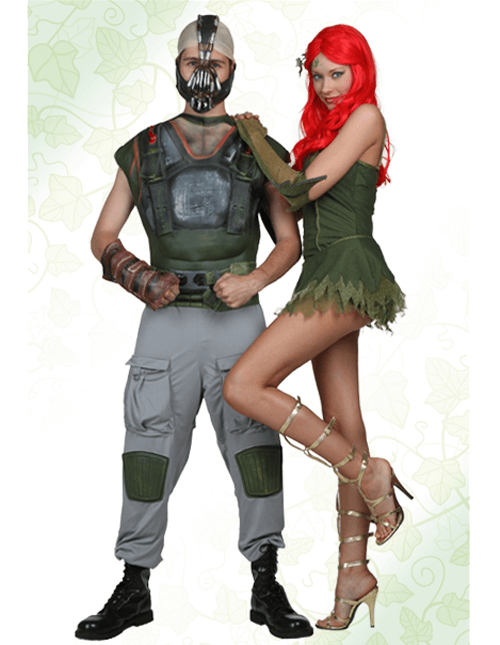 Normally, we wouldn't suggest Bane as a date for anyone, not even a Gotham City Siren. He has a penchant for destruction, but if you do decide to go out with Bane, you will definitely have a date you'll never forget. If you're thinking of wearing a Poison Ivy dress, you should think of outfitting your date in a Bane costume. It's a great costume choice for men who don't mind a little madness and chaos from time to time. Tell your date to start practicing his Bane impression so you guys can get the most out of your Halloween experience!
Poison Ivy and Batman Costumes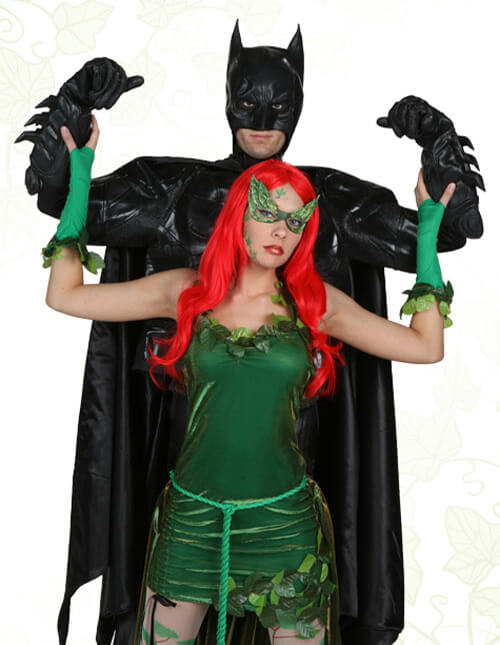 Even though Poison Ivy is considered a villain, she's not all bad all the time. On the contrary, sometimes Ivy can show compassion and humanity (yes, even toward mankind.) If you'd like Poison Ivy to get in touch with her tender side then you should team up with Batman. This Batman costume is a great idea for men who want a classic superhero look, complete with a half-mask, cape, and muscular chest piece. You'll love walking into the party with the Dark Knight hanging on your arm. We have a feeling that your date will be equally grateful to have the lady with the lethal lips accompanying him to the soiree.
Poison Ivy and Joker Costumes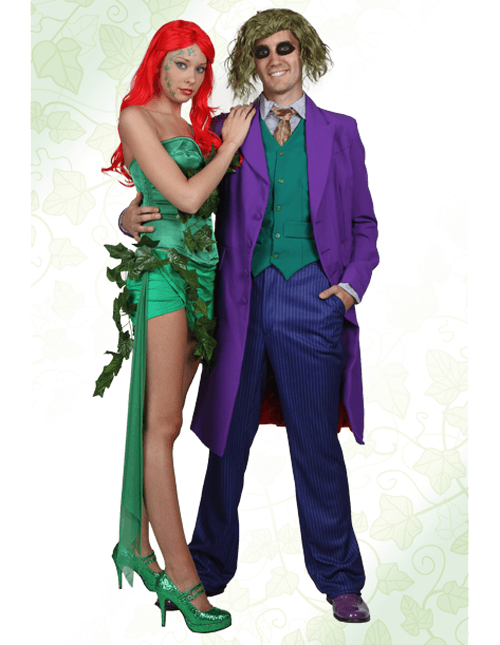 Step aside Puddin', it looks like Joker has found a new companion to commit hellish crimes with! We don't want to be around when Harley Quinn learns that her felonious boy-toy is dumping her for Gotham's wickedest red-head. If you're willing to take on the "Maiden of Mischief" for her psychotic boyfriend, then outfit your date in a Joker costume. This is a great supervillain couples' costume for those who are looking for some danger on Halloween night because trouble tends to follow this pair wherever they go!
Poison Ivy Costume Accessories
So have we completely convinced you to "go-green?" If you have a Poison Ivy villain costume that you're dead set on wearing, then you are going to need a few other key essentials. Whether you want to look like the villainous vixen from the comics or movies, we have the right Poison Ivy accessories that will give your Poison Ivy costume the complete, polished look that you're searching for. From your bright red hair to your glittery green heels, you will fully embody the former botanist turned fatal temptress. Once all of these green accessories are sprucing up your Poison Ivy bodysuit or dress, then you'll be ready to get out there with your homies Killer Croc and the Riddler and wreak some havoc!
Red Poison Ivy Wig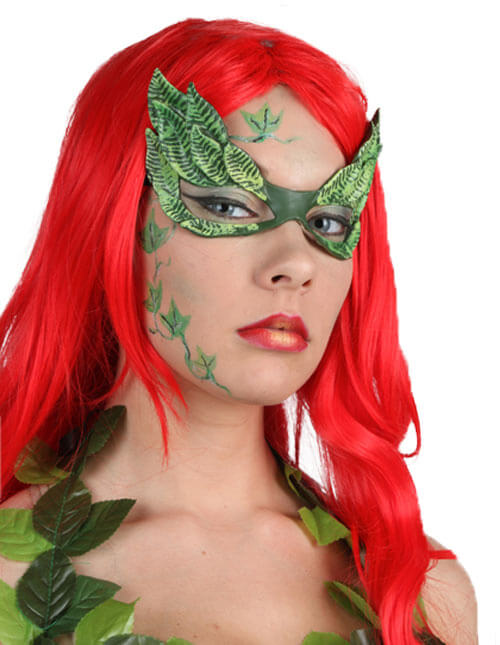 Is there anything more breathtaking than a feisty red-head? We definitely don't think so! You'll look like you sprung from the vivid pages of a DC comic book once this Fever wig is resting on your head. A professional quality wig, this accessory will give you the fiery hair that you crave. With bright strands of hair, this heat resistant wig can be styled anyway that you find the most flattering. You'll find that this Fever product is comfortable to wear and it also gives your whole get-up the pop that it needs!
Poison Ivy Tights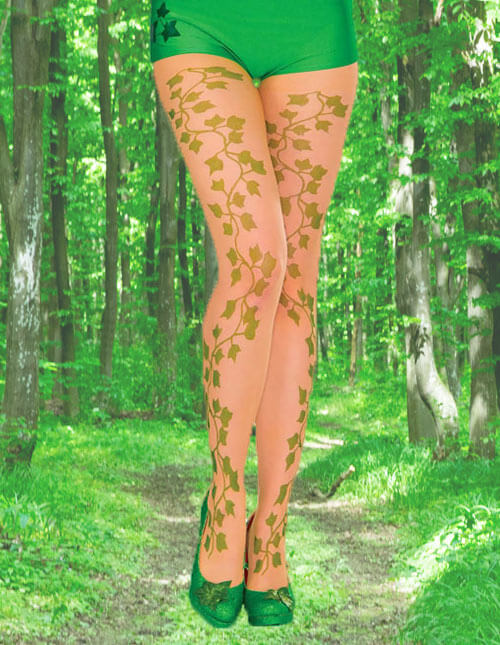 Appearing to be a lethal beauty will look as simple as watering the plants as long as you incorporate plenty of vines. You'll look as though you're ensnarled in the leafy branches of a colossal Venus Fly trap when these Poison Ivy tights are covering your legs. The polyester/spandex blend nylons are nude with a green ivy pattern cascading down both legs, which make them the perfect pair of pantyhose to wear with any Poison Ivy outfit that you like best. If you're looking for extra coverage to keep your bottom half warm on a chilly Halloween night, we recommend our green leggings. They have the power to make your legs look like stems!
Poison Ivy Boa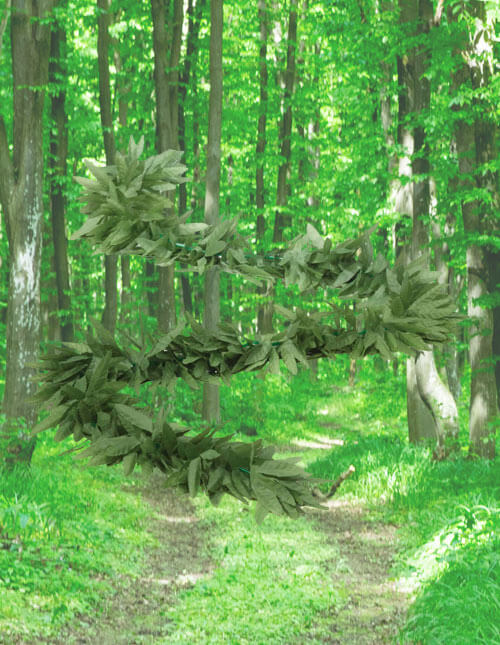 What is it about a boa that instantly makes a woman feel sensual and seductive? We really can't pinpoint one specific attribute why boas are so life-changing to wear but trust us; it will make you feel powerful! This green leaf boa features a ton of attached faux leaves that will move and shake when you do. Drape this accessory over your shoulders and you'll instantly feel the impact from Mother Nature.
Poison Ivy Shoes
Ladies know that an interesting pair of high-heels can hold the power to change your entire ensemble. You'll really make a fashion statement when you parade into the party with these poison vixen green heels on your feet. The 3D design gives the appearance of pointy leaves and vines so you'll be able to stomp out any superheroes that may get in your way throughout the evening. It is the perfect complement to your sexy Poison Ivy costume. Just strap these green heels around the front of your foot then you'll feel fully prepared to be the self-appointed defender of the environment!
Poison Ivy Makeup Ideas
There's no doubt that Poison Ivy uses her wiles, charisma, and pheromones in order to dominate her male opponents. If you want to recreate Poison Ivy's captivating countenance in order to feel as authentic as possible, then you need to check out this Poison Ivy makeup tutorial. Simply watch this video and read these clear instructions to achieve the same striking appearance as Ivy: You'll need a cream shadow, white highlighter, a light and dark teal eyeshadow, black eyeliner, a bronze blush, a red lipstick, and a matching gloss. First, paint your eyelids with the cream shadow to make the pigments more intense. Take the deep teal eyeshadow and contour each eye, as well as applying it to the bottom lash line. Next, grab the light teal shadow and fill in the rest of the lid, blending it into the dark teal. Reach for the highlighter and use it to accentuate the brow bone and inner corners of the eye. Glide your black eyeliner as close to each lash line as possible. Rub the bronze colored blush on the highest point of each cheek. Fill in your lips with the bright red lipstick and top it off with the appropriate lip gloss and you'll have the complete look to complement any adult Poison Ivy costume!
Poison Ivy Quotes
You may have the full mesmerizing look but in order to finish the transformation into DC's most ecofriendly baddie you should know a few key phrases that you can recite while you're having the time of your life at the costume party. Say the following while you're suited up in your alluring Poison Ivy costume...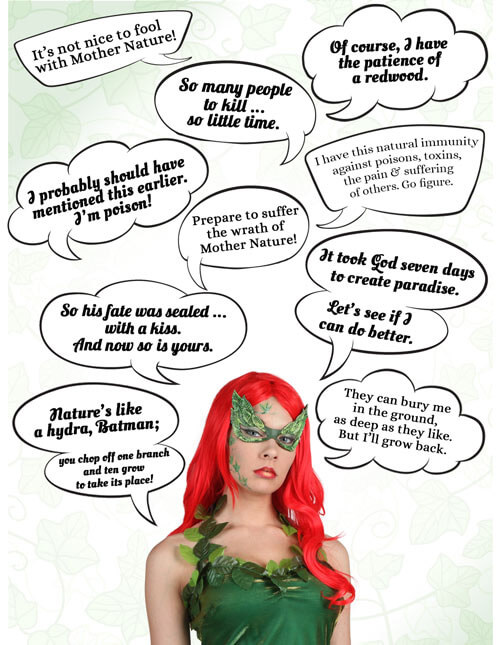 "I have the patience of a Redwood."
"So many people to kill... so little time."
"I probably should have mentioned this earlier... I'm poison."
"Prepare to suffer the wrath of Mother Nature.
"They can bury me in the ground, as deep as they like. But I'll grow back..."
"Nature's like a hydra, Batman; you chop off one branch and ten grow to take its place!"
"So his fate was sealed... with a kiss. And now so is yours."
"It took God seven days to create paradise. Let's see if I can do better."
"It's not nice to fool with Mother Nature!"
"I have this natural immunity against poisons, toxins, the pain and suffering of others. Go figure."