Uniform Costume Ideas
Whether you're fighting fires or racing cars in the Daytona 500, it's important to wear the right ensemble that lets people know exactly why you're there. There's nothing like a uniform to tell people what you're on location for, which is a good thing. It would be problematic if people thought that the police officer knocking on the door was the guy who was supposed to be delivering the pizza. So, we make it easy on ourselves and put on uniforms.
There are many different kinds of uniform costumes that'll make you feel more official than when you're in your street clothes. You can seem like you're ready to orbit the earth or escape from the confines of a high-security prison. From themed parties to Halloween trick-or-treating, uniform costumes make for classic hits as well as easy to coordinate group ensembles. What's cuter than a team of firefighters running through the neighborhood with their trusty Dalmatian pal? Well, to tell you the truth, any one of these uniform collections will give you a run for your money. So, scroll on through and see if any of these ideas strike your fancy. Halloween season is about to get official.
Cheerleading Uniforms
When we think of cheerleading, we think of football games or soccer games but here's the thing- we think that any group activity could use a little cheerleading. If there is anything missing while we watch our cooking shows it's a group of people pushing our favorite chef along to a literally delicious victory. We could use cheerleaders for getting us through rush hour traffic or while completing Black Friday Christmas shopping. It's no wonder that the shouts and cheers of these happy squads have made their way into the fabric of our sport's culture. Cheerleading costumes make for great costumes for both solo and group ensembles!
Cheerleading Costumes for Girls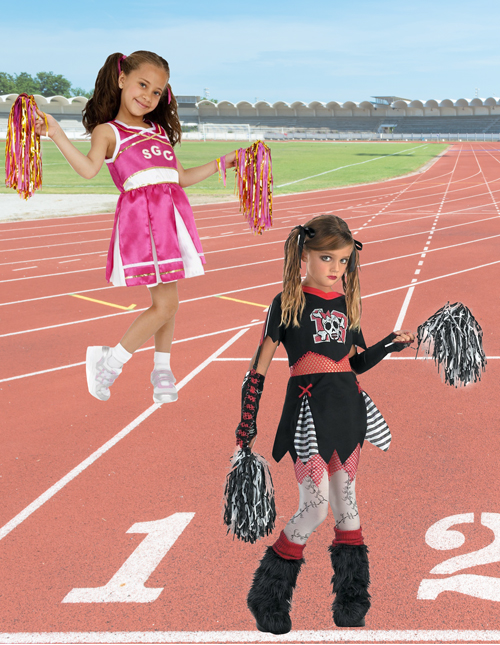 Give us a C! Give us an O! Okay, okay, we won't put you through all that. We were going to spell "costumes" but, you can finish the word on your own if you want to. Who's going to judge? (Certainly not your child if she's looking for the perfect cheerleader costume.) In fact, she just might cheer along. At least she should because you're looking for cheerleader costumes in the right spot. Of course, we've got the classic pink satin cheerleader ensemble with cheerful pom-poms. But we're also shaking the team up with a gothic squad leader costume as well. Just because your kid is a little punk doesn't mean she doesn't have spirit! So, put your hands together and stomp and cheer for a top-notch cheerleader costume!
Cheerleader Apparel for Adults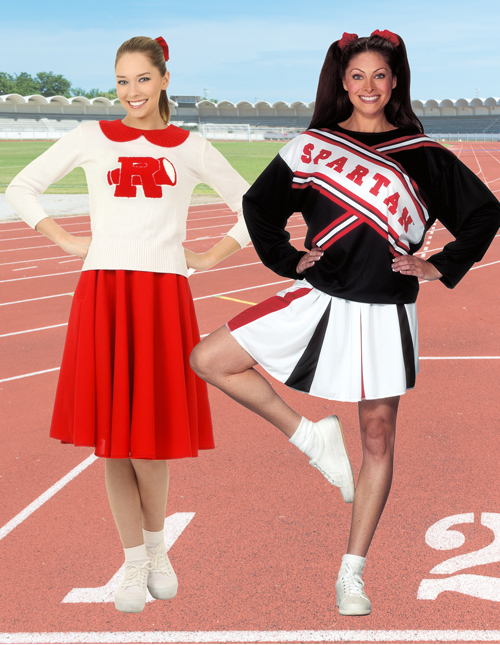 "Hey, it's cold in here. There must be some costumes in the atmosphere." Have you been quoting cheerleader movies ever since you were a kid? Maybe you've even made your own cheers. Channel your cheery spirit into a cheerleading group costume this year! You could go for the docile fifties look with the high quality Rydell High cheerleader uniform from the hit movie Grease. Or consider pairing up with a friend and wear both our men's and women's cheerleader costumes and celebrate everyone's favorite SNL skit with our Spartan cheerleader uniforms, because we know that chess games need cheering too. If it wasn't for Arianna, Glenn would have totally lost his bishop. So, get out there. They're about to start roll call!
Police Uniform Costumes
How do you feel about true crime? It's a pretty trendy subject and it's no wonder. Cops have to help all sorts of people who have a plethora of problems from feuds with their neighborhood squirrels to people who, for some reason, are digging holes in the middle of the street. If you want to dive in with a law enforcement look for your next Halloween or themed party, you have a lot of choices. You can be sure of one thing- when you choose a police Halloween uniform, you're sure to rouse up plenty of fun. Whether you want to be part of a SWAT team or if trotting around on a horse and keeping the peace is more your speed, you'll find the specifics right here.From tough to funny police costumes, we have just what you need!
Men's Police Costumes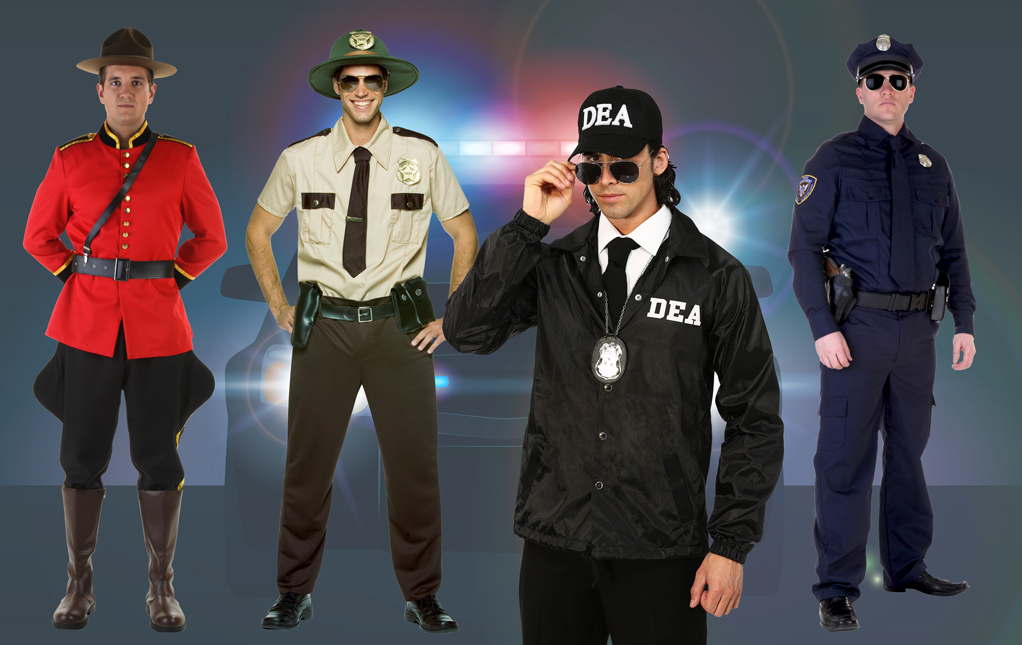 When you're looking for police costumes for men your main problem is going to be all of your choices. Are you going to be one of those boys in blue that's there to keep people in line and help old ladies cross the street? Or maybe you want to reenact the hijinks of everyone's favorite super troop of state troopers, that's sure to "enhance" your night. From the cheerful look of our Canadian Mountie costumes to the intimidating look of a national DEA agent you'll have a lot to decide on. And hey, you don't even need to graduate from the Police Academy to wear these police costumes for men.
Women's Police Costumes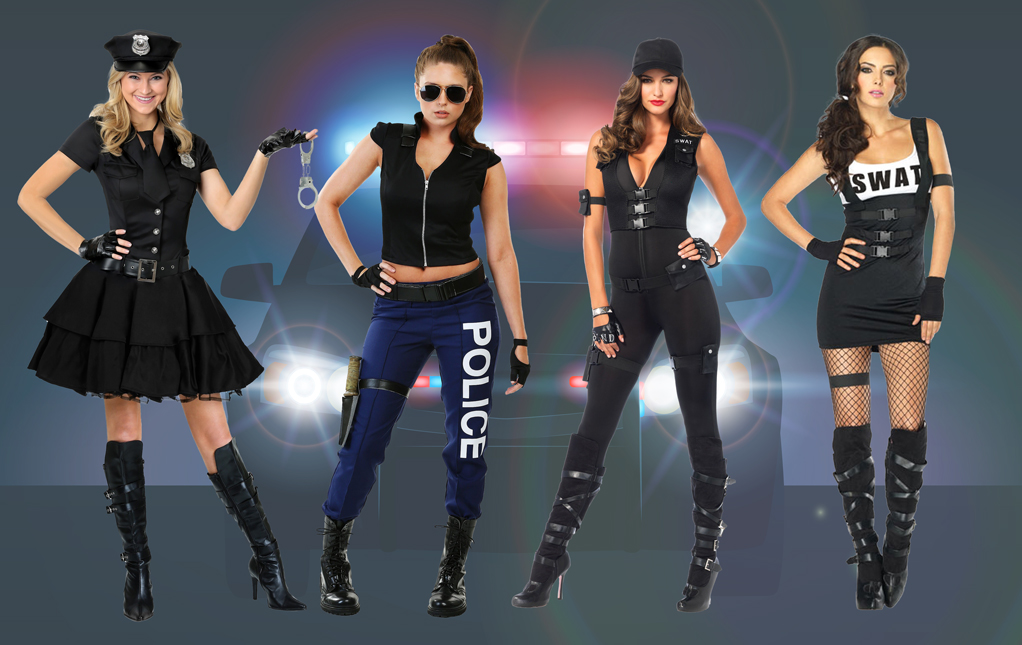 Sick of watching people break the rules with abandon? Want to command respect when you walk in the room this Halloween? When you wear the right police costume you might start hearing exciting things like, "Cheese-it, it's the fuzz". A police costume for women should serve up the respect that you deserve. Whether you want to dress up in a sexy police costume or you're thinking you want something a little higher profile like a Swat team uniform, our collection has something for everyone. Pair up with your dog and start your own K-9 unit in the chic tactile jumpsuit. You can even lead the next big bust in this fashionable Swat Commander catsuit. No matter where you're headed you're sure to feel the power in your women's police costume.
Police Costumes for Kids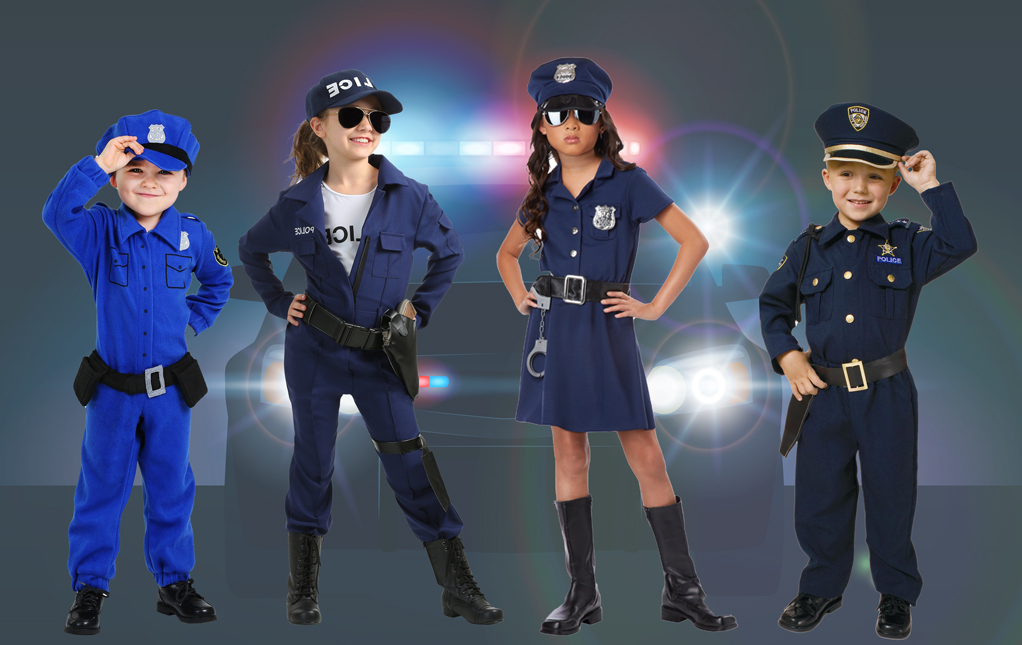 If you're putting together a family costume, now you can let your kiddos choose if they want to be cops or robbers. We have adorable costumes in each variety. Your child can even decide what their job is. Are they patrolling the highways in the green uniform of a trooper, making sure everyone is driving safely? We have adult sizes too, so you guys can pair up. Have they decided to become an F.B.I. agent, taking down nation-wide schemes? Or, maybe they want to ride horses in Montreal as a Canadian Mountie. The options are near to limitless. Maybe your little one simply wants to wear the classic blue police uniform that they see in cartoons. Or perhaps your little girl is a little more high-profile, with a tactical jumpsuit suiting her needs. Whatever children's police costume your kid wants, they are sure to make the world just a little bit better.
Prisoner Uniforms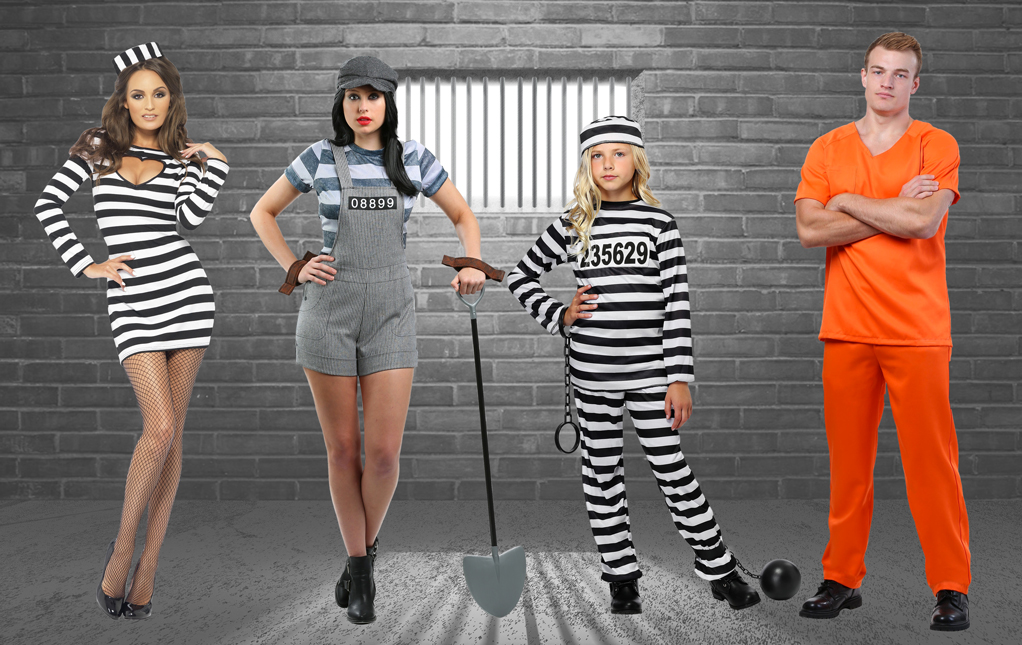 Forget good cop bad cop, we know where the fun is at! You live by the idea that the rules were meant to be broken but here's the thing, that philosophy has kind of caught up with you. Next time you'd better use an alias if you're planning on never returning your library books. Maybe you want to embrace the new black with this orange jumpsuit costume or go old school with the gray and white striped chain gang costume. Ramp up your jailhouse status with our chic convict mini dress. Or maybe your child finally got called out for stealing cookies from the cookie jar and they're going to show up in this prisoner costume. It's the perfect end to an epic game of cops and robbers.
Astronaut Costumes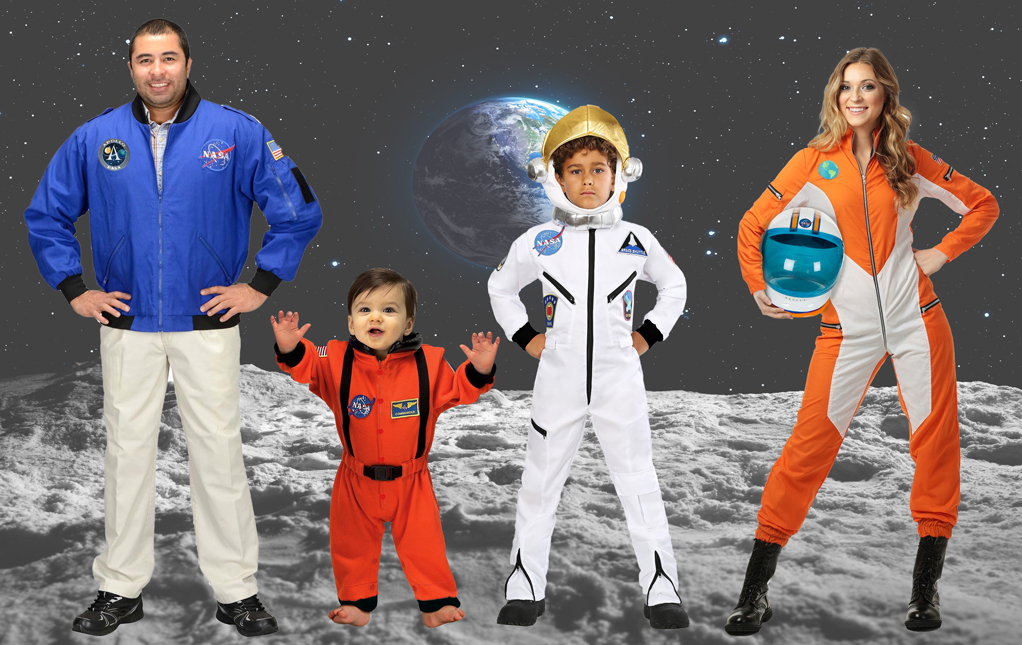 With our selection of space costumes from our colorful rocket ship costume to alien looks, it's easy to make a cosmonaut costume into a group look. We've got a NASA uniform for everyone in the family. Your kiddo will love the idea of zooming around the universe (aka: the backyard) in our white spacesuit costume. Start little junior early with the infant orange romper; you didn't hang that planet mobile over his crib for nothing! And there's no need for mom and dad to be left out either. While mom might like the orange jumpsuit we featured above, dad has plenty of options too! He could even take the position of ground control in our NASA Apollo 11 flight jacket. With our selection of astronaut costumes for Halloween, the sky doesn't have to be the limit!
Pilot Uniform
Speaking of the skies, do you have a constant case of itchy feet? No, we're not talking athlete's foot. We're talking about the need for far off places, different languages, and brand-new cuisine. We're talking about the travel bug. If you do, then you've probably gotten a little jealous as you watch pilots or flight attendants walk through airports with their wheeled bags and busy agendas. We can't all do what they do. It's a tough job with long hours and jet-lagged customers. But at least you can pick up some of their worldliness at the next costume party you're going to when you take a look at our pilot costume collection. You won't even need to apply for a passport to achieve a well-traveled attitude. All you need to do is put on the pilot's hat and hop into the cockpit (if that's what you choose to call your car) and you'll be ready for take-off!
Pilot Costumes for Men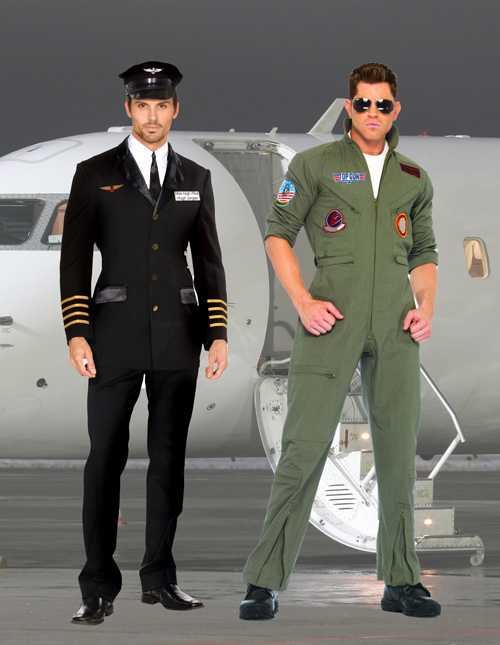 While styles for many professions have changed over the years, the pilot uniform has maintained its swagger over the decades. It's a look that serves up respect from everyone from the elderly woman wearing pearls and flying to Martha's Vineyard for the weekend to the starry-eyed little kid who desperately wants a tour of the cockpit. Whether you're flying solo or you're headed out with a flight attendant on your arm, you're sure to live up to the pilot's dapper legacy when you're wearing our mile-high pilot's uniform costume. If commercial flights aren't really your thing but you still see yourself behind the controls, have no fear. Pair up with your good buddies and throw on our Top Gun costumes. If you guys are willing to take a break from your volleyball montage then you're sure to be the hit of your next costume party when Goose, Iceman, and Maverick make an unforgettable entrance. And hey, you won't even need to go to flight school!
Pilot Costumes for Women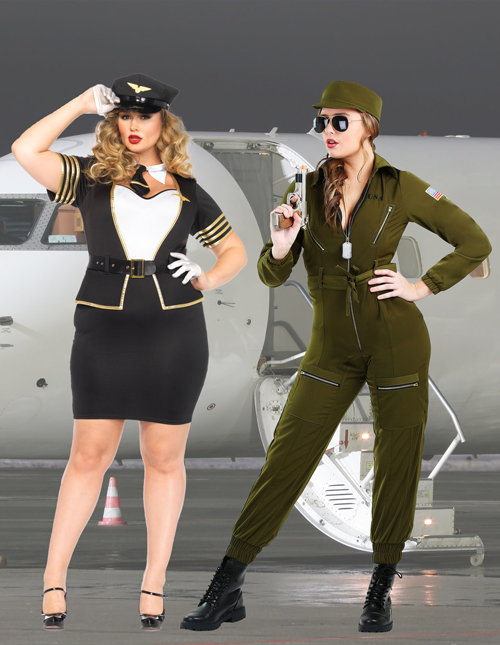 Ladies fought hard to get behind the airplane controls and once they were flying high, there was no coming down. While there are the popular characters like Amelia Earhart and Bessie Colman, there's still room for you to make your name known! We've got tough Army flight suits that will make people believe you really know your way around a parachute. Or, you could go the vintage route with a nod to our girl, Amelia, in our vintage flight officer costume. And if you want to see the world with all the comfortable trappings of our commercial airways, you'll be ready for a whirlwind global tour in our sleek and sophisticated pilot's uniform costume. Well look at that, it's time to take to the skies!
Flight Attendant Costumes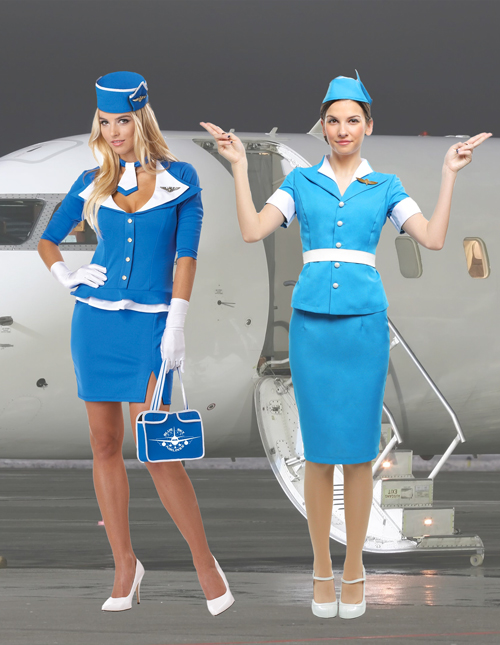 If it weren't for flight attendants, flying would be anarchy. While we might think pilots are the ones keeping us safely afloat in the sky, the flight attendants are the ones that are keeping the whole operation together. They're the ones that keep us hydrated, fed, and while we'll hopefully never need them, they're the ones who are handy with those paper bags. And yet, with all that running around, they still stay so sophisticated! Maybe it's something about their neck ascots and that little pill box hat that they're always wearing. Whatever gives them their mystique, there's nothing like rocking a retro stewardess uniform! When you're wearing these costume uniforms, people wouldn't dare stand up when the seatbelt sign is on.
Kid's Pilot Costume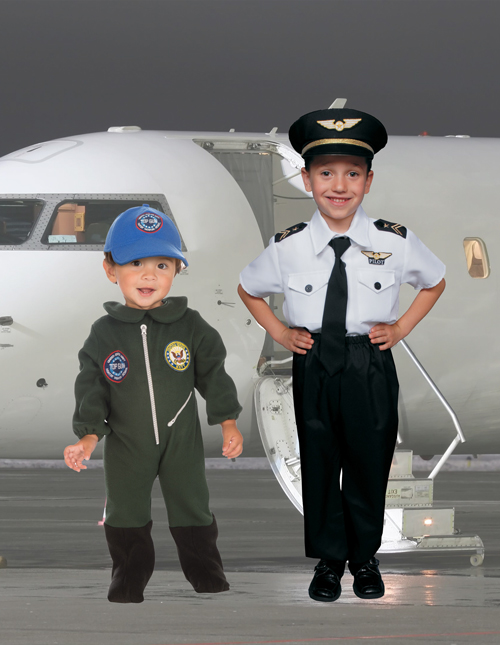 Is your kid always thinking about new places they need to go? One week they're thinking about exploring the jungles of the Amazon. The next week, they'll be all cosmopolitan with dreams of the New York city lights. With all these dreams, you don't have the heart to let them know how much one flight to South America costs. The nice thing is, they're young. They have a wild imagination. When your child is wearing this white and black pilot's uniform costume, they can keep their eyes on the horizon. And if you want them to join the Top Gun crew, tell them to suit up because we have Top Gun flight suits for everyone from toddlers to boys and girls. As it turns out, the need for speed runs in the family!
Military Costumes
The sweet tune of our national anthem playing instills in us a sense of nationalism and pride like none other. While the military is no easy feat, you know that hopping into a military costume is going to do a lot for your patriotic spirit. When you look through our selection of military costumes, you'll get a lot of looks to choose from. We've got pieces that will make you look like you're straight off the high seas and the camo that'll make you look like you're out of the Army. No matter what, you'll feel a little more heroic than your day-to-day persona.
Men's Military Costumes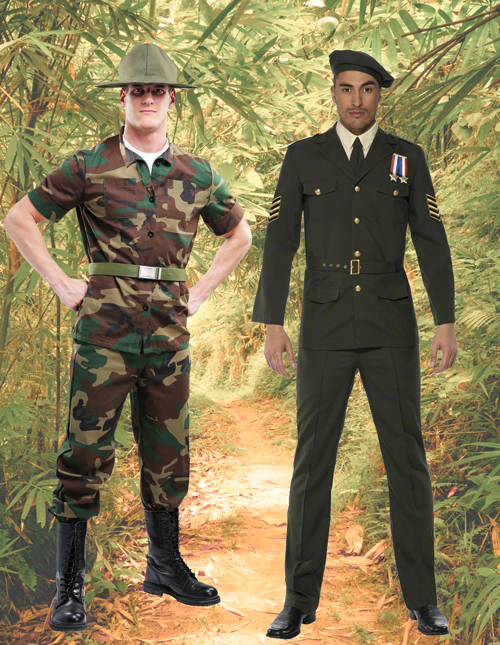 So, you want to get seriously heroic for your next Halloween costume. Lucky for you, we won't even make you go through boot camp. Yep, no crawling through mud, all you gotta do is order your Halloween costume and maybe send us a picture if you really like it. You might be heading out with a whole troop or setting out on a solo mission. If you're heading out solo, you'll look like you're master of strategy when you're wearing a dapper (and slightly intimidating) Wartime Officer costume. No one will dare play Battleship with a guy with this many ribbons but you're sure to stir up some serious salutes when you enter a soiree wearing this uniform costume. And if you're not looking to spend all your time in some stuffy war room, pair up with some brothers in camo and throw on our drill sergeant costume. Your buddies don't need to know that you're working on creative insults to hurl at your friends as you make them drop and give you twenty. That's a state secret we'll keep.
Women's Military Costumes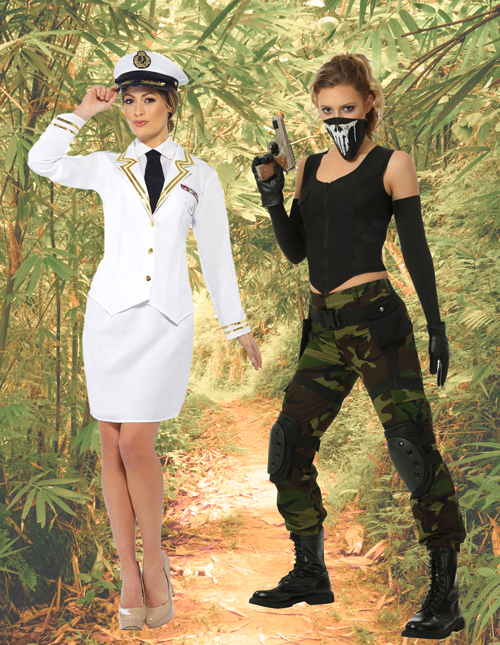 We can't forget the Navy! When people think of the military they often think of dress khakis or the camo of ground warfare. The thing is, the Navy has some of the most iconic images out of our military. Without the Navy, the air force wouldn't be able to launch their planes from the Mid-Atlantic. Also, Naval officers are some of the best dressers out there. They are the only ones who wear bright whites paired with shining gold and it's one of the world's biggest mysteries how they keep them spotless. If the ocean is not your thing and you're looking to get your marching orders, you'll feel tough in our camo fighting soldier costume. Now all you have to do is work on your, "Hoorah!".
Military Costumes for Kids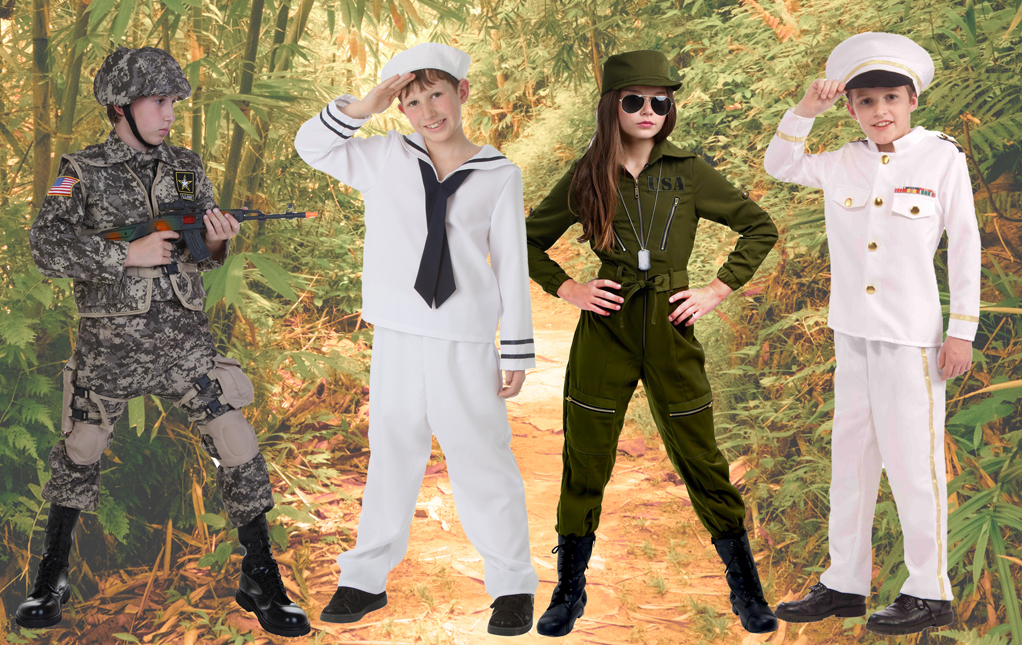 Does your child always have heroic aspirations? Of course, they do! Whether their play style is more special ops oriented with plenty of sneaking up on invisible enemies and rolling under invisible barbed wire or they are more about that sailor life, playtime is sure to be more memorable with our many military kiddo costumes. If your child has perfected the art of army crawling, then he or she has probably earned our cool camo Navy Seal costume. While he or she won't be going after insurgents, the authentic looking accessories are sure to get him a few more fun sized bars in his bag. And if the conflict is over and your little one came out as a decorated hero, congratulations! She can proudly flaunt her macaroni in a Navy Admiral costume. Once she puts it on, you can practically hear the national anthem playing!