Mardi Gras lands on March 4th this year. While that doesn't give you much time to make travel arrangements to New Orleans, you do have plenty of time to prepare your house for your own personal celebration. Mardi Gras, also called Fat Tuesday, is widely accepted as the one last big bash to eat, drink, and be merry before the season of Lent begins, a time when observers of the holiday typically fast and cut back on indulgences. (For us at HalloweenCostumes.com, it's just one more excuse to dress up!)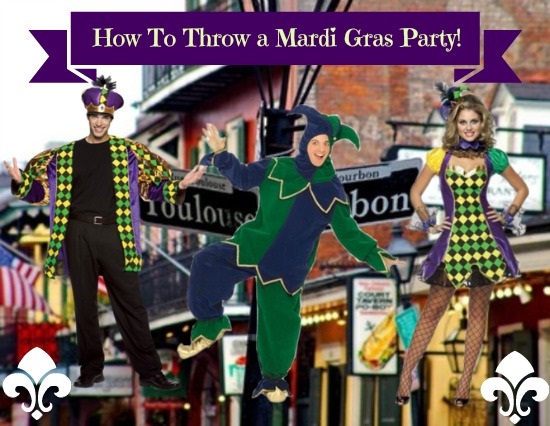 Mardi Gras King Costume Mardi Gras Jester Costumes
Throwing a Mardi Gras masquerade can be as simple or complex as you want to make it. To give you some inspiration for what to wear to a masquerade party, we've put this post together with ideas on what to wear, what to eat, and how to decorate your house for your masquerade. As they say in New Orleans – Laissez les bons temps roulet! (Let the good times roll!)
COSTUMES
Mardi Gras is also known as a carnival, so the more exciting the better! Jesters, royalty, and masked figures are all common costume themes for any masquerade party. When throwing your bash, make sure to let guests know the level of costuming expected. Is a full masquerade ball gown required for entry into your soiree or would a checkered t-shirt suffice? Either way, clues as to what partygoers should wear are helpful: green, purple, and gold colors, crowns and masks, feather boas and face paint are all good ideas for your Fat Tuesday function. Check out these masquerade dress ideas to get those sparks of inspiration flying!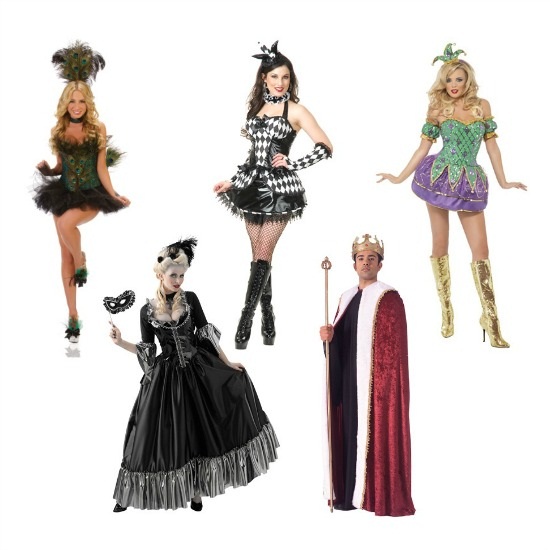 Peacock Costume Black and White Harlequin Costume Black Masquerade Gown
King of Hearts Robe All Mardi Gras Costumes
ACCESSORIES
In our opinion, little extra touches can skyrocket your costume to its full potential. Additional Mardi Gras party attire should include beads, beads, and more beads as they are definitely a Mardi Gras staple. The same goes for masquerade masks; even with a simple solid color dress or outfit, a spectacular mask can elevate you to party royalty.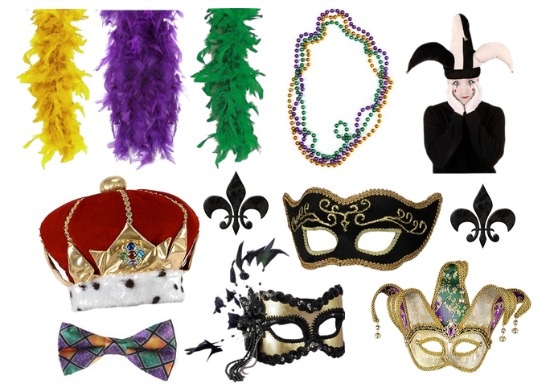 Mardi Gras Accessories
NAIL ART
Want to participate in the masquerade, but don't feel like going all out by dressing up? Nail art could be right up your alley. Again, purple, green, and gold are the colors to go with. Diamond Checkered patterns will also be a hit. Otherwise, just add some sparkle with gems, glitter, and beads.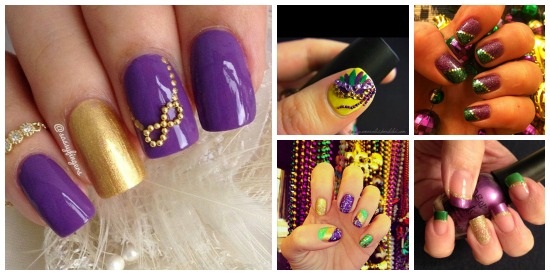 [ Sources Clockwise from Top Left: One, Two, Three, Four, Five ]
DECORATIONS
Costume pieces like feather boas and masquerade masks are not limited to being worn. You can totally throw together the perfect centerpiece using these same items, along with plenty of strings of beads and gold doubloons. The fluer-de-lis, crowns, and comedy/tragedy masks are also commonly used symbols in Mardi Gras celebrations in New Orleans.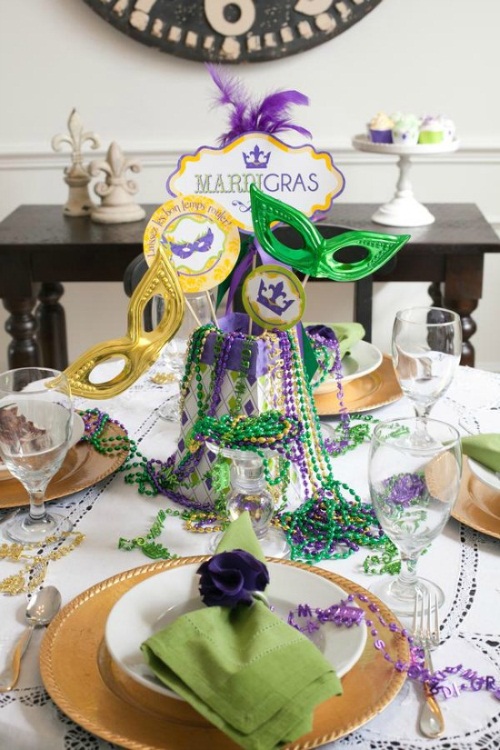 [ Source ]
FOOD & DRINKS
What's a party without refreshments? You can either go the authentic route and cook up some down-home Louisiana dishes, or you can use the theme as inspiration (think gold sprinkles and chocolate doubloons). Crab cakes, creole shrimp, and red beans and rice are southern staples, but chips and salsa with green and purple napkins would work just as well.
[ Source ]
As far as drinks for the grown-ups, some Mardi Gras ideas include hurricanes, Bloody Marys, mint juleps, coconut rum and pineapple juice margaritas, bahama mamas, or some good old fashioned food coloring in whatever clear beverage you already have around the house. Laissez les bons temps roulet!