Celebrations where people prepare all year long are few and far between. Most people wait to shop for Christmas until Black Friday or Cyber Monday. Americans flock to see the fireworks on the 4th of July and maybe throw a barbeque or two. Many people also wait for the month before Halloween to start getting their Halloween costumes. But Carnival is a big deal, and many people work on building floats, making costumes and practicing their dances and parade marches in the off-season. Carnival and Mardi Gras celebrations are simply spectacular, and with that amount of preparation, it's no wonder why! People flock to watch these festivities from around the world, too. If you're in the market for a Carnival or Mardi Gras outfit to wear to one of these events or a similarly-themed party, check out these costume ideas for different Carnival celebrations around the world!
Rio de Janeiro Carnival Costumes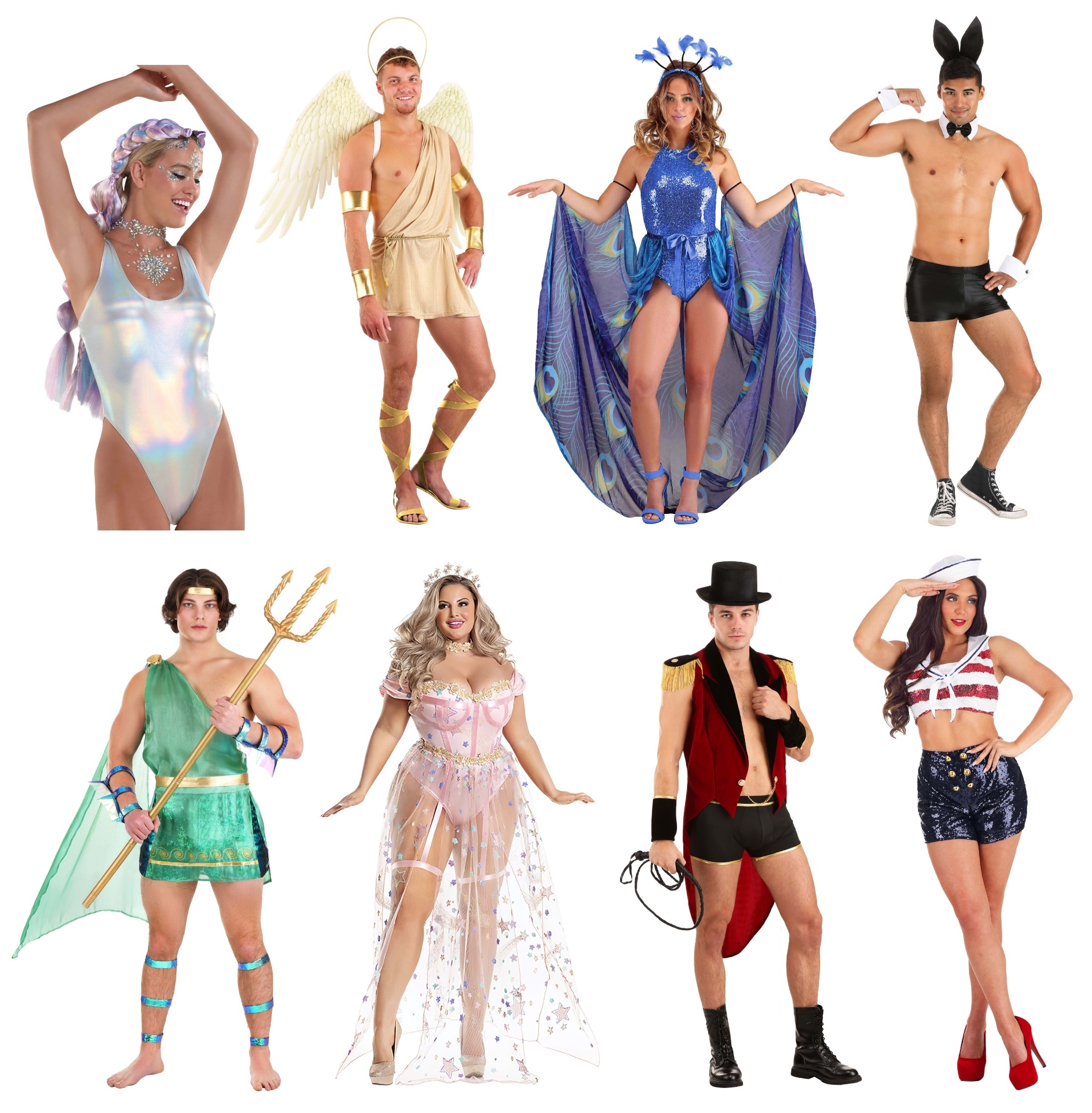 The Carnival of Rio is one of the hottest Carnival celebrations in the world—both for its popularity and weather. World-renowned for gorgeous costumes and extravagant floats, it's a celebration you won't want to miss! Many Carnival outfits feature sequins, glittery gems and lots of large feathers. Attendees can get in on the costumed fun as well, although you'll want to avoid wearing plumes, wings and anything else that will make it difficult to navigate a crowd. (Sequins, gems and other bling are still fine!) Carnival costumes for men and women are typically sexy costumes, giving you the liberty of less fabric to stay cool in the tropical heat. They also get bonus points for being easy to pack!
New Orleans Mardi Gras Costumes
What's gold and green and purple all over? It should be pretty obvious to you already, but we're talking about Mardi Gras costumes! The typical Mardi Gras theme colors are gold, green and purple, so you're going to see lots of people wearing Mardi Gras outfits in these colors. (Not to mention all the beaded necklaces!) Many of the best Mardi Gras costume ideas will sport the festival colors, but don't be afraid to think outside the box. You're also bound to see jester costumes, peacocks, flappers, kings and crazy suits. Just about anything goes when you're looking for Mardi Gras clothes! Also, don't forget to check the weather, as you might be inclined to wear layers.
Carnival of Venice Costumes
What do you think of when you hear about the Carnival of Venice? You're probably reminded of historical costumes (especially big ballgown ones), elaborate masks and powdered wigs. The Venetian masks are especially a big deal, and many people will customize them to match their Karneval costumes. (If you're a fan of DIY, you're going to love making your own Carnival mask!) Many Venetian Carnival outfits are reminiscent of royalty, so go all out in a king and queen couples' costume, or fly solo as a ghostly gentleman or a beautiful vampiress. Masks give off an heir of mystery, so your masquerade costume idea can also reflect that.
Carnival of Cadiz Costumes
The Carnival of Cadiz is a very light-hearted affair. Known for being one of the funniest Carnival celebrations, revelers don a variety of silly costumes and enjoy all manner of music and dance. Whether you're planning to go it alone, attend with your significant other or go in a group, you can let your personal brand of humor shine. That might mean that you plan on dressing to the nines with your squad as part of an inflatable costume group, or you want to run around in a funny vegetable costume. Ultimately, you do you.
Carnival and Mardi Gras Masks
Whether ready-made or customized, masks are a big part of Carnival and Mardi Gras celebrations. There's always the choice to buy your Mardi Gras mask. However, if you can't find one to match your costume or you like to DIY, getting a blank mask to decorate is great too! Many Karneval masks include glitter, sequins, feathers, ribbons and paint, so these are great items to grab when making your own custom Mardi Gras mask.
Carnival and Mardi Gras Accessories
If you're determined to pack light or you want to bling out in costume accessories at a late-night party, there are plenty of options for you! Wear bead necklaces and fluffy boas, or lean into the jester costume accessories—you're free to try a little bit of everything. Or outrageous wigs that will surely make you stick out in a crowd! (You could even save these versatile Mardi Gras accessories for festivals or raves, too!)
We hope you have some great ideas for your next Carnival costume. Whether you plan to go to Rio or you want to create your own themed party back home, there are tons of ways to enjoy the occasion. Have you ever been to a Carnival or Mardi Gras celebration? Are you looking to throw your own Mardi Gras party from home? Let us know about your experiences in the comments below! Also, feel free to share some of your favorite Carnival costume ideas with us. We're always looking for fun new costumes!