Choosing costumes for Halloween can sometimes be a little tricky. Do you want to be pretty or cool? What about a recognizable character costume or something with a touch more nostalgia? Well, there are Disney costumes perfect for every person! From the animated classics to Pixar's famed 3D animation, there are so many Disney movies for everyone to enjoy. It doesn't matter if you're looking for Disney costume ideas for Halloween, outfits for conventions, Halfway to Halloween party ideas, or even a dress-up costume for your child to use at home. You'll have so much fun with these Disney costumes that you might just want to wear them again and again!
Hocus Pocus Costumes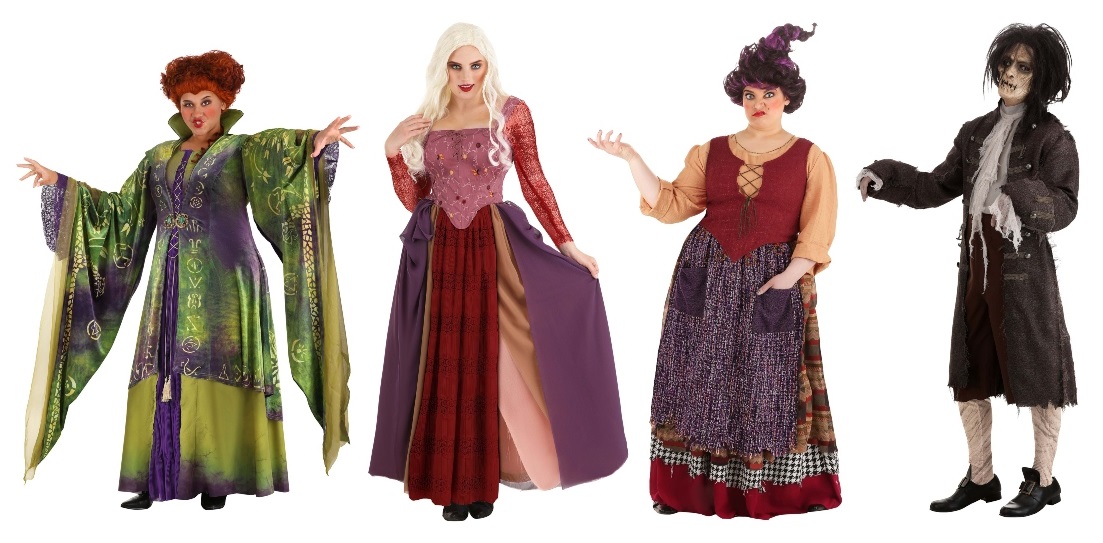 Come little children, I'll take thee away into a land of enchantment. The Sanderson Sisters sing these spell-binding words in Disney's classic Halloween movie, Hocus Pocus. Now, wearing a Hocus Pocus costume may not require you to sing, but we're not going to stop you if that's your thing! You can find Winifred costumes, Sara costumes, and even Mary costumes for the three witch sisters. (Don't forget to add a black cat for Thackery Binx!) If you're feeling brave, you could even attempt a Billy Butcherson costume with the right makeup. You're sure to delight Hocus Pocus fans with this Disney group costume idea!
Descendants Costumes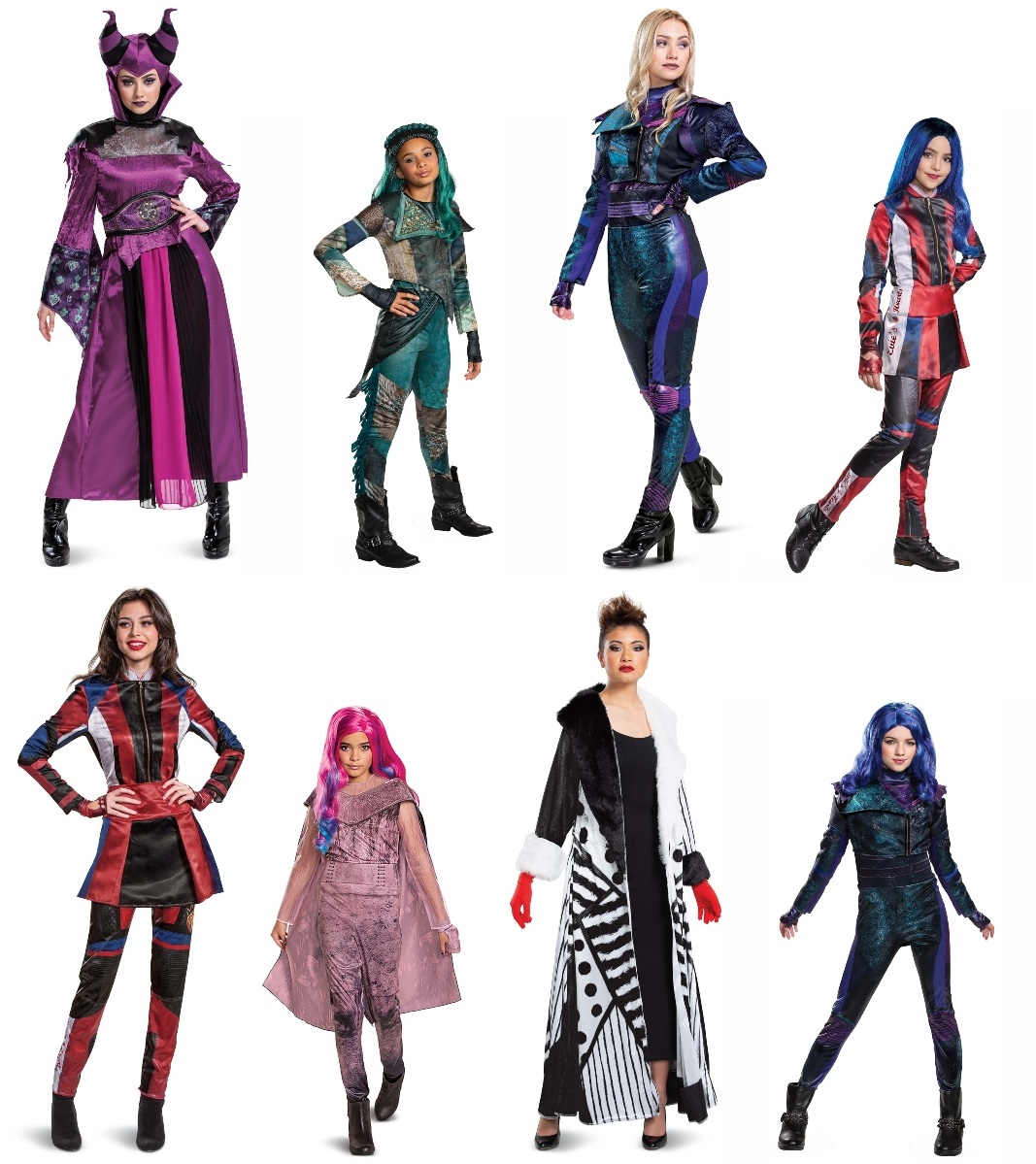 What are the best Disney costumes for girls when considering a group costume? You may feel tempted to try a group of Disney princesses, but your tweens and teens might prefer wearing Descendants costumes. While the characters may be related to the princesses you know and love, the Descendants get away from the ballgowns and tiaras with their own signature looks. As the girls would say, it's time to put our history behind us and celebrate our differences!
Toy Story Costumes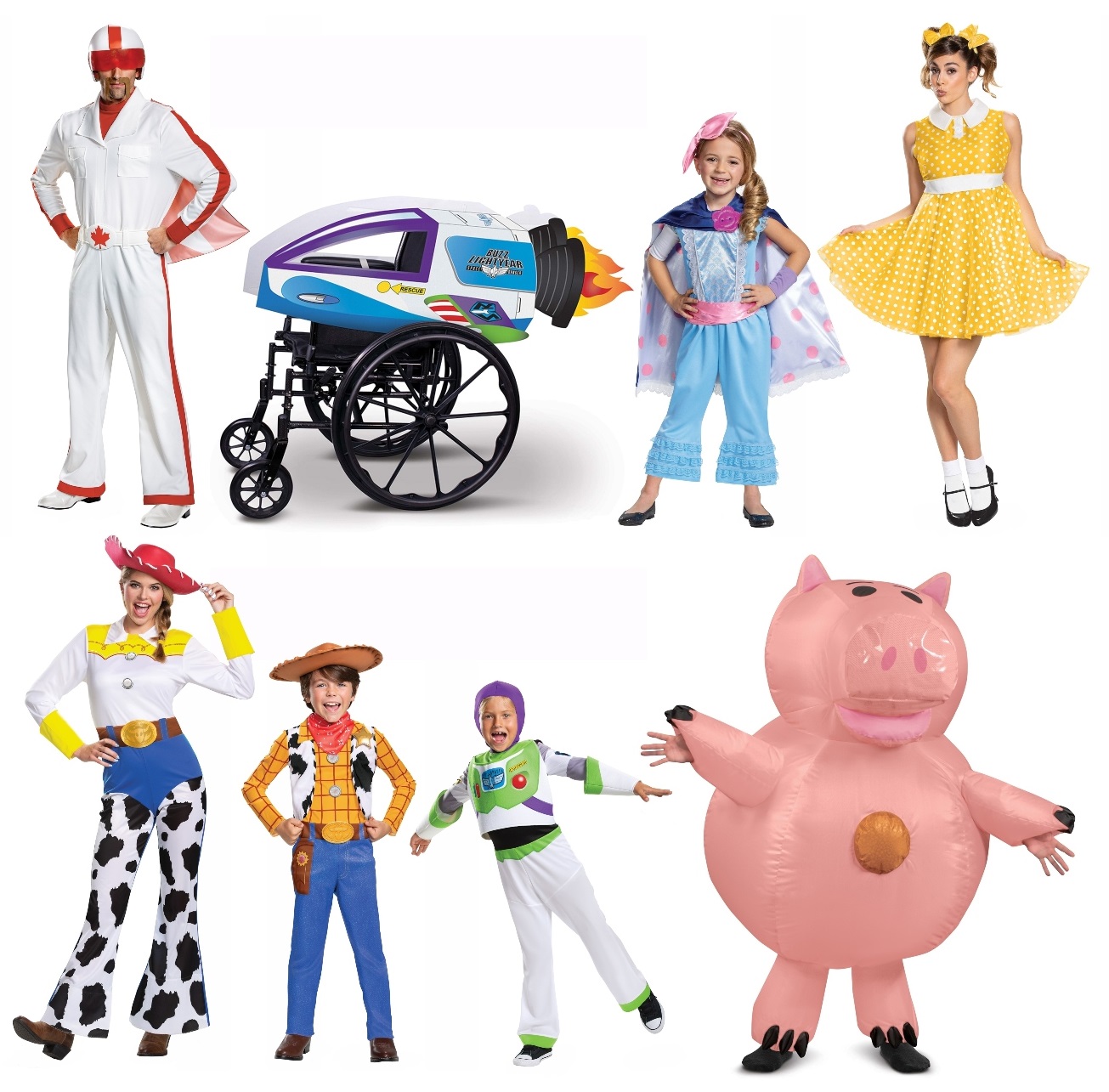 Pixar's Toy Story movies are often family favorites, so anyone looking for the perfect family Disney costume idea doesn't have to search too far! With great characters like Buzz Lightyear, Jessie, Woody, and Bo Peep, there are plenty of Toy Story costumes to accommodate family units of nearly any size. You can even find some adaptive costumes and Disney wheelchair covers for family members with disabilities. Everyone loves to get candy and dress up for Halloween!
Beauty and the Beast Costumes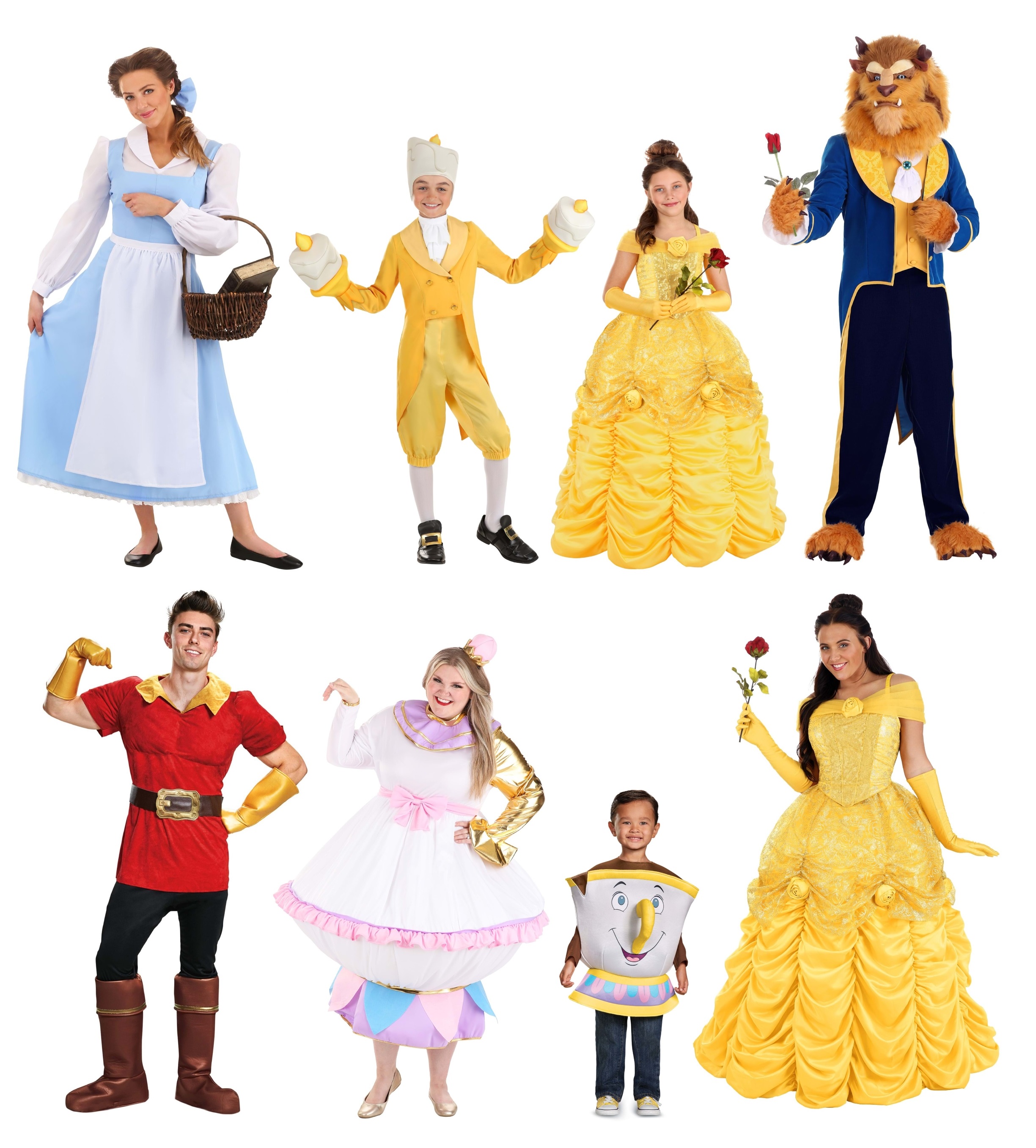 Whether you're a fan of the original French fairytale or you're more familiar with Disney's Beauty and the Beast, we have Beauty and the Beast costumes perfect for Halloween, dress-up, and stage plays! Girls will love twirling in this Disney princess ball gown well after Halloween night, and she might be able to invite a friend as a teacup for pretend tea parties. Even adults will love this classic Disney couples' Halloween costume idea to make the day more magical.
Monsters Inc. Costumes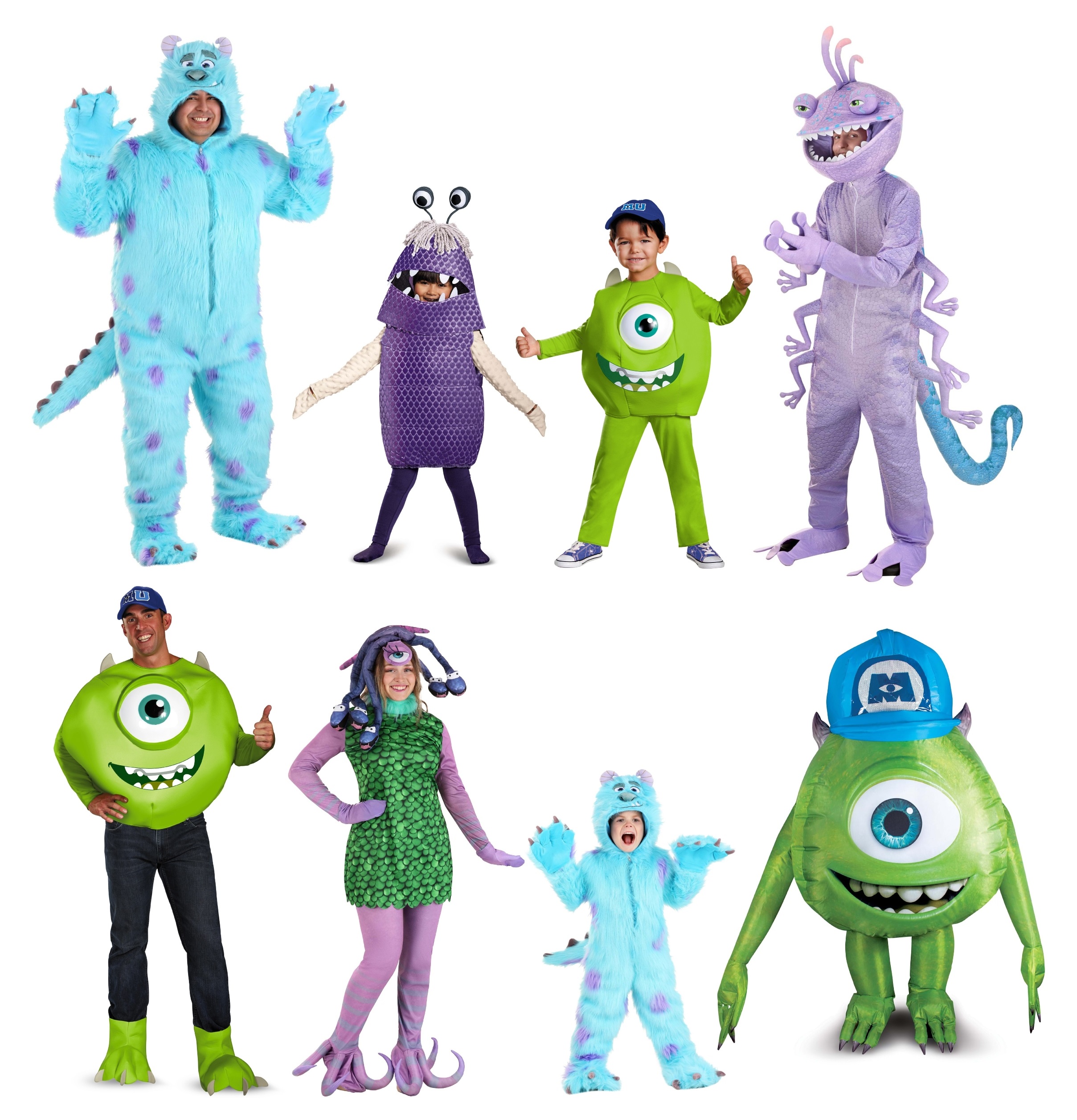 Halloween is an affair for scary costumes and horror movies for many people. Your kids may not be on board with scary clowns and monsters, but Disney's Monsters, Inc. is full of friendly monsters! The two main characters, Mike and Sulley, are great Disney duo costumes. However, there are a few other Monsters, Inc. costumes to try if you need more characters. How cute would it be if you could dress your toddler up as Boo? What about getting your dog in on the fun as the Mike to your Sulley? Also, if you're always cold on Halloween, a Sulley costume will keep you warm with a furry jumpsuit.
Frozen Costumes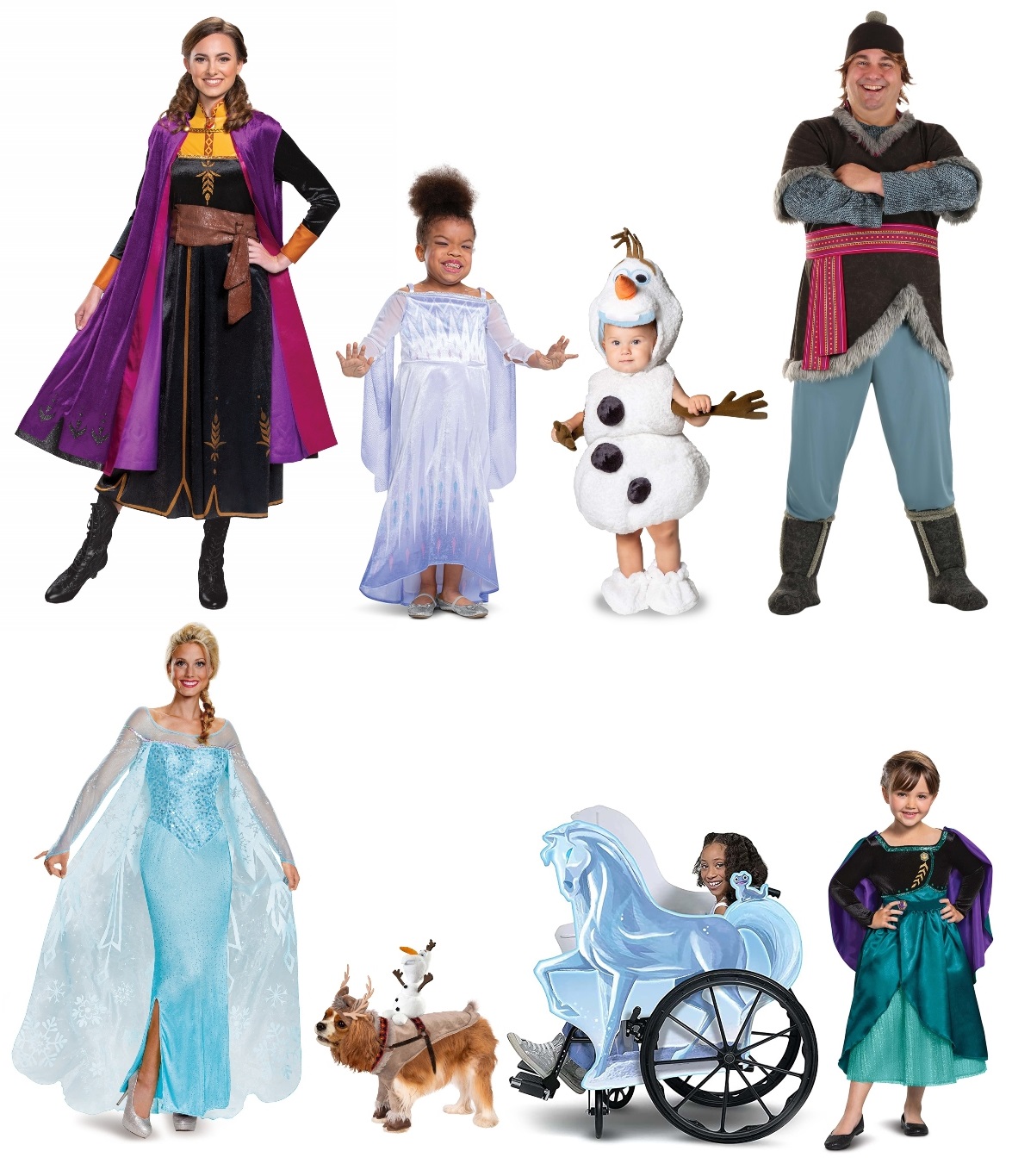 If your family has a case of 'Frozen Fever,' perhaps it's time to don family Frozen costumes for Halloween! Kids love characters like Elsa, Olaf, and Anna, but it's even better when moms and dad dress up. You can also find an ice Nokk wheelchair cover fit for everyone's favorite Disney princess! With so many fun Disney costumes for kids and adults, you'll be the envy of everyone in the neighborhood.
Moana Costumes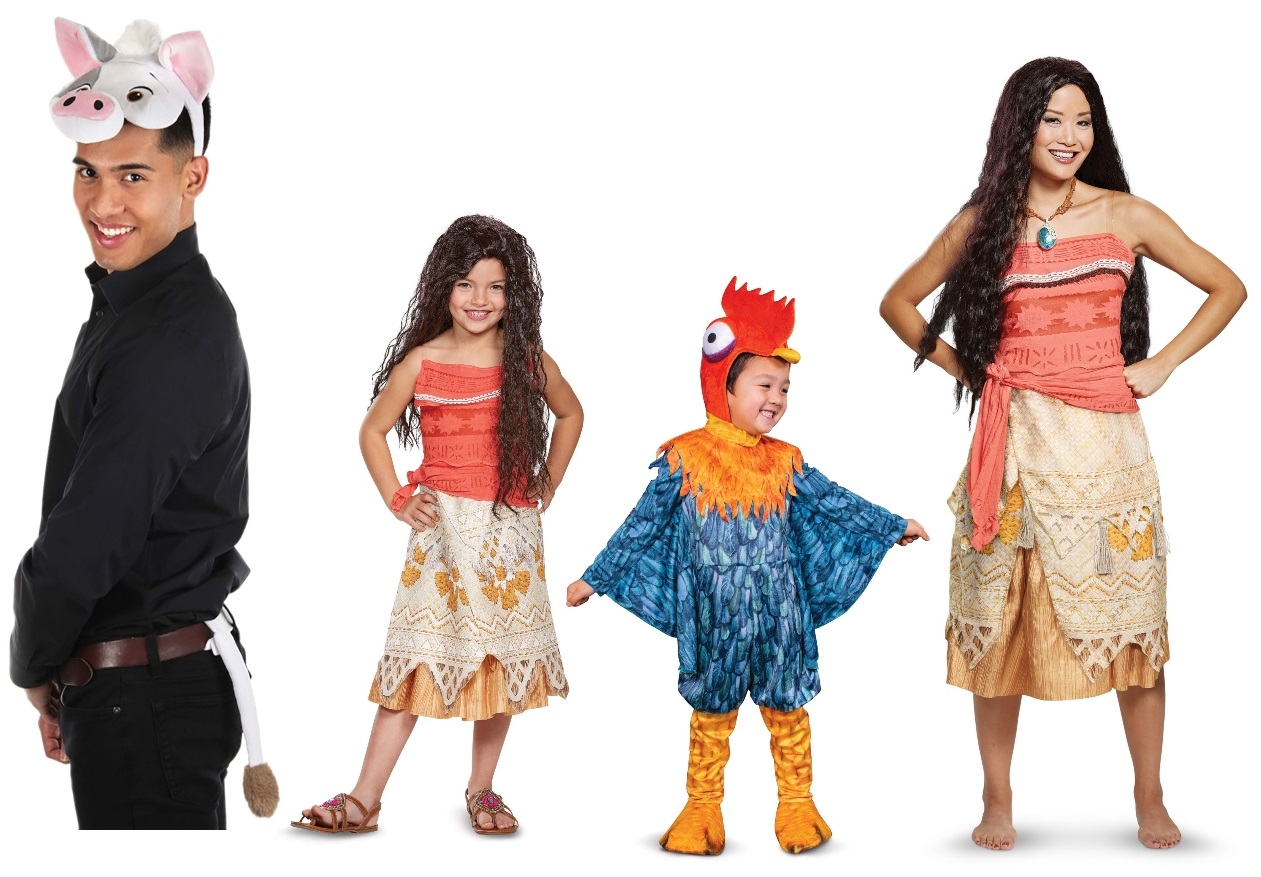 What can we say except "You're welcome!" for this great Disney costume idea? The main cast of characters in Moana is smaller than some other Disney movies, but it's perfect for people who want to do their own thing for Halloween. (Or perhaps as a dynamic duo!) While Moana enlists the help of Maui on her adventures, she takes on several challenges on her own. You can also find a few animal costumes of her sidekicks Pua and Hei Hei to round out your Moana costume group.
Lilo & Stitch Costumes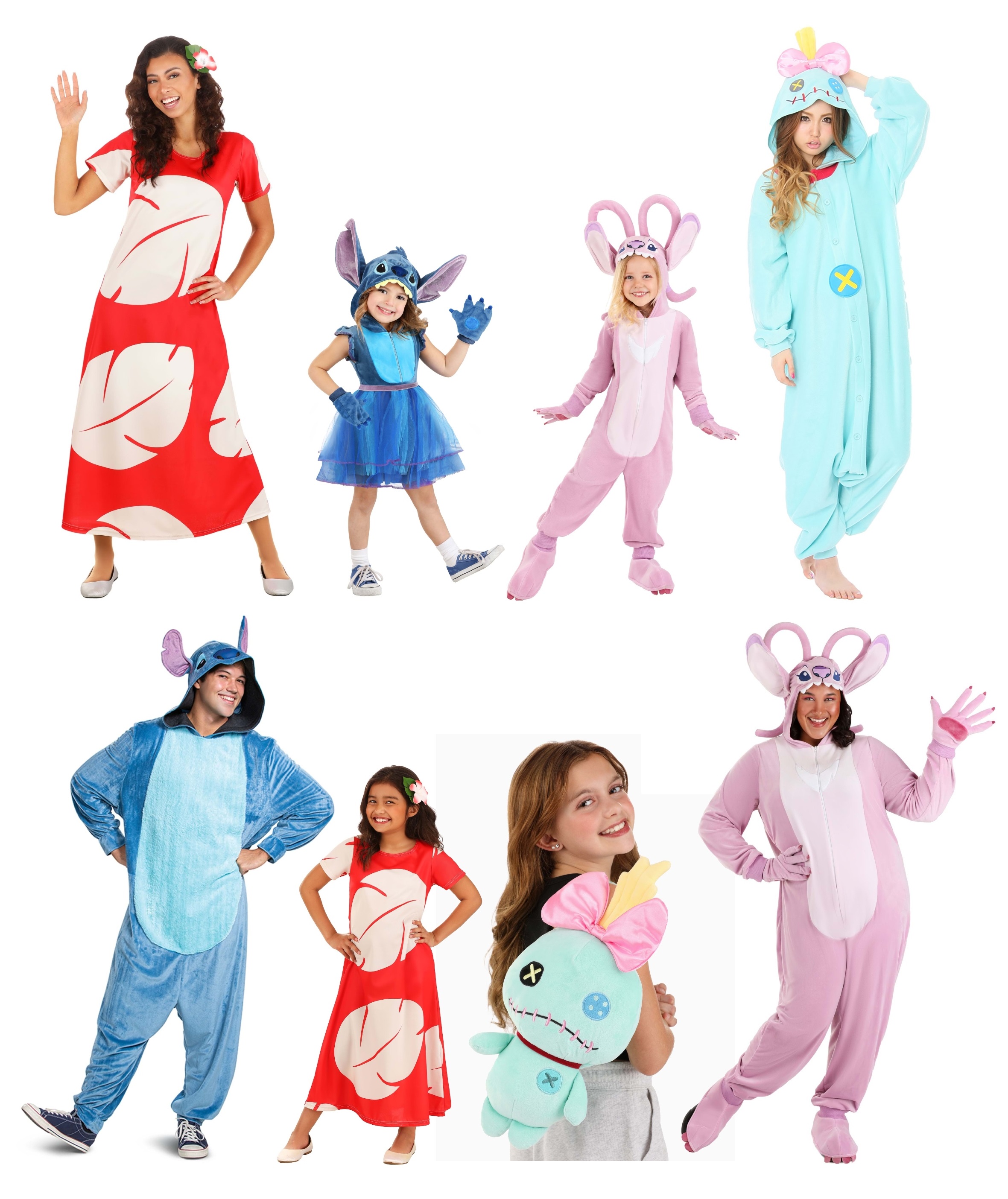 Are you looking for a small family costume or perhaps a mommy and me Disney costume idea? Lilo & Stitch costumes are great for small family units of 2-3 people! Lilo and Stitch are the two characters you're likely to see the most, but we also carry Angel and Scrump kigurumis if you want additional characters. Don't forget to blast some Elvis hits!
Mulan Costumes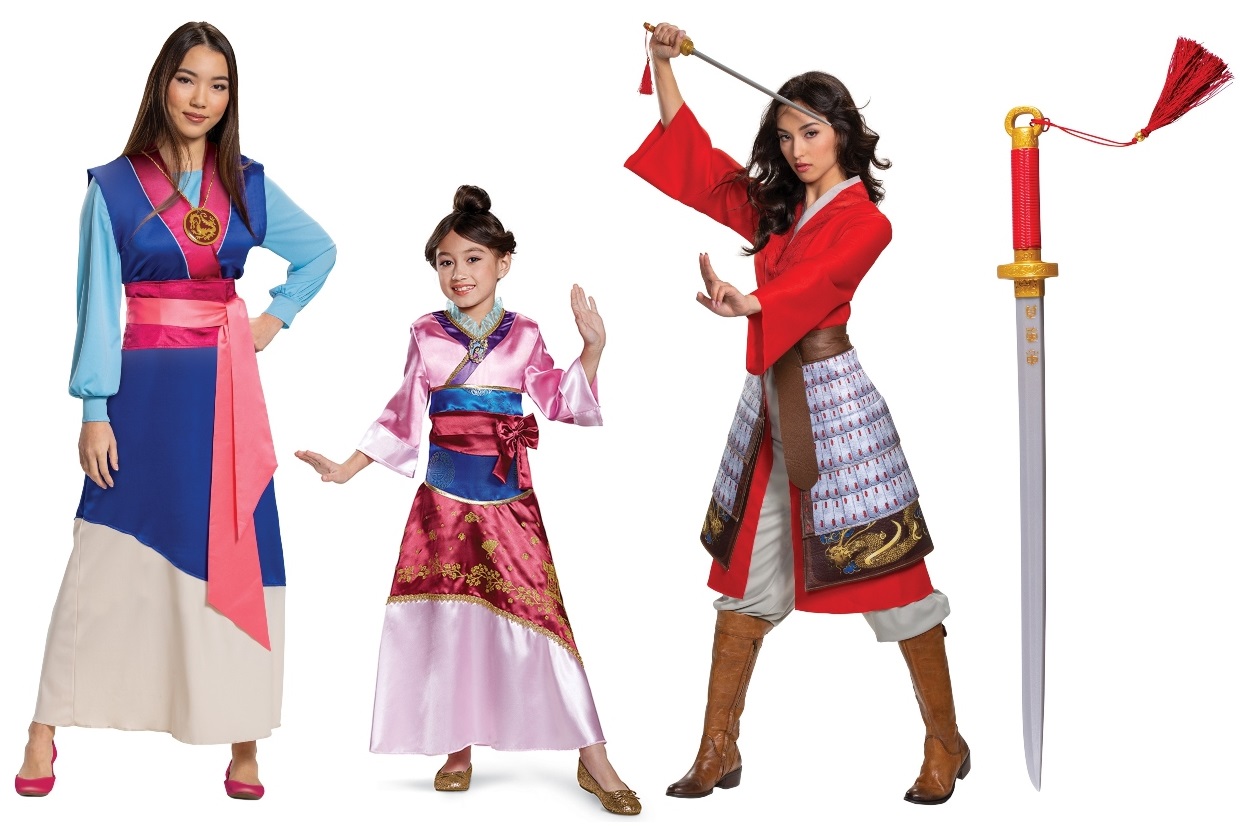 Mulan is one of the more recent Disney films to get a live-action adaptation, and we can't help but love both movies. Mulan has several outfits, so we have a few costume options to match her costume changes. Wear her red outfit from the live-action film, or don her pink or blue ensembles from the original animated movie. If you can find someone willing to wear a red dragon costume, they could be your Mushu!
Winnie the Pooh Costumes
Anyone that wants to be comfortable on Halloween should consider a Winnie the Pooh costume. Not only are these loose-fitting onesies and jumpsuits easily recognizable, but it's easy to move around in them, and you can wear clothing underneath if you need more layers to stay warm. You can also find Kigurumi pajama costumes for adults and kids, so you feel extra-snuggly. (Just make sure not to take a nap at work!)
Peter Pan Costumes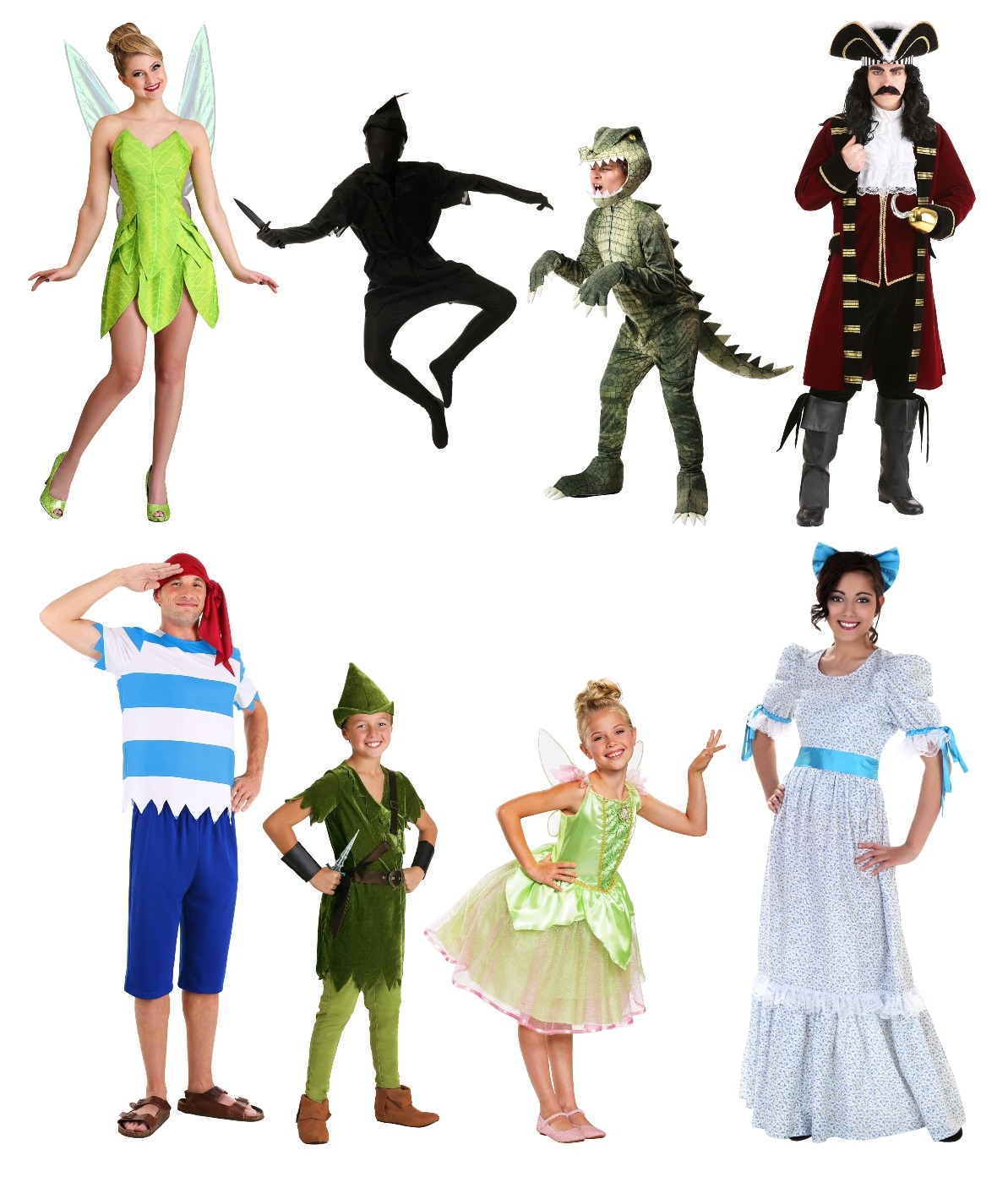 Whether you're a fan of the Disney movie or one of the many adaptations for the stage, there are plenty of Peter Pan costumes to accommodate families of any size! Kids who don't want to grow up may want to dress up as Peter Pan or Tinkerbell, while parents can help fill in other roles such as Captain Hook and Wendy, or even some of the other pirates. You can also branch out and wear an all-black costume for Peter's shadow, or perhaps an alligator or crocodile costume for the crock that swallowed a clock. (Just make sure not to eat any more timepieces!)
Alice in Wonderland Costumes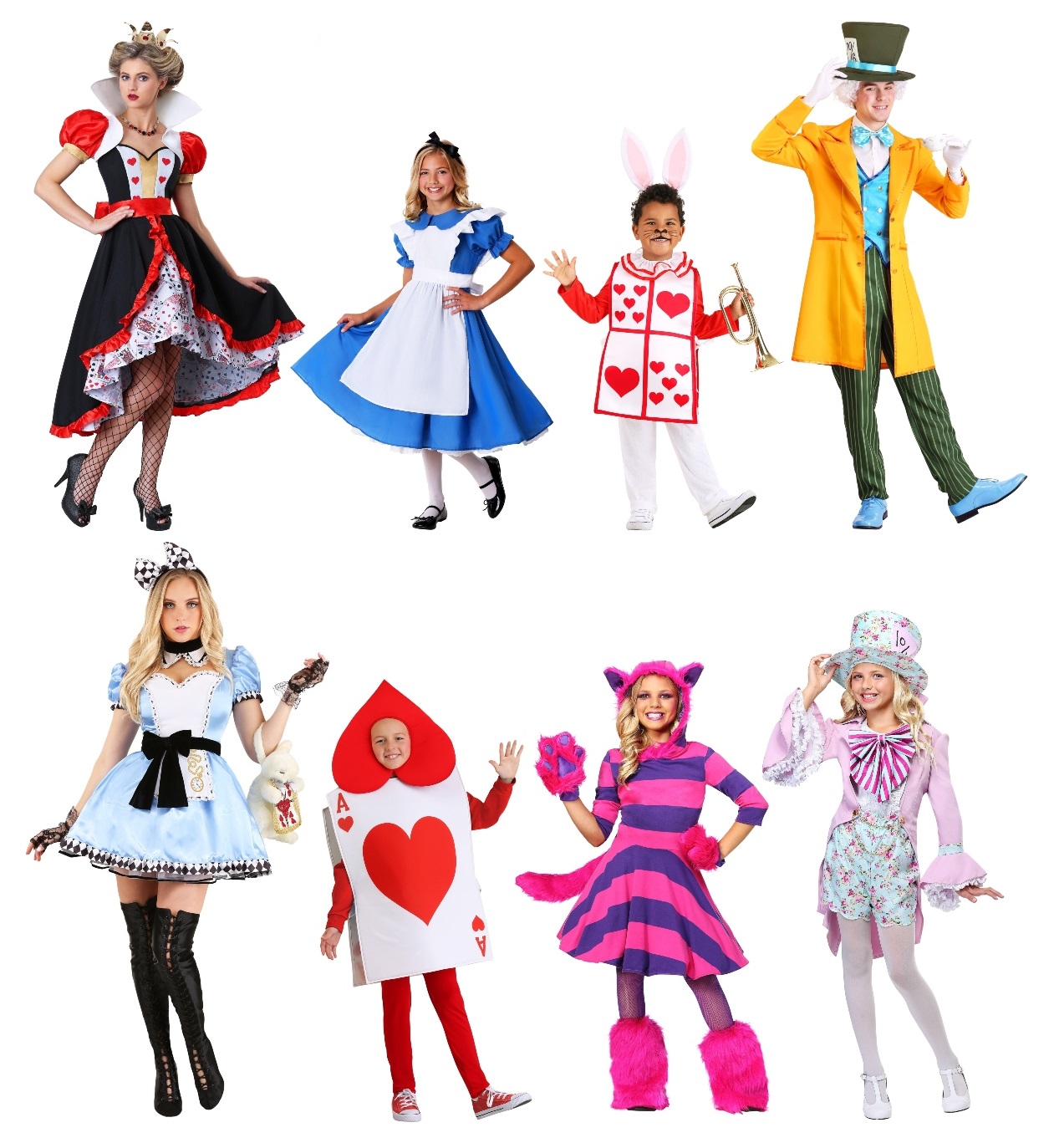 Similar to Peter Pan, Alice in Wonderland has had multiple adaptations. (And even several interpretations by Disney!) Whether you prefer one of the works by Disney or the classic storybook version, we have Wonderland character costumes perfect for everyone. There are so many characters that you can easily do a Disney duo costume or accommodate a group of 6 or more. Also, we have Alice in Wonderland costumes for adults to infants so that the entire family can take part in the costume fun.
Lion King Costumes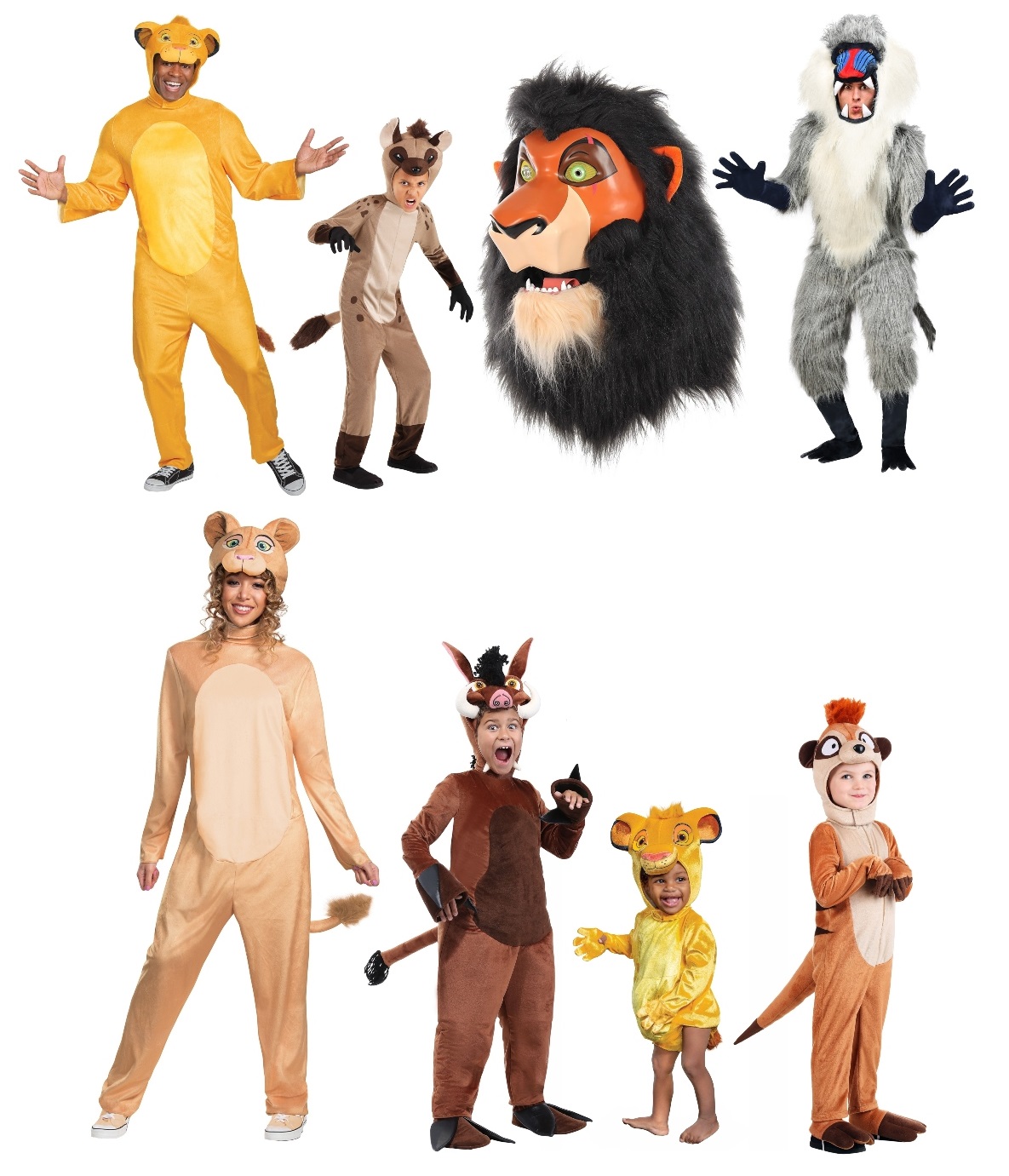 If you ask anyone for their top 5 Disney films, The Lion King will likely be in it. The movie has excellent animation, relatable characters, and a fantastic soundtrack, so it's not hard to see why! Kids also love animals, so it's also a good movie for kids' Disney Halloween costume ideas. You can find Lion King costumes and masks of the main characters, but other African animal costumes can help you add to your Lion King cast.
Mary Poppins Costumes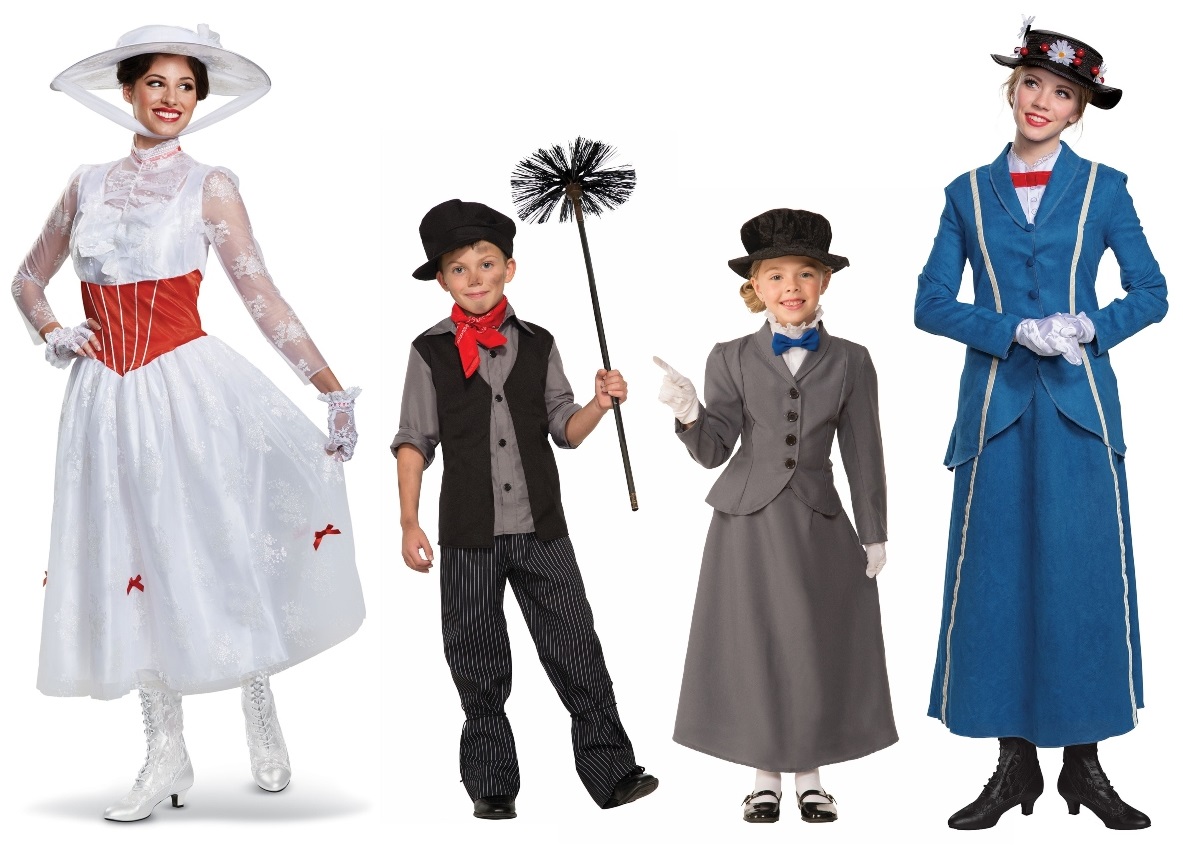 Are you searching for a Disney Halloween costume that's practically perfect in every way? Look no further than these Mary Poppins costumes! Comfortable, iconic, and even a touch vintage, everyone needs a little Mary Poppins in their life. She knows exactly how to handle every situation with a dash of imagination and fun! Also, how cute would a Burt and Mary couples costume be?
Aladdin Costumes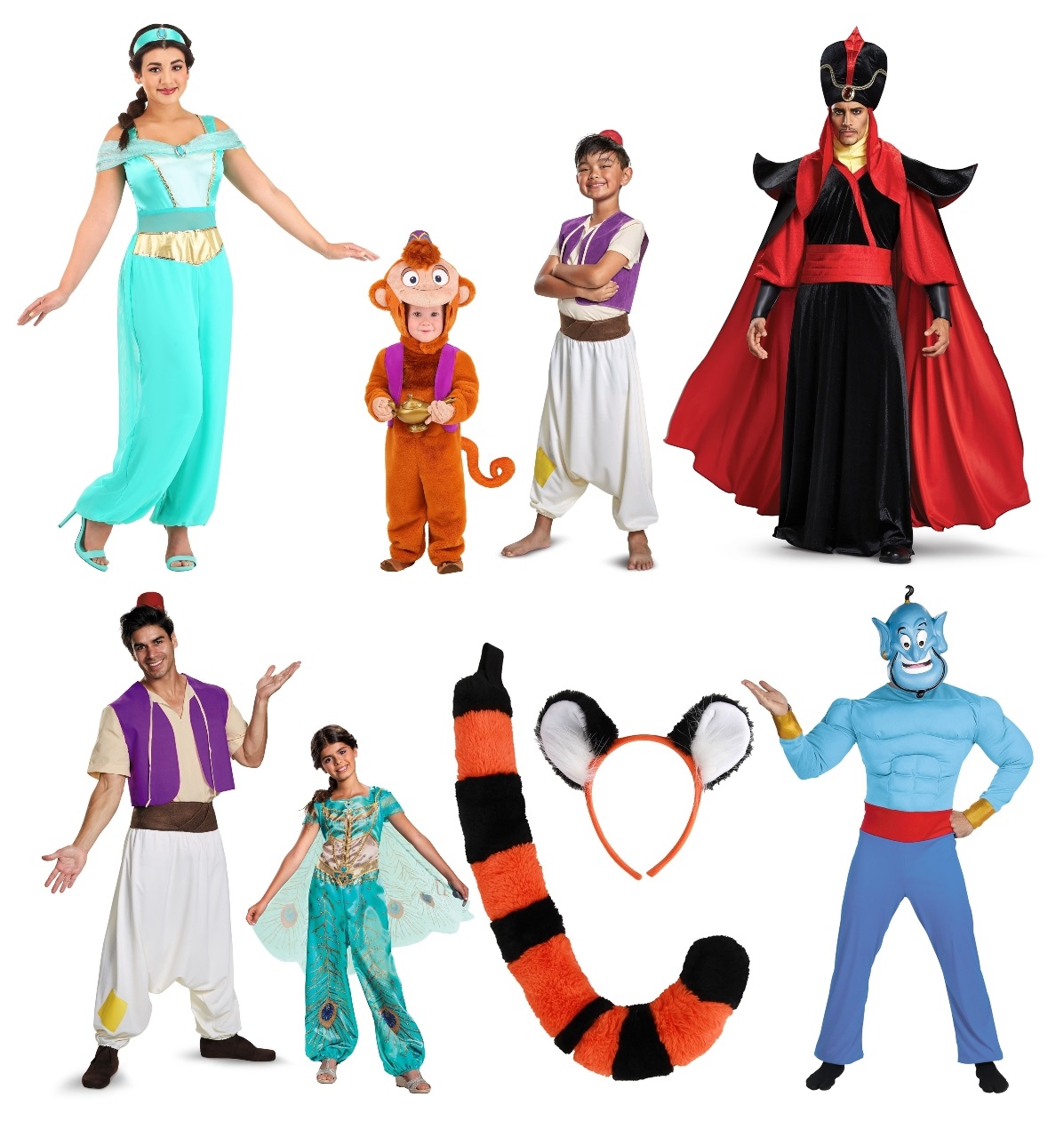 The world of Aladdin is full of adventure and magic, so it's not hard to see why someone would be interested in wearing Aladdin costumes for Halloween. You have Aladdin, the charming street rat; Jasmine, the princess with her pet tiger; a magical genie capable of fulfilling your every wish; and an evil sorcerer with the perfect winged eyeliner. (We'll have to ask Jafar how he does it!)
Incredibles Costumes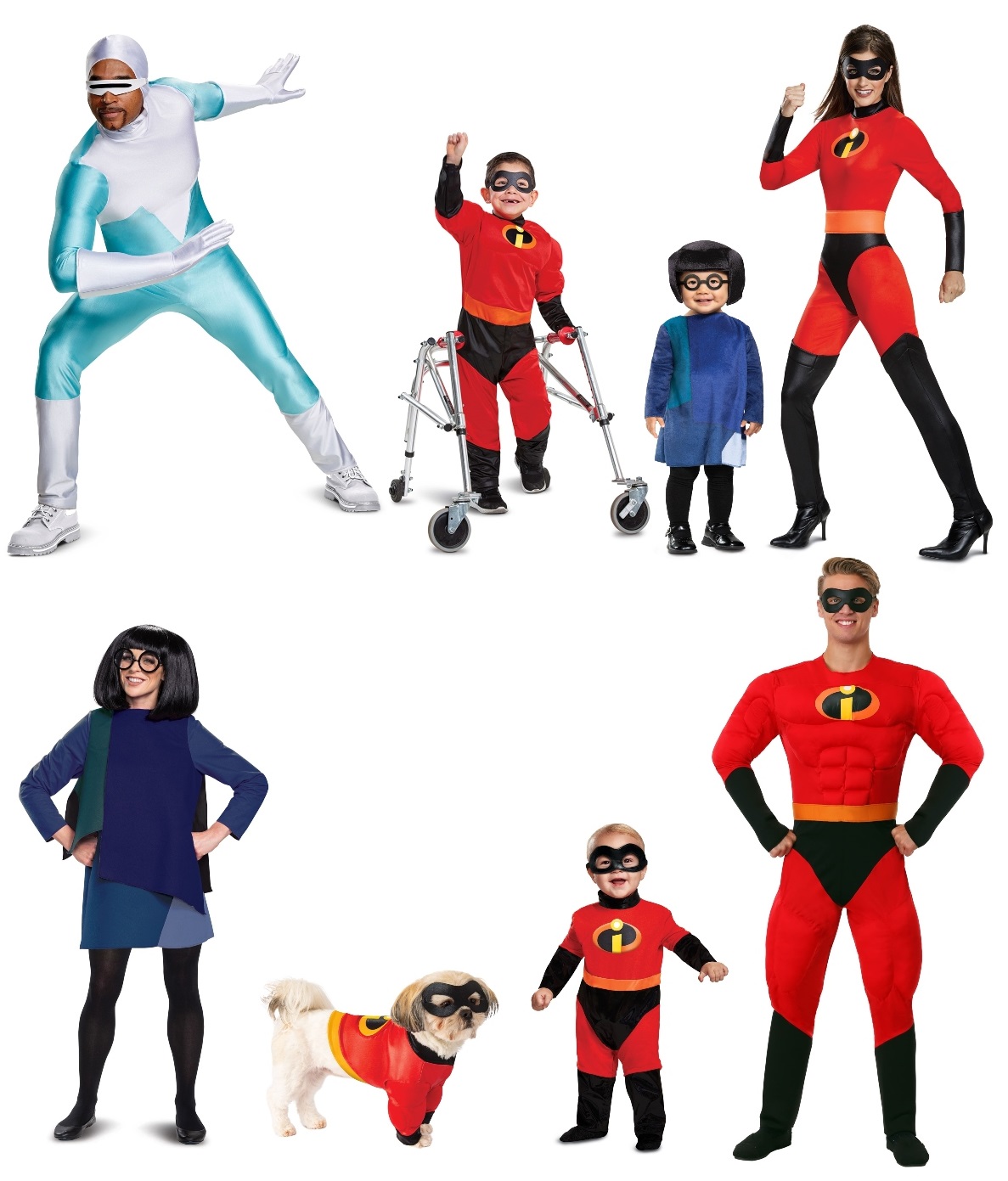 No other Disney movie screams "family Halloween costume idea" quite as loudly as The Incredibles! There are Incredibles costumes for babies to adults, so everyone from Jack-Jack to Mr. and Mrs. Incredible will have something to wear. You can also include your friends with characters like Frozone and Edna Mode. (Frankly, they have some of the best lines in the Incredibles movies, so we won't blame you if you pick one of them for yourself!)
Snow White Costumes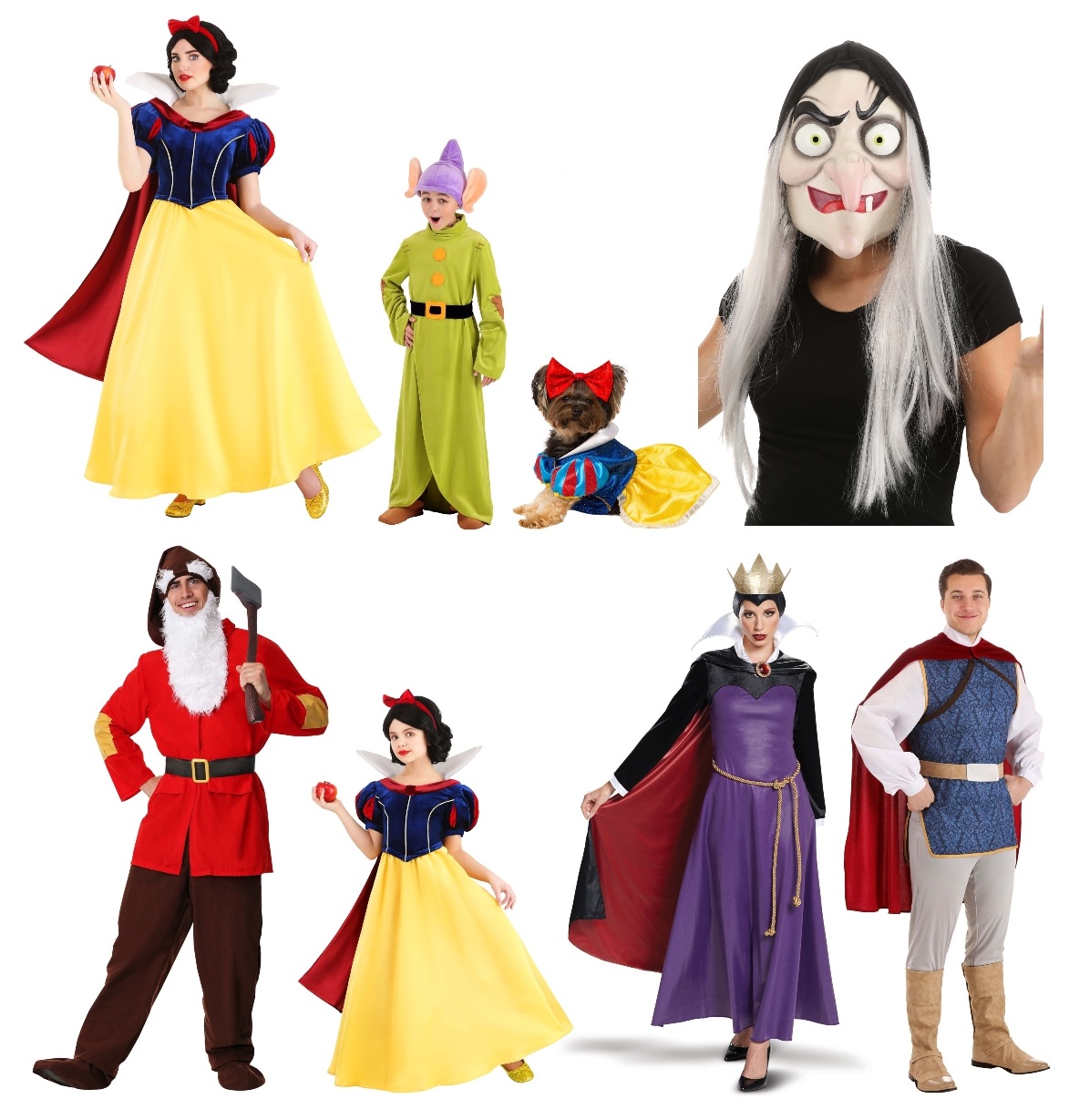 Sometimes, it's just hard to pass up on a classic. Like many iconic Disney villains, the evil queen has killer makeup looks for ladies, while Snow White's dress is immediately recognizable. Women's costumes for two, anyone? You'll undoubtedly be the ultimate power couple at any Halloween party! You can also add any of the seven dwarfs if you want to bump the numbers of your Snow White group costume.
Emperor's New Groove Costumes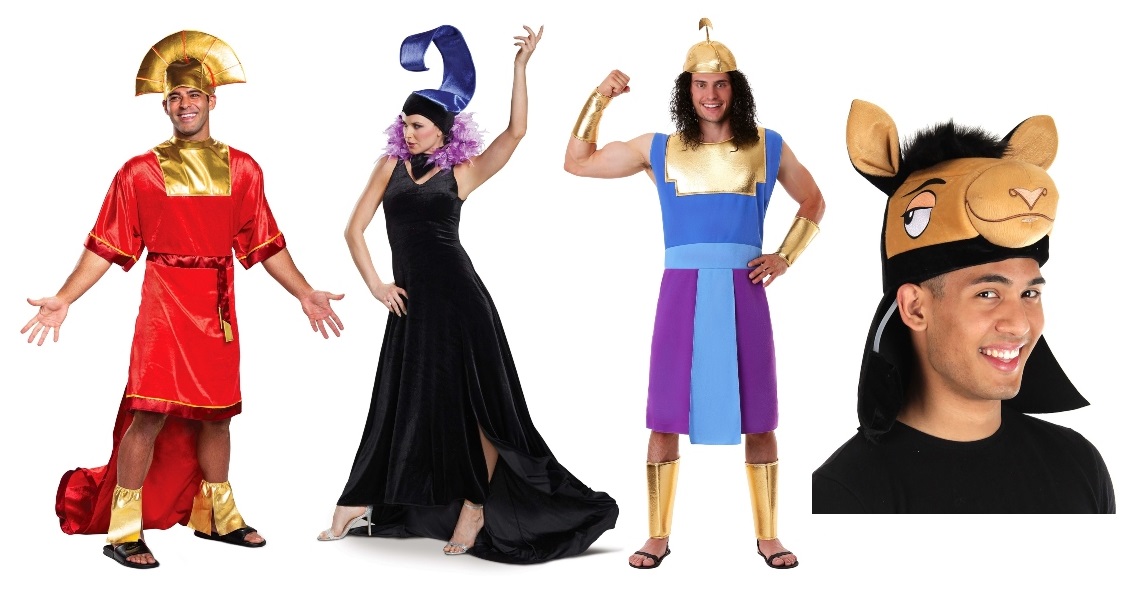 This funky fresh Disney movie certainly turned some heads with a new twist on the classic Disney movie formula. Get ready to pop out your favorite lines with these Emperor's New Groove costumes! Feel fabulously evil as Yzma or obnoxiously carefree as Kuzco. Who are we kidding—everyone wants to have a Yzma and Kronk couples' costume so you can yell, "Pull the lever, Kronk!" at every opportunity! Just make sure not to forget your spinach puffs in the oven.
Little Mermaid Costumes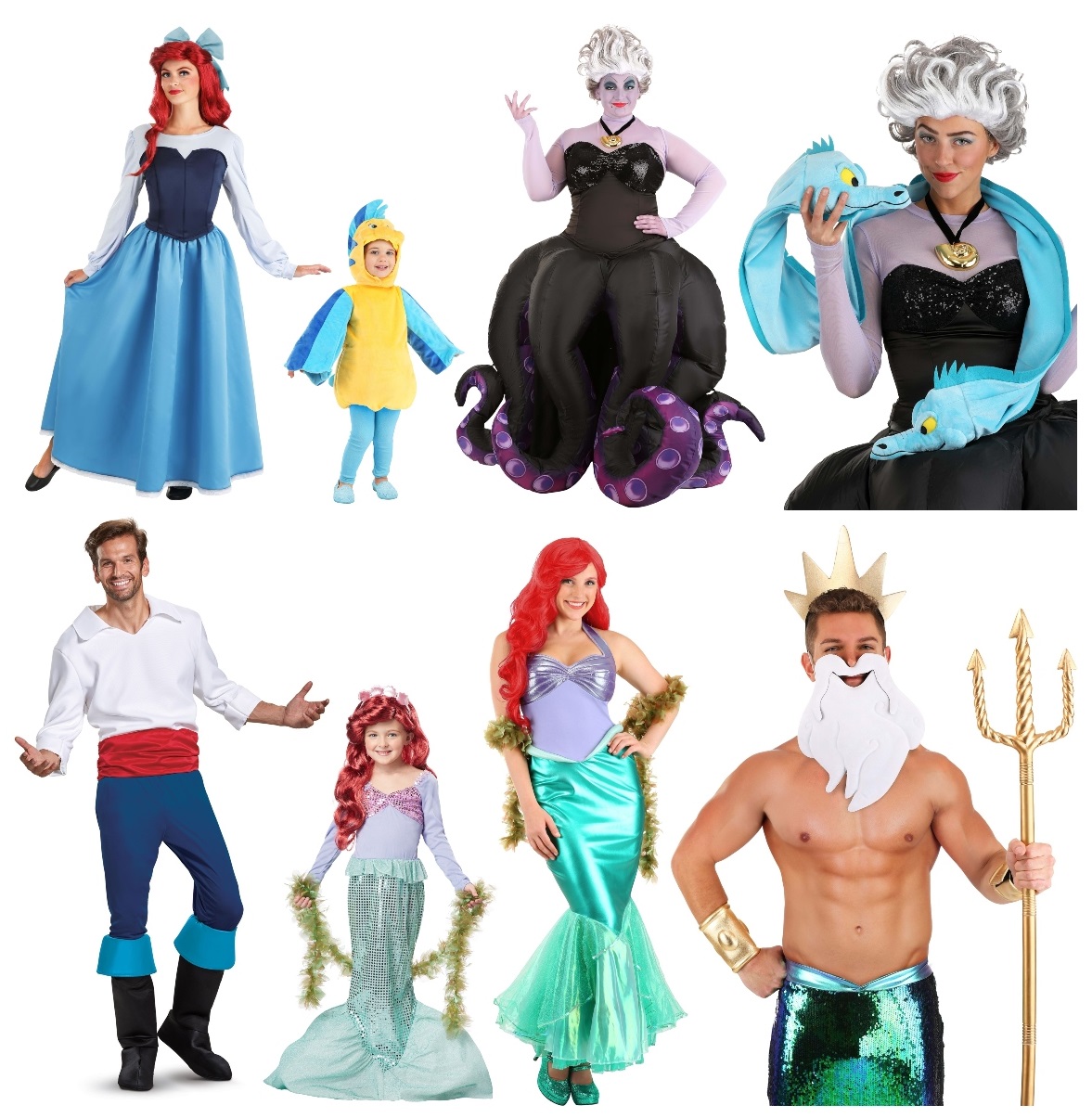 Something enchanting about mermaids, unicorns, and other fairy tale creatures makes them incredibly popular costumes for Halloween. Why not have the best of both worlds and wear a princess Ariel costume from The Little Mermaid? You can also expand this idea into a group costume by adding characters like Ursula and Prince Eric, and you could even include a lobster costume if you need a Sebastian. Don't forget to take pictures of your Little Mermaid costumes that will make everyone wish they were part of your world!
Sleeping Beauty Costumes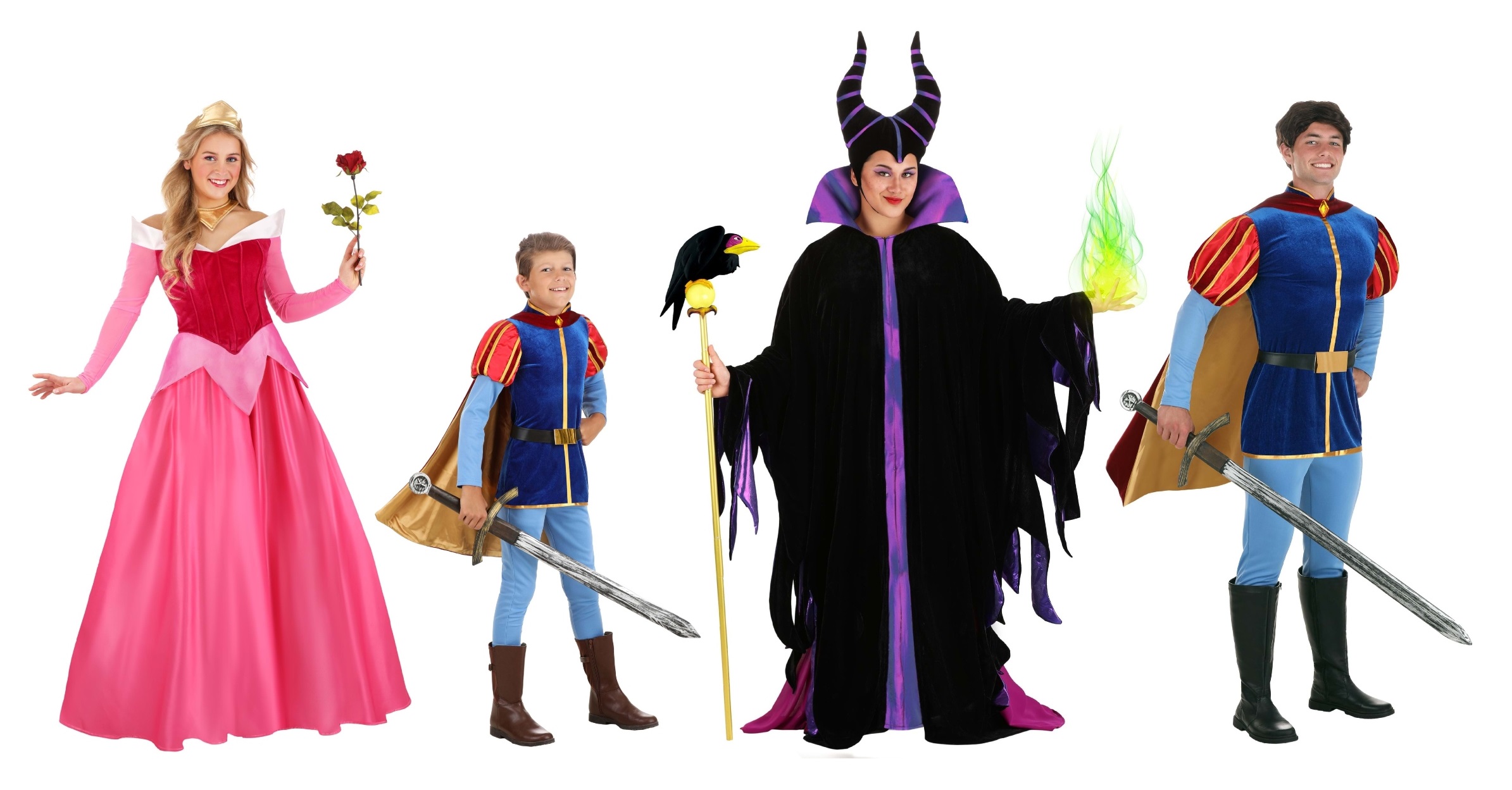 Speaking of classic fairytales, Disney's Sleeping Beauty has it all—evil witches, charming princes, enchantments, and even dragons! Princess Aurora's perfectly pink dress will delight any princess hopefuls. However, Maleficent is an amazing sorceress in her own right, even if she's a little bit evil. Turn this Disney costume idea into a costume for two, or perhaps create a sinister Disney villain group costume by mixing and matching with other movies. No matter what Sleeping Beauty costumes you choose, you get to make your own happy ending!
Tangled Costumes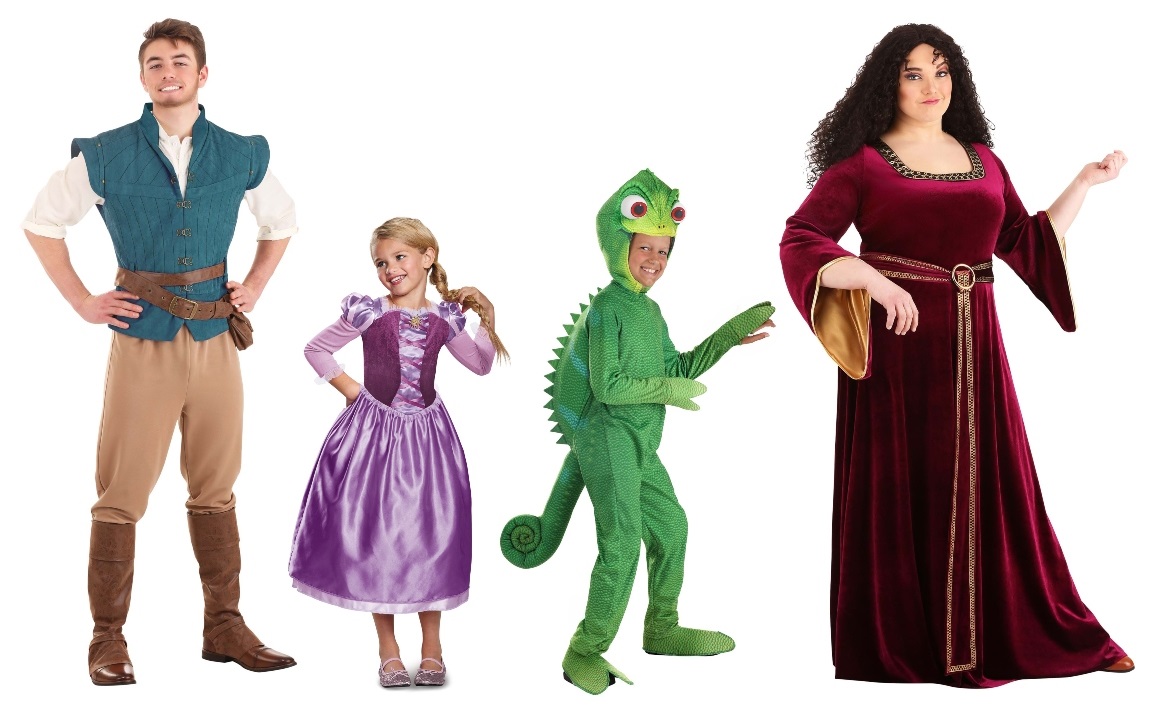 Tangled was a fresh twist on a classic fairy tale with a new Disney princess. If you want to dress like Disney's Rapunzel, you need a purple dress. (A chameleon companion wouldn't hurt, either!) There are also plenty of blond wigs to give you her famous gold locks. Just leave your frying pan at home, even if it feels like an excellent addition to your Tangled costume. Where you're going, a bucket for Halloween candy is a better choice!
Cinderella Costumes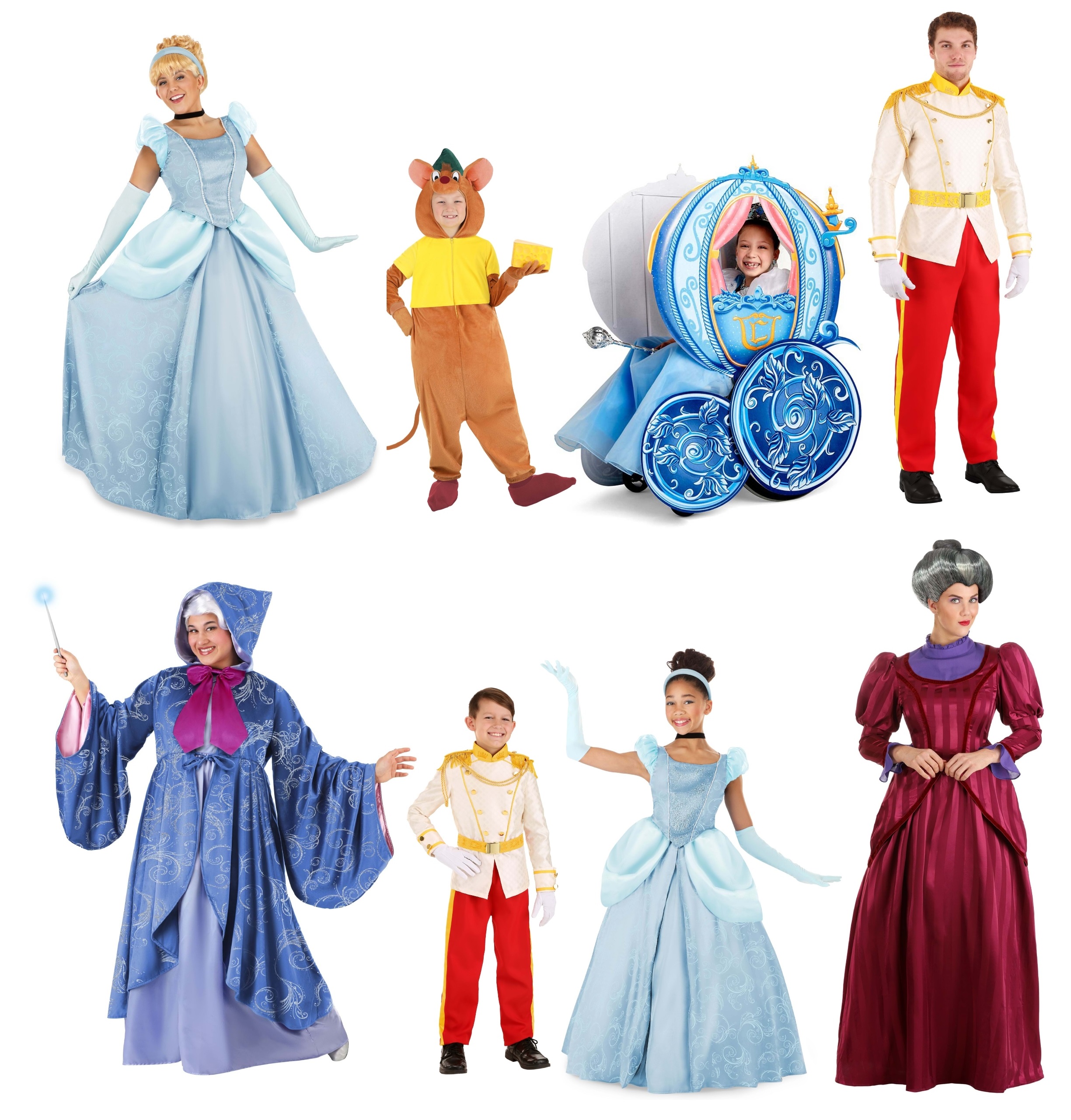 The classic tale of Cinderella is one of those rags-to-riches stories that make us wish so much to believe in happy endings. With the help of her fairy godmother, some mice, and that classic Disney magic, Cinderella gets the chance of a lifetime! Turn this Disney costume idea into a couples costume with your Prince Charming, or take your little princess out trick-or-treating as her fairy godmother. This Cinderella Halloween costume idea is a dream come true!
Coco Costumes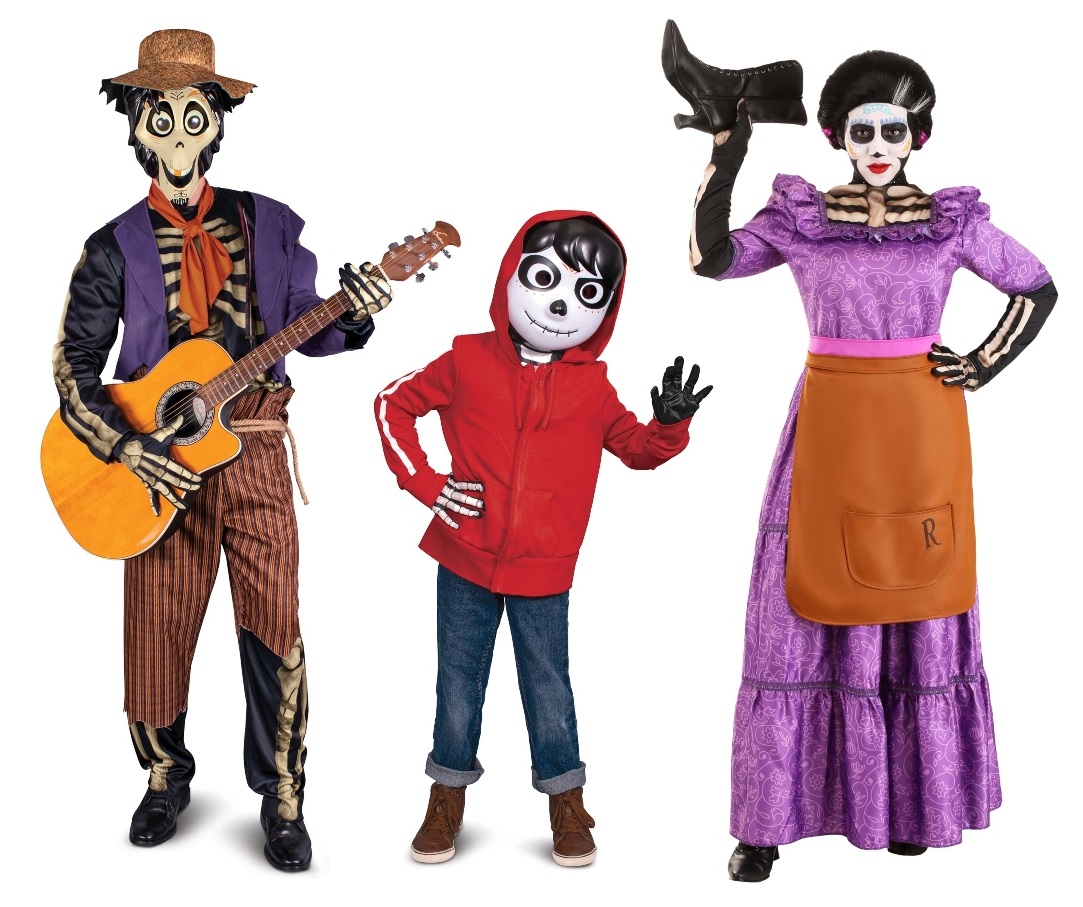 Few Disney movies drive home the point about the importance of family like Coco. If you have a small family unit and a love for Disney's Coco, you'll love these Coco costumes. (Guitar skills are not required but encouraged!) These Disney skeleton costumes hit all the right chords between spooky and sweet, whether you want to bring Mama Imelda and Hector to life, or if your tyke wants to sing out a song in Miguel's skeletal disguise!
Brave Costumes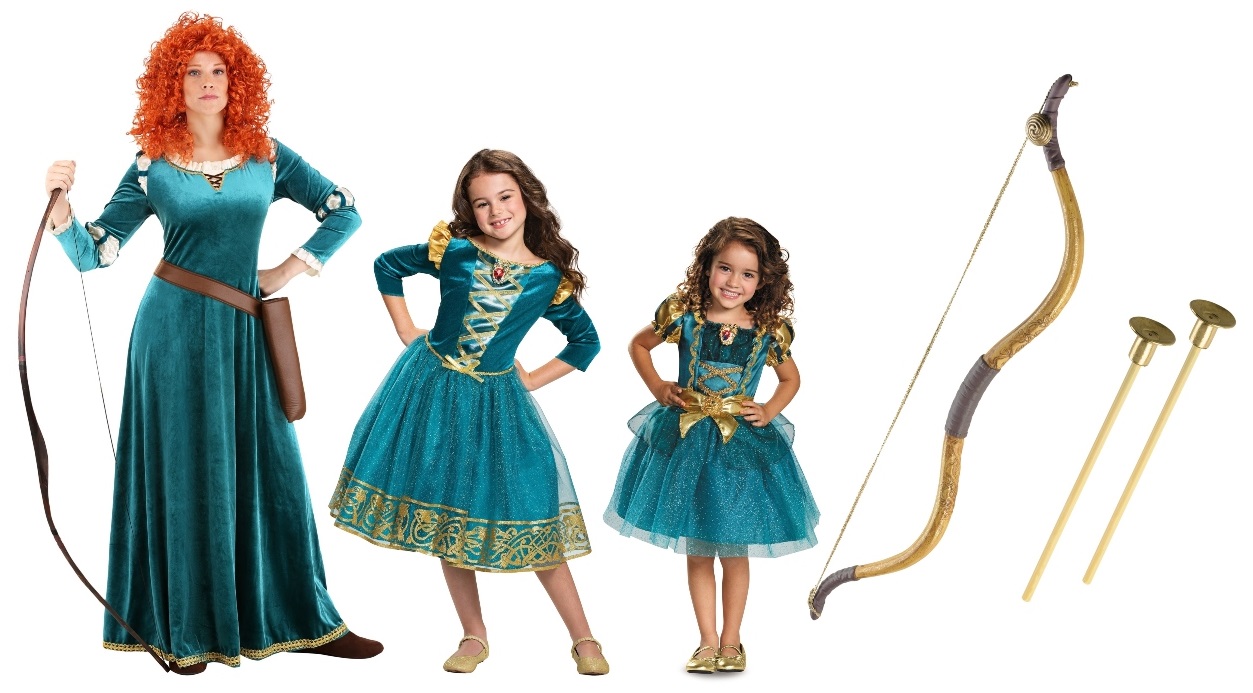 Princess Merida is that Disney princess that many of us wish we could be. She's intelligent, outspoken, and has gorgeous hair—and she is skilled with a bow and arrow! (We're also calling dibs on her horse right now!) While we wish we had her horse or her beautiful head of fiery curls, these Brave costumes can help you feel like Merida for a day. Whether you're hoping to be a princess for Halloween or your child wants to play dress-up, these cute Disney costumes are sure to please!
101 Dalmatians Costumes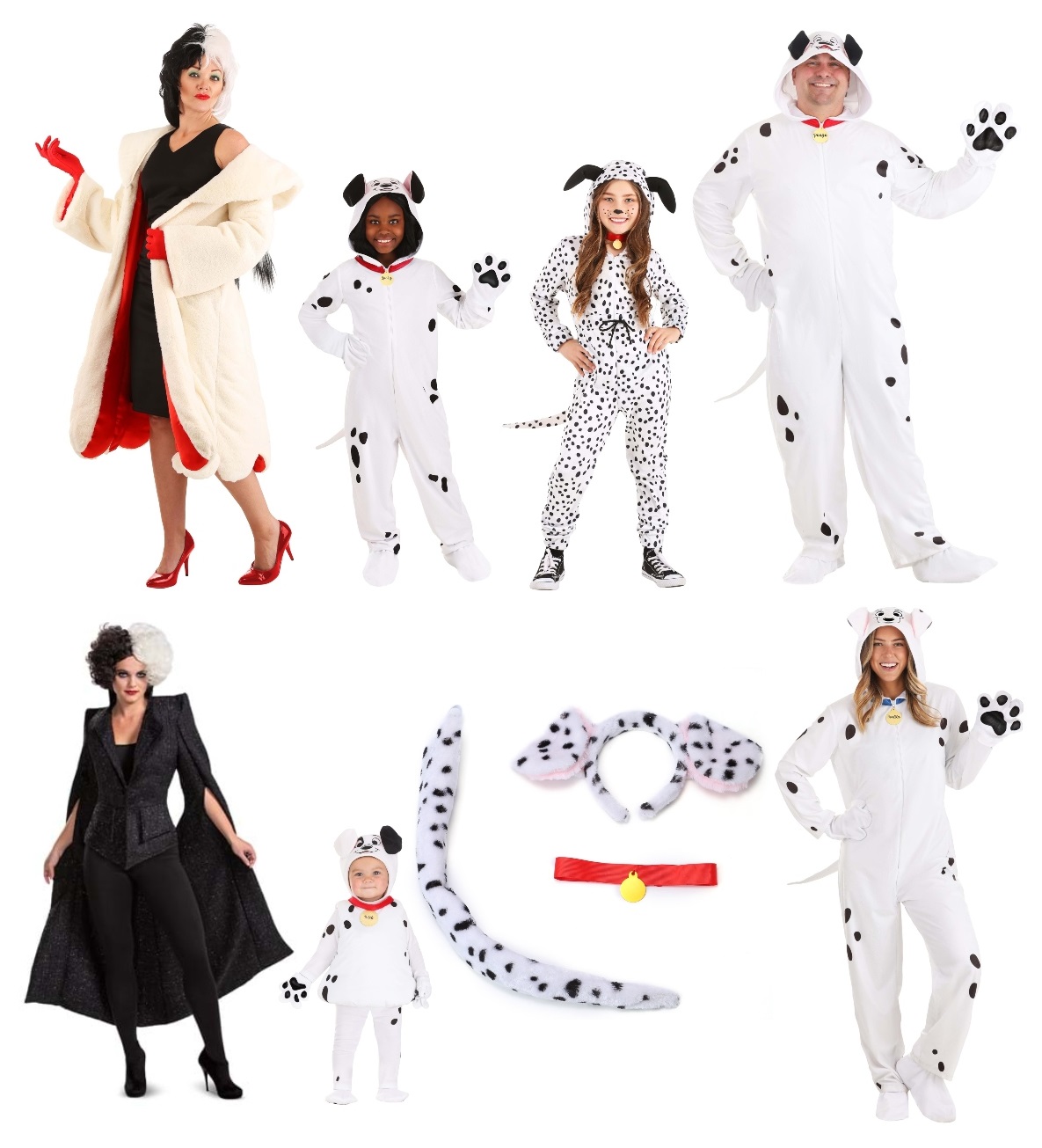 If you had to pick the most fashionable Disney villain, most would go for Cruella. Her black and white color scheme with a splash of red hits all the right notes! While this 101 Dalmatians costume idea is great for flying solo, why not add a few Dalmatians to turn it into a group Halloween costume? Everyone will wish they felt this fabulous on Halloween!
Classic Disney Costumes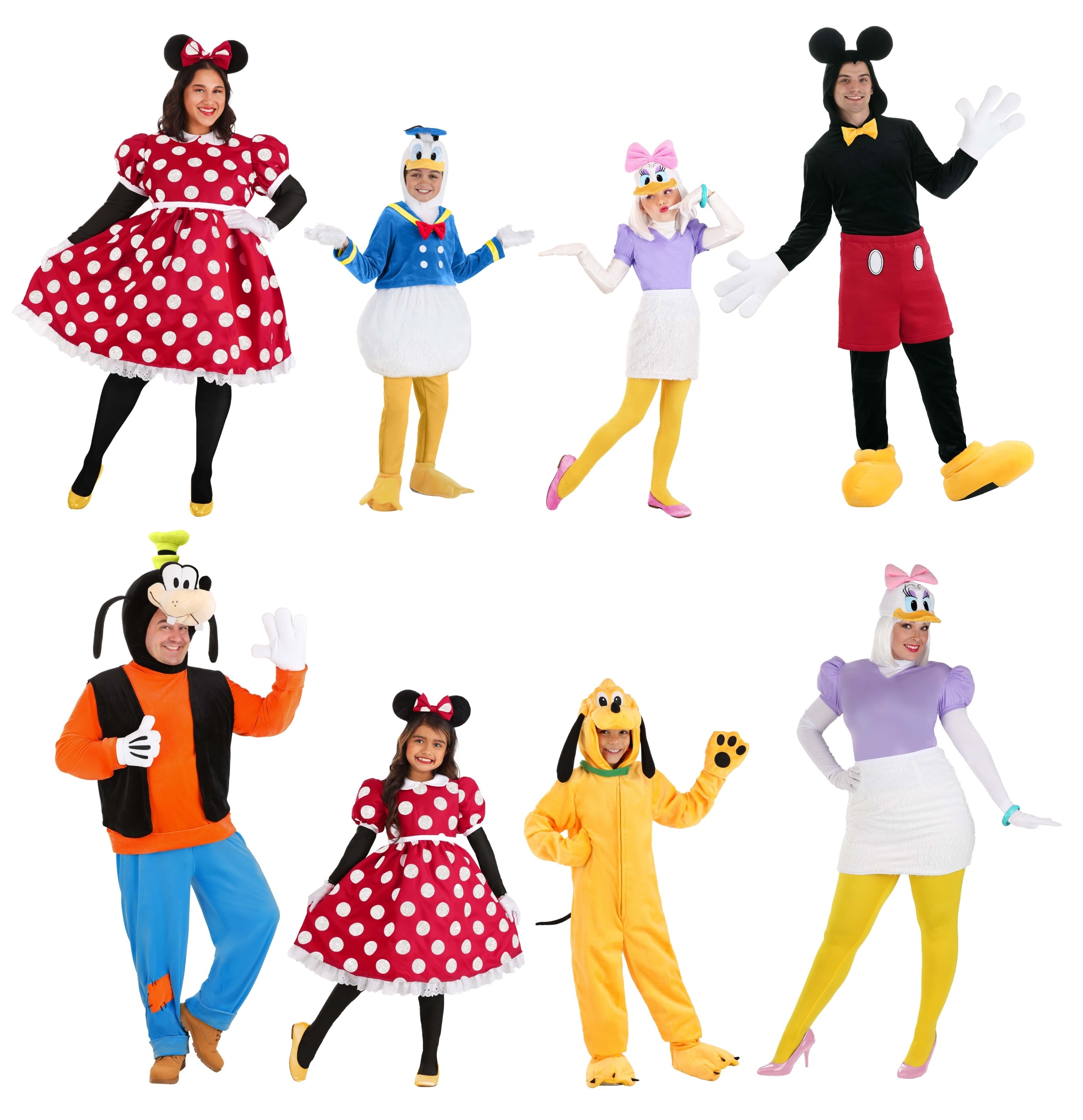 Oh boy! There's nothing quite like a classic Disney character costume to make you feel like you brought a piece of the magic kingdom home with you. You can find plenty of Mickey and Minnie costumes and other characters like Pluto, Goofy, and Donald. Whether you want to treat this classic Disney costume idea as a costume for two or a whole group, these timeless characters will get some attention on Halloween!
Vampirina Costumes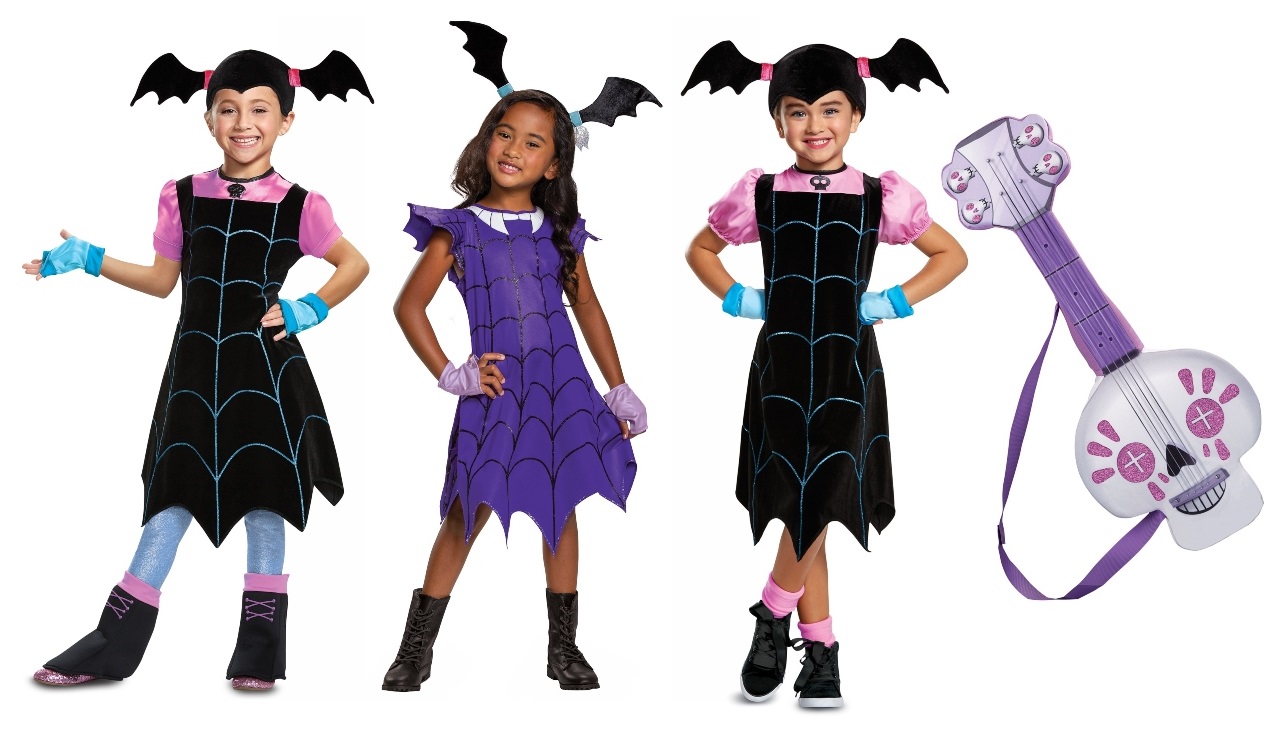 Kids may shy away from wearing monster costumes on Halloween, but friendly monsters like Vampirina may be an option for you! After all, is there anything cooler than a vampire girl in a rock band? While there are several character costumes to choose from, any aspiring Ghoul Girl will also want to have Vampirina's Spookylele on hand. Your child is going to feel fang-tastic in her Vampirina costume on Halloween!
Other Disney Costume Ideas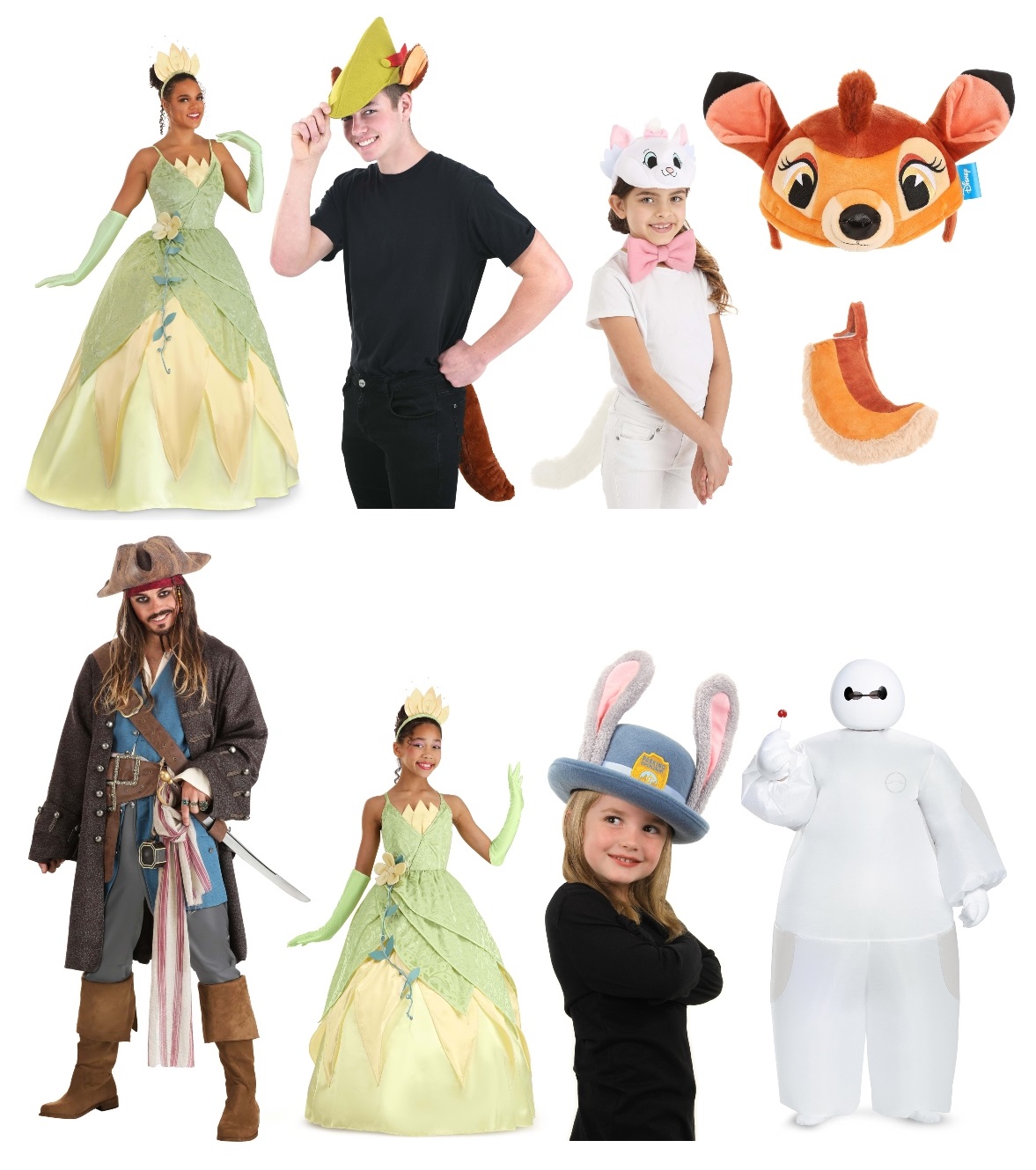 There are so many other Disney movies that it's hard to mention them all! You might be surprised to find out that there's a costume for that niche character. Disney's Robin Hood? Great costume idea. Princess and the Frog characters? We have those too! You can also find the Pirates of the Caribbean costume of your dreams. Even if you can't find your favorite Disney character costume, you can craft your own Disney cosplay with some costume accessories and ingenuity. The sky's the limit!
Whew! Well, that was certainly a lot of Disney costume ideas! Did you find the costume you want to wear for your next costume event? Are you now torn between five different choices you didn't know you had? Perhaps there's a character you're still hoping to find! Feel free to share your thoughts with us in the comments below. If you're still in the mood for more Disney costumes, you can keep checking out what we have on HalloweenCostumes.com for even more options.