Snow White Costume Ideas
Fairy tales may seem totally made up, but trust us, they really can come true! We bet at one point even Snow White herself doubted she would ever meet her prince, but now she's a genuine Disney Princess. She may have been chased away from her home by her evil stepmom, had to live in the woods with a bunch of gem-mining dwarfs, got tricked into eating a poisoned apple, and went into a coma before she finally got her fairy tale ending, but nobody said it was supposed to be easy, right?
Luckily, you don't have to play Snow White dress up in order to have an enchanting time, but we do highly recommend it. You can dress in one of our many costumes to turn an average Halloween into a storybook adventure. And in addition to those modeled directly after the classic Disney Halloween costumes, there's a variety of looks that may fit your sense of style even better; like Snow White dresses with a modern flair, or the classic style plus size Snow White costume, and even a sexy Snow White costume for a more grown-up look.
Once you've picked out your perfect style from of our splendid collection of costumes and accessories, check out these tips and tricks we've put together to make your experience truly magical! Just promise us that if any sinister looking old ladies offer you any suspiciously shiny apples, you'll politely pass on them. (Tell her you just flossed, and don't want apple peels stuck in your teeth...)
Snow White Makeup Tutorial
Get the makeup out! Start off with a thin, light white powder base across your face for Snow White's classic porcelain appearance. Make a round shape with your light eyelid color to create the look of cartoon character's eyes. Highlight this shape by adding white underneath the eyebrow, along the bottom of the lid and in the corner of the eye. Finish your eyes by adding black eyeliner, and then using mascara to create bold eyelashes. Finally, apply some bright red lip color to give yourself Snow's famous rose red lips. When worn along with your stunning costume and practiced poses, you'll truly be the fairest of them all!
Adult Snow White Costume Poses
You've probably realized this already, but looking like a famous Disney princess takes a bit more effort than just slipping into a Snow White costume (otherwise, this whole guide would be about two sentences long). Snow is a beloved character that's been spreading joy for generations, so chances are someone is going to know if you didn't do your homework before putting on that dress! We're not saying you won't still have fun and look glamorous in your costume, but if you want to take your dress-up game to a whole new level, it'll help to have some special tricks up your sleeve.
After studying Snow's habits and mannerisms in great detail, we've narrowed them down to a handful of poses that will make your costume really shine. They may seem like simple gestures, but they'll add that little something extra to your look that helps make the difference between dressing up in a Snow White Halloween costume, and becoming Snow White for Halloween. It also goes to show that with a little imagination and practice, you don't need a magic mirror, or even a team of helpful woodland critters, to pull off a decent impression. Although, if you do have either of those at your disposal, by all means, put them to work!
Polite Princess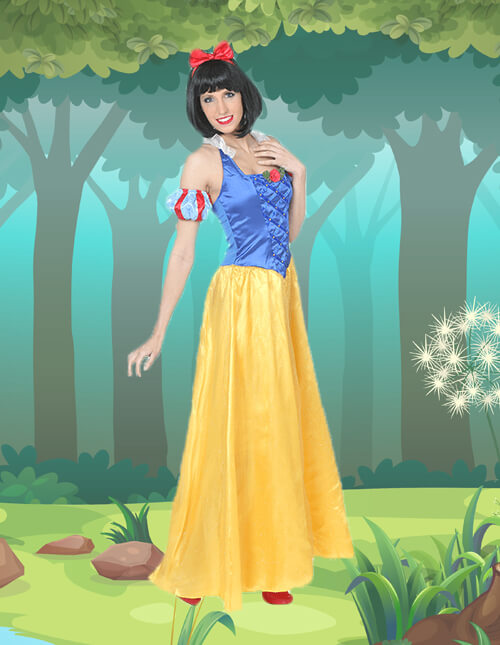 Snow White's reputation for being such a gentle and loving princess isn't just something she picked up out of nowhere. She happens to be a very well-mannered young lady to all she meets (even to little old ladies that want to poison her), and as a result, if she ever needs a place to stay for a while after her stepmom tries to have her whacked, a group of dwarfs will happily give her a couch to crash on. Show off your sweet, thoughtful side by putting one hand out and bending the other up, with your fingers resting near your neck, to strike a friendly and approachable pose!
Swing Your Skirt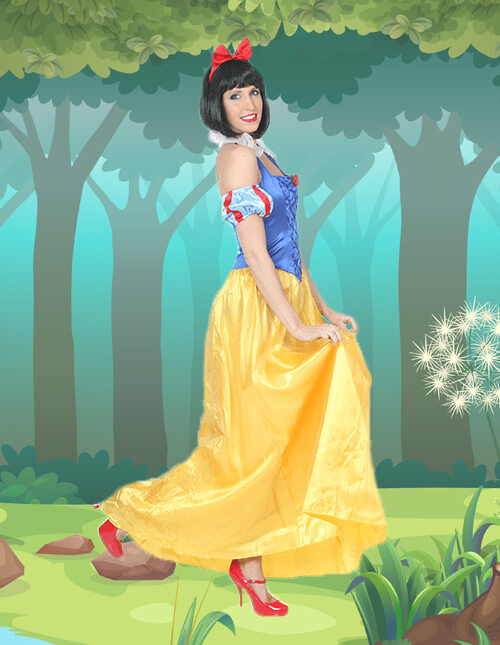 Being a beloved princess is hard work, but it's not only hard work! Everyone has to have a little fun from time to time, and isn't having fun what wearing a costume is all about? There are plenty of ways to have a good time in your cheerfully colorful dress, like dancing with your charming prince, playing with woodland critters (we recommend sticking to imaginary critters, since they are not as skittish, and are much less likely to bite), or just going for a walk and getting some fresh air! Giving your skirt a cute swing while strolling about is a classic Snow White move, and lets you show off your golden colored skirt while you're at it.
Sing to Your Animal Friends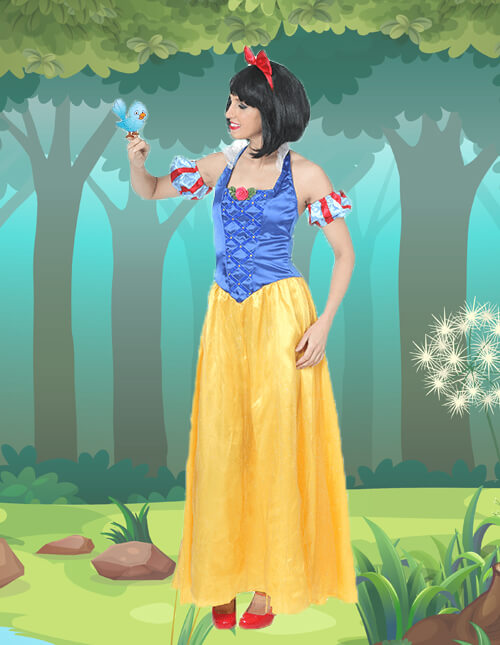 Speaking of woodland critters, that reminds us of another fantastic pose you can add to your princess routine! It's no secret that the fair Ms. White is a bit of an animal lover, but getting flocks of songbirds, deer, and other adorable little creatures to help out with chores is incredible! We don't expect you to pull off a trick like that, but you can pay homage to Snow's amazing animal whispering talents by holding out your hand, as if a tiny bird were perched on it, chirping out a cheerful song. You can use a prop birdie if you'd like, or digitally add one to any photos snapped of you striking this whimsical pose!
Take a Bite
Last, but certainly not least, if there's one thing that this Disney princess is best known for (even more than her uncanny command over wildlife), it's her bad luck with apples. Actually, it was just one apple in particular, though if we ever went into a coma right after eating an apple, we would never eat anything resembling one again. But, as long as you're just holding and gazing at a seemingly-innocent piece of fruit, and not eating it, you should be perfectly fine, while also recreating another famous Snow White pose! And there's no need to get your food from suspicious old crones, either… they sell stuff like that in stores now.