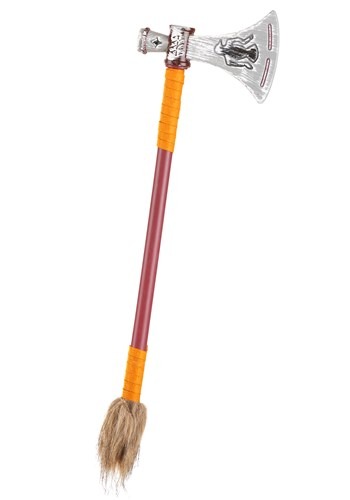 This product has restrictions that limit the countries that we can ship to. This product cannot be shipped to Australia or Singapore.
Product Description
When you're trying to look like a true warrior, it's important to remember that the warrior's weapon is always the proverbial cherry on top of the sundae. It lets everyone know that he or she means business and is not to be trifled with. So when you put together your costume this Halloween, make sure you've got this Indian Tomahawk Axe by your side!
At a foot and a half long and with details like feathers and other ornamental markings, this tomahawk goes for realism as well as looks. And with its plastic design, you won't have to work out for a month prior to your first adventure with it, because this axe is lightweight and easy to get around with. Because a warrior has to be mobile and ready to go at all times. This Halloween, there's no better weapon for you than the Indian Tomahawk Axe!
Made of plastic

18'' long
Tomahawk

Please note: actual item differs from picture
There are no reviews for this item yet. Be the first to write a review!
---