Alternative Fake Facial Hair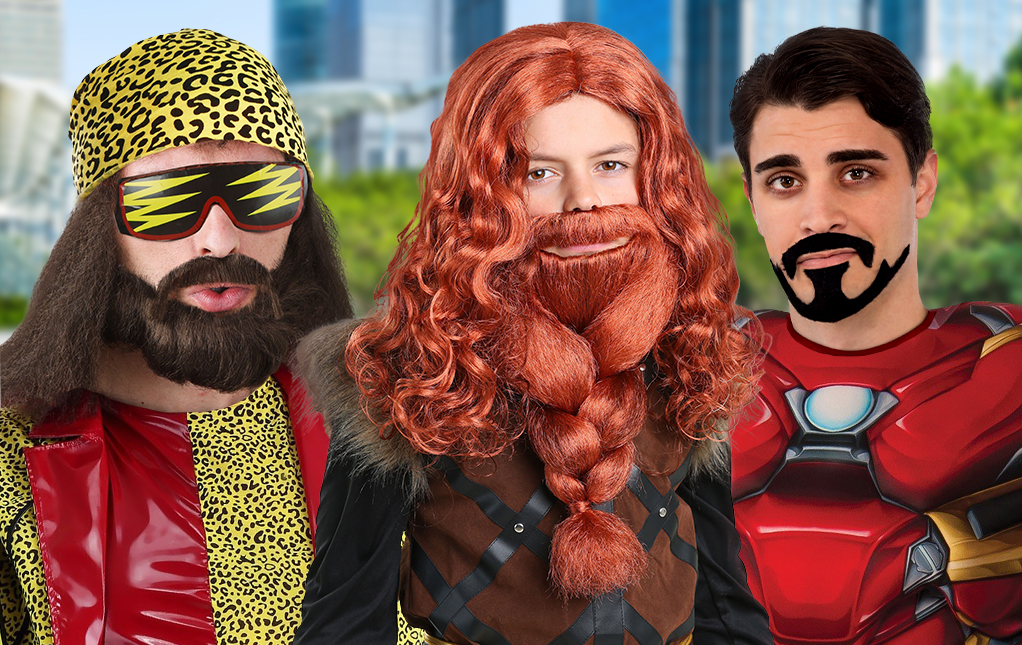 We've covered beards. We've covered mustaches. We've covered the combo of the two in the iconic goatee. But that's not the only important facial hair out there! In the following section, we'll discuss all sorts of sideburns, from mutton chops to the chin curtain. We'll cover all the alternative places you can add fake facial hair to your face and different ways to achieve this. And we'll also discuss beards that you wouldn't usually see wandering the streets of cities near you.
Fake Sideburns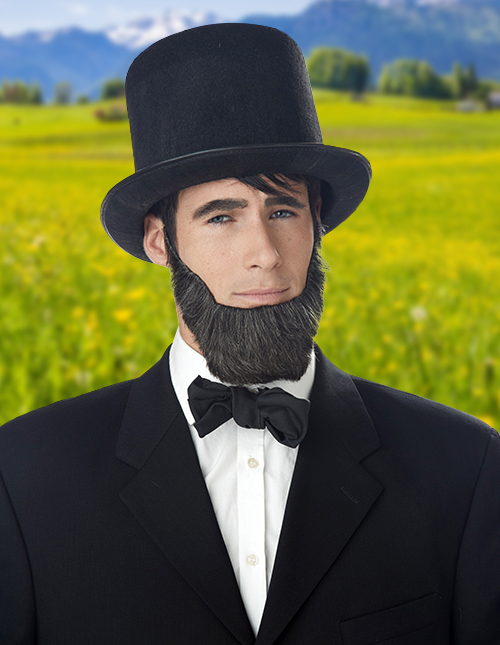 Sideburns: the hair that grows on the sides of your face. Almost everyone has them, but they're just styled in different ways. The styles tend to be as simple as long and short with a few wild variations, like the mutton chops that were so popular in the Victorian Era. If you were wondering what we meant by "chin curtain" earlier, we were talking about Abraham Lincoln's classic style of facial hair. The famous president was said to be bearded but he also relied heavily on sideburns!
Ready to create sideburns on your own? While sticking on sideburns with spirit gum might be a good idea, you can also add on the style of your choice with makeup. Using hairy dashes, create sideburns worthy of Elvis Presley or a pencil-thin chinstrap with an eyeliner pencil.
Fake Eyebrows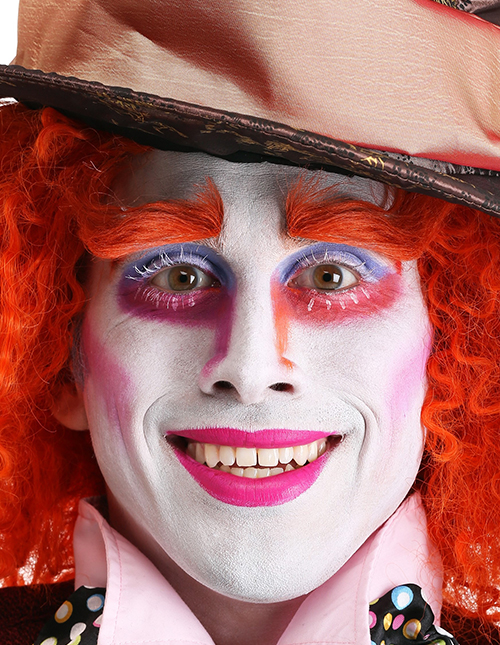 Ah, the windows to the soul. Wait, we suppose eyebrows are the window trimmings of the soul. But still, they're pretty important. If you want to make your character believable, eyebrows are important! They're even the main feature of the face for characters like Disney's The Mad Hatter.
While you might like to purchase fake eyebrow hair for extra character definition, makeup is also a great way to add expression to your forehead. For instance, if you're putting together a Frida Kahlo costume and want to recreate the artist's iconic unibrow, makeup is the preferred choice. A few gentle brushes with a well-sharpened eyebrow pencil will create a believable unibrow without appearing over the top. Those who aren't confident with their eyebrow pencil skills could look up a fake beard makeup tutorial to gain a little more confidence. If you need some seriously bushy brows, a cartoonish mustache and eyebrow set can make you look like Charlie Chaplin or Einstein in a moment without needing any makeup skills!
Stick on Mustaches
Other than using makeup, a stick-on mustache is the quickest way to make your mustachioed character come to life. This dapper pencil mustache featured above could create all sorts of characters, from the pictured pirate to a lovelorn Hollywood actor from the silver screen era. The same goes for many different mustache shapes. Those looking for a classic realistic mustache might be interesting in reusing a magician's mustache made from real hair. All you need is a little spirit gum to use your facial hair again and again!
Fake Mustache for Kids
If you have a child in your life who loves to dress up, making sure they have a stick-on mustache (or two) is sure to be the way to their heart. Yes, we're talking girls and boys here! A dapper mustache, as pictured above, can help your kiddo transform into a villainous character set on an evil plot. And what kid doesn't want a little more drama to their dress-up wardrobe?
Costumes for Men with Beards
Before the dawn of running water and triple blade razors, men grew some mighty beards! Iconic beard-growers include Jesus of Nazareth and most other biblical characters—Moses tends to have a pretty great beard as well! Want to embrace the mythic realm of Mount Olympus? Well, all of the major gods had mighty beards. Pair a white wig and beard set with our Poseidon costume and you'd look right at home on an ancient Grecian urn. And of course, anyone who's looking to take on the dignified demeanor of an old wizard will need a nice, long beard that may or may not be the source of (at least some of) their power.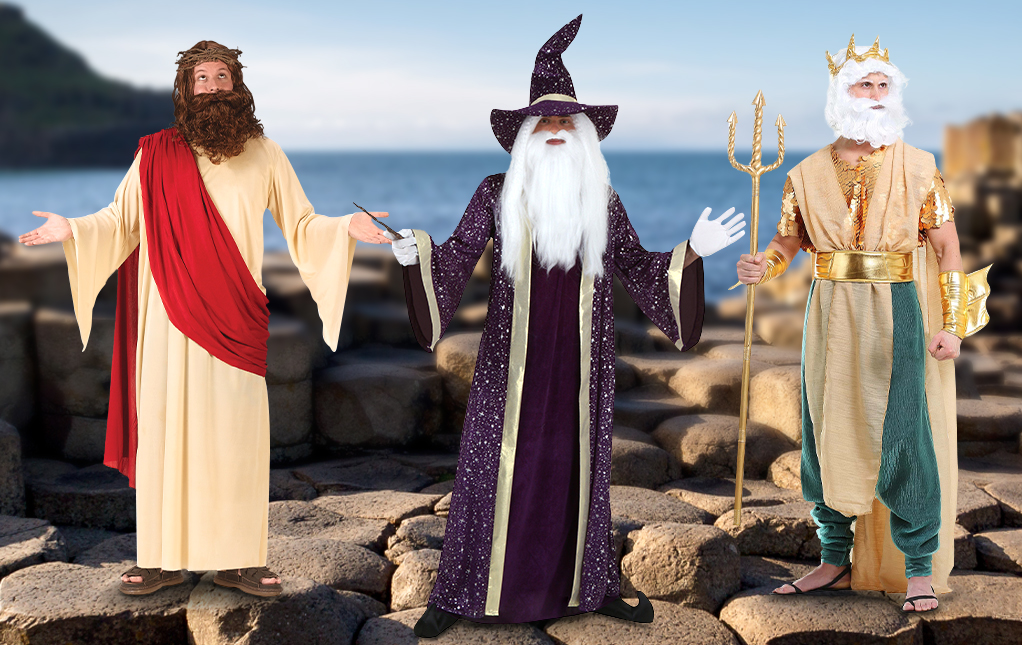 How to Stick a Fake Beard on your Face
So you're wondering how to stick a beard on your face? If you want to get serious about applying a stick-on beard to your face, we have a few tips! The fake facial hair adhesive that comes stuck to the back of the mustache and beard above works great for a few hours or even a whole Halloween night. But those who are starring in plays or planning on sweating, eating, and talking a lot will want a more reliable stick-on technique.
First, you'll want to make sure the area of application is clean and dry. Then, you'll want to apply a thin layer of spirit gum. Stop right there with that beard. Put it down. You're not ready to apply yet! Let the first layer of spirit gum dry completely so that it creates a foundational surface and prevents any problems with sweat. After the gum is dry, apply a second layer and wait a few moments for the spirit gum to become tacky. Now, using care to make sure the placement is just right, apply your fake beard to your face, pressing down gently to make sure it attaches to the gum.