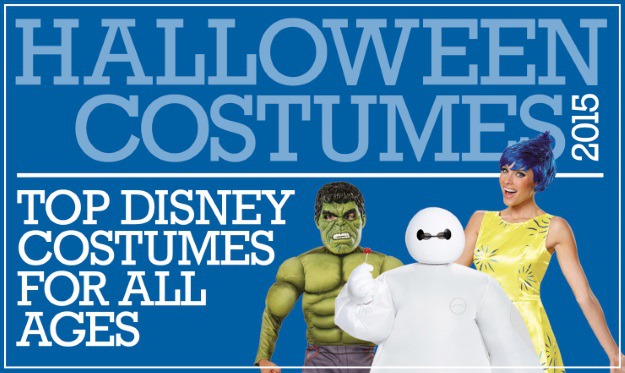 If you haven't been living under a rock over the past 50 years, you already know that Disney is pretty big. You can't go out on Halloween without seeing several Disney-related costumes. While Disney boasts a ton of classic movies with endless numbers of beloved characters, some of their more recent releases feature memorable characters that are already being welcomed into the fold with open arms by both kids and adults. Don't forget that both Star Wars and Marvel are now properties of Disney as well. With ALL the options available, we've laid some groundwork for you and picked out a few of the top Disney costumes for Halloween 2015!
Inside Out Costumes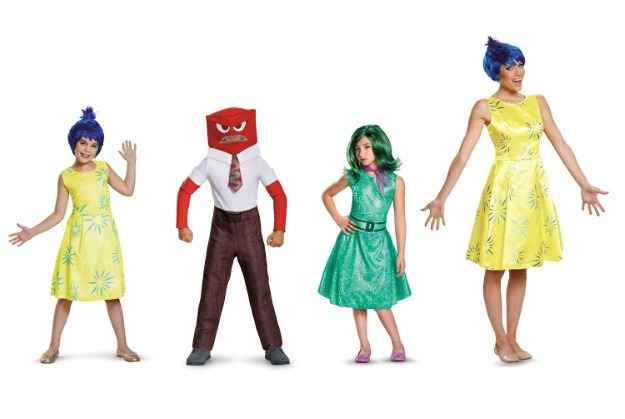 Child Joy Costume - Shop Child Anger Costume - Shop
Child Disgust Costume - Shop Adult Joy Costume - Shop
Inside Out is the latest film from Disney and Pixar studios. It explores the emotions of a young girl named Riley who is going through a difficult time when her family moves from Minnesota to California. The thing that makes the story fun and unique is that it's mostly told from the perspective of Riley's feelings, little beings inside her head that control her mind through a control panel.
Joy is the leader of the group and learns through this journey that sometimes other emotions, like sadness and anger, need to take control at times. Just remember, if you dress as one of the emotions for Halloween, you don't need to act like that emotion for the whole night -especially if you choose disgust or anger!
Big Hero 6 Costumes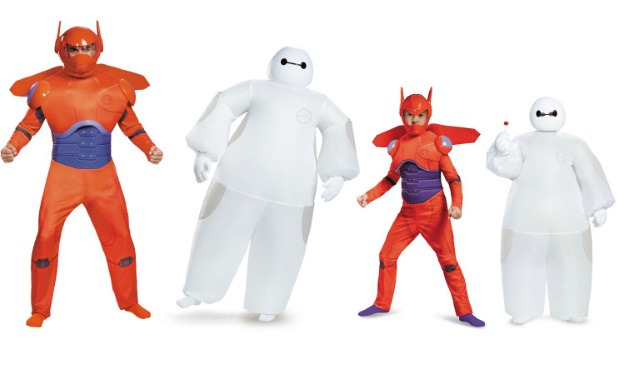 Adult Red Baymax Costume - Shop Adult White Baymax Costume - Shop
Child Red Baymax Costume - Shop Child White Baymax Costume - Shop
With the success of superheroes on the big screen in recent years, it's no surprise that Disney released a superhero film aimed at younger audiences. Big Hero 6 was a massive hit and people can't enough Baymax. Now you can dress up as the lovable, albeit sometimes clumsy, personal healthcare companion for Halloween! Whether you want dress in his red battle armor or just the classic white design, there's a Baymax costume for both kids and adults. Both versions are really cool, but unfortunately neither will give you supreme healthcare tools or advanced ninja skills. If you seek medical help, still call a doctor. If you need to fight someone, call a ninja.
Frozen Costumes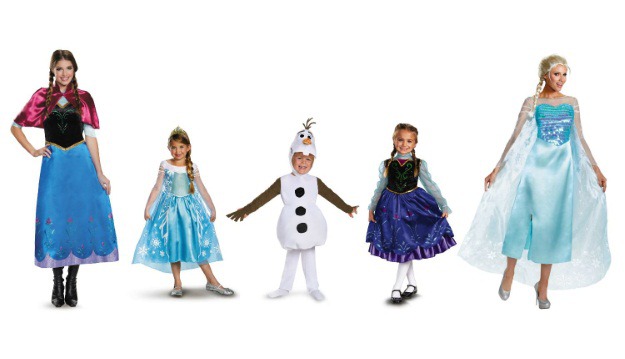 Adult Anna Costume - Shop Child Elsa Costume - Shop Child Olaf Costume - Shop
Child Anna Costume - Shop Adult Elsa Costume - Shop
Frozen became an instant classic when it was released and still remains one of the most popular Disney film of recent years. In fact, popularity was so high that Disney released a "sing-along" version of the film a year later -just in case you don't already know all the words to "Let It Go." Disney princesses are nothing new when it comes to Halloween costumes (see below), but Anna and Elsa may be near the top of the list for the foreseeable future. It's an especially great Halloween choice for two sisters, or two gal pals!
Star Wars Costumes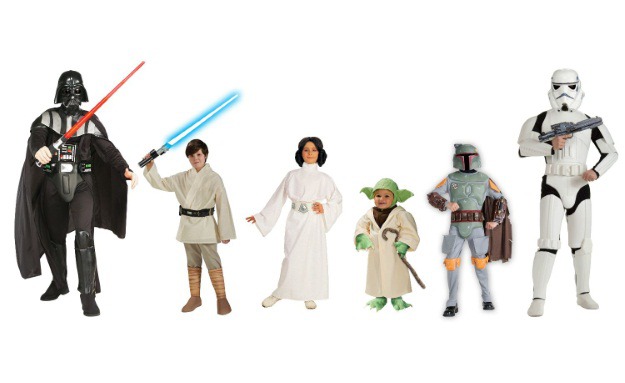 Adult Darth Vader Costume - Shop Child Luke Skywalker Costume - Shop Child Princess Leia Costume - Shop
Toddler Yoda Costume - Shop Child Boba Fett Costume - Shop Adult Stormtrooper Costume - Shop
Ever since the first time "A long time ago in a galaxy far, far away…" scrolled across the big screen, Star Wars has captivated audiences of all ages. Now, with Disney's acquisition of Lucasfilm and the anticipation of Star Wars: Episode VII - The Force Awakens, Star Wars mania is back and bigger than ever! But lets be real, even with the disappointment that was Episodes I-III, Star Wars hype never went away. The Force will be strong with you if you dress as any of these fan favorite Halloween costumes.
Star Wars Rebels Costumes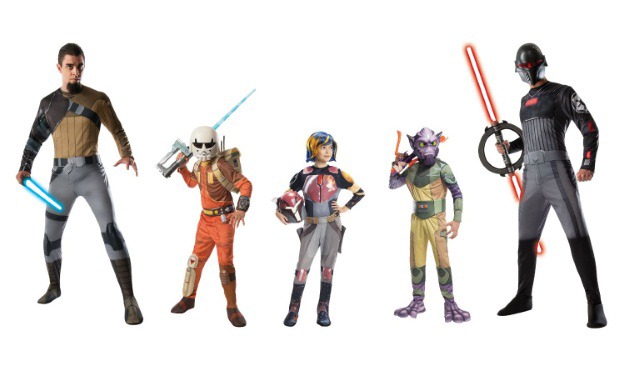 Adult Kanan Costume - Shop Child Ezra Costume - Shop Child Sabine Costume - Shop
Child Zeb Costume - Shop Adult Inquisitor Costume - Shop
After Disney acquired Lucasfilm, it didn't take long for them to bring Star Wars to the small screen. If you're a fan of Star Wars, but haven't seen Star Wars Rebels yet, you don't know what you're missing! The show takes place in between the prequel trilogy and the original trilogy, and is inspired by concept art from the originals. While following the new crew of rebels, the show also features popular franchise characters like Yoda and Darth Vader. Star Wars Rebels is a great way for parents to introduce their kids to the world of Star Wars, and with our new costumes they'll be able to dress as characters from the show for Halloween 2015!
Avengers Costumes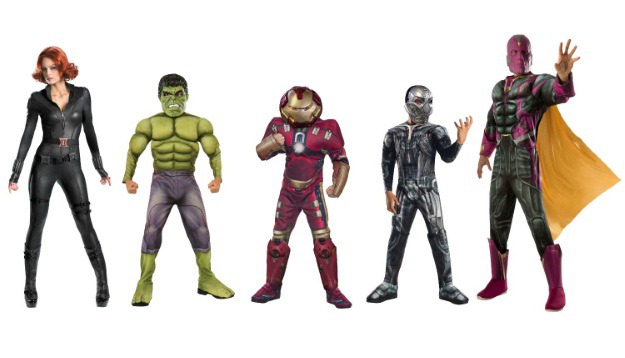 Adult Black Widow Costume - Shop Child Hulk Costume - Shop Child Hulkbuster Costume - Shop
Child Ultron Costume - Shop Adult Vision Costume - Shop
While being acquired by Disney in 2009, Marvel was already on it's way to becoming a cinematic powerhouse. Ever since the release of their first movie back in 2012, The Avengers have not only been Earth's mightiest heroes, but also Earth's most popular heroes. Earlier this year, we had the second Avengers team-up on screen with Age of Ultron in May, and the team is set to re-appear in next years "Captain America: Civil War." Superhero costumes have always been popular through the years, but The Avengers will surely reign supreme for Halloween 2015.
Disney Princess Costumes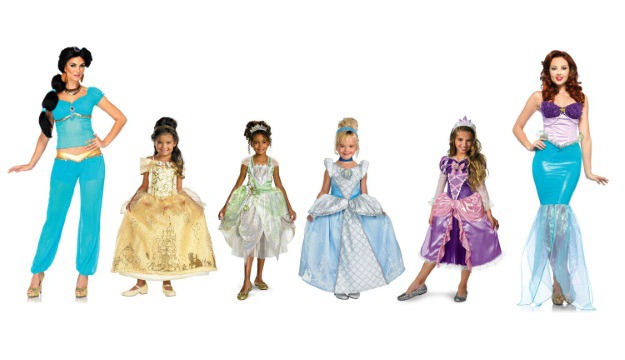 Adult Jasmine Costume - Shop Child Belle Costume - Shop Child Tiana Costume - Shop
Child Cinderella Costume - Shop Child Rapunzel Costume - Shop Adult Ariel Costume - Shop
As we mentioned before, Disney has always had a seemingly endless list of classic characters. One of the most common classics for dressing up as are the princesses. From original favorites like Cinderella, to more modern princesses like Tiana or Rapunzel, and even fan favorites like Ariel and Belle, there's a dress to match any girl's (or woman's!) style. With the hightened popularity of new characters Elsa and Anna, Halloween 2015 might just be all about the Disney Princesses.
Disney Junior Costumes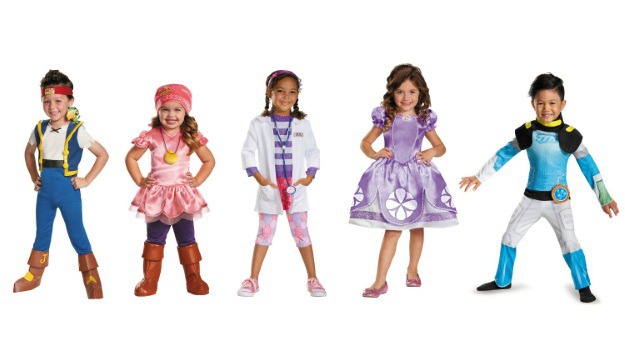 Jake Costume - Shop Izzy Costume - Shop Doc McStuffins Costume - Shop
Sophia the First Costume - Shop Miles from Tomorrowland Costume - Shop
The Disney Junior channel launched in 2011 and, since then, Disney has developed plenty of popular original shows that are great for kids AND don't make parents want to pull their hair out. Although the shows feature original characters and storylines, they also take place in the worlds of other, well-known Disney characters. For example, Peter Pan shows up on occasion to help out Jake and his pirate crew, or Sophia the First, a princess-in-training, receives tips and learns lessons from other Disney princesses at times. We have a Halloween costume for even the the youngest of Disney fans with our selection of Disney Junior character costumes.
Are you or your kids going to dress as Disney characters this Halloween? Who are some of your favorite Disney characters of all time? Do you think Disney villains have more fun, or is better to be good? Share your thoughts in the comments below, and be sure to check out our complete selection of Disney Halloween costumes for all ages HERE!