Halloween Costumes Store - Minnetonka, Minnesota

Welcome to the Halloween Costumes Store!
So, what can you expect when you choose the Halloween Costumes Store? Our costumes are created by experienced costume designers who use extremely high quality materials to make outfits that fit all body types—sizes you won't find anywhere else. From big to small and short to tall, no one gets left out of having the Halloween experience that they want to have. You also get to touch and feel each costume and try them on to make sure that you get the costume that fits just right.
The unique experiences don't stop there. We also have amazing in-store special events to bring the Halloween fun to life! Yes, family-friendly events, live appearances from your children's favorite characters, face painting and more will delight both children and the young-at-heart. All-in-all, shopping with us this year is going to be a one-of-a-kind Halloween experience, and we're positive that it will become a yearly tradition for your family.
The story of our company is a tale filled with thrills, chills and epic retail heroism. Like all great stories, it begins in a little garage in southern Minnesota…
Boring Halloween costumes were running rampant. They threatened to destroy good parties and trick-or-treating expeditions all across the land. One family would not let Halloween go down without a fight! Jenice Fallenstein used her resourceful sewing skills to create cool and unique costumes for her kids to wear. Then she began making more costumes for others in need of fun and laughs. Word of mouth spread, a rental store was created, and later her son, Tom, knew that's what his life's mission would be! He needed to spread these costumes to the ends of the Earth to finally destroy Halloween monotony once and for all! That's when he took the costume business online, and the rest, as they say, is history.
Tom knew he couldn't do it alone, so he assembled a ragtag crew of geeks and nerds to create HalloweenCostumes.com. He and his merry band of Halloween enthusiasts began spreading incredible costumes across the world. Year after year they grew, adding new styles for kids, plus size costumes, and even exclusive costumes that you won't find anywhere else. They used the power of laughter and fun to fight against evils of the world at each and every corner, which bring us to where we are now…
HalloweenCostumes.com has brought together over 150 permanent team members in a 200,000 square foot facility in North Mankato, which has become THE headquarters for ensuring that fun, thrills and good times are being shipped around the world every day of the year. Each family member (yes, all employees are part of the family!) have been training hard to become the best Halloween connoisseur that they can be. That way, we can make the world a better place by helping everyone achieve their dream of dressing like a superhero, a princess, or anything their heart desires.
Now it's time for the next step. We've brought all that excitement and fun to a location near you with our brand new Halloween Costumes Store!
So, what are you waiting for? Come see us soon at the Halloween Costumes Store!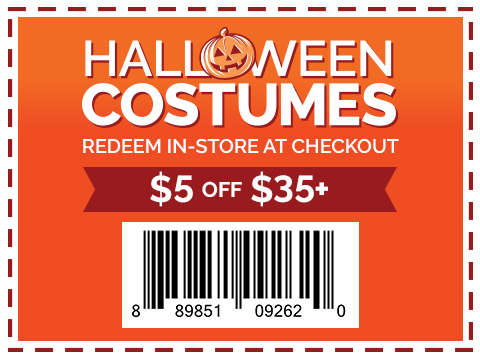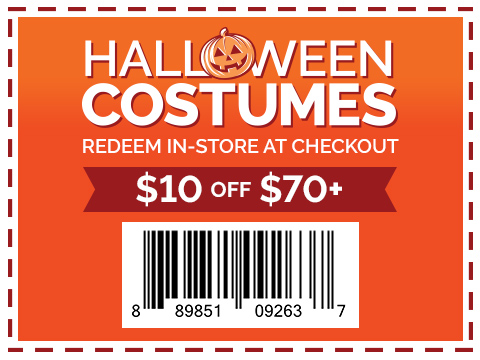 Just show us this coupon (on your phone is fine!) at either location and you'll get a discount off your entire purchase!
Get Directions
12937 Ridgedale Dr
Minnetonka, MN 55305
(952) 544-6570