Halloween Costumes for Kids
It's no secret that adults love to wear Halloween costumes! Over the past few decades, costume parties have become a huge deal. But let's get back to basics here! We all know that kids love Halloween more than adults. Sorry adults! It might be a tough pill to swallow, but it's true. After all, what other holiday lets kids scamper from house to house to rake in a huge loot of candy while being dressed up like their favorite superhero or a scary zombie? Well, we think that kids should get to dress up as whatever they'd like during the Halloween season, and that's why we have one of best selections of Halloween costumes for kids on the web! The real question is…what kind of costume does your child want to wear?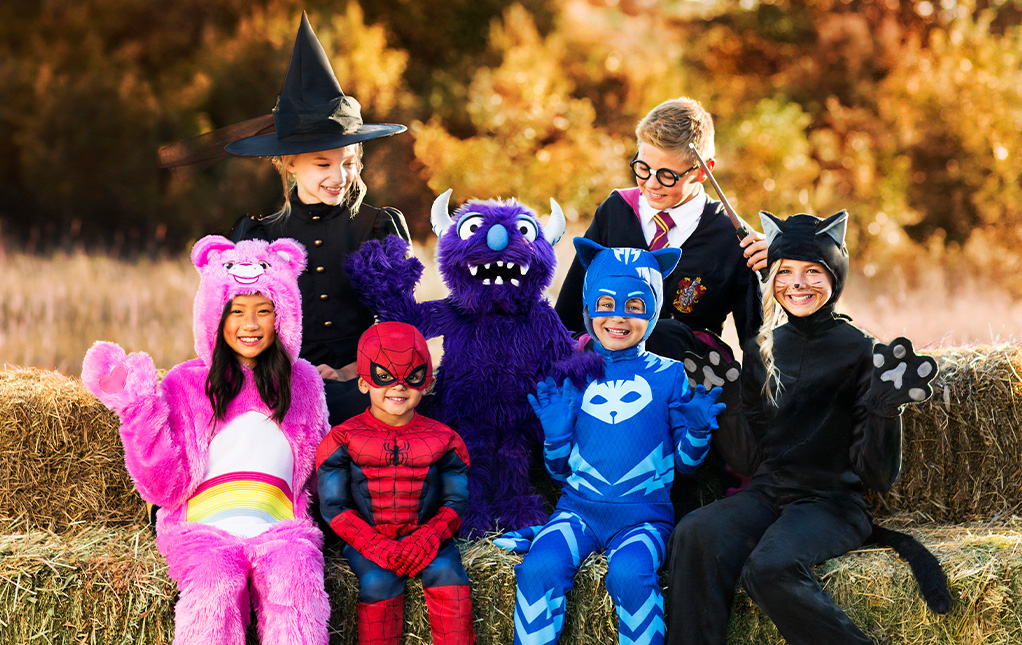 We're here to help you solve that little question! This helpful guide will take a look at some of the most popular choices for kids, along with some of our high-quality exclusive costumes. When you're all done, you should have some great costume ideas for kids to help you and your child create the perfect look this Halloween. Let's get started!
Superhero Costumes for Kids
Who doesn't want to be a superhero? Even adults daydream about having all of the powers of Superman, so you can't blame kids for trying to wear their blanket like a cape. Of course, the best way to supercharge their imagination is with one of our superhero costumes for kids. These outfits aren't just for trick or treating! They let your child envision themselves as their favorite comic book characters, so you can bet they'll want to suit up for playtime. You might even have a tough time getting them to switch from the superhero costume into their pajamas! If your child wants to indulge in their inner superhero, then you might want to check out some of these awesome superhero costumes for kids!
Deadpool Costume for Kids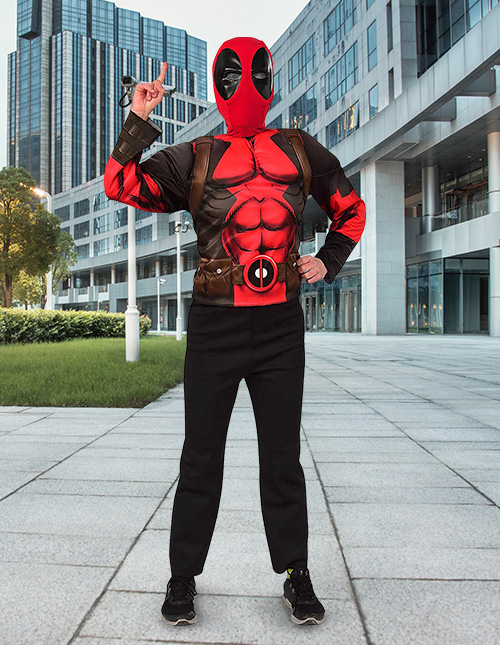 It's official: Deadpool is completely bonkers. Once Upon a Deadpool is proof of that! His unique brand of heroism isn't quite like any other superhero in the Marvel universe and, quite honestly, we wouldn't have it any other way. His antics have also been a big hit with teenagers and older kids, which is why our Deadpool costume for kids is the perfect choice for any kid who wants to mix a little bit of humor in with their crime-fighting. If your child decides to dress up as Deadpool, we suggest that you keep a huge supply of chimichangas on hand. They're his favorite!
Spider-Man costume for Kids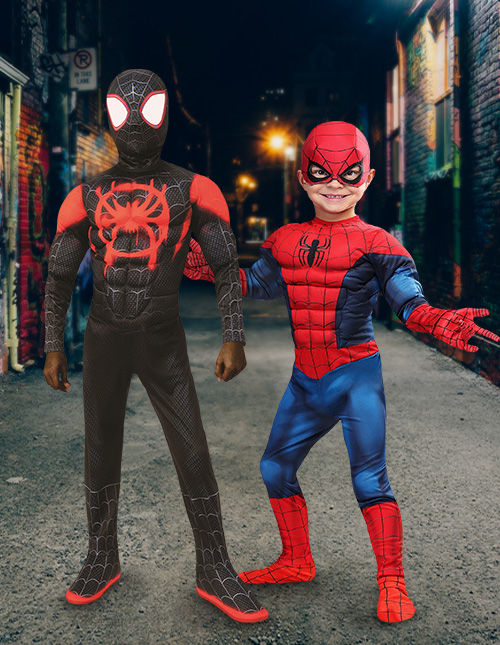 We can't talk about superhero costumes without spending some time on Spider-Man. Just about every child goes through a Spider-Man phase. They crawl around the house, bouncing and jumping, and they might even make "thwip" action sounds as they pretend to web-sling everywhere. That's why one of our Spider-Man costumes for kids really is like a dream come true for a lot of kids. We carry a classic version of Spidey's outfit, but your child can also transform into Miles Morales. He's the young hero who's taken on Spider-Man's mantle in Ultimate Spider-Man and Spider-Man: Into the Spider-Verse! Just be sure to teach your little one about great power and great responsibility.
Harley Quinn Costume for Kids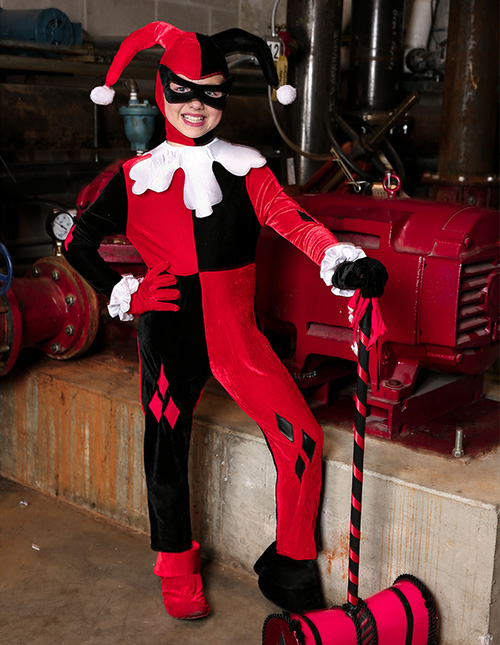 These days, Harley Quinn is more than just The Joker's sidekick. She's got her comic book, she's been a part of multiple super-teams (Suicide Squad and Birds of Prey), and she's even joined DC's hit cartoon, DC Super Hero Girls! That makes her one of the top choices when it comes to superhero costumes for girls. We carry both classic versions of the character, along with the Super Hero Harley Quinn version of the outfit. Your girl just has to decide what kind of Harley she wants to be! Just make sure that you pair her Harley Quinn look with any one of our toy weapons to make sure that she's ready to do battle with any villain!
Black Panther Costume for Kids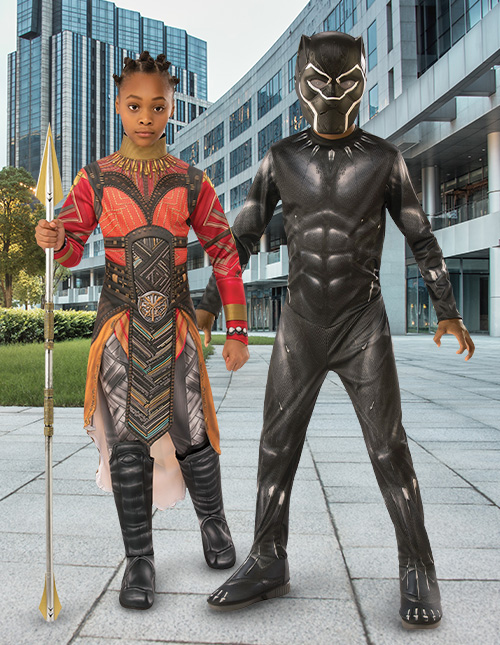 Another hot new hero on the scene is bona fide royalty! T'Challa is the king of Wakanda in the Marvel Cinematic Universe and he's quickly proven himself to be one of the greatest heroes of all time. He and his people played an instrumental role in the battle against Thanos, which is just one more reason why kids want to dress up like the superhero. Our many different Black Panther costumes include classic styles for both boys and girls, so everyone can join the fight against the evil beings that would try to harm the innocent!
Animal Costumes for Kids
Let's face it, some kids can be real animals! Well, at least with our selection of animal costumes for kids they can be. Plenty of kids have boundless energy, so these costumes offer an excellent option for any child who likes to indulge in their "wilder" qualities. We carry just about every animal costume you can think of, including lions, tigers, and bears…oh my! But those critters get enough attention already. We think some of our lesser-known animal costumes add a unique spin to the classic animal look.
Unicorn Costume for Kids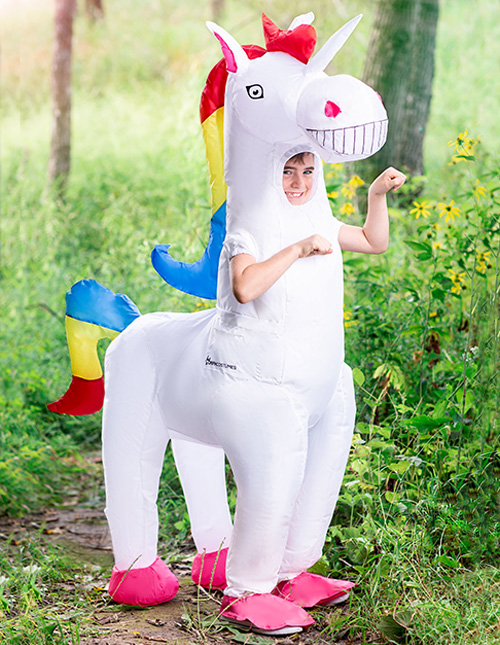 Do you believe in unicorns? We do! Sure, we've never laid eyes on a REAL unicorn and we're not exactly aware of any scientific evidence that supports the existence of unicorns…but we'd much rather live in a world where unicorns exist than one without them. That'd be a real bummer! The good news is that with our unicorn costumes for kids, any child can become a mythical creature. That means that even if there aren't any natural unicorns, these unicorn costumes should at least help us bring a brand new herd of unicorns into the world!
Kids' Dinosaur Costume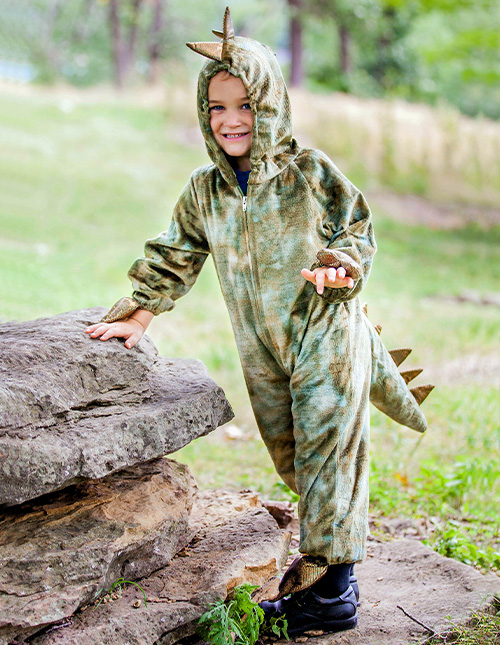 Most parents know this little fun fact! Every kid goes through a dinosaur phase. During this phase, they'll tell you random facts about their favorite dinosaur, they'll probably roar like a dinosaur, and they might even tromp around the backyard, pretending to be an escapee from Jurassic Park! The good news is that you can support your little one when they start into their dinosaur phase. We carry plenty of great exclusive dinosaur costumes for kids, including ones designed by our in-house dinosaur expert. And we have a great option for every kid because we have all of them! From Dilophosaurus to Velociraptor, we get 'em!
Warm Halloween Costumes for Kids
Oh, the weather outside is frightful ... We're from the Midwest, so snow in October is sometimes a thing. However, pretty much anyone north of the tropics can attest to the fact that a late October evening can be downright chilly! But you can't let a drop in temperature derail your child's candy collecting ambitions (because stolen Snickers from plastic pumpkins while the kids are asleep are the best tasting Snickers after all)! There are other times when more coverage is necessary – shoulder-baring ballerinas need a sweater, for example. Well, we offer many styles of warm Halloween costumes for adults and kids! Below are a few tricks of the trade (and some clever warm costume ideas) that moms and dads can use to keep kids warm and comfortable during all of their Halloween haunts.
Add Layers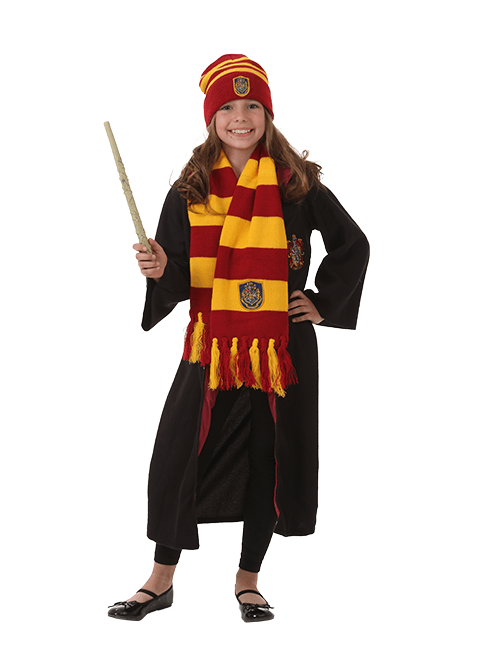 You've survived a winter in a northern climate? Then you know that the key to dressing for the season is to layer, layer, layer! We offer a huge selection of child costumes that allow you to add as many thermal undergarments as will be needed (without sacrificing style). Any robe or loose fitting costume will accommodate extra layers, and a Hogwart's robe is a perennial favorite! Seriously, how cute is this matching Harry Potter scarf and hat?
Wear Long Sleeves and Pants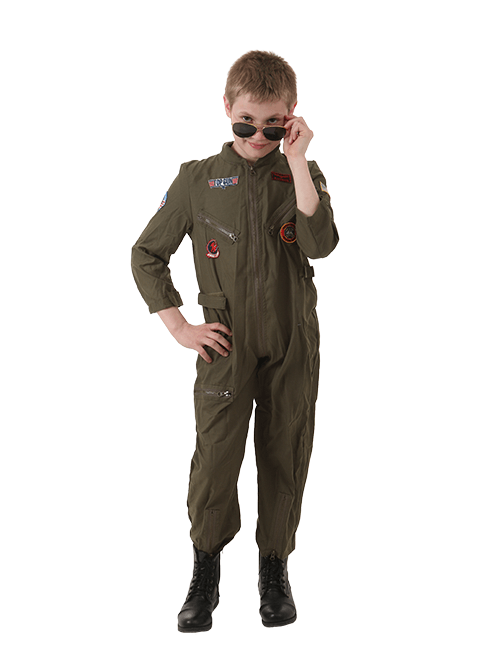 If you live in the middle states, you probably experience a true "autumn" season. Brisk, but not blizzard-ready. When the weather is cool and crisp, your Maverick's got a need ... a need for SLEEVES! A jumpsuit, like our Top Gun flight uniform, gives them coverage AND the swagger of an ace pilot. You will, however, still need to cross your fingers that his aviator's won't fog during the sugar rush.
Pick a Plush Costume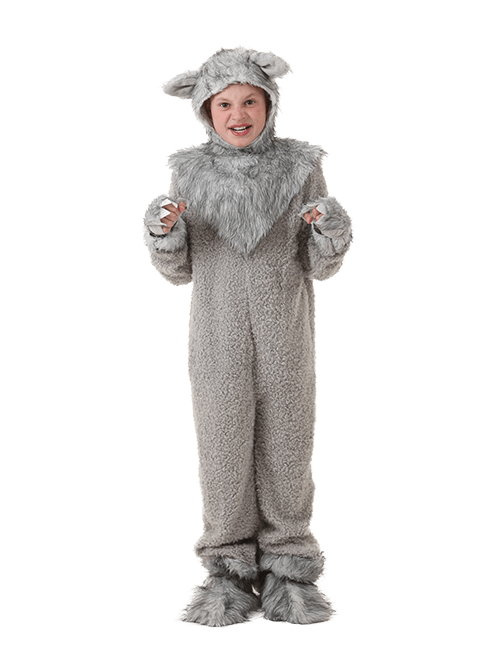 You know who's ALWAYS dressed for the weather? Furry critters. Like Jeff Goldblum taught us, "life, uh, finds a way." A plush animal costume is a great choice to send them off wrapped in a warm hug. And if you wake up Halloween morning to find a foot of snow (we're lookin' at you, upstate New York), no problem! These jumpsuits are generously cut to fit layers underneath.
Add Leggings or Tights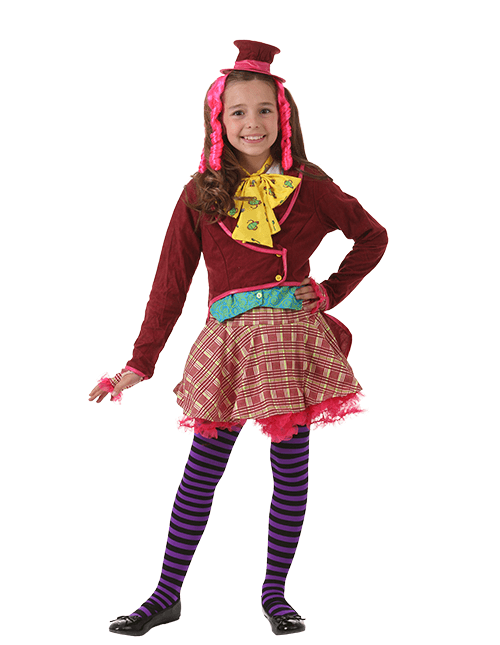 The cold never bothers her anyway! We get it. You've got a girl's girl on your hands, and she's not about to wreck her outfit in the name of Mother Nature. Not only does this super-girly Mad Hatter costume feature a great jacket (and so many fun colors), but she can also add some matching tights or leggings to get more coverage. She'll be totally cute and not on the verge of turning blue.
Halloween Safety for Kids
SAFETY FIRST! Buzz kill, we know, but the sun sets pretty early on October 31st. Sure, some neighborhoods offer daytime trick or treating, but where's the thrill of crossing paths with the things that go bump in the night? Of course, Halloween Costumes makes it a priority to help ensure that last sentence doesn't become a bad pun by offering some simple accessories (and costume hacks) that will make your child more visible to vehicles as they wander the neighborhood in search of some sugary satisfaction.
Carry a Light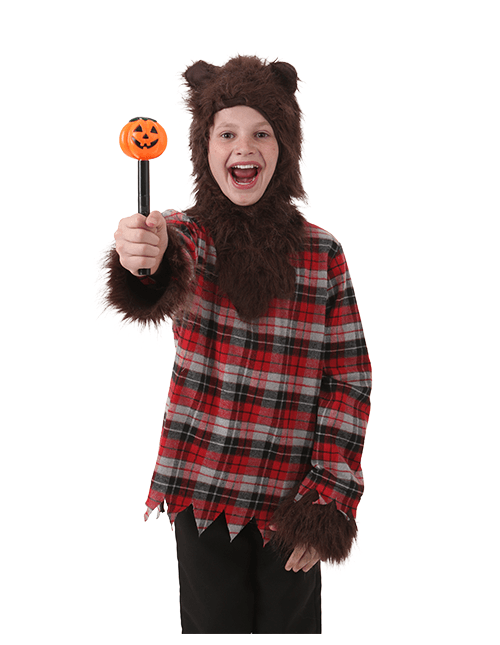 Flashlights 2.0: Light 'em up! (Your children, that is.) Our pumpkin flashlight is a festive and affordable way to send little ones off into the witching hour with a beacon. However, there are dozens of lighting options that can match your child's costume. For example, we have light sabers for little Star Wars fanatics, glowing wands for pint-sized princesses, and old-timey lanterns for those practicing magic at Hogwart's School of Witchcraft and Wizardry. Bottom line ... give those kids something that lights up so they'll stand out.
Add Relfective Tape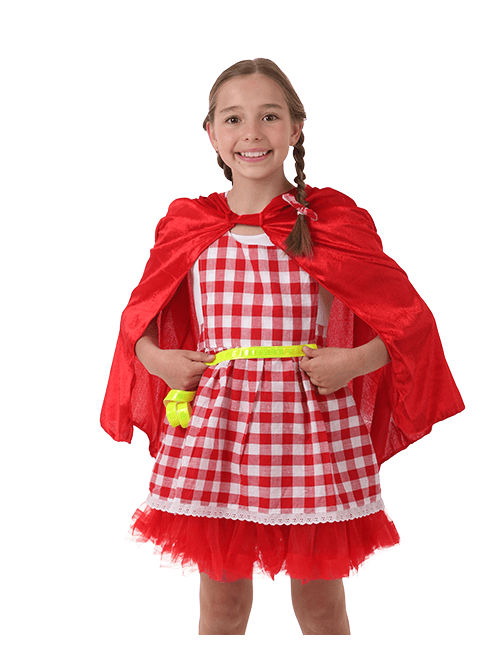 Never underestimate the power of good, old-fashioned reflective tape. Call us helicopter parents, but we sure do like safety measures. This stuff is easy to stick on and isn't going to "ruin" the look of your kid's costume. With Little Red here, we added a belt, but you can get creative. We have it on good authority that Iron Man's arc reactor looks awesome with the addition of reflective tape. Astronauts and aliens hardly even notice! It's a small and easy addition that could make a huge difference for your little one this Halloween.