Teddy Bear Costumes
Have you ever wondered why nature made bears so cute? They have all that soft brown fur, cute little round ears, plus their big bodies pretty much make them the perfect cuddling companion. Although these animals are absolutely adorable, they are also extremely dangerous, so if you happen to see one snoozing away inside of a cave, it's best that you don't go near him. We know it's tempting because you want to pet a bear, but it's more important that you keep all your body parts intact. Instead, we urge you to just dress up in one of our cool bear costumes and don't go out there searching for a black bear to call your own personal pet. All of our costumes are soft and cuddly so it will feel like you're cozying up with a great big bear while you wear one. From cartoon bears to panda bears, we know that you'll find the perfect bear costume for you…"fur" sure!
Famous Bears
Throughout television, movies, cartoons and even comic books there are a lot of famous bear characters who are able to steal the audience's hearts. Think about it. Was Baloo your favorite character in the animated movie, "The Jungle Book" or did you laugh your butt off watching the adult comedy, "Ted?" We don't blame you; Ted is one lovable and foul-mouthed teddy bear that we can't resist either. So, have you thought about what bear featured in pop culture is un-bear-ably cute to you? If you are having a difficult time deciding, then we can easily make a few suggestions that are as sweet as honey and hopefully you'll see one that appeals to you. Plus, we have bears costumes for babies, children, and adults so you can turn the whole family into a bunch of cuddly bears. Take a peek at the list of famous bear costumes that we compiled and pick out the one that you find the most ferocious!
Pooh Pajama Costume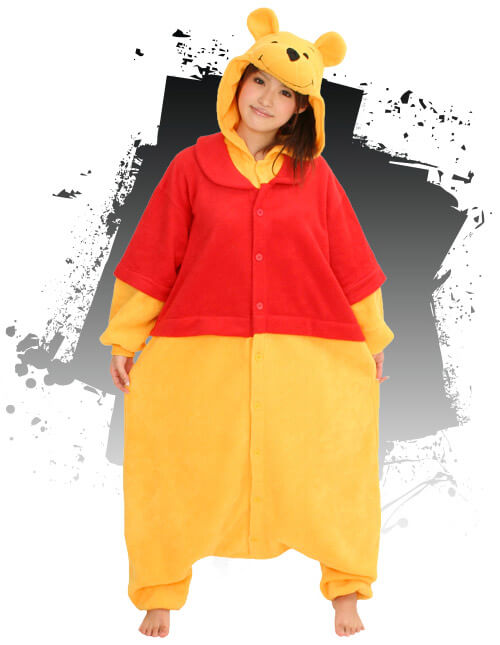 Winnie the Pooh is among the most popular A-list fictional bears because he's been around for quite some time. Chances are you grew up reading about Pooh, Eeyore, Piglet, and their adventures in the Hundred Acre Wood. If you weren't a fan of the books, then you definitely watched the Disney cartoons on TV (we'll never forget the song about the huffalumps, and woozles). Well, now that you're an adult, you can actually transform into the red crop top wearing pudgy bear that you idolized as a child. That's right; this Pooh pajama costume will turn you into the delightful, yet accident prone, yellow bear who hangs around Christopher Robin and his pals. You'll love wearing this soft yellow button-up pajama jumpsuit because it's made from a soft material that will comfort you while you're cuddled up on the couch. Don't be surprised if you wake up craving some "hunny" whenever you slumber in this cozy costume!
Adult Panda Costume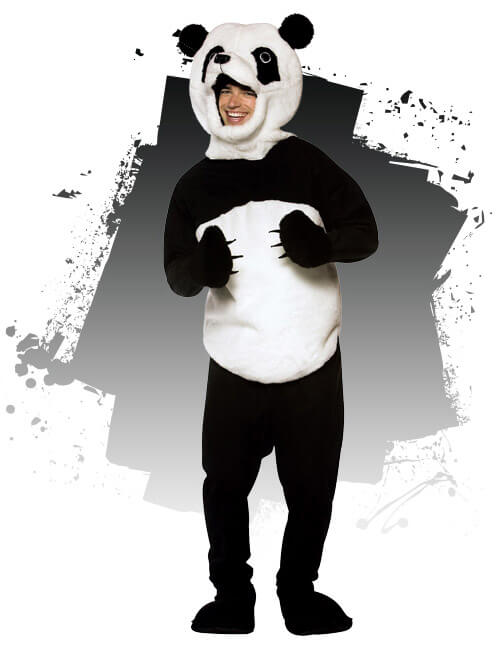 If you're anything like us, then you've most likely patrolled Imgur for all the best panda videos and memes on the web. There's just something about pandas that are so irresistible to us, mostly because they're really cute and really silly. If you are a fan of the black and white bamboo-munching bear then you are most likely familiar with the one and only, Ling Ling. Ling Ling was a Chinese-born giant panda who lived in the largest zoo in Tokyo, Japan from 1985 to 2008 and served as a symbol of friendship between Japan and China. If you want to transform into one of the most famous pandas in history, then we recommend wearing this adult panda costume. This plush costume is great for anyone who is on the hunt for a classic look because this costume comes with everything you need in order to be "beary" cute. This costume comes with the furry pants, top, paws, shoe covers, and a character headpiece so you'll look like a true giant panda roaming around the jungle. You can add some black and white face paint to your cart so you can paint the signature black rings around your eyes before you go out with your other panda pals.
Yogi Bear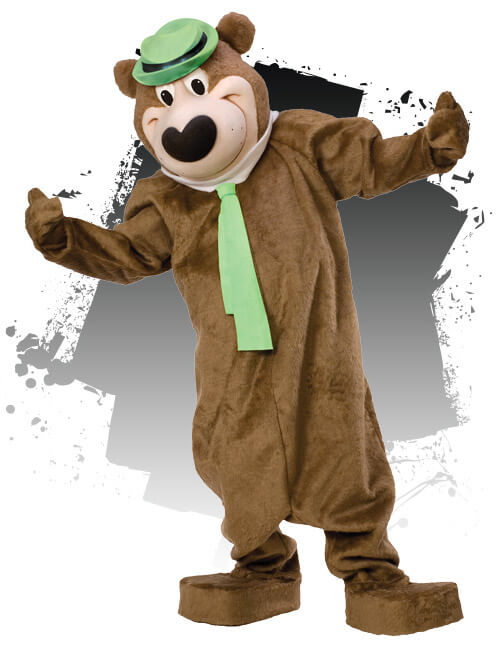 "Hey there Boo Boo! Let's go get us some pic-a-nic baskets!" If you are a bear lover then you're most likely very familiar with the Hanna-Barbera character, Yogi Bear. Who could resist Yogi's silly grin, his infectious laugh, and his tendency to overestimate his own cleverness. We think that going camping in Jellystone Park and running into Yogi and his trusty sidekick, Boo-Boo would be a grand old time. If you would also participate in Yogi's hysterical antics at the popular campground, then you should dress in this super deluxe Yogi Bear costume. This high quality costume comes with the "bear necessities" plus much more in order to make the transformation possible. You'll receive the molded headpiece, the soft bodysuit, the foam shoe covers, the matching mitts, ankle covers, and the iconic green tie. We also have Yogi Bear costumes for children and toddlers so you and your kiddo can go out together for some nonsensical shenanigans. You guys will be smarter than the average bears, indeed!
Care Bear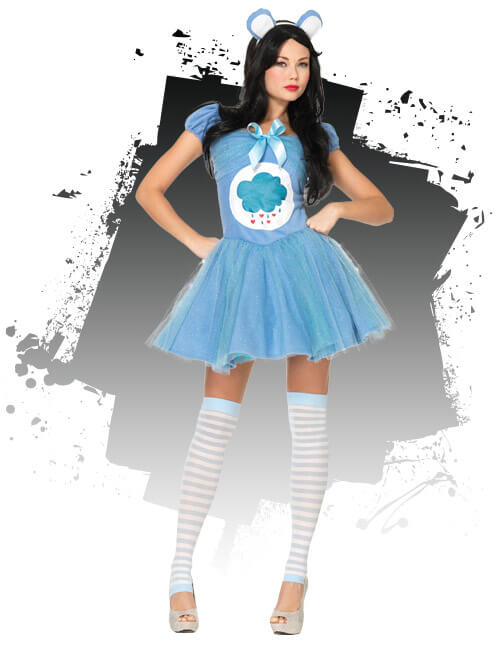 We know that Grumpy Bear is cynical, surly, and rarely happy but we can't help but love him for all those reasons. We think that Grumpy's "tough love" approach is refreshing compared to his bubbly bear brethren because we know that it's impossible to be cheerful all the time. Despite Grumpy's antisocial traits and his irritable nature, he's always able to turn any frown upside down no matter what the predicament is. If you would pick hanging out with Grumpy Bear over any of the other of the jolly, bright-colored bears then you will love dressing in this adult Care Bears Grumpy Bear costume. This look takes Grumpy's signature blue and turns it into a fashionable outfit that sassy women will love wearing. The sky-blue dress features a sparkly tulle skirt, a feminine bow tie, and Grumpy's easily recognized storm cloud belly badge. The costume (which is also available in plus sizes) comes with the ear headband too. Meet up with Funshine Bear and Cheer Bear for a night filled with rainbows, hugs, and smiles!
Best Bear Accessories
Do you think that living like a bear would be an awesome lifestyle? We also think that hiding out in a forest, hibernating, and occasionally eating some honey and berries sounds like a grand old time too! If you are planning on making the big move into the woods to get in touch with your primal instincts, we'll hook you up with some accessories that will help make your transition into the woods a whole lot easier. All of these bear themed accessories will allow you to blend in with your surroundings. Hey, who knows, maybe the bears will take you in as one of their own and you could be cuddling up next to a mama bear before you know it! You may even get to live in a cozy cottage with your bear brothers. If Goldilocks happens to make an unexpected appearance in your new home then let out your most ferocious roar and send her running out the door. So pick up some of the following accessories to make your costume more realistic and you'll be adopted by a family of bears in no time!
Bear Nose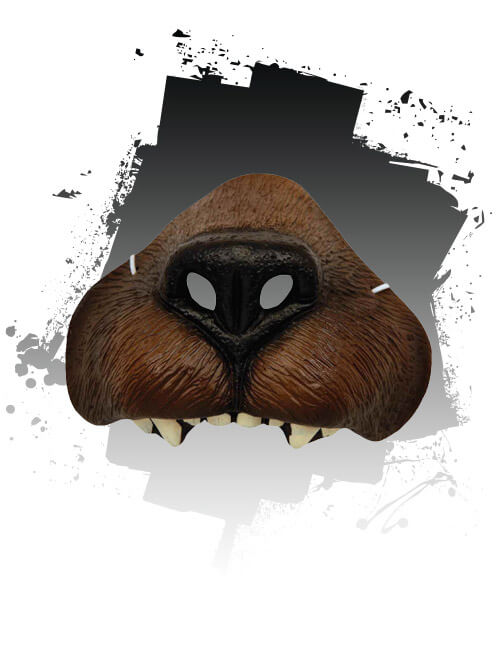 There's no doubt that you'll have a "beary" fierce look when you're sporting this snout accessory. This cool bear nose easily stays around your head via an elastic strap so you don't have to worry about it falling off when you're out hunting in the wilderness. Bears are known for their keen sense of scent (which is most likely why they can always find the food in the cooler while you're out camping), so let us know if this molded nose allows you to smell more clearly. No matter what costume you choose to pair this accessory with, it will serve as the perfect finishing touch. Add some brown face makeup to your cart to so you can paint the rest of your face to match this nose.
Fish Prop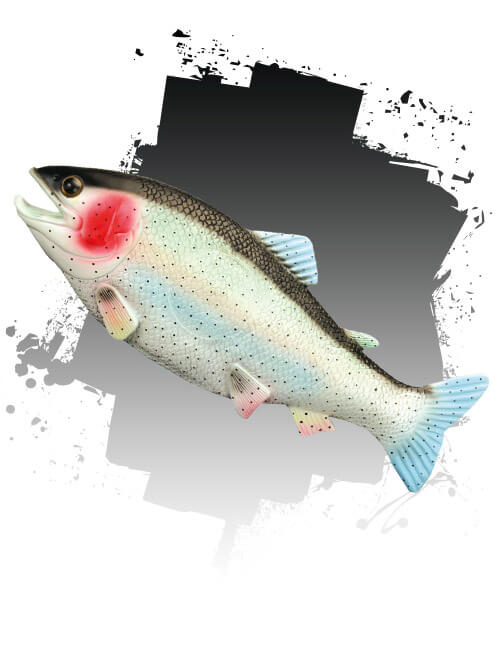 Did you know that a grizzly bear's diet heavily consists of fish (especially salmon)? It's not a surprise to us because we love feasting upon fishies too. When you're all suited up in your bear costume, we recommend carrying around this rubber fish prop so you can look like a true grizzly bear who proudly caught its family some scrumptious dinner. Hold onto it while walking around (perhaps on all fours) impersonating your favorite kind of animal. The best part about this cool prop is that you don't really have to stick your hand in a freezing cold stream in order to score a fish for your furry family. However, we don't recommend that you take a bite out of this prop because it's just plastic and it won't taste like delicious fish!
Right to Bear Arms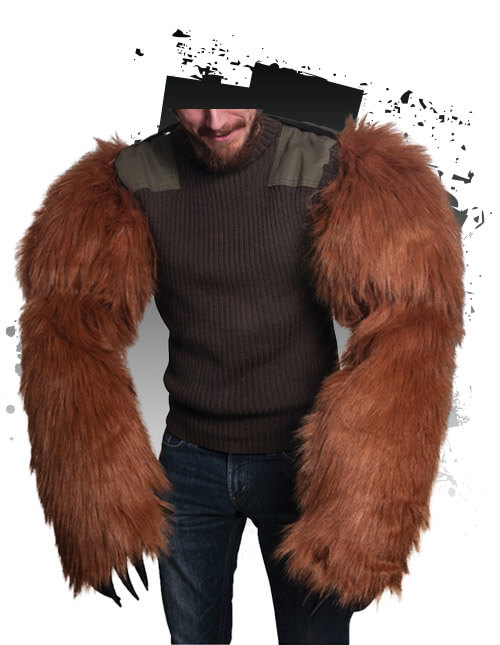 Did you know that this cool accessory is called the "right to bear arms?" We don't know about you but we think that this huggable accessory is way more awesome than carrying around a musket. You'll look more intimidating than anyone in a werewolf costume while you're sporting these extra large arms because they're pretty threatening. Not only do they look muscular, but the plastic claws at the ends of the paws are legitimately frightening. In fact, they look even longer than the claws that Freddy Krueger uses to terrorize his victims. Just use the Velcro tabs to fasten these synthetic bear arms around your shoulders and you'll look like one manly mammal!
Bear Hug Hat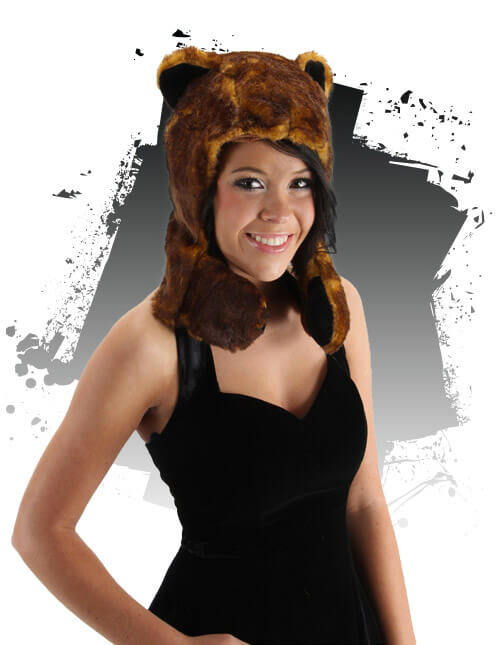 Do you want your head to feel like a grizzly bear is giving you a great big bear hug? Don't worry, it would be a sweet hug so you won't run the risk of becoming a snack for a grizzly. This Bear Hug Hat keeps your head warm and cozy so you'll be ready to brave the elements if you do decide to live in the wilderness. The faux fur exterior will feel nice and soft while you wear it, while the paw-shaped sides dangle from the ends of the hat. They also can be buttoned together if you want some extra coverage for your face. We recommend using this hat to construct your own unique bear costume. It will inspire you to be the kind of bear that you've always wanted to be!