Adult Halloween Costumes Ideas
So, you're all grown up now. You've graduated from the wondrous world of being a kid into the world of responsibilities. You've got bills, maybe you have a fancy job and maybe you've even got yourself a family, but that doesn't mean you have to pack your imagination away in a box in the attic. Quite the opposite, actually! Now that you're an adult, you deserve a break from all the responsibilities and hassles of life more than anyone. So, why not dress up in one of our adult costumes for Halloween to party like it's your birthday. (Even if it's not really your birthday!) We have the best Halloween costumes for adults for themed parties and cosplay. Whatever you're looking for! So, read on, and check out all of these adult costume ideas to jump-start your leap into a fun and memorable Halloween costume experience.
Adult Costumes
So, just because you're an adult doesn't mean your interests have completely matured. You might still be obsessed with the movies you grew up with, or maybe you're always looking to relive one of your favorite childhood costume themes. We, of course, are one of the top destinations for licensed costumes and we've got an incredible selection of classic costume themes, too. Check out these perennial bestselling costume categories to see if any of them are just the style you're looking for this year!
Back to the Future Costumes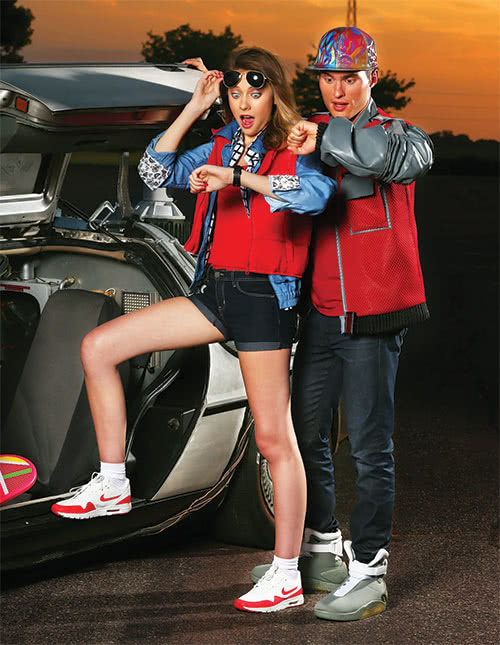 So, you know what'd be a ton of fun this Halloween? Going Back to the Future! We're the home of exclusive, officially licensed Marty McFly Costumes, and we've even got them in styles for both men and women. We've even got prop replicas from Back to the Future II like hoverboards and jackets! Be sure to shop our entire selection to get yourself and your friends some cool adult costumes for Halloween.
Grease Adult Costumes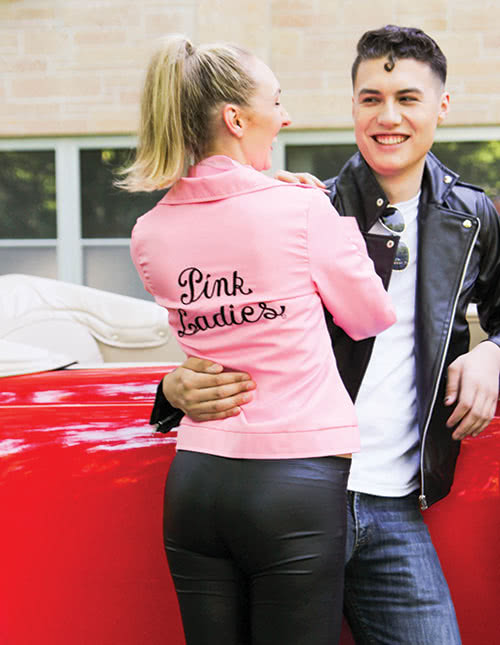 Admit it, you're just as big of a fan of Grease as you were when you were a teenager. Nothing wrong with that! Grease is one of our most popular costume themes year in and year out, and we've got costume outfits to get all your guys and gals dressed up as "T-Birds" and "Pink Ladies". Our exclusive costumes are one-of-a-kind and the best quality you'll find online!
Pirates Costumes for Adults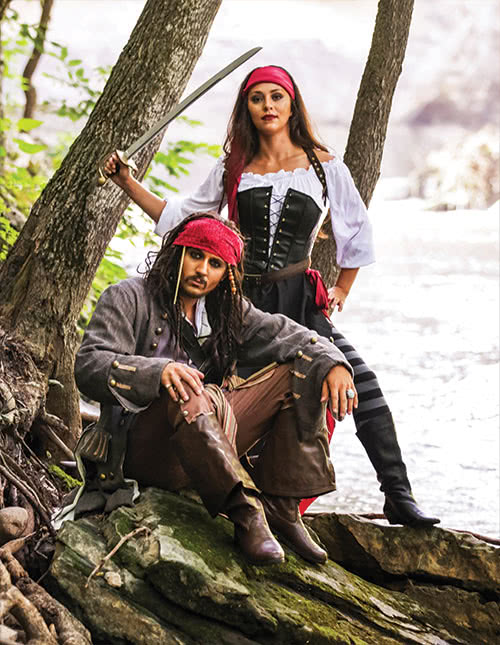 Sure, going as a pirate when you were a kid was a ton of fun. But with all of the swashbuckling and rum-swilling, well, it's even better as an adult! You can be a debaucherously brazen buccaneer or even a more mild-mannered privateer when you pick out one of our exclusive pirate costumes. Your persona will be entirely up to you. Just remember to grab a plastic sword and probably some gold coins, too, to enhance your adult pirate costume!
League of Their Own Costumes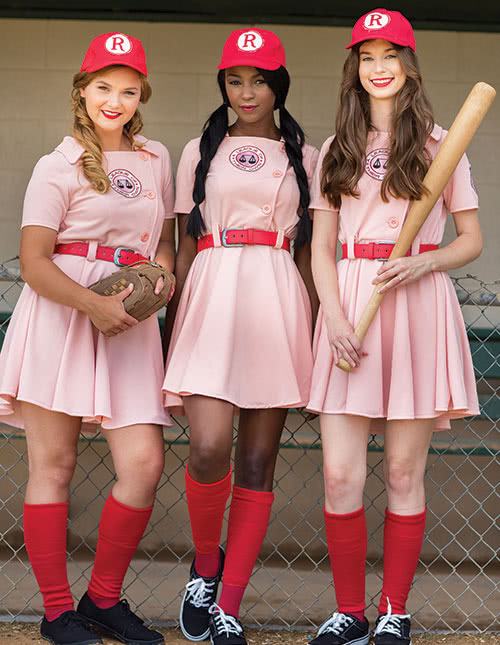 One of our most popular themes and a girl-power favorite is our line of A League of Their Own Costumes. We've teamed up with Columbia Pictures to produce our officially licensed line of costumes and we've got all the styles including Dottie, Kit, and even Coach Jimmy! You'll probably want to pick up our replica baseball bat, too, because when you choose one of these baseball costumes you're going to be hitting it out of the park!
Sexy Halloween Costume Themes
Your Halloween fun has evolved over the years, and while candy and trick-or-treating were great back in the day, now you're all grown-up and ready show it off. And, frankly, you want to look good doing it! We don't think there's anything wrong with showing off a little sex appeal, and we've got styles for men and women that are sure to have you feeling confident in character. These sexy styles are great for couples or for any individual who'd like to leave a big impression on their fellow party-goers.
Game of Thrones Costumes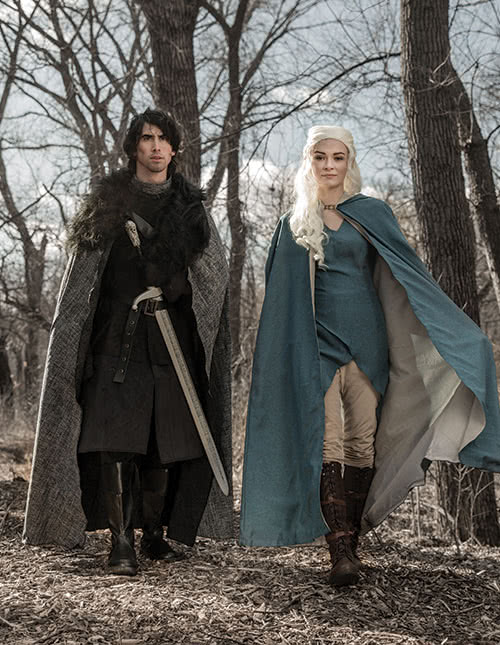 In each of their respective storylines on Game of Thrones, Jon Snow and Daenerys Targaryen have made quite a mark when it comes to their sex appeal. Well, "Fire and Ice" is officially a thing now, so it's as good of a time as ever to choose one of these characters to go as! We, of course, have the adult costume styles to get you started. Our Dark Northern King Costume will have you looking the part of the King in the North, and of course, our famed Dragon Queen Costume will transform any lady into the mother of dragons.
Top Gun Costumes for Adults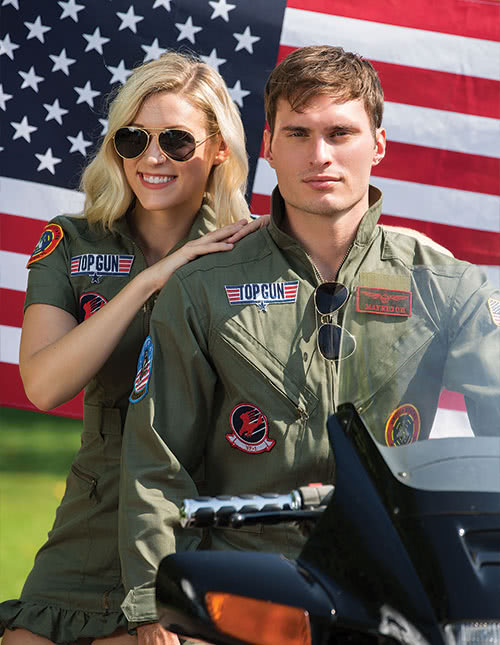 So, we know what they say about a man in uniform, but ask anyone, the same thing goes for the ladies! Of course, piloting a jet fighter on a high-stakes mission might go a long way towards upping your sex appeal, too, so we've got just the theme in mind. Top Gun! Our Top Gun costumes come in the classic male-cut flight suit style and sexy form-fitting women's outfits as well. We've even got a cute dress version! Pick out one of these fun adult costumes, and well, "you can be my wingman any time."
Egyptian Couples Halloween Costumes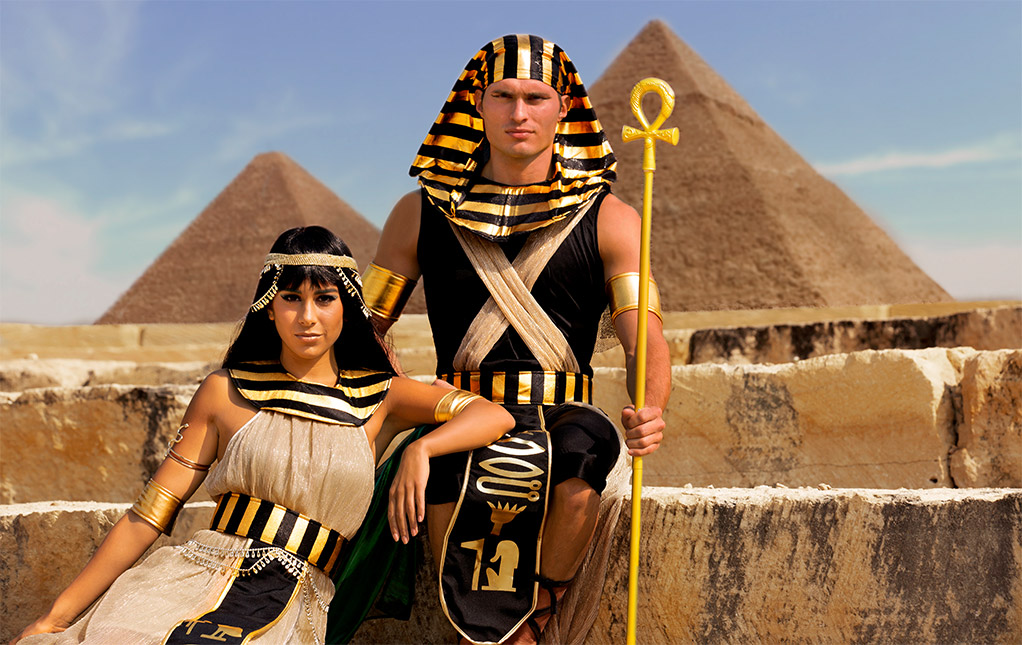 According to historical accounts, Cleopatra Queen of the Nile pretty much invented sex appeal. So, we think it makes a lot of sense that we're still dressing like her more than 2000 years later! We have a huge selection of Cleopatra costumes, and we've got plenty of Pharaoh costumes to get guys in on the fun, too. With alluring designs that show just the right amount of skin, we're sure an Egyptian theme this Halloween is going to be sizzling hot!
Fun Adult Costume Ideas
Adult-oriented themes are great, but sometimes the mood might strike for Halloween costume ideas that are totally family friendly and a ton of fun, too. Well, we most definitely have you covered there! We would, of course, point you towards the classics like Star Wars, The Princess Bride, and The Flintstones. These licensed costume selections that will work great for couples Halloween costumes or for getting your friends together to do a group costume.
Star Wars Costumes for Adults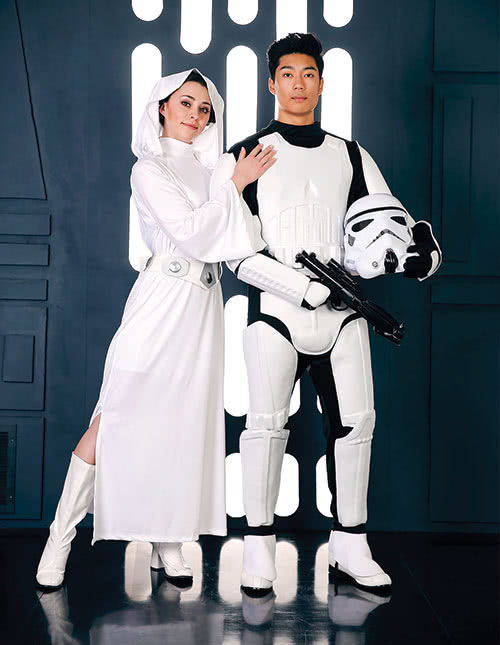 There's a new era of Star Wars movies for today's kids, but that doesn't mean you've forgotten about the classic Star Wars movies! Whether you prefer new or vintage Star Wars action or hold them both in high regard, it's hard to find a more iconic costume style than dressing as Princess Leia with her hooded gown from A New Hope. For couples Halloween costumes, pair her up with a Stormtrooper or Han Solo, and you'll be ready to hit the big costume party!
Princess Bride Costumes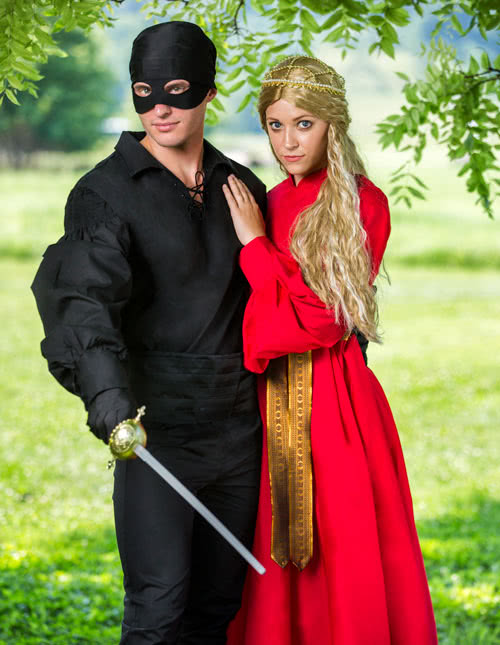 Another iconic flick you grew up with as a kid is undoubtedly The Princess Bride. Well, now you're finally old enough to do a proper Westley and Princess Buttercup! We're proud to be the home of the officially licensed Princess Bride costumes, and we've got 'em all, even Fezzik if you're feeling Andre the Giant sized! Pick out any of these fun costumes as an individual theme or for a group theme, and you're assured to have a great time.
Flintstones Adult Costumes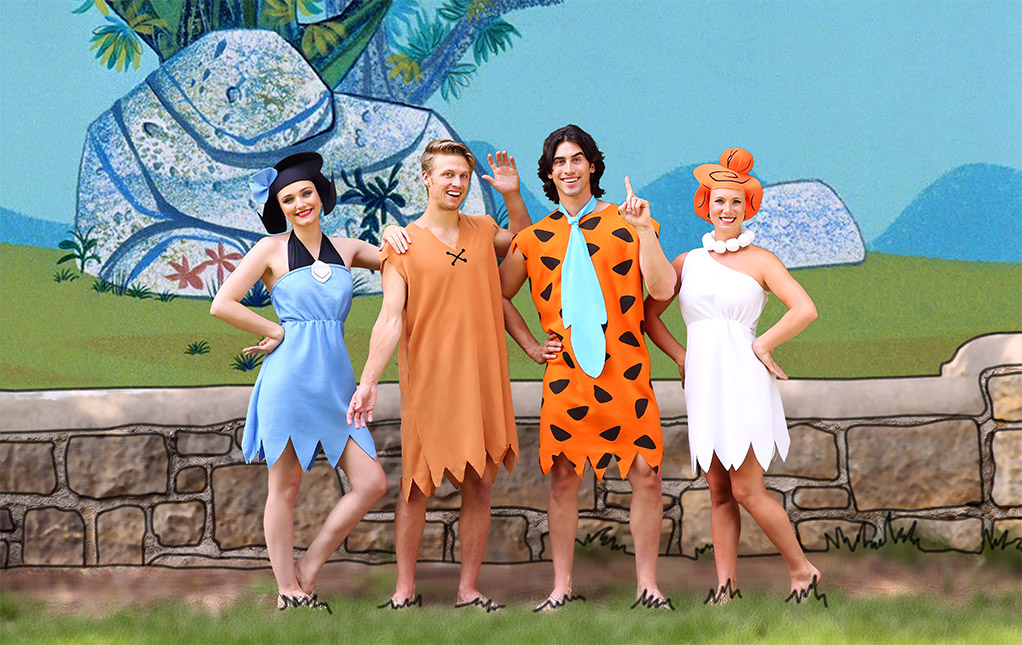 "Flintstones! Meet the Flintstones!" If you're a couple planning on teaming up with another couple for a fun costume theme, we're sure you'll have a great time with the perennially popular Flintstones costumes. We've got a huge selection of officially licensed Flinstones Halloween costumes with all the characters available, like Fred, Wilma, Barney and Betty Rubble. We've even got kids costumes for Bamm-Bamm and Pebbles if you've got the little ones in tow. Just be sure to take a look at our deluxe versions if you think you might be piloting one of those caveman cars. They come with oversized foot covers which is sure to help you push your prehistoric wheels!
Group and Couples Halloween Costumes for Parties
Remember being a kid, when you were forced to sit at the kid's table? You could only imagine what kind of grown-up stuff was happening at the adult party. Now that you're an adult, you can make your Halloween party something beyond the wildest imagination of a kid, because you can do what you want! That's the beauty of being an adult, despite all the responsibilities that come along with adulthood. You also have the resources to throw one of the coolest costume parties in existence. So, let's get started with a few great adult costume ideas to wear to a themed costume party.
Greek Goddess and Toga Costumes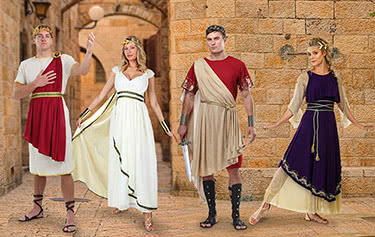 Classic, regal and... who are we kidding? Toga! Toga! Toga! Nothing quite sparks the party spirit like the look of the ancient Greeks. Made famous by fraternity houses, the toga has a lot of things going for it. The look is quick and simple, with a whole plethora of easy ways to accessorize. If you want to go all out, you can grab some sandals and gold wreath crowns to look like Greek royalty, or you can simply toss on the toga costume. And all it takes to get the party started while wearing this costume style is to shout the word "Toga!" and repeat ad nauseam.
Great Gatsby Party Costumes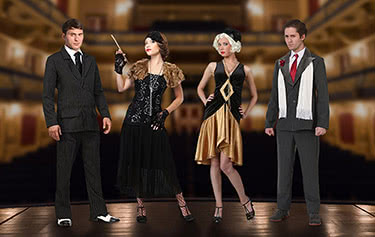 Depending on who you ask, The Great Gatsby is F. Scott Fitzgerald's masterpiece novel about passion and the great American Dream, or it's a movie starring Leonardo DiCaprio. Whichever version you prefer, there's no denying that the 1920s makes for a great party theme. All it takes is a little bit of jazz music, our flapper dresses, and some dashing suits to make your party feel like the speakeasy throwback you've been yearning for. And since prohibition no longer exists, you don't have to worry about the cops coming to bust up your Gatsby costume party.
Adult Costume Cosplay Favorites
Is cosplay your favorite? Us too! We're all about Halloween, quite obviously, but we're big-time fans of the folks who ply their costume skills all year long. Our Halloween costumes work great for cosplay, whether you mod them with your own upgraded costuming talents or prefer them ready to go out-of-the-box. Check out some of these classic costume ideas to see if they inspire your next choice for a Comic-Con!
Doctor Who Costume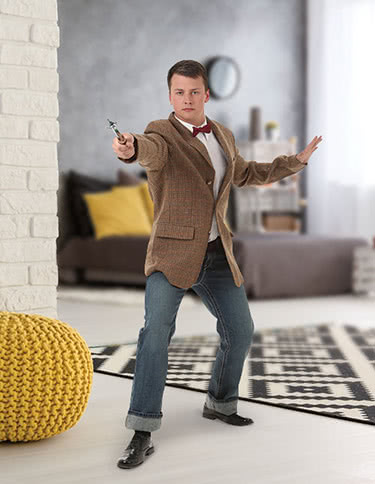 Whether you just started watching, or you've been catching episodes of your favorite Time Lord for decades, Doctor Who makes for one great cosplay option. Of course, the first thing you need to bring to the table is the Doc's undeniable swagger. Depending on which one you choose, that could mean many different things. That could mean carrying a bag of Jelly Babies around with you, or it could mean wearing a fez hat. Either way, you can find the beginning of your Doctor Who costume right here.
Sailor Moon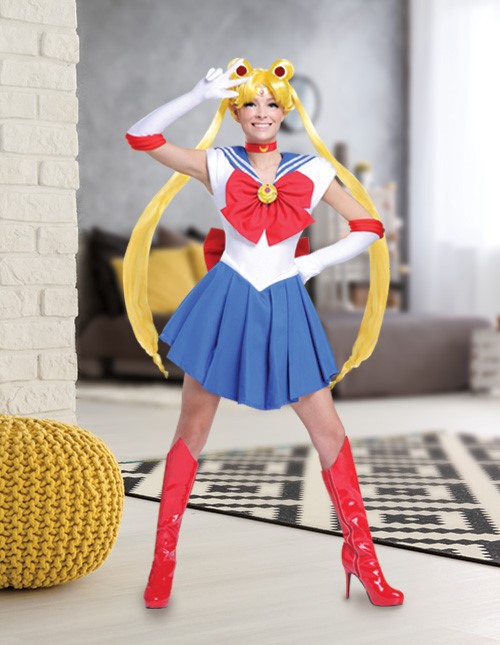 She's the one called Sailor Moon and she's a pretty big deal. Sailor Moon is a classic when it comes to anime, so she's a staple in comic con crowds. That makes her an easy pick when you're trying to put together a great outfit to wear for a bit of cosplay. It won't give you any of the powers that she normally has, but it will get you quite a few positive comments when you head out wearing your Sailor Moon costume. Just make sure you're rocking the long blonde pig-tails. (We've got the wig if your own locks aren't quite cutting it!)
Evil Queen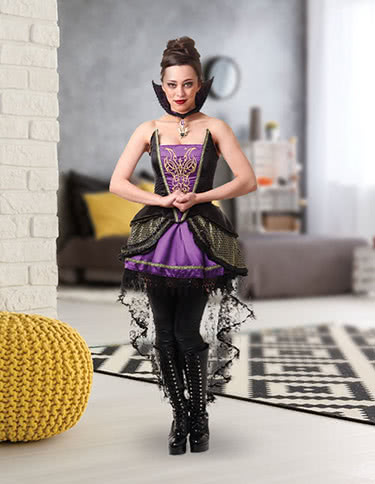 Villains are always a great choice for comic conventions and cosplay fun. They let you embrace a little bit of your dark side for the con. And let's face it, being a little bit bad is far more fun than being good! This Evil Queen costume has a look inspired by the classic Disney tale, Snow White, so you know it has a classic evil look that everyone will remember. People may not trust any apples you try giving to them though!
Beetlejuice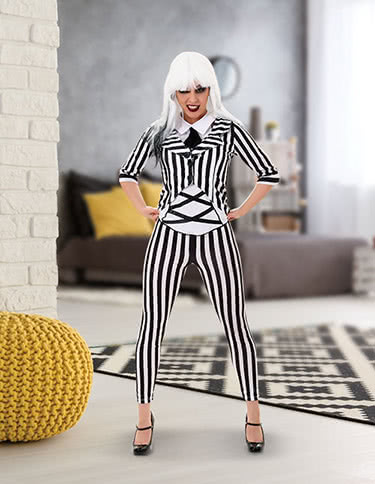 Beetlejuice! Beetlejuice! Wait, it's not good to say that three times in a row! This Beetlejuice costume idea comes from the classic Tim Burton film. Just use our Women's Graveyard Ghost Costume, add a little makeup, and you'll be a female Beetlejuice in no time. There are a lot of different routes you can take with this one, but all of them lead to a good time! Just make sure you pack a few one-liners to get you through your event.