Toga Costumes
Toga Costume Ideas
It's hard to believe that the toga went out of style as a choice for everyday wear. Just look at it! Not only does it provide a delicious style, but it looks quite regal to wear around the house and you never have to worry about chaffing. Someone decided that it was no longer in style and we all started wearing t-shirts and pants. Well, we're bringing togas back! That's right, you read that right. We're starting a toga revolution here and we encourage you to join in, by having a toga party or, at the very least, wearing a toga around the house. Now, you might be thinking about grabbing the nearest set of bedsheets to make your new toga, but you'll want to think twice about that. You don't want to ruin a perfectly good set of bedsheets just to make a costume and we have a whole plethora of great outfits to choose from. Many of them break from the plain old white toga, to give you a number of customization options. Whether you want to look like the glorious ruler Julius Caesar or you just want to party like a Roman for a day, we can help you find the kind of outfit that will have you feeling toga-riffic in no time flat.
Greek Dresses
First, let's take a look at some different styles for women. It might seem like there isn't much to work with when it comes to togas, but there's a surprising amount of variety when it comes the classic Greek attire. You can cosplay as Ancient royalty, or perhaps you want to be a real Greek warrior! These are some of the best looks for women stepping into a toga.
Sexy Toga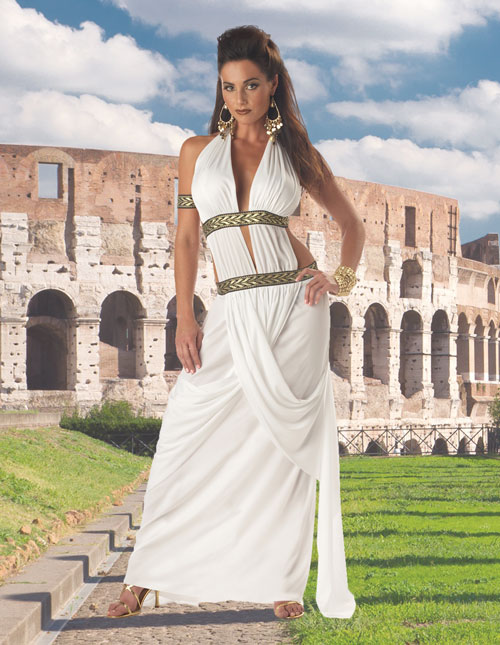 Sometimes you just want a sexy costume to bring to your party, no matter what kind of party you're attending. You shouldn't be limited to historical costumes that are completely accurate, just because you're headed to a Roman toga party. You should be able to wear a show-stopping style and this sexy toga costume does just that! The costume mixes Roman and Greek influences, along with a sexy modern cut. Just pair it up with some golden sandals and you'll be ready to steal the scene at any party!
Plus Size White Grecian Dress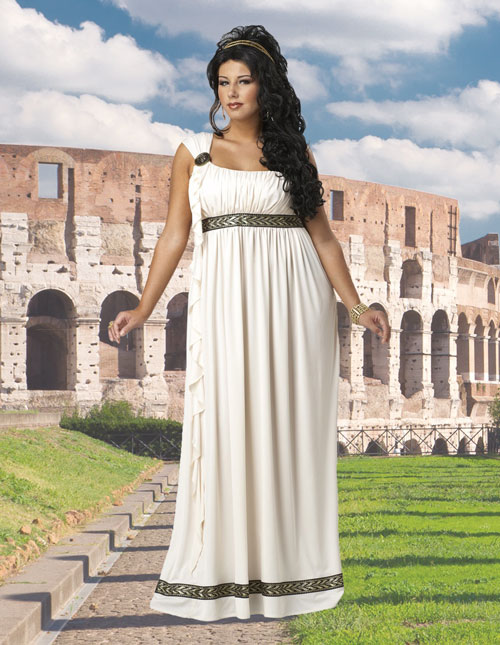 Our toga costume styles often come in a full array of sizes. After all, we're all different sizes, so costumes should reflect that. This Olympic goddess costume is a plus size white Grecian dress that should fit women with a curvy body type. It has a classic look, with an empire waist and Greek style detailing around the bottom of the dress. All of these features combine for a look that will have you feeling confidant and ready to mingle at any shindig. You can easily accessorize this with some costume jewelry.
Grecian Dress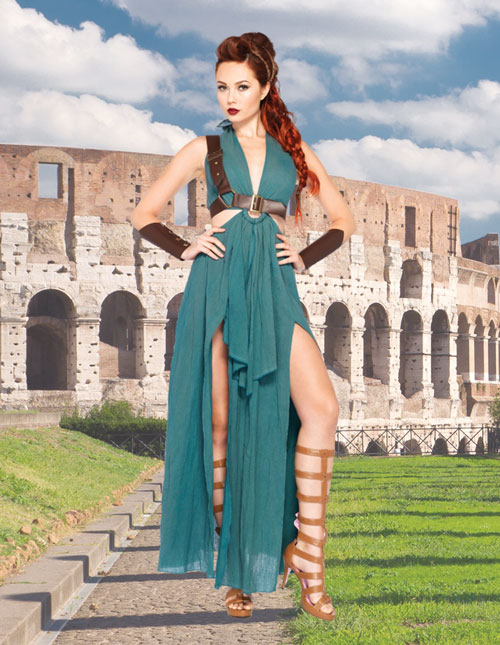 Perhaps you're a little bit more of a Xena Warrior Princess type. Well, there's a toga style outfit for you, too. This warrior maiden costume gives you a Grecian dress with a little bite. The turquoise color scheme, mixed with the sexy cut, gives you an outfit that may just have you ready to battle it out with any enemies you encounter at your party. Just remember to pair this costume up with one of our many toy swords or shields, since even a warrior maiden headed to party needs to be ready for a battle.
Girls Greek Goddess Costume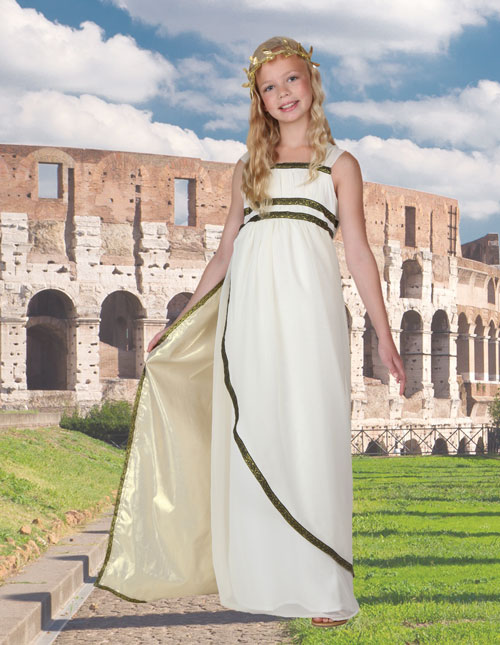 Of course, it's never too early to bring your little girl into the world of Greek and Roman togas! This girls Greek Goddess costume is a cute and modest look for any young girl who wants to wrap herself up in some clothing from Ancient history! It's an exclusive costume designed by our very own team and comes with plenty of great details, like an empire waist, a satin skirt and some beautiful gold accents.
Toga Costumes
Now it's time for some more basic toga styles. The toga was worn by pretty much all classes of people in Rome and, depending on your social class, you could wear slightly more modest or robust versions. These toga costumes are for those who are looking for something that's simple and classic, which is the perfect toga party costume idea for anyone heading to a slamming party down the street. And the best part about them is that you don't have to ruin any of your bedsheets to make an outfit.
Roman Toga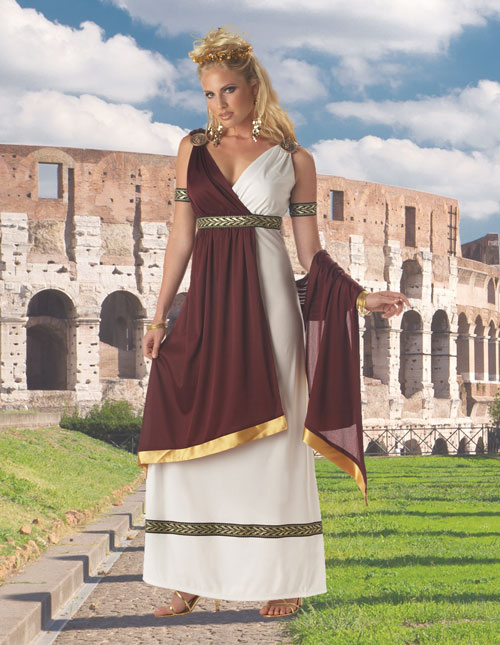 First up is this Roman Empress costume for women. It's a Roman toga that has a slight hint of royalty to it. The costume comes with a maroon drape and plenty of gold accents. Armbands and an included medallion help combine for a look that's both classy and classic. It will also make you stand out at the next toga party that you attend.
Toga Costume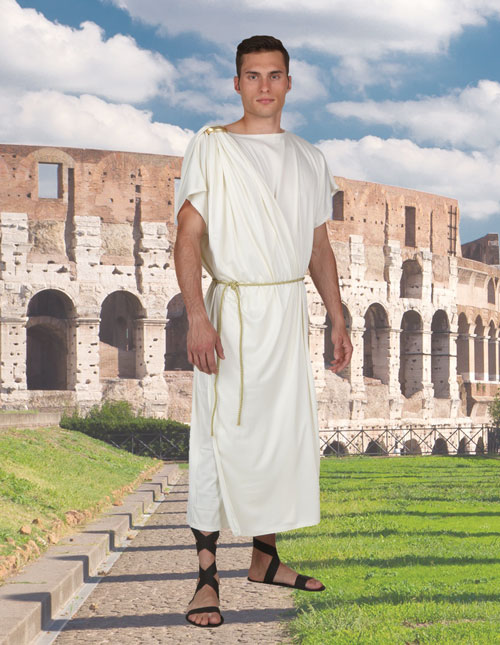 Here we have THE costume. This toga costume is another one of our exclusive designs and captures the basic toga look perfectly. Whether you're trying to recreate the iconic Animal House scene from the 80s, or you want to craft your own Julius Caesar outfit, this is a great place to start. Just customize with your own accessories to finish the look.
Womens Toga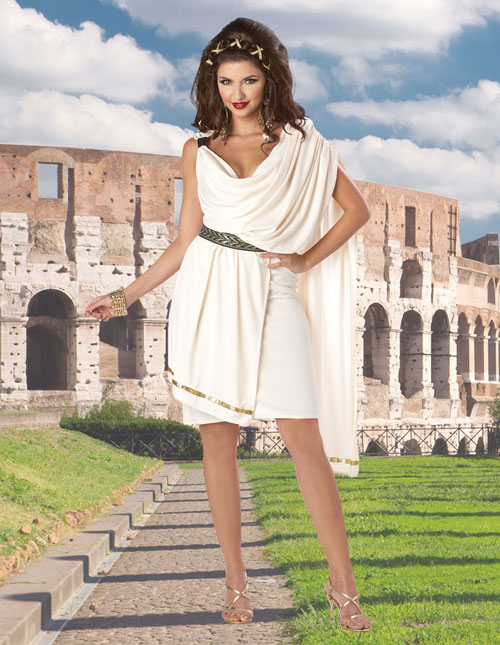 This sheath tunic has a cowl neckline, which may not have been entirely accurate for the time period, but it does add a nice modern appeal to a classic design. This women's toga costume acts as a great starting part for any woman looking to add a slightly sexy spin on the traditional look. We recommend pairing this costume up with a set of our women's Roman sandals.
Kids Toga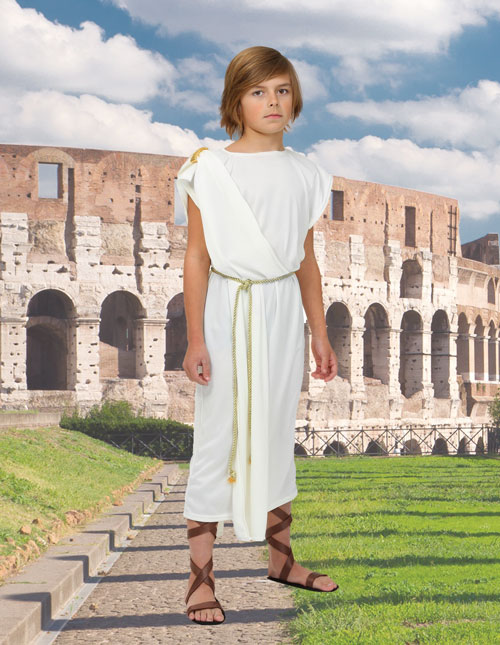 Last, but not least, we have a toga made for children. This kids toga brings your child a quick and easy way to look like he stepped out of a time machine. Whether you use it to dress your child up like Hercules or make him the new ruler of ancient Rome is completely up to you. Just make sure to watch his back on the Ides of March if you DO decide to set him up as an Emperor.
Caesar Costumes
You can't talk about togas without mentioning some of the most power people that wore them! Julius Caesar might be the first person that people think of when they hear the word toga. After all, the guy made a name for himself as a prominent military leader and was instrumental in the Gallic Wars. He even had a romance with one of the greatest women Egyptian pharaohs of all time, Cleopatra. If there's any toga-wearing figure from history that you should dress up like, it's definitely the famous Julius Caesar! And, of course, we have plenty of styles to choose from for any intrepid guys looking to play the role of Roman emperor!
Caesar Costume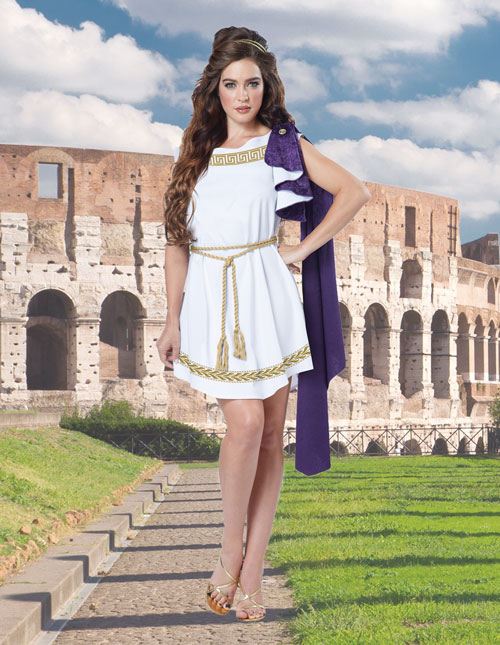 Some people need to adhere to strict historical accuracy when it comes to dressing up like an ancient historical leader. Not us. We think you should have the liberty to play around with history and have fun with it. For instance, what if Julius Caesar wasn't a man, but a woman? Well that's the question that this women's Caesar costume poses! This women's costume brings you a toga style that will have you playing the role of empress of the entire Roman Empire, no matter what those history sticklers think!
Julius Caesar Costume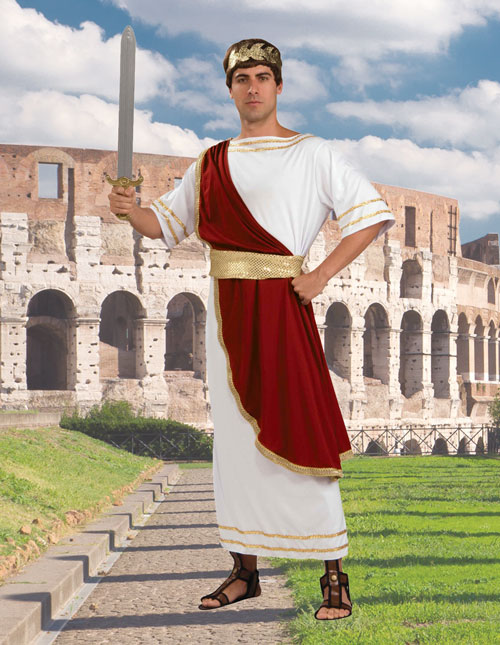 This adult Julius Caesar costume is for those who want a more traditional look. The costume comes with a white toga, like one that would be worn by someone of high Roman status. It's also accented by a maroon sash to help you achieve that true emperor look. This costume even comes with a belt and a headpiece to finish off the look. Be sure to pick up a sword and some sandals so you look ready to take the throne.
Mens Toga Costume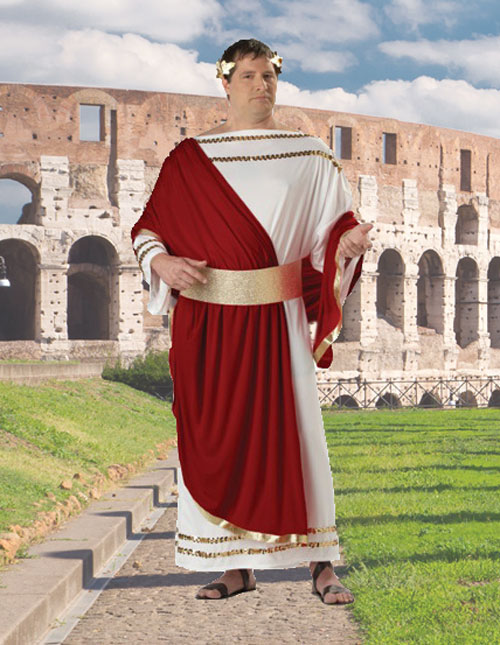 One of our specialties is plus size costumes. We carry a large variety of them and Julius Caesar is no exception. This mens toga costume is a size that larger Julius Caesar candidates will find quite forgiving. It comes with a classic Roman toga cut, but includes a maroon drape to add a regal touch to your look. It also comes with plenty of gold accents around the neck and along the sleeves. Everything is included in this outfit, too! You even get a gold leaf crown to solidify your status as a ruler.
Plus Size Grecian Costume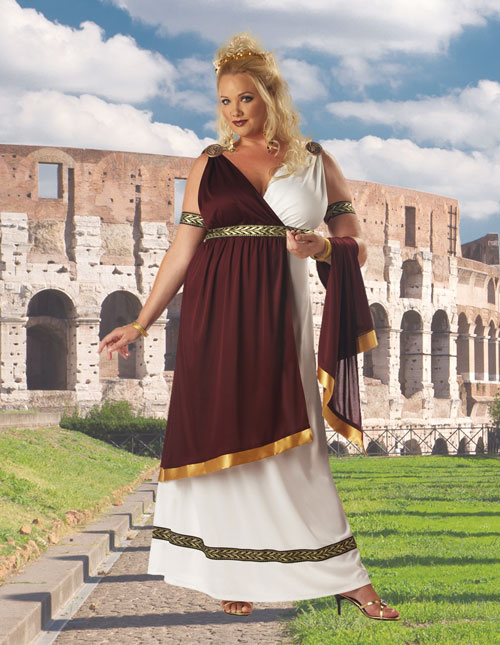 This plus size Grecian costume also provides an option for making a gender-bending Julius Caesar costume. It's a women's outfit that comes with the regal look fit for an empress. Just make sure you're ready to command an army, since your subjects will be expecting quite a lot from you when you slip into this classic outfit. And don't trust Brutus—that guy is up to no good if you believe the Shakespeare play.