HalloweenCostumes.com - Eden Prairie, Minnesota Store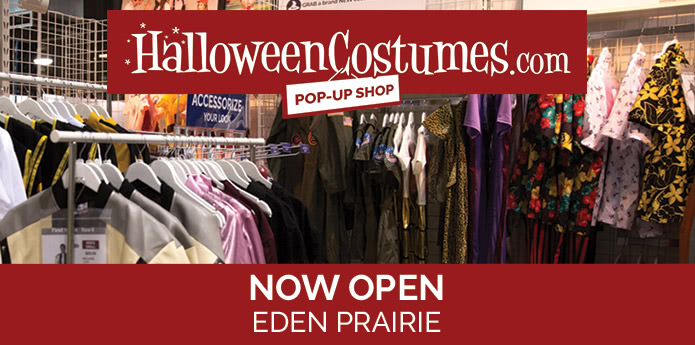 Welcome to the HalloweenCostumes.com Store!
One does not simply become the best Halloween company in the industry overnight. No, it takes gallons of sweat, tears, and fake blood to accomplish such a mighty feat!
Like all great stories, it begins in a little garage in southern Minnesota…
A long time ago in a galaxy not so far away our company began when Jenice Fallenstein, an entrepreneur and mom, began renting hand-made costumes she had created for her family and friends. The rental store was a big hit right from the start, but we were still in the cramped confides of a family garage. When her son, Tom, realized that the company's next step was to go online and create the ultimate Halloween shopping experience, we became who we are today.
Our company is now housed in a 200,000 square foot facility in Southern Minnesota, employing a staff of more than150 people year round. During that most wonderful time of year (Halloween) we hire approximately 1,700 seasonal employees to join team and make sure our customers from all over the globe receive their costumes and Halloween goodies on time.
With help from all those family members (yes, all employees are family members!) we've been able to grow and grow and become one of the largest Halloween retailers in the world! Like ghosts taking up residence in a haunted house, we always felt completely at home in the costume business. We've always had that rare scare factor. But just when we were certain that we've conjured up every possible way to make Halloween a memorable experience for all, an idea hit us like a high-velocity nerf dart (or it could have been an actual nerf dart too, because that tends to happen here a lot). We got the grand idea to bring the fun and excitement of our online store to YOU in a brand new retail shopping experience like no other. That's how the HalloweenCostumes.com Store got started!
Now you can see and feel our high quality costumes for yourself, you can even try them on, and if you're looking for unique we have tons of exclusive costumes and sizes that you won't find anywhere else. By allowing our customers to see, touch, and try on costumes we believe you'll experience the difference we have to offer. We firmly believe you'll love shopping with us so much it will become your new family tradition every season.
Besides product, how are we different than the rest? We concluded that the tiniest of humans (AKA the kiddos) could get a little antsy, so we arranged to bring on the FUN: life-sized appearances of their favorite characters, face-paint artists, and a ton of other family-friendly events that scream Halloween all season long!
So, what are you waiting for? Come see us soon at the HalloweenCostumes.com Store!
Get Directions
574 Prairie Center Drive, Ste 125
Eden Prairie, MN 55344
(952) 941-8834