Costumes from Assassin's Creed
Abstergo may be the secret form of the Templars in this modern era, but their technology certainly makes it possible for us to have that vicarious thrill of seeing what our genetic ancestors went through. And, better yet, it has given us some astounding inspiration for amazing historical costumes that will help you make history again! Whether you're looking to jump into the animus yourself or just enjoy some real-world journeys through Ubisoft's historic and magical world, we have all Assassin's Creed costumes that you could hope for! Which era of Assassin's Creed will you explore today?
Assassin's Creed Costumes for Men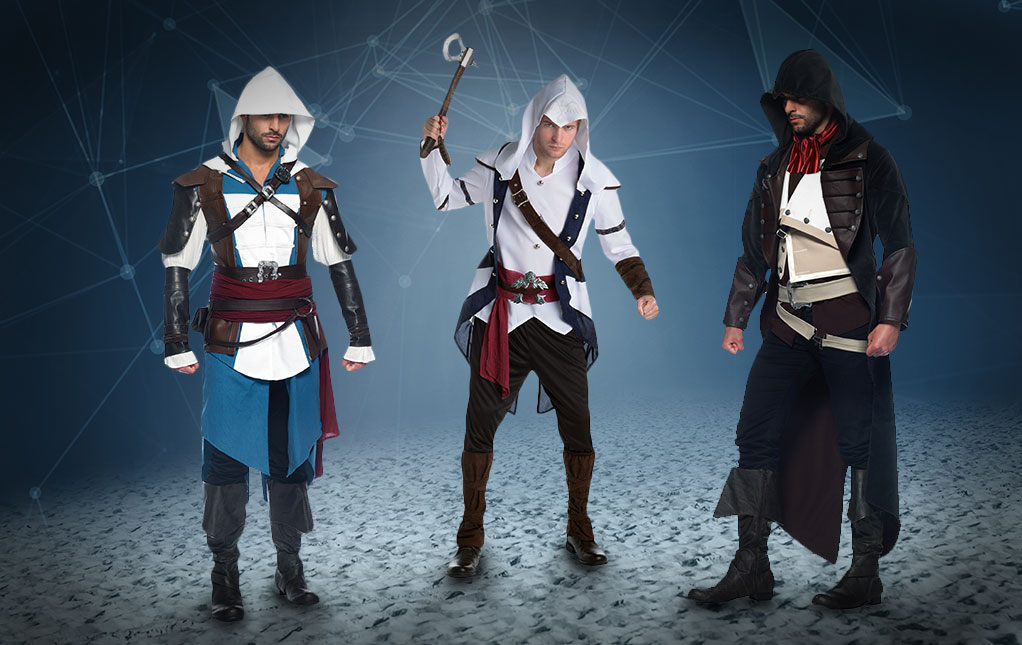 Each era of our history has given us the peculiar protection of the Assassins. Whether you're talking about the unity of joining the Assassins Brotherhood in France or Italy, or perhaps seeing what life might be like in the early Americas, the options might feel a bit daunting. But fear not. The origins of the Creed show that a few things bind Assassins from all ages together and, as it should be, it all comes down to the costuming! The hooded tunic might be a different color and each agent of the shadowed group sure gives their own cultural twist, but anyone in the know will recognize that iconic cowl pulled up, the cloth drapes, or the tool of doom, the hidden blade! Whether you're flying the black flag of pirates, aiding the revolution, a rogue assassin, or a member of a syndicate, we have the perfect Assassin's Creed Halloween costume for your favorite historic era! Choose from Connor, Arno, Edward, and more!
While we definitely recommend giving this video game series an incredible look, we're talking about many titles. You could practically read the actual history books in the time it might take to feel the whole world of Ubisoft's Assassin's Creed series. If you're looking to bring history into the present with that flare that nothing but a real to life Renaissance can (or if you're looking to make a major mark on your own Renaissance Festival), the right Assassin's Creed costume from the original to Black Flag, from Brotherhood to Syndicate, and finally back to Origins might be just what you're looking for. Of course, rather than playing through every delightful hour, you can also have a nicely organized tour through the fashion of each of the epic heroes who have given everything for our freedom. Give us a Leap of Faith and choose your favorite!
Assassin's Creed Costumes for Kids
Some might argue that the world of plot and intrigue belongs to the adults. But, history lessons are really important. And, despite the fact that Assassin's Creed may seem like just a popular video game, there is a ton to be learned, too! Those Ubisoft folks worked really hard to incorporate an incredible amount of real-world history to blend with those more speculative parts. How about that the whole thing started with an actual guild in a castle in Masyaf or the real buildings in Paris, London, and Rome that you might be jumping around in an effort to synchronize your map? If you're looking for a bit of education to join up with your kiddo's adventures, look no further than here for your Assassin's Creed costumes for kids!
Boys Assassin's Creed Costumes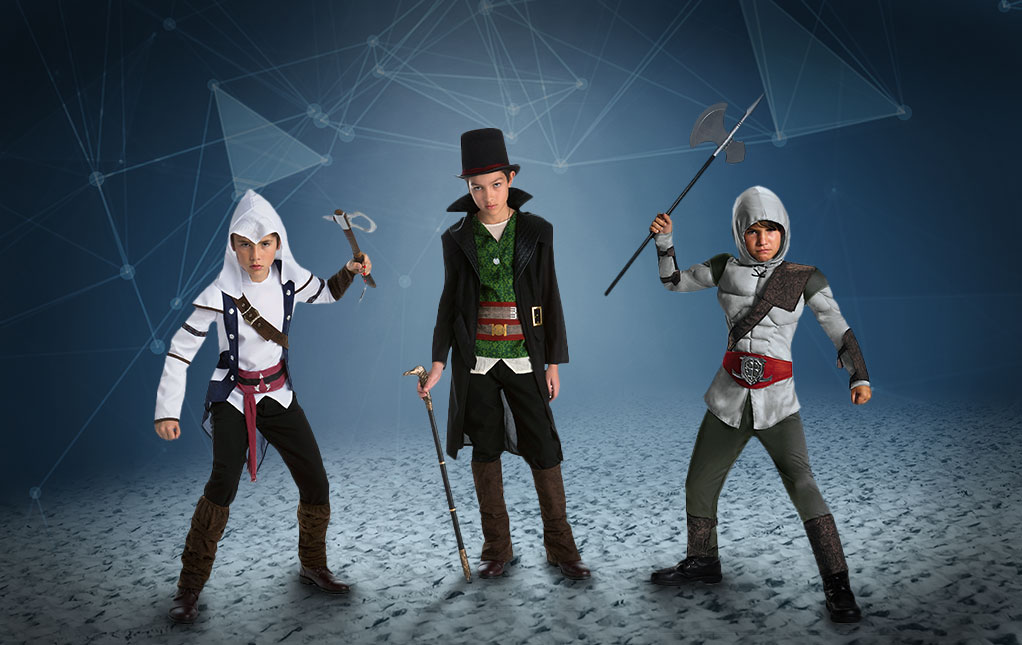 Kids are already going to be super energetic and passionate about the games they play and the imaginative moments that they have. All you may need is to channel that energy into something as extensive and intricate as a historically-inspired video game series with over twenty titles! One of the best ways to do that is to let them get some real-life vicarious enjoyment with one of our many youth Assassin's Creed costumes. You could either go by sheer aesthetic style or think of all the historic choices at your disposal? Perhaps your kiddo is super into top hats and that old London style? Well, say hello to Jacob Frye! Maybe you just want to get your tyke to consider Rome for a future holiday or are in serious love of capes. Well, the Master Assassin Ezio's Italian style can't be beat! Where does your tyke want to go today?
Assassin's Creed Accessories
Any Assassin worth their creed knows that you can't expect to tackle the dangers that the Templars pose towards the world unless they've met the right folks and received the right gear. Nobody is going to be facing the threats without the right weaponry! Fortunately for our history, Ezio had Leonardo da Vinci, the Frye siblings had Alexander Graham Bell, and even Benjamin Franklin inadvertently helped out Connor. Well, you wouldn't want to have an incomplete Assassin's Creed costume, and neither would we, so we're here to help you with assassinating your accessories! (Or is it accessorizing your assassinations?)
Jacob's Kukri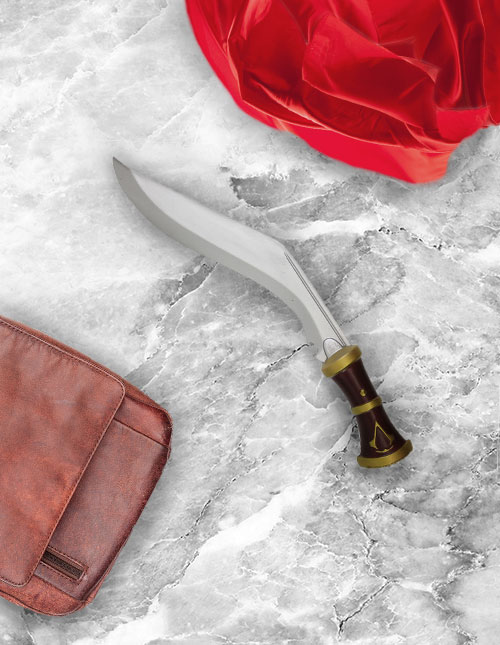 When setting out on the streets of London, either to uncover the mysteries that might be hidden there or to do a bit of rabble-rousing and keep those Templars feeling like they'll never be able to manage all the chaos you cause, it is pretty important to have all the tools you need at your disposal. You might be dashing as heck, but can you really convince anyone that you mean business without a weapon at your side? Make your Assassin's Creed Syndicate costume or cosplay a slashing success. Foam and rigid plastic combine in perfect balance to make this kukri just the thing you need to stop the Templars and find that missing piece of Eden!