Coordinating a group costume for Halloween can be challenging, but it's so much fun when you do it well! You have to consider your group size, the people making up your group, and shared interests for a great costume idea. Are you and your significant other dressing up with the kids? Maybe you're all college friends looking to have fun at a Halloween party! We have a fantastic selection of trio Halloween costumes for people of all ages. You're welcome to expand upon these cool group costumes to fit your entourage!
Classic Disney Costumes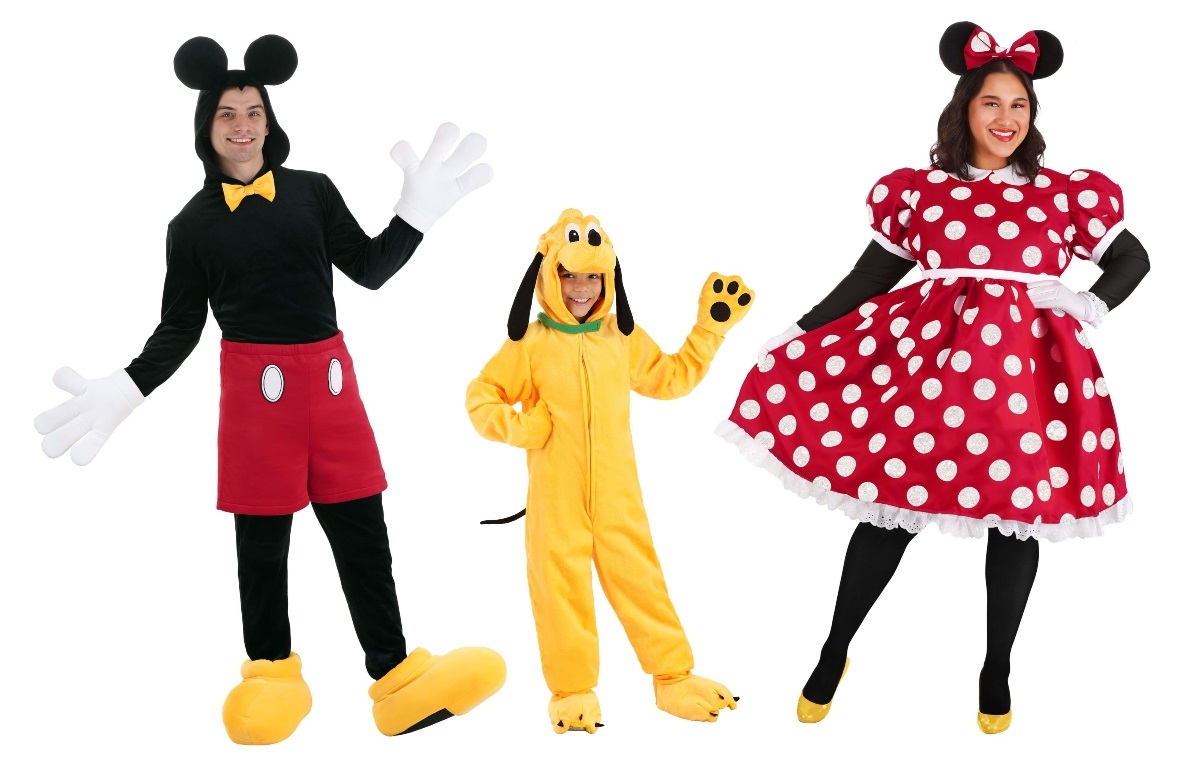 Disney fans, rejoice! There are tons of great Disney group costumes at HalloweenCostumes.com, but we had to kick things off with the mouse himself. Mickey and Minnie Mouse have always been an item, but you can easily make this pair into a costume for three people with the addition of Mickey's dog, Pluto. Mickey and Minnie are also very popular Disney characters, so you can find these classic Disney Halloween costumes in a multitude of sizes for all ages.
Pokémon Costumes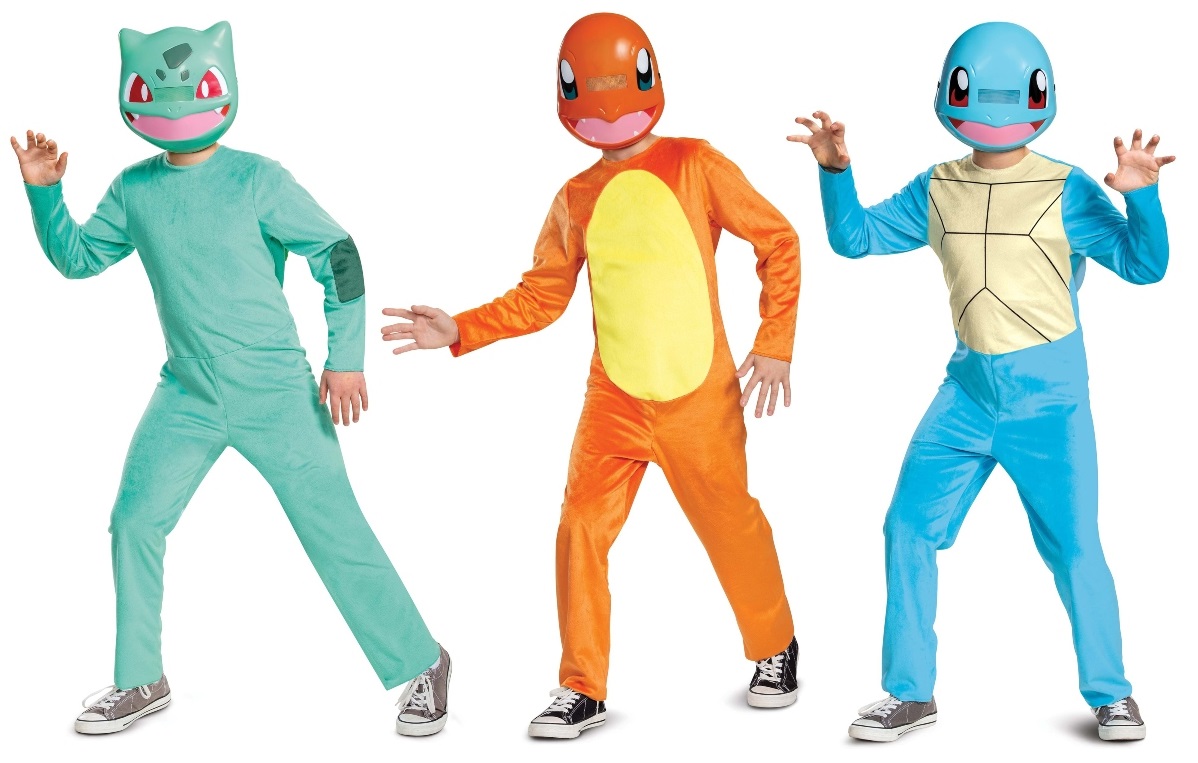 All Pokémon fans know that you choose from one of three starter Pokémon when you begin your adventure as a trainer. Why not get together with your nerdy buddies and create a starter Pokémon group costume? Fans of the classic games will love Charmander, Squirtle, and Bulbasaur costumes. (Just don't all fight over Charmander, please. We know he's cool, but Bulbasaur is ultimately the most useful Gen 1 starter!) You can also find costumes for newer Pokémon lineups, such as Scorbunny, Sobble, and Grookey. While there are plenty of other Pokémon costume ideas, you'll know what's best for you!
Harry Potter Costumes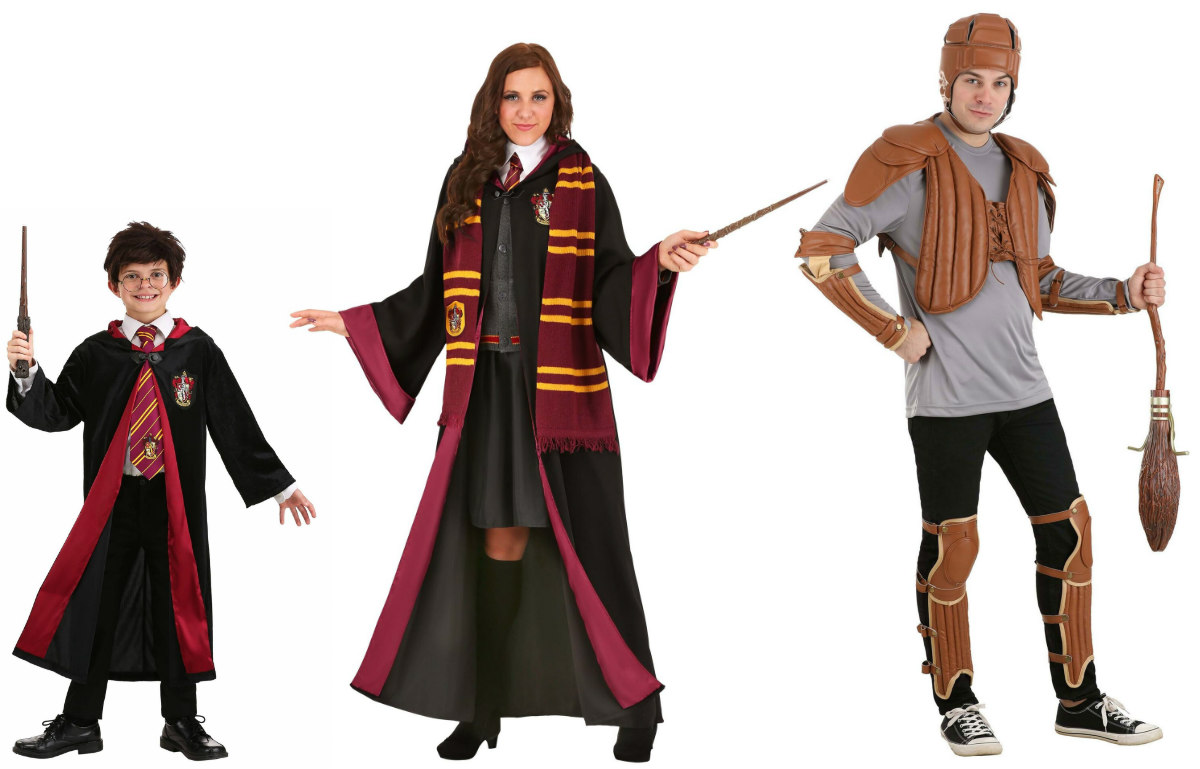 There are so many characters in Harry Potter, but the iconic trio of Ron, Hermione, and Harry is the franchise's most accessible group of three costumes. All you need are three sets of Gryffindor robes, and you're well on your way to being the most mischievous set of students at Hogwarts. (Well, not counting Fred and George Weasley!) These Harry Potter costumes come in all shapes and sizes, and tons of other characters are at your disposal.
Star Wars Costumes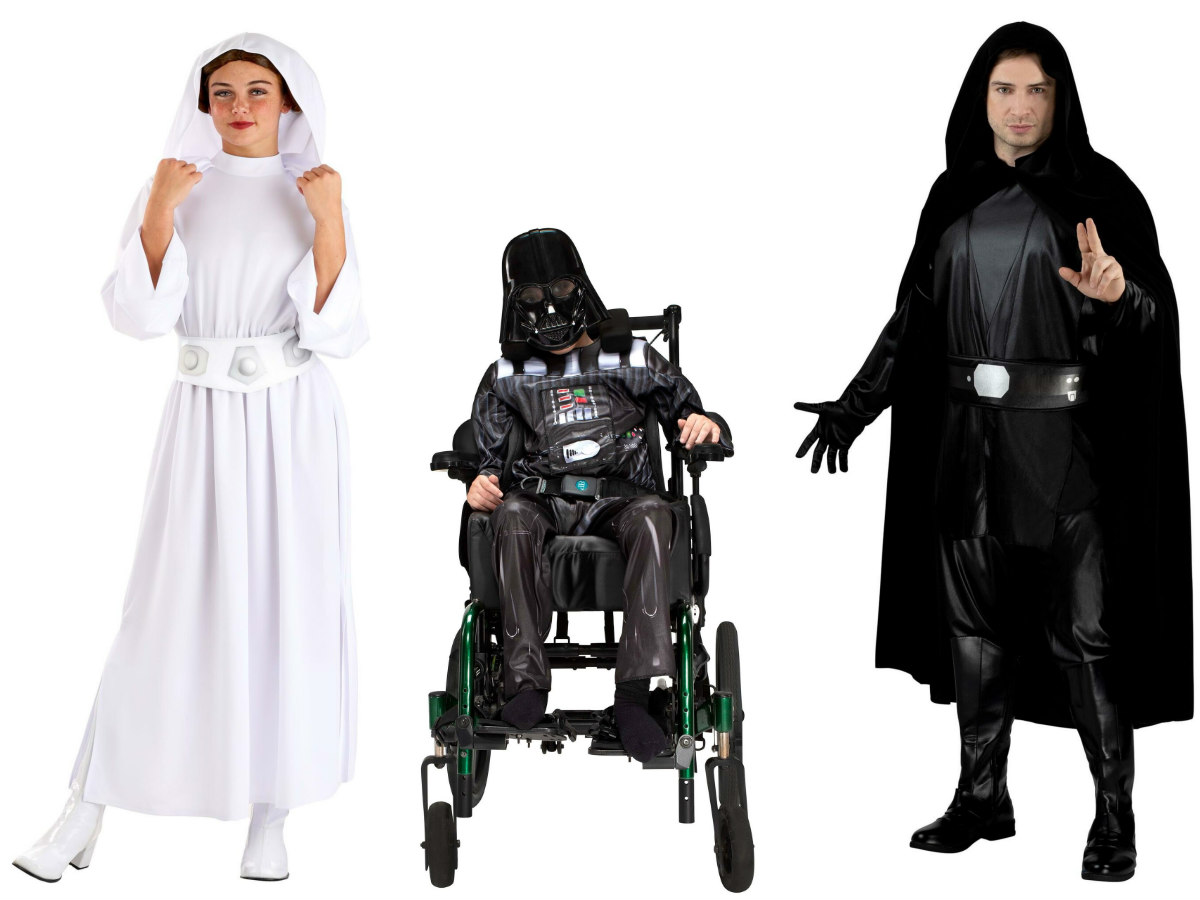 The Star Wars franchise certainly loves its trilogies, as well as its trio of protagonists. The original trilogy gives us Han, Luke, and Leia, while the most recent has Finn, Poe, and Rey. These Star Wars costumes are great for any Halloween party, but don't forget pop culture conventions. Your geeky trio costume is sure to be appreciated throughout the galaxy!
Three Amigos Costumes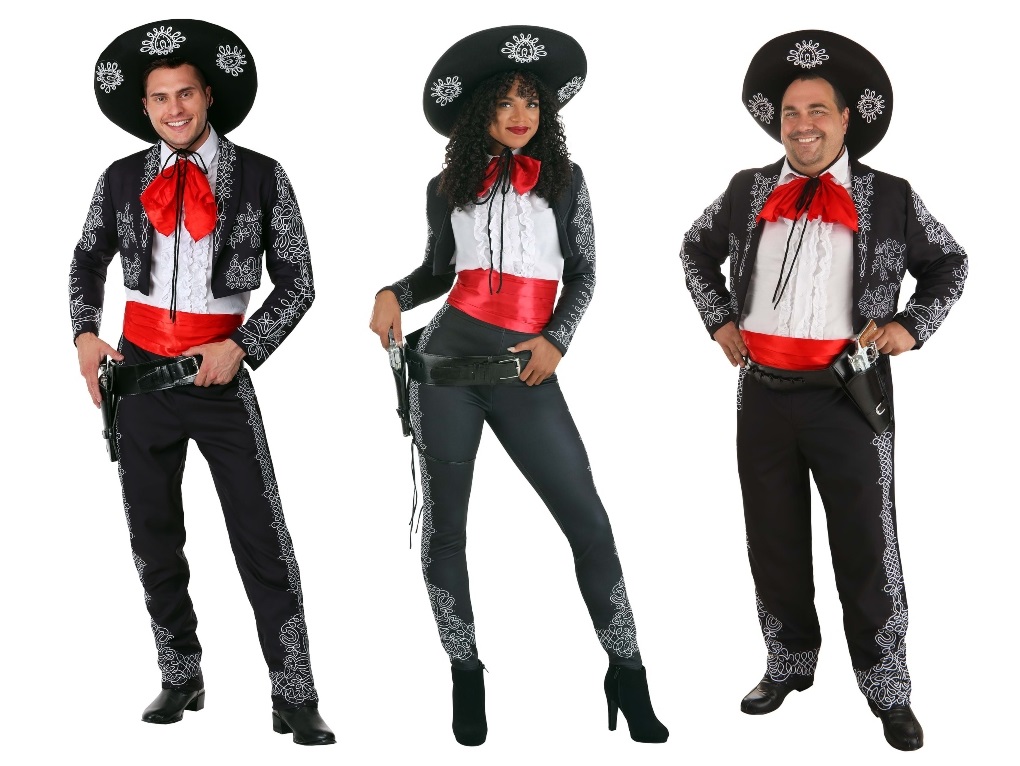 Naturally, if you're looking for group costume ideas for three, wouldn't you look at iconic trios? The Three Amigos is even based on the number three, so you can't go wrong here! (We hope you also have a great sense of humor for this costume idea.) Here's hoping that no one approaches you in costume and expects you to save a town besieged by bandits because you look like a group of heroes!
Frozen Costumes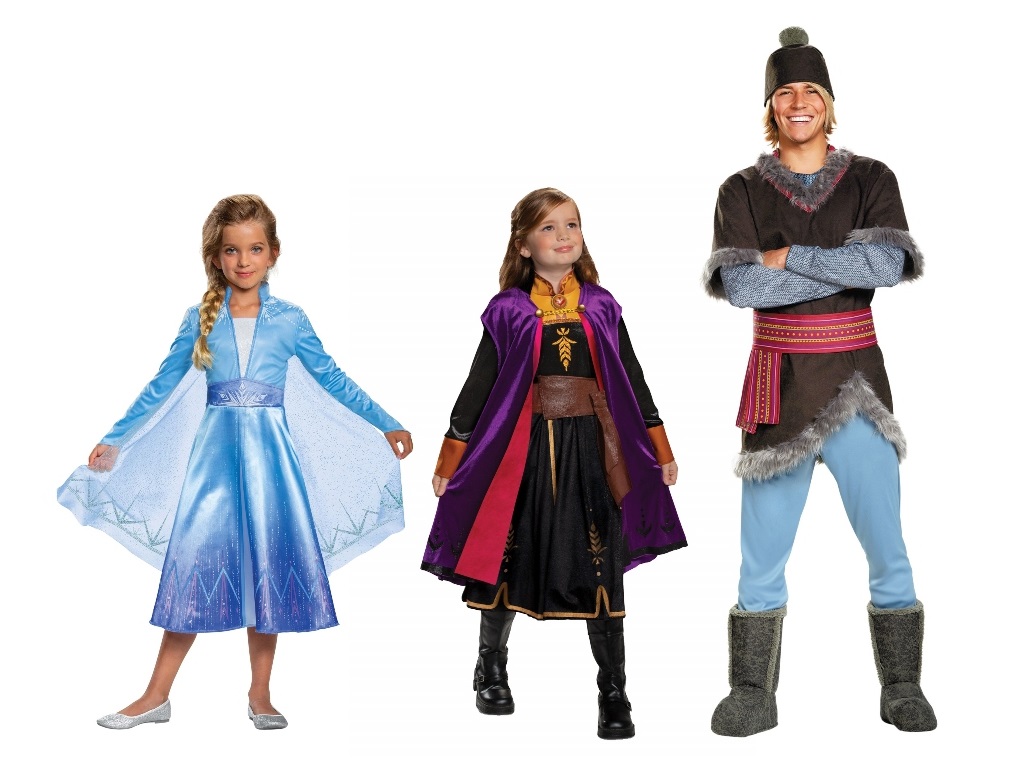 There are quite a few Disney movies with three protagonists (or two and a faithful pet/sidekick), and Disney's Frozen is probably one of the best examples! Sisters Elsa and Anna are aided by Kristoff as they try to save their kingdom. The movie was such a smash hit that you can find Frozen costumes for kids and adults, along with adaptive costume styles and extended sizes. Your family and friends will love the adaptability of these Frozen Halloween costumes for groups.
Naruto Costumes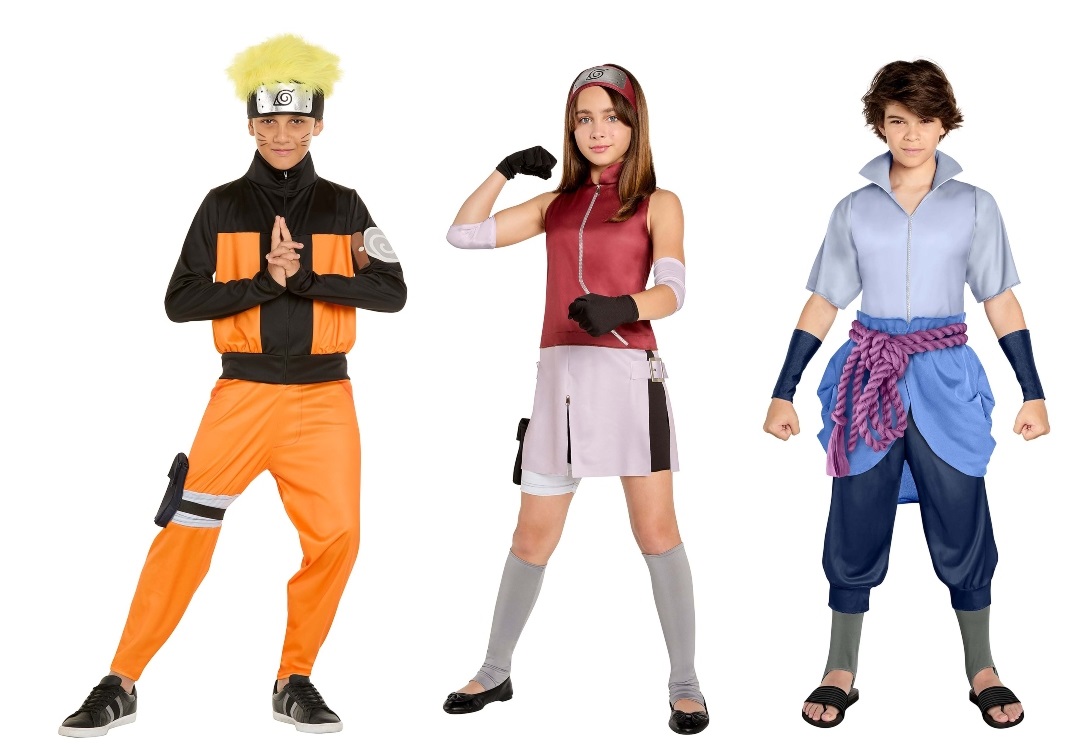 Anime fans already know, but Naruto is filled with groups of three! The ninja villages in the show split the new ninja students into teams of three, the most famous of which is Team 7. (That would be Naruto, Sakura, and Sasuke.) You can easily buy these Naruto costumes, but you'll need to go the DIY route if you want to attend a party as a different ninja team. However, Naruto's Team 7 is the perfect costume idea for two boys and one girl!
Star Trek Costumes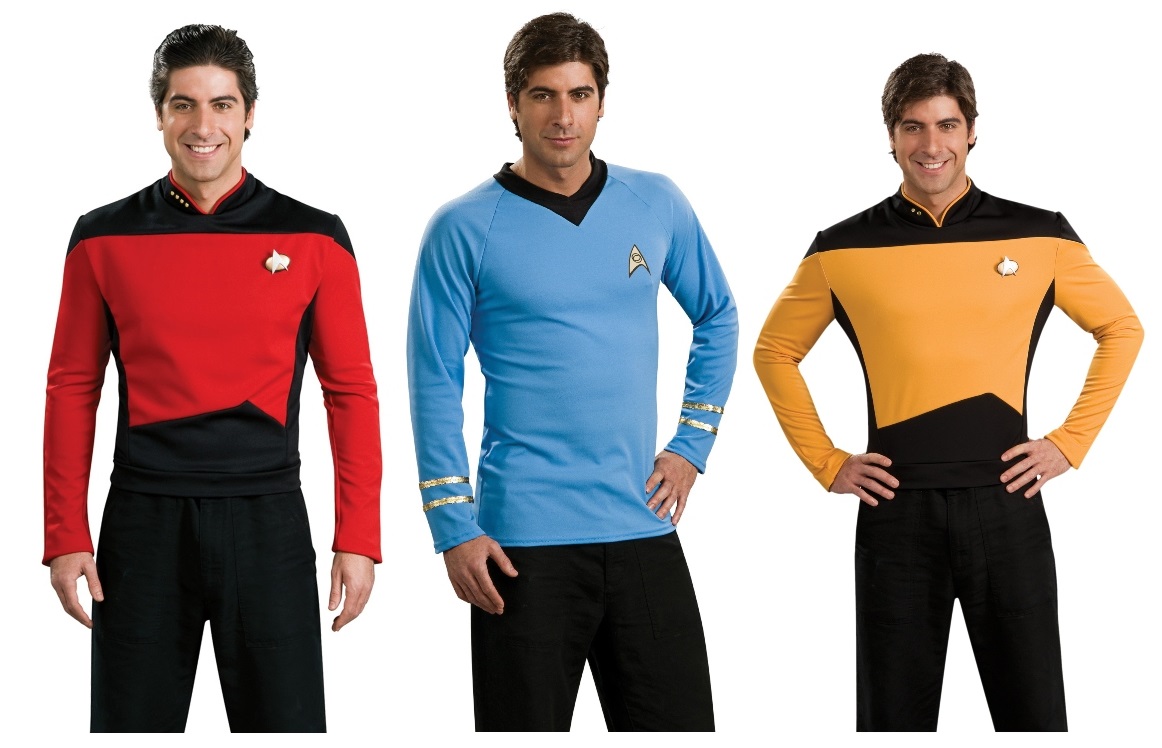 We apologize for mixing our Stark Trek generations, but fans of the classic series or newer TNG fans can find Star Trek uniforms in the three primary colors. You can make a bare-bones crew with three costumes, one for each color. (At least your red shirt is likely the captain instead of expendable security personnel.) Now, if only you could beam your way to the nearest Halloween party by wearing these Star Trek uniforms! Okay, we guess you can just drive there too.
Hocus Pocus Costumes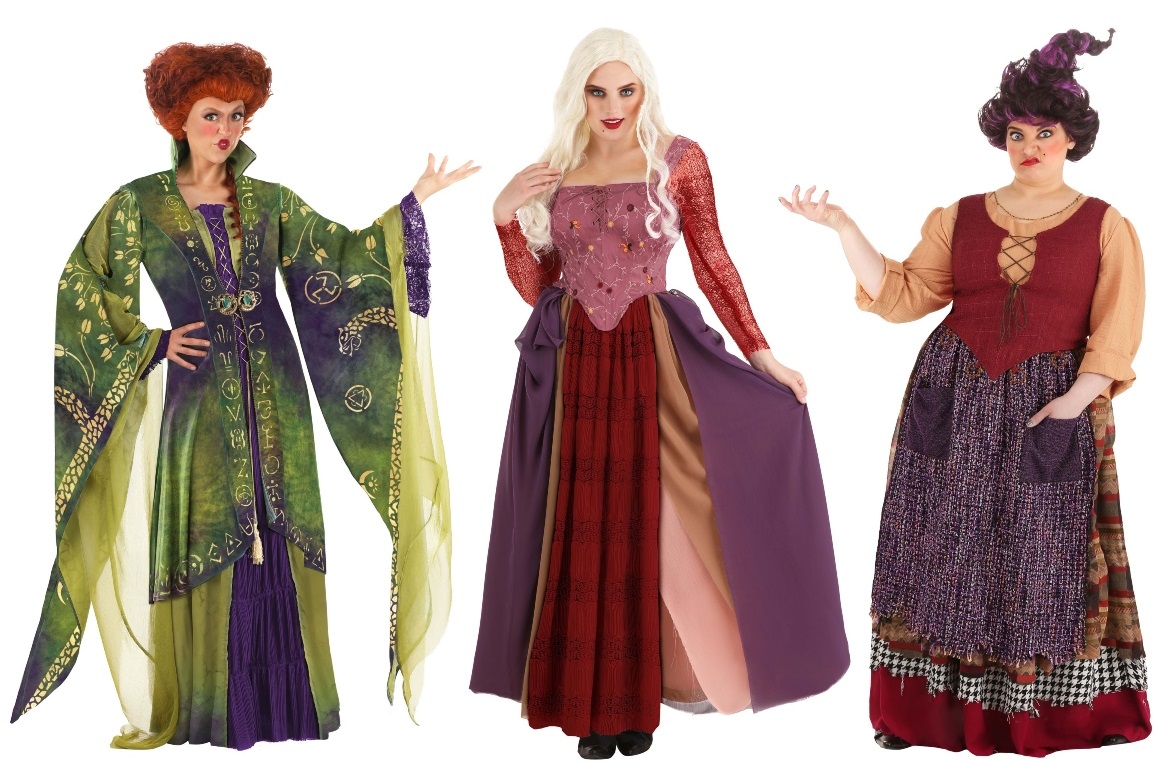 As we all know, witches often come in groups of three. You have the three witches in Macbeth, the three fates from Greek Mythology, and the three witch sisters from Charmed, to name a few. Of course, the Sanderson sisters from Hocus Pocus are one of our favorite groups of three! This is the perfect group costume for women, whether you're friends or actually sisters. (Triplet costumes? Is that even a thing?) No matter what, we're sure you and your gal pals will have a witchin' good time.
A League of Their Own Costumes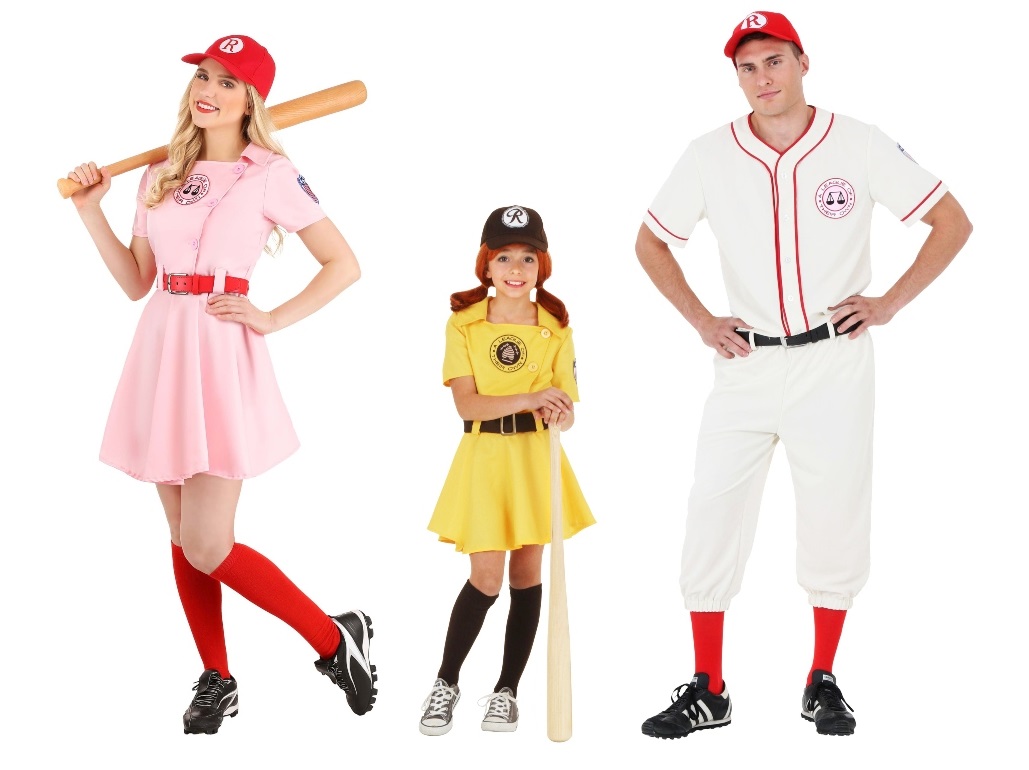 Play ball! There are so many reasons to love A League of Their Own, from the excellent uniform design to the social issues it raises. Watching so many powerful women come together to play ball from all walks of life gives us all the feels, and you can attempt to capture your favorite moments with these League of Their Own costumes. We have uniforms for Kit and Dottie, and adding a guy as coach Jimmy makes it a perfect group of three. However, don't let that stop you from making an all-girls group costume for three!
Sonic Costumes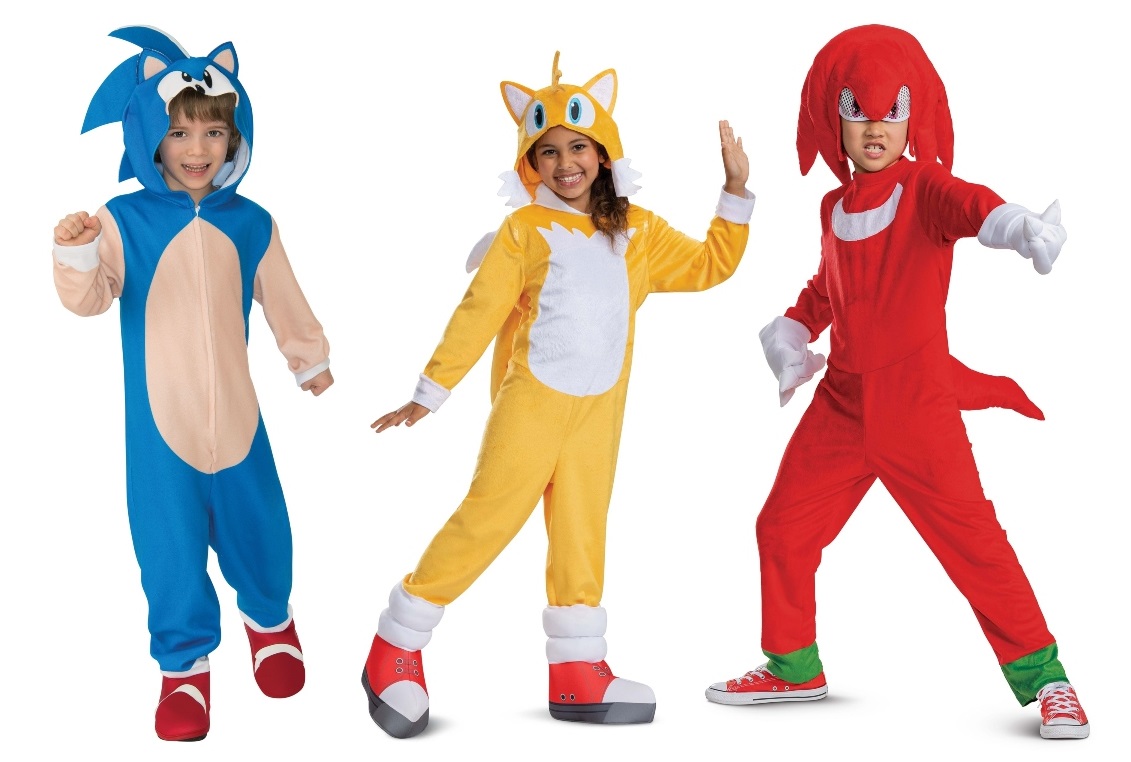 The Sonic franchise has quite a few characters, but the Sonic, Tails, and Knuckles trio is hard to beat. A great kids' group costume idea, they'll all look so cute in these Sonic costumes! This works great if you have three kids, or if your child is planning to trick-or-treat with a couple of friends. While you can make this an all-boys group costume, these kids' jumpsuits will fit nearly any child.
Nightmare Before Christmas Costumes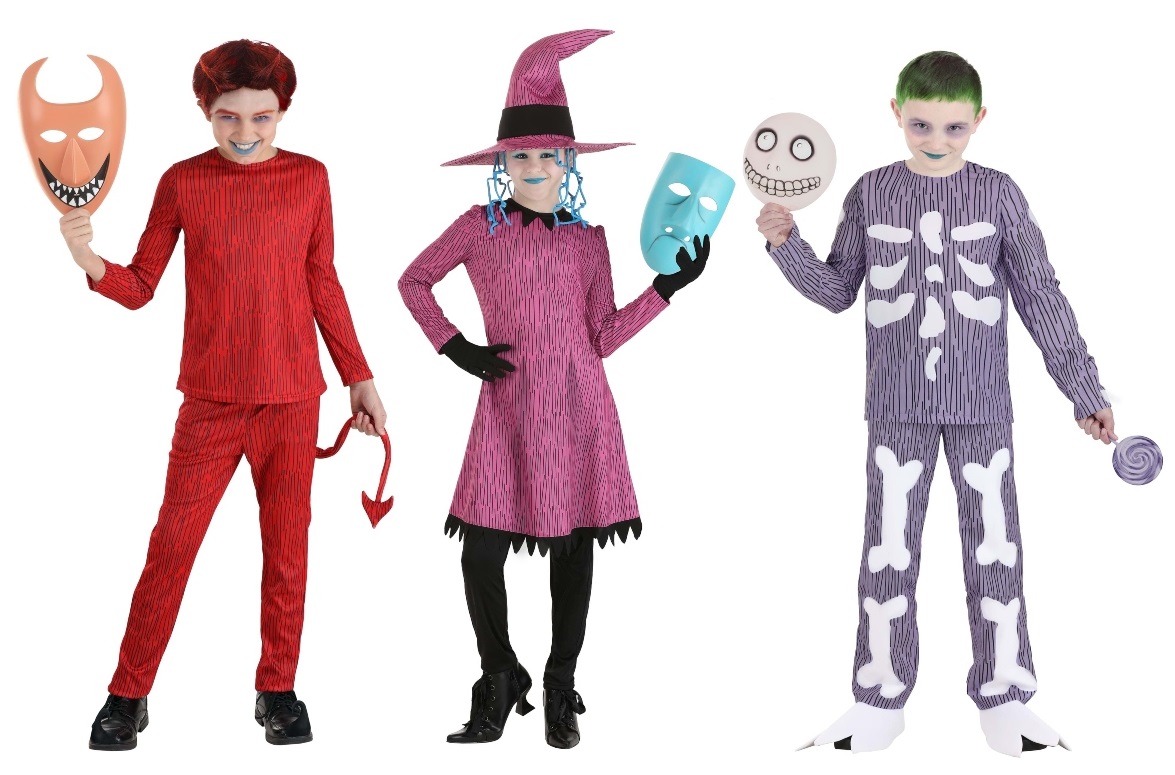 What's this? This terrible trio of trick-or-treaters from The Nightmare Before Christmas are always causing mischief. These two boys and one girl are dressed in some of the most classic Halloween costumes—a witch, skeleton, and devil. While they mainly deal in petty tricks, they help Oogie Boogie kidnap Santa Claus from Christmas Town. At least you won't have to worry about these Nightmare Before Christmas costumes putting you on the naughty list. (You actually earn all the cool points this Halloween!)
S'mores Costumes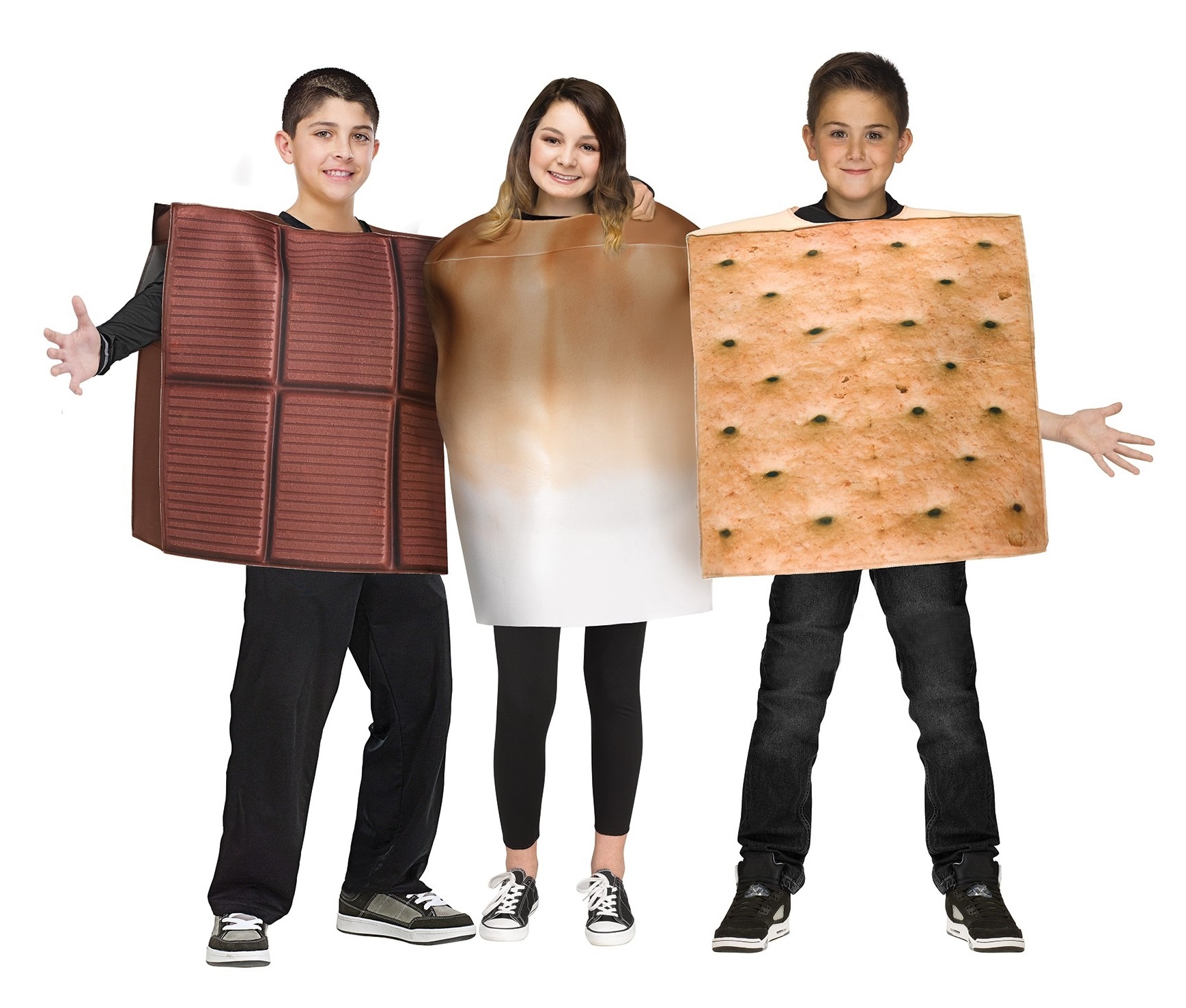 Get ready, foodie fans, for the perfect food-based trio—the s'more. There's nothing quite like enjoying this gooey campfire treat, though we won't enter into the debate over toasting or burning your marshmallows. The best part about these food costumes is that they fit nearly anyone, so you can accommodate any group of three people. Hopefully, you get lots of Hershey bars on Halloween night, so you can make all the s'mores!
Vikings Costumes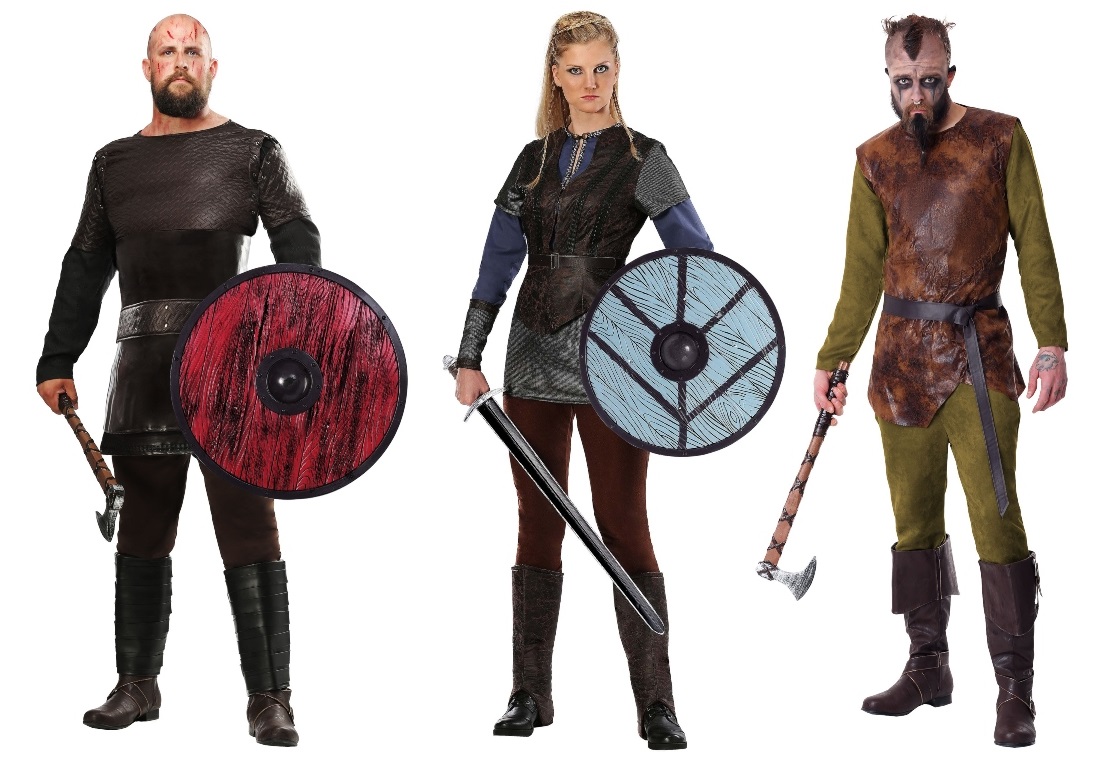 While we joke about being the third wheel, this costume is the epitome of a couple plus their one weird friend. If this describes your friend group, maybe this Vikings costume idea is for you! This is definitely a group costume idea for adults, as Vikings is decidedly not a kids' show. (If you know, you know.) While the costumes already look incredible on their own, incorporating makeup and prop weapons really brings this Halloween group costume for three to life!
Up Costumes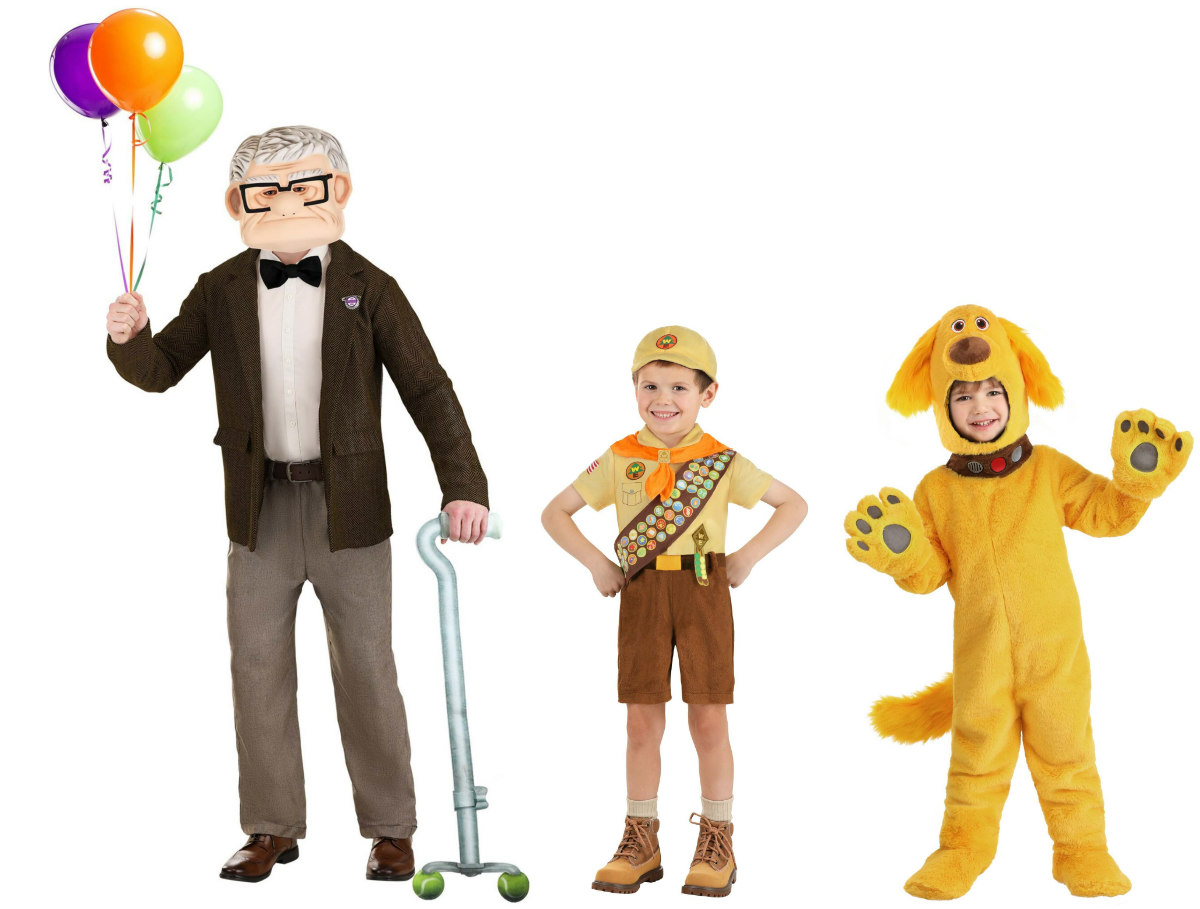 Adventure is out there! There are so many excellent Pixar movies, but we'd argue that Up is perfect for a three-person group costume. You have the trio of Carl, Russell, and Dug, and you go on a journey with them throughout the movie. Dads with two kids, pay attention because this is your moment! If it's your turn to take the kids trick-or-treating this year, you will make everyone's day as grumpy grandpa Carl with your kids dressed as Russell and Dug. (And be sure to take lots of pics for social!)
Powerpuff Girls Costumes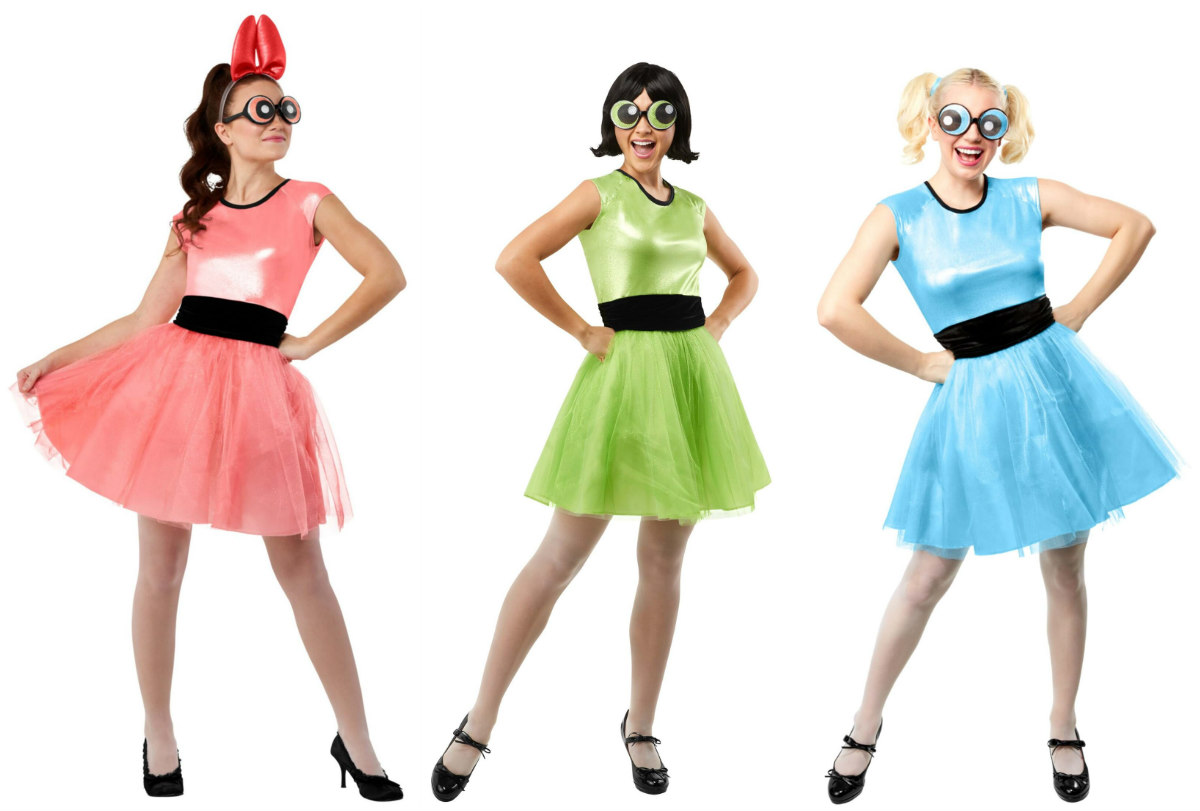 We've already shared many awesome girl group costumes, but we couldn't overlook the Powerpuff Girls! Made of sugar, spice, and everything nice, this superhero group of sisters kicks butt in their color-coordinated outfits. (Mojo Jojo could never!) They're also relatively easy to make as DIY costumes if you're looking for a last-minute costume idea.
Princess Bride Costumes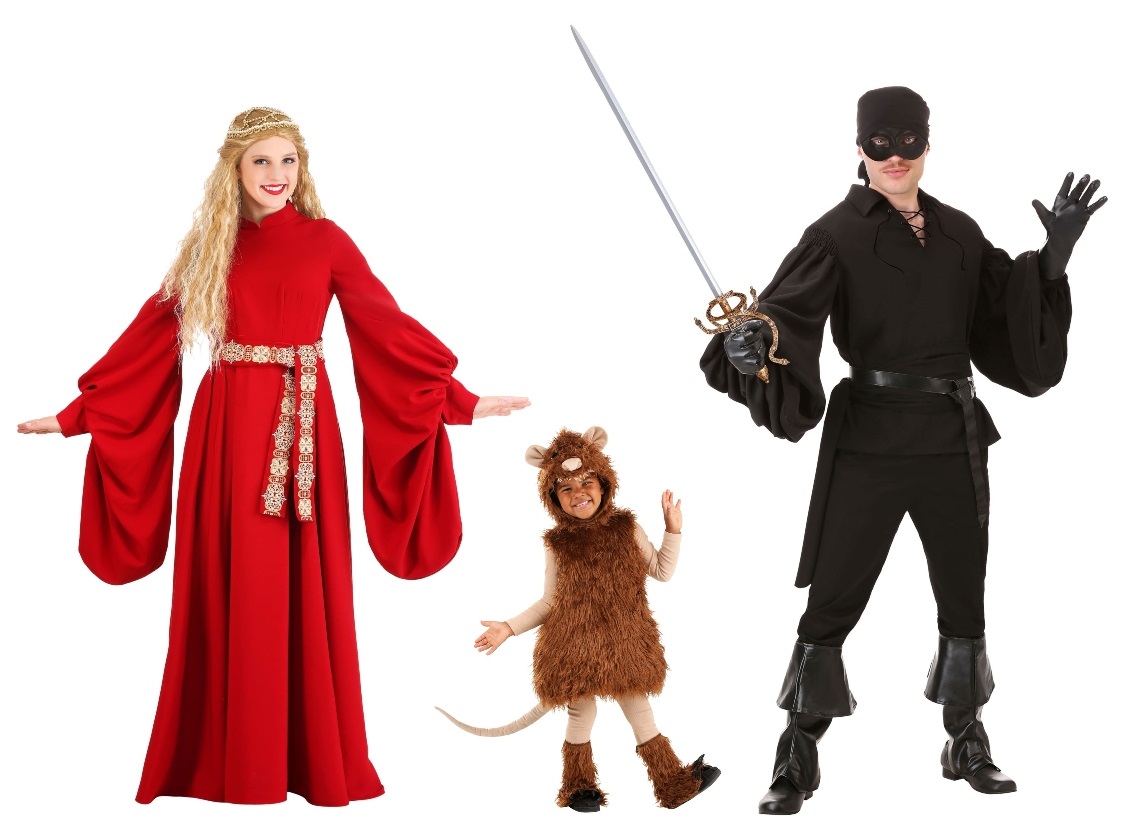 We love a good 80s movie, and The Princess Bride is perfect for a three-costume group. While you have the band of three ruffians that run away with Buttercup, we also love our two protagonists with an R.O.U.S. You have some great lines said during their Fire Wwamp scene, and this is a great one for parents with one child. Arguably, there are more combinations of Princess Bride costumes to try, but we're sure you'll find what's best for you!
Fairy Godmothers Costumes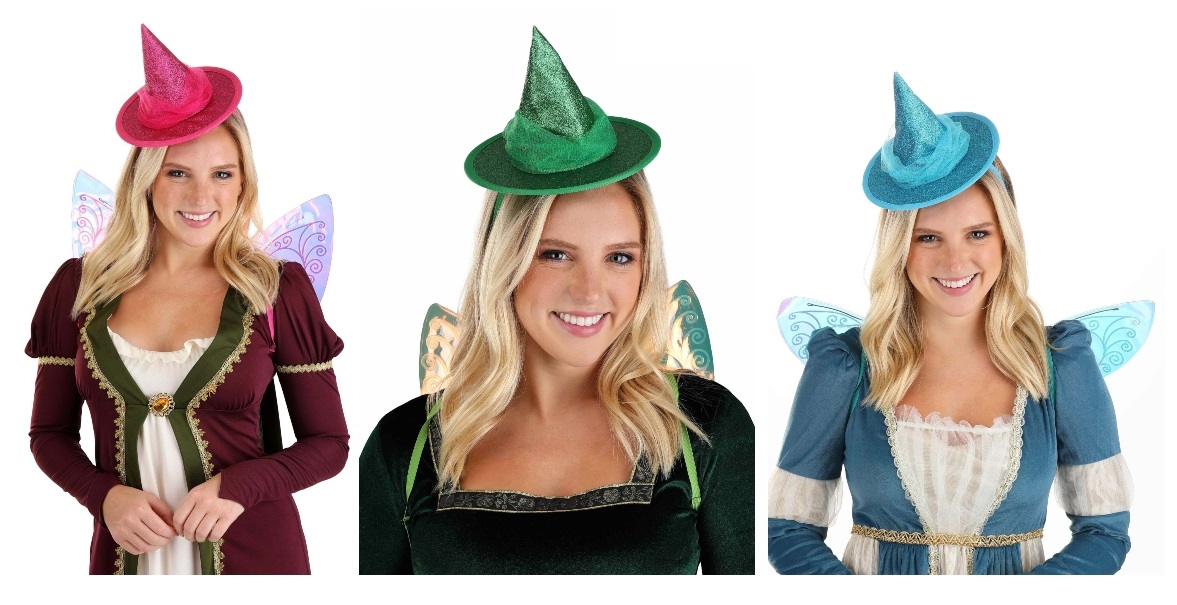 We're not sure how Cinderella only had one fairy godmother while Princess Aurora had three, but they were the best co-nannies a princess could ask for. Granted, Maleficent was powerful enough that it took the magic of all three to aid against her spells, so the overabundance of caution was warranted. Get the gal pals together in pink, green, and blue dresses for the best group costume for women!
Fast Food Costumes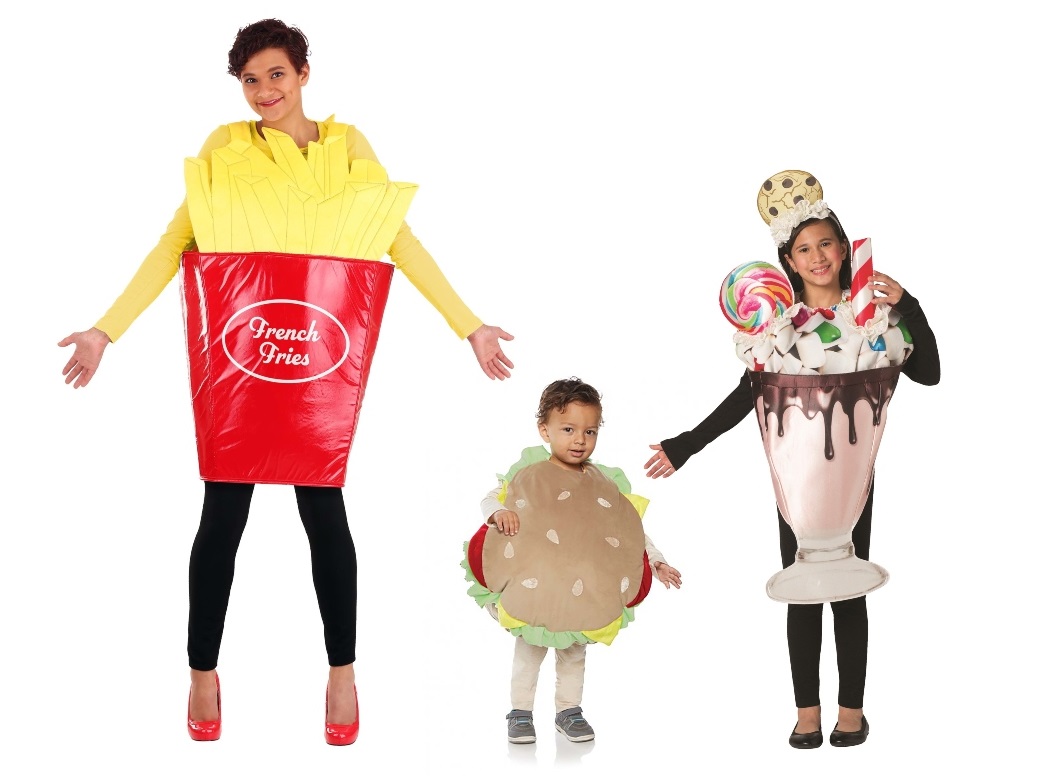 Everyone knows that the standard fast food meal is a burger, fries, and a drink. While you can do a soda, we'd argue that a milkshake is even better! (Seriously, have you even lived if you haven't dipped fries in a milkshake?) While many food costume ideas are easy to group-ify, a fast food meal is one of our favorites. What are other food costumes perfect in groups of three?
Super Mario Bros. Costumes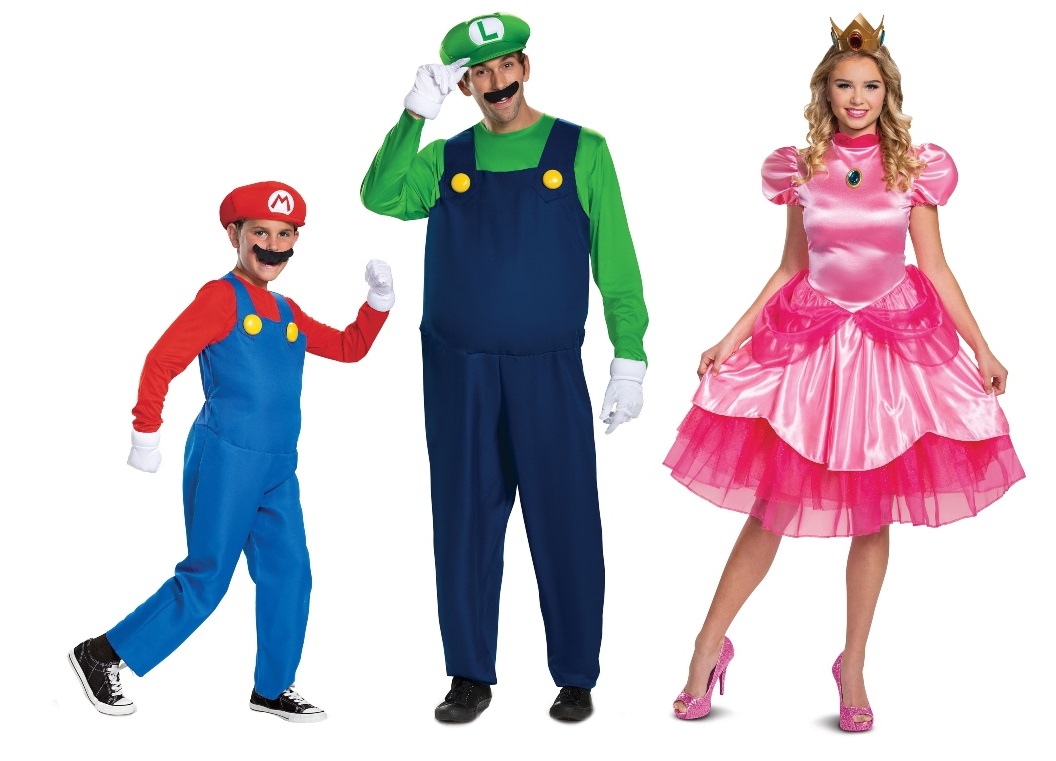 Yahoo! Gamers likely know of the Mario brothers Mario and Luigi, but you can turn it into a group of three with the addition of Princess Peach. (Or Bowser, if you need a group costume for guys.) With the franchise over 30 years old and still making new games and content, kids and adults are very familiar with the characters. We love that you can buy Super Mario Bros. costumes for people of all ages!
PJ Masks Costumes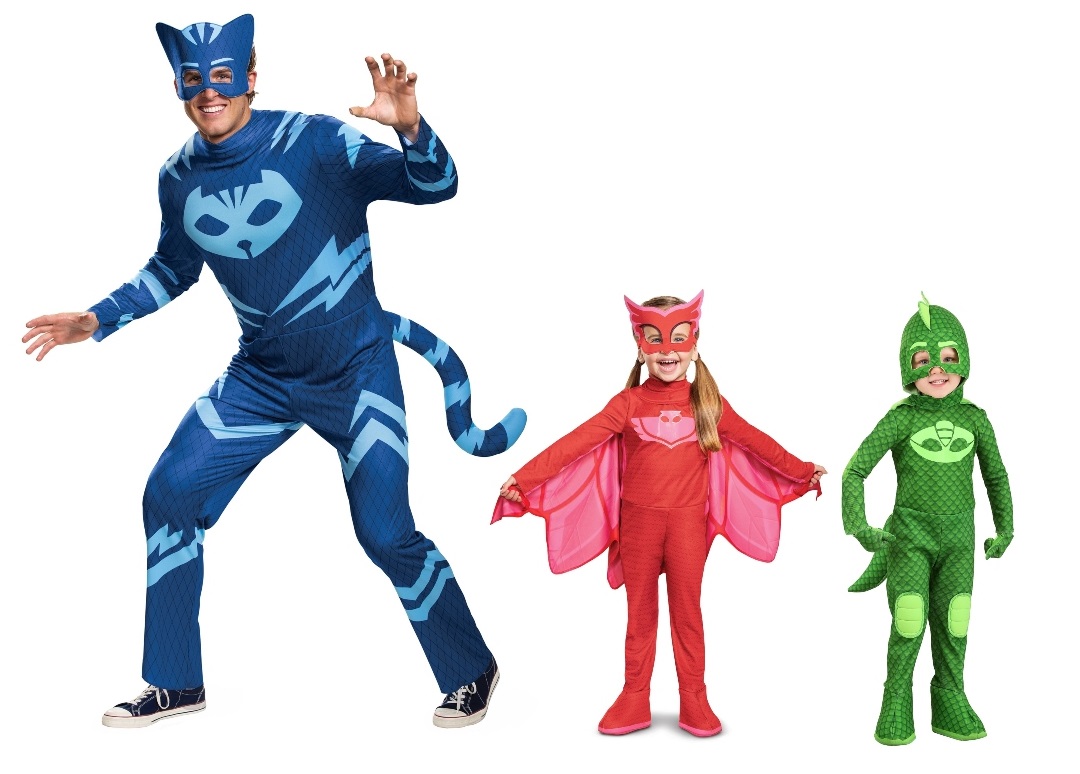 Another awesome costume idea for a parent and two kids, PJ Masks may be just for you if they're still pretty young. (We know that at some point, kids are "too old" for enjoying PJ Masks to be considered "cool".) Make it daddy and me with dad as Catboy or Gekko, or a mommy-and-me costume with mom leading the boys as Owlette. Your kids will love these PJ Masks costumes so much that they may have a difficult time waiting for Halloween to wear them!
Cleopatra Costumes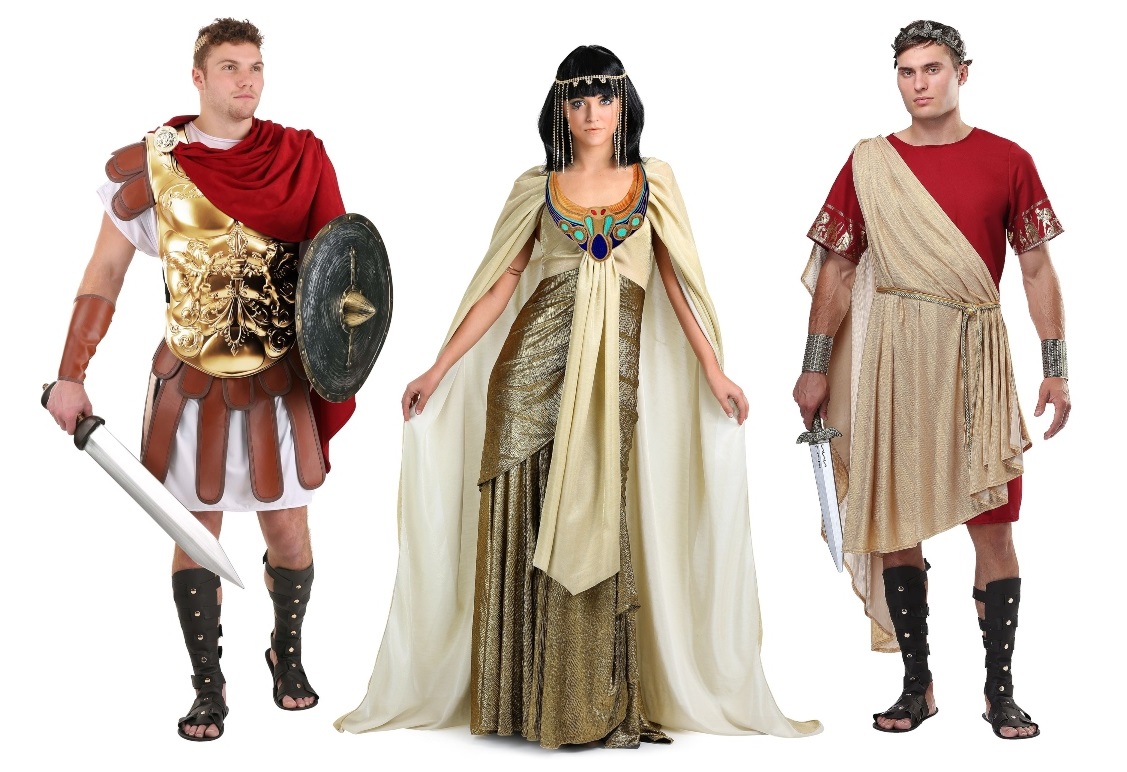 Go down in history as the most famous love triangle in the world! While your views on this trio of characters may differ depending on your knowledge of history, they are nonetheless iconic. Full of politics, passion, and military interests, this is a costume for the ages. While this historical costume idea is probably best among a group of adults at a bar on Halloween or a house party, you can ultimately decide how you want the drama to play out. When in Rome...
Moana Costumes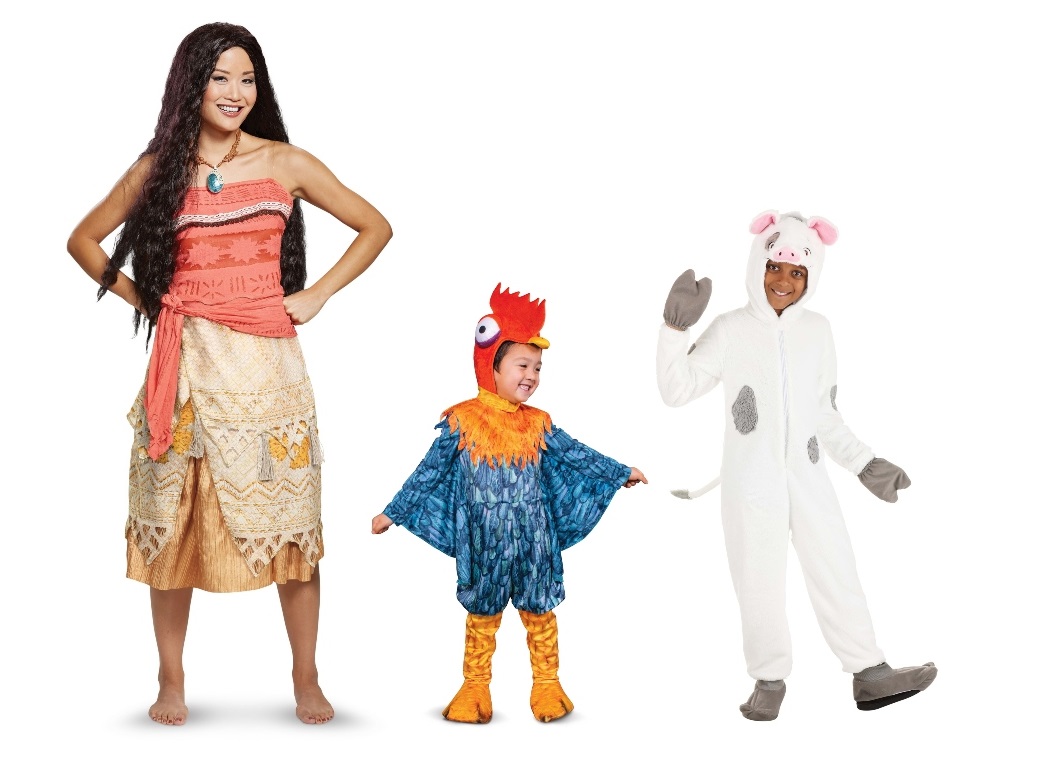 We may have balked at the fact that Sleeping Beauty has three fairy godmothers, but Moana is also an unusual Disney protagonist. After all, she has two sidekick animals! Pua the pig is absolutely adorable, and then there's the sweet, clueless Hei Hei. Mother (or daughter) can be the star of the show in a Moana costume, and our unisex Pua and Hei Hei costumes will help you round out your group. You never know how far you'll go with a group costume like this!
Back to the Future Costumes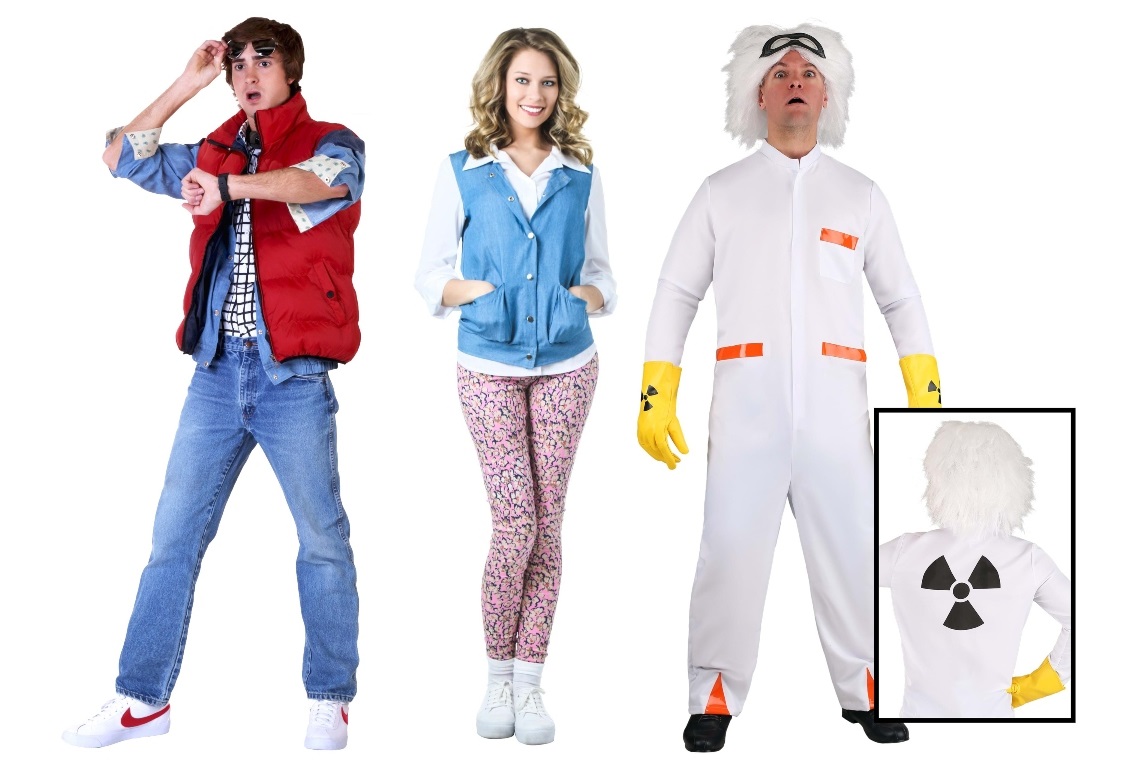 Great Scott! 80s movie fans will jump at the chance to wear Back to the Future costumes for Halloween. We hope you don't all fight over the Marty McFly costume, because we also love our eccentric genius, Doc Brown. This is another costume that's perfect for a couple plus a friend. You'll also win all the cool points if you can attend a Halloween party in a DeLorean. (If you own one of these cars, you're legally obligated to wear a BTTF costume.)
Rock, Paper, Scissors Costumes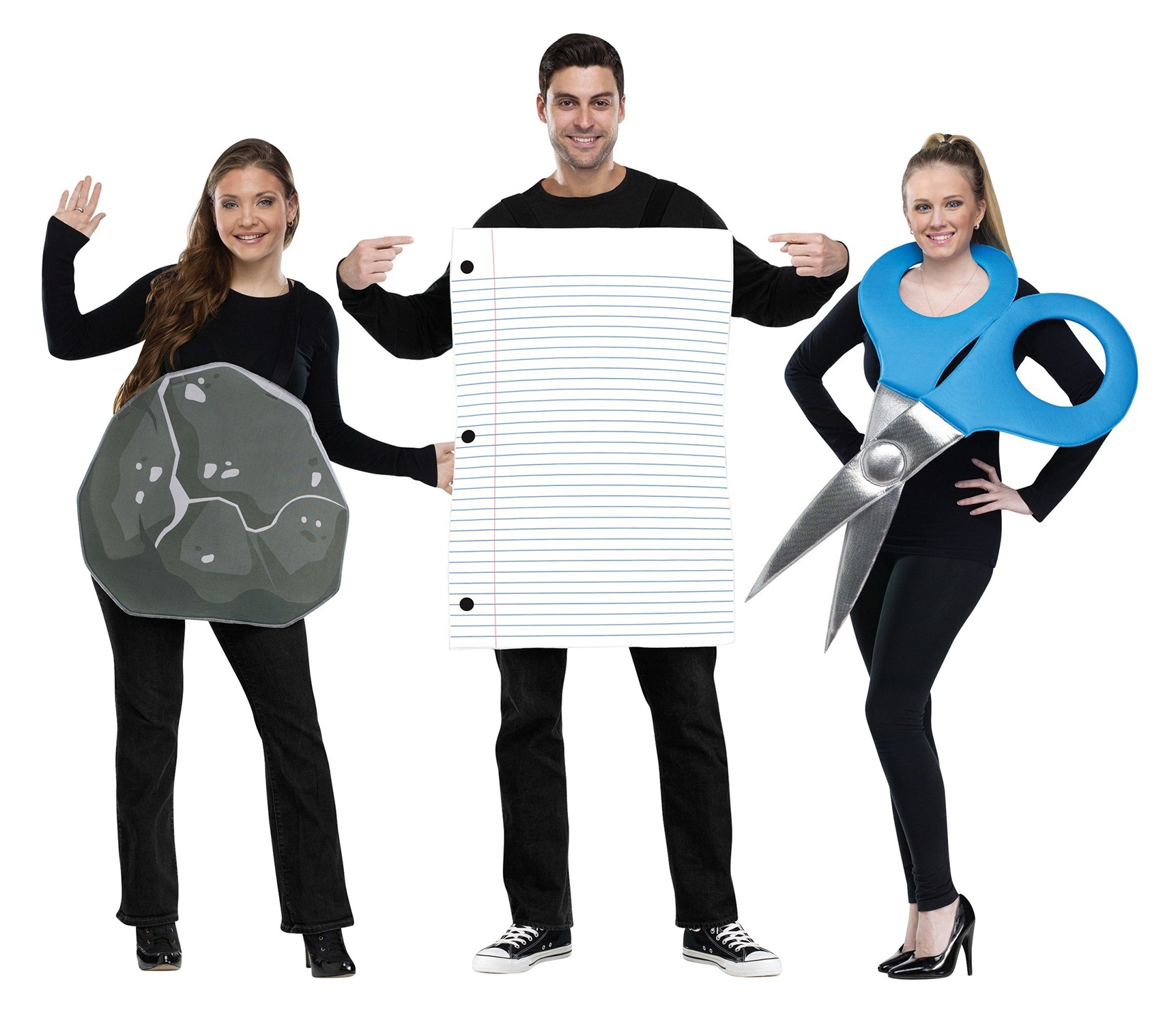 Rock, Paper, Scissors Costumes
Probably the most unusual costume trio on our list, who hasn't played at least one game of Rock, Paper, Scissors? Often used as the deciding factor in an argument or when you're otherwise stuck on a choice, it's similar to a coin flip or other games of chance. (Unless you cheat, in which case that doesn't count!) Just make sure that you pose for photos in rock, paper, scissors order, because anything else would be a crime.
Three Wise Men Costumes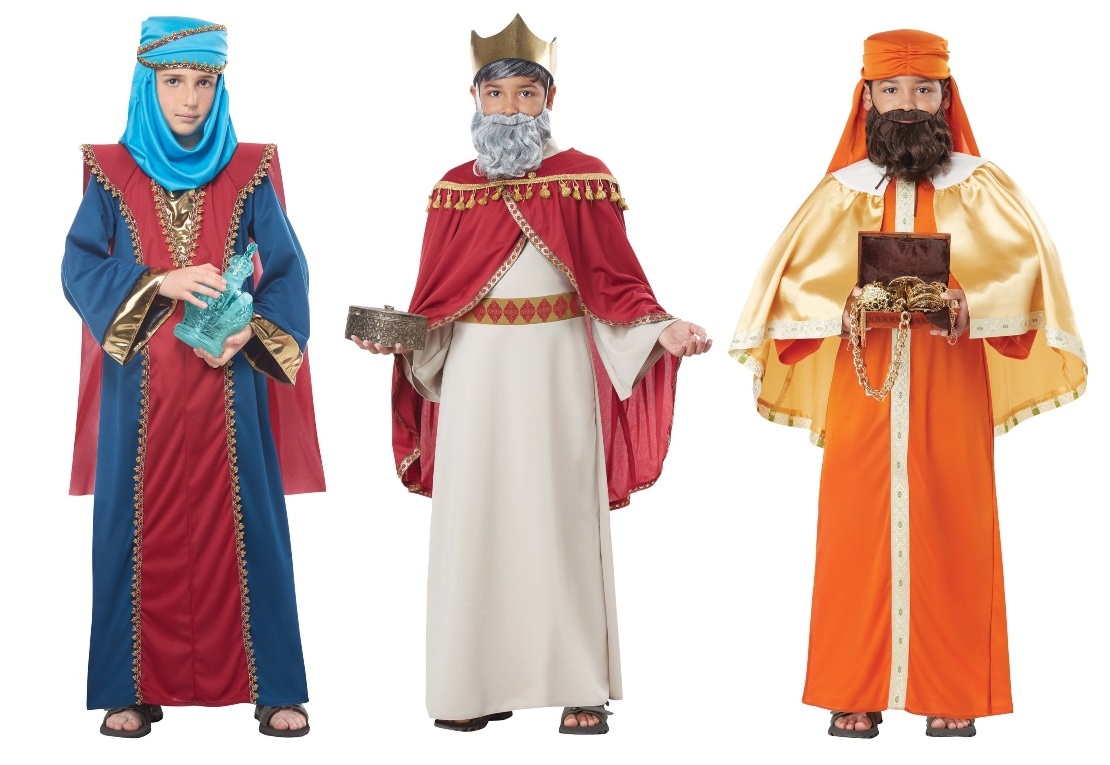 Did you know that the Bible has a lot of groups of three? There's the Trinity, the three days before Jesus rose from the dead, and, in this case, the Three Wise Men. Maybe you need this trio costume for a Christmas pageant, or you enjoy wearing other holiday costumes for Christmas because you have the chance to wear them multiple times a year. This Biblical costume for three boys or men will look sharp either way!
Baby Shark Costumes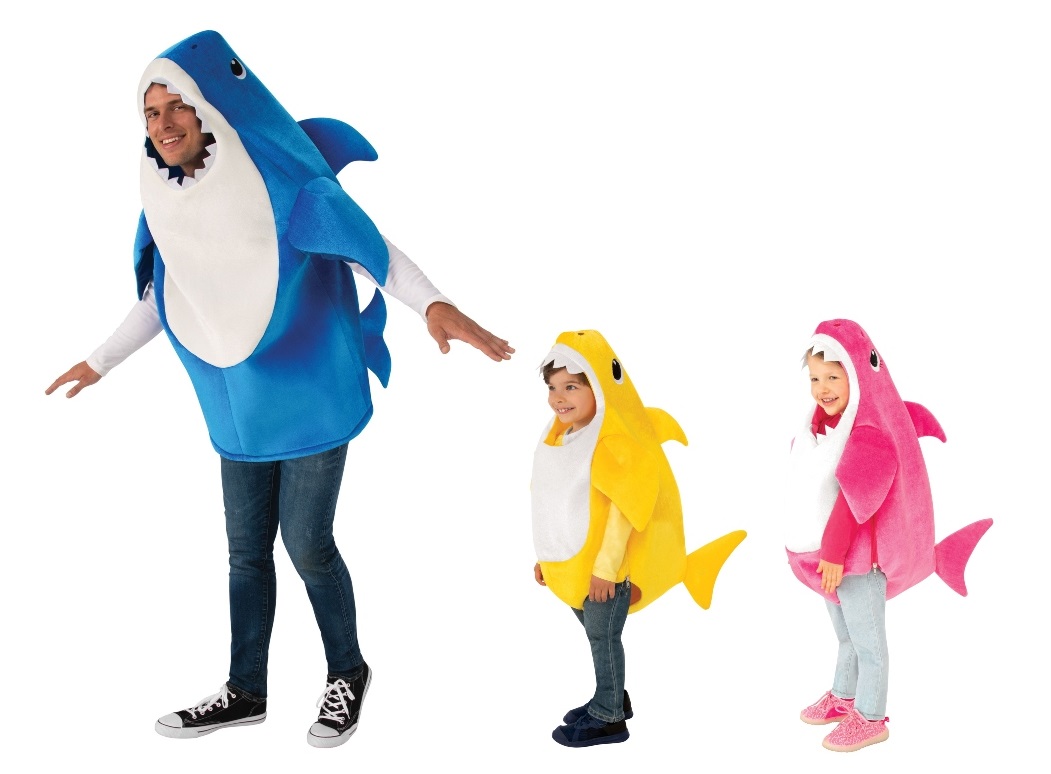 Do we have to sing the lyrics to "Baby Shark" for it to invade your brain? As you very well know, the main sharks featured in the song are Daddy Shark, Mommy Shark, and Baby Shark. (We know there's a Grandpa and Grandma Shark too, but that would otherwise make five.) While you can dress as mom, dad, and baby in these costumes, they're all available in child and adult sizes, perfect for other combinations.
Three Little Pigs Costumes
You're probably familiar with the story of the Three Little Pigs. (It's almost required reading for kids in preschool or kindergarten!) All you need are three pig costumes, and you can drive the point home with a bundle of sticks, straw, and a brick for each pig character. While the pig with the brick house was the smart one in the story, sticks, and straw will be easier to carry around on Halloween night.
Snow White Costumes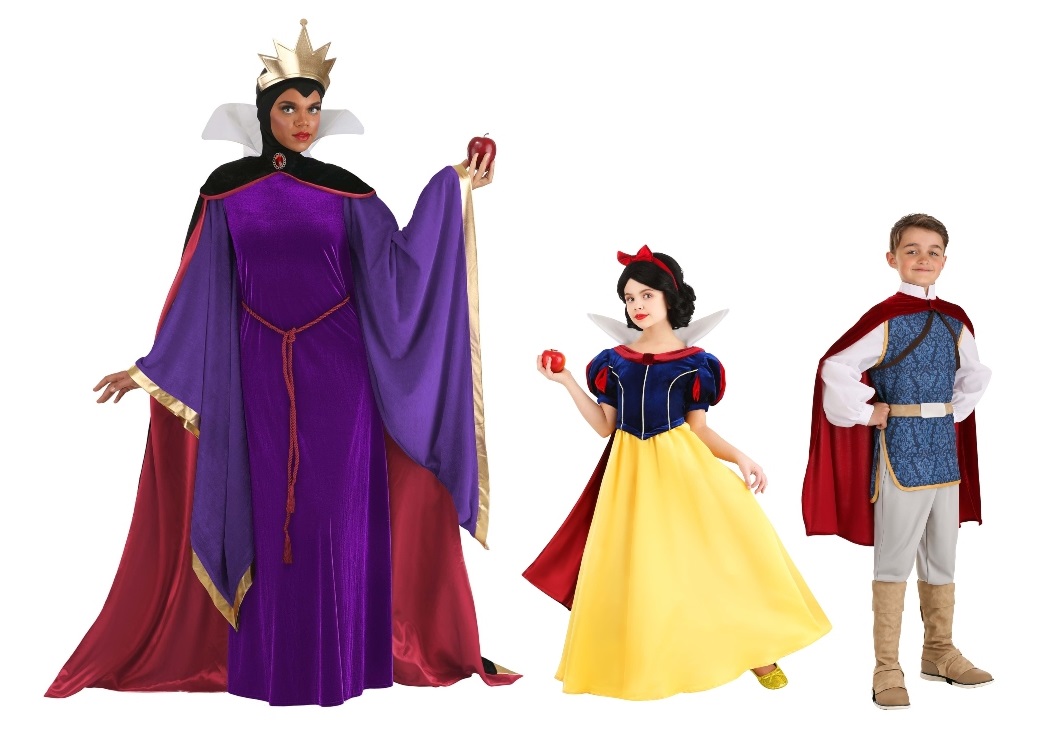 Many of Disney's classic princess movies follow the formula of a princess, a prince, and the big bad. We're illustrating this point with Snow White costumes, but you can just as easily make this work for other movies such as The Little Mermaid, Sleeping Beauty, and Beauty and the Beast. They're especially great if you're looking for costumes for two women and one man! (Granted, in some cases, it's the other way around.) Don't forget to take plenty of pictures!
Mean Girls Costumes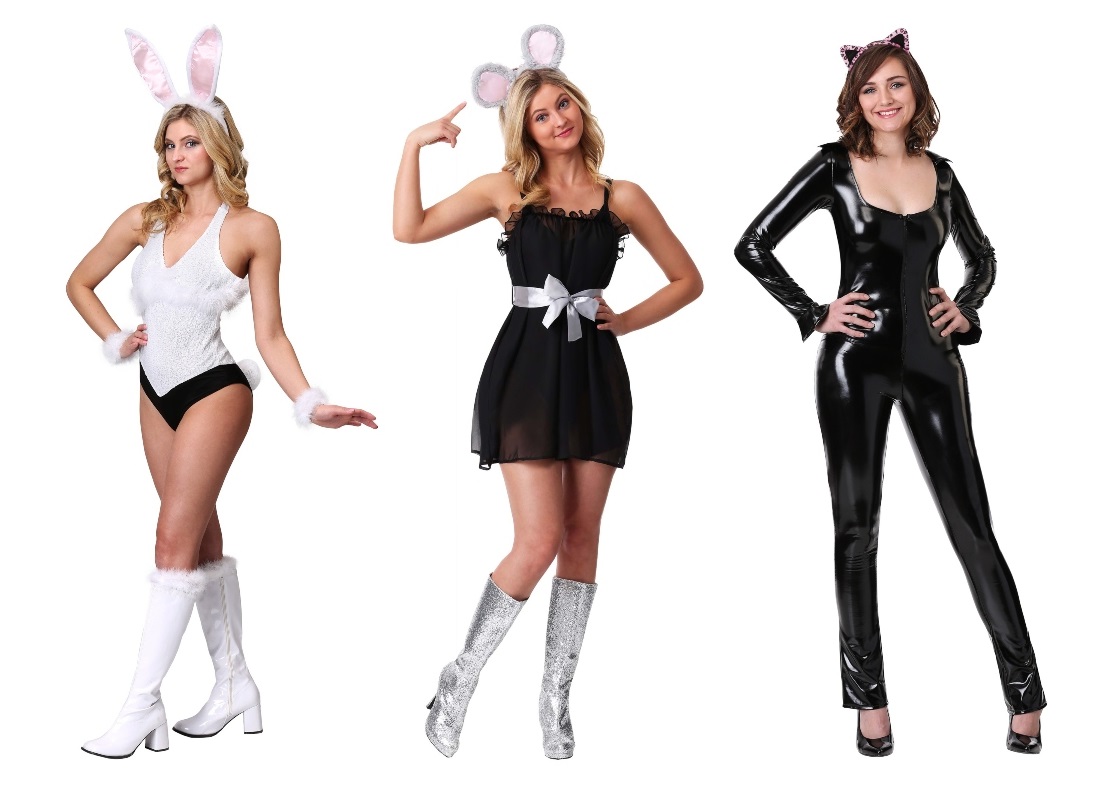 Before Cady arrived on the scene, the plastics from Mean Girls were a terrifying trio. It's only appropriate that three friends would want to dress as their favorite girl group for Halloween. It doesn't matter if you try to find a personality match or draw straws to decide who gets to be which character. You're bound to tear it up at the Halloween party with the best costumes around! (Yes, even the "mouse". Duh!)
Three Musketeers Costumes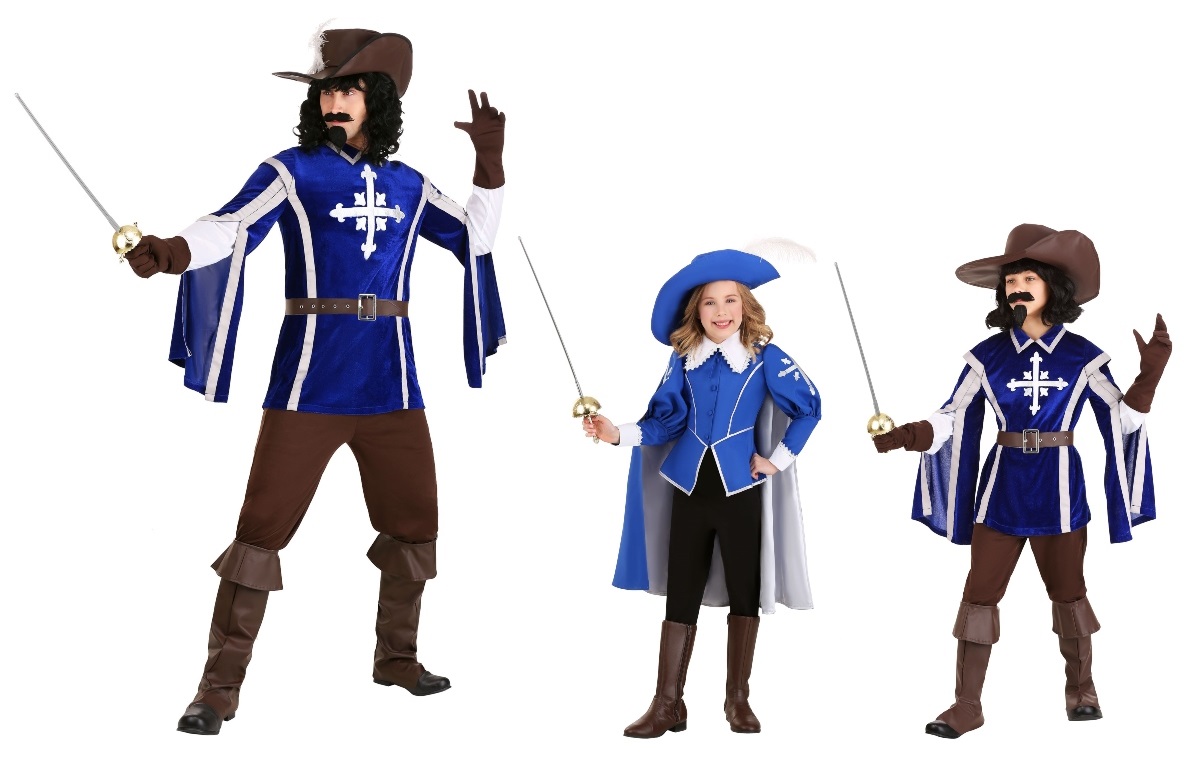 A mixture of historical fact and fiction, the Three Musketeers are another perfect example of a Halloween costume trio. You may notice that the musketeers wore a cross-like symbol on their uniforms, indicating that they were part of the royal guard. That's a pretty tall order, but thankfully you're just dressing up for Halloween! Add a prop rapier and a mustache and goatee to look super official.
Tangled Costumes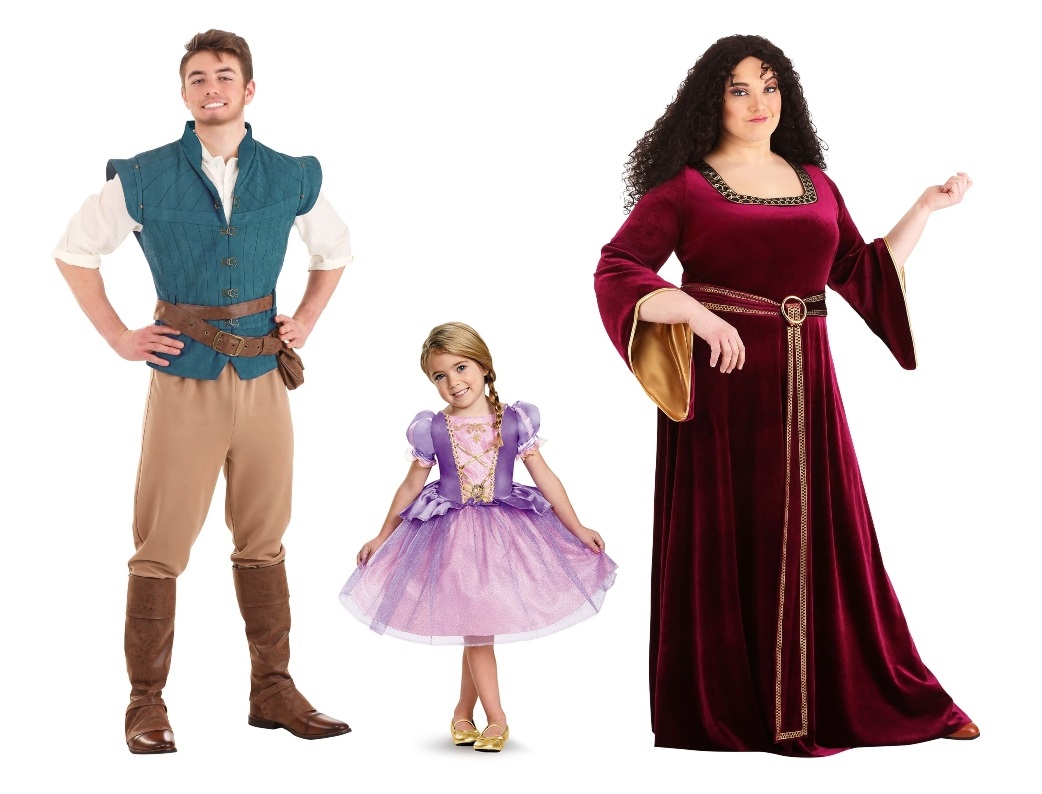 Do you remember what we said about Disney princess movies with two main characters and a villain? While that's not always the case with the newer films, it's still present in Tangled. A group costume like Tangled may go over better if you want your kids to join in, because newer Disney movies are likely more familiar. (And your little princess will probably insist on being the princess instead of the villain!)
Flintstones Costumes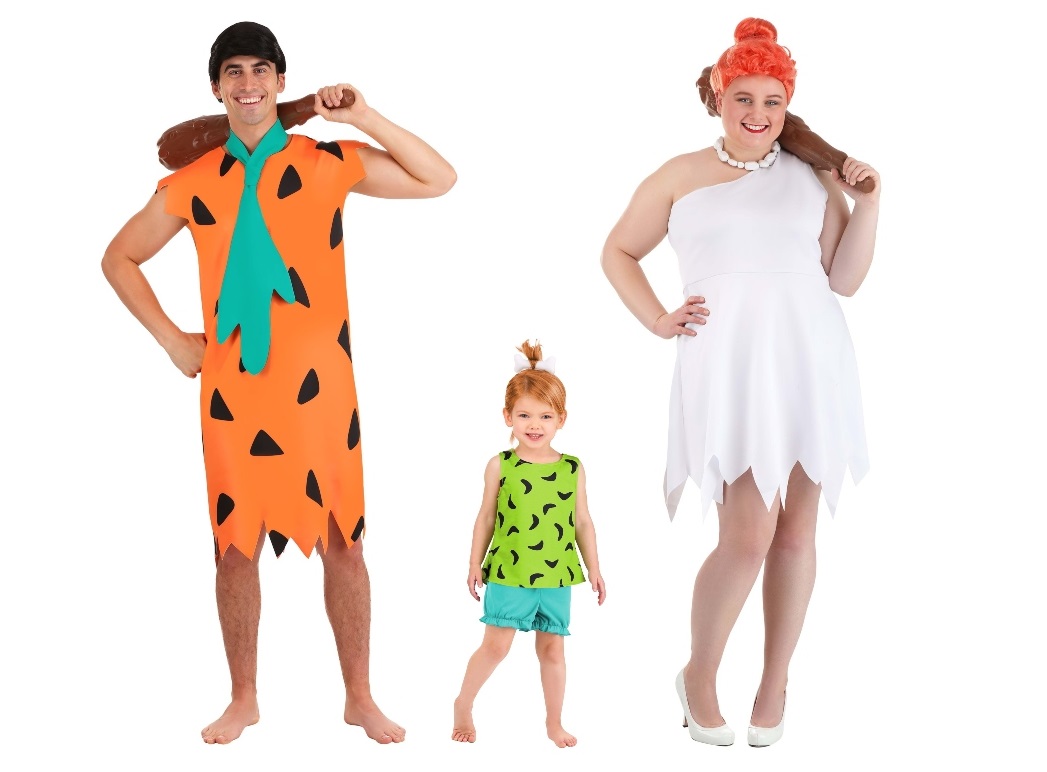 How much more classic can you get than The Flintstones? This famous family of three is bound to set you up for some prehistoric fun! If you can swing another family in three Flintstones costumes, you can also have Barney, Betty, and Bamm-Bamm. Yabba-dabba-doo!
Are you ready to have some fun on Halloween? We have a bunch of other group Halloween costume ideas just waiting to be discovered! If you think we missed any famous groups of three, let us know! We're always looking to include the best costume ideas.