PJ Masks Halloween Costumes
Becoming a superhero is a dream of just about every child whether they're sleeping or just daydreaming. That seems to have been the reason that the PJ Mask team came into being. Just imagine slipping into your super comfy pajamas and finding that you are bestowed with incredible powers! Who could find a single problem with that kind of a setup!? Not only do you get some pretty awesome superhuman abilities, but you still get to hang out in your pajamas! Heck, the ability to wear pajamas all day is practically a superpower already. While finding PJ Masks costumes for adults might be a tough road on its own, we have plenty of family costumes so everyone can enjoy some heroic daydreaming.
PJ Masks outfits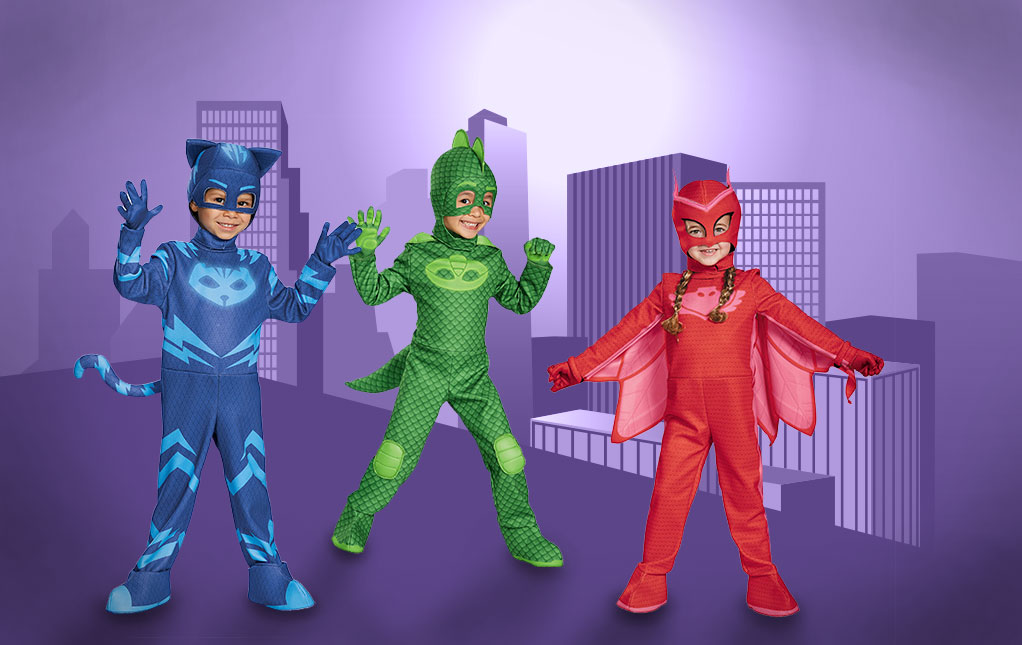 Secret identities are a pretty common trope among our heroes. They can't just go gallivanting around the city with a name tag that will help every villain on the wrong side of the tracks know where they can go to find those pesky heroes that keep upsetting their plans for world domination! That's why we've got the masks, capes, and outfits to ensure that no one can see through to the truth. More than that, our heroes need to be able to live their lives for themselves, too. And, if they are members of the PJ Masks, they still have to go to school. You wouldn't want your future heroes to be uneducated, after all. Catboy, Owlette, and Gekko all spend the first half of their adventure learning the three Rs and all the lessons they'll need to help them take down the baddies later when they slip into their magical pajamas. So, after you've finished your work for the day, you can feel the same security as you hop into these PJ Masks Disney Halloween Costumes and know your identity is still a secret!
PJ Masks Costumes for Kids
Our kiddos are constantly watching the world around them and learning how to interact with it. That makes it doubly important that we give them plenty of opportunities to see how to stand up and be the hero that the world needs. That can be a pretty daunting task to tackle for anyone, especially when you've got an especially inquisitive tyke. Fortunately, we've got a little help. While your own little hero is pretending to have some of the fantastic superpowers available to the team of PJ Masks, they're sure to see the characters struggling with not only stopping the bad guys but learning to overcome some of their own troubles. Each episode features two problems to overcome: the villain who is trying to do all sorts of naughty stuff and then there's the tougher stuff to beat- the pride, greed, and insecurities in ourselves! Remind your kiddo that they can overcome their own weaknesses by letting them gear up as their favorite good guys with one of our PJ Masks characters costumes.
Disney PJ Masks Costumes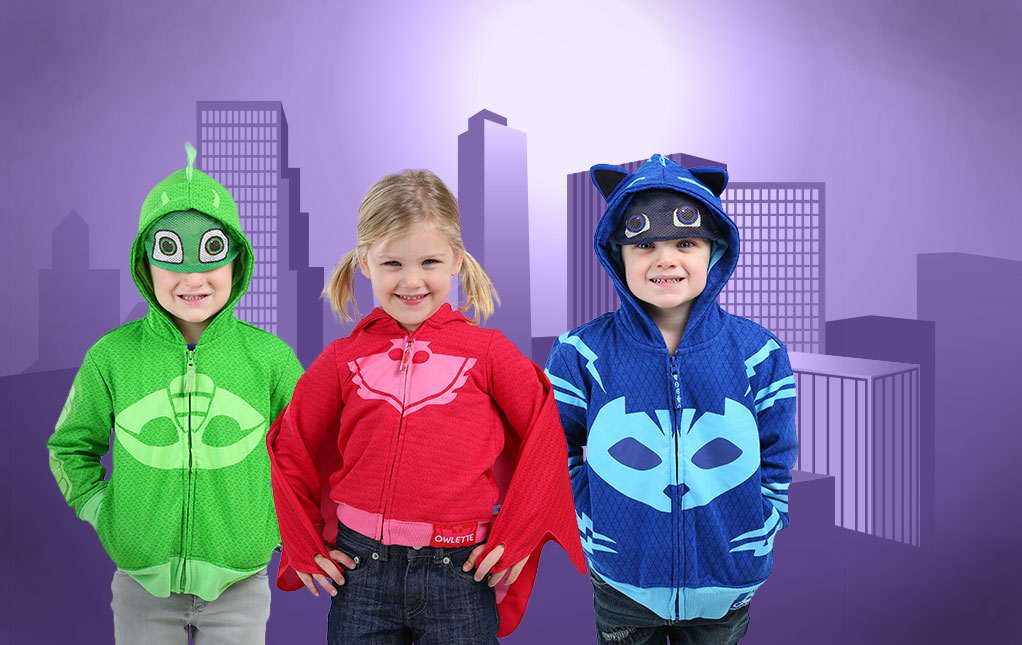 You don't always have to make a transformation into a superkid a major ordeal. Occasionally, evil just won't wait for your kiddo to get back to the base or find a nearby phonebooth to slide into the full set of magical pajamas. It is at moments like those that your little one can still access all their imagination and good guy get-up-and-go with one quick zip! Your little one will feel all the power with any of these great PJ Masks Disney costume sweatshirts. They've got all the iconic designs of a full costume but with the advantage of a quick transformation. They're just one of our many costume apparel items. Your little Catboy can pull up the hood and have those ears listening for doom while your Gekko can blend into the urban jungle with some cool chameleon spikes! The winged sleeves of the bright pink sweatshirt will have your darling Owlette ready to soar!
PJ Masks Toys
Not all super-heroics are fun and games. There are villains to face and lessons to be learned. The PJ Masks team knows all about those kinds of struggles and, after a few episodes, so do your tykes. While they might lack the magical pajamas and the powers needed to face down threats like the Night Ninja and Romeo's roster of robots, they can certainly take the fun and games that heroics might lack and have some vicarious adventures! These toys and gadgets from PJ Masks are bound to make your kiddo smile with delight and give them something to play with or wear while watching the show and learning those very same lessons that Connor, Amaya, and Greg learn while running around at night as their alter-ego heroes!
PJ Masks Sunglasses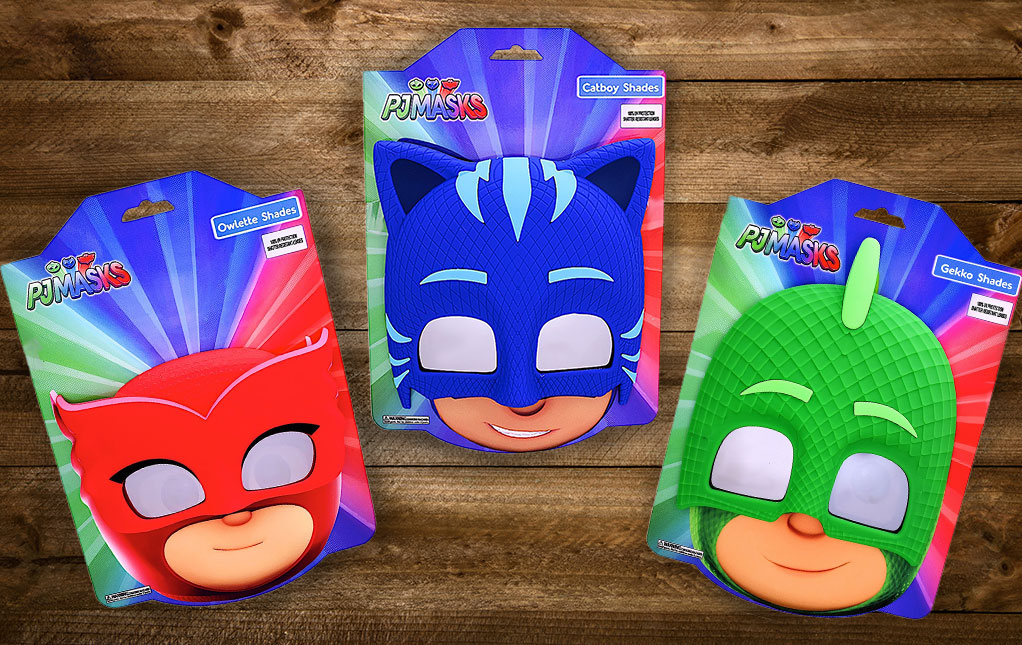 Not every threat that the world faces can be found at night! Sometimes, we need a little protection from a source of bright light and hope in the daytime. After all, as much as the sun does us some good, those especially bright summer days can cause a whole lot of unexpected trouble. Your kiddo is going to want to enjoy the time in the sun, though, and the best way to make sure they are both protected and can channel the heroic ideals of their favorite heroes is by combining the two with a pair of shades. These great sunglasses are just the thing to keep your tyke's eyes safely shaded while letting them throw on the mask of their favorite PJ Masks characters! Who wants to wait until Halloween to wear one of these shades!? You can choose from Catboy, Owlette, and Gecko!
PJ Mask Characters
These delightful characters are a joyous introduction to our weeknights as days shift to evenings. Not only do they show kiddos just like our own tykes working through their school day, but we get to see their dreams come to life when they hop into their magical pajamas. Becoming just like the characters you love on tv is a dream that we all share. Heck, some of us adults are still looking to find those perfect adult PJ Masks costumes so we can dress like Catboy, Owlette, and Gekko and wash that business day from our mind as we enjoy saving the city by night! But, in the meantime, you have plenty of options to help your baby enjoy their dreams just as much as they love the show.
PJ Masks Toddler Costumes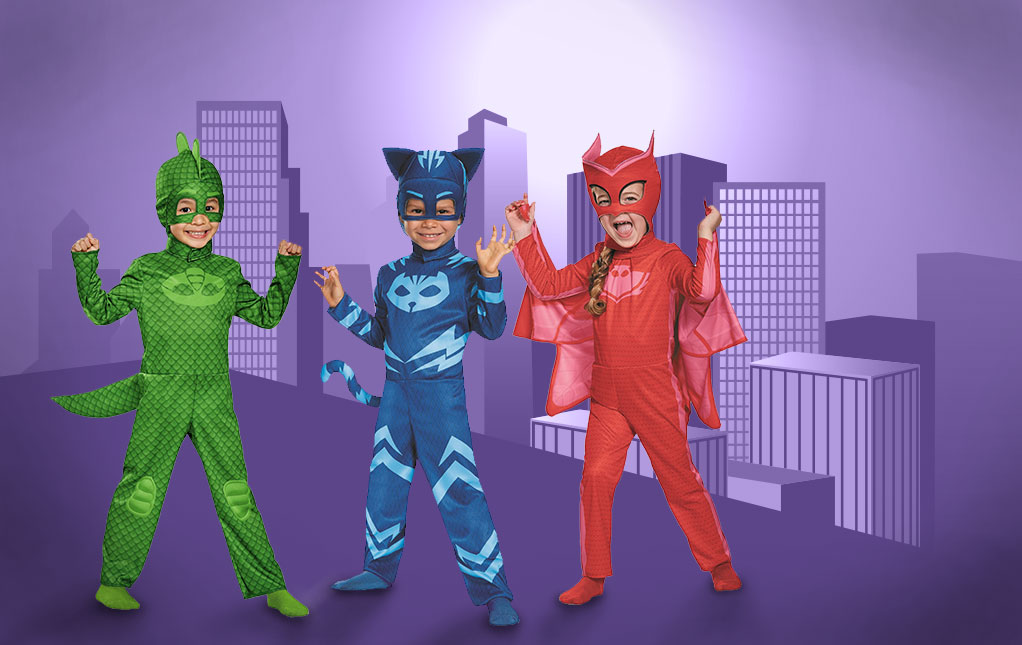 That said, getting your kids to actually go to bed so they can enjoy those dreams can be a struggle all on its own! Who wants to get into PJs when they could stay up all night instead? While it can be tough to get your kiddos in their own pajamas, sometimes, we can look for a nice compromise to get your tot ready for bed. How about a nice jumpsuit in the fashion of their favorite PJ Mask superhero!? These great toddler PJ Masks costume jumpsuits are made of comfy fabrics that will be just like their own pajamas... and these ones have cute hoods so they can enjoy the show in full costume and then super cat leap right into bed! (Admittedly, that part might still be a struggle, but any step that gets you closer is like having a hero right at your side!)