Superhero and Star Wars costumes are great, but sometimes you want a costume that's a little more...traditional. You know, like a witch or a vampire, maybe a ghost or skeleton. Those fun but scary costumes that are always in style! Or how about the classic Halloween costumes from decades past, like pumpkins and animals? Maybe even clowns and other funny costumes? Sure, costumes like this could sometimes be terrifying or outright incomprehensible, but we're reminiscing about the good ones! So if these are the types of old-fashioned, traditional, or vintage Halloween costumes that you're looking for, then this guide is for you. Let's take a trip through the Museum of Classic Costumes and find the perfect traditional Halloween costume!
1. Witch Costumes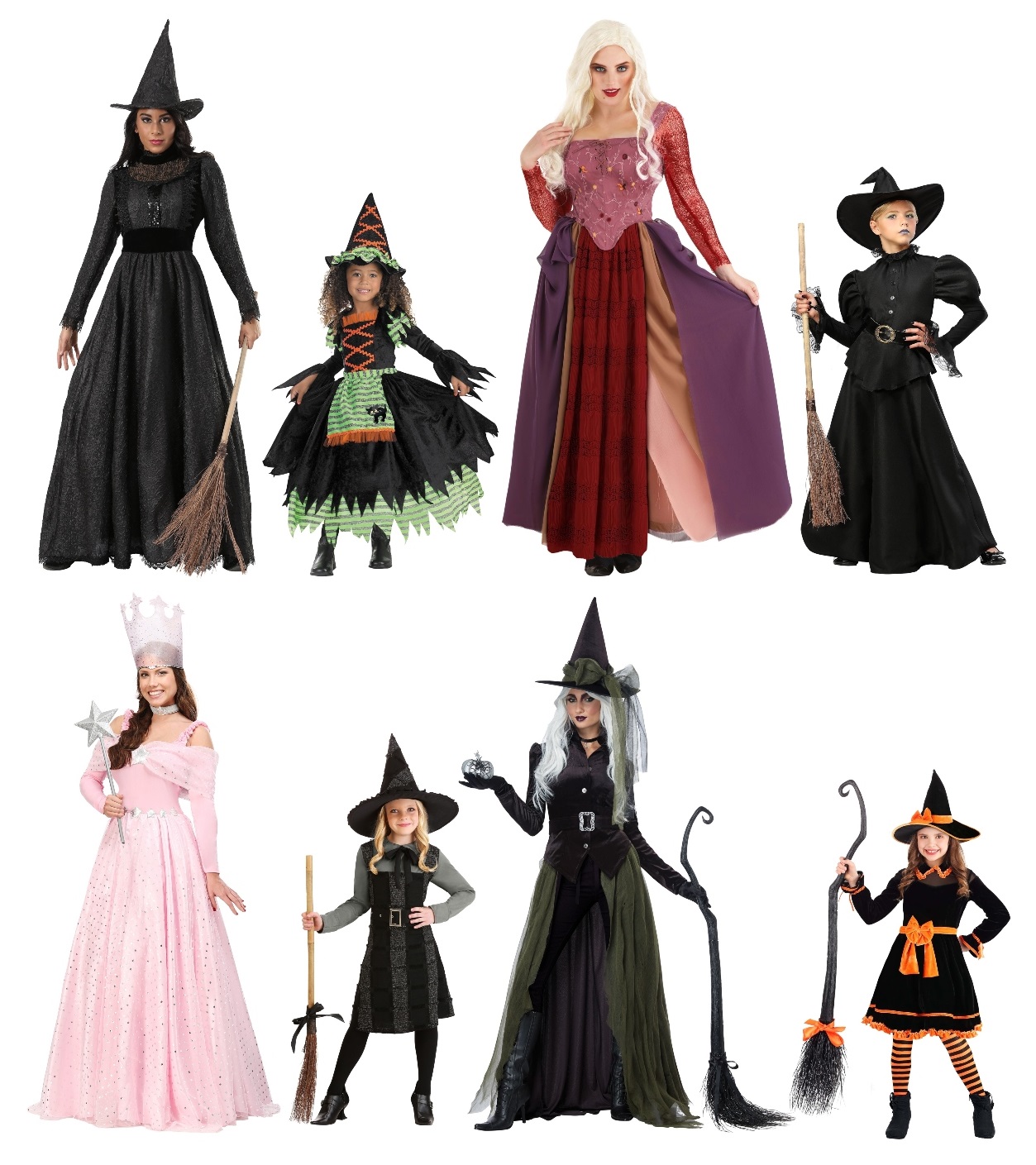 Did you know that witch costumes have been one of the top-selling Halloween themes for decades? It's true! They're wildly popular and there's such a variety of different styles, too. So many that we wrote a whole guide to witch costumes! You've got historical Salem witches and fictional witches, like the Wicked Witch of the West and Glinda the Good Witch of the South from L. Frank Baum's The Wonderful Wizard of Oz. And then there are mythological witches, like the green-skinned hags. Besides the hags, there are so many cultural depictions of witches from American, European, and African folklore that you'll have a tough time picking your favorite. And you can also find witches from the Harry Potter books and movies, Hocus Pocus, and Maleficent from Sleeping Beauty. There are so many witch costumes for women and girls to choose from!
2. Clown Costumes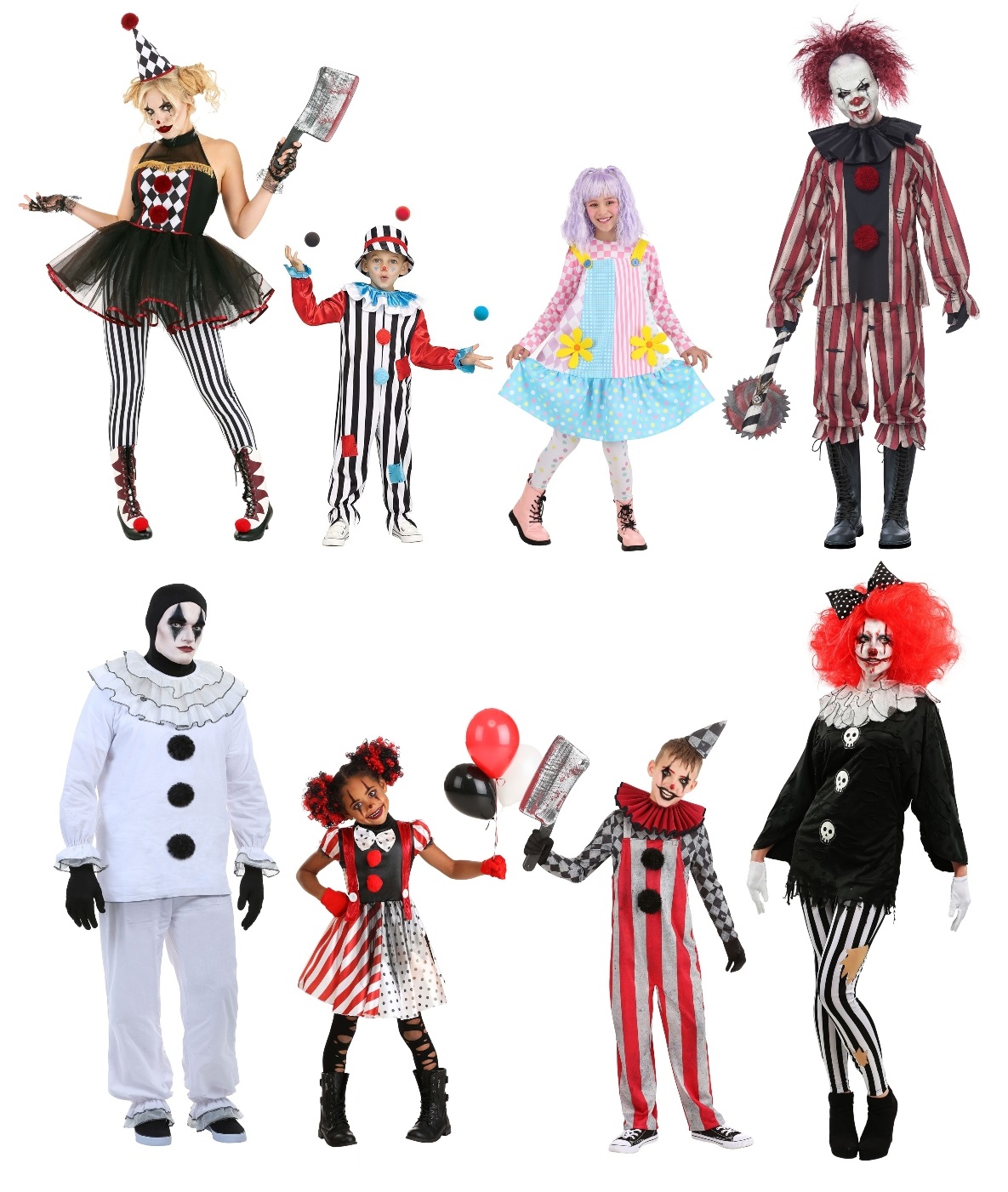 Clown costumes have been worn for centuries, too, though they haven't always been associated with Halloween. Pierrot was a French/Italian comic character from five hundred years ago, and both men and women continue wearing vintage pantomime costumes. The circus clown tradition is half that age, but it's constantly being revitalized and updated. Some of those big-top clowns are cheerful and wacky, while others—like this scary clown costume—are more sinister. Jester outfits are another tradition from centuries ago, one that's been revamped over the past several decades because of the DC Comics character Harley Quinn.
3. Funny Costumes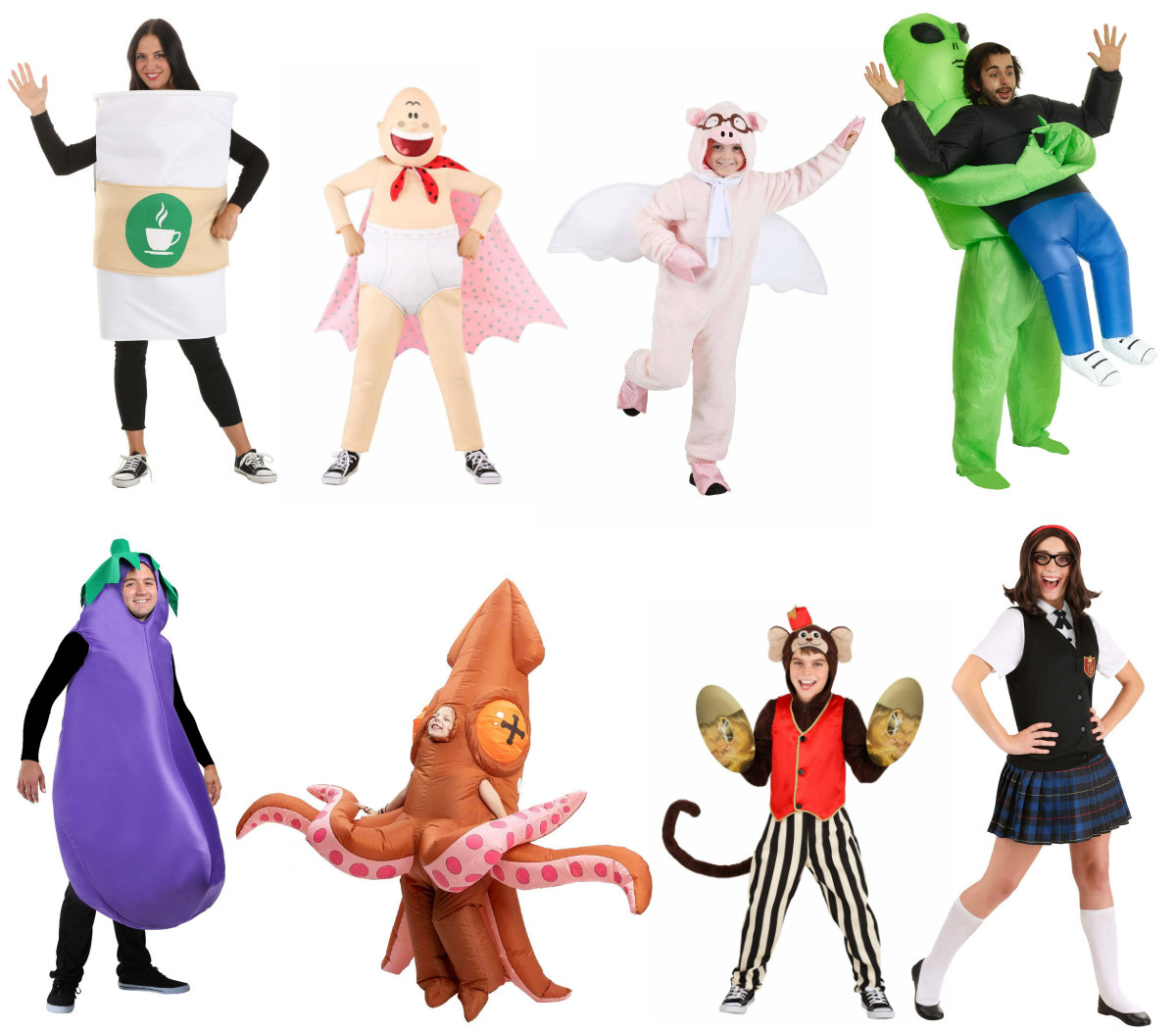 Halloween isn't always about being serious. It's also about having fun and wearing something ridiculous and off the wall. Comedy styles change through the ages, but at its core, funny Halloween costumes will always have their place as part of our Halloween traditions. There are silly characters and concepts like the flying pig that give us a giggle, and we're loving the newer inflatable costumes! Food costumes are also their own brand of funny, from eggplants to bacon—which is pretty much in everything nowadays. Well, it's in Halloween costumes, too. Which makes sense, because a side of bacon was the winning costume in one of our favorite early Halloween costume contests!
4. Pirate Costumes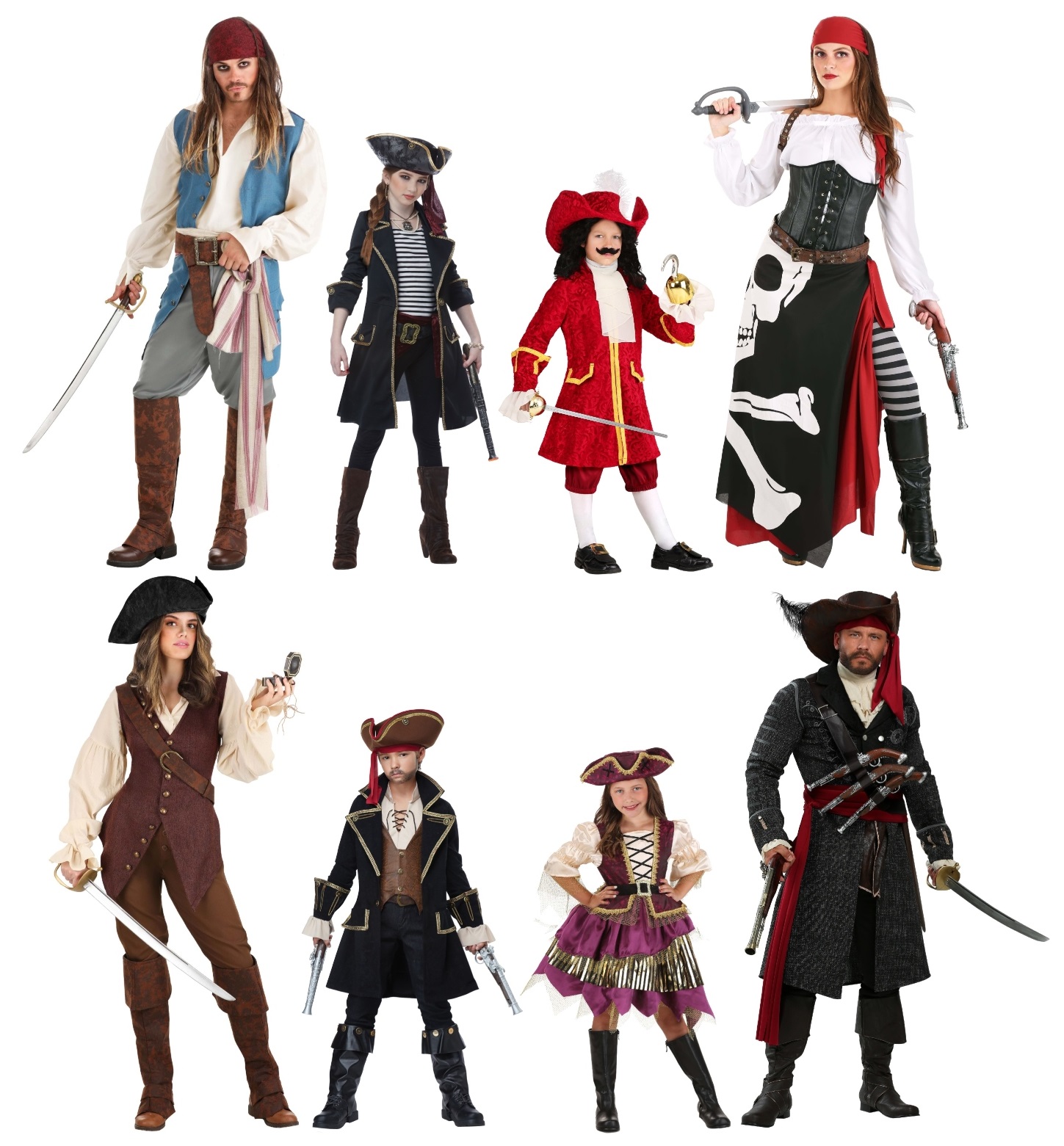 Pirates have been popular costume ideas for decades, and not just for Halloween! Gasparilla (which began in 1904) and other pirate festivals are great excuses to don your pirate costume outside of Halloween, but you're bound to see plenty of buccaneers while out trick-or-treating. You can pretend to be famous pirates such as Blackbeard and Anne Bonny, or go with a pop culture pirate look. Many fans love Captain Hook and Jack Sparrow costumes! However, don't let anyone's vision of what a pirate should be determine what your pirate outfit will look like. We're sure you'll find the perfect pirate costume to suit your style!
5. Vampire Costumes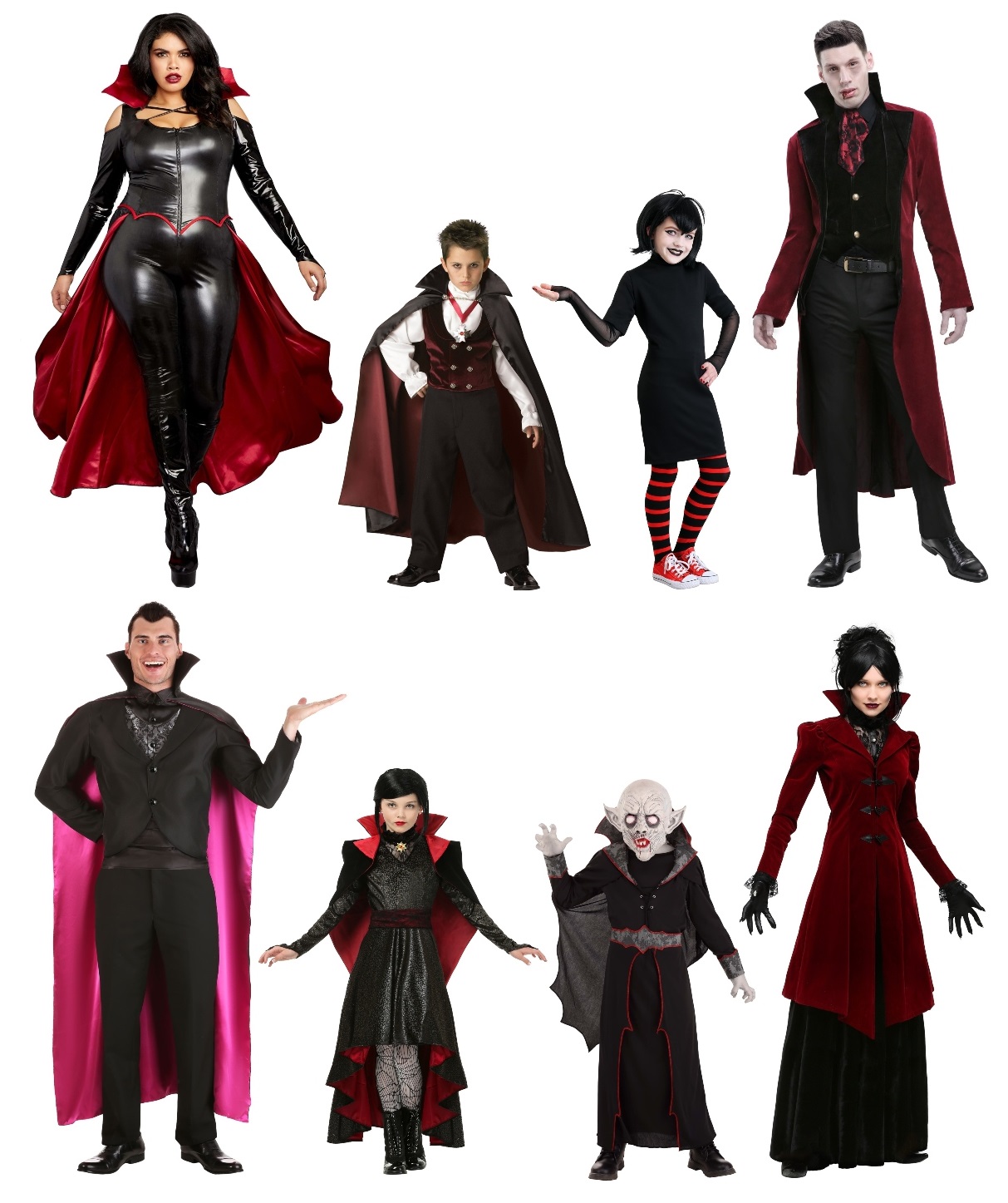 Vampires are another supernatural creature from folklore. Once thought of as grotesque monsters, thanks to Bram Stoker's Dracula they're now usually seen as charismatic and seductive anti-heroes. This dreadful vampire and vampiress are simply captivating in velvety Victorian dress! Some outfits also feature batwing-shaped veils and collars or ruffles, like these vampire costumes for kids and toddlers. But you'll also find scary vampire costumes that are more gaunt and terrifying, as inspired by F. W. Murnau's Nosferatu: A Symphony of Horror. Just like with other Halloween costume themes, it's all about the variety!
6. Animal Costumes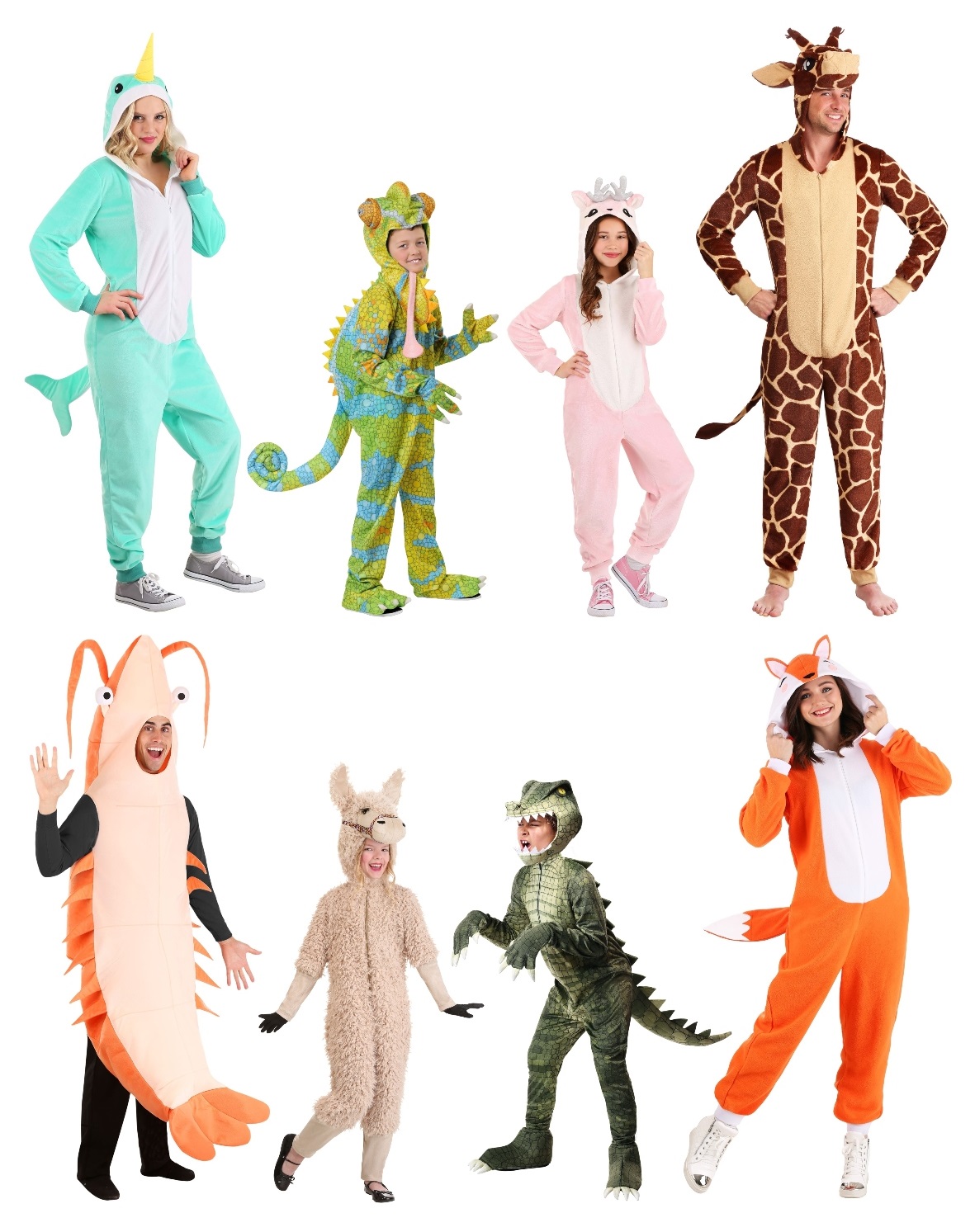 Animals are one of the most old-fashioned Halloween costumes. Vintage Halloween photos invariably include some kind of animal costume, and they're usually pretty terrifying. You can try those looks, sure, or you can go for something much cuter. We recommend finding something cute or even silly! How about a cat costume? They're always in style, just like real cats! So are fox and dog costumes. And there are all kinds of animal accessory kits for adults (or anyone else) who don't want to wear a whole costume!
7. Devil Costumes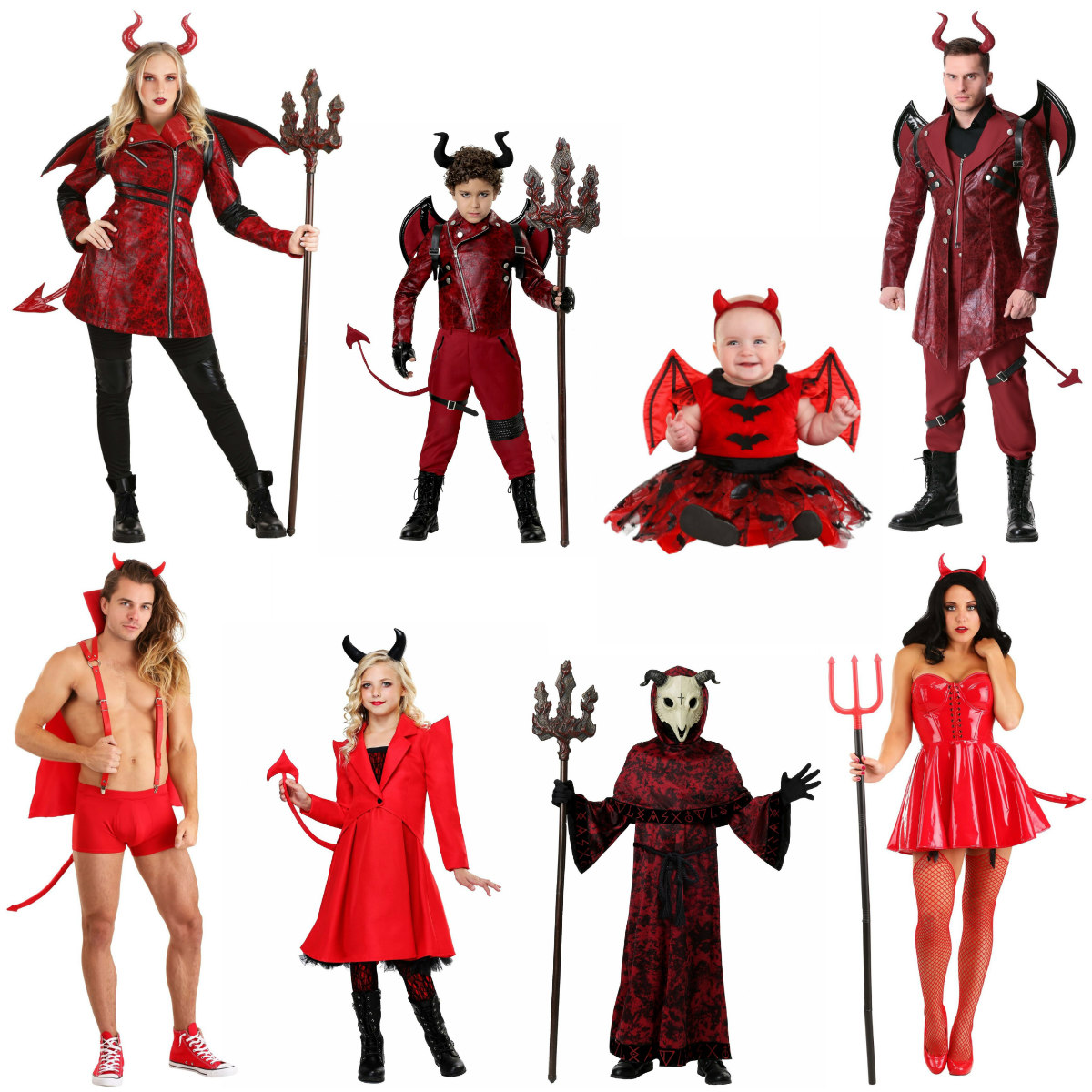 Devil costumes have been part of traditional Halloween festivities for a very long time. While the devil costumes of yesteryear were mostly about the horns, pitchforks and fiery doom, there are a variety of newer devil costume styles. They run the gamut from comfy and cool to sequined, sexy devil costumes. The best part is that, with so many choices, you can embrace your individual style. These traditional Halloween costumes may not break any new ground, but you can't knock a classic.
8. Zombie Costumes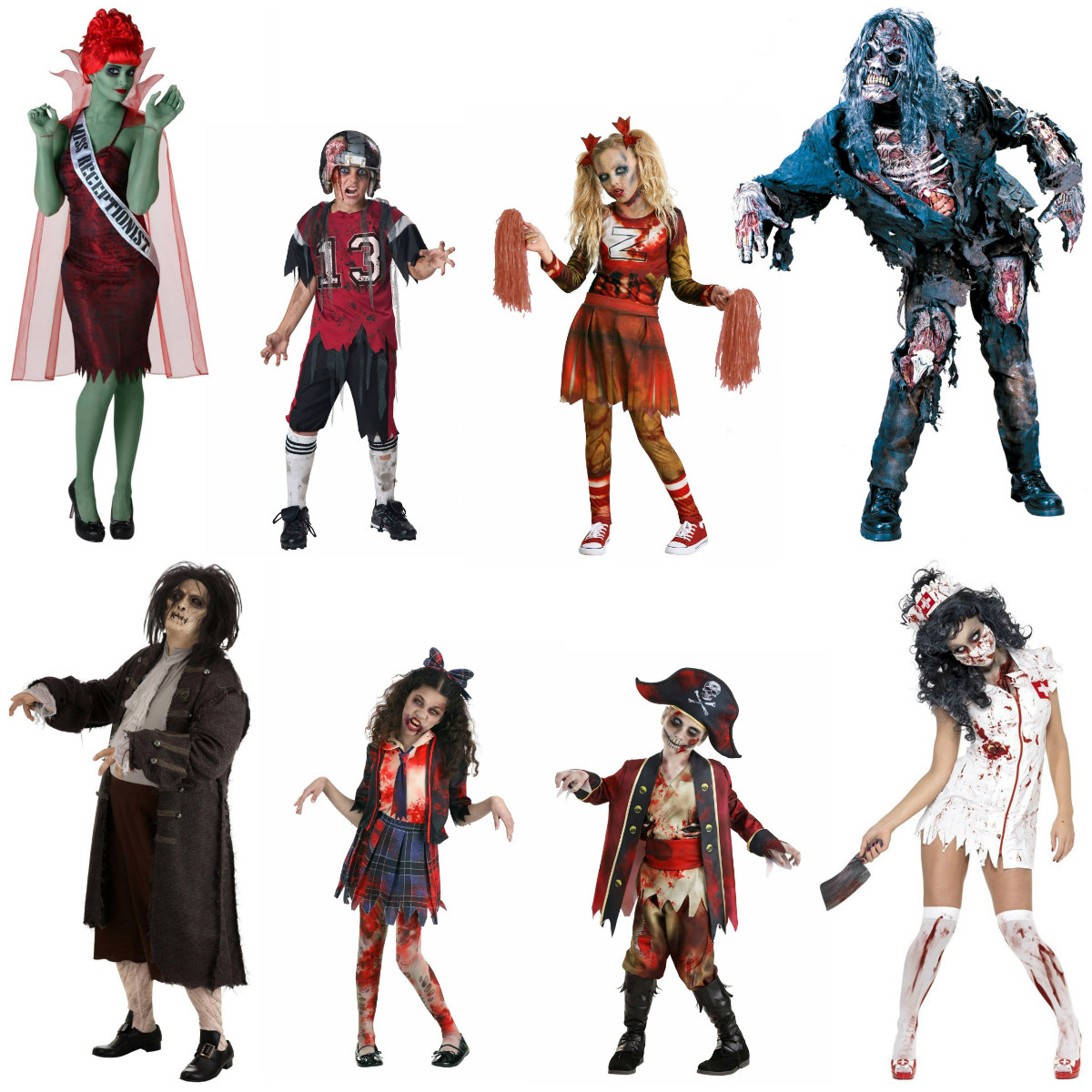 What's the first thing that comes to mind when you hear someone talk about scary costumes? Maybe ghosts and skeletons? We're betting that zombies were at the forefront of your thoughts as well! The best part about zombies is that you can basically take any occupation or character and make it into a zombie. However, if you're not DIY-savvy, that's okay too. We have plenty of zombie Halloween costumes available to buy online so you're ready for your monster mash!
9. Skeleton Costumes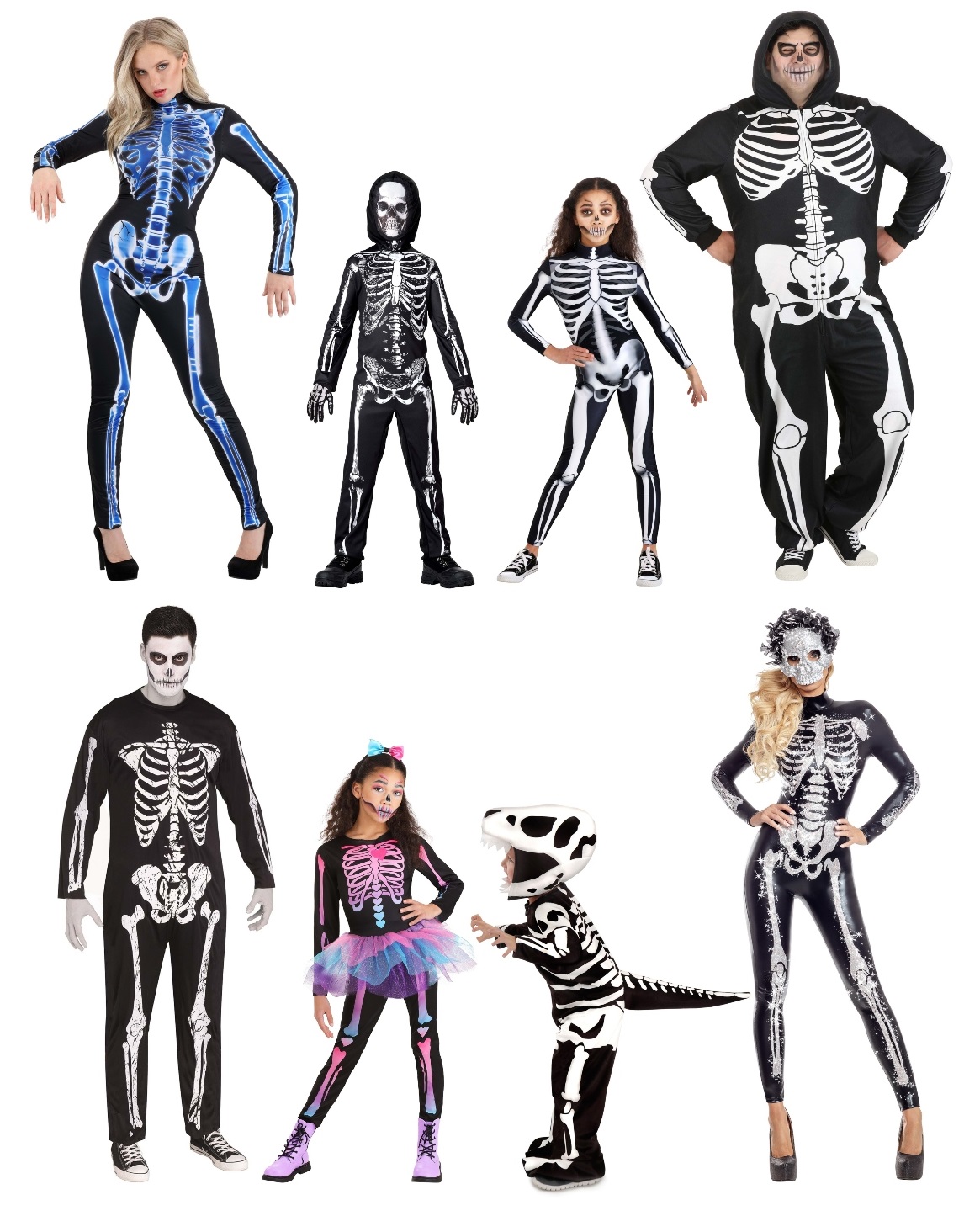 Skeletons are another classic Halloween costume theme. The earliest vintage skeleton costumes were just black clothing with white bones painted onto them. Our classic skeleton costume emulates that look, but we've also got a more modern, chic take with the glam skeleton costume for women. Then there are fun, nostalgic costumes like the skeleton suits the Cobra Kai kids wear in The Karate Kid. And of course, you've got ghost pirate skeletons, because skeletons go great with other kinds of costumes. What's next? A skeleton ninja? Maybe a skeleton dinosaur? Or even a skeleton Victorian gentleman? Okay, those are all fantastic traditional Halloween costume ideas!
10. Ghost Costumes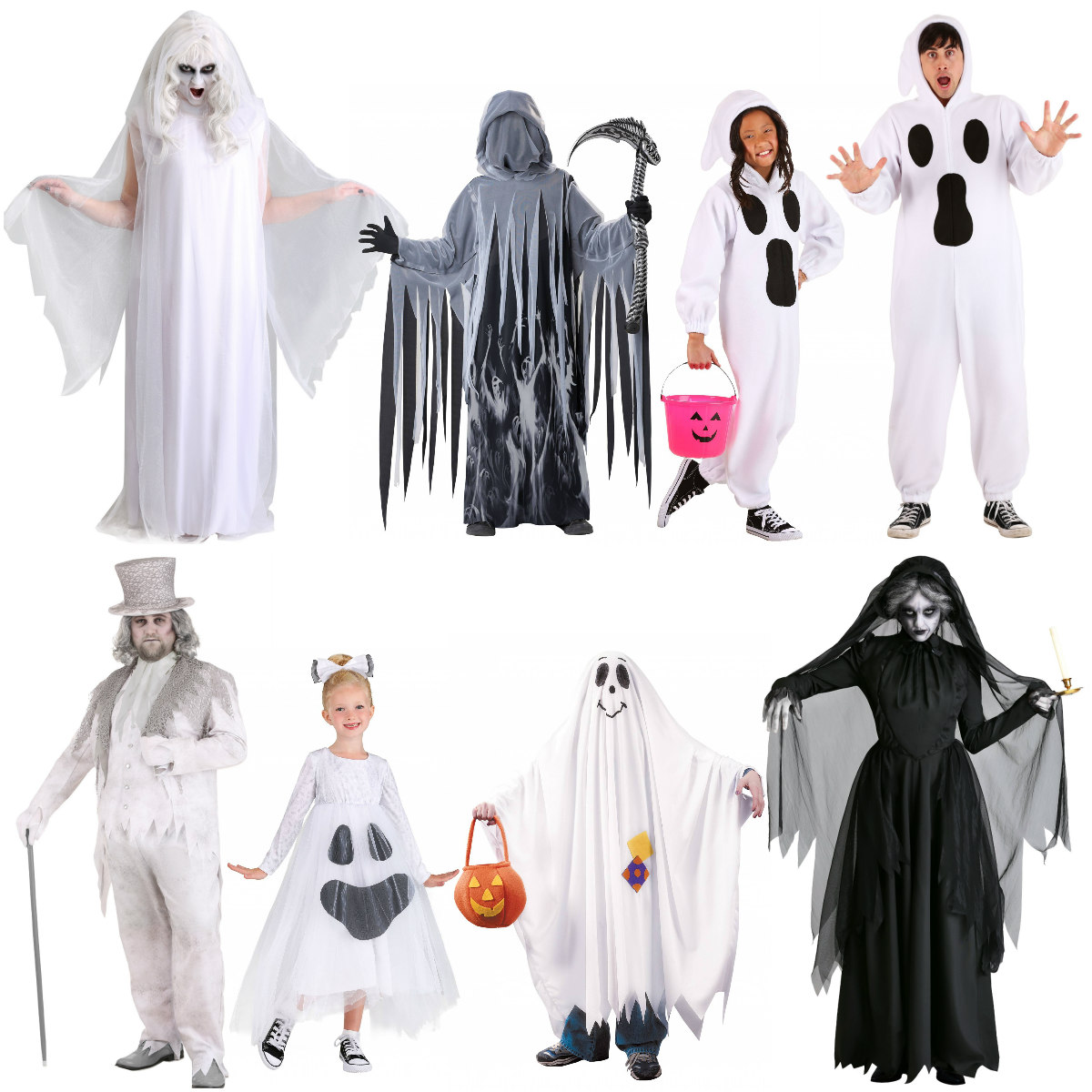 Cultures have told ghost stories since antiquity. You can't throw a stone without it, well, passing right through a ghost. Because they're incorporeal, right? Okay, it's not a great metaphor. But what we're saying is that there are all kinds of ghost stories and just as many ways that ghosts are portrayed. You've got ghosts that drag chains and do other spooky stuff, and ghost brides that haunt houses. Then you've got your "friendly" ghosts going bump in the night because they can't see well in that sheet. (Safety first!) And then there are evil ghosts that steal souls, which gets into Grim Reaper territory!
11. Scarecrow Costumes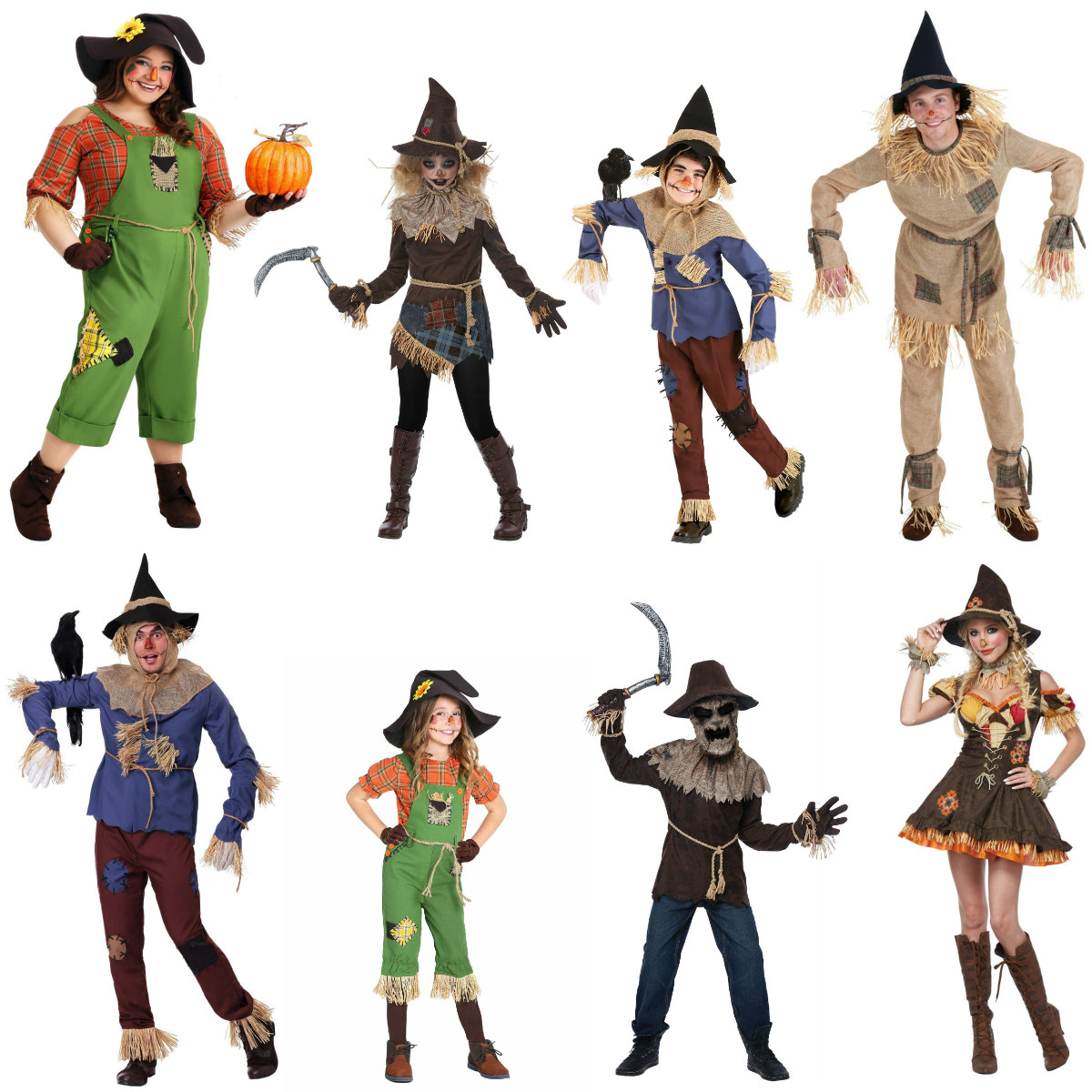 Nothing feels like fall quite as much as seeing everyone's haybale, corn husk and scarecrow decorations outside. Scarecrows also make great Halloween costumes! While you have the famous scarecrow character that's always seen in Wizard of Oz group costumes, we have other options too. Cute and classic scarecrow costumes are nice and comfortable to wear for a full day of fall festivities. And then there are scary scarecrow costumes for horror fans. It's great to have the flexibility to choose your favorite scarecrow!
12. Pumpkin Costumes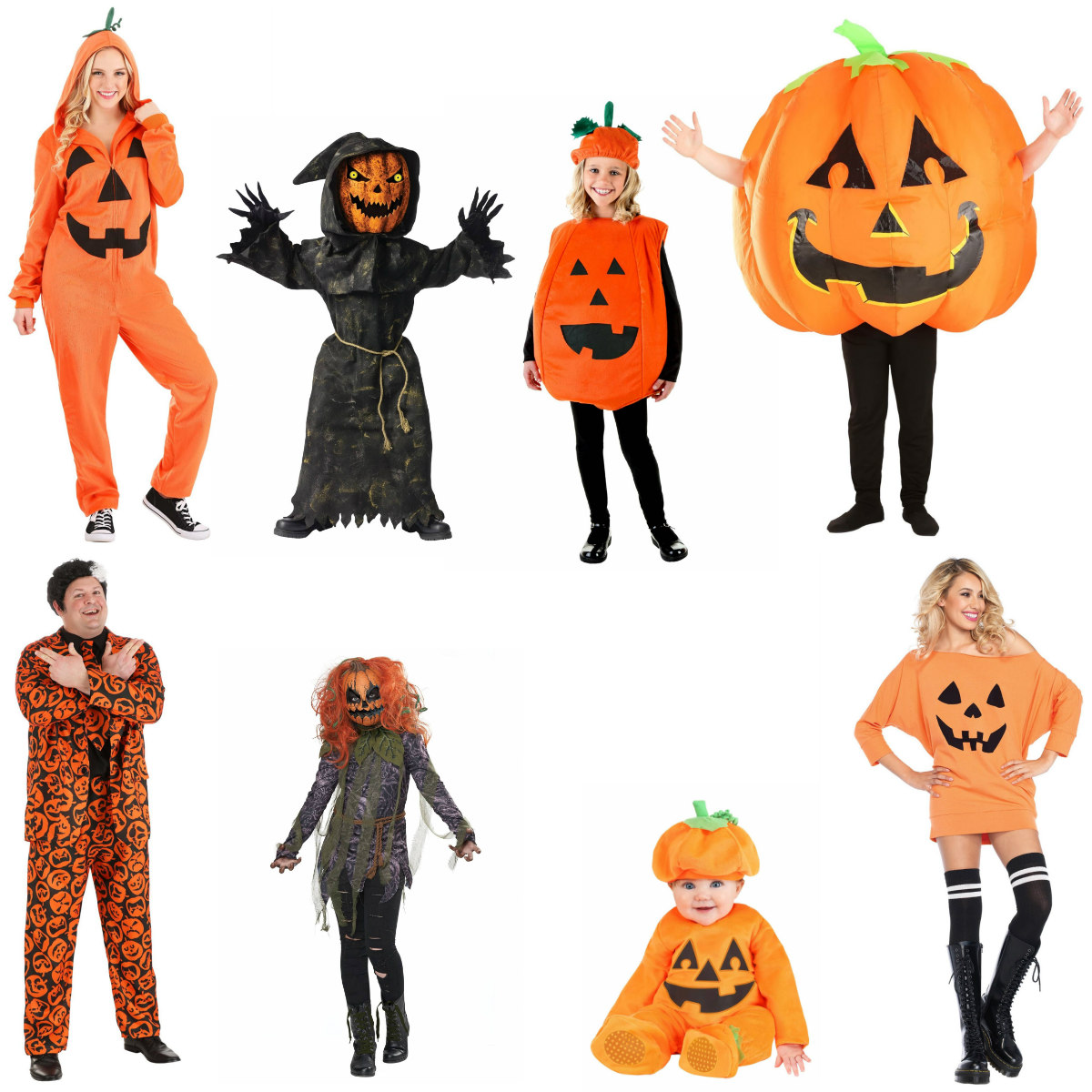 Pumpkin masks are a Halloween classic, and we're not talking about facial peels. (Pause for laughter.) But seriously, people have been carving faces into gourds and turnips for hundreds of years, making grotesque jack-o'-lanterns for spiritual or religious purposes, or even just to frighten people. That's exactly what the Headless Horseman does in many adaptations of Washington Irving's "The Legend of Sleepy Hollow". (It helps that the jack-o'-lantern replaces his severed head!) If you're into scaring your neighbors with vintage Halloween masks as kids have for decades, a scary pumpkin costume is sure to do the trick. But pumpkin costumes can also be fun and totally not scary at all, as you can see in these kids and toddler costumes!
13. Bat Costumes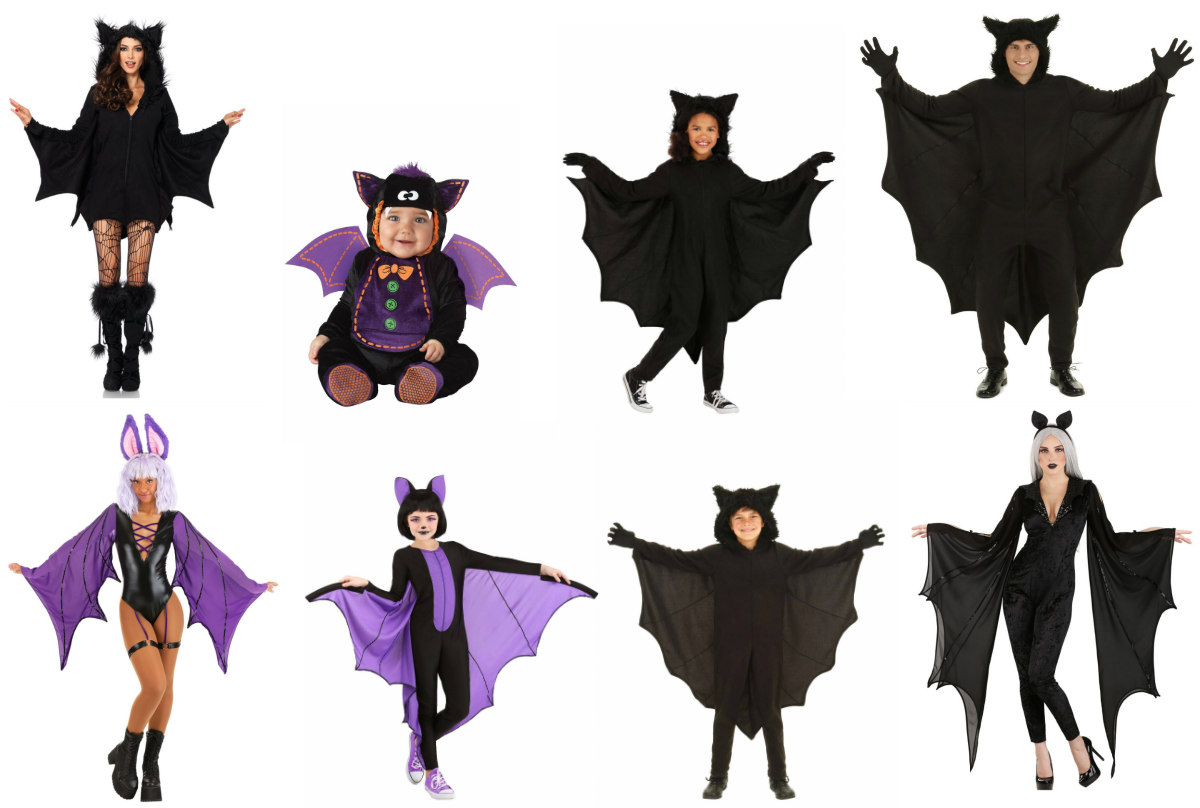 If you look around at all of the traditional Halloween decorations, you're going to see TONS of bats. These cute yet misunderstood creatures really shine around Halloween time, and you can discover bat costume ideas for your entire family! Babies, kids and even adults can take advantage of this iconic Halloween costume. Add a little moody makeup for a vampire feel, or keep it cute with a pink bat costume and matching accessories. You may not change everyone's mind about our favorite flying foxes, but if you're a bat fan, you're not going to want to miss your chance to wear a classic bat costume!
14. Mummy Costumes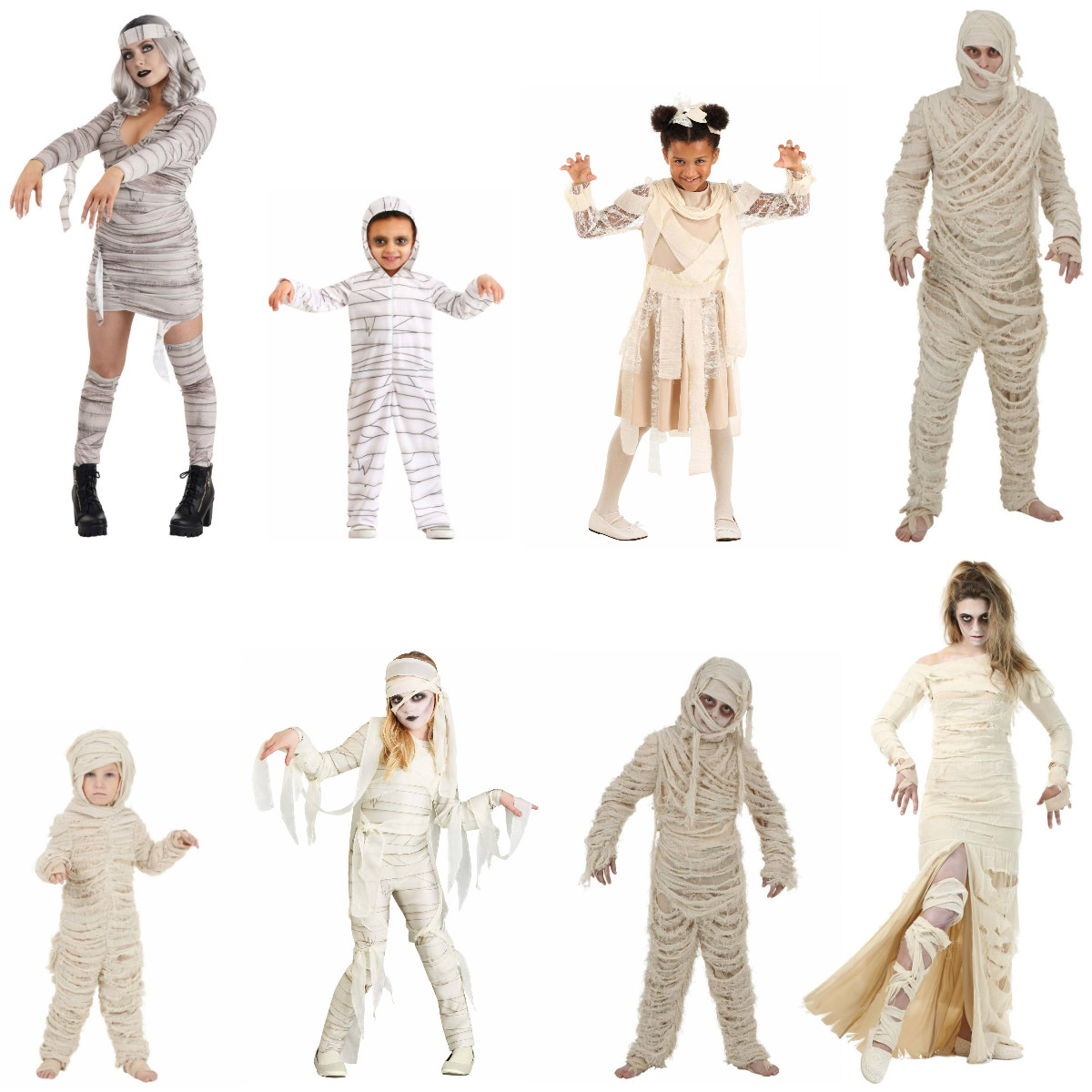 The universal classic monsters absolutely dominate as far as classic Halloween costume ideas go, and the mummy is no different. Find a cozy little mummy onesie for your toddler, mummy dresses and even classic mummy costume styles. Sure, you could always try the cheap toilet paper mummy method, but it might not last through the night! These horror movie costume ideas are great whether you're planning to put together a monster group costume or looking for something to don last-minute.
15. Black Cat Costumes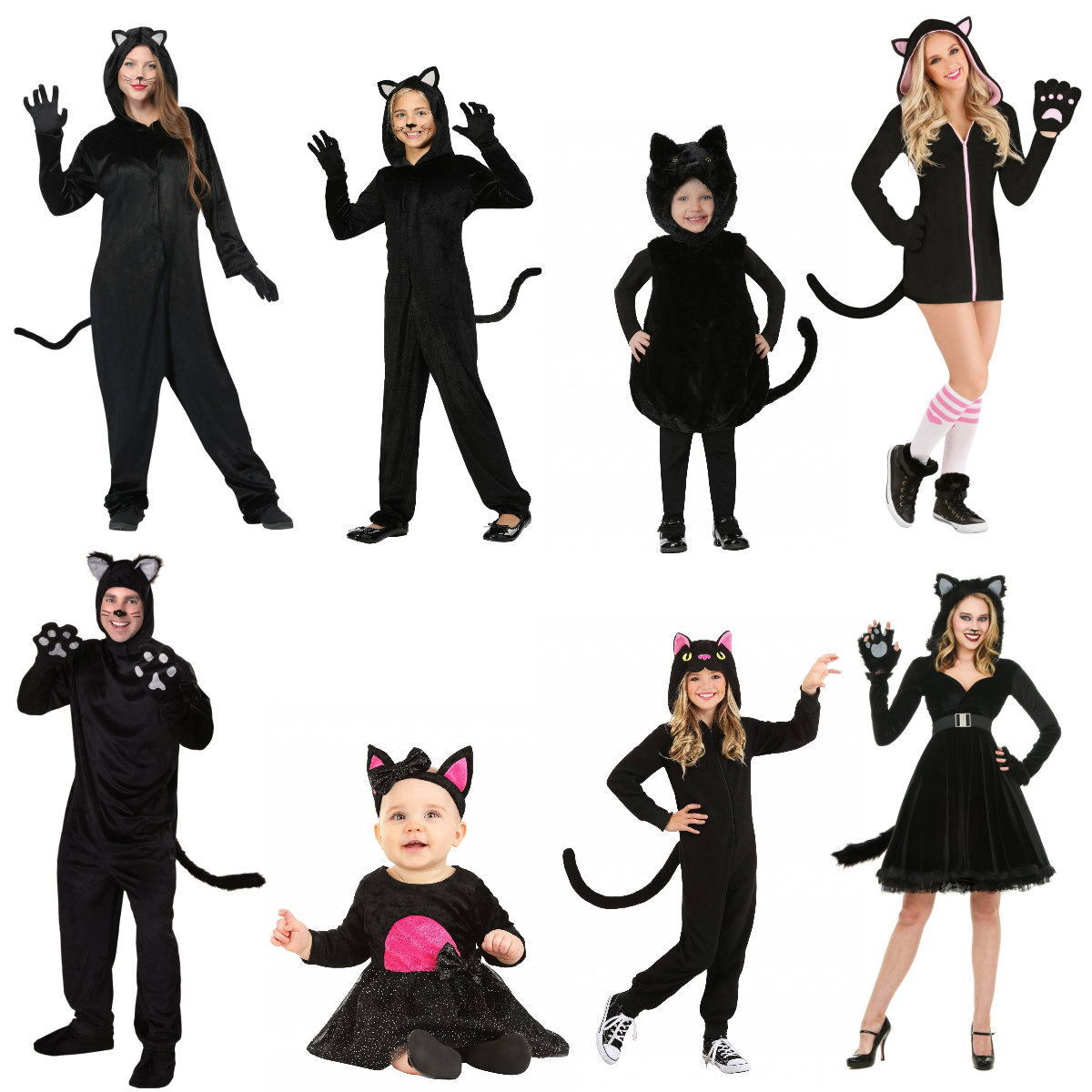 You knew it was coming—the black cat Halloween costume. Black cats have been one of the go-to Halloween icons for years! They're all over vintage Halloween décor. You can find black cat apparel for Halloween and—of course—plenty of costumes. While they're great by themselves, adding a black cat with a witch costume is the epitome of a classic couples' costume for Halloween. You can even turn it into an incredibly cute mommy and me costume idea with an adorable baby cat costume that will make everyone on your socials jealous. If you're makeup savvy, you can do something reminiscent of the Cats musical! Sometimes the best Halloween costume ideas are the most flexible ones.
16 Spider Costumes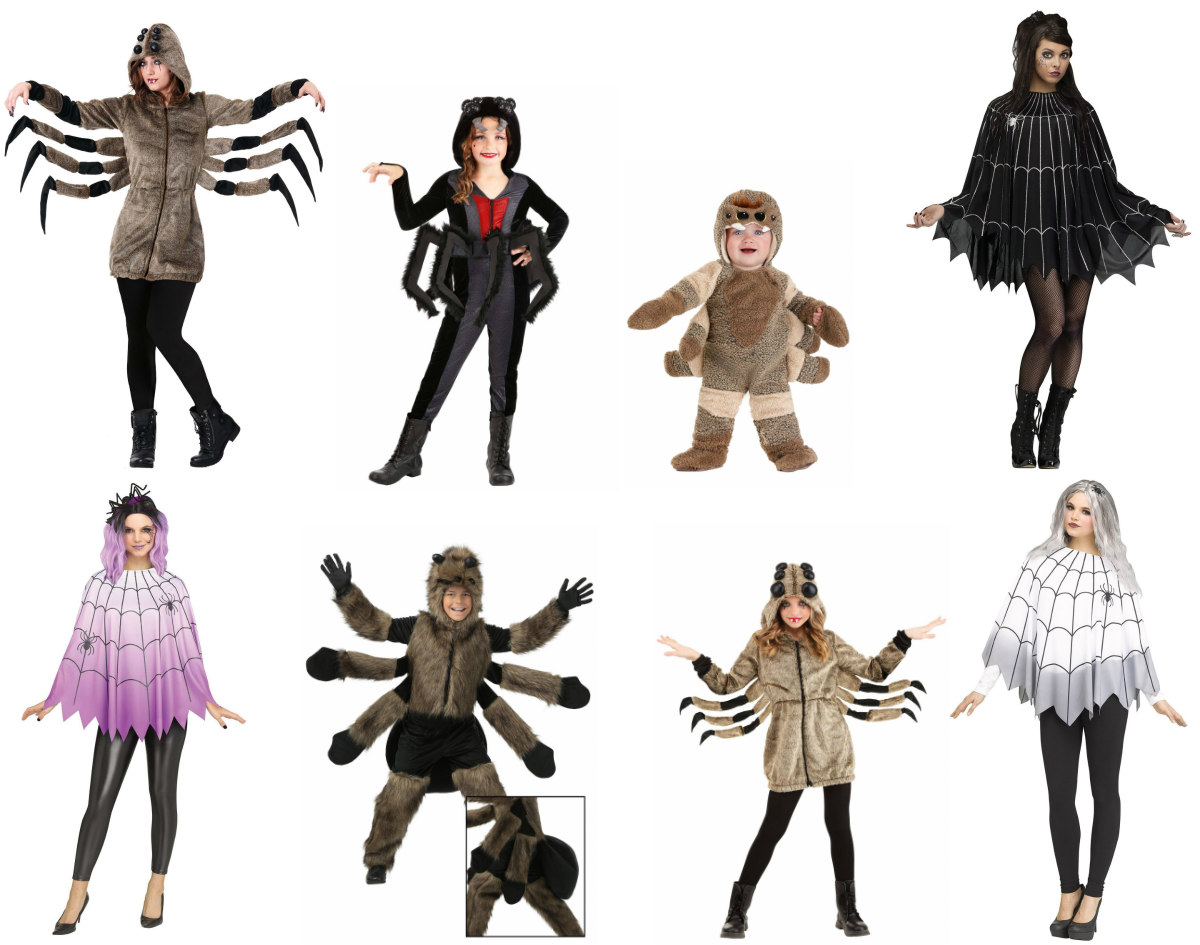 Halloween is all about our favorite creepy-crawlies, and what's creepier than a spider costume for Halloween? They can look pretty scary with all those eyes and legs! Black Widow spiders and tarantulas are some of the most common spider costume ideas, but you can also find some cute spider web ponchos for a more casual spin. You'll certainly feel at home with all the giant spider web decorations!
17. Occupation Costumes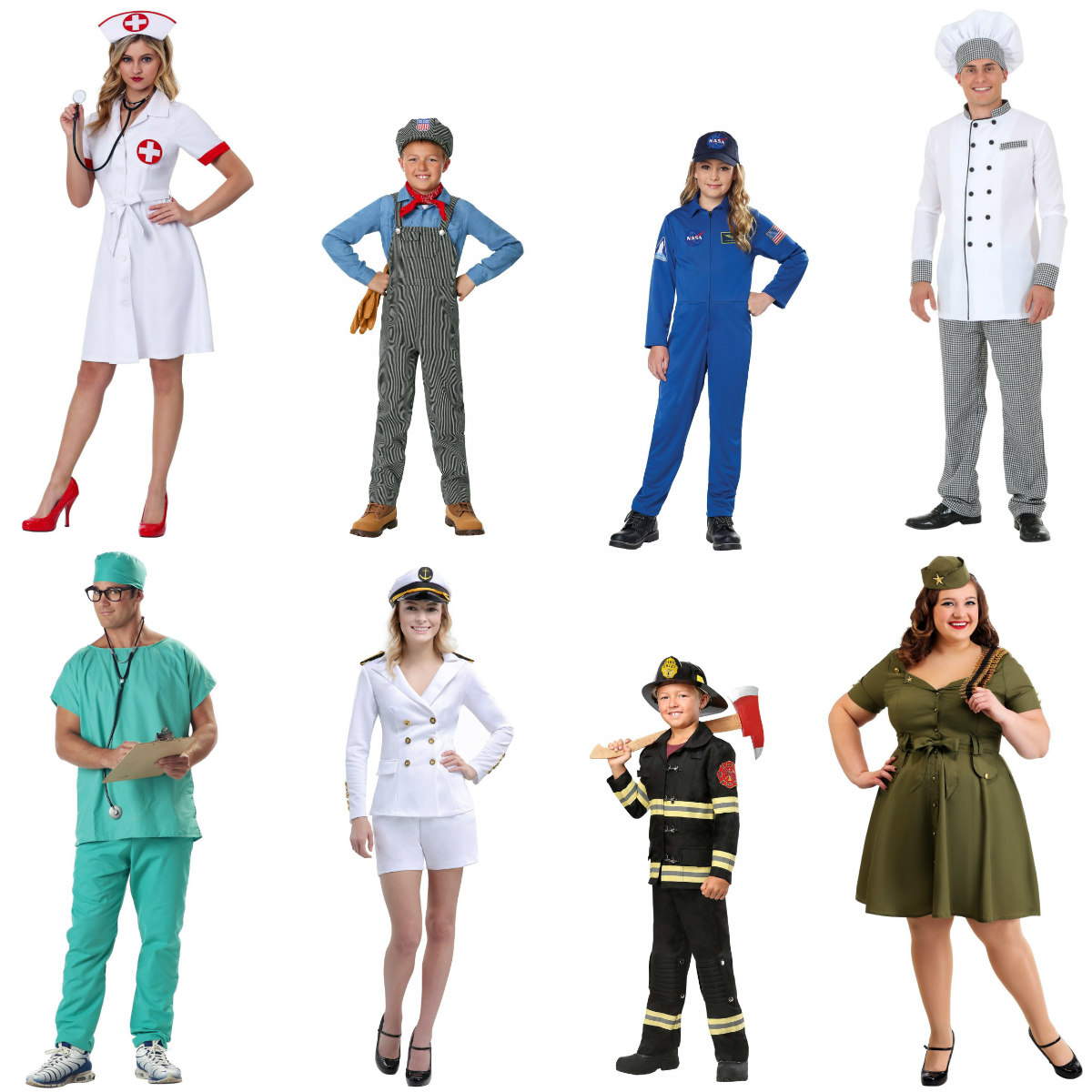 You're probably acutely familiar with the popularity of the sexy nurse costume, but occupation costumes are time-tested classics that allow you to step into another role for a night. Astronauts, firefighters, sailors and other uniform costume ideas are great for Halloween, but your kids can always add them to their dress-up trunk as well! It's great to be able to use your costume for more than one night out of the year, and kids love to play pretend and dress up. However, that's not to say that adults can't have their own fun with an occupation costume. Maybe you didn't land the job of your dreams, but you can step into another role just for Halloween.
18. Universal Monster Costumes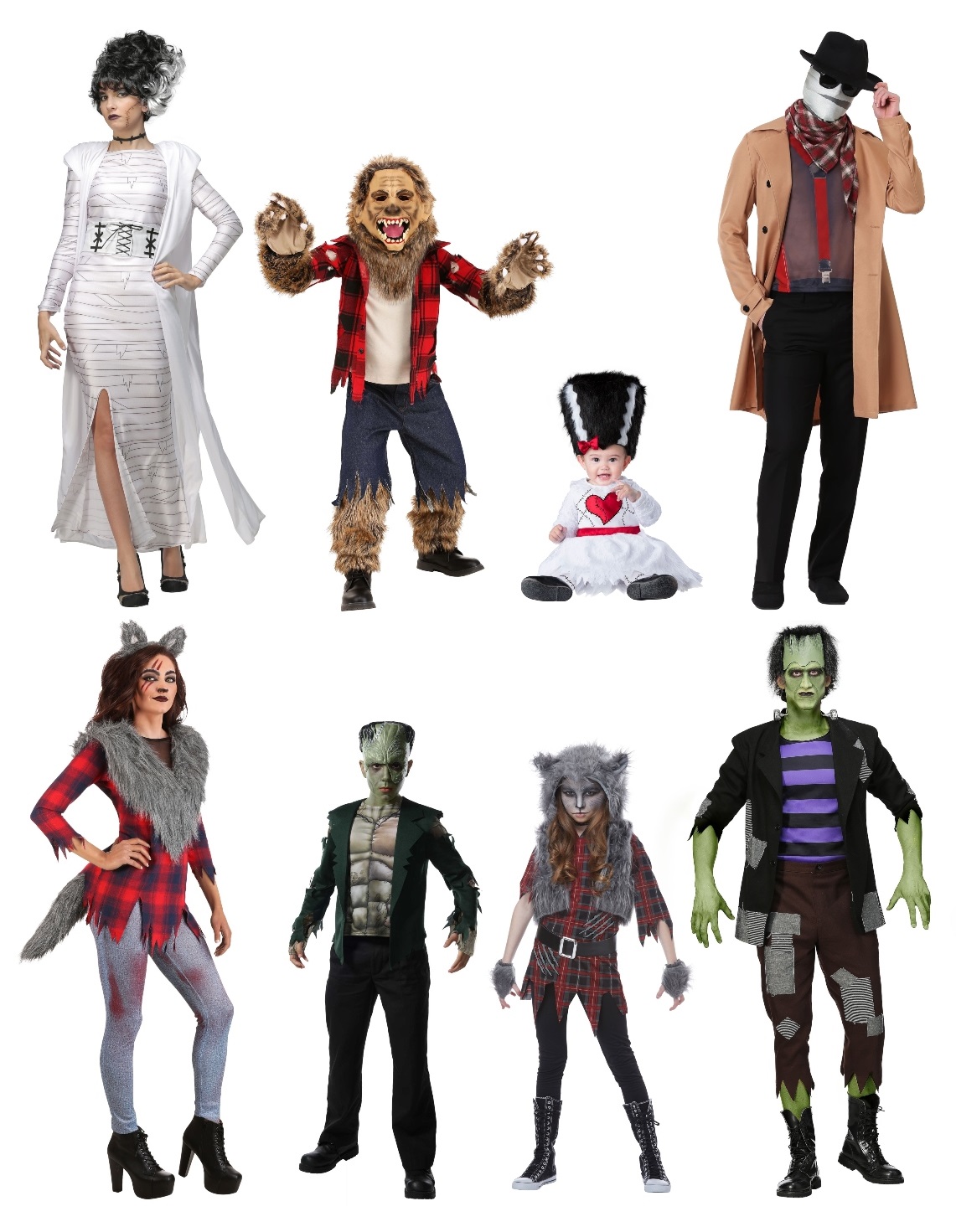 We already mentioned a few popular Universal Monster costumes, such as vampires and mummies, but let's not leave out famous Halloween costumes like the Wolfman, Frankenstein's Monster and the Invisible Man! If you're really good with special effects makeup, you could even use a mad scientist costume to create a Dr. Jekyll and Mr. Hyde look. (We know you can!) These classic horror movie costumes are Halloween staples, and we'd love to see your spin on your personal favorites. Monster movie watch party, anyone?
Are you excited about Halloween? Are you planning on wearing something classic? Or maybe a modern take on a traditional Halloween costume? Tell us all about it in the comments below. Remember that scary costumes never go out of style, so we'll always have what you need!