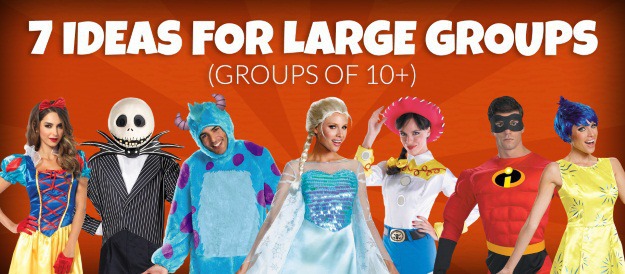 "The more, the merrier" is certainly a phrase that holds true on Halloween, so why not get the biggest group of friends you can and put together a large group costume? With parties galore, what a perfect time to get together with all your buddies and celebrate. HalloweenCostumes.com has a great selection of costumes for groups of all sizes. Here are 7 large group costume ideas & even college Halloween costume ideas (for 10 or more)— a Halloween horde, if you will.
1. Star Wars Costumes for Large Groups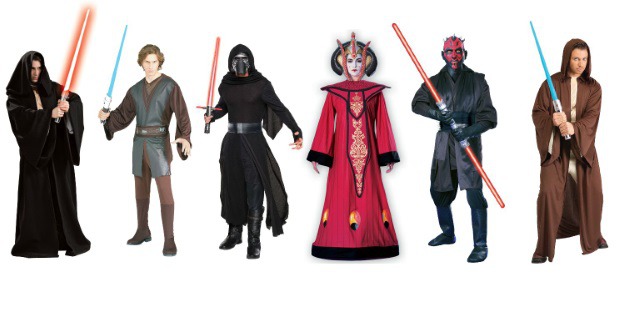 A long time ago, in a galaxy far away, a war broke out between the Galactic Empire and the Rebel Alliance, and Star Wars became one of the most beloved franchises of all time. With an incredible array of memorable characters, Star Wars costumes provide the perfect theme for a large group costume idea. You can dress as fan favorites like Darth Vader, Princess Leia, or even Stormtroopers. Another option would be to have half your group of friends dress in Jedi robes and the other half in Sith robes and have one epic lightsaber battle! You'll even have Star Wars costumes ready for any new movies or tv series!
2. Grease Costumes for Large Groups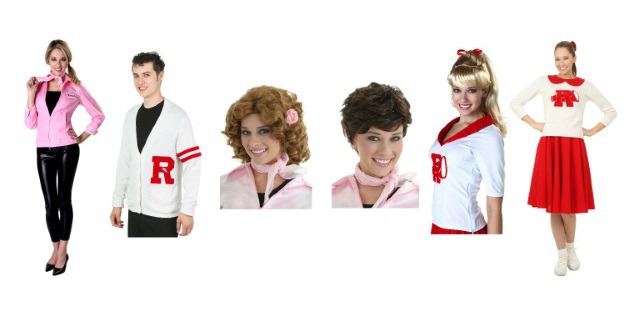 Maybe Grease is the word for your group's costume theme. With our selection of exclusive Grease costumes and wigs, you can have as many people as you want dressing up in your posse of T-Birds or Pink Ladies. Don't worry about not being able to get that perfect 50s hairstyle - we offer a bunch of wigs that'll take you back in time. Best of all, you can get really creative and choreograph a song and dance number that is sure to help you win any group category in the costume contest!
3. Disney Costumes for Large Groups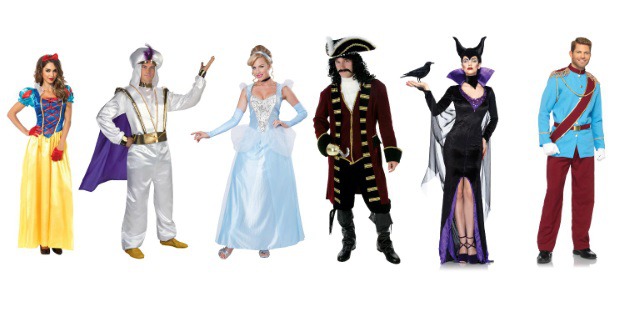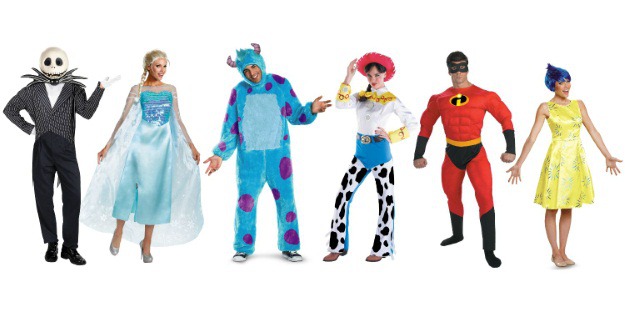 If you're looking for a theme with a lot of different options, look no further than Disney. With an incredible amount of both timeless characters and new classics, anyone in your Halloween costume group won't have trouble finding a character they like. You can mix and match any of your favorites or narrow down your theme to things like princes and princesses, Pixar characters, or Disney villains. If you're looking for a large group costume that's full of fun and nostalgia, you can't go wrong with a bunch of Disney costumes.
4. Food Costumes for Large Groups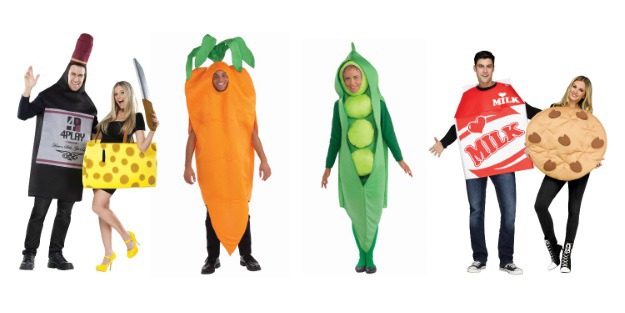 Food costumes are a great idea for groups with a bunch of couples. With so many solid combinations like milk & cookies, peanut butter & jelly, and wine & cheese among others, it's easy to "pear" up your favorites (sorry, we love puns here). That's not to say you have to wear matching costumes all the time. If everyone in your food group costume is going as fruit and you want to be a hot dog, go for it! However, we recommend putting the costume on after driving to the party for the sake of comfort in your vehicle.
5. Pirate Costumes for Large Groups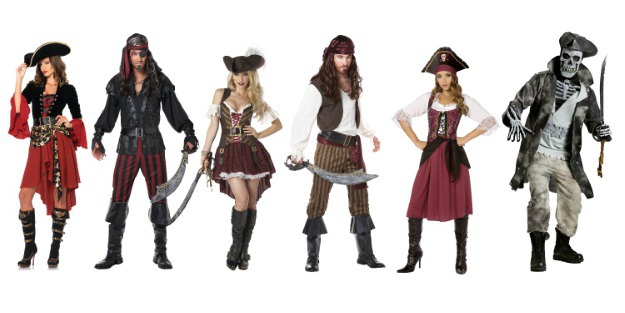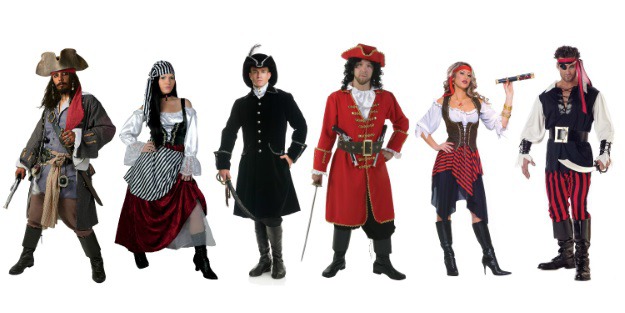 Yarrrgh, matey! Set sail to crash a Halloween party dressed as a group of scary pirates. Even for a large group, there are so many different styles of pirate costumes available for everyone. From characters like Captain Hook or Jack Sparrow to ghost pirates and even sexy pirates, you can assemble a group of pirates unlike any other. A large group of pirate costumes is perfect for events like Halloween, Renaissance Faires and even the Gasparilla Pirate Festival. However, if you do choose a large pirate group costume, please don't do any pillaging on Halloween. People don't like that.
6. Greek Costumes and Roman Costumes for Large Groups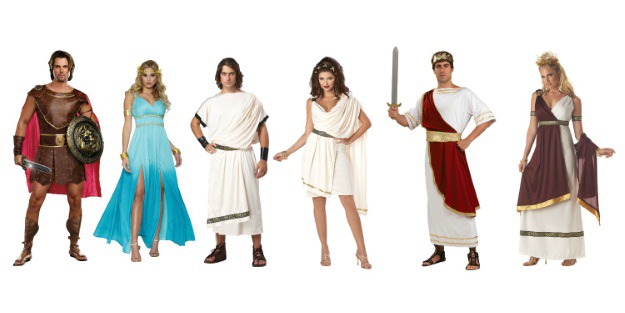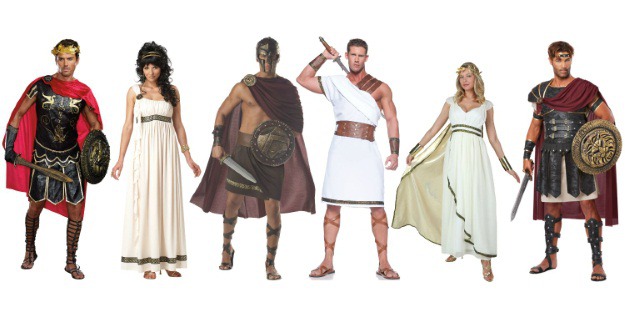 With several characters from Roman and Greek mythology to choose from, your group can dress up as gods, goddesses, and historical figures. Togas are a great option if you're looking for something simple and fun. Another great option for your group of friends in costumes would be dressing as Spartan warriors, especially if you have a group of about 300. Rome wasn't built in a day, but with Halloween costumes as easy as these, you won't need that much time to get your group costume ready.
7. Zentai Suit Costumes for Large Groups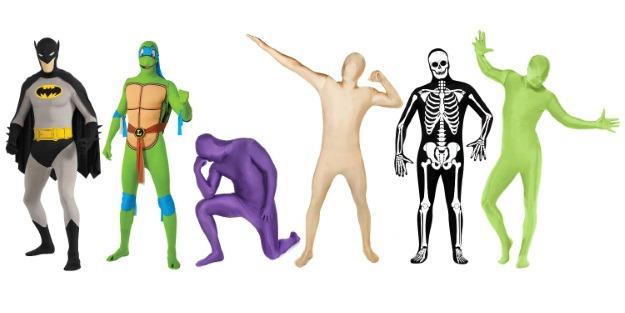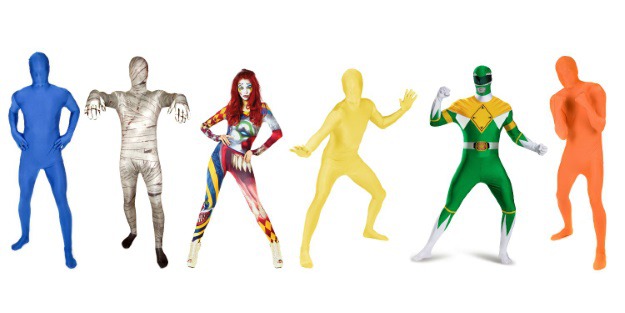 Does your group want something ridiculous with a lot of variety? Well, you're in luck because we offer endless varieties of zentai suit costumes. Your group is sure to be the talk of the party dressed in skin-tight bodysuits. There are several different colors and scary patterns to choose from. You could even choose a character group like Teenage Mutant Ninja Turtles, Power Rangers, or your favorite superheroes. Just imagine all the possibilities with these costumes that leave little to the imagination.
What do you think? Are you going out with a large group of friends this Halloween? What large group costume idea is your favorite? Leave us a comment and let us know. If you need some inspiration, check out our group costumes selector to sort through plenty of favorite themes for groups of any size.