Cosplay is so big right now. Like, huge. Sure, this hobby has been around since the 80s, but the originally Japanese-only fad has been steadily increasing in popularity. Cosplayers around the world are creating their own costumes and props to recreate their favorite characters from video games, movies, and TV shows. These enthusiasts often gather online before they meet at the conventions to share tips, tricks, and pictures. The costume experts at HalloweenCostumes.com have have found some of the best cosplay pages and resources out there. Enjoy!
Warning: While these links aren't obscene, please use discretion while browsing at work! Weapons and bikinis ahead!
Fire Lily Cosplay
This is the personal site for Fire Lily, a costumer who has been involved in the hobby since 2004. Her webpage showcases over 40 of her completed looks, as well as a blog, convention schedule, and links to tutorials. The cool thing about this site is the information she gives about each costume – she lists product costs, details on how she made the items, and any awards she won. Visit Fire Lily Cosplay.
Cosplay Lab
Cosplay Lab is a great fan community for those who want to make friends in the cosplay scene. Just like any social media website, users can create their own profile and upload pictures of their recent creations. Another helpful section of the site is a list of upcoming events and conventions, with date, location, and price information. Visit Cosplay Lab.
Jia*Jem
Jia is a cosplayer from Chicago who has appeared in multiple magazines, such as Elle and Japan's Cosmode, and currently works at Cosplay.com. Her site has a huge gallery with pictures of her impressive work – some costumes include Tank Girl, Asuka from Neon Genesis Evangelion, and Meatwad from Aqua Teen Hunger Force (featuring a pre-Gaga meat dress). Jia's site also has tutorials, ranging from how to pose for the camera to creating five-foot long feather wings. Visit Jia*Jem.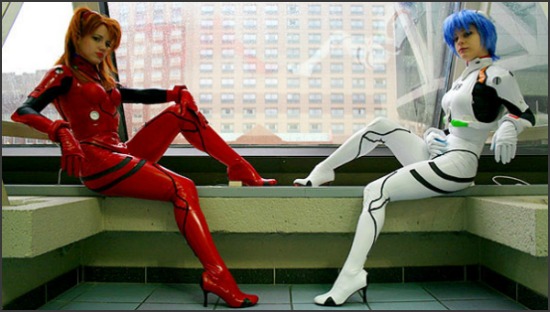 Jia*Jem as Asuka from Evangelion.
Cosplay in America
Photographer Ejen Chuang set out across the country to document American cosplayers at six different anime conventions. Over 1,600 pictures later, he compiled his book, "Cosplay in America." Chuang's photo book features photos of all types of cosplayers, professional and amateur. His site has interviews from some of the people he met, as well as information on how to buy the book and what conventions he'll be at next. Visit Cosplay in America.
Amethyst's Closet
This site has an amazing amount of detailed tutorials to help you create your own costume! Amethyst provides guides on the basics of prop-making, such as which tools and materials you'll need, all the way through construction of complicated armor and weapons. She uses pictures and videos to teach readers. Visit Amethyst's Closet.
Cosplay.com
This is the mother of all cosplay fan communities – Cosplay.com. On this page, you can find thousands of user-submitted images featuring costumes from anime, movies, comics, video games, and more. The official forum has over 280,000 members and nearly 4 million posts, so you are sure to find answers to any questions you might have about your outfit! This site is a must-visit for any cosplay enthusiast. Visit Cosplay.com.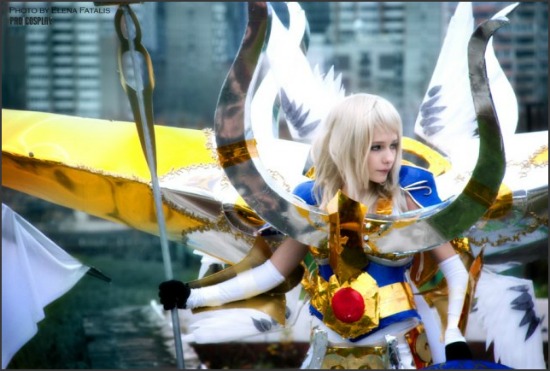 Cosplay.com user Folavril as Minerva from Final Fantasy VII: Crisis Core.
God Save the Queen Fashions
Visit this site to find some awesome, basic tutorials. God Save the Queen Fashions' guides will teach you how to make some very important pieces for your next cosplay, like boot covers and wig modifications. There is also a section with pictures of costumes they've created. Visit God Save the Queen Fashions.
Cosblog
Cosblog is the official blog resource for the Japanese magazine, Cosmode. While most of the site is in Japanese, it's still easy to navigate (the menu buttons are in English.) Cosblog has lists of bloggers from all over the world and is great for people interested in sweet photos from the birthplace of cosplay, even if they can't understand the captions. Visit Cosblog.
Endless Realm
This personal site definitely made me smile! Li, a cosplayer from Hungary, has an affinity for Link, from The Legend of Zelda series, and has dressed up as nearly every incarnation of the character. (Look for the bunny-eared running man from Ocarina of Time!) Endless Realm is also a helpful site for people looking into cross-dressing while cosplaying, or crossplay. Li dresses as Link, Harry Potter, and Luke Skywalker, but also has costumes for female characters, like Princess Aurora, Wonder Girl and Sailor Jupiter from Sailor Moon. Visit Endless Realm.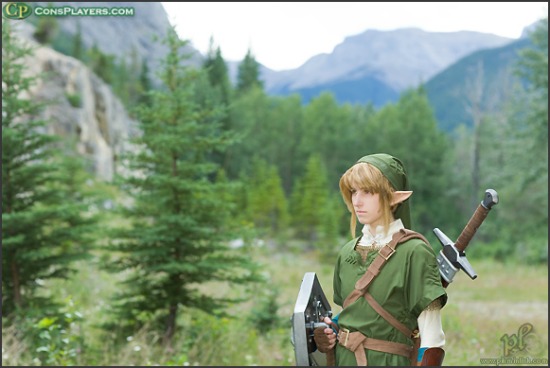 Li from Endless Realm as Link in The Legend of Zelda: Twilight Princess
.
HezaChan
A cute girl in costume %20 handmade plush toys = a definite spot on this list! HezaChan is an accomplished cosplayer and costumer, but she also creates her own stuffed animals. Her site is super sweet, so check it out if you are looking for a sugar rush. Visit HezaChan.
AnimeCons
For all your anime convention news and information. Check this site out for dates, news on guests, helpful guides on what to expect from conventions, and a member forum. Another feature on this site is AnimeCons TV, a video podcast where the hosts talk about announcements, cosplay trends and other convention discussion.Visit AnimeCons.
Cosplay for a Cause
Cosplay meets charity on this site. High-profile cosplayers from around the world have put together a calendar using high-quality photos that were taken just for this project. All the proceeds go to the Japanese Red Cross. This is a great resource for cosplayers because you can ooh and ahh over these professional photos, all while doing a good deed. Visit Cosplay for a Cause.
Yaya Han
Yaya is one of the professional cosplayers that can be found in the Cosplay for a Cause calendar. Her career as a costume creator is incredibly impressive; Yaya hand makes almost all of her pieces, from pleated skirts to huge feather wings. She explains her process for every look, including time spent making the costumes and what conventions she wore them to. Visit Yaya Han.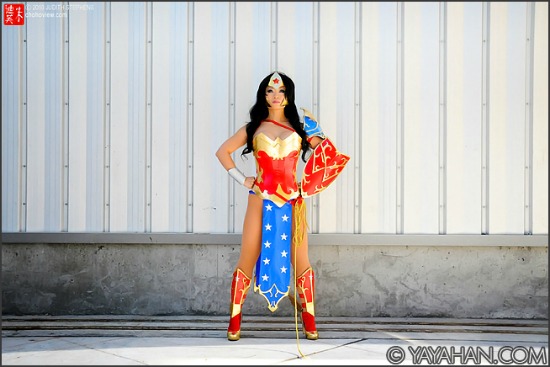 Yaya Han as Wonder Woman
.
Alafista.com
Where there is cosplay, there is otaku, (slang for a geek, obsessed with anime or video games). Alafista.com welcomes the otaku classification and provides day-to-day content on Japanese society, often including cosplay pictures and news. If you are interested in the culture of cosplay and the other hobbies that may go with it, be sure to check this page out. Visit Alafista.com.
Ginny McQueen
Ginny is another pro-cosplayer that is featured in the Cosplay for a Cause calendar. She has over 18,000 fans on Facebook, has appeared on MTV and G4, and has been a featured guest at many conventions worldwide. She has dressed up as many anime characters and also creates costumes for non-anime looks, too, like Alice in Wonderland and Teenage Mutant Ninja Turtles. Visit Ginny McQueen.
MeowAbout Cosplay
Something that makes this site awesome is the amount of men's costumes featured. There are plenty of male cosplayers around, but it doesn't seem like many of them make their own websites. The owners of this site are a married couple and have created tons of costumes to wear together, such as Belle and Beast (Beauty and the Beast), King and Queen of All Cosmos (Katamari Damacy), and Luigi and Princess Peach (Super Mario Bros). Tutorials also included! Visit MeowAbout Cosplay.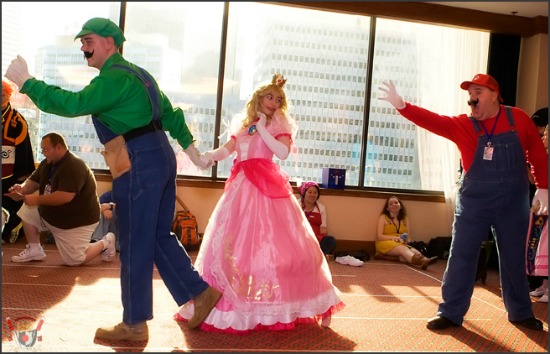 Concolor and TR Rose from MeowAbout Cosplay as Luigi and Peach. (With Mario Guest.)
AC Paradise Network
American Cosplay Paradise is a network of sites, which are specifically aimed at female and male cosplayers and photographers. Users can create their own profiles and share photos and thoughts on different conventions and creations. This is definitely a fun site to click around on and find inspiration. Visit AC Paradise Network.
Meagan Marie
Meagan used to work for Game Informer and now works for the Tomb Raider people. She knows her games and it shows in her costumes. Meagan has dressed as Mario, Lara Croft, and a Left 4 Dead zombie hunter, as well as many comic book characters. Her costume information is listed in a journal format and it is really interesting to hear her thought process and opinions on each look. Visit Meagan Marie.
Anime Characters Database
When it comes to cosplay, details are key. Use this database to search through thousands, (seriously, over 27,000), of characters from different anime and video game series. Sort the characters by traits such as gender, hair color and length, eye color, and the inclusion of animal ears. This is perfect for finding images from different angles of the character you plan to cosplay as, as well as different outfit choices. Visit Anime Characters Database.
Volpin Props
A very important part of cosplay is accessories and weapons. Harrison Krix makes these props and shows you the process on his blog. These creations are remarkably complex; the gaming company Bioware even asked him to create a replica gun for the San Diego Comic-Con. Other projects include a Daft Punk helmet, the Portal Gun, and the Light Staff from Final Fantasy XI. There are step-by-step instructions, but this site is for advanced prop-makers only! Visit Volpin Props.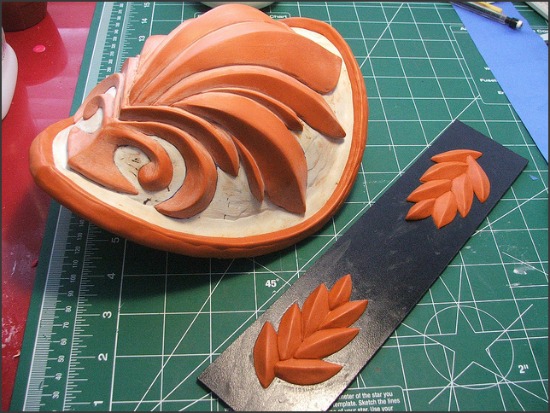 In Progress: Cassandra's Pauldrons from SoulCalibur, by Volpin Props.
Header image from
Endless Realm
.