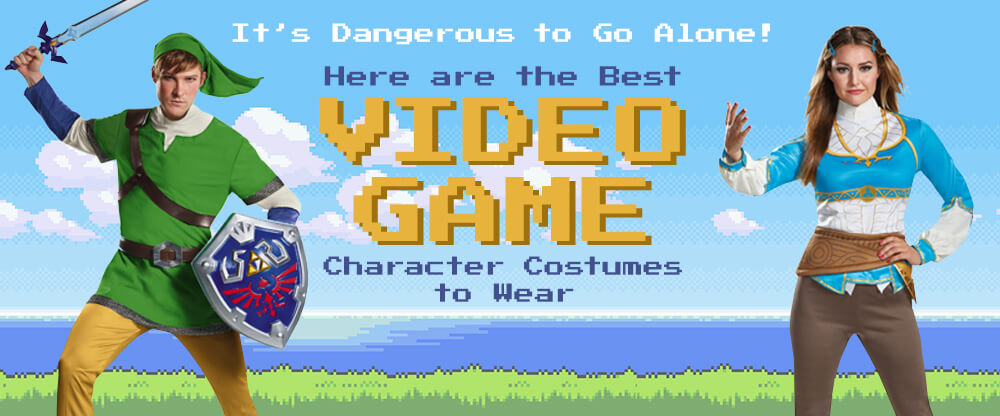 It's dangerous to go alone, take this! These video game costumes are are just what you need on your quest for the perfect video game cosplay or Halloween costume. We have taken a selection of the 25 most iconic video game characters and compiled a handy list of costumes and accessories to help give you some great video game costume ideas! However, we will be avoiding sports video games and TV and movie-based video games as those characters easily fall into other categories. Do you have a favorite video game? Is your favorite video game character on this list? Is the cake really a lie? Check out this list and you can see how your classic video game costume ideas compare with ours!
1. Pikachu Costumes
Pikachu, I choose you! If you are surprised to see a Pikachu costume at the top of this list, you shouldn't be. The Pokémon games were so popular that they spawned into several comics, TV shows, movies, a card game and other video game sequels along with tons of merch. In general, Pokémon has a lot of good video game cosplay potential along with being a great choice for Halloween! You will certainly stand out from the crowd as everyone's favorite electric yellow, ketchup-loving mouse! Shop our other Pokémon costumes if you are looking to create a group cosplay or if you're a gamer couple. (You may be seeing a few more of these Pokémon characters in this list!)
2. Link Costumes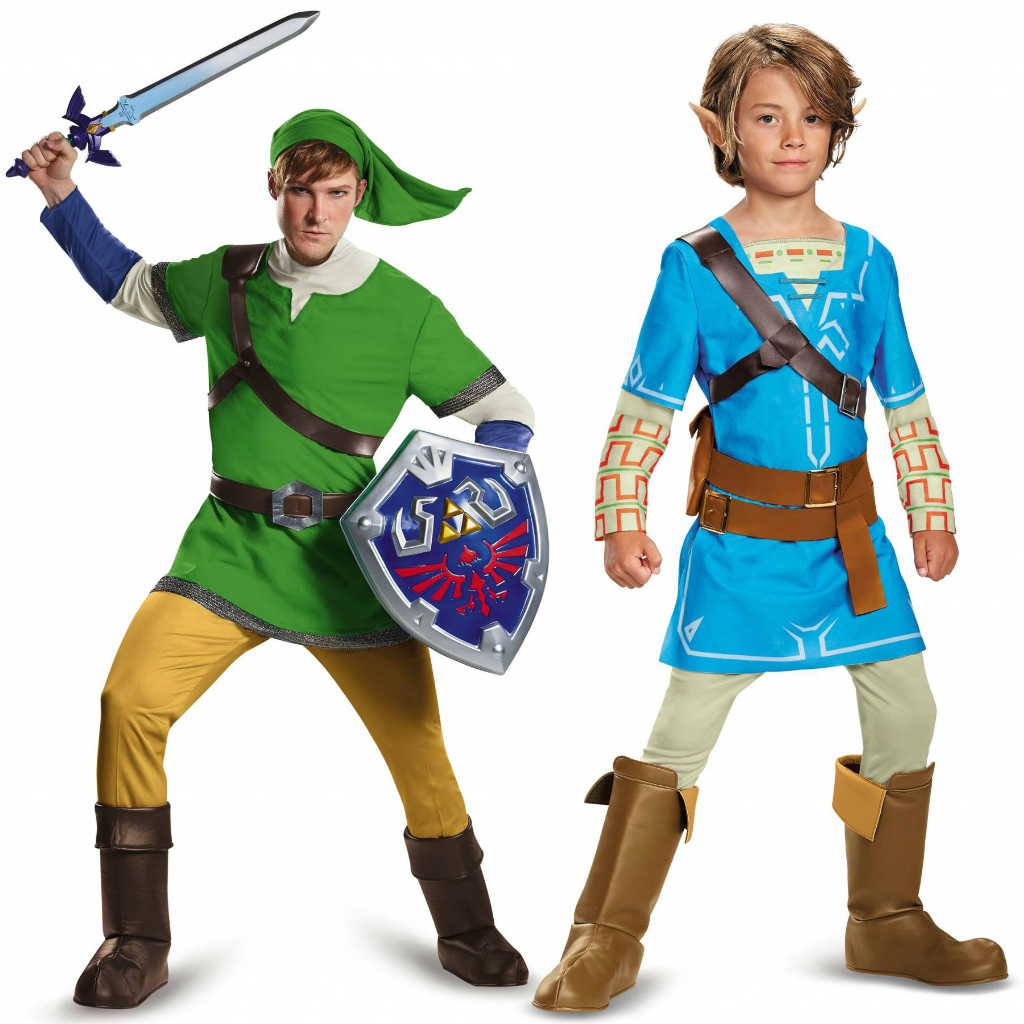 Link has always been a fan favorite in the gaming community, but he has reached new heights after Breath of the Wild breathed new life into the franchise. Not only did they change the basic gaming mechanics, but they did away with his iconic green outfit and we agree that he looks great in blue too! These are great video game costumes for guys that love the Legend of Zelda. (We'll leave the green vs. blue debate up to you!)
3. Mario Costumes
Mamma mia! Halloweencostumes.com certainly has a lot of Mario costumes! Simple and iconic, Mario is recognizable whether you are nerding out at a convention or walking on the sidewalk during Halloween. Just like the Pokémon franchise, Mario character costumes are timeless, and there are enough characters to make a video game group cosplay. You could even make a Mario-only group because there are Mario costumes for men, women, boys, girls and infants! Mario is also a great costume for guys with mustaches.
4. Ash Ketchum Costumes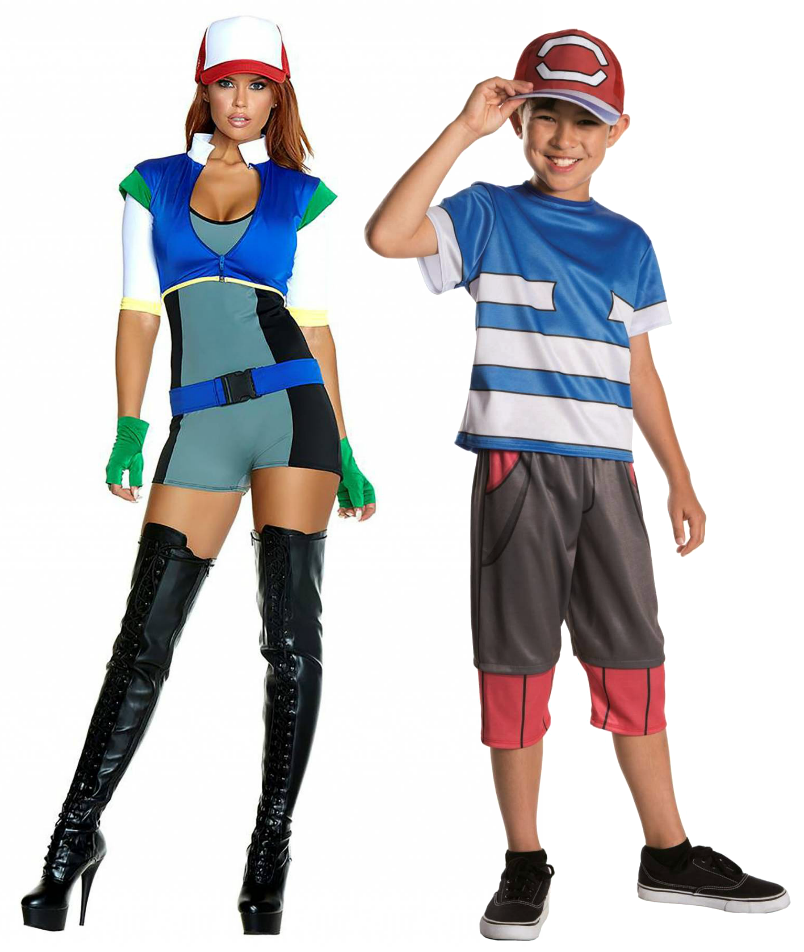 It's really hard to have Pikachu on this list without Ash Ketchum. They go together like peanut butter and jelly, unless you're one of those people that prefers bananas to jelly. (We won't judge.) Ash's look has changed since Pokémon first made its debut in the 90s, but the red hat and accompanying yellow mouse are still unmistakable. Buy a small Pikachu plush or figurine for an additional dress-up idea to complete your outfit if you're not with a costumed Pikachu, and you'll look ready to take on the elite four!
5. Princess Peach Costumes
We already talked about Mario but he wouldn't be anything without his leading lady, Princess Peach! These Princess Peach costumes are perfect for gamer couples, cosplay groups and even outfitting your entire family Mario-style! Peach may be a video game princess that wears pink, but she's no pushover on the track! (Her Super Smash Bros. peach bomber move is no joke either, when she sends you flying.)
6. Master Chief Costumes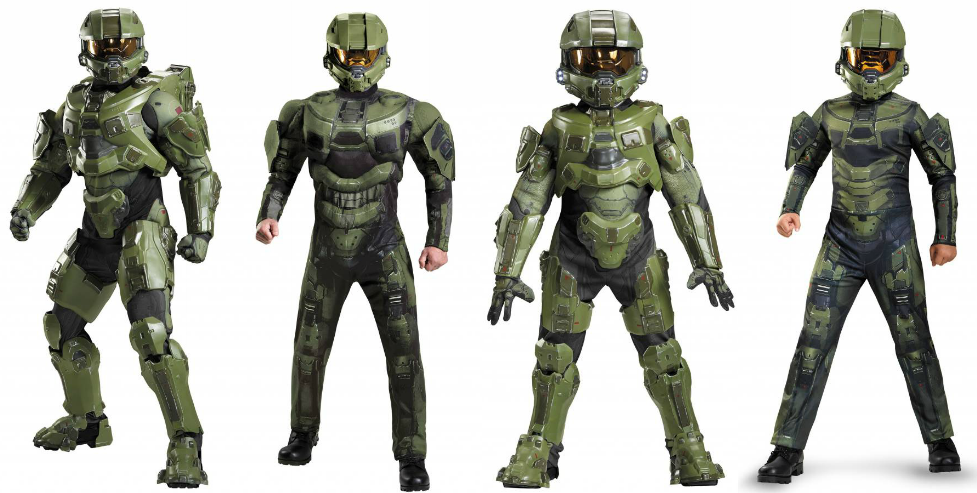 Master Chief is one of the newer characters on this list, but he has certainly earned his right to be in the top ten video game characters! (Might we add that Master Chief costumes are also super-cool?) His army green armor is unmistakable, and Master Chief's helmet with its reflective golden visor hides a face that gamers still speculate about. You will feel ready to take on an alien invasion dressed as this stand-out super-soldier!
7. Lara Croft Costumes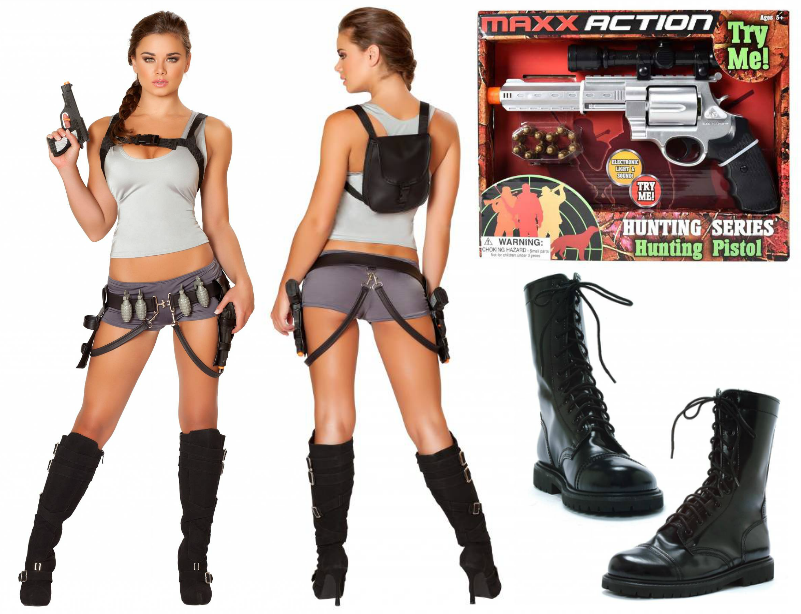 Lara Croft is one of the most epic female video game characters in this list. She's athletic, she's an archaeologist, she's fluent in several languages and she knows how to put up a fight! (If you're on the hunt for tough girl costumes for gamer girls, this. is. it.) Pair this Tomb Raider costume with some lace-up boots and fake pistols, and you'll look ready to hunt down some treasure! You can even add a bow and arrow set if you want her equipment from the latest Tomb Raider movie.
8. Yoshi Costumes
Cute, green and utterly loyal, Yoshi is a dinosaur sidekick that won't disappoint! Yoshi is from the Mario series, so a Yoshi costume would be a great addition to any Mario costume group. You can easily DIY a Yoshi egg to pair with your costume by painting green spots on a white foam egg. (Just be careful about performing any egg throws!)
9. Zelda Costumes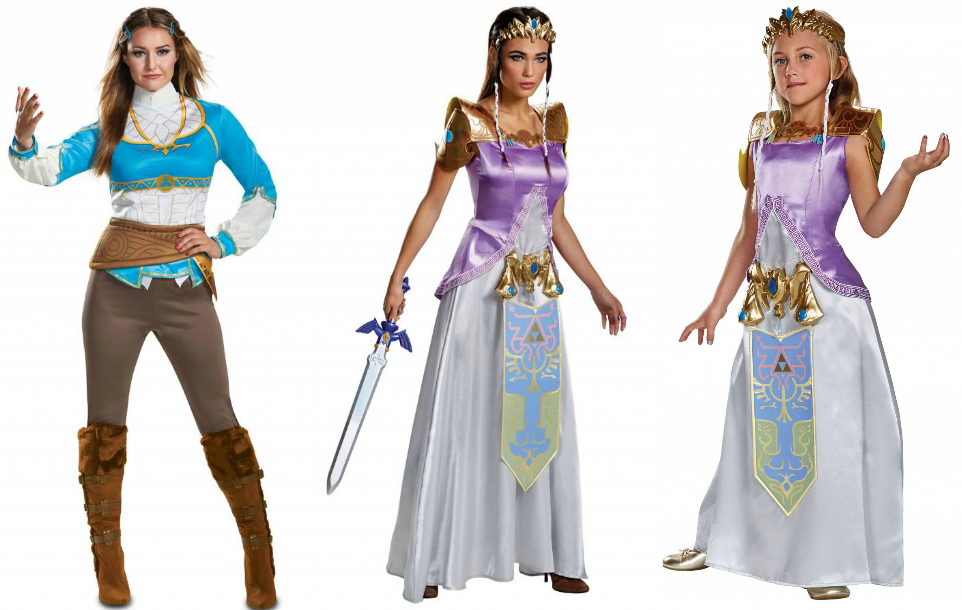 If you have always wished to be an elven princess, look no further! Zelda is the princess of the kingdom of Hyrule in the Legend of Zelda series. There are Zelda costumes for her popular dress look from the older series, but there is also the option to wear her new blue look from the Breath of the Wild! (Link and Zelda are so matchy-matchy!) Pair either of these looks with a Link costume and you can have the perfect gamer couple costume.
10. Luigi Costumes
It's about time! Let's face it, you knew Luigi would be on this list! Luigi and Mario are brothers, so a Luigi costume is a perfect costume for brothers. (These also work well for mustache bros!) Luigi might be a little bit of an underdog in comparison with his stand-out brother, but no one can work a vacuum like Luigi! A Luigi costume would be great for Halloween, conventions and even doing household chores.
11. Sonic the Hedgehog Costumes
What happens when you take a small, spiny animal, make it blue and give it super speed? You get Sonic the Hedgehog! Love him or hate him, he is instantly recognizable. The game spawned several TV series and comics, and he has made a few short cameos in movies. (Sonic is also supposed to be getting a movie in 2019!) Get ahead of the competition and order a Sonic the Hedgehog costume for Halloween!
12. Bowser Costumes

Bowser is the first video game antagonist on this list and is also part of the Mario franchise. (More Mario-themed costumes? Yes please!) While Bowser is mostly known for kidnapping Princess Peach, he also shows up in the Wreck-it Ralph movie in a group therapy session for villains called bad-anon. Maybe he's more of a party animal than we realize, because a Bowser costume could group with Mario or Wreck-it Ralph!
13. Chun-Li Costumes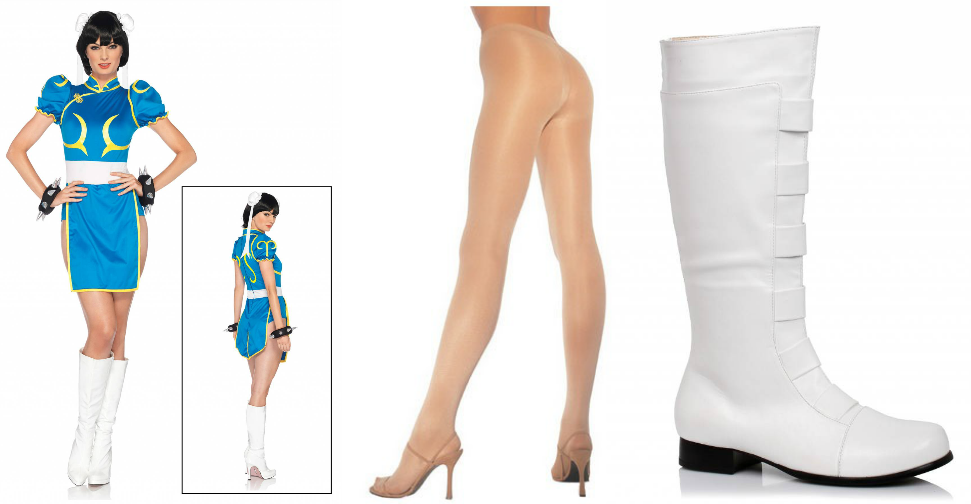 If any one character from Street Fighter was to make this list, it would be Chun-Li. Chun-Li is unmistakable with her double buns and legs of steel, but there is more to her than simply her looks! She was actually the first female character to appear in a fighting game, and she holds her own in a cast of muscular male characters! Certainly, that's nothing to sneeze at. Pair the Chun-Li costume with some pantyhose and tall white boots to complete the look. You can always add a few more Street Fighter costumes to make your video game group costume idea!
14. Freddy Fazbear Costumes
Five Nights at Freddy's is a fairly new game in comparison to many of these rather classic costume ideas. The game went absolutely viral and people have been wanting to dress as the creepy animatronic animals ever since! Freddy Fazbear is the mascot of Freddy Fazbear's Pizza, but players quickly find out that he's not the cute and cuddly mascot the restaurant wants him to be. Are you ready to scare some people?
15. Scorpion Costumes
Scorpion was one of the original characters in Mortal Kombat, and has been in the majority of the games ever since. Seriously, is there anything cooler than a resurrected ninja? Pair this Mortal Kombat Halloween costume with a few ninja weapons and you'll feel ready to do some hapkido. We also have a deluxe mask version of Scorpion's face for a costume upgrade.
16. Foxy Costumes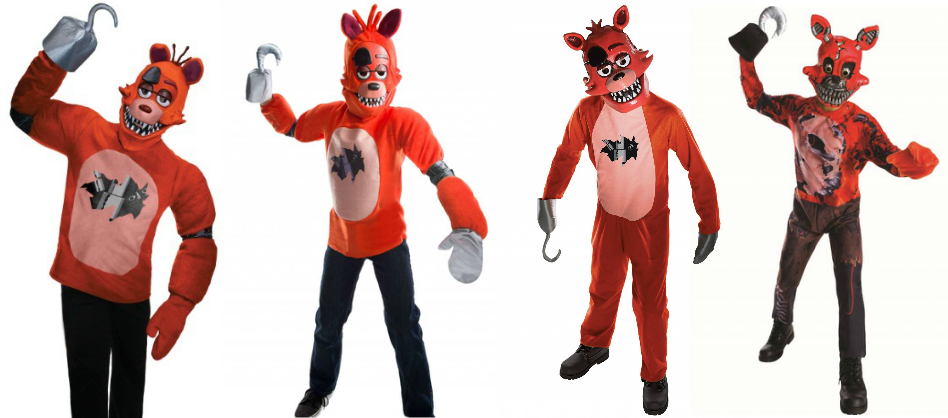 Foxy is another of the animatronic atrocities that you encounter in the Five Nights at Freddy's game. Get a Foxy costume to accompany Freddy Fazbear and you'll be ready for any convention or Halloween party. Being a fox is great, but a scary pirate fox is simply icing on the cake!
17. Charizard Costumes
Charizard is another video game creature from the Pokémon universe. It may look like a dragon, but unfortunately it isn't until you do a Charizard mega evolution. (It still breathes fire, so it's cool.) Wear a Charizard costume and you will be the envy of all generation one fans!
18. Minecraft Steve Costumes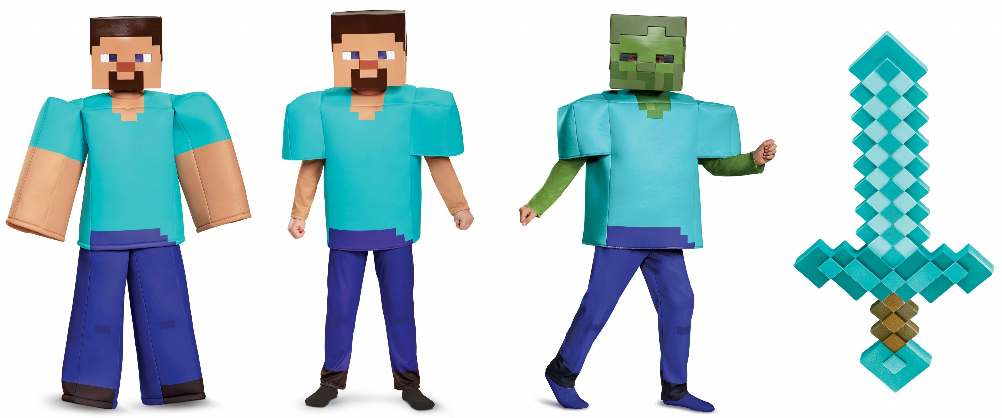 Minecraft is another game that is still fairly new, but it shattered records everywhere and quickly became a viral sensation. Steve is a default skin for the player character and is easily recognizable due to the pixelated format. If you want to wear a Minecraft Steve costume but you don't want to be any regular old Steve, there is also a green zombie version too! Equip your Minecraft costume with a pixelated sword and you'll be ready to take on any creepers!
19. Silent Hill Nurse Costumes
If you are a horror game fan, you are undoubtedly familiar with the famous Silent Hill nurses. A Silent Hill nurse costume is a great choice for Halloween because it's creepy whether you are familiar with the character or not! Take your costume to the next level by getting a creepy nurse mask, white heels and a fake knife.
20. Ezio Costumes

Let's face it: every gamer wants to don a pointed white hood and look completely epic. An Ezio costume will set you in the right direction! The character is so popular that there are Ezio costumes for men, women and boys. You can wear an Assassin's Creed costume anywhere: Halloween, conventions and even your local Renaissance festival! (The character's history sets him in the Italian Renaissance, so no one can tell you you're not period correct!)
21. Creeper Costumes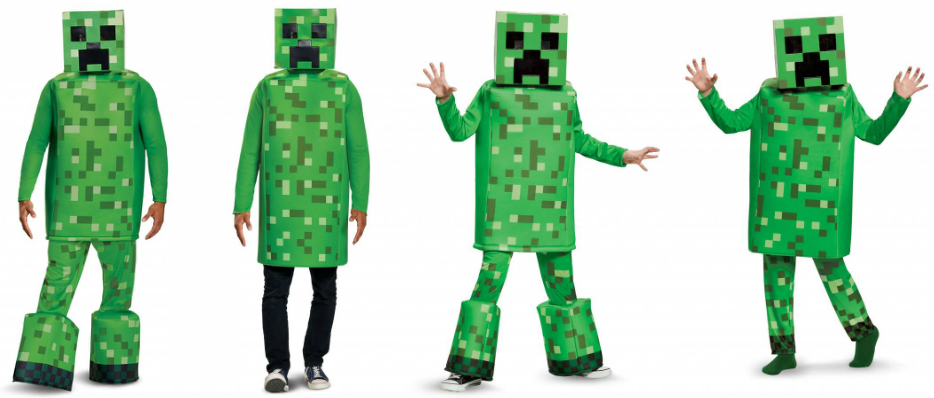 The creeper is the main antagonist in Minecraft. A creeper costume is a great costume for friends because you can pair it with any Steve or Alex. You can also get your cardio in for the day if you decide to chase your friends!
22. Toad Costumes
You may be familiar with Toad as another Mario character, especially if you are a Mario Kart fan. (Or perhaps you enjoy all the Toad memes!) Toad is an attendant to Princess Peach and is always portrayed as being shorter than her, so Toad would make a fun mother/son costume! There are still Toad costumes for men and women, so it would work as a couple costume too!
23. Donkey Kong Costumes
Monkey costumes and gorilla costumes are always popular, so why not wear a Donkey Kong costume? Early Donkey Kong games featured the ape as a barrel-throwing antagonist, but later he became a playable protagonist in his own series. (Just watch out for any crocodiles!) Grab your favorite banana prop and you'll feel like the king of Donkey Kong Country!
24. Mario Kart Costumes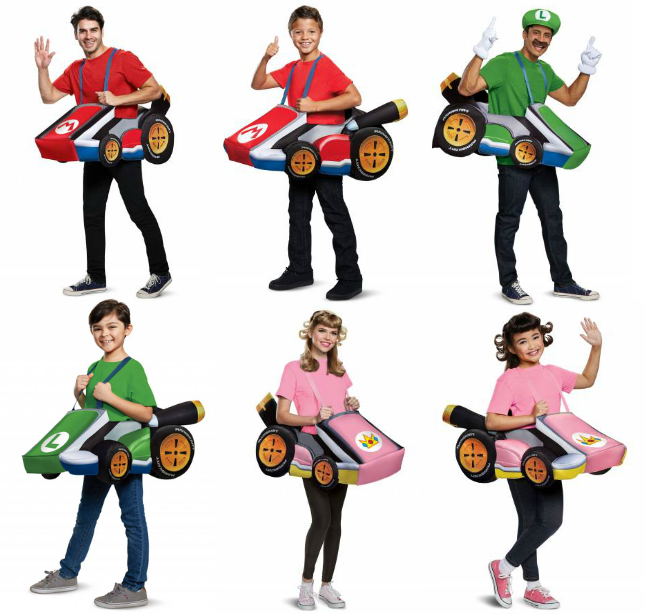 This list has been filled to the brim with Mario costumes, so it wouldn't be fair to complete this without showing some love for Mario Kart. Grab your favorite Mario character costume and add a kart for the perfect Mario Kart cosplay! Whether you're running up and down the halls of a convention center or the sidewalk on Halloween, you will be instantly recognized and put smiles on everyone's faces!
25. Princess Daisy Costumes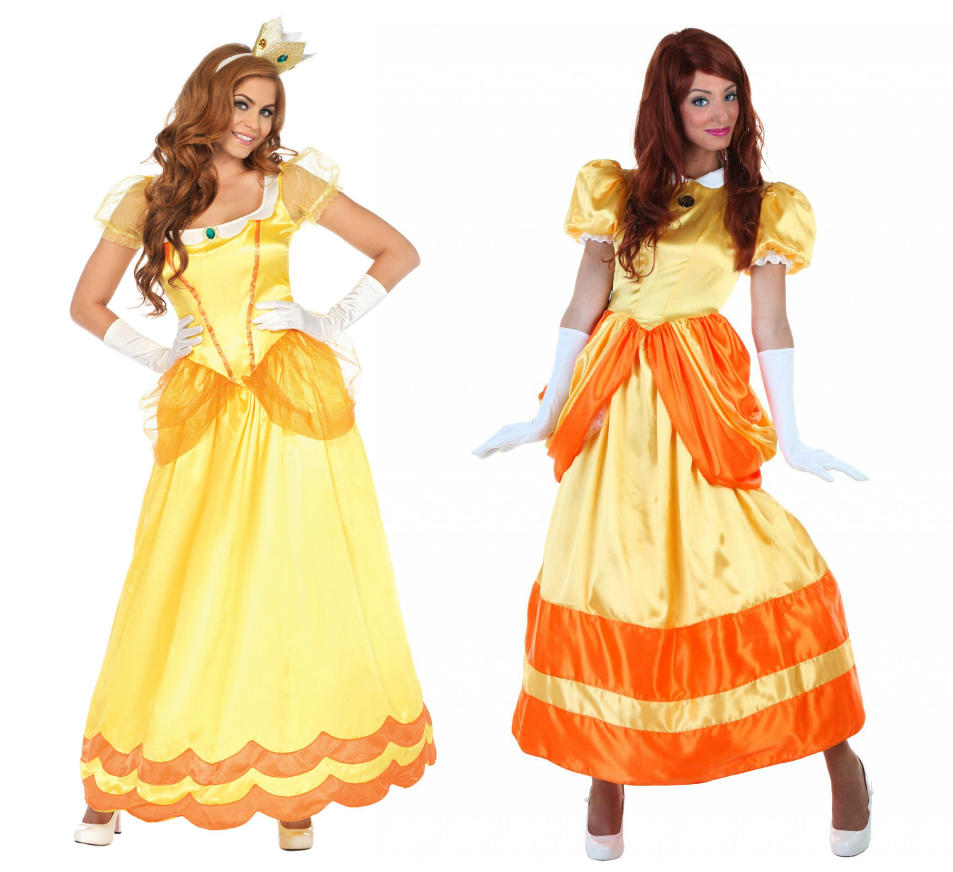 Fierce, tomboyish princesses have been all the rage in recent years, but Princess Daisy has been a sporty, tomboy princess for quite some time. She is a solid pick in many of the Mario sports games, and it was recently announced that Princess Peach would be introduced as a playable character in Super Smash Bros. Ultimate! Get a Princess Peach costume and wear it with pride!
Whether you're into the classic video games or the newer ones, there certainly are a lot to choose from for this year! The great thing about video game costumes is that they're not just for Halloween! Are you going to be dressed as a video game character at a convention this year? Do you have kids that love to play dress-up? Are you planning a video game themed party? The possibilities are endless! Browse through our online selection of video game costumes and find something that makes you feel like the bob-omb at your next party!