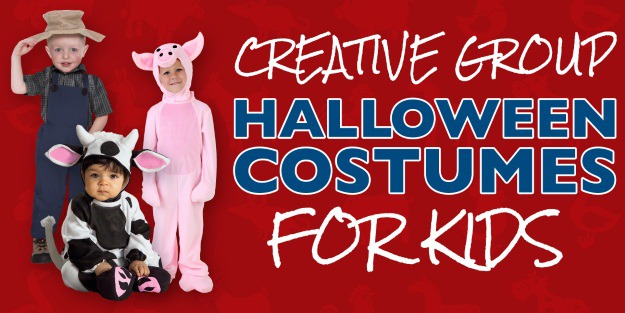 So your kids want to be a team for Halloween, and you're in need of a creative group costume combination to create some lasting memories. Truth is, you and your kids probably have similar Halloween goals: they have their hearts set on being an epic group, and yours is set on creating treasured memories. Luckily, we're here to help with both! From classic to cutting-edge, we have creative costume combinations that will have any group of children, and their parents, beaming with pride. Here are some winning combos that will help your kids have the best Halloween to date, while you get to sit back, relax, and enjoy the genius of your handiwork. A win-win, don't you think?
1. Batman Group Costumes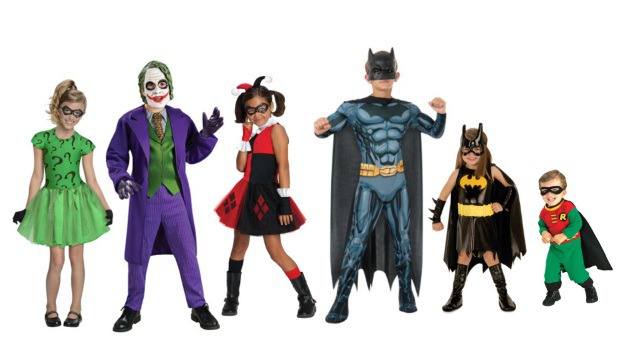 Girls Riddler Costume Boys Joker Costume Girls Harley Quinn Costume
Boys Batman Costume Toddler Batgirl Costume Infant Robin Costume
Create the perfect lineup of Gotham citizens by going with a Batman theme for your kids. They can get creative with the kids' group costumes and be Batman's allies, like Batgirl and Robin, or his foes likes Joker and Harley Quinn.
2. Avengers Group Costumes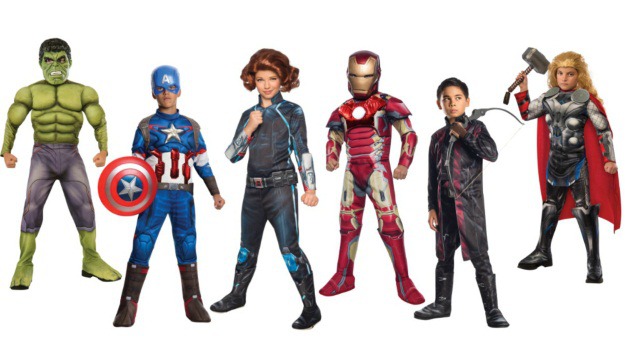 Hulk Costume Captain America Costume Black Widow Costume
Iron Man Costume Hawkeye Costume Thor Costume
Bring the Avengers to your neighborhood with any of our Marvel costumes. Avengers: Age of Ultron dominated the box office, and your children will love dominating their dress-up competition to follow suit. Let them pick out their favorite characters and build their own custom Avengers squad.
3. Group Candy Costumes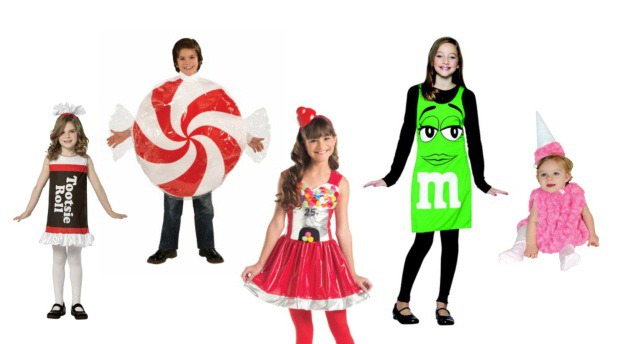 Tootsie Roll Costume Peppermint Candy Costume
Gumball Machine Costume M&M Costume Cotton Candy Costume
Going as candy will be oh-so-sweet, even if your kids don't have a sweet tooth! They're sure to attract a lot of attention in these creative kids costumes. With your favorite brand classics like Tootsie Rolls and M&Ms, they can be exactly the candy that they want to fill their treat bags with!
4. Group Cops and Robbers Costumes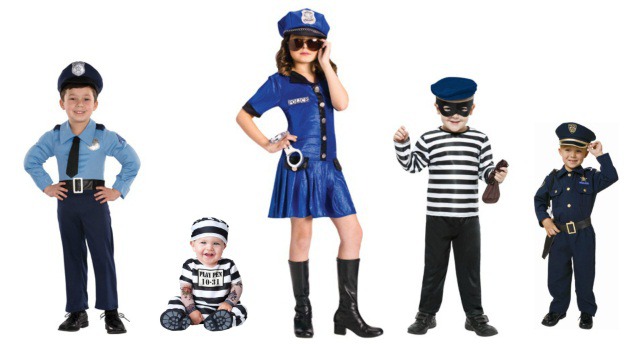 Toddler Muscle Chest Police Costume Infant Inmate Costume
Girls Police Officer Costume Child Burglar Costume Toddler Cop Costume
You know you've always (secretly) wanted to sort out your kids by good and bad, so here's your chance. The only question will be which side will have the higher population! Or, will the odds be stacked against you? Find out when you dress your kids in this classic combo.
5. Dinosaur Group Costumes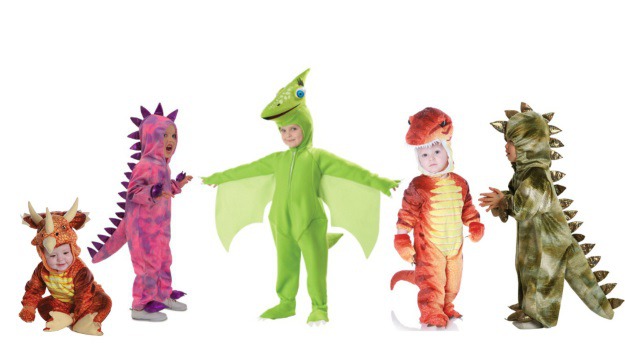 Infant Triceratops Costume Tilly the T-Rex Costume
Tiny Dinosaur Costume Child T-Rex Costume Kids Dinosaur Costume
With little ones around, there's a good chance your household has already come down with a case of dinosaur mania. Make your own assortment of prehistoric megafauna by assembling your children into an array of Jurassic beasts. With plush features and vibrant colors, they're a great choice.
6. Ghostbusters Group Costumes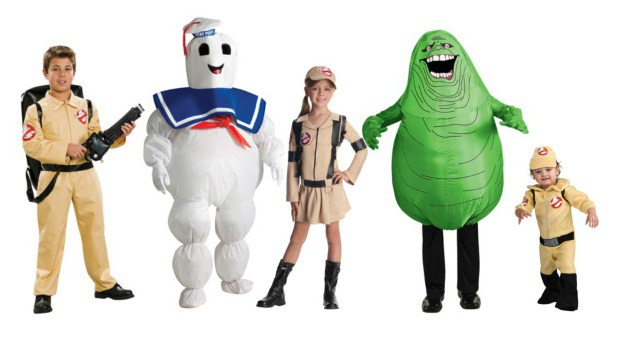 Ghostbusters Costume Stay Puft Marshmallow Girls Ghostbusters Costume
Kids Inflatable Slimer Costume Toddler Ghostbusters Costume
Who you gonna call? Your kids as The Ghostbusters! Having them suit up as the venerable ghost fighting gang will be a fun retro costume for any group of children. With costumes for girls you can create a whole new Ghostbusters team, but just don't forget to add a Slimer to for some real fun!
7. Disney Group Costumes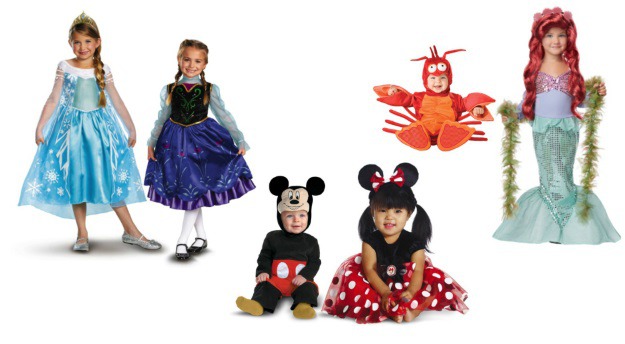 Elsa Costume Anna Costume Mickey Mouse Costume
Minnie Mouse Costume Lobster Costume Mermaid Costume
If you've got girls, there's no doubt a Disney Princess ensemble will be at the top of their costume list. Your little ones can pick their favorite characters, but there's no reason not to include the entire Disney universe. Bring along Elsa and Anna or Mickey and Minnie and you'll have your own Magic Kingdom in no time.
8. Group Grease Costumes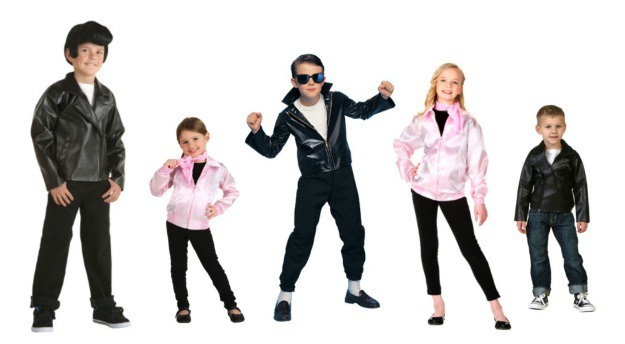 Kids T-Birds Jacket Toddler Pink Ladies Jacket Kids Greaser Costume
Child Pink Ladies Jacket Toddler T-Birds Jacket
Go completely retro with any of our Grease costumes. Your kids will love putting a creative spin on the pop culture classic. With a couple tiny T-Bird or pretty Pink Ladies, any neighborhood will be more charming! Even if they haven't quite gotten the lyrics down, they'll be ready for a great time as "greased lightning".
9. Harry Potter Group Costumes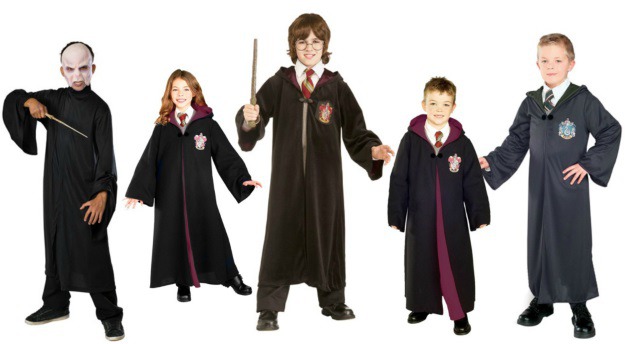 Voldemort Costume Hermione Granger Costume Harry Potter Costume
Ron Weasley Costume Draco Malfoy Costume
A fun and creative costume combination would be the students of Hogwarts if you think your kids will be up for a little wizardry, that is! Harry Potter needs his friends for this adventure, so suit up your squad and start working on those spells. If they're having trouble choosing which House to belong to, grab a Sorting Hat and "let it decide!"
10. Group Justice League Costumes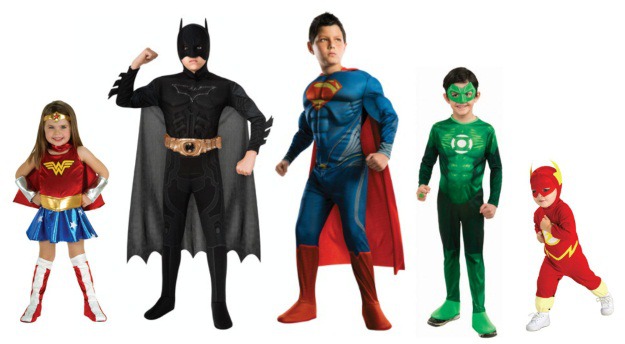 Toddler Wonder Woman Costume Batman Costume
Man of Steel Costume Green Lantern Costume Infant Flash Costume
While there are plenty of characters in Gotham to team up with Batman, there's no reason not to include the rest of the DC universe too! Timeless favorites like Superman, Wonder Woman, and the Flash, will have your children being the neighborhood's #1 crime fighters!
11. Goldilocks and the Three Bears Group Costumes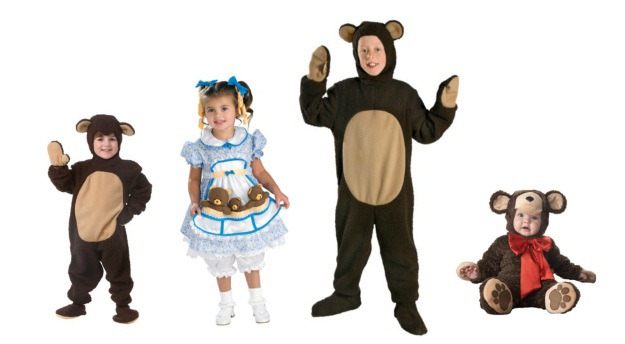 Toddler Bear Costume Girls Goldilocks Costume
Child Bear Costume Infant Bear Costume
Dressing as the characters from a treasured childhood story might be just what the doctor ordered for your family. And it's not like you see Goldilocks and the three bears strolling down the street every day! Suit up your kids to have a fun and creative look. (Just don't forget the porridge!!!)
12. Group Big Bag Wolf & Fairytale Story Costumes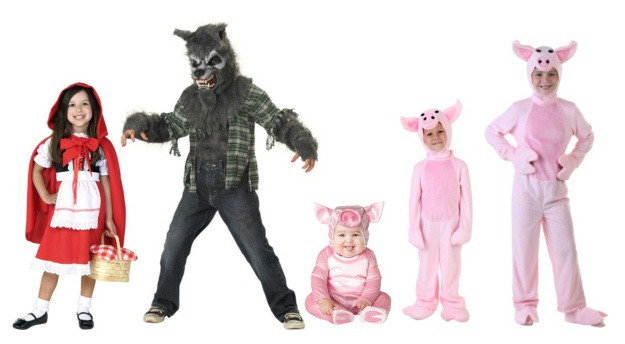 Little Red Riding Hood Costume Big Bad Wolf Costume
Infant Pig Costume Toddler Pig Costume Child Pig Costume
Little Red Riding Hood and the Big Bad Wolf is a classic costume for two, but you can add the 3 little pigs to the mix for a creative kid's group. Just like the classic animated short, your little ones will have a blast navigating the woods, except that this time they'll be in search of candy treats! Maybe they'll even bump into Hansel and Gretel.
13. Group Music Costumes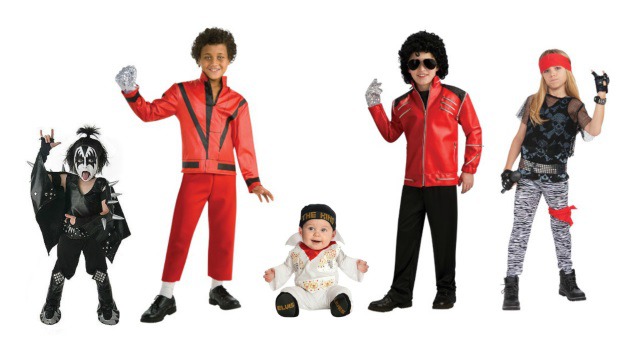 Toddler Demon KISS Costume Thriller Jacket Infant Elvis Presley Costume
Michael Jackson Beat It Jacket 80s Rock Star Costume
Admit it, you have been secretly trying to teach your child how to dance to Thriller or do the Moonwalk for years now. If you have children with musical ambitions, a creative take would be to have them assemble the world's greatest super band! Big hair and big smiles are sure to rule the night! Grab some headsets, glittery microphones, and inflatable guitars for added fun.
14. Nintendo Group Costumes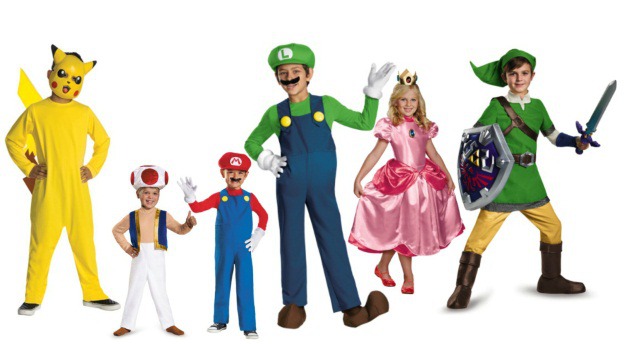 Pikachu Costume Toddler Toad Costume Toddler Mario Costume
Child Luigi Costume Princess Peach Costume Link Costume
Mario always needs some friends to take care of business, and our Nintendo costumes will provide a unique group to back him up! Add any of the famous Mario Bros characters, or classics like Donkey Kong or Zelda, to make a creative team capable of smashing some serious Koopa butt!
15. Group Farm Costumes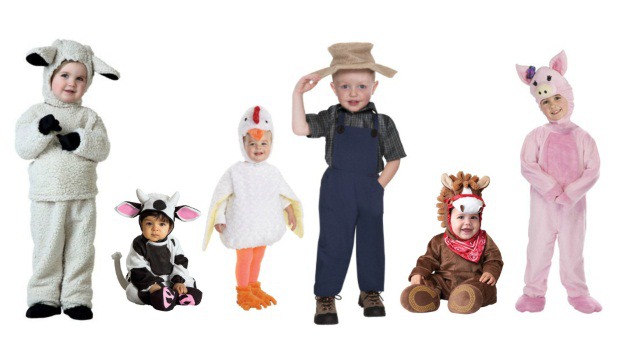 Sheep Costume Infant Cow Costume Chicken Costume
Farmer Costume Pony Costume Pig Costume
What would be better for your kids than a barnyard roundup? If you'd rather be hearing hee-haws, mooing, and quacks, than the constant complaining you're used to, suit them up as your favorite farm characters. Pairing some classic barnyard animals with the farmer and his wife would make for a very fun night out!
16. Group Pirate Costumes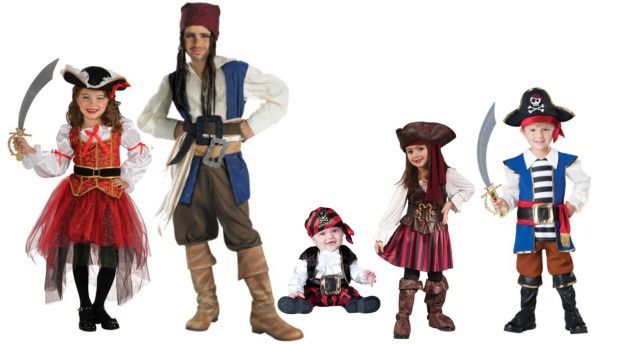 Princess Sea Pirate Costume Captain Jack Sparrow Costume
Cap'n Stinker Costume Girls Toddler Pirate Costume Boys Pirate Costume
Yarrr! The pirates of the seven seas will have taken your neighborhood by storm when you suit your children up in a pirate-themed costume combination. With costumes for girls and boys, they can make their own pirate crew to plunder all of the sugary loot!
17. Star Wars Group Costumes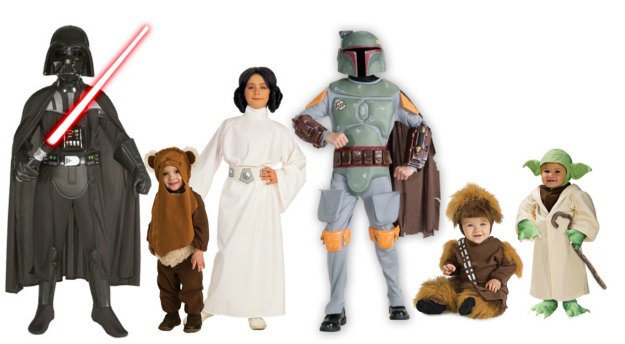 Child Darth Vader Costume Ewok Costume Princess Leia Costume
Boba Fett Costume Chewbacca Costume Yoda Costume
With the multitude of characters that have graced the screen in the Star Wars series, there's sure to be a perfect costume match for each child, to take the group to a galaxy far, far away! Pick out their favorites from the originals, prequels, or The Force Awakens (costumes coming soon!), and create a truly unique combination from the Star Wars universe.
18. Group Teenage Mutant Ninja Turtles Costumes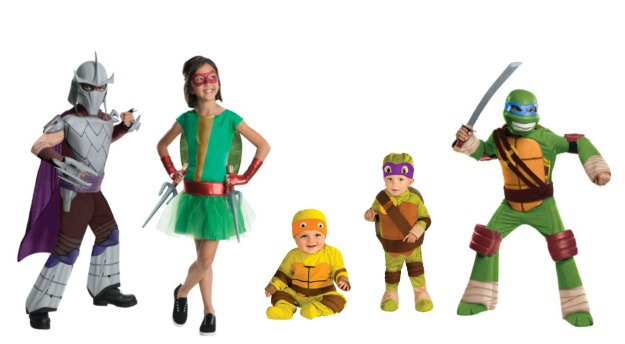 Shredder Costume Raphael Dress Michelangelo Jumper
Donatello Costume Leonardo Costume
Boys have always loved having a TMNT group, but this gang of pizza-loving teenagers isn't just for boys anymore. With Teenage Mutant Ninja Turtle costumes for girls, they can suit up as Raphela, Michangela, Leonarda, and Donatella! (Or Venus if you're fine doing a little costume customization.) Mix and match your boys and girls and come up with the best turtle squad ever!
19. Wizard of Oz Group Costumes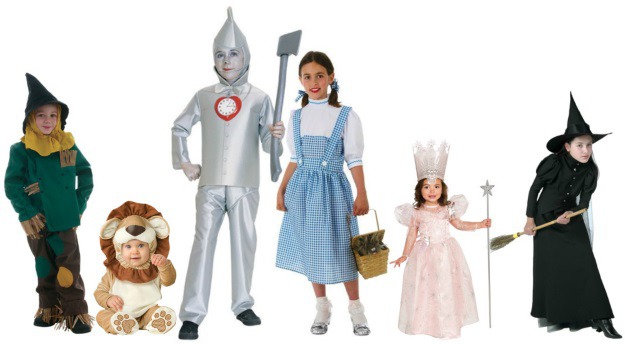 Scarecrow Costume Lion Costume Tin Man Costume
Dorothy Costume Glinda Costume Wicked Witch Costume
Take your kids for a trip down the yellow brick road with one of the most classic costume combinations. Dorothy's going to need some help getting back to Kansas, so give her a hand with your favorite characters, or try to slow her down with a Wicked Witch and Flying Monkey. Oz will never be the same with your kids living out the adventure.
20. Group Zoo Animal Costumes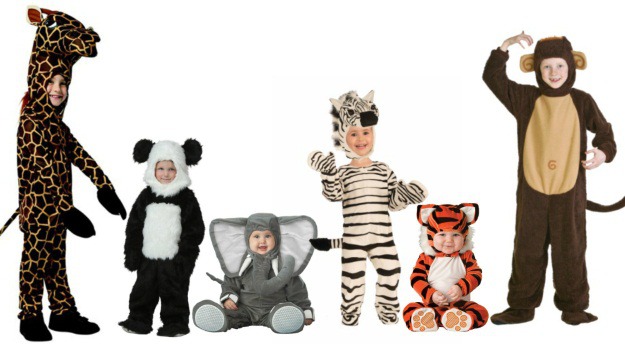 Giraffe Costume Panda Costume Elephant Costume
Zebra Costume Tiger Costume Monkey Costume
If you've ever imagined just leaving your kids behind at the zoo (Kidding!!) you can live out that fantasy with some awesome animal costumes! From your favorite apex predators to the cutest critters of the petting zoo, your child will love being part of this creative animal group. Of course, if your little one is already an alpha, maybe he/she would prefer to dress as the Zoo Keeper!
So there you have it! Picking out your costume combinations is half the fun, with the other half being the priceless Halloween memories that are sure to follow. Whether employing a costume combination from one of their favorite franchises or mixing and matching characters to create a brand new story, all you'll have to worry about is the trick or treating route. Drop us a line here, and be sure to let us know what theme you are planning for Halloween this year. If you are in a creative mood and want to piece together a group of your own invention, check out our large selection of Halloween costumes for kids. Either way, you'll be giving your kids a night they will never forget!