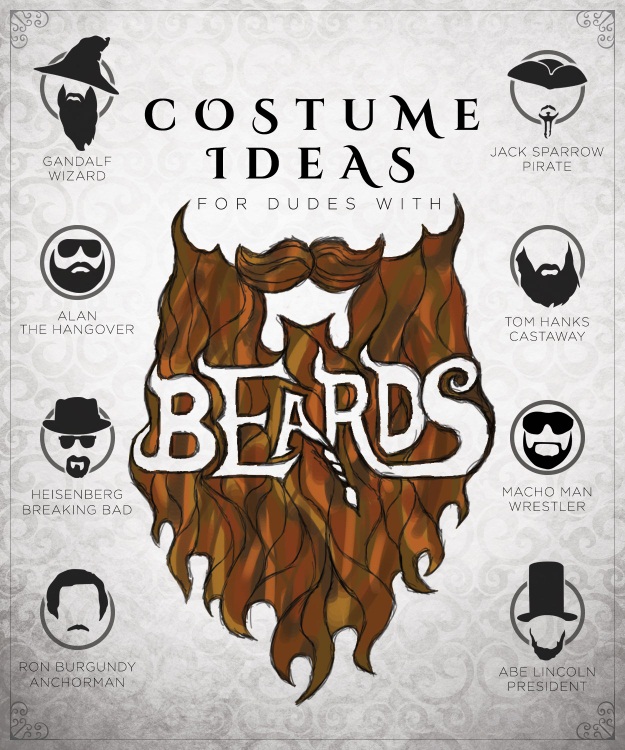 2019 Update: This post was originally published in October 2014, but has been updated for relevancy and to add more beards.
What do you do when you have a big old beard and you're trying to come up with a Halloween costume with a beard? You use it, of course! Embrace that facial hair and let it be part of your ensemble. There's no reason you need to shave just for Halloween, just get a costume for dudes with beards and you're set! No matter if you have a little stubble, a fine mustache, a long goatee, or a long flowing beard, there's a costume choice for you. We spent some time combing through the farthest reaches of the internet for inspiration for all you whiskered gentlemen. (There are only so many times guys with beards can put on a dress for a bearded lady costume!) We're looking to create real costumes with real beards! (Maybe someday you can find funny beard costumes or costumes for beards!) The sky is the limit here.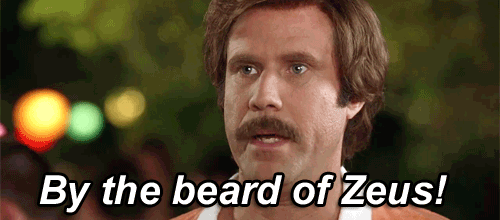 Normal to Mid-Length Beards
If you sport the "normal dude" beard, you're in for a treat – you have a world's worth of Halloween costume options at your whisker-tips. The possibilities are endless; we even had to stop ourselves before we got a little too carried away. Here are some ideas of costumes for you if your beard is regular or a "mid-grower" as we like to call them.
Alan from The Hangover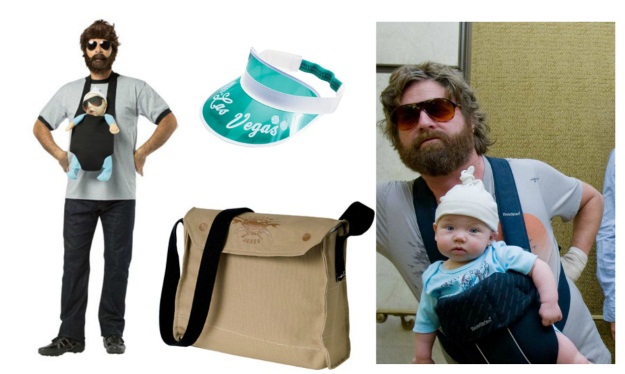 Alan from The Hangover Messenger Bag Las Vegas Visor
One of the best parts of dressing as Alan from The Hangover for your beard-licious Halloween costume is that it's basically jeans and a t-shirt. (This one a perfect simple cosplay idea that will get recognized!) After you put your outfit on, don some aviators and strap a baby doll in a carrier. The other best part about dressing as Alan? Getting to talk about your one-man wolf pack all night. And maybe inviting some select friends to join said pack?! Who knows where the night will lead.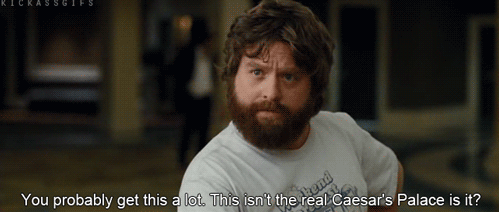 What a guy!
Tom Hanks from Cast Away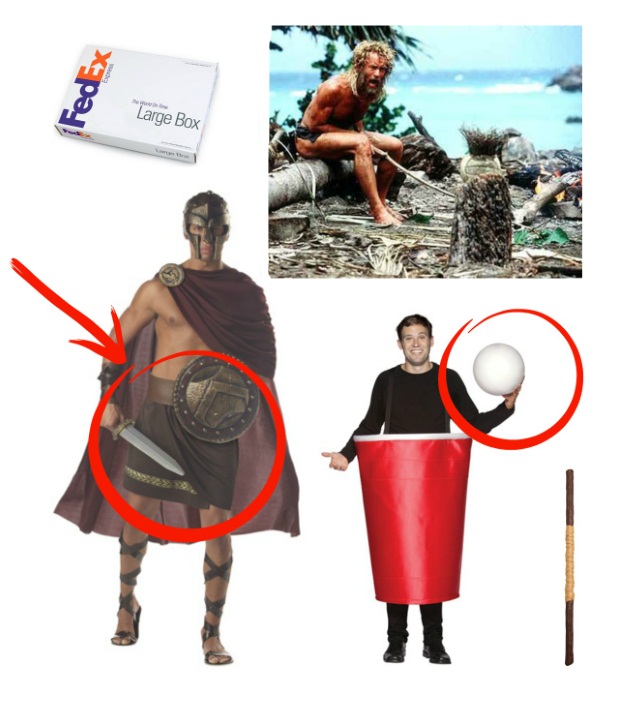 Spartan Warrior Costume Beer Pong Costume Walking Stick
With the right accessories, you can be easily recognizable as Tom Hanks' character from Cast Away this Halloween. First, grab a volleyball and paint Wilson's face on it. Next, brush your beard out to be as bushy as possible and mess up your hair. Last, go on a strict diet and exercise regimen to emulate Hanks' appearance in the movie. (Just kidding!)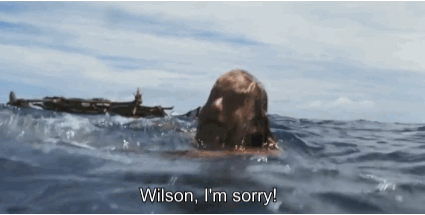 Ugh. Heartbreaking.
Other Ideas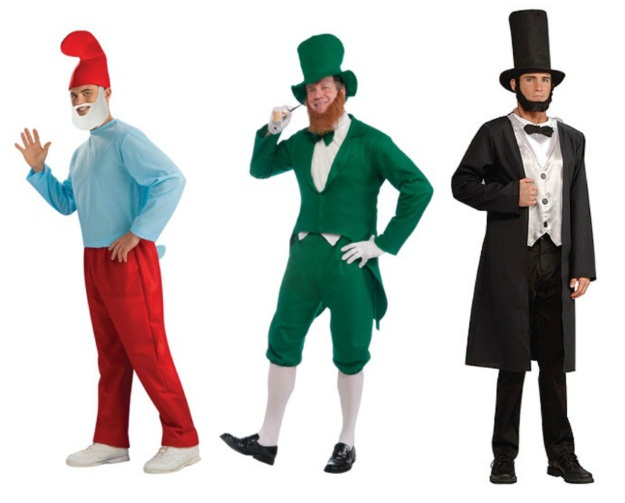 Papa Smurf Leprechaun Abe Lincoln
Aside from the options we showed above, here are some other costumes for men with beards you can shop for online! A smurf or a leprechaun would also be great costumes for bald men with beards.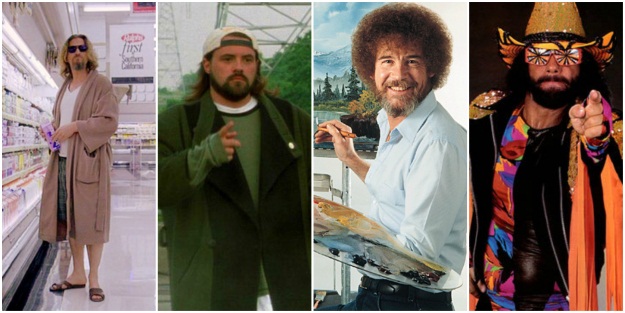 The Dude from The Big Lebowski | Silent Bob | Bob Ross | Macho Man Randy Savage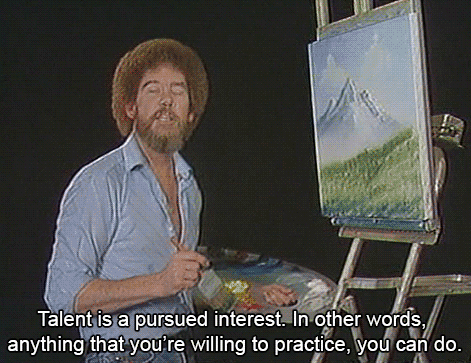 That's right, Bob! This includes growing some amazing facial hair.
Super Long Beards
If you're in the reaaaal facial hair business, the examples above are laughable, right? Kid's stuff. No Shave November? More like No Shave Ever! If you are a man of substantial beard, these beard costume ideas are for you.
The Dudes from ZZ Top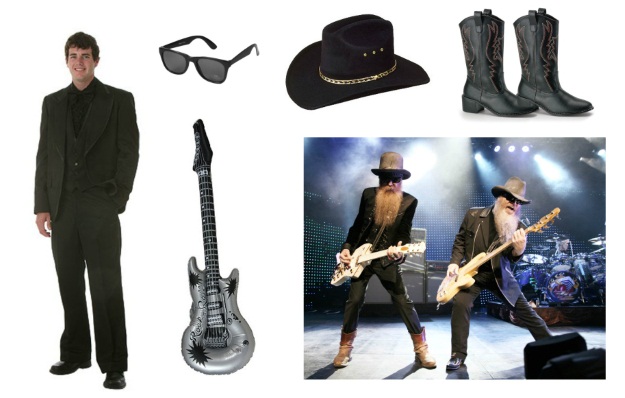 Black Tuxedo Blues Sunglasses Inflatable Guitar
Black Cowboy Hat Black Cowboy Boots
The members of ZZ Top are great guitarists, successful musicians, Rock and Roll Hall of Famers, but – ask anyone about them and what's the first thing they say? "Oh yeah, the guys with the big beards!" If you're rockin' some whiskers that almost reach your belly button, then take this look into consideration.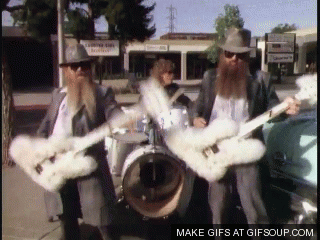 Be sure to learn this guitar trick before you hit the party.
Wizards with Long Beards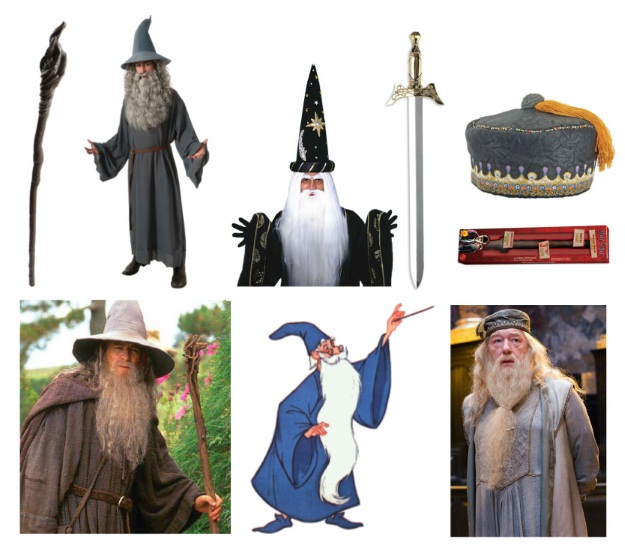 Gandalf Staff Gandalf Costume Merlin Wig
Knight's Sword Dumbledore Hat Harry Potter Wand
And if you want to be the real deal, super deluxe Dumbledore…that is, if you have the beard to prove worthy of such an elegant headmaster look, this costume will be sure to provide you with the respect and honor you so deserve.
When it comes to wizards with really long beards, you can basically take your pick who you want to dress as for Halloween. Feeling academic? Go with Dumbledore! More in the mood for a great adventure? Gandalf is your choice. How about a more Arthurian representation of a magical, bearded dude? Merlin from The Sword in the Stone would work just fine.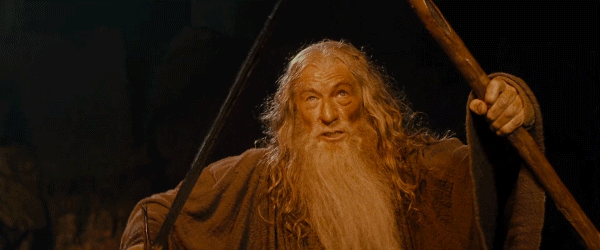 This is an impression of you when someone tries to cut in line for Halloween candy.
Other Ideas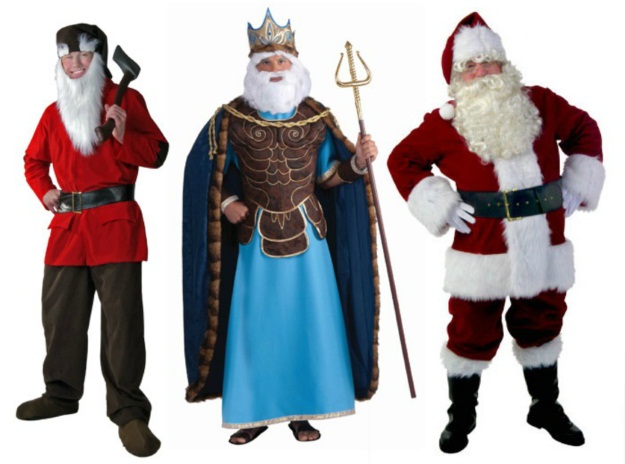 Dwarf King Neptune Santa Claus
Why is it that so many super-long beards are snow white?! Is it because it takes an entire life to grow something that long?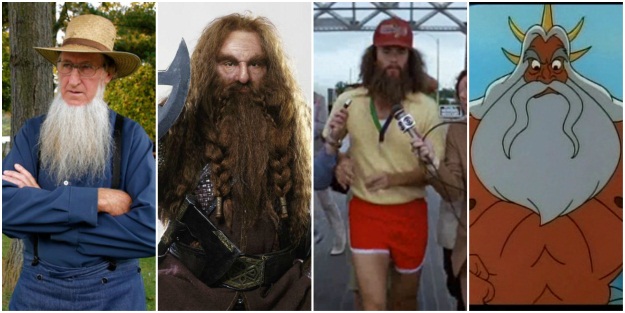 An Amish Person | Gimli | Forrest Gump | King Triton
(Although, if you need a cautionary tale of being sure to not let that beard grow too long, here is an appropriate Kids in the Hall skit. The beard stays, you go.)
Hagrid Costume Hagrid Wig & Beard
While Hagrid isn't technically a wizard, our main man the gamekeeper of Hogwarts has an incredibly magical beard. So magical that we absolutely needed to include him in this list. If you choose to dress as Rubeus, though, be sure to have a couple of his quotes and his accent ready to go. You'll be pressed to say "Yer a wizard, 'arry" all night, so you better be prepared.
Mustaches
Not all men have a full beard – some males prefer to just focus on maintaining a stunning mustache, resting atop their upper lip. The power mustache is a fashion and lifestyle statement. Are you sure you're ready to accept that responsibility? If so, proceed to these mustache Halloween costume ideas!
Hulk Hogan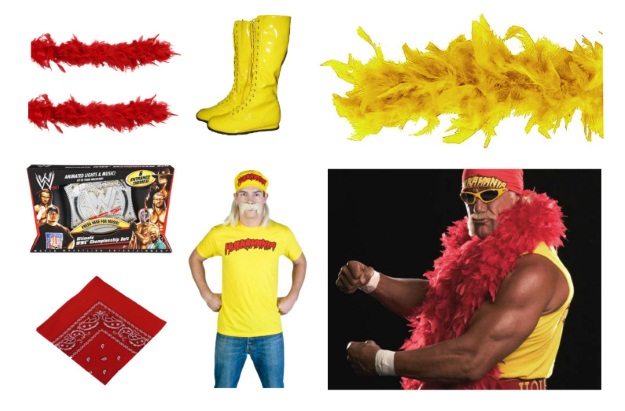 Red Bandana Yellow Wrestling Boots
That mustache! Hulk's facial hair is named "the horsehoe," not handlebar. Don't mess it up. The blond biker statche is signature to the pro-wrestler. Other people who sport the horseshoe? James Hetfield from Metallica, movie-cowboy Sam Elliot, the leather guy from the Village People, and Lemmy from Motorhead.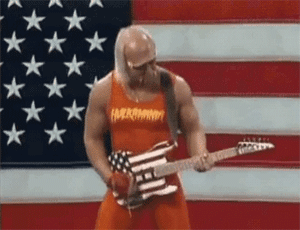 The mustache, too, is 100% patriotic. God bless America.
Reno 911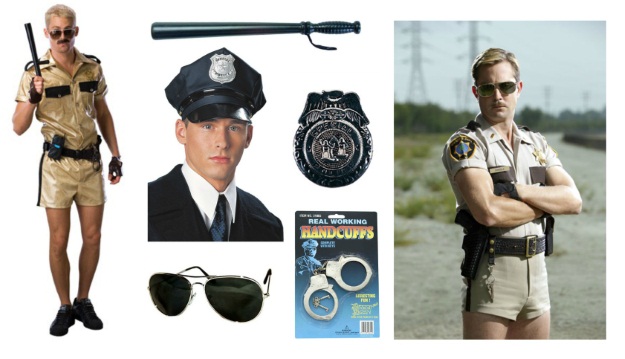 Lt. Dangle Costume Nightstick Handcuffs
Sunglasses Cop Hat Police Badge
Reno 911 has pleeenty of inspiration for mustachioed costumes and they are easy cosplay ideas for beginners! You could either be brave and dress as Lt. Dangle here or just dress as a regular cop. (Whatever, lame!) Either way, a nice and thick crumb-catcher hanging out under your nose will be the best accessory when you want to dress as law enforcement.
Alternate idea: wear some white cowboy boots and do some new-boot-goofin'.
Super Troopers
Super Trooper Costume Mustache Kit
Okay, so you wanna be a cop for Halloween. And you want it to be from something FUNNY, not stressful. But you don't want your costume to be from Reno 911. Have you considered Super Troopers? You could choose which character to be, but why wouldn't you choose Farva?
So ready for some Halloween shenanigans…but don't be cruel, please.
Other Ideas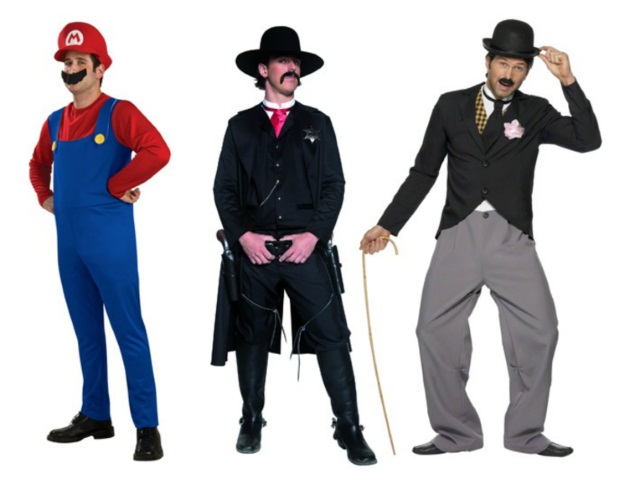 Super Mario Western Sheriff Charlie Chaplin
Here is some more inspiration for costumes featuring dudes with mustaches. The ideas for this one go on and on – you could even just put "70s" in front of something normal, and the soup-strainer will automatically change your costume to retro. 70s cop? Cool. 70s anchorman? Yep! 70s ... rock climber? Sure, why not?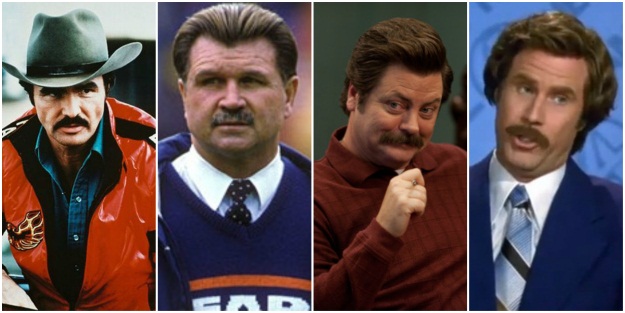 Burt Reynolds as Bandit | Mike Ditka | Ron Swanson | Ron Burgundy
Goatees
The goatee is kind of a mystery. What makes something more than just a beard? Some say it's when there's just a little tuft of hair on the chin, and some definitions say that it's when the chin beard connects with a mustache. Either way, goatee styles are ripe for some pretty perfect Halloween costumes.
Heisenberg from Breaking Bad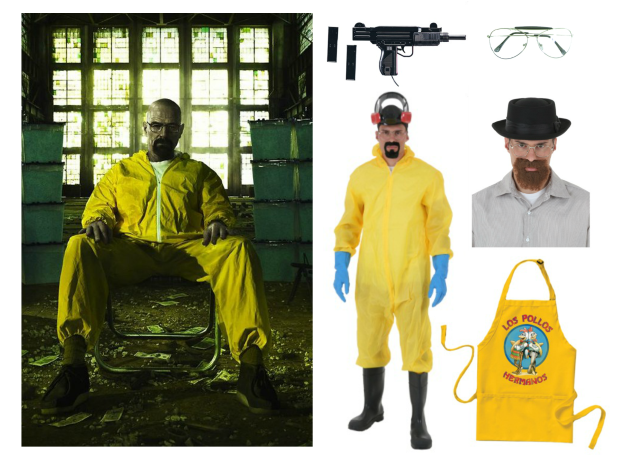 Hazmat Jumpsuit Toy Uzi Porkpie Hat
Mr. White transformed a lot during the course of Breaking Bad – from Mr. Chips to Scarface himself. That goatee, along with that weird hat, signified Walt's change from chemistry teacher to Heisenberg, the drug kinpin known and loved by all. This costume would go well with practically any men's goatee!
If you dress as Walt, though, people might not ask you to bring the pizza. Why would you do this to a perfect za? :(
The Devil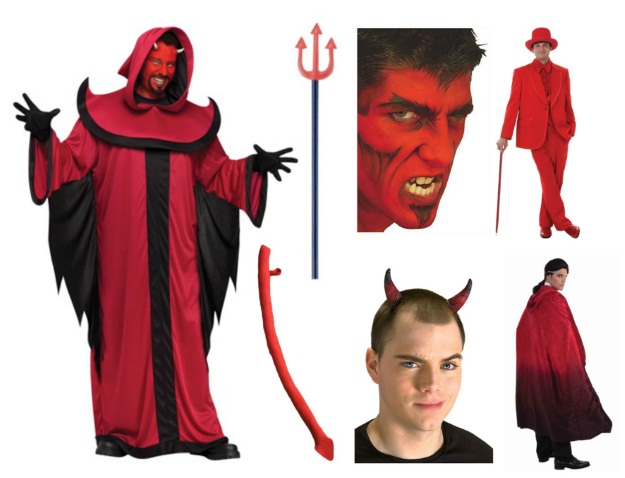 Adult Devil Costumes Devil Tail Pitchfork Makeup Kit
Devil Horns Red Tuxedo Red Faded Cape
If you're feeling up to a pretty time-intensive makeup look, you and your goatee should dress as a classic devil. The black goatee and all red skin mixed with the usual suspects (you know, horn, tail, pitchfork …) will make this traditional costume idea very memorable.
Other Ideas
Khal Drogo | Khal Drogo | Ali G | Jamie from Mythbusters
Advanced Facial Hair
Last but not least: a few ideas for those of you bearded men who want to try something a little crazy with your facial hair. Caution: may involve some trimming and shaping! Good luck to you all. Beard at your own risk.
Braided Pirate Beard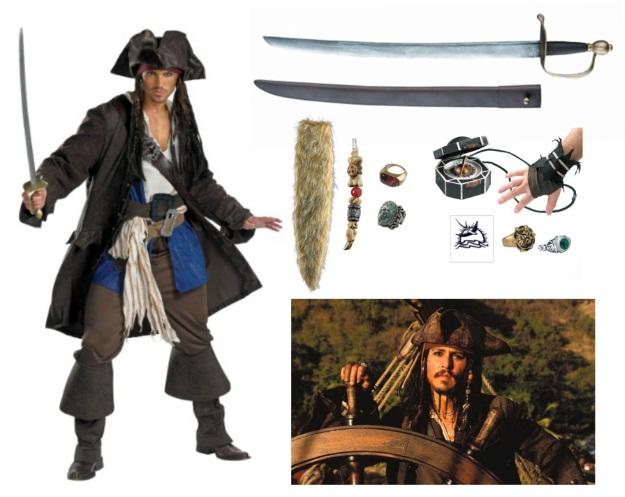 Jack Sparrow Costume Pirate Sword
Captain Jack Sparrow is a perfect costume choice if your bristly beard is nice and long, but you don't really feel like being anything we suggested above. All pirates are dirty and scuzzy, but Jack seems nice and manicured. (Relatively speaking.) He even plaited that beard! If you aren't sure how to do two little pigtail braids with your whiskers, we're sure you can find a friend, mom, wife, girlfriend, daughter, etc … who can help you.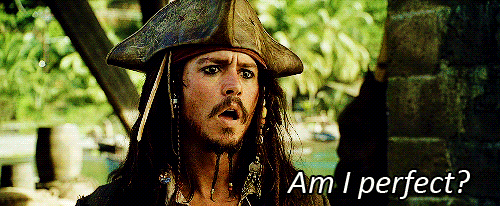 Once you get those whiskered braided up, then, yes! You will be perfect!
Other Ideas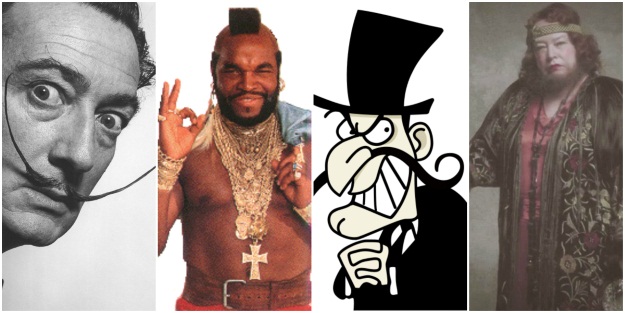 Salvador Dali | Mr. T | Snidley Whiplash | Kathy Bates as the Bearded Lady
Costume Ideas for Dudes with Beards
One thing we've learned in our life at HalloweenCostumes.com is that beards never go out of style. Wherever you go, you'll be sure to find multiple strapping gentlemen sporting so many styles of facial hair. Big, bushy beards or neatly-trimmed goatees or just-barely-there scruff – beards come in all shapes and sizes, and the Halloween costumes that fit them just keep coming. Here are some more whiskery costume ideas for dudes with beards, featuring some exclusive Halloween costumes that you can only find here!
TV and Movie Costumes for Dudes with Beards
Dark Northern King Costume Caribbean Pirate Costume
Adult Blackbeard Costume The Big Lebowski Dude Costume
The Big Lebowski Walter Costume WWE The Undertaker Costume
WWE Hulk Hogan Costume Running Forrest Gump Costume
If you have a certain type of beard, pairing it up with a movie or TV show character that looks like you is such a great idea. We mean, who else can do that? Like… curly redheads can be Annie, bald dudes can be Dr. Evil, and if you have the right type of facial hair, you can dress in a Halloween costume that destiny has had in the making for you. The Big Lebowski really delivered on the dudes with beards front – if you have a scruffy, shaggy one, you can be the Dude, and if you have a more manicured, brunette one, you can be Walter. Just make sure not to get any White Russian in those whiskers… or do, it's Halloween. Pirates are always full-on bearded, as are wizards. The premium Gandalf costume can also double up as Father Time, just bring a big clock with you. And, of course, who is more famous than Forrest Gump? His long, long beard that he grew while running across the country would definitely be a major contender for No-Shave November.
"Hey, nice marmot."
For TV shows, the selection of men with beards is pretty great, too. The WWE has pleeenty of characters with facial hair – Hulk Hogan represents for the mustache-only men, while the Undertaker has that very sinister goatee thing going on. For fans of something a little more violent than professional wrestling, Jon Snow (while he may not know many things) knows how to grow the perfect stubble. You would think that living North of the Wall would call for something a bit more heavy duty, but the King of the North seems to favor something a bit more reserved. You do you, Jon Snow. In fact, now that we think about it… Game of Thrones had quite a few good beard options, didn't it?
Animal Costumes for Dudes with Beards
Deluxe Lion Costume Wolf Costume
Mountain Goat Costume Adult Werewolf Costume
Maybe you don't wanna dress as a character from pop culture. That's fine. Maybe your beard style just doesn't match up as perfectly as you'd like. Maybe you're feeling like you want to be a little closer to nature this Halloween. Incorporating your luscious, furry bristles into an animal costume is a great idea for guys with beards this Halloween. Really, all you need is some cans of colored hairspray, maybe a back-comb to get those whiskers at full volume, and you're good to go. With some orange hairspray, turn your beard into a lion's mane. A werewolf (while, uhh, not a real animal, thankfully) could definitely rock a scraggly, feral lookin' beard. Muttonchops would help with that one, too. Billy goats are KNOWN for having beards, so get the hair gel and style those hairs on your chinny chin chin. And, wanna know the BEST goat we've seen in years? Black Phillip! You can totally concoct a costume featuring the best character from The Witch.
"Baa baa."
More Halloween Costume Ideas for Dudes with Beards
Brown Dwarf Costume King Henry Costume
Adult Prospector Costume Cowboy Costume
The party doesn't stop there, our most righteous friends with long, flowing locks on your face. If you're a man with hair of a certain color, as white as snow, perhaps Santa would do the trick? If Christmas cheer is a little too jolly for your Halloween party, but you still love the holiday, Krampus definitely works, too. Dressing as an old time-y prospector would definitely be fun, and you can always spray your beard grey, too, if you wanna go for an OLD old time-y prospector. You could even say you're a character from Westworld and partner up with a friend in a cowboy costume. Cowboys are very well-known for not manicuring their facial hair. Too busy wranglin'. For something a bit more regal, King Henry definitely had quite the distinct look, too. No chopping heads off, please. Unless you have a friend who wants to go as a beheaded Anne Boleyn. Because that would be rad.
"Two beheadings out of six wives is too many."
Costume Ideas for Dudes with Beards 2019
Many years have come and gone since we first compiled this post about bewhiskered men and the Halloween costumes that suit them. And we're just so, so happy to see that the spirit of the scraggle lives on. While many trends have come and gone (dabbing evolves to flossing, et cetera), a good, sturdy beard will never EVER go out of style.
To help all of you out there adorned with facial hair, here are even more ideas of what Halloween costumes to wear out and about this October 31st.
TV Costume Ideas
Jim Hopper Jim Hopper Hawaiian
As always, TV has come through with some very fine-looking facial hair. While Hopper…uhhh…may not have been the friendliest guy in the newest season of Stranger Things, you have to admit that his classic 80s cop stache and man-with-major-personal-demons scruff is a look. Bonus: you buy that Hawaiian shirt? You get to wear that year-round. Our home office is in Minnesota, so we are partial to anything to do with the Vikings. And speaking of people who look like Vikings…can we claim Tormund as our own, too? He's from the North (check!), loves the cold (check!), has a great sense of humor (check!), and is ruggedly handsome (check, check, check!). Sounds Minnesotan to us!
Skol!
Superheroes with Beards
Hey…HEY! Do you remember checking this blog the previous years and seeing zero superheroes? (Bob Ross doesn't count!) Your time has finally come! Chris Evans looked pleasantly scruffy with a beard as Captain America, but is it weird to say that we favor Fat Thor? (Like, loved it so much that we made a whole "Fat Thor" DIY costume of it.) Aquaman had a very luxurious beard for a man underwater, and of course, Wolverine's signature chops cannot be beaten.
And More
When you start to look, you see dudes with beards everywhere. Halloween will never be the same once be-bearded men know they can buy a beard costume that's perfect for them...and their beard. We'll leave you with this, a ragtag group of characters, real and fictional, from past and present. If you find dressing as Silent Bob a bit too tired, upgrade with Bluntman instead. Teen Wolf is literally a man made of beard, so we say that 100% fits into this Halloween costume theme. Drake, Keanu, Letterman…all dudes rockin' some various, yet beautiful beards. We just know you'll find someone that suits you perfectly!
And, we mean…if you wanna go a little avant-garde: all the characters in the Cats trailer are completely covered in hair, uh, fur. That counts!!
Trick or treat!!
There are also plenty of other Halloween costumes for men with beards such as vikings, cowboys and other celebrity costumes. How have you used your beard for your costume? Have you shaved, manicured, styled, brushed, braided, twisted, or twirled your facial hair to get the perfect look? Let us know your ideas in the comments! Pics, too!
Top Costume Ideas