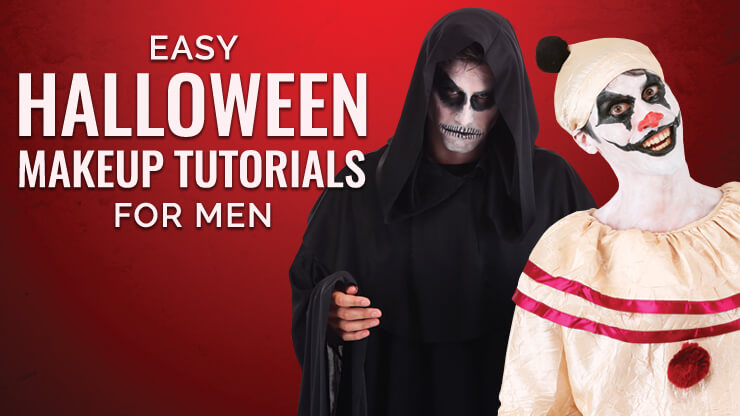 Most guys don't wear makeup on a day-to-day basis, so when you choose your Halloween costume, the fact that it may involve makeup could make or break that decision. Vampires, zombies, clowns and other costumes are known to regularly use makeup. Perhaps you're teetering on the edge of using makeup or just getting a mask, but remember that effective Halloween makeup can outweigh some of the cons of wearing a mask. There's no weird latex smell, for example, plus no problems with breathability, no mask sweat, and you don't have to worry about a limited field of vision. If we haven't entirely sold you on attempting to do your own Halloween makeup this year, we made several easy to follow makeup tutorials for guys. Costume makeup isn't as hard as it looks, and you'll be ready for any zombie pub crawls or office costume parties coming your way this holiday season!
Easy Scarecrow Makeup for Guys
I don't know. But, some people without brains do an awful lot of talking, don't they?
Scarecrow makeup is pretty easy to do, and it really helps add that little extra bit to your costume. Adding a few stitches and a patched nose is fairly easy to do. Don't forget the eyebrows! (Pro tip: you may want to do the makeup with the headpiece on to avoid smearing.)
Easy Warlock Makeup/Witch Makeup for Guys
I summon thee!
Warlocks are ridiculously cool, hands down. They may be the male counterpart to witches, but the hooded robes are an edgelord's dream. Add dark makeup around the eyes to look even more brooding, and it wouldn't hurt to add some crackling magic around your eyes to make it looks like you're getting ready to unleash an eldritch blast. (Bonus points if you pair this look with colored contacts!)
Easy Scary Clown Makeup for Guys
Want a balloon?
Clown costumes feel weird without makeup. They're also great for scaring your friends, but a scary clown costume needs scary clown makeup to match. One of the most important parts is painting your face clown white. Then you'll have to add the creepier details: make sure to pick "scary colors" like red and black, and use pointy shapes.
Easy Werewolf Makeup for Men
I'm a werewolf, not a golden retriever.
If you're not a fan of wearing masks, a little bit of simple werewolf makeup will go a long way. Even adding a few animalistic features to your face will keep you from looking like a lumberjack in a flannel shirt. You can make your features feel more hairy than usual by accentuating the wolf nose, lips and eyes, and making your eyebrows a little bushier and adding to your sideburns with makeup.
Easy Zombie Makeup for Men
Braiiiiinsssss
If you're not confident in your special effects makeup abilities, skip the artificial wounds. You can still go as a convincing zombie by making your skin look dead and your eyes appear sunken-in with dark eye makeup. Don't forget to groan and shuffle!
Easy Grim Reaper Makeup for Guys
You can be a king or a street sweeper, but everyone dances with the Grim Reaper.
The grim reaper is often depicted as having a skeletal or shrouded face. If you're not keen on attempting to do full-face skeleton makeup, here's an easy alternative that still gives off the feeling of having hollowed eye sockets and exposed teeth.
Easy Vampire Makeup for Men
I don't say blah blah blah.
The key characteristics of vampire makeup are having pale skin and a touch of blood. You don't want to pick pure white as you'll look like a clown, but picking a base that is slightly lighter than your own skin tone is a good place to start. Don't forget to add fangs!
Easy Unicorn Makeup for Guys
Being a person is getting too complicated. Time to be a unicorn!
There are tons of unicorn makeup tutorials for the ladies, but guys can get in on the fun too! Pick some colorful shades to match your costume and you can feel magical for the night. Bonus points if you manage to put a cutie mark on your cheek!
We hope these makeup tutorials will help to take the stress out of attempting to do your own costume makeup. Don't forget that you can ditch the mask and apply many of these techniques to other costumes, too! Did you find these easy makeup tutorials helpful? Are there any other makeup techniques that you'd like to learn to pair with other Halloween costumes for guys? Let us know in the comments! We love looking at your comments and suggestions, and if your idea is just that good, it might become another tutorial or DIY.