Let's face it, animals are paw-some! Perhaps you have a pet, or you have always been fascinated by wildlife. Maybe you even work to care for animals. Whatever the case may be, you're thinking about getting an animal costume for Halloween. (Or for your child's dress-up trunk!) There are tons of animal costumes for kids and adults from bugs and sea life to reptiles, amphibians and mammals from every corner of the globe. Quite a few of these creature jumpsuits and kigurumis are also unisex costumes, so you can turn your family into a cauldron of bats, a murder of crows or perhaps even a shiver of sharks. Check out these animal costumes for Halloween that will keep you comfortable and cute!
North American Mammal Costumes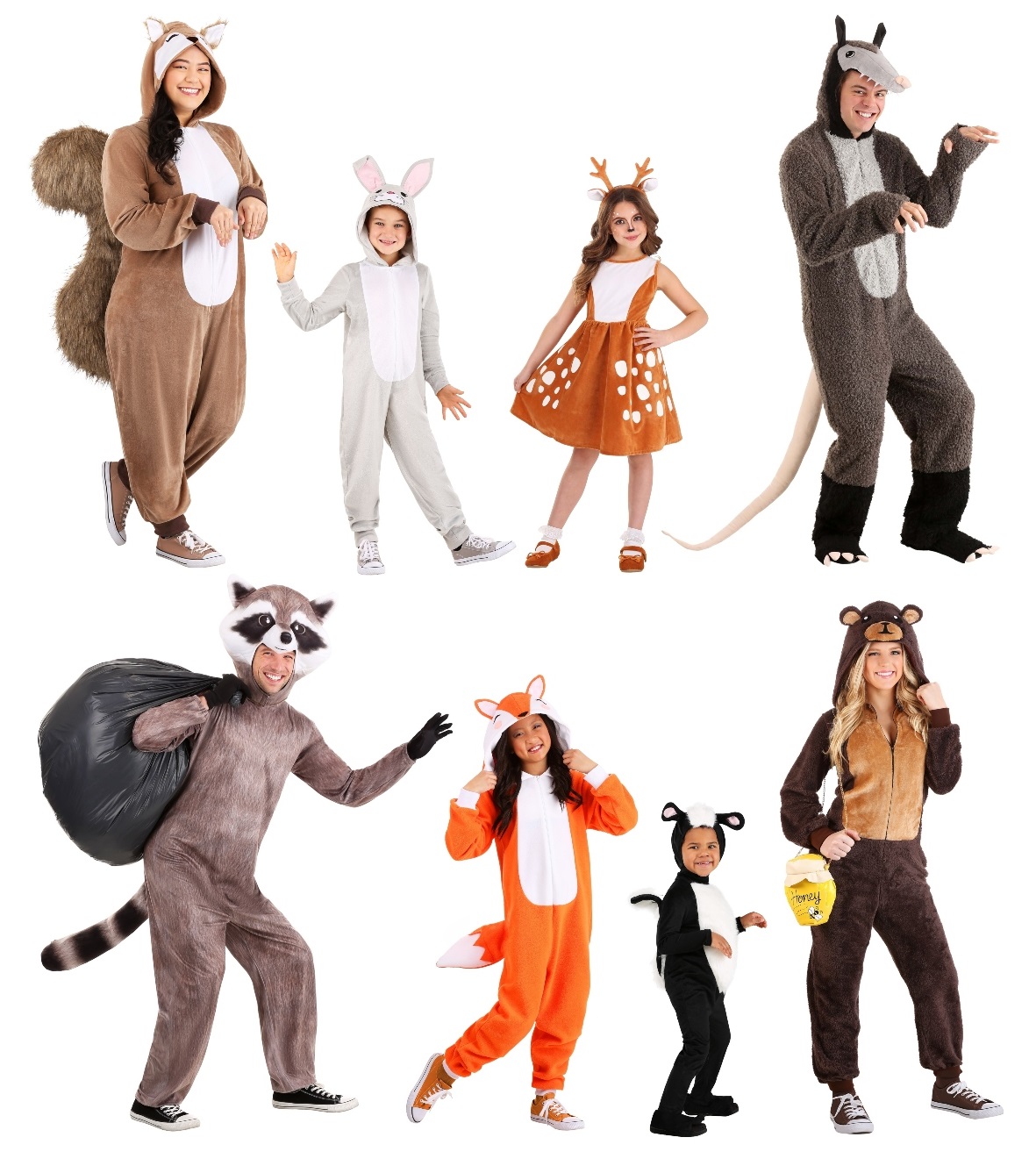 North America has tons of mammals, many of which are very familiar, which is why they make great costumes! There won't be an awkward pause when someone tries unsuccessfully to guess your outfit if you're dressed as a fox, squirrel or deer. There are also quite a few styles of animal costumes for every member of the family, too! Try a cozy fox costume for kids, a fuzzy bear costume for women or a silly raccoon costume for men. Even your child can look utterly a-deer-able in a deer costume for kids or a baby skunk costume.
South American Mammal Costumes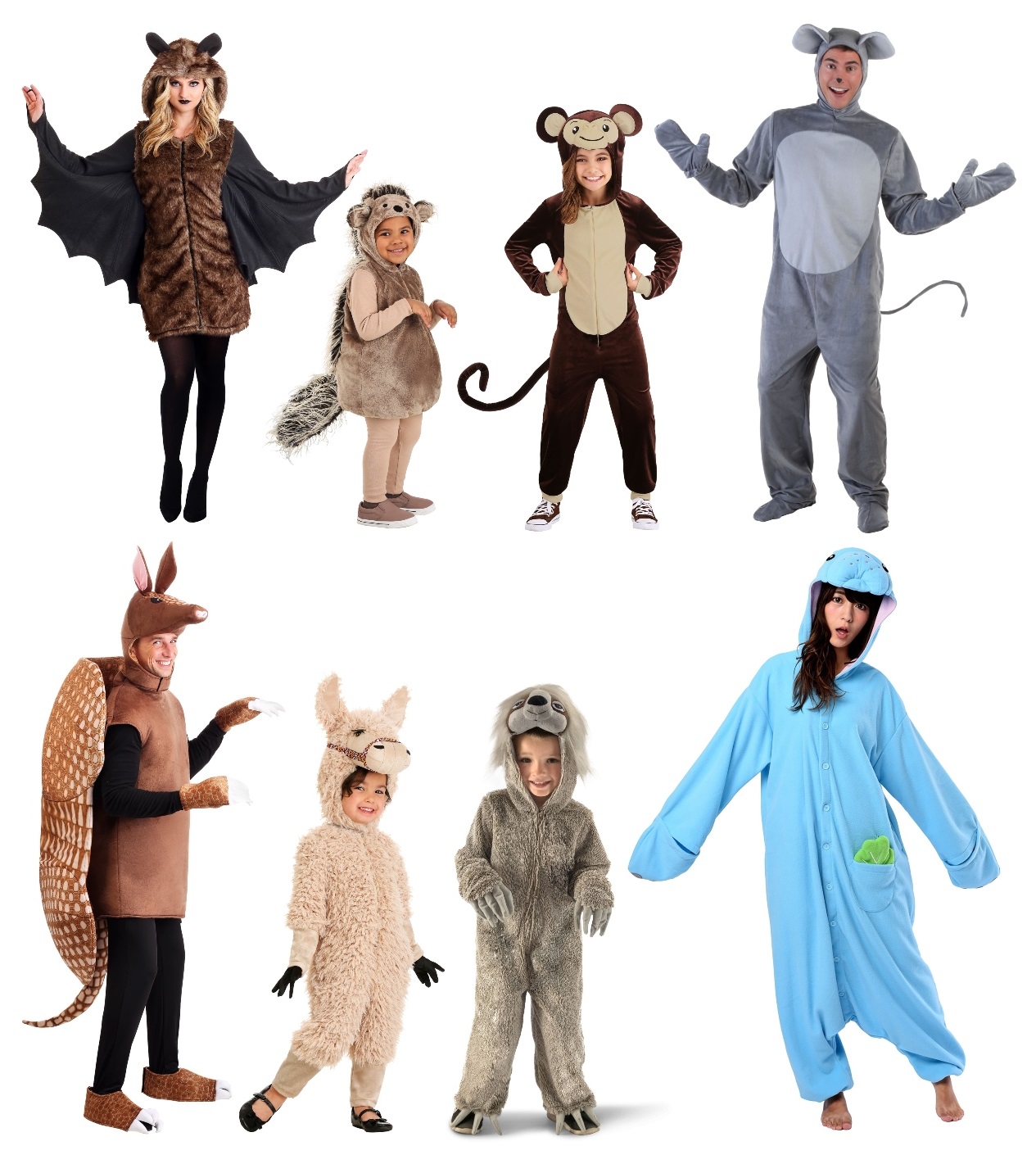 The Amazon rainforest has captured the hearts of people all over the world, often in part to the large variety of exotic animals and plants. South America does share a few animals with North America like mice, bats and porcupines, but they also have other lovely animals that make great costumes, like sloth costumes and llama costumes! If you want to really stand out, you can even find an armadillo costume or a manatee kigurumi. Talk about cute!
African Mammal Costumes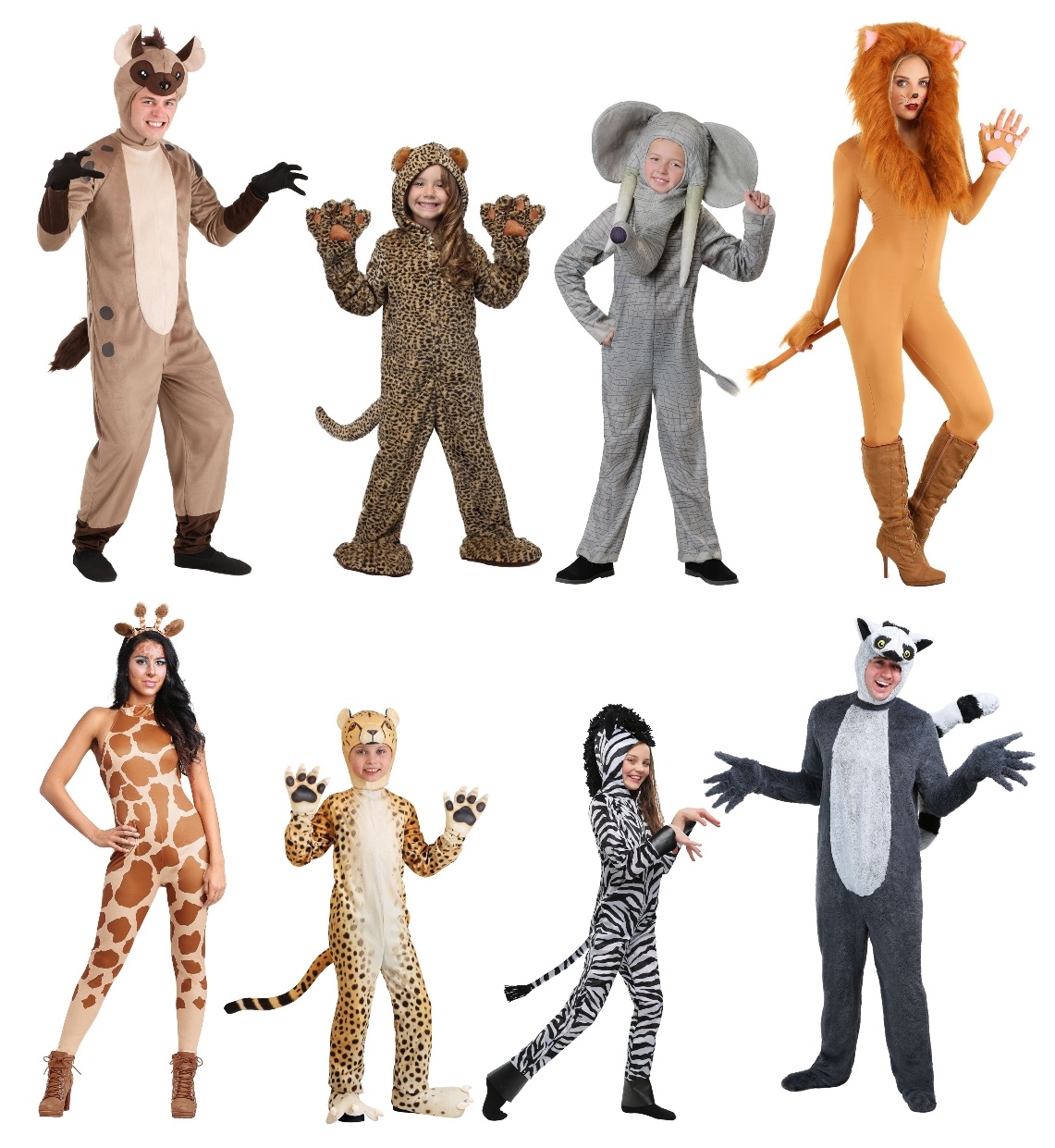 Bring the safari to you with a wide variety of African animal costumes! You can find realistic animal costumes with screen-printed details like the elephant costume, or you can try a more cartoonish giraffe or hyena costume. You're also in luck if you love cats. Lions, leopards and cheetah costumes, oh my! There are so many African animals to choose from that you can easily get Halloween costumes for your entire family to give off all the Lion King and Madagascar vibes. These onesie and jumpsuit costumes will keep you warm and comfortable all Halloween.
European and Asian Mammal Costumes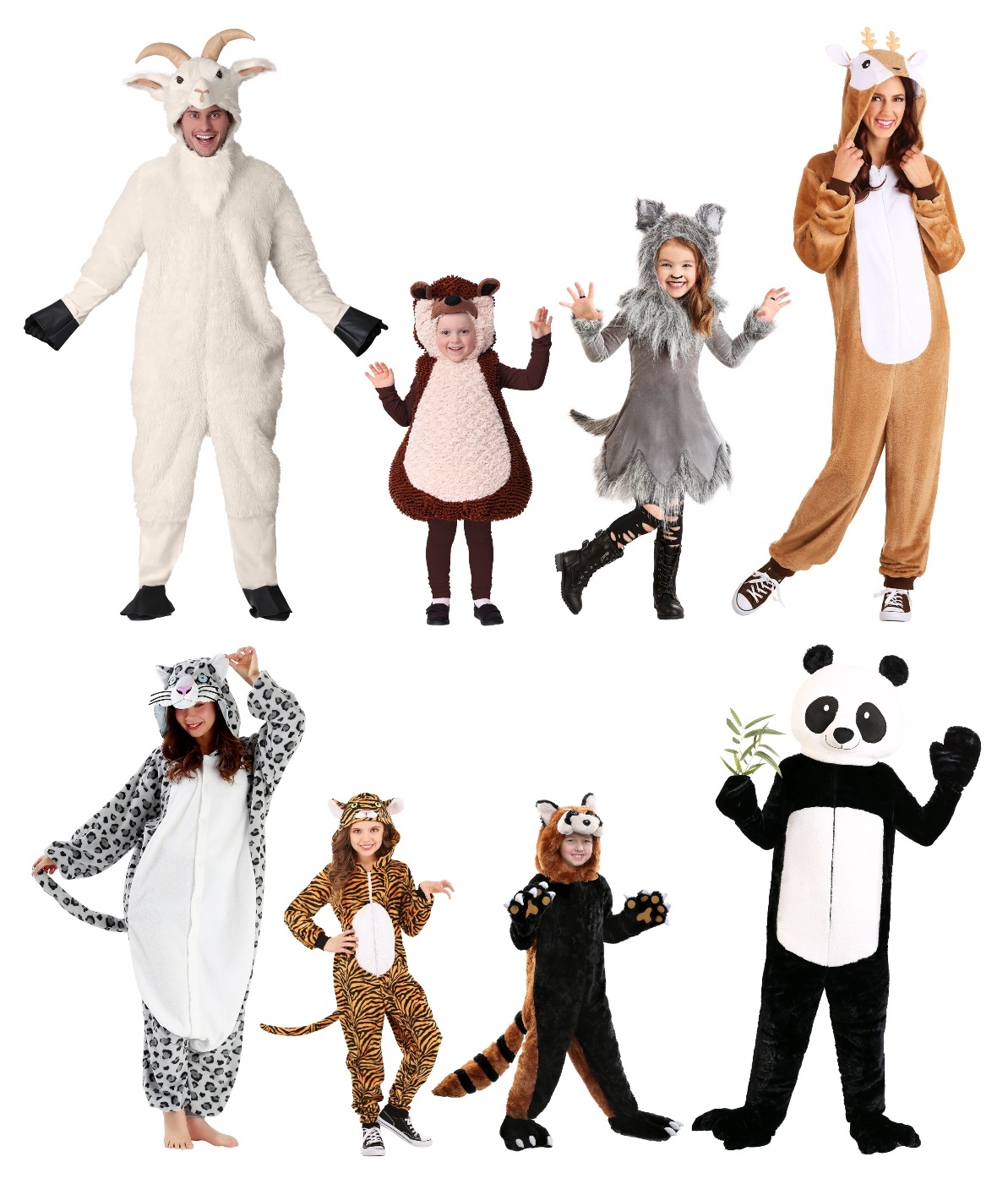 The Ural mountains may be a natural boundary between Europe and Asia, but these two continents do have some animals that can be found in both regions—like tigers, goats, reindeer, hedgehogs and wolves. All of these make great animal Halloween costumes for your family, and kids will probably gravitate towards tiger costumes or perhaps a panda costume. The European animal costumes are also great as these animals are often found in fables and fairy tales, so you can always turn your family into the Three Billy Goats Gruff or The Tortoise and the Hare.
Bug Costumes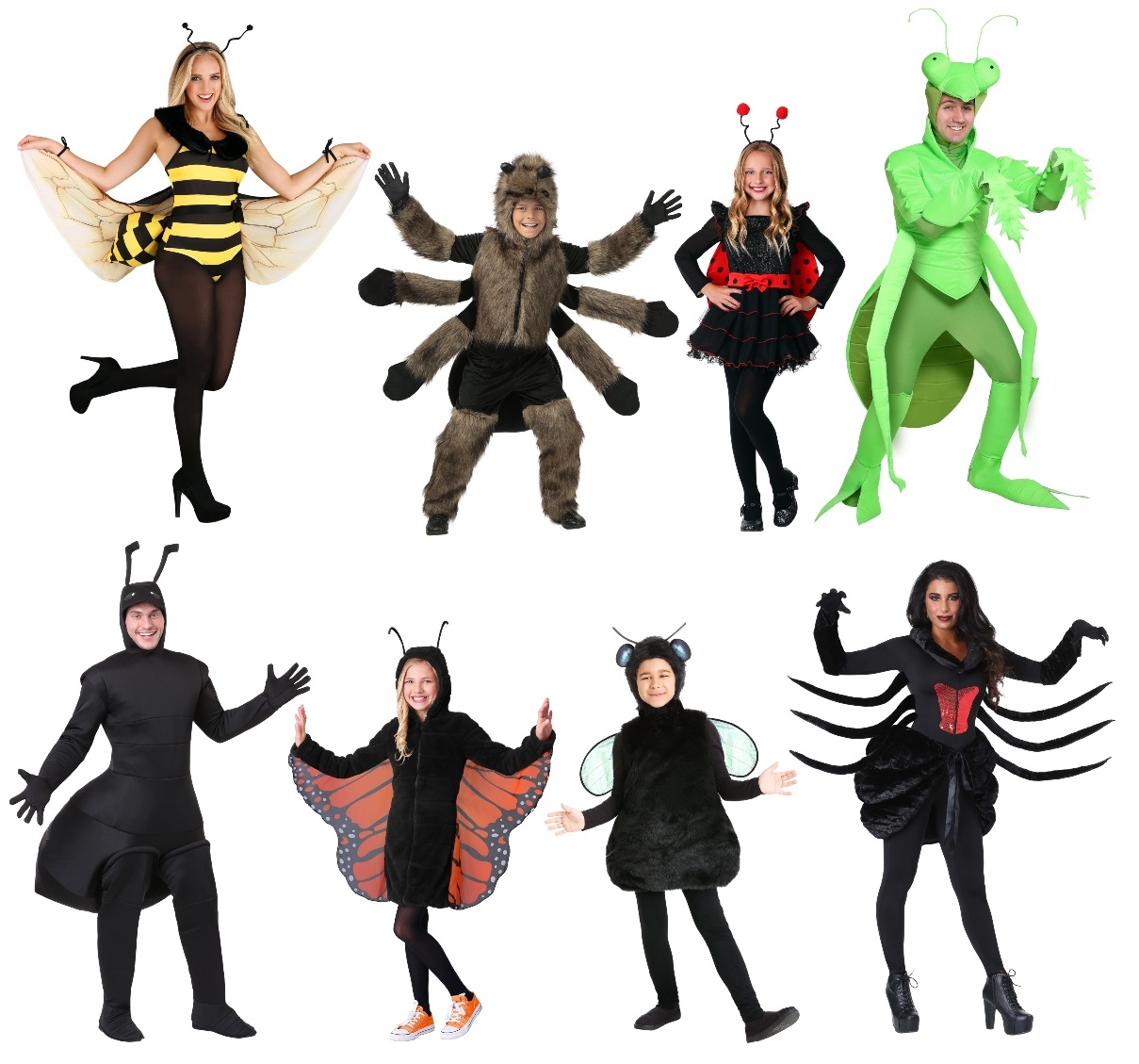 There are tons of bugs! Sure they may be pesky while others are helpful or just a bit creepy, but you can't deny the fact that bug costumes are bee-utiful. You can find a cute costume or a scary one, or even a weird costume that will ensure you're the only praying mantis or scorpion at the Halloween party. Ladybug costumes and even spider, butterfly and bee costumes are favorites for girls while the guys can wear silly costumes like flies, ants and grasshoppers. However, don't "bee" afraid to wear whatever you want!
Bird Costumes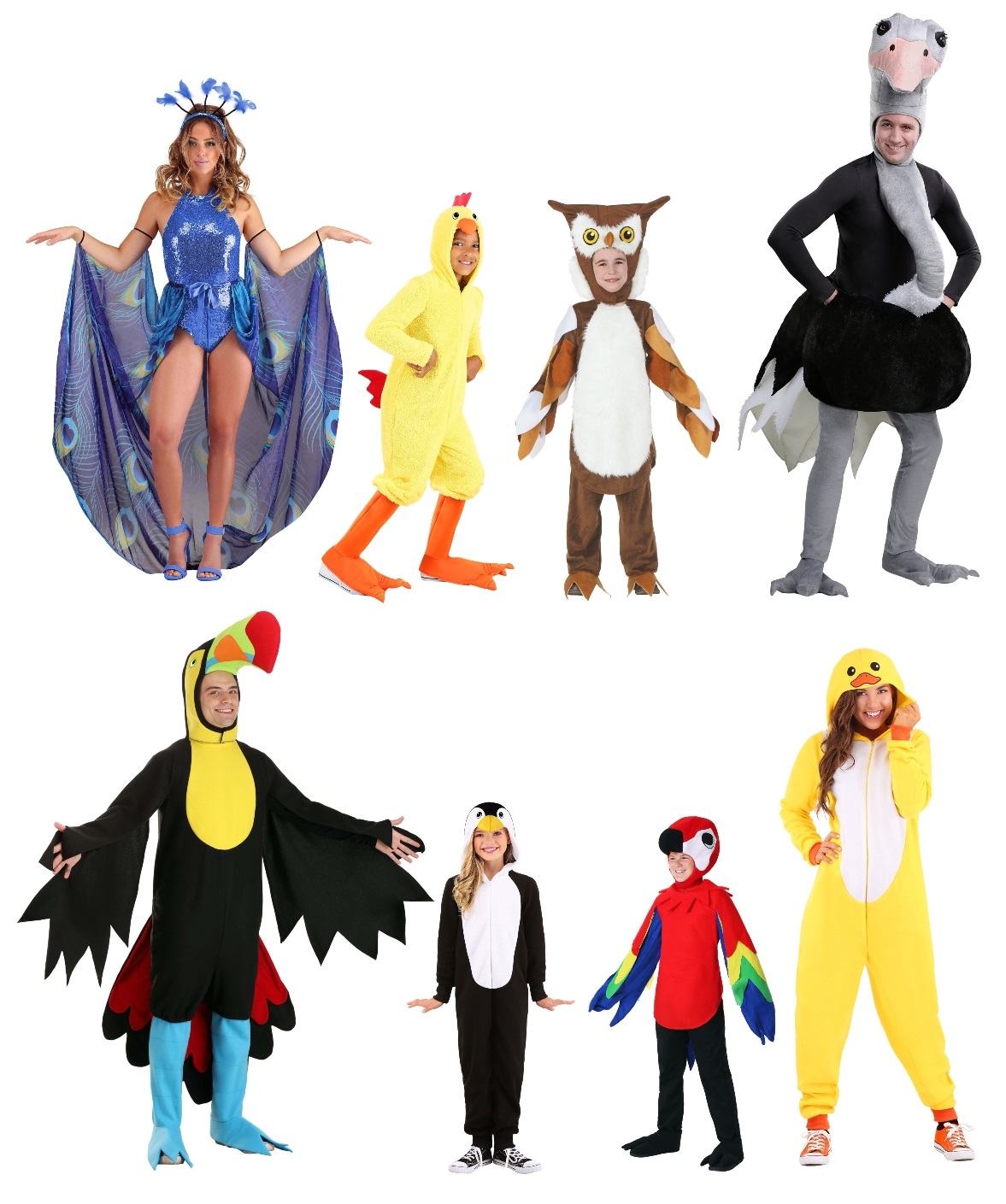 If you love bright and colorful outfits, you won't be disappointed by a bird costume. Our avian friends come in a wide variety of colors from pink flamingo costumes to scarlet macaw parrot costumes and blue and green peacock costumes. Your friends might think you're a little bird-brained, but don't let that keep you from strutting your stuff! The silly wings, stuffed headpieces and tailfeathers are also great for dancing in, whether you get a case of happy feet in a penguin costume or want to shake your tailfeather in a flamingo costume.
Amphibian and Reptile Costumes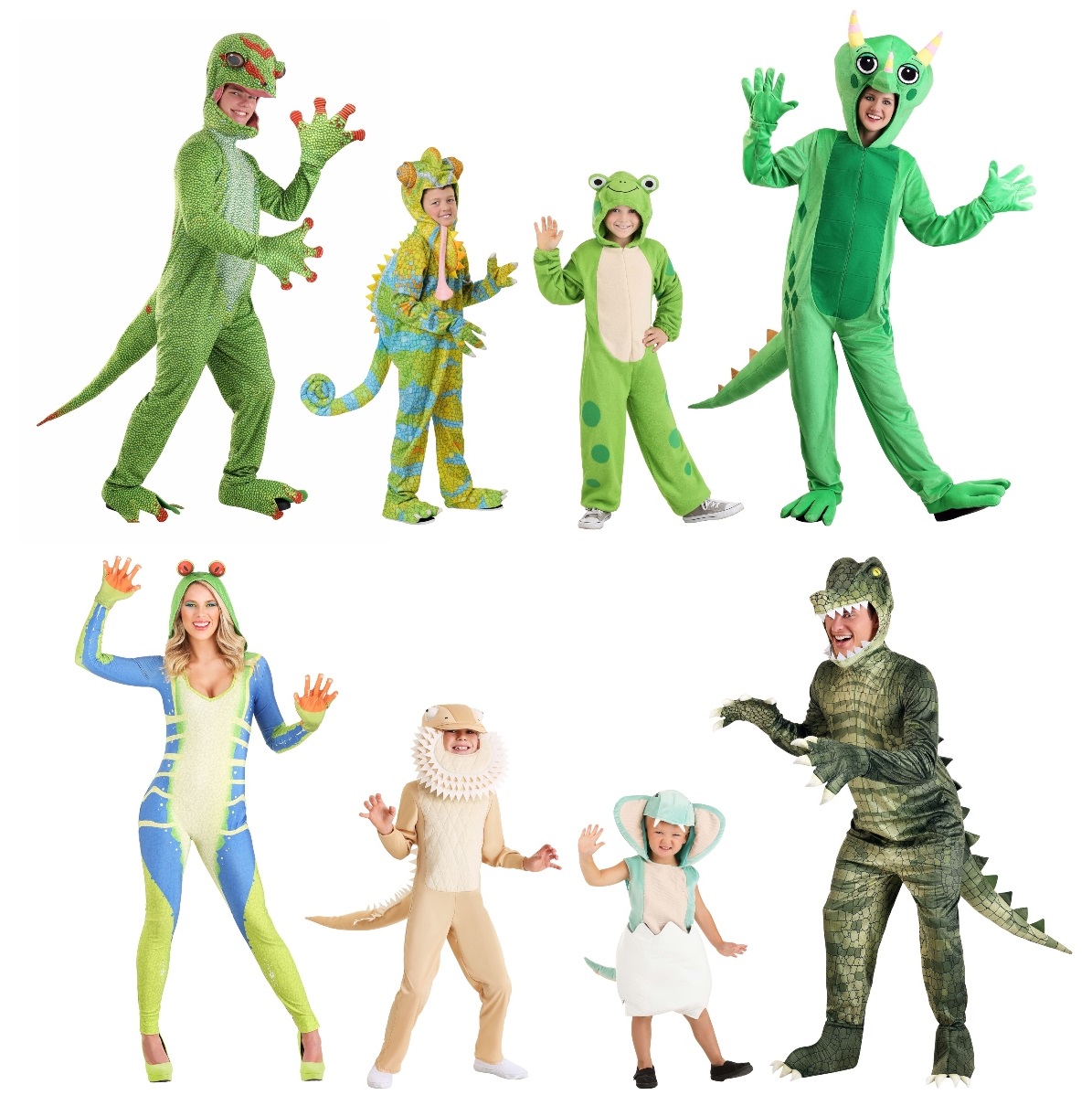 Go green by wearing an amphibian or reptile costume! It's easy being green when so many of these four-legged critters sport the color. Grab your favorite crocodile costume, frog costume or lizard costume and show off your scales and silly feet. Reptiles may be cold-blooded, but you'll stay warm and cozy in these animal onesies.
Sea Creature Costumes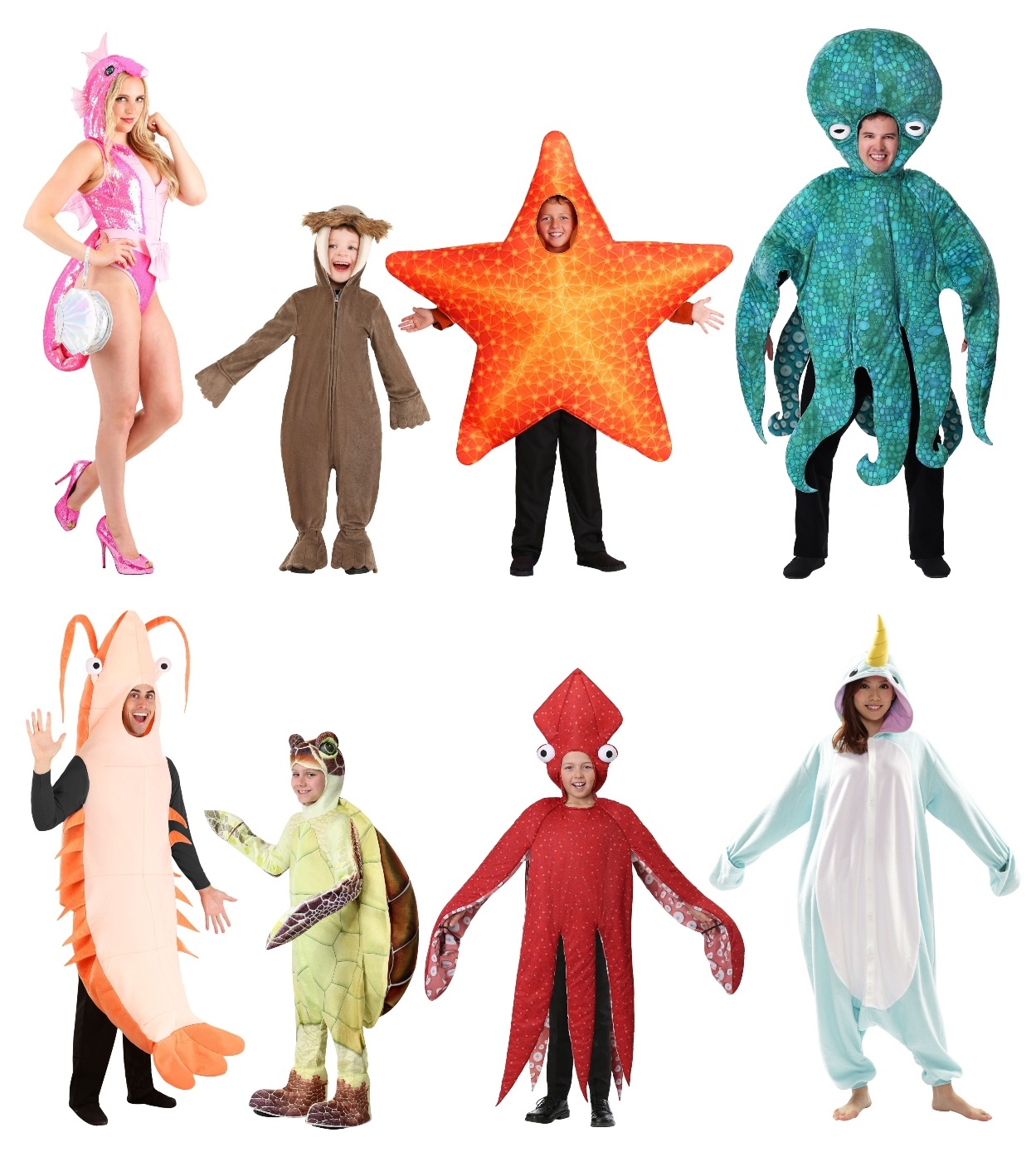 The oceans are full of sea creatures. If you have an aspiring little marine biologist or you wish you could go swimming with dolphins, perhaps you and your family would enjoy some ocean animal costumes. Feel a little silly in a narwhal costume or smart in a dolphin costume. There are some adorable costumes for kids and adults featuring other sea animals like sea turtles, seahorses, starfish, lobsters, jellyfish and sharks! (Make sure to be prepared for someone to start singing Baby Shark if you're dressed in a shark costume!)
Shark Costumes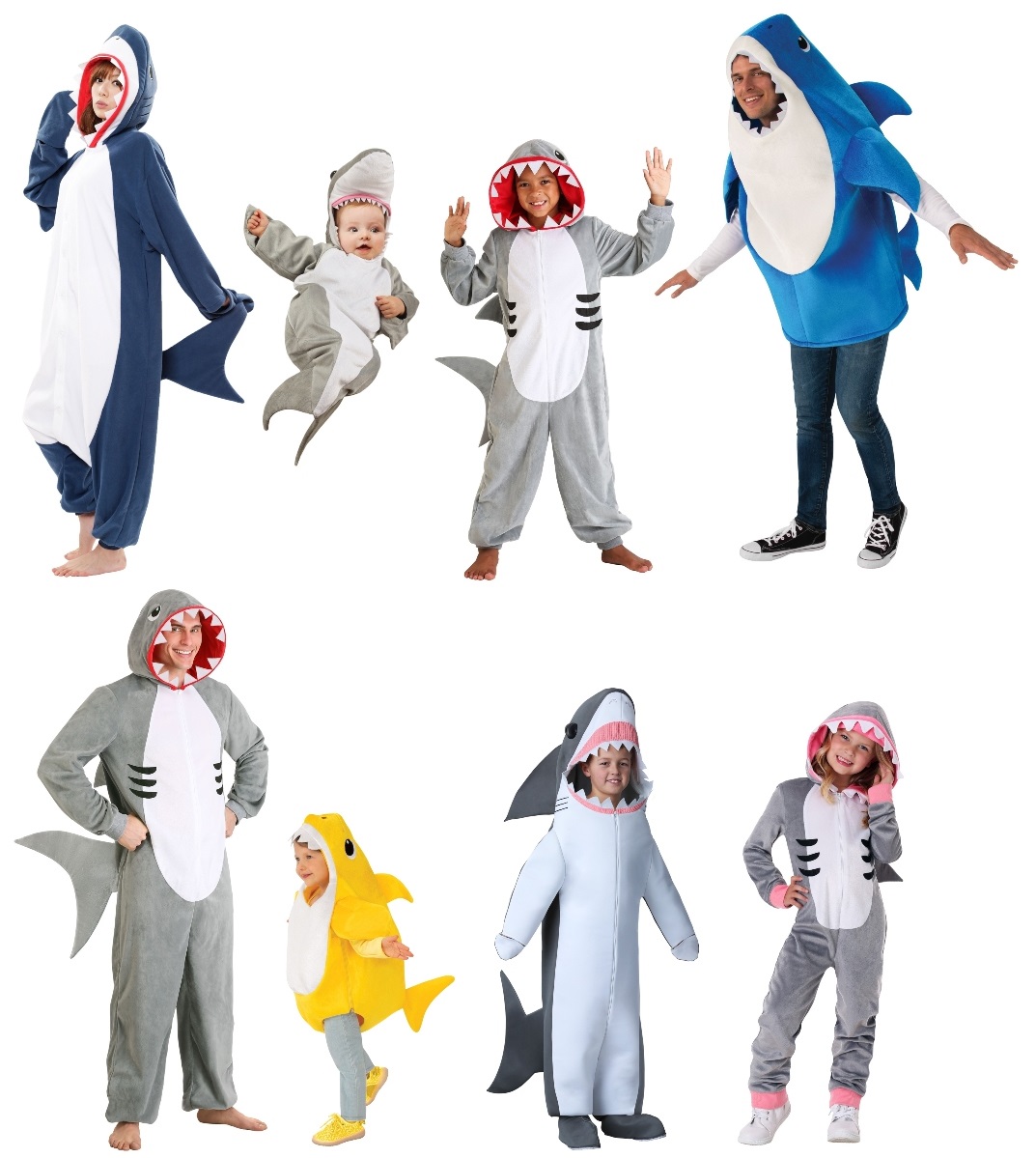 There's a whole week dedicated to sharks thanks to Shark Week, so we figured that we needed to really shine that spotlight on shark costumes for the entire family! We have the entire Baby Shark costume collection from baby shark to daddy and mommy shark. You can also find cozy, comfy shark costume jumpsuits reminiscent of character pajamas. (They're perfect for chilly Halloween nights!) There are even specific species like great white sharks and hammerheads, because shark fanatics want to rep their favorite sea creatures. We won't claim that any one shark costume is better than another, but you're sure to find the shark outfit that suits you best!
Farm Animal Costumes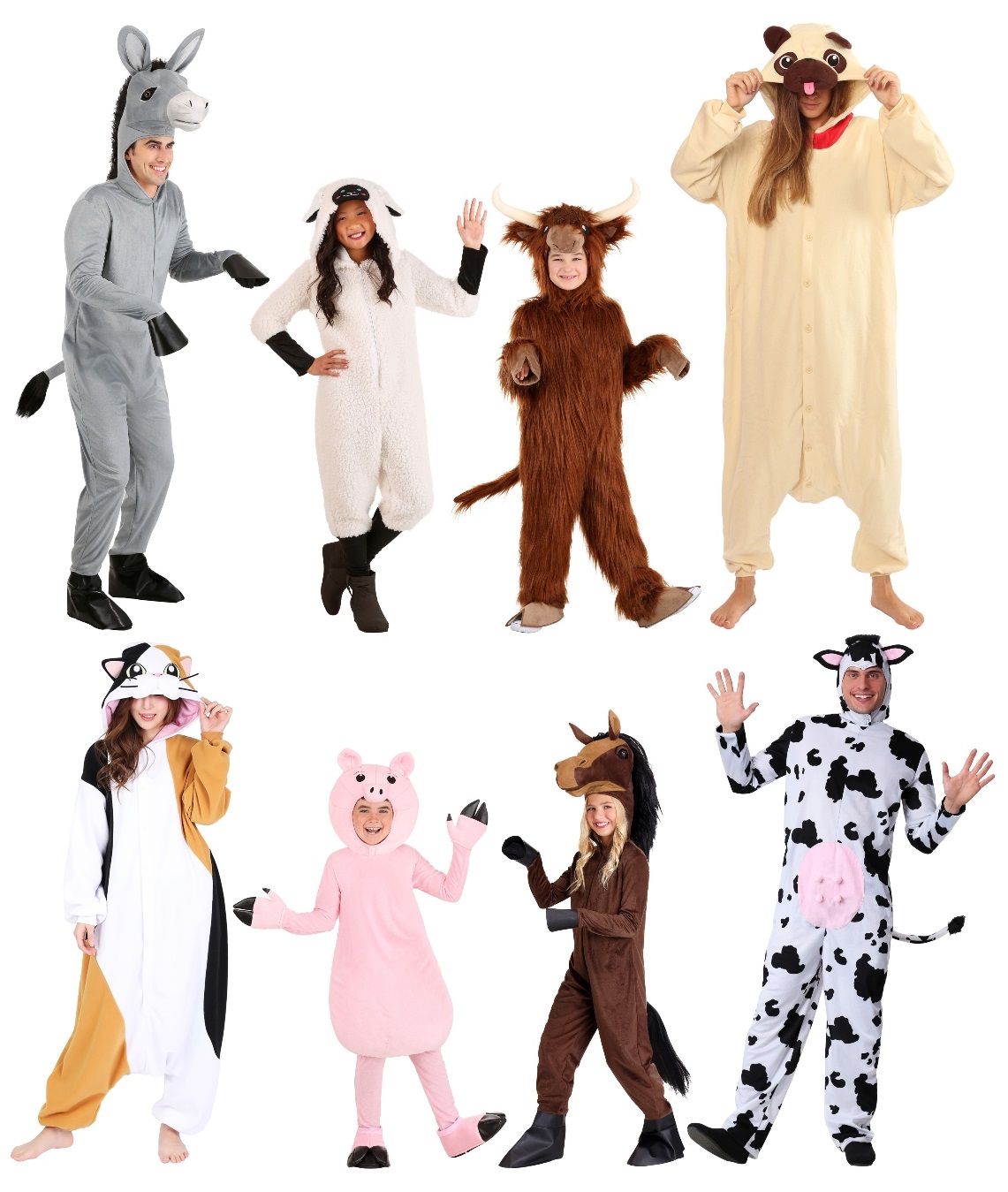 You don't have to look very far to find animals—just take a trip into the country and there are plenty of farm animals to spot! If your kids love to get out and breathe that dairy air, maybe they would enjoy some kids' farm animal costumes. There are quite a few cute farm animal onesies for adults and kids, so you might even consider making it a family affair. Find dog costumes for humans, along with cows, chickens and pigs. Rest assured in the fact that you'll look udderly adorable!
Pet Animal Costumes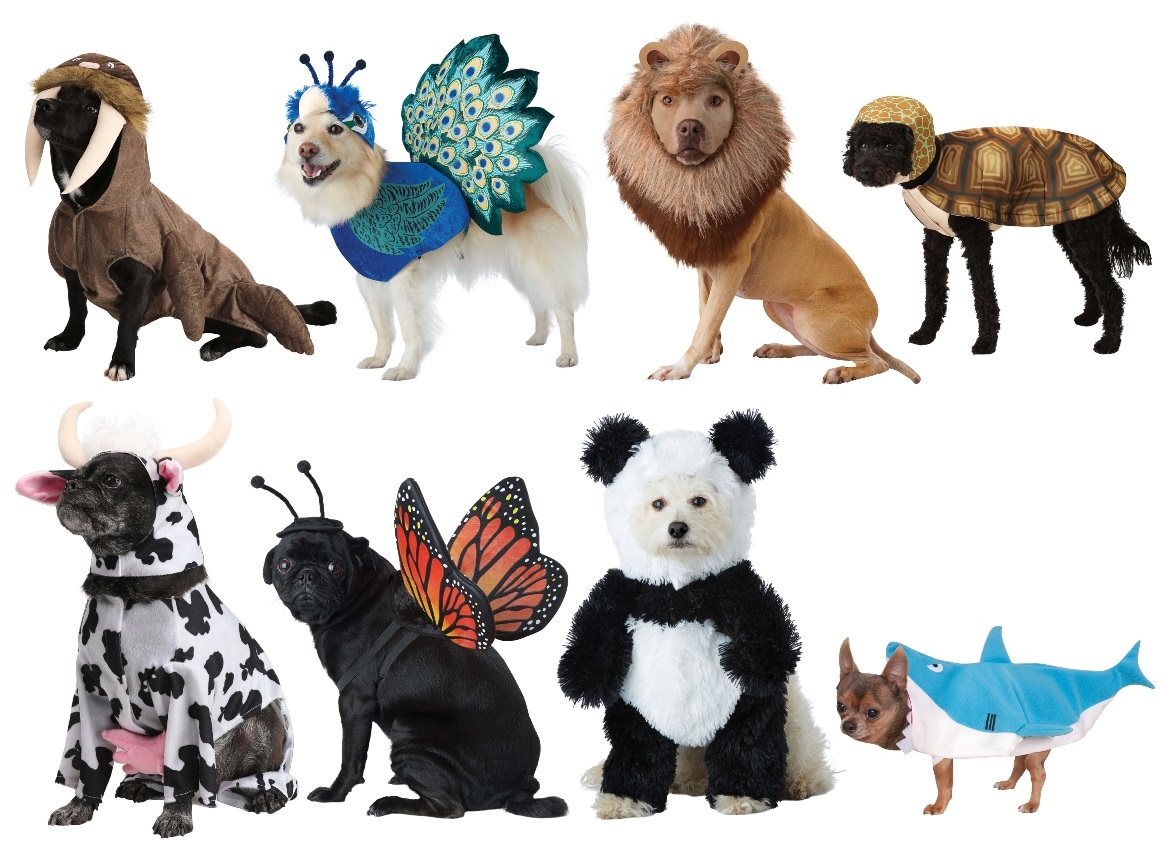 We know that we talked a lot about animal costumes already, but animals really are the stars of the show! If you agree with us, maybe your own pet could use a fun animal outfit. How great would it be to suddenly have a pet panda? What about a pet walrus? Normally you couldn't, but these animal pet costumes will let you have just about any pet for a little while.
Animal Costume Accessories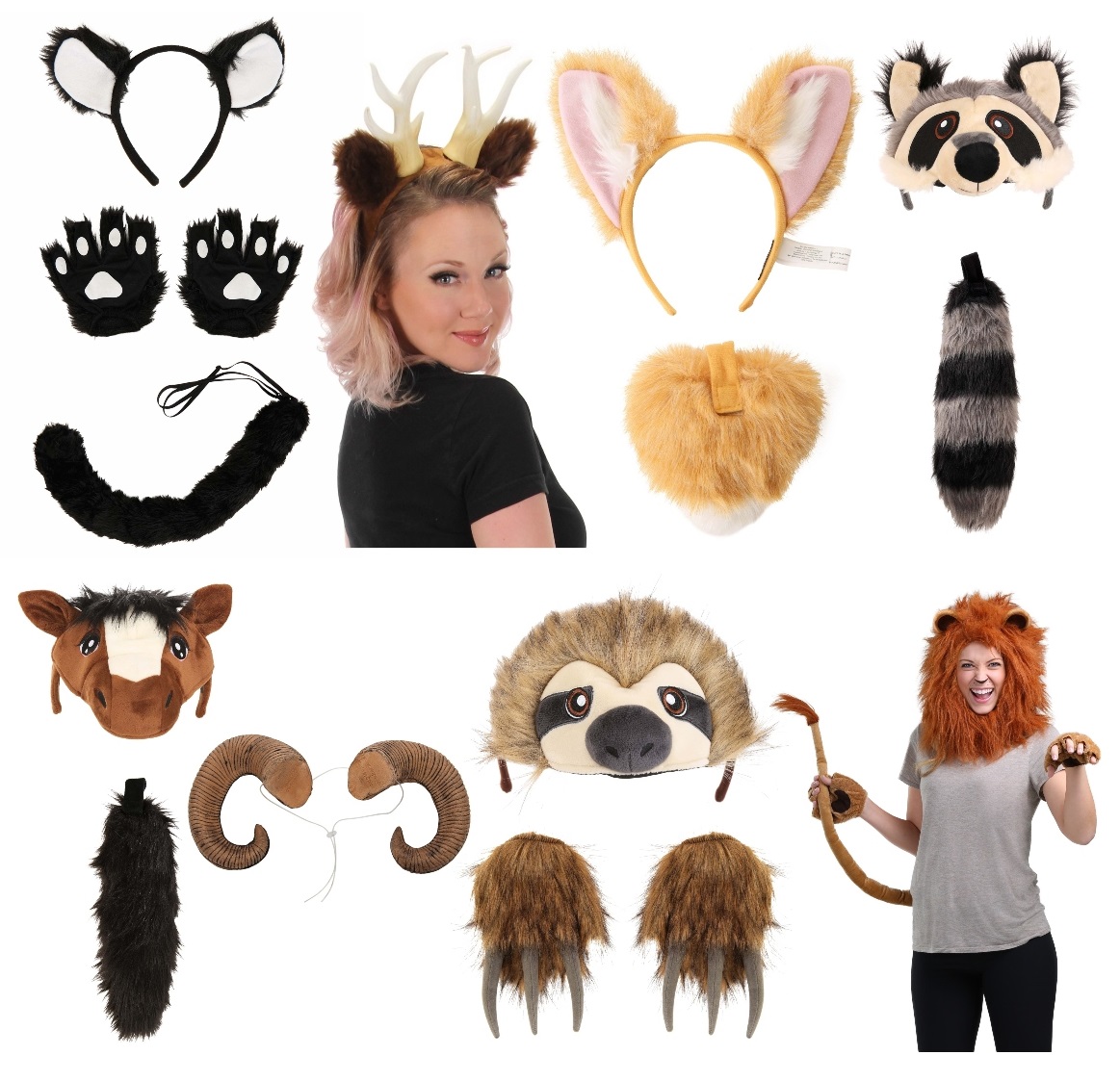 There are times where you may not be interested in wearing a full costume, but you could get away with some animal costume accessories. Maybe your kid wants a few dress-up costume accessories for their play trunk. Perhaps you're celebrating Halloween at the office but you need to be mostly in uniform. It doesn't matter the reason, really, because there are so many cool animal costume accessories to try!
We hope you found the perfect animal Halloween costume. Do you have a favorite animal? Is there a weird and wacky animal that you think we need to have as a Halloween costume? Please share your thoughts with us in the comments, and we may add another animal costume idea to our current selection!