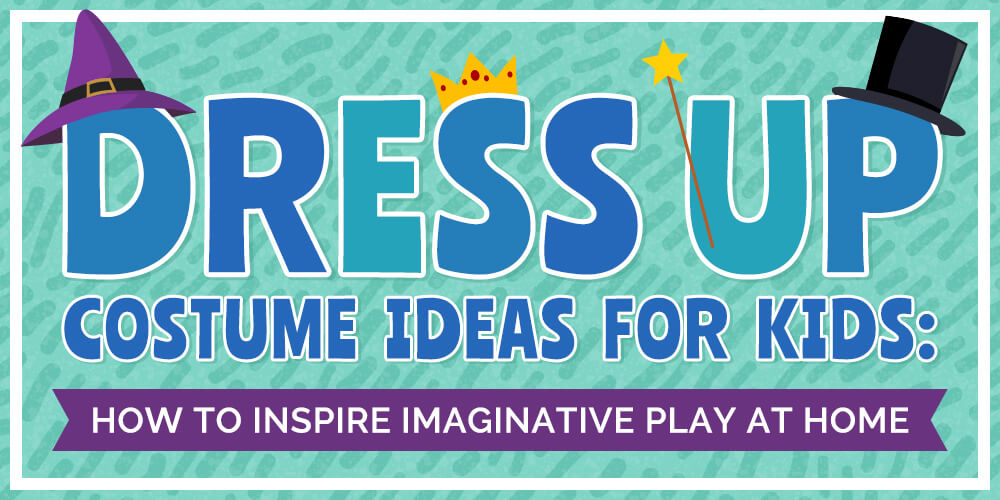 Kids love to play in a variety of ways. They love games, toys, singing, dancing and dressing up! Playing pretend is a lot of fun, and so are costumes that encourage imaginative play. Does your child love to pretend to be a firefighter? What about pirates or fairies? Whether you're on the hunt for occupation costumes or storybook and fairy tale outfits, your child will love playing with these dress-up costume ideas for kids!
1. Superhero Costumes for Kids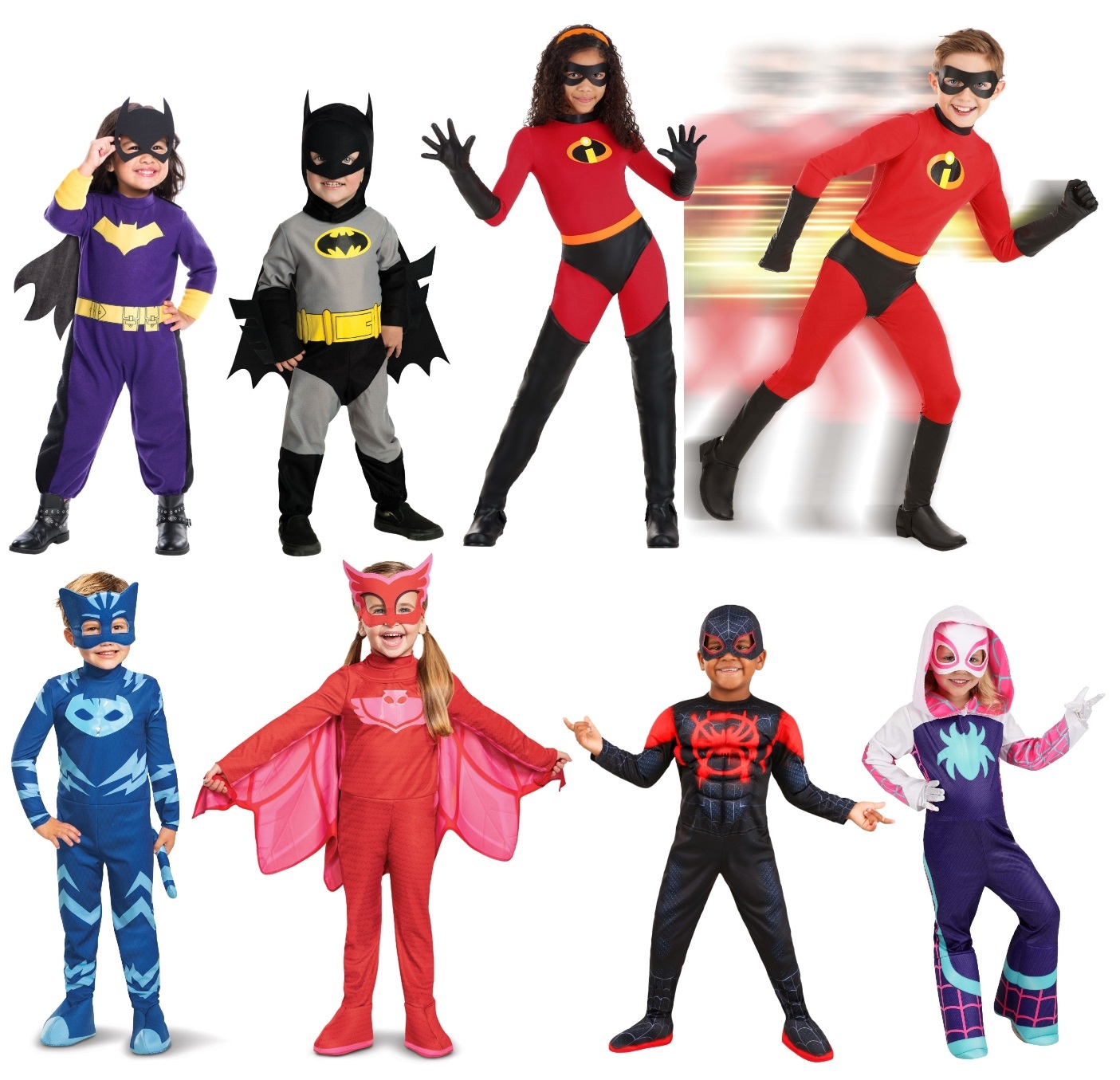 Kids look up to heroes—both real and imaginary ones. There are even kid heroes like Dash and Violet from The Incredibles and the PJ Masks trio! If your child wants to save the day around the house, you might consider getting your little one a superhero costume for dress-up activities. Maybe they can save their room from the sock gremlins or escape from the lava floor. Whether it's a pretend scenario, reenacting one of their favorite movie scenes or a way to make household chores fun, your child will feel super in their superhero outfit!
2. Pirate Costumes for Kids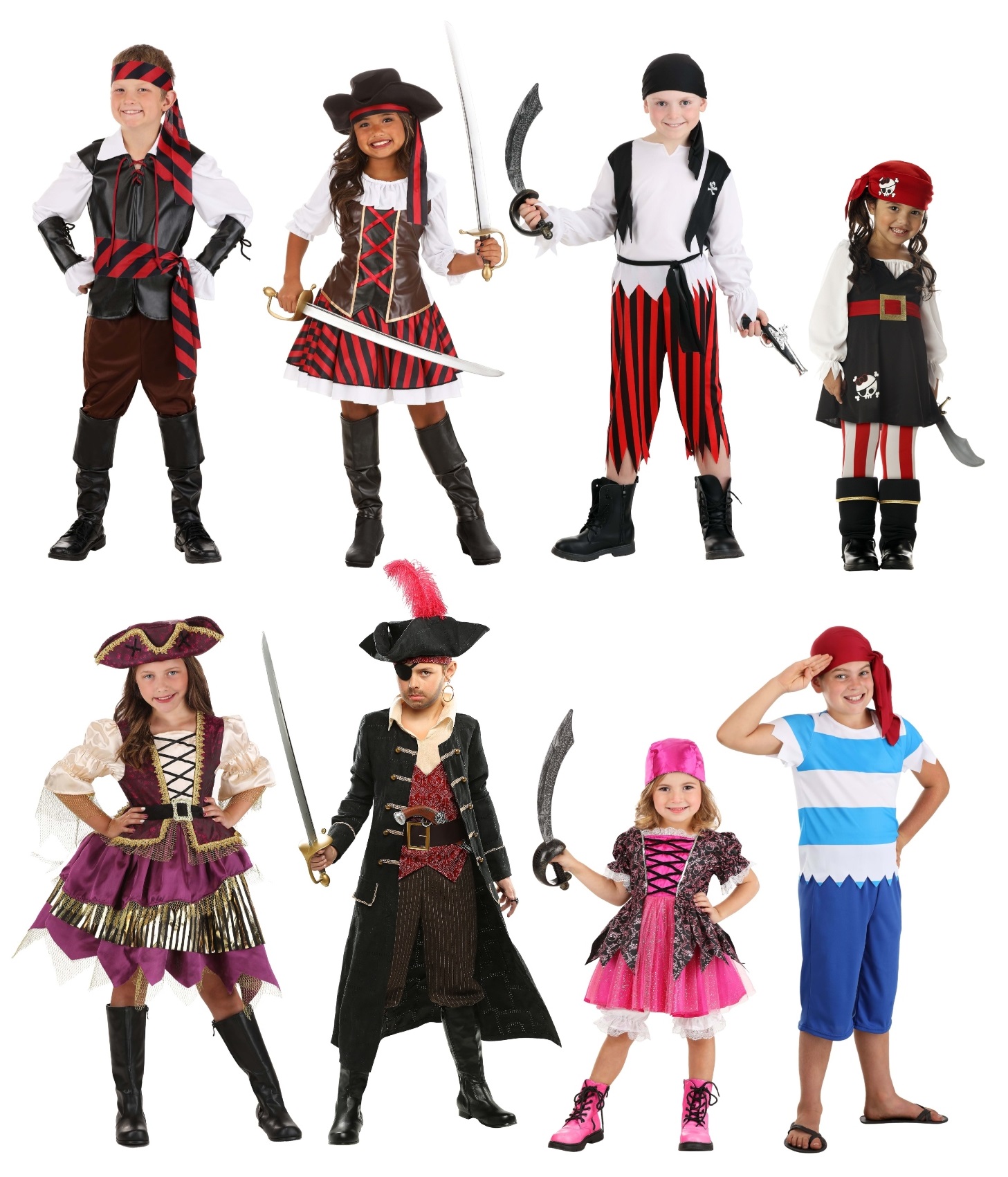 Yo ho, yo ho, a pirate's life for me! If your child dreams of being the scourge of the seven seas, your bonny little buccaneer is going to need their very own pirate dress-up outfit. (You have to look the part to tell someone to walk the plank, after all!) You can even include their pirate costume in an additional indoor activity, like building a cardboard pirate ship together. When pretend play for toddlers is done for the day, you can save their costume in their dress-up trunk and perhaps even reuse it again for Halloween!
3. Princess Costumes for Kids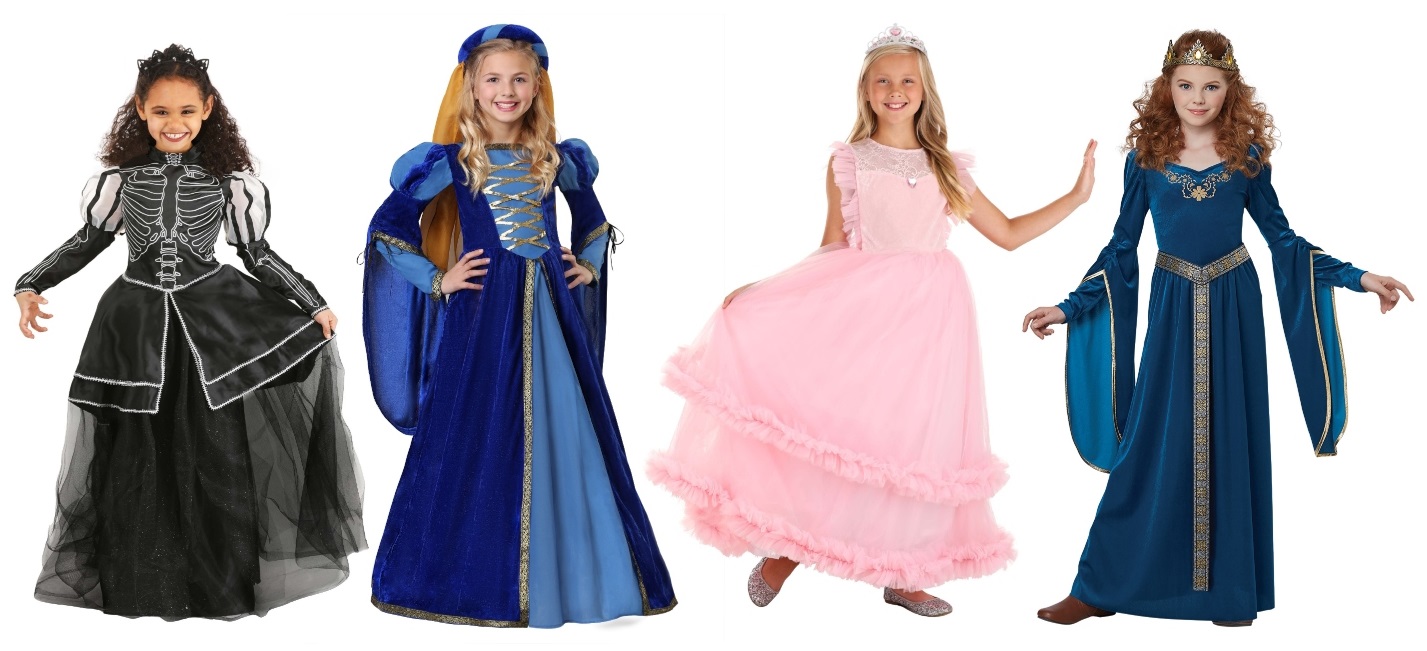 Being a princess is hard work, but we're sure that your little girl can pull it off with a tiara and her favorite princess gown. She can have diplomatic chats with her stuffed animals over tea time, fight alongside her knights to protect her kingdom or even host a ball to improve the morale in her kingdom. (After all, it's boring to simply sit in a castle all day with nothing to do!) You can even create your own cardboard castle, bake tea time treats and find other inventive ways for her to wear her girls' dressup costume.
4. Animal Costumes for Kids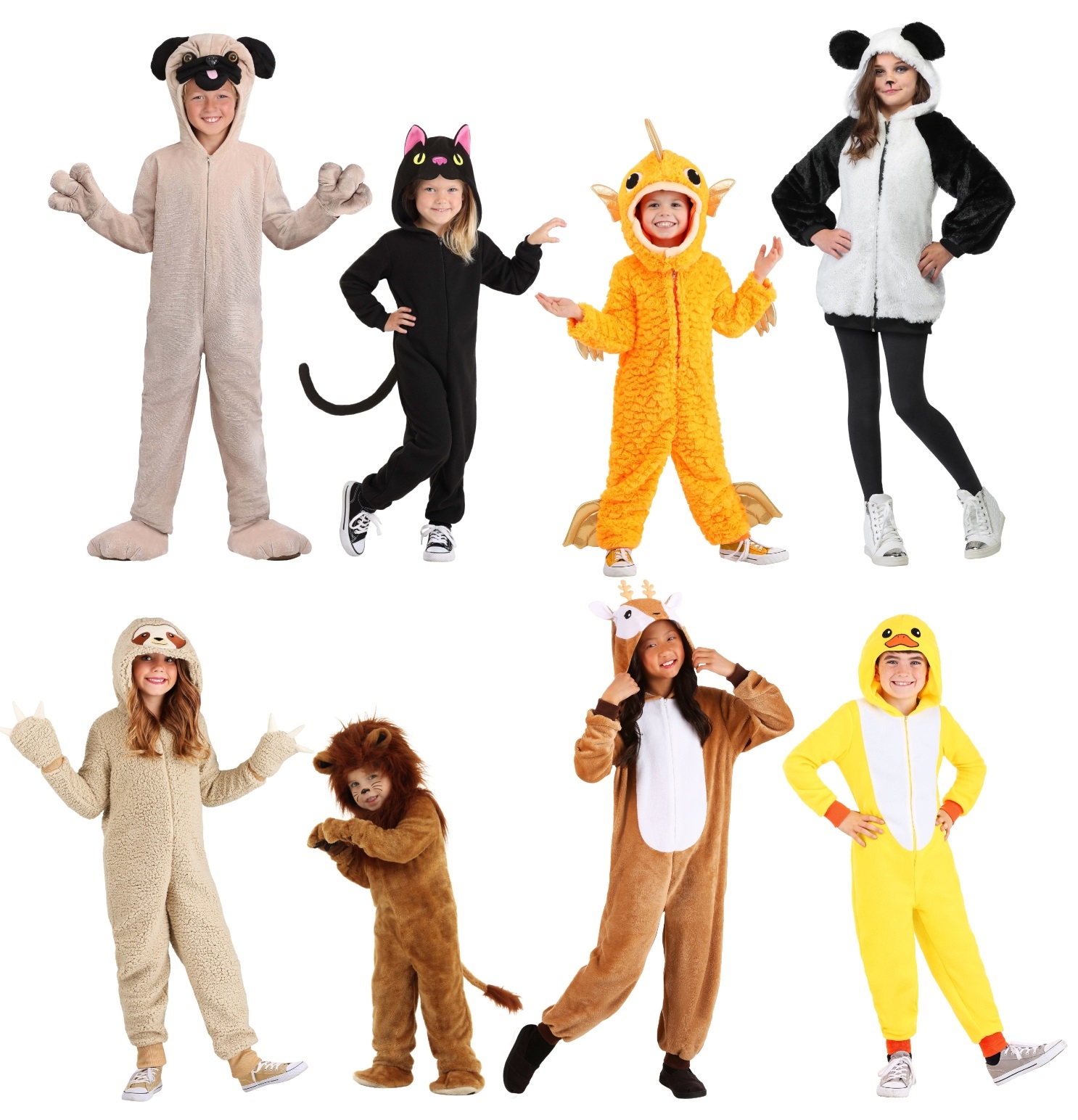 Animals have always fascinated children, so they make some of the best dress-up clothes for kids. Toddlers and young children will especially love learning about animal sounds, the alphabet and other activities while wearing an animal onesie. There are plenty of animal costume ideas at HalloweenCostumes.com, so even if you have that weird kid who loves chameleons, meerkats or other atypical animals, we have a kids' Halloween dress-up costume for them too!
5. Disney Princess Costumes for Kids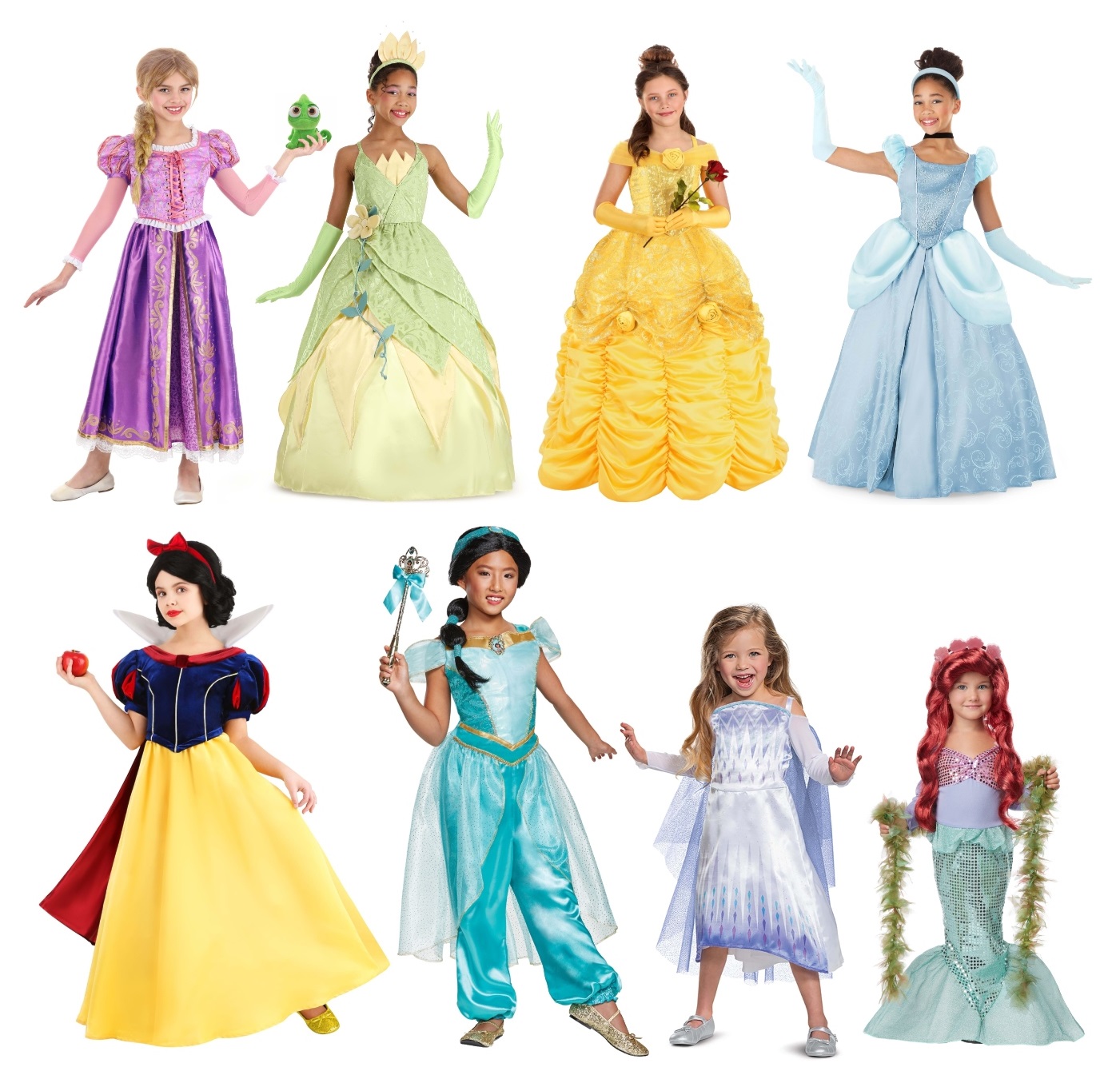 If your girl is keen on wearing a character dress-up costume, there's a good chance that she might want to wear a Disney princess outfit. Girls who love to sing and dance will love twirling in sparkly gowns and belting out their favorite Disney songs. (Bonus points if you have Disney karaoke ready for her!) You can even find other Disney outfits if you have a couple of kids so they can dress in sibling outfits together and reenact their favorite movie scenes.
6. Historical Costumes for Kids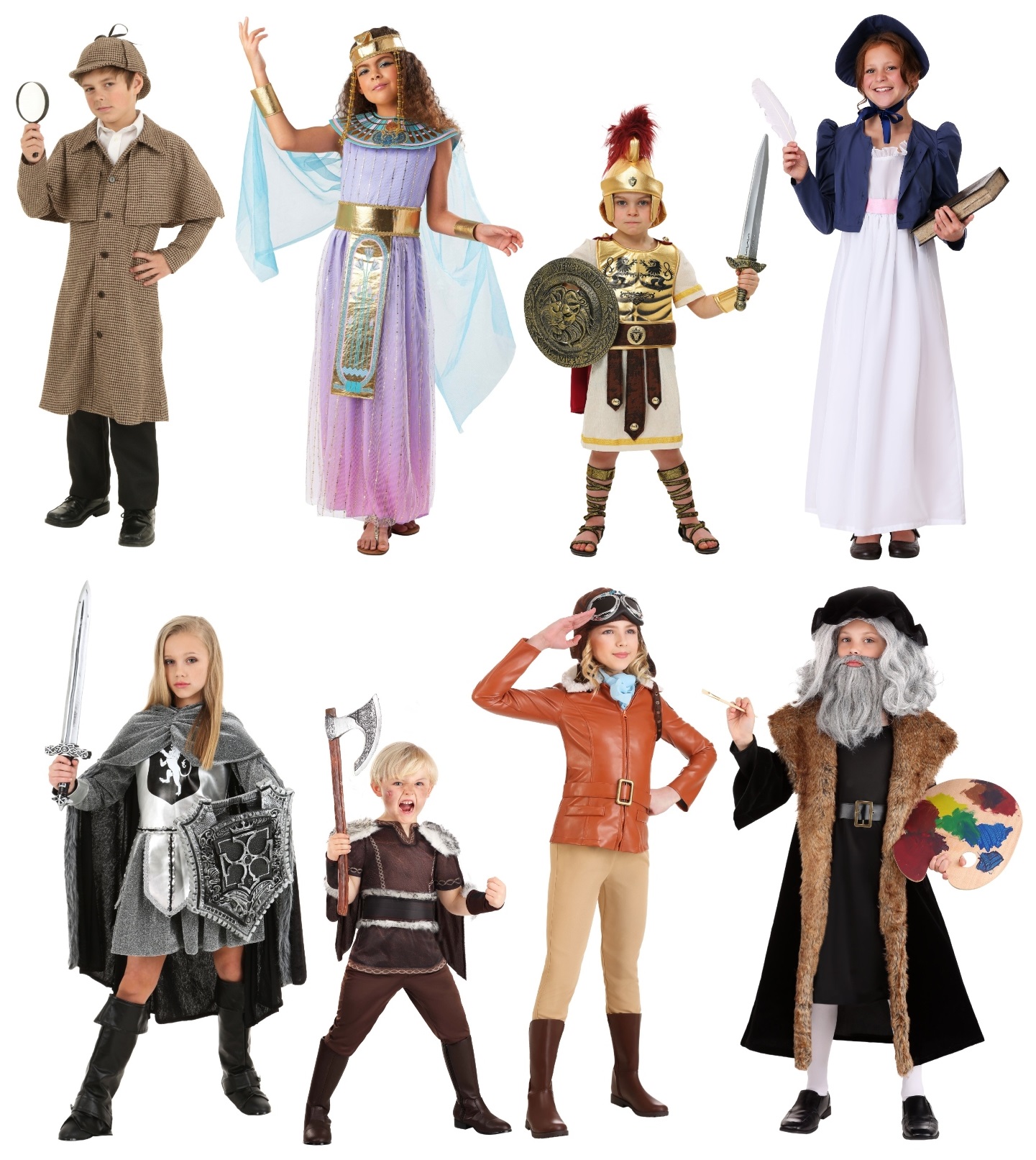 Sometimes, real life is better than fiction. History has seen great feats of strength, the progress of science and many other events that might inspire your child's dress-up costume ideas. Give your kids the ability to have fun and learn, and they'll probably thank you years down the road. There are tons of great historical costumes for girls and boys—perfect for imaginative playtime. Can they assist Scotland Yard on their next great mystery? What about ruling the Nile as their next queen? Feel free to bring up actual historical events or have your kids make up their own playtime scenarios!
7. Fairytale Costumes for Kids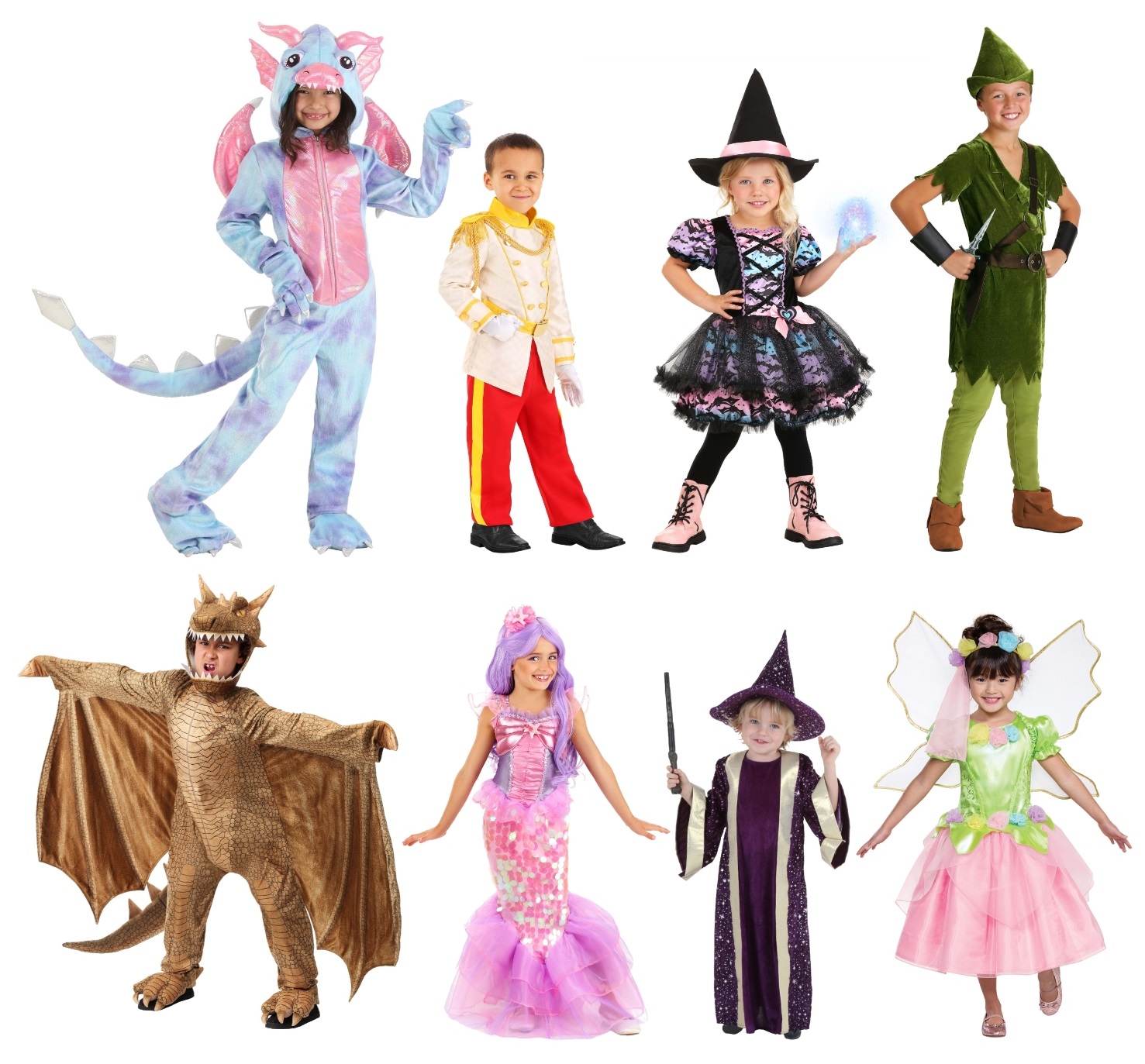 If your child is a natural storyteller or loves fairy tales, you can find quite a few fairy tale and storybook costumes for kids. Even nursery rhyme costumes are great for young children and toddlers! There are so many unique characters to choose from including Peter Pan, wizards, mermaids, dragons and more. We're sure that your kid would love to have one of these role-play costumes for toddlers and kids in their dress-up trunk.
8. Sports Costumes for Kids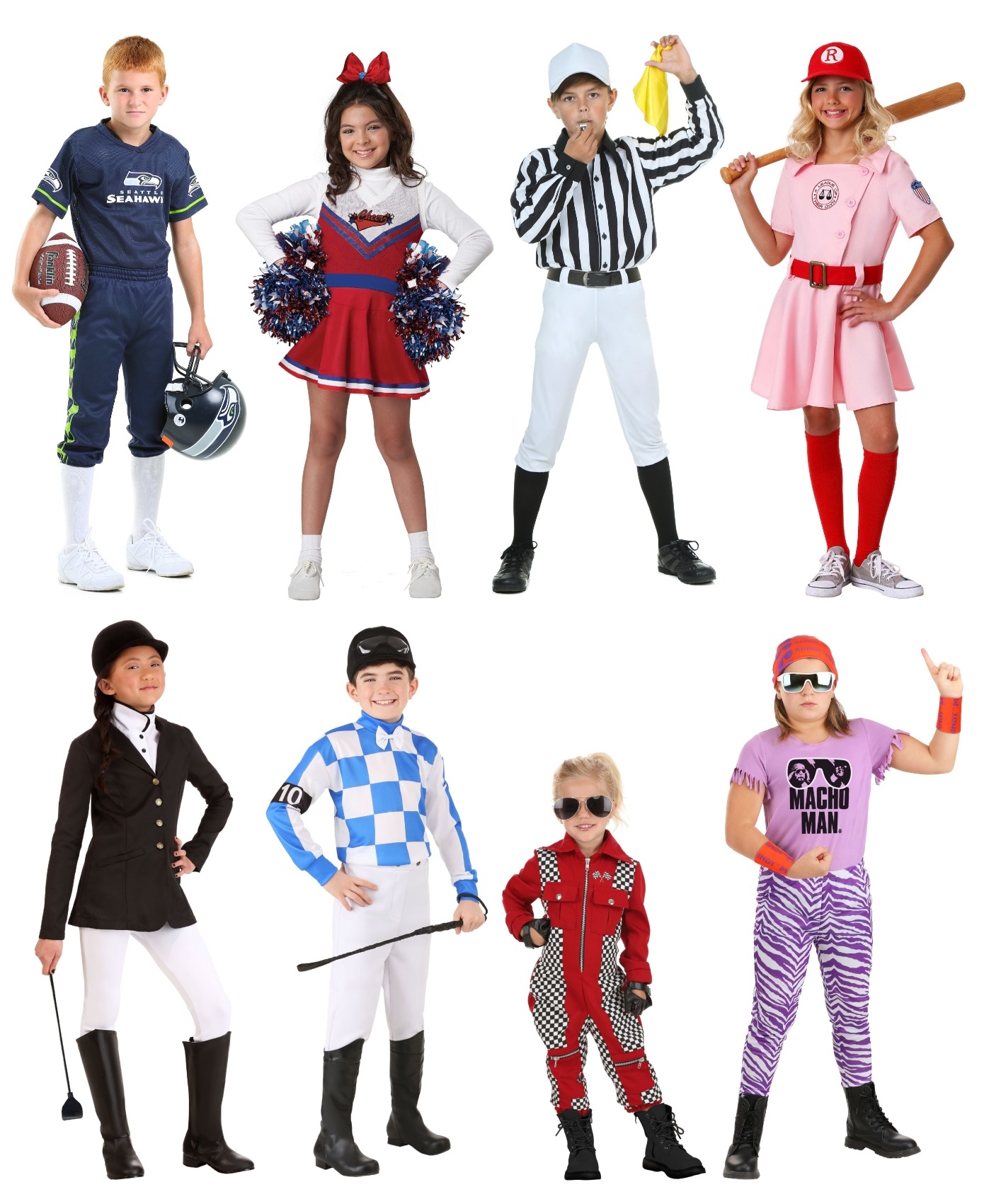 Little kids will often idolize people who they are familiar with. If your children love to watch sports with you, they may look up to their favorite baseball player or golfer. Sports costumes for kids are a great way to get them to dress up as well as to be active! Let them pretend play games such as backyard mini golf dressed like a pro, or shoot some hoops on the driveway in a basketball uniform. By making these activities fun, your kids won't even realize their playtime is also keeping them fit!
9. Occupation Costumes for Kids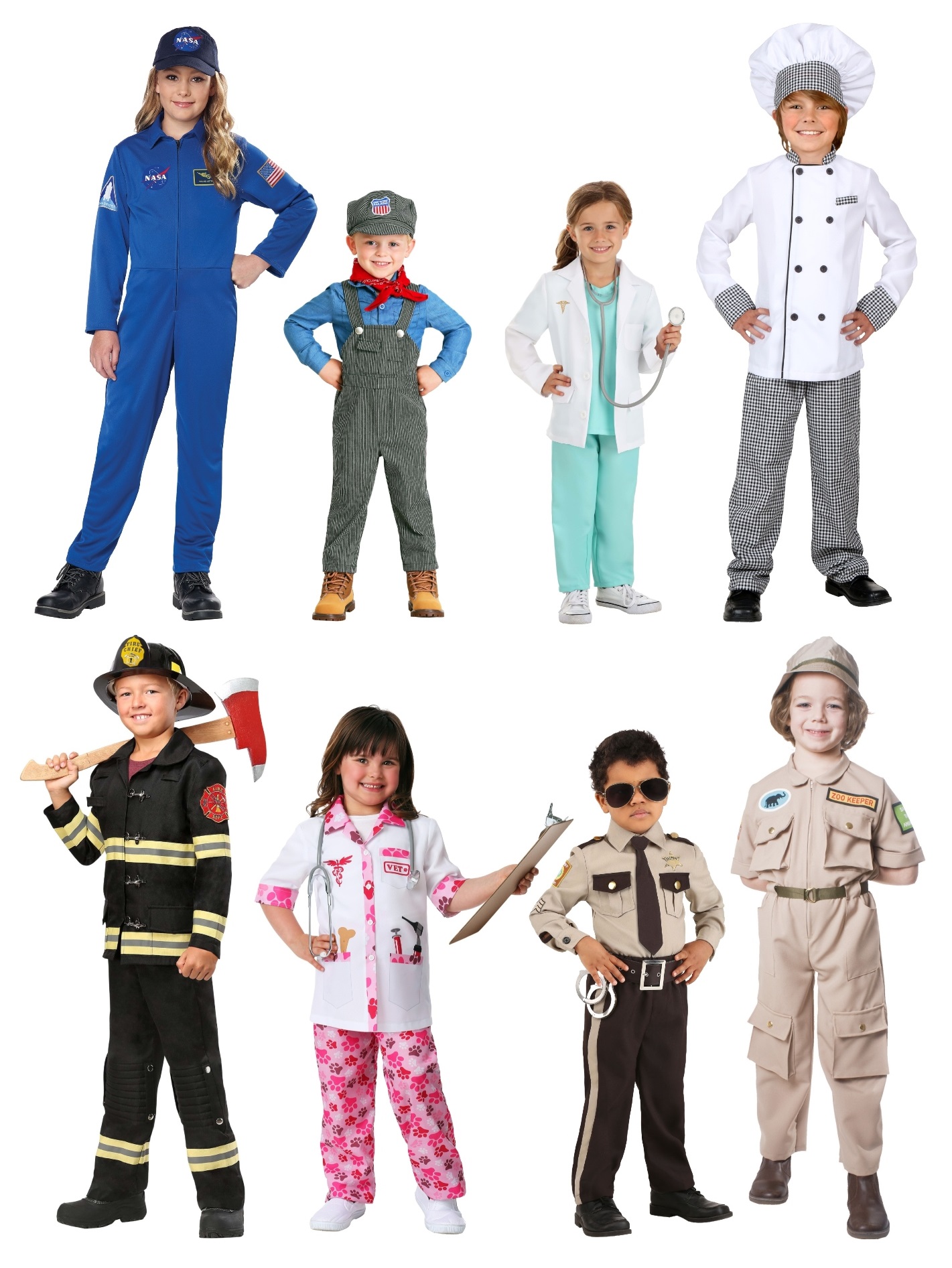 Feed your child's enthusiasm to have a grown-up career with a variety of career role-play costumes. They present a lot of great opportunities for pretend play ideas for children. Little kids will love helping out around the house in their very own uniform costume. Have them check up on the family pet, bake a batch of cookies or build the best train track the living room has ever had! These grownup outfits for kids may also come in handy if your child has a school project for career day, or you can also use their favorite dress-up costume again for Halloween. (You'll know they love it if they ask you to get their costume after it comes out of the dryer!)
10. Movie Costumes for Kids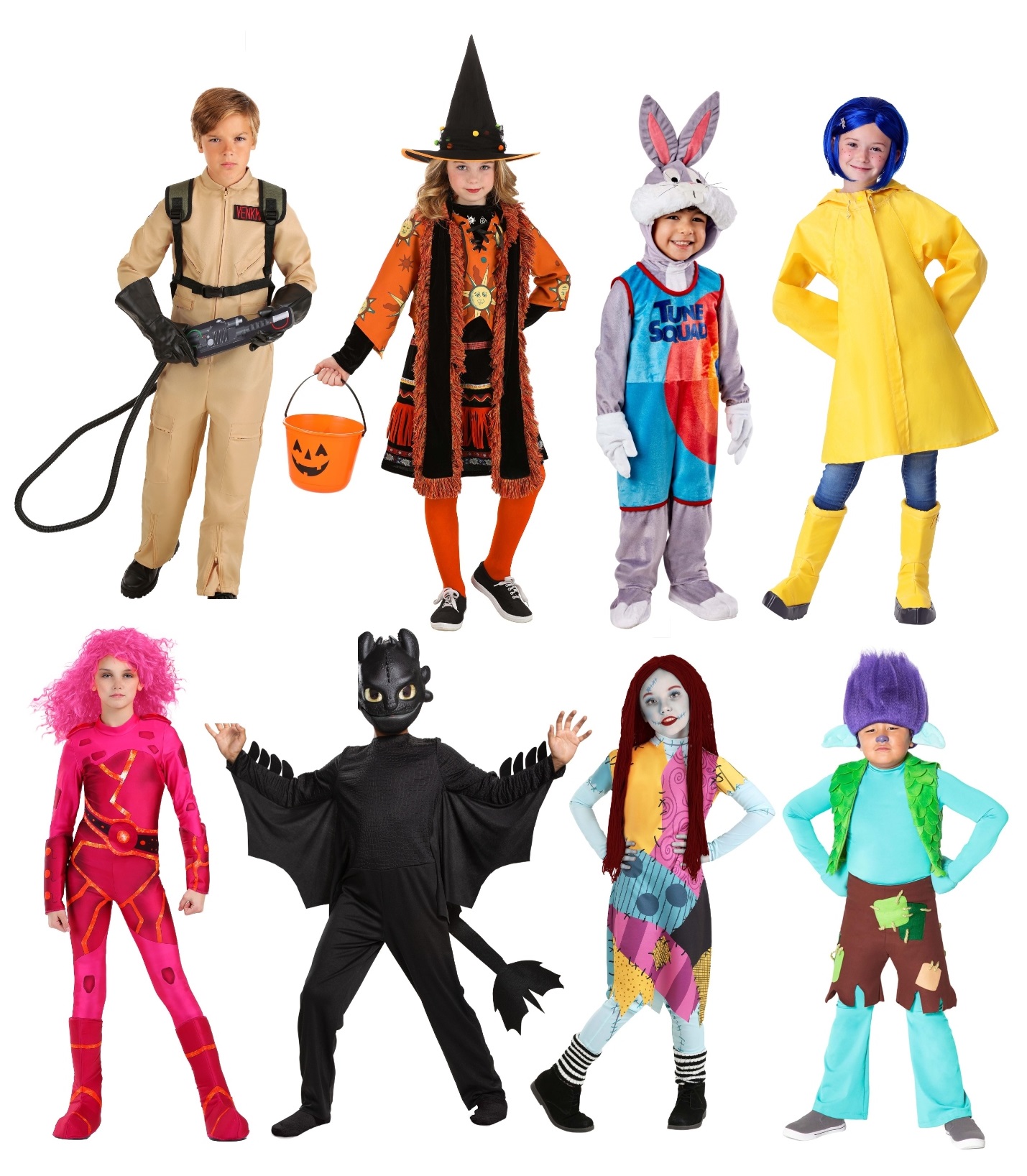 One of the joys of having kids is spending time watching a movie together. There are tons of great kids movies that adults also love, such as Toy Story and Hotel Transylvania. Parents also love introducing kids to some of their favorite movies, so kids may get excited about these characters too! Find some kid-friendly movie costumes so your children can play pretend as their favorite movie characters. They'll enjoy saving the world (or maybe just your house).
11. TV Costumes for Kids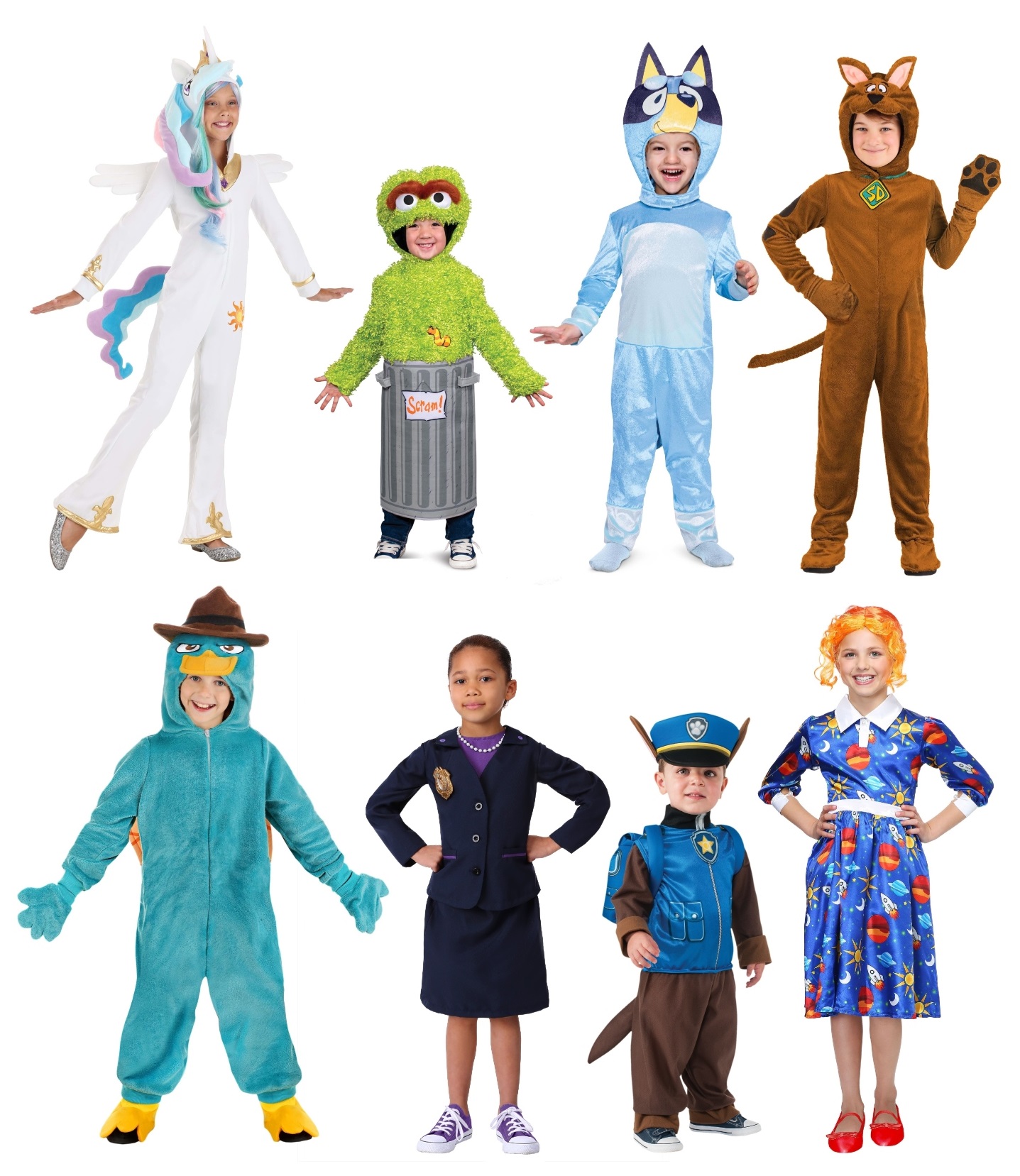 There are tons of great children's television shows with characters that kids know and love. By extension, this means that there are lots of TV dress-up costumes for kids that they'll also know and love! Let your kids join their favorite dogs as part of the Paw Patrol, or hunt down ghosts and solve mysteries as Scooby-Doo. There are so many pretend play ideas for kids and their favorite TV show characters!
12. Play Costumes for Kids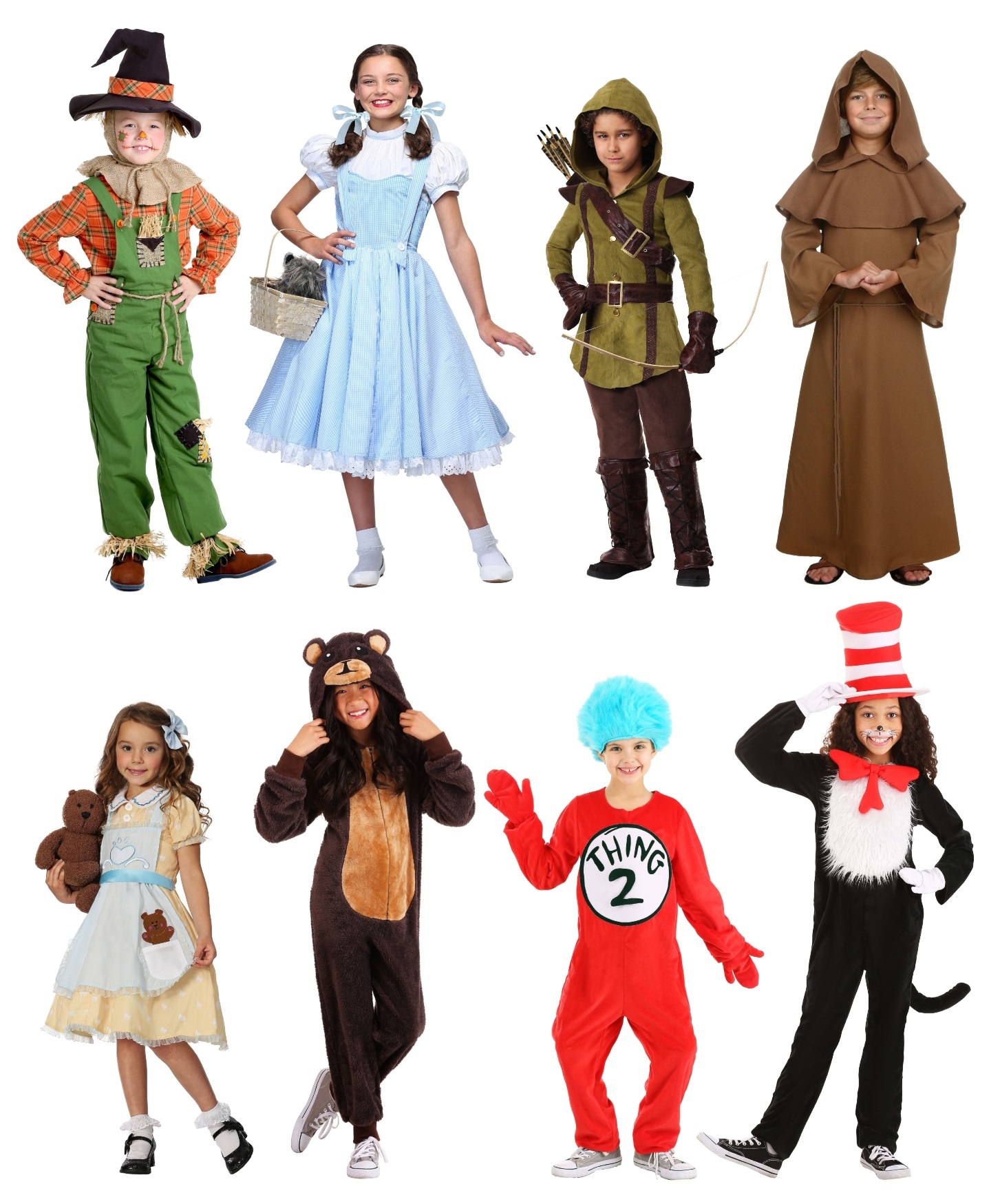 If your kids are a little older or more ambitious and still have a deep love for dressing up, they might appreciate play costumes for creating their own at-home theater shows. Fairy tales, nursery rhymes, books, TV shows and movies are some great places to start as they will be familiar enough for kids to create their own plays. (Nursery rhymes are especially great for dramatic play for toddlers!) Kids can make their own Robin Hood story or explore what happened after the events of Goldilocks and the Three Bears. Even Dorothy and her friends have had a few adventures in the wonderful land of Oz! These are only a few theater costume ideas for kids, and you're sure to find more by looking at other storybook and fairy tale costume ideas.
13. Dress-Up Accessories for Kids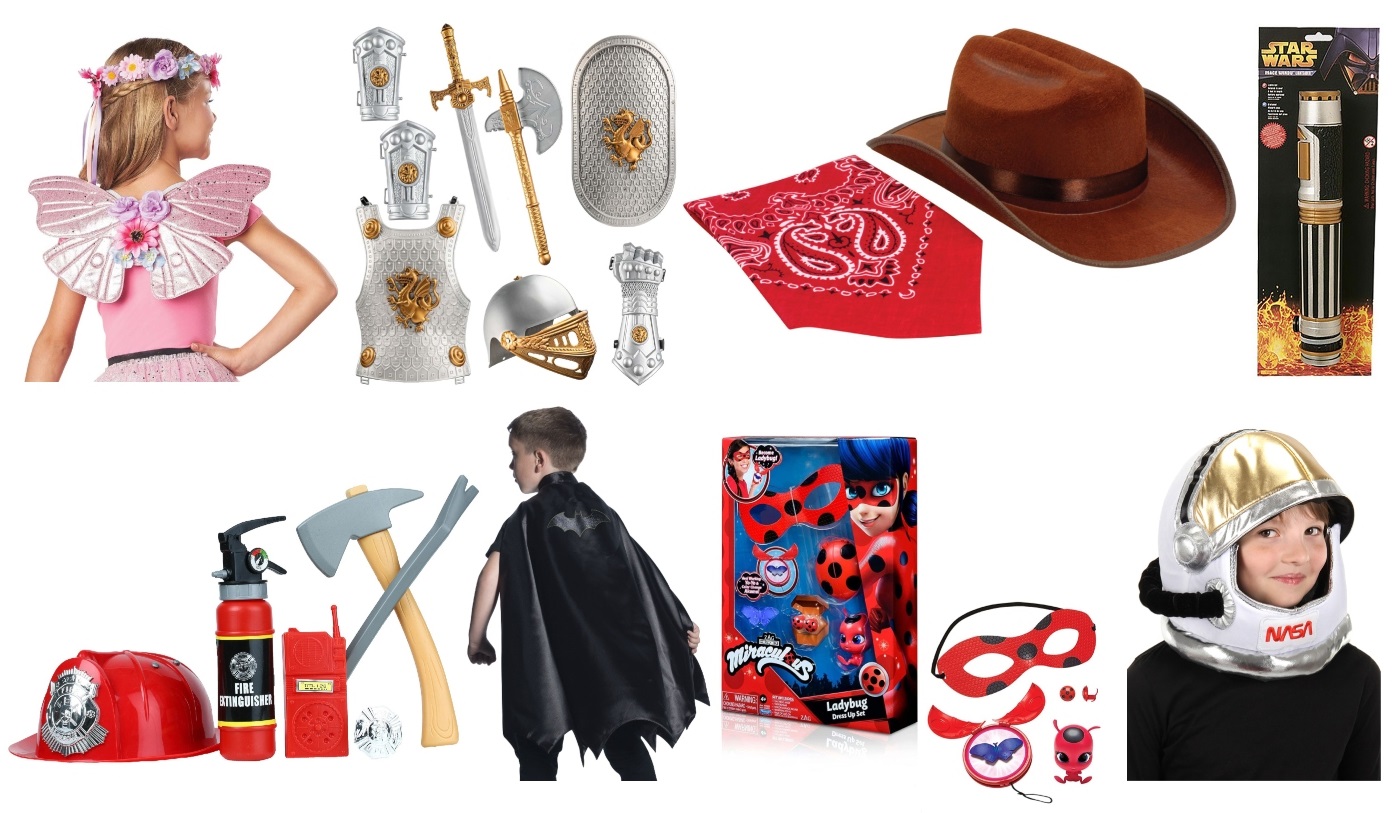 When you're playing by using your imagination, sometimes you don't need a complete costume. Costume props and accessories may be exactly what your child needs! Have a lightsaber fight with toy lightsabers or watch as your child runs around the house with their favorite superhero cape. Kids can even mix and match so they can be a cowboy police fairy space bunny. (Try saying that five times fast!)
Having Fun Dressing Up at Home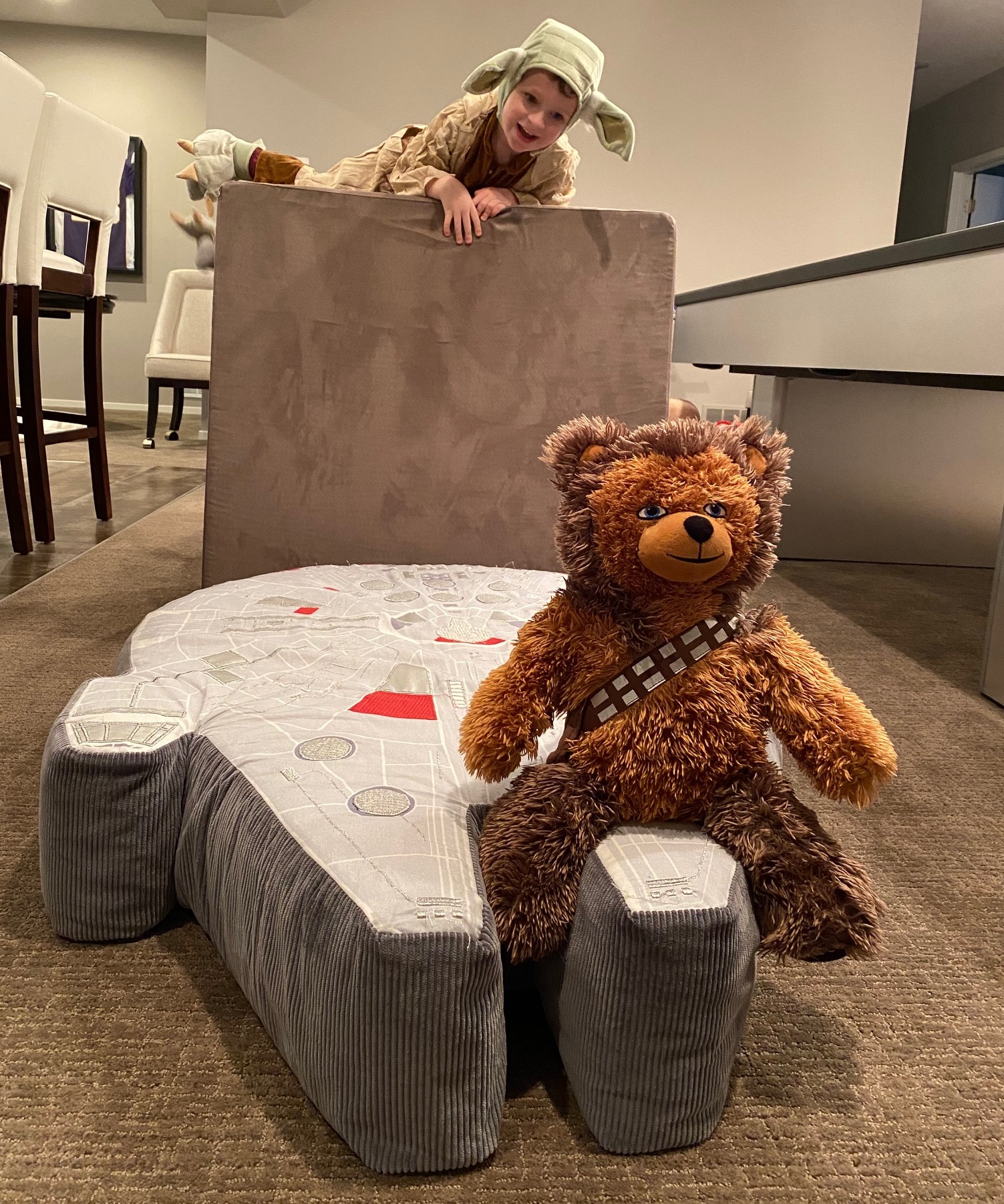 Kids love to play dress-up at home, and it gives them the chance to be some of their favorite characters! Perhaps they want to join the Jedi Academy, and they need to take a series of training courses to earn their first lightsaber. Little divas might want to dress like Elsa in order to belt out their favorite songs. (Or maybe make their own Disney Princess music video!) Combine your kids' favorite Halloween costumes and toys, and you have a recipe for instant fun.
We hope you have more than enough ideas for your child's dress-up trunk costumes. Does your kid like to pretend to be an animal? What about occupations or superheroes? Feel free to tell us all about it in the comments! We'd love to hear all of your kids' costume ideas if you feel like we could use even dress-up items.