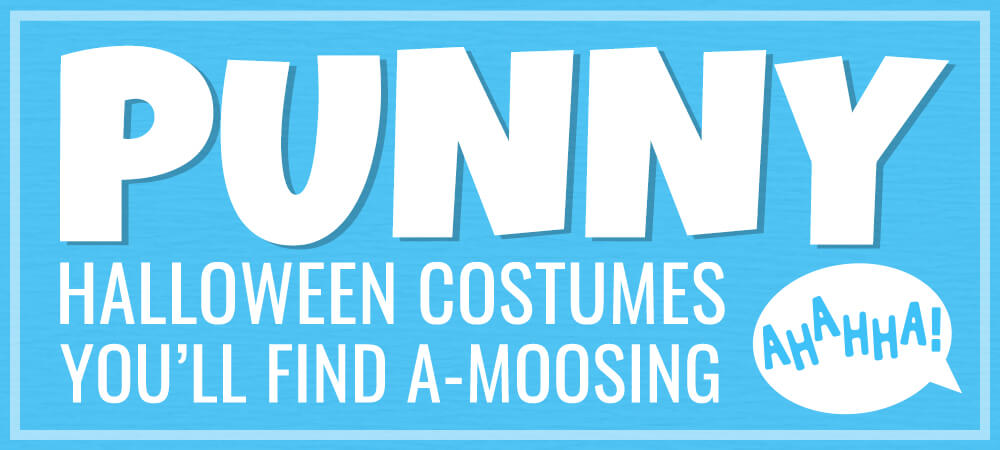 Albert Einstein once said that "the pun is the most energetic form of joke". Okay, we totally just made that up, but we're sure that Al was a fan of the pun. (Probably dad jokes, too.) We love puns, which is why we put together the ultimate guide to pun costumes. Wear them to Halloween parties. Wear them to party parties. Wear them because you love being the center of attention, which you will be when you're rocking a Cereal Killer costume or a Taco Belle gown. Read on for a list of the best punny Halloween costume ideas ever!
1. Cereal Killer Costume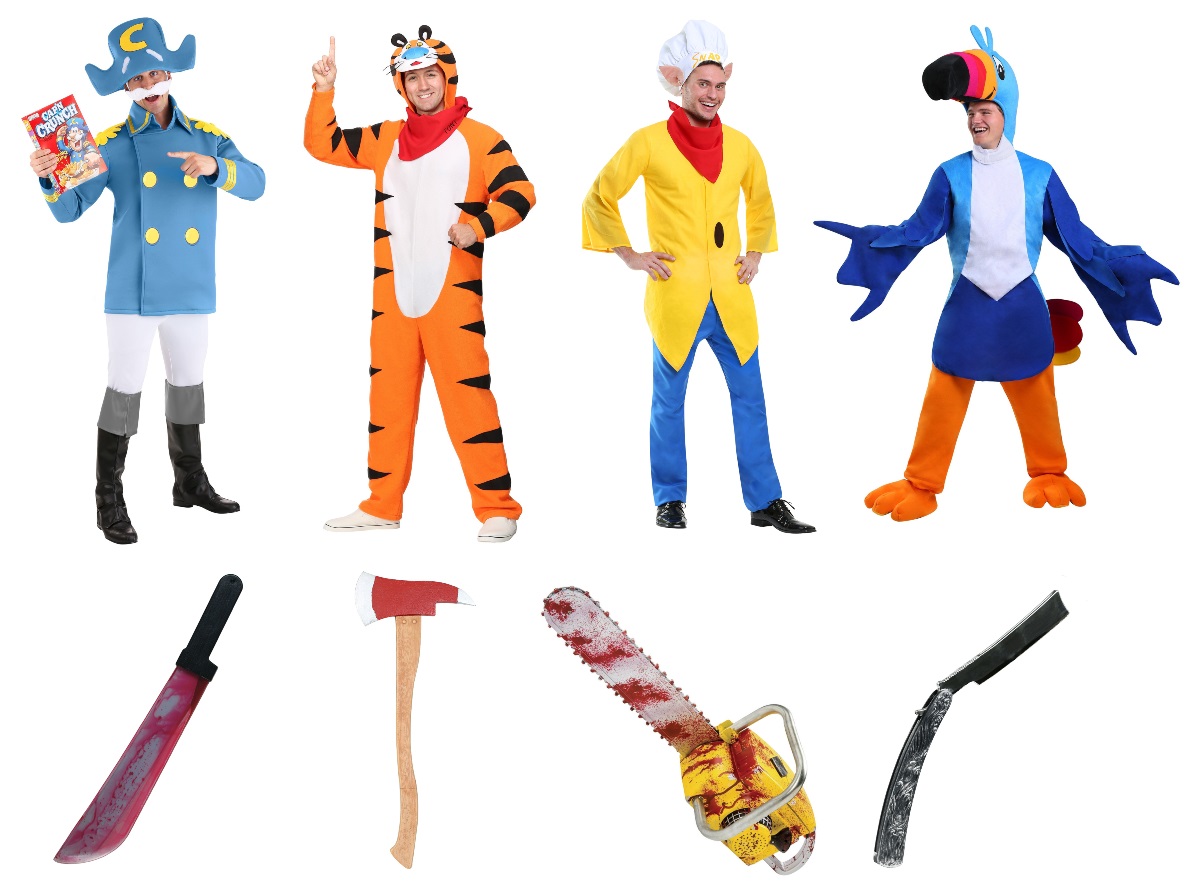 Shop all food costumes and toy weapons
This one's a cinch. Just grab one of our Rice Krispies Halloween costumes or some other cereal mascot costumes, and your toy weapon of choice. It might help to choose a mask that complements your theme, like a Leatherface mask if you decide on a chainsaw to bring your cereal killer costume to life! You can even add some fake blood for extra gore. When it comes to food pun costumes, it's hard to beat the cereal killer costume!
2. Deviled Egg Costume
Shop all devil costumes
Get ready for more goofy puns! If you like religious pun costume ideas but "Holy Cow" isn't for you, maybe try a "Deviled Egg" instead. Throw some devil horns on or wear a devil suit over an egg costume and you're good to go. Don't forget your pitchfork!
3. Party Animal Costume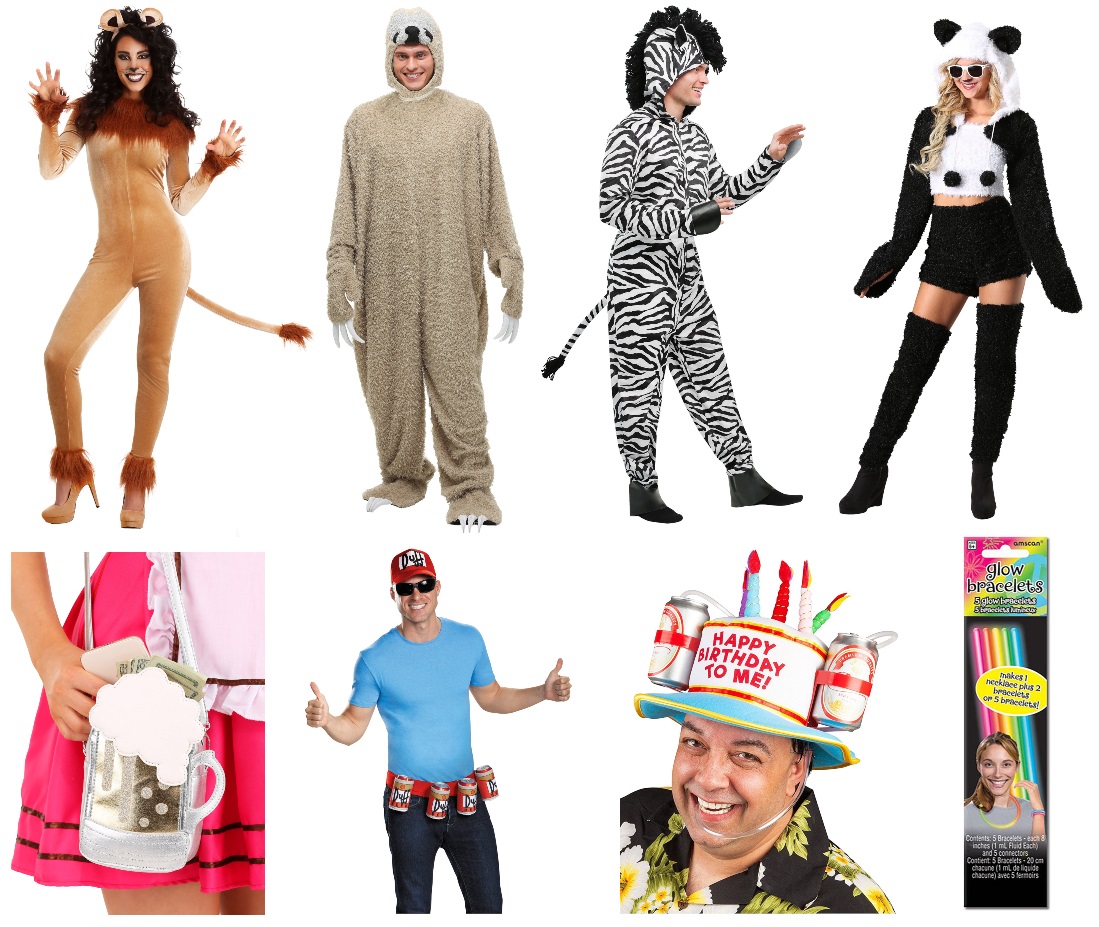 Shop all animal costumes
If you love to let loose at parties, you've probably been told that you're a party animal. Embrace your inner party animal and wear it on the outside with one of these hilarious costume ideas. Use any of your favorite animal costumes as a base, and add party gear on top—beer hats, beer belts, glow sticks, you name it! There are tons of other animal pun costumes, so keep your eyes peeled. Things are about to get wild!
4. French Kiss Costume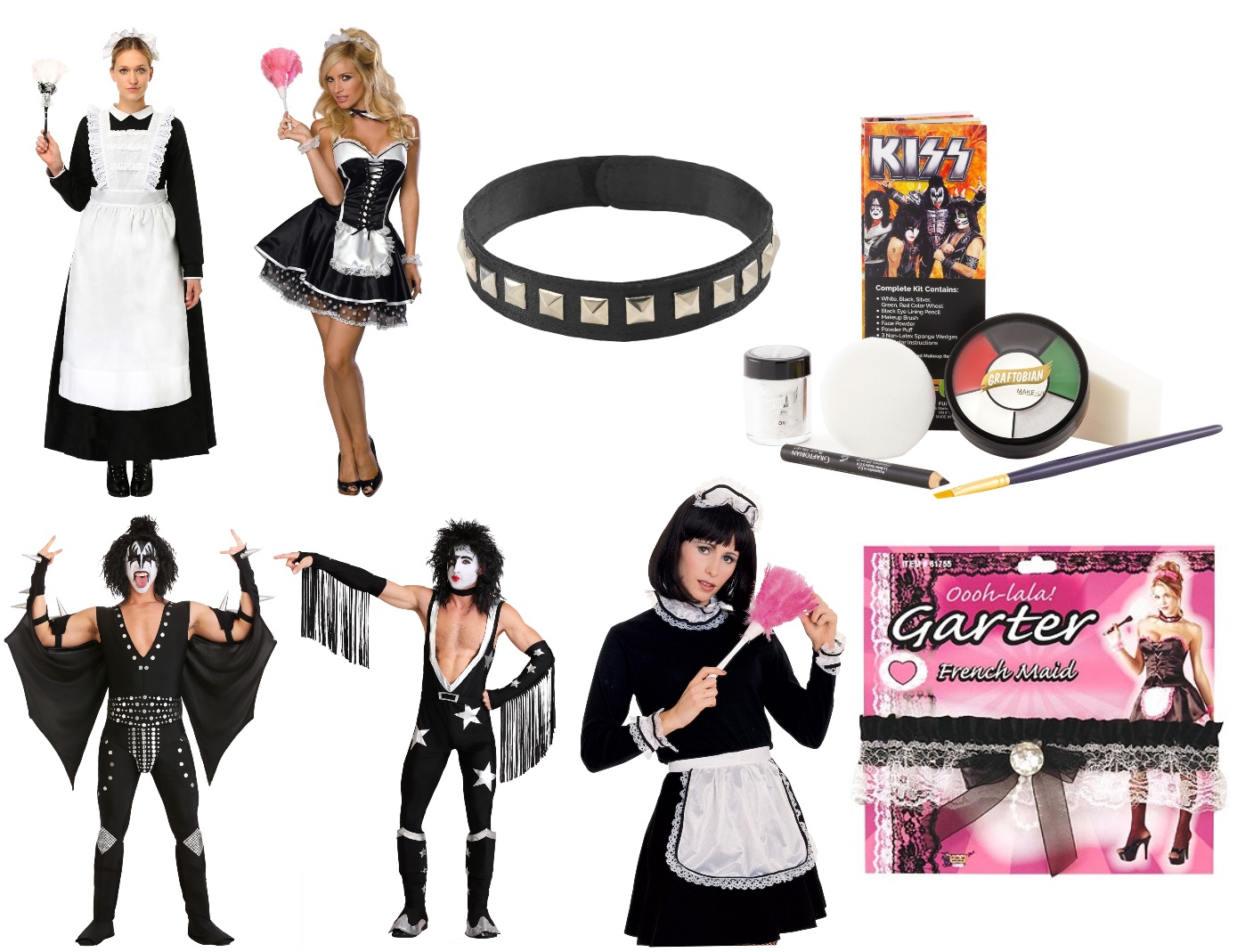 Shop all French maid costumes and KISS costumes
Wear parts of our KISS costumes over a French maid costume and you're a perfect "French Kiss". Go for risqué or full coverage, it's up to you! Guys can even wear a KISS outfit with French maid costume accessories, too! Make sure to add some black-and-white makeup for the full effect. You can also make an additional French pun costume—French toast!
5. Holy Cow Costume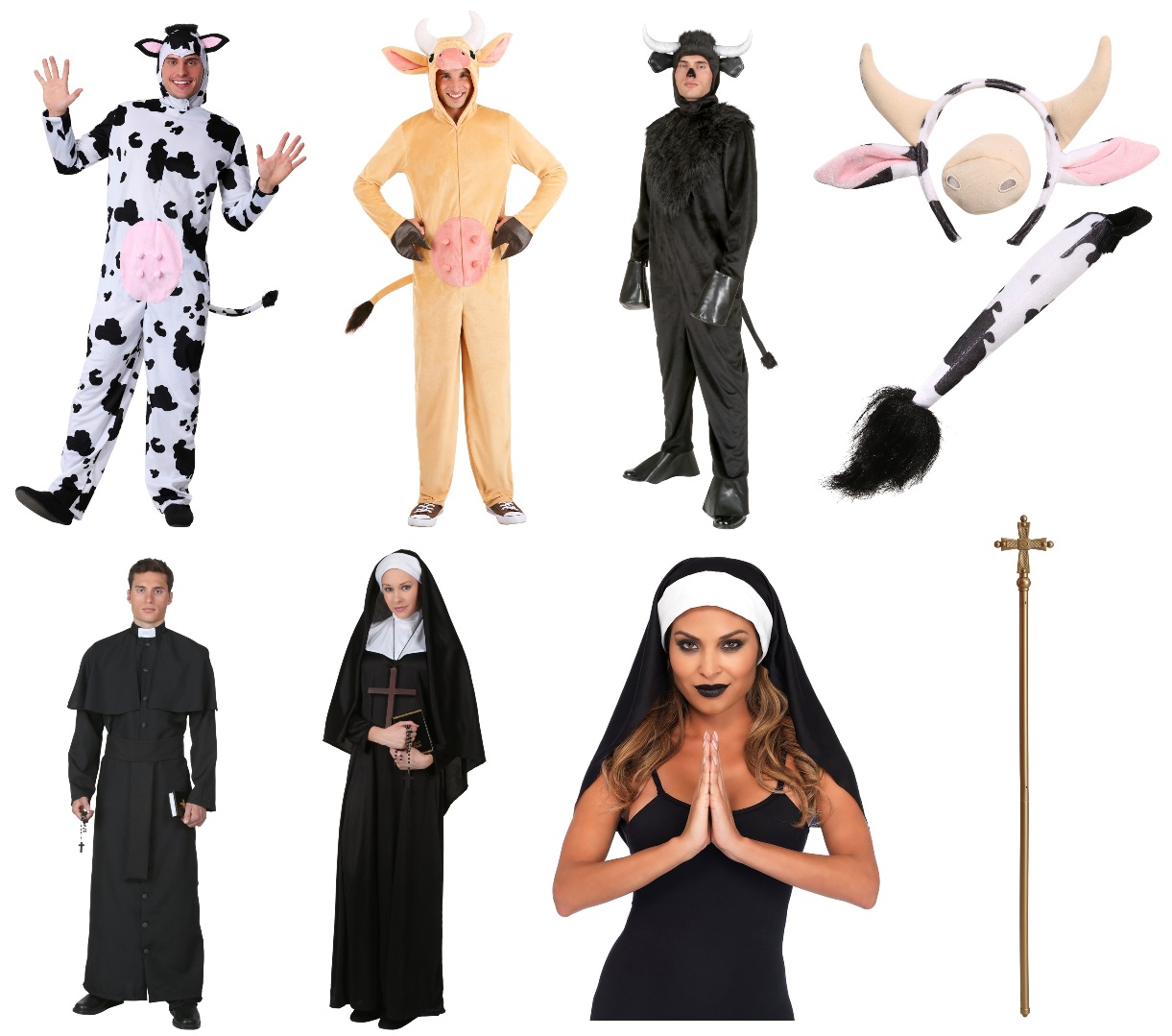 Shop all religious costumes and cow costumes
We call this a "Holy Cow" costume, but you could also call it a "Papal Bull". You may need to be creative and wear only part of each costume, like put the hat and robes from a pope costume over the cow costume. You can always pair cow accessories with items from priest and nun outfits or vice-versa. Or, if you're handy with a needle and thread, you could cut and sew the two costumes together for a truly unique holy cow costume.
6. Taco Belle Costume
Shop all Beauty and the Beast costumes
Here's a beauty of an idea! Wear a taco costume over a Belle gown (or any nice dress) and you're now the Taco Belle. You can always make this into a punny couples costume too by snagging your boyfriend or significant other. Bring dinner to the party and you'll be a sure hit!
7. Social Butterfly Costume
Shop all bug costumes
Embrace your chatty nature by wearing a social butterfly costume. Your friends and family will definitely get a laugh because this costume is so you! There's more than one way to wear it, too. Either get a butterfly costume and have a phone or emoji costume accessory, or you can wear a phone costume and slap on a pair of butterfly wings. Maybe even add some antennae just in case. Once your costume is set, all you have left to do is chat up the Halloween party!
8. Dr. Pepper Costume
Shop all doctor costumes and nurse costumes
There are many directions you could go to pull off a "Doctor Pepper" costume. A chili pepper costume or a pepper shaker costume are both great choices. Then add some doctor scrubs, or simply throw on a lab coat and stethoscope and your Dr. Pepper costume is ready to fetch some laughs!
9. Fantasy Football Costume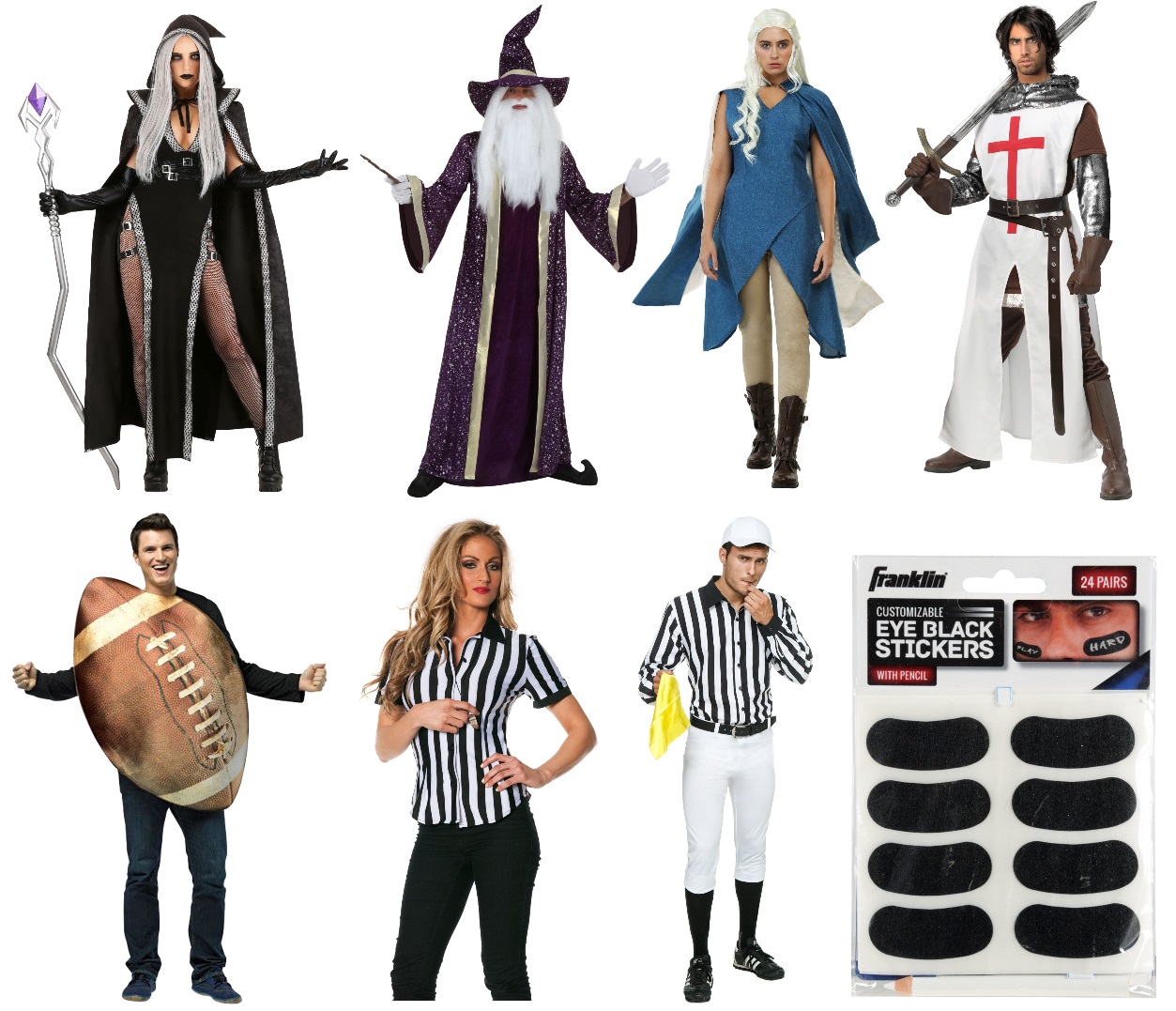 Shop all wizard costumes, knight costumes, and NFL costumes
You can have some fun with this one! Pick out a wizard or knight costume and throw a football jersey and helmet on top. (Maybe even an actual football costume!) If you're wearing a wizard costume, consider going up a size so you can add football pads underneath. But if you decide on a knight costume, those armor plates will look a lot like pads underneath the jersey! You can also flip this idea and wear referee costumes and other football outfits, then accessorize them with wizard hats and beards, magical wands, and other fantasy costume accessories.
10. Bald Eagle Costume

Shop all eagle costumes
Those eagles are filthy liars! Normal bald eagles have feathers all over their heads. We've fixed that with this "real" bald eagle costume idea. (That'll teach those avian raptors to falsely advertise about their hair condition!)
11. Han Solo Cup Costume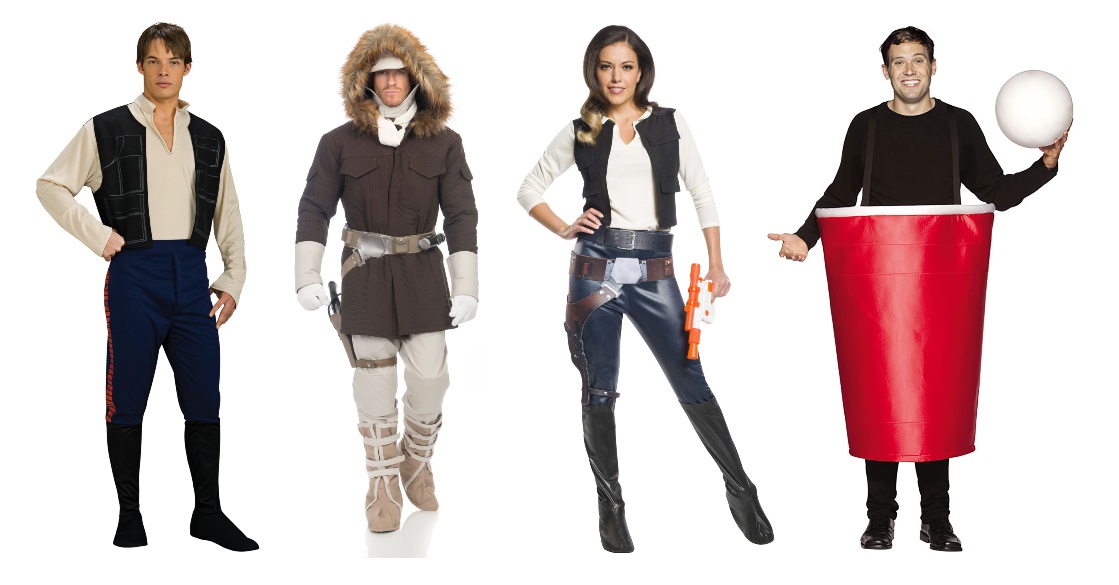 Shop all Han Solo costumes
Another easy punny Halloween costume! Combine a Han Solo costume with a Solo Cup costume and you've got a Han Solo Cup costume. And the beauty is, there are so many types of Han Solo costumes that you can tailor your costume for cold Halloween trick-or-treating or a hot house party!
12. Chiphunk Costume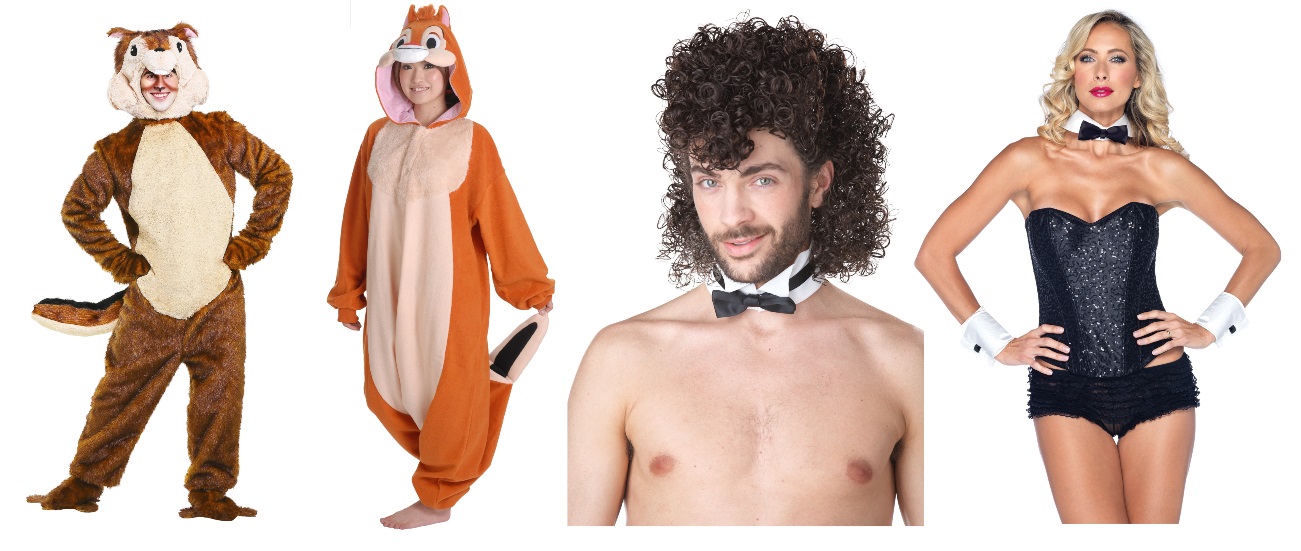 Shop all men's wigs
What do you get when you cross a chipmunk who works out to impress all the girls? A chiphunk, of course! Just pair a chipmunk costume, tuxedo accessories, and a sexy wig together for full effect. Alternatively, you could use the chipmunk mask with a muscle shirt. You do you.
13. Miami Dolphins Costume

Shop all Hawaiian costumes
Football? Dolphins don't even have feet, so what kind of porpoise would there be in the sport. Some dolphins just like to chill on Miami beach, wearing the signature Acapulco shirts made famous by the Florida party spot. All it takes is our dolphin costume and a tropical vacation shirt for a crazy pun costume idea. You can always turn your Hawaiian shirt into another pun costume, too—add some boxing gloves and you get Hawaiian punch!
14. Koala Beer Costume
Shop all beer costumes
Move over Foster's! There's a new brew from down under in town and its name is Koala. All you have to do to put this look together is to take one koala costume and add one (or more) beer costumes and accessories.
15. Dunkin' Doughnuts Costume
Shop all sports costumes
We don't know about you, but we think this creative Halloween costume idea is pretty sweet. Pair a doughnut costume with a basketball jersey, and you get the dunkin' doughnut costume! This Halloween outfit is sure to make people smile already, but you can always sweeten the deal by bringing a box of doughnuts to the party! (You know where to shop for those.)
16. Smart Cookie Costume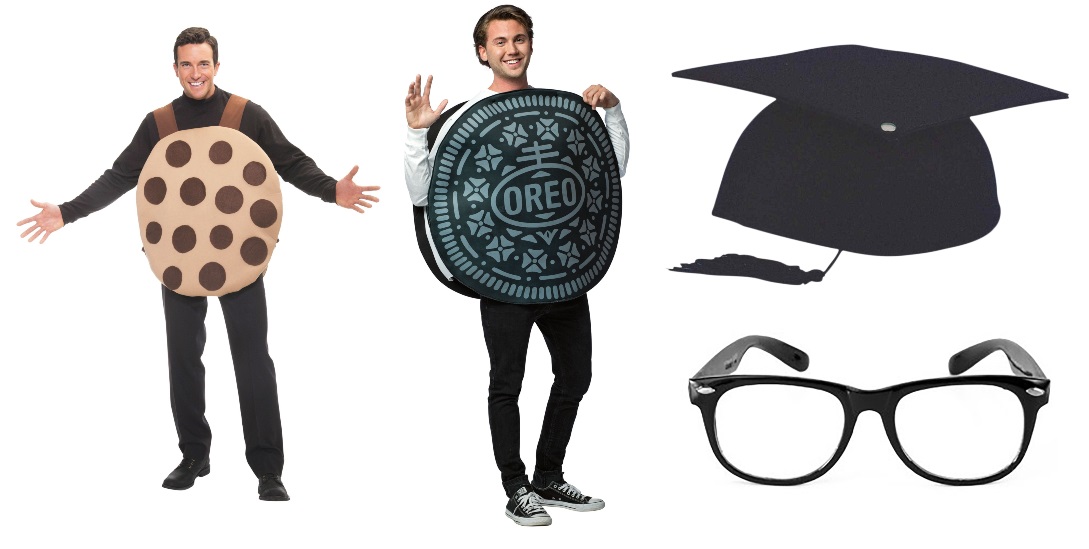 Shop all cookie costumes
If people are tired of seeing you wear your Ravenclaw costume year after year, show everyone that you can think on your feet by making your own smart cookie costume! These creative Halloween costumes are just ripe for the taking! Wear a cookie costume, add a graduation cap and some nerdy glasses to pull off this pun costume.
17. Colonel Mustard Costume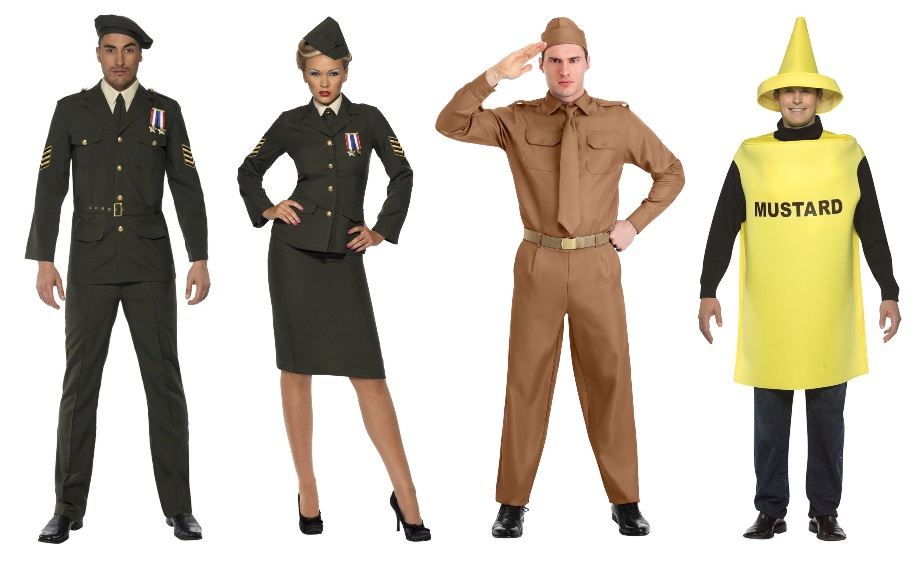 Shop all military costumes
The game of Clue has been a favorite for a long time, and there are so many classic characters! Miss Scarlet, Mrs. White, Professor Plum—and how can we forget Colonel Mustard? Perhaps you can't find a Colonel Mustard Clue costume, but you can always go the pun costume route. Simply wear a military costume with a mustard bottle cap or wear the mustard costume with some army costume accessories. Now who left that wrench in the conservatory?
18. Cat's Pajamas Costume
Shop all cat costumes
You want to go to the Halloween party, but you can't be bothered to ditch your comfy pajamas. Well, this is the perfect compromise! Create your own cat's pajamas costume by wearing obvious pajamas and cat costume accessories. (We highly recommend a nightgown if you sleep in sweatpants.) There are so many other cat puns too! Cat burglar, cat out of the bag, cats in the cradle, the little meow-maid—we could be here all day!
19. Other Pun Halloween Costumes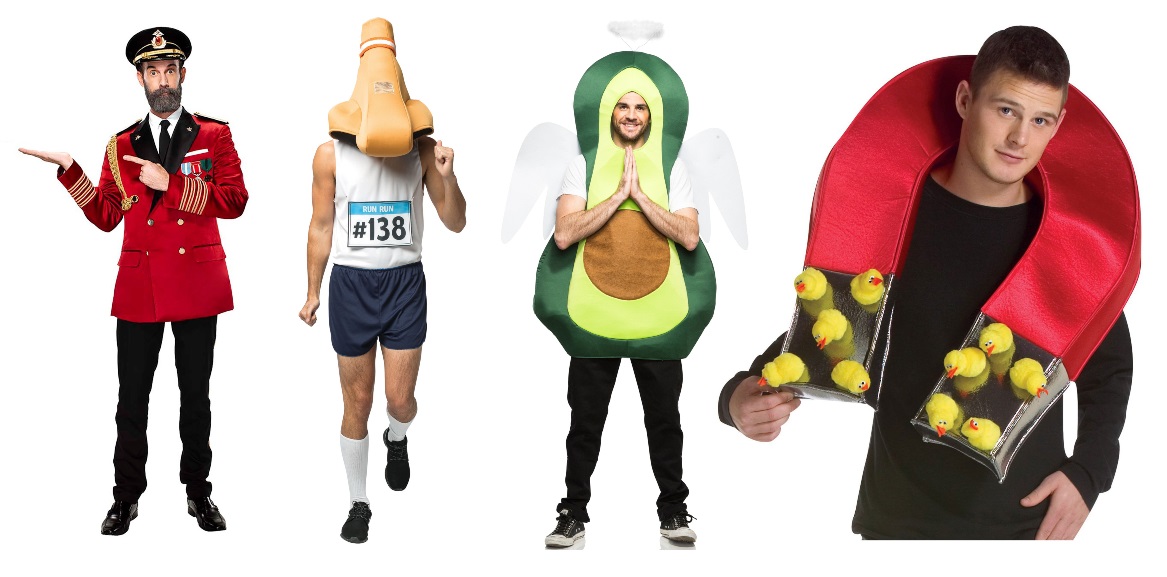 If you're looking for some easy Halloween costumes that don't take any effort whatsoever, we have several pre-made pun costumes with your name on them. You've got a runny nose, a party animal, and a few other play on words costume ideas. There's also a Zombee, and we're sure you'll find more word pun costumes if you look around!
Are you grinning yet? Or maybe groaning? Did you get any ideas for more punny Halloween costumes? We want to know so leave us a comment! And be sure to check out the rest of our pun Halloween costumes plus our guide to funny Halloween costumes, they're sure to get you laughing.