French Maid Outfits
The dirty laundry is piled up, the sink is overflowing with crusty dishes, and the amount of dust bunnies gathered under your bed is a little concerning… but don't stress! Sit, back, relax, and feel assured that pretty soon you will actually want to do some cleaning. Yes, you read that correctly: you WILL compulsively want to clean until your whole house is spotless. The nervous pit you get in your stomach when you stare at a messy room will be replaced with pure joy. You'll find that wearing a sexy maid costume while sprucing up will make you feel fabulous, even though you're not exactly having the time of your life. We've gathered some of our most popular maid outfits so peruse these options and get the one that inspires you to get out there and wash those windows!
Naughty Maid Costumes
Although dusting curtains and making beds aren't the most glamorous activities, there is a way to feel glamorous while you do them. Just slip on a sexy maid costume whenever the house needs a little love and you'll instantly feel like a movie star. There's just something about the feminine frills and dainty details on these naughty maid costumes that make ladies fall in love. Plus, every woman looks elegant when they're dressed in black and white from head to toe. Short hemlines, bow accents, and lacy aprons make for a seductive look this Halloween. Start browsing this page and pick the naughty maid costume that makes you want to shake your feather duster!
Maid Outfit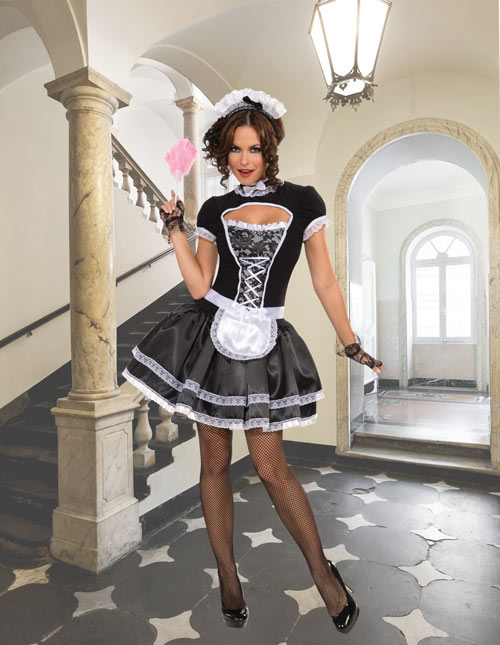 Are you looking for a costume that says, "I like to keep a clean house but I also like to cut loose and have fun!" If so, look no further than this sexy French maid costume. The maid outfit features a gathered skirt with two tiers of black satin lining so it's a great garment to wear while dancing. However, the short cuff sleeves will make dusting those hard-to-reach places a whole lot easier. See, this really is the perfect maid uniform for those who prefer to combine cleaning with party time! You'll also receive the matching headpiece which acts as the cherry that tops off this stylish maid outfit.
Sexy Maid Outfit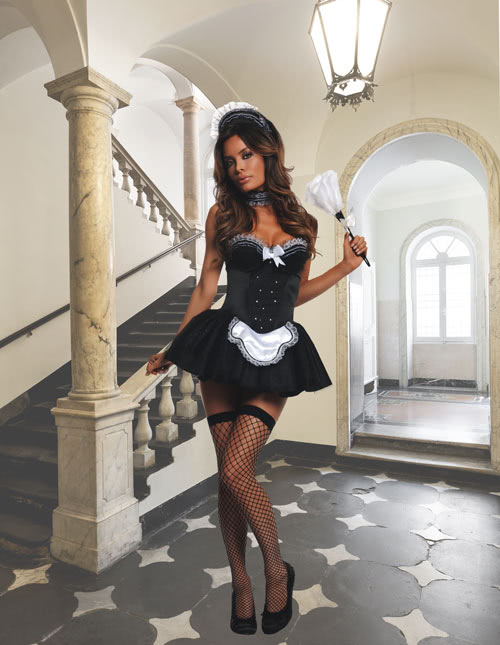 Do you have a laissez-faire attitude about most things except for fashion and cleaning? If you feel very passionately about style and neatness then you'll love this sexy French maid costume! Fashionistas will have fun rockin' the bustier style bodice and the lacy tutu skirt which flares out to accentuate your waist. The included choker ties the whole look together. This sexy maid outfit even comes with a feather duster so you can dust the mantle place after you wow the party with your ensemble!
Sexy Maid Costume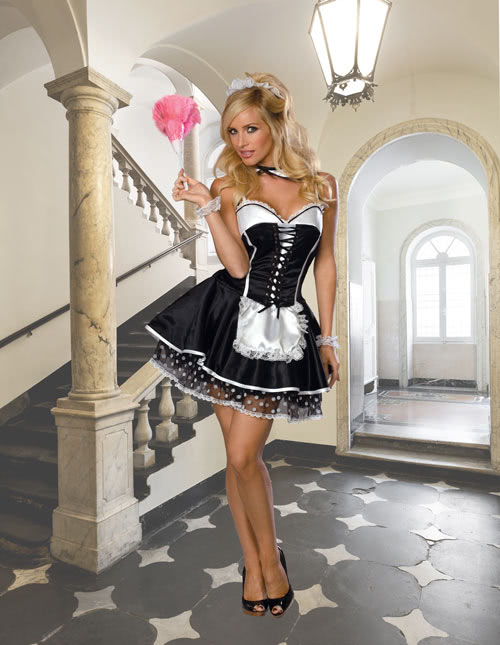 It's time to spice up your dusting routine by wearing this sexy maid costume. No chore will seem too monotonous for a lady that gets her kicks from mopping the marble floors in a pair of six inch stilettos! The lace-up corset style top and the polka dots on the petticoat will ensure that you don't go unnoticed while you're tidying up.
Maid Costume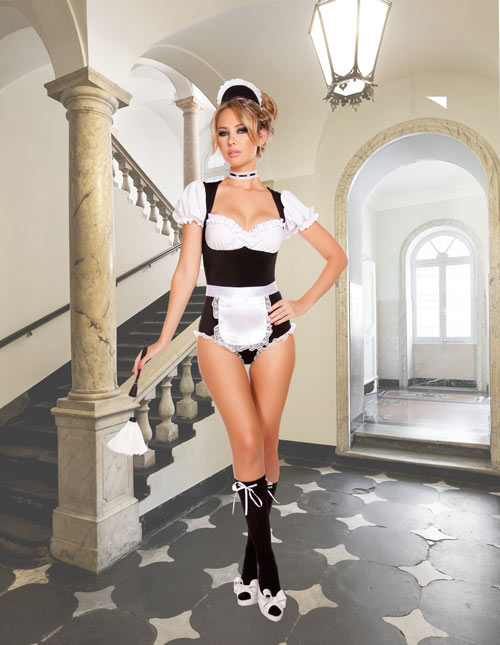 We think it's about time to change up the classic maid uniform that's hanging in your closet. Say goodbye to the typical tutu you've been wearing to work and say hello to this cheeky little romper! Just think of all the backbreaking chores that will get done quicker once you're scrubbing the floors in a romper instead of a mini skirt. Don't be tricked if someone makes the snide comment, "you missed a spot," because that is just not possible. Your living quarters will be nothing short of immaculate because you'll be sporting this French maid costume!
Plus Size French Maid Costumes
Are you looking for the perfect Halloween costume that will make you appear to be a little bit scandalous and a little bit subservient? Well, you're in the right place because we are certain that a plus size French maid costume is exactly what you need. Our entire supply of maid costumes for plus size ladies will definitely flatter your full figure and accentuate the curves you want to show off. Browse over this section and pick out the maid Halloween costume that will not only motivate you to clean out that dusty coat closet you've ignored all winter, but it will also urge you to get out there and mingle. You'll be the most popular maid by the end up the night and we have a feeling that your phone will be ringing off the hook with new clients by morning!
Plus Size French Maid Dress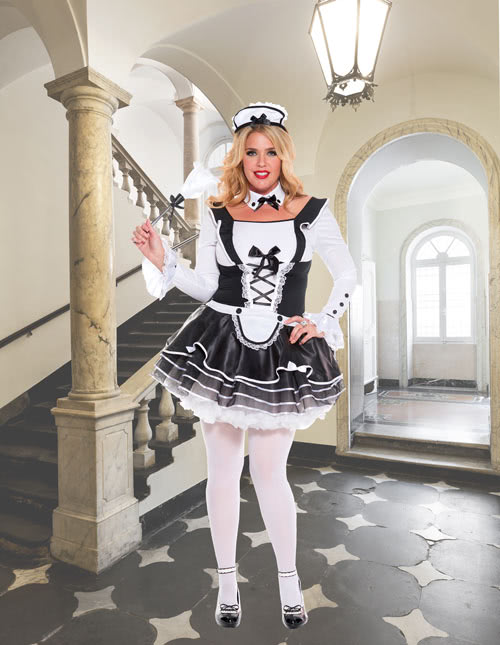 Girl, put down that rusty bucket and nasty sponge! Your days of scrubbing toilets and bathtubs are long gone. Of course, your occupation is still a French maid but now you don't have to clean anymore! That's right, just show up to the assigned location wearing this plus size maid costume and you'll be asked be a part of the luxurious ambiance. You'll be appointed a more glamorous task like passing out caviar to the party guests or greeting them cheerfully at the door. When you're wearing the frilly dress, matching choker, and fun headpiece, you'll feel anything but frumpy!
Plus Size French Maid Dress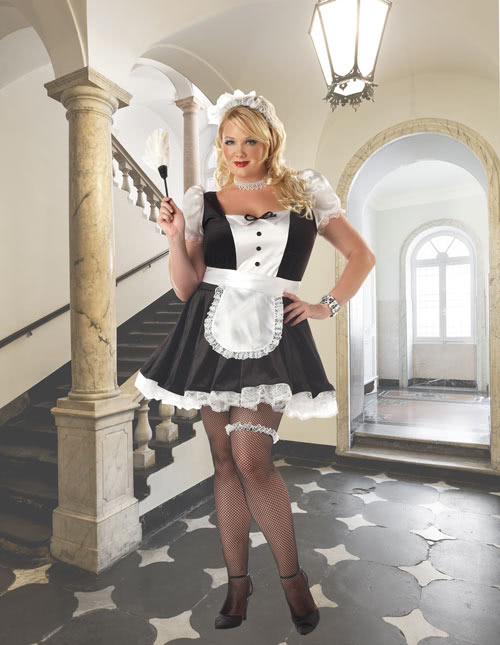 Do you live with other people? Whether you cohabit with your family members or random roommates, you may just have to deal with picking up after them. Maybe they never replace the toilet paper roll or maybe they wouldn't take the stinking garbage out if their lives depended on it! But don't worry, this plus size French maid costume will make everything better. We can assure you that you'll love sweeping up if you're wearing a lace apron, matching headpiece, and girly leg garter. Don't forget to pick up a diamond necklace to look as lavish as possible!