When dressing up for Halloween, most people accentuate their best features. Maybe something sleeveless to show off those muscles, or a costume highlighting their long hair or a beard. But some people have a round, shiny noggin and want to dress up in style. That's great and we totally support it! In fact, it's why we put together this ultimate guide to costume ideas for bald dudes!
1. Pennywise Costumes
Pennywise might not be completely bald, but he's definitely thinning up top. Both the older television miniseries and the new movies feature our favorite evil, balding clown, so you can pick your favorite. (Or the one that matches your hairstyle!) Even if you have a total chrome dome, wigs and masks are easy enough to wear—and you don't even need a wig cap.
2. Minion Costumes
There is nothing more lovable than a cute, little Minion. Minion costumes are pretty easy to DIY. To be a Minion, wear a crisp pair of blue overalls, a fluorescent yellow shirt, and some killer Minion goggles and your costume is as good as gold! Literally. If you're not interested in making a DIY Minion costume, these Minion Halloween costumes should also do the trick. For full effect, you can paint your head yellow and skip the bald cap.
3. Thanos Costumes
Every superhero needs a worthy adversary, and Thanos is certainly a force to be reckoned with. There's just something about bald villains that makes them more sinister. Thanos makes for a great bald cosplay idea, and if you're considering ditching the mask for some more realistic makeup effects, we have a Thanos makeup tutorial that can help to get you started (before you conquer Earth).
4. Genie Costumes
You ain't never had a friend like Genie! Genie has to be one of our favorite bald characters of all time—he could grant wishes, do magic and change his own appearance on a whim. As an added bonus, both animated and live-action genies are bald, so you can pick the Genie outfit that suits you. Just try not to get sucked into any lamps or you could be there for ten thousand years!
5. Freddy Krueger Costumes
You might say that Freddy is an honorary baldie because he's completely burned, but he still counts in our book! If you're looking for a cool bald cosplay to show off your special effects makeup skills, look no further than Freddy Krueger. (Unlike most other people, you won't need to mess with a bald cap!) Don't forget to brush up on your weird one-liners—Freddy is full of those!
6. Bane Costumes
Batman has fought many villains in his time, and Bane is one of his most fearsome adversaries. (After all, he's stronger, he's smarter and he's clinically insane!) Now that we dropped those beats into your head, we'll remind you that this bald villain also makes for another great bald cosplay opportunity. You're sure to run into quite a few Batman costumes at any convention and a lot less Banes, so expect to be asked over for plenty of photos!
7. Charlie Brown Costumes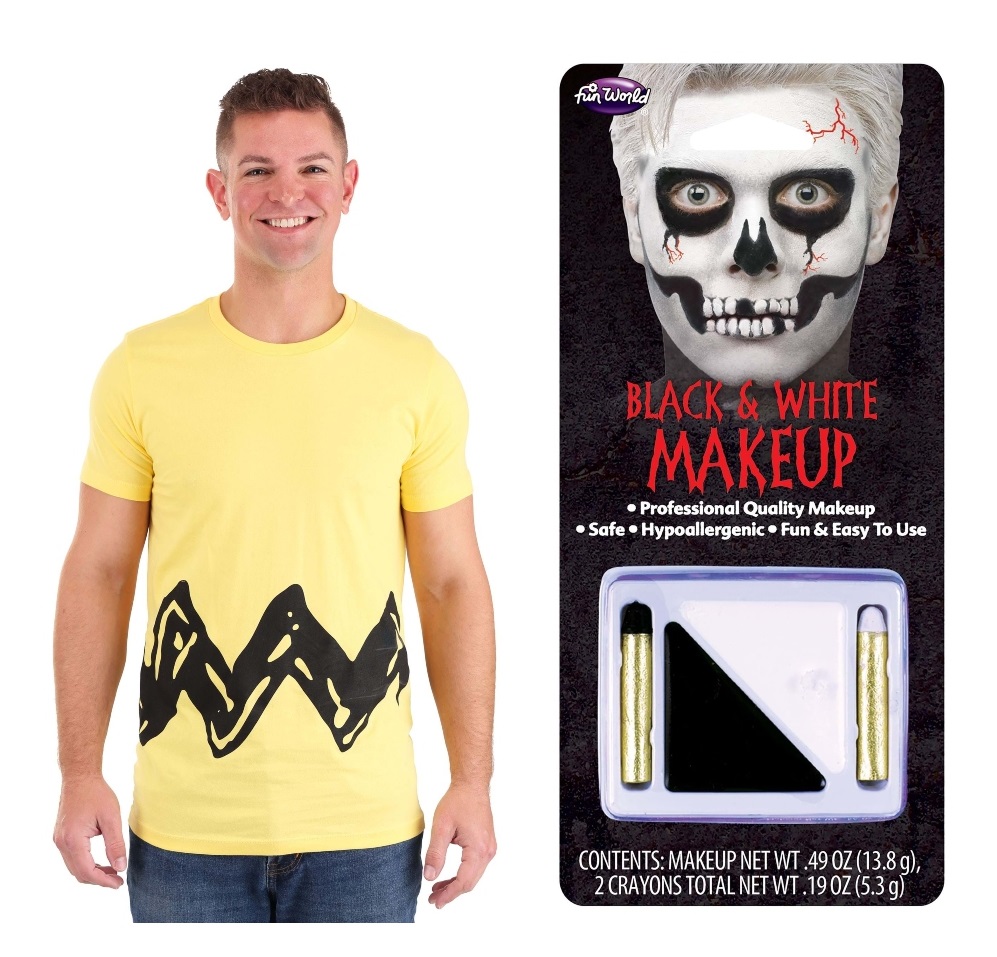 Who doesn't love the classic Charlie Brown? He fits perfectly into the category even though he's much younger than the rest of the characters featured so far. Slip into a yellow shirt with a black zig-zag line, much similar in style to Charlie's black zig-zag ensemble. Also, wear black pants, bright yellow socks, and some brown shoes. Leave that baldness up above to pull the rest of the costume together! You can add the finishing touch of Charlie's black curl of hair with a black makeup crayon.
8. Darth Maul Costumes
Bring on the bald villains! It's definitely a trend, but we're not about to complain when we get characters as cool as Darth Maul. He looks great in black, has a double-bladed lightsaber and force powers (of the evil variety), so what's not to love? If you're looking for Halloween costumes for bald men so that you can fit in with a Star Wars costume group, Darth Maul is a great choice. (You could always be Mace Windu if you'd prefer to be a Jedi instead.)
9. Walter White Costumes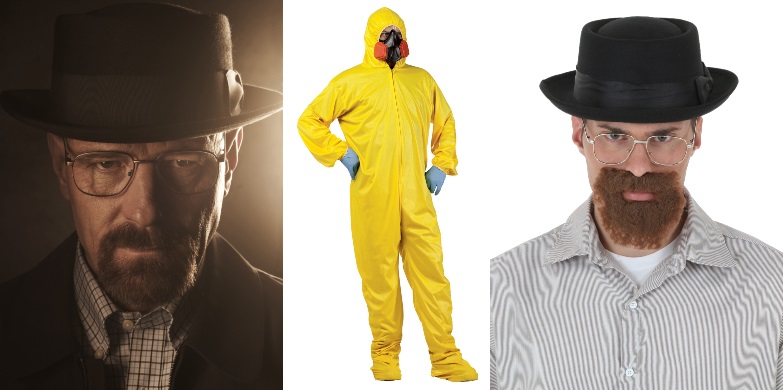 Breaking Bad ran for five seasons, and what a rollercoaster it was! However, it just wouldn't be a round-up of famous bald characters without including Walter White. While many of Walter White's outfits could be pulled off with regular clothing and his signature hat and glasses, you can also get a hazmat suit with a gas mask for his other famous look.
10. Gru Costumes
We couldn't possibly include the Minions without Despicable Me's infamous Gru! For making your own Gru, pair your smoothly-shaven skull with a pair of black pants, black shoes, a gray pullover sweater, and a gray striped scarf. Hold some dynamite and (light bulb!) you're Gru! If you would rather just buy the costume or you don't feel like your nose is pointy enough, HalloweenCostumes.com does have Gru costumes and masks.
11. Popeye Costumes
This famous bald character has existed for decades, and he's still recognized as a well-loved favorite. (And he certainly knows how to eat his leafy greens!) No Popeye costume is complete without his signature corncob pipe, and a can of spinach certainly wouldn't hurt. If it makes the spinach any easier to swallow, you can always slide a spinach can koozie over your favorite beverage and no one will know the difference!
12. Voldemort Costumes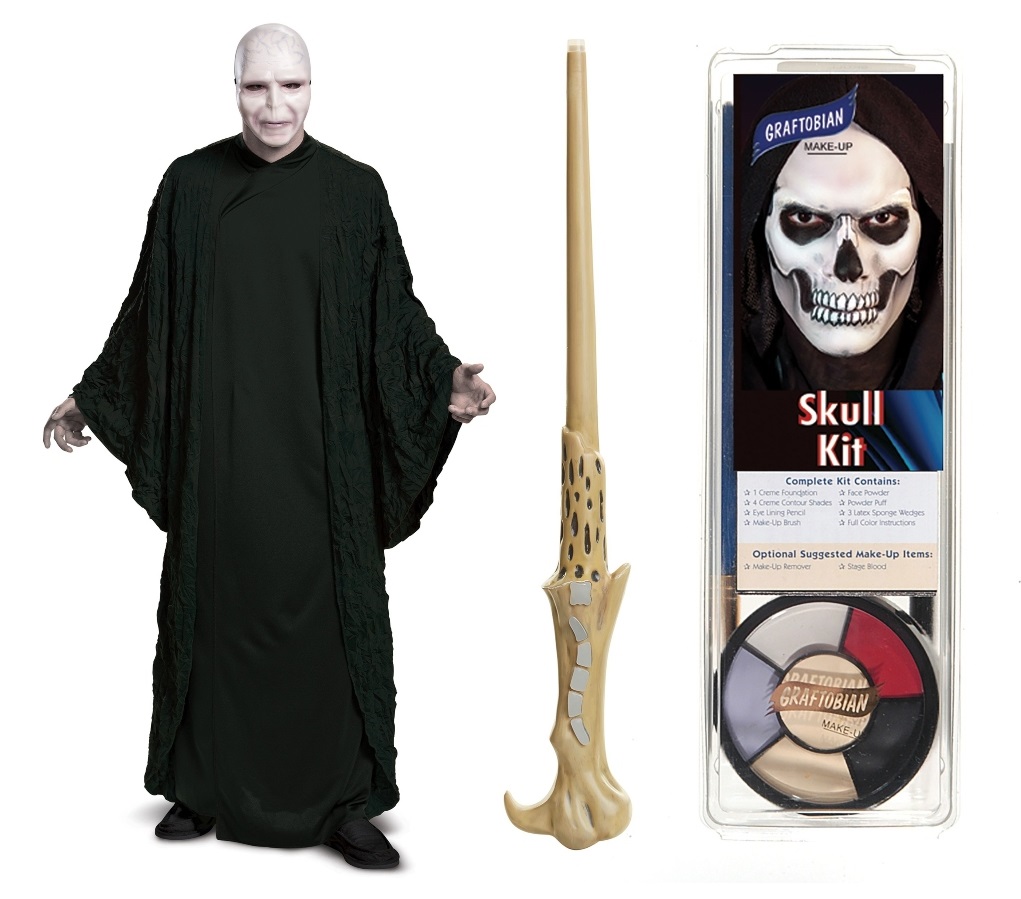 Heroes are cool and all, but word around the lair is, villains have more fun. We might as well consider He Who Shall Not Be Named: Lord Voldemort. For those of you who are bald and looking for Harry Potter costume ideas last minute, you're probably freaking out at the mention of his name. But hey, there are limited costumes to display your baldness, so consider it. This DIY costume is pretty simple (actually all of them are), but luckily an exact replica of his cloak is available straight from our hearts to yours. Give yourself some hybrid witch/werewolf hands and slap a wand in them and—BOOM!—Lord Voldemort. Don't forget to apply a thin layer of white face/body paint to your entire face and neck to really give people the creeps.
13. Drax Costumes
Drax is one of the newer characters on this list of bald costume ideas, but nothing keeps this galactic hero down! (After all, nothing goes over his head.) The costume portion of Drax's outfit is fairly simple, so you could probably get away with black pants and body paint if you wanted to go that route. Also, the Catspaw Game of Thrones dagger is pretty close to what Drax uses in the films. Keep them as they are or paint the handles black, and they would make the perfect weapons for Drax!
14. Master Roshi Costumes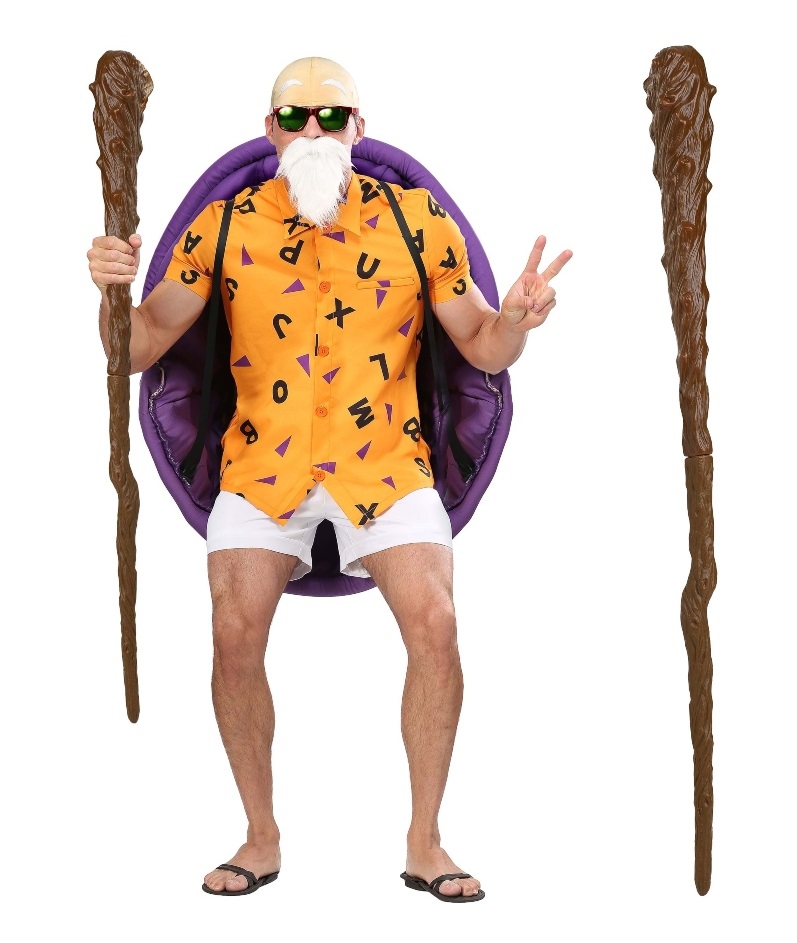 Master Roshi might seem like a bit of an odd duck with a penchant for loud shirts, but you can't deny his skill for martial arts. If you're on the hunt for a bald cosplay for an anime convention, you just might consider a Master Roshi costume! Should you happen to be completely bald, you won't even need to wear the included bald cap.
15. Dr. Evil Costumes
The infamous Dr. Evil from the Austin Powers movies can easily be recognized by anyone and everyone. Find yourself a square-shouldered gray suit, a flashy pinky ring, and some white dress shoes. Sport that dashing pinky finger near and dear to your pursed lips all night long and once again you've got the best costume while being bald! Your costume will be off the charts. Out of this world. Liquid hot magma.
17. Picard Costumes
Boldly go where no one has gone before with this bald-headed costume idea. (Okay, so we're reasonably sure that every bald Star-Trek fan has probably dressed like Picard at some point, but you can't blame us for not passing up that catchphrase!) Either way, you'll look slick in Picard's red-and-black captain uniform from Star Trek: The Next Generation.
Out of all the options listed here, you're bound to find a costume fit right for you; after all, you've got the baldness underway. As for that, make sure to leave us pics or tell us which bald-headed character costume you're head over heels for most! Happy Halloween! And don't forget our favorite bald character of them all... George Costanza!