Minion Costume Ideas
For millions of years, the Minions have served as the yin to many despicable villains' yang—which stands to reason because those who do dark and evil deeds need sweet and silly counterparts. Maybe that's why they are attached to so many memes! (Seriously, can you even open Facebook without getting a glimpse of at least one Minion?) They are pretty much poster beings for a good time, but their intentions are far from innocent. In fact, The Minions act purely out of their innate desire to commit evil acts. The upside is that, despite their missions to wreak havoc on the universe, a minion's zaniness prevents him from doing any actual harm. Fun AND mayhem? Who wouldn't want to be a Minion from the Despicable Me movies this Halloween? It just so happens that you've come to the right place. HalloweenCostumes.com has all of your family's favorite characters in the styles they love!
Minions Family Costumes
Minions are fun for the whole family because they're always up for a good time. Whether they're dressing up as the Village People or enjoying an epic bowl of ice cream or aiming their fart blasters, they're always doing something strange, unusual and entertaining. Now, you can do the same with your clan by dressing in our Minions family costumes. We have them for everyone! Tiny tots and full-grown men can suit up in jean overalls. You'll love seeing your husband in bulky goggles and a yellow wig cap! Take a gander at all these Despicable Me Minion costumes and pick out the perfect ones for everyone in your family.
Men's Minion Costume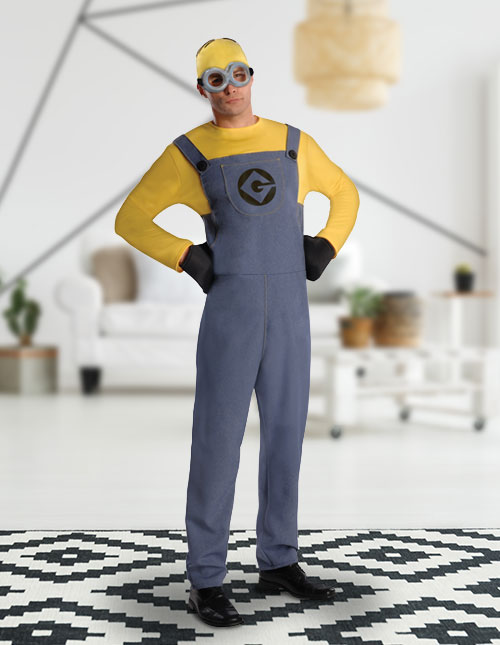 How many times have you watched Despicable Me while the kiddos were visiting Grandma and Grandpa? Don't be shy, this is a judgment-free zone. To your credit, the movie really is a love letter to dads everywhere, and who couldn't use a little "Pop-pin' ain't easy" solidarity once in a while? Besides, you're never too grown up to babble and plot! Everyone knows that Dad-Minions can do anything, and this all-in-one jumpsuit makes getting in character a cinch! Of course, you'd be nothing more than a guy in a blue and yellow suit without the gloves and goggles, so those are also included.
Women's Minion Costume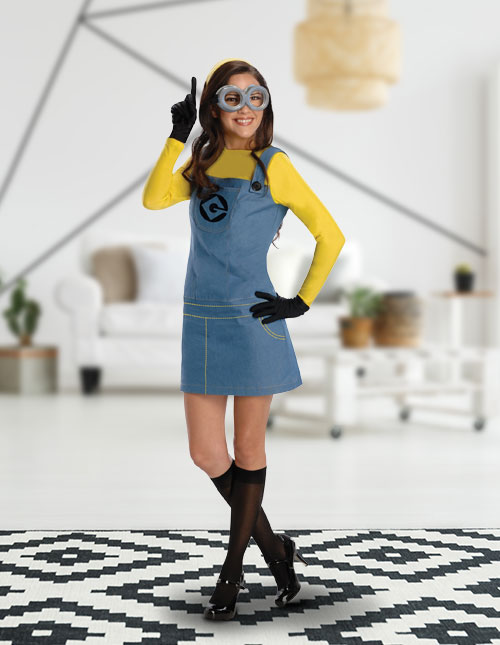 Halloween is "for the kids," sure, but we have it on good authority that Minion-Moms are kids at heart! The Minions are all about being goofy, and that's why matching the entire family together is going to make for super fun fall pictures. First you must find yourself a costume, and this Minion dress does everything to impress! Not only does it boast a flattering fit (finally, a kid movie costume that isn't just an oversized tunic!), but it can also be accessorized to fit any trick-or-treating conditions. For example, add leggings if the weather is chilly or a pair of shorts if you'll be chasing after a toddler.
Boys' Minion Costume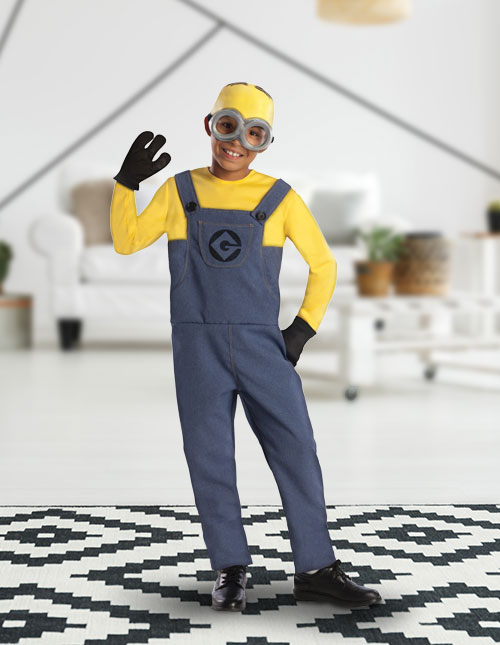 Boys will be boys, and that means their costumes need to be built kid-tough. This jumpsuit is not only durable (so that it can be worn for trick-or-treating now and dress-up play later), but it's also customizable. It comes with gloves and a pair of two-eye goggles, but you can add your own touches to create the character he likes most. It's easy to DIY a one-eye goggle or give him props to recreate scenes from the movies. You may be wondering how a simple Minion costume can offer so much versatility, but sometimes it's the easiest styles that serve up the most fun!
Girls' Minion Costume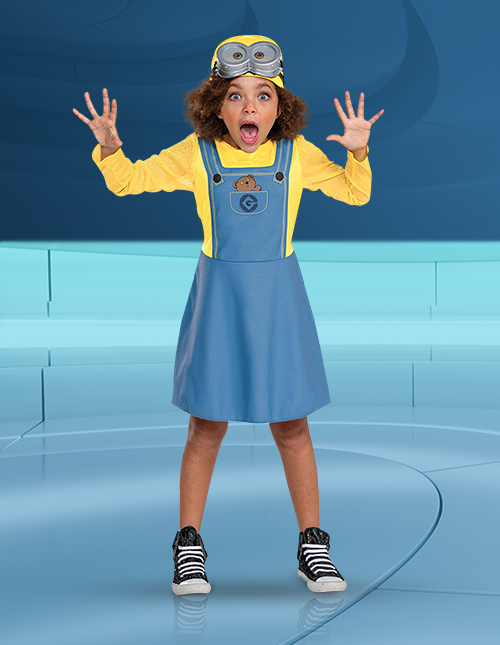 While all Minions seem to be portrayed as boys, there's no reason a girl can't get in on the foolishness and folly—Minions are fun for everyone! Our girls' Minion dress adds a fun, stylish quality to these mischief-makers' bright and cheerful uniforms, and the deluxe goggles are always a favorite! You'll notice that the included gloves are human-grade (five fingers), not Minion-grade (three fingers). This does stray from character authenticity, but it also makes it easier to hang on to your candy bag (a girl's got to have priorities). Accessorize with leggings to add warmth for nighttime Halloween activities.
Minions Halloween Costumes for Toddlers
There's something about Minions that toddlers connect with. Maybe it's their size—they're both small—or maybe they connect with their discombobulated language. Both Minions and toddlers are pretty hard to understand. Mischievousness is also another reason children are fond of Gru's little yellow helpers. If you know a little one whose eyes light up whenever they see one of these zany servants, then they'll love our Minions Halloween costumes for toddlers!
Minion Toddler Costume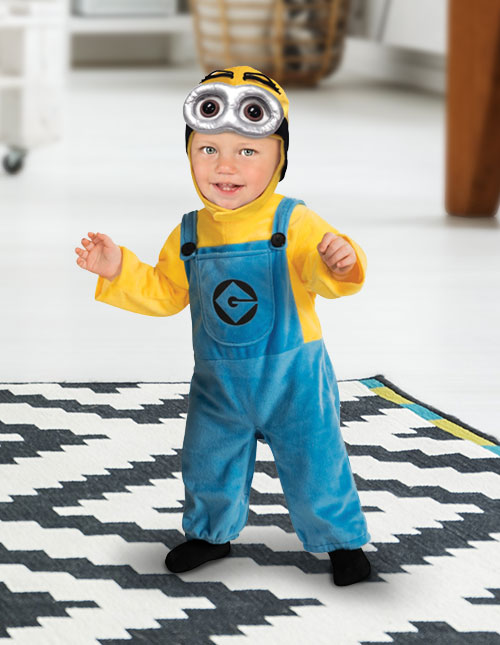 He can barely walk, but he's determined to help Gru take over the world! The Minion toddler costume transforms human babies into pint-sized lackeys who are ready for fun, games, and destruction, but more so fun and games. Create an adorable photo opportunity to share with friends and family on social media by pairing it with a Despicable Me 3 Fluffy toddler costume. Because what's cuter than one toddler in a Despicable Me-themed costume? Two toddlers in Despicable Me-themed costumes!
Toddler Girl's Minion Costume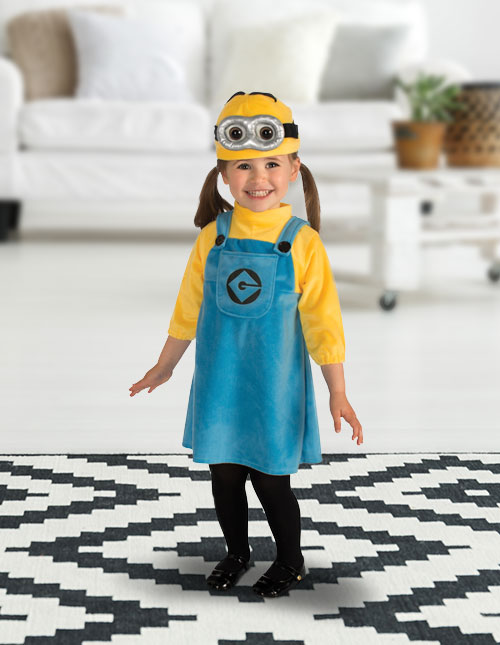 Hey, girls are just as playful as boys! They like rolling in the mud and getting into minor trouble (sometimes big trouble), so of course we have Minion costumes for girls too. Instead of jean overalls, this girl's toddler Minion's costume comes with a faux-jean overall-type dress.
Minions Couples Costumes
There's really no wrong way to Minion because each Minion has his or her own charm. Maybe you are a rule breaker like Stuart or possess Kevin's strong sense of leadership—all Minion personalities lend themselves to individual preference of mannerisms and styles (which is, perhaps, why these yellow creatures are so darn relatable to humans). There are alternatives to our classic Minion jumpsuits, so you'll never have to be left out of any animated antics.
Gru Costume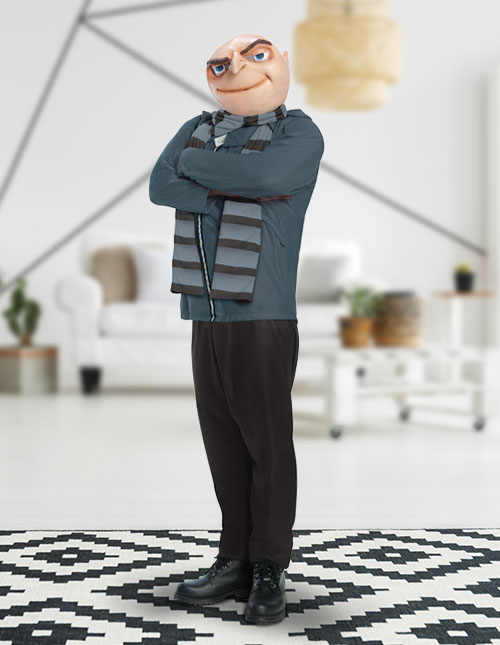 Get in touch with your villainous side by dressing up as the anti-hero who hopes to steal the moon right out of the sky. The Gru Costume is everything you'll need for the transformation except the diabolical ideas—you have to come up with those all on your own. You'll even receive Gru's signature striped scarf to sassily wrap around your neck and the molded latex mask that contains all his, uh, unique features like furrowed brows and curved nose. Pair it with a women's Minion costume for an adorable couple's look that's anything but despicable. (The irony!)
Despicable Me Agnes' Fluffy Unicorn Costume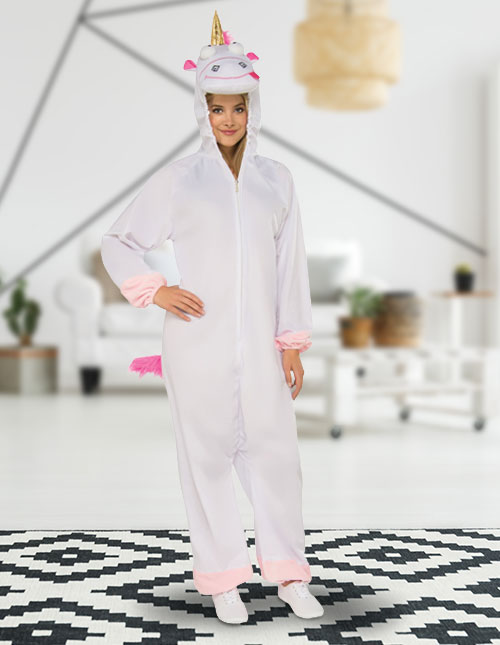 It's so…Fluffy! Wear the Despicable Me Fluffy costume and prepare for lots of hugs. People won't be able to control themselves when they see you're wrapped in a furry, white, unicorn jumpsuit. Especially your date! Pair this costume with a Gru costume or a silly Minion costume for a cute couple's look that's sure to turn heads. Use the Fluffy unicorn plush backpack as an essential accessory that is also convenient. It will hold your small valuables like cellphone, wallet, and keys.
Inflatable Minion Costume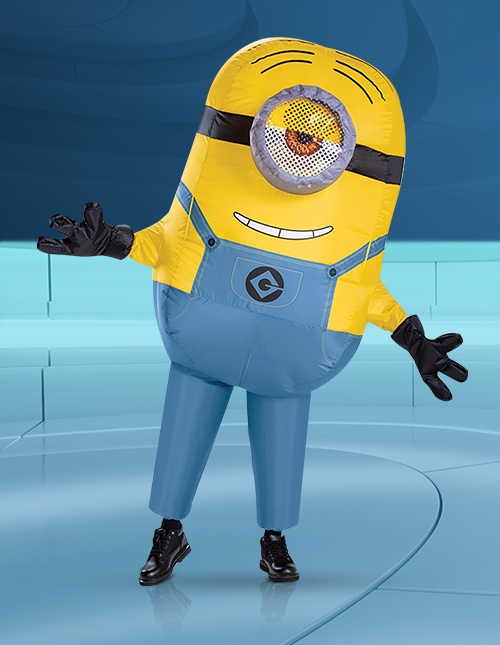 Being a henchman isn't the best job, but it's definitely fun, just like this inflatable Minion costume. It inflates with an interior fan and battery pack, making adults larger than life and ready for some hilarity. Create an adorable Minions costume by pairing it with any one of our other adult Minion costumes so you and your date can get into some harmless trouble together.
Minion Dog Costume
Your pooch is your very own little Minion. In fact, he's probably better than a Minion because he actually listens to you. Turn your four-legged friend into a babble-speaking Minion with dog minion costumes. This Minion dog costume will make your good little boy just a little bit naughty, but it will be worth it! Tails will wig for the jumpsuit and headpiece.
Minion Character Costumes
There's a reason why Despicable Me was followed up by Despicable Me 2, Minions, Minions 2, and soon, Minions 3: People can't get enough of Minion monkeyshines. Each of these flicks feature a solid plot, but what we're all waiting for is to see what the Minions do next. These Minion props and poses are great inspiration to get you started on your journey, but don't stop here. The world is your playground and it needs more silliness.
Minions Banana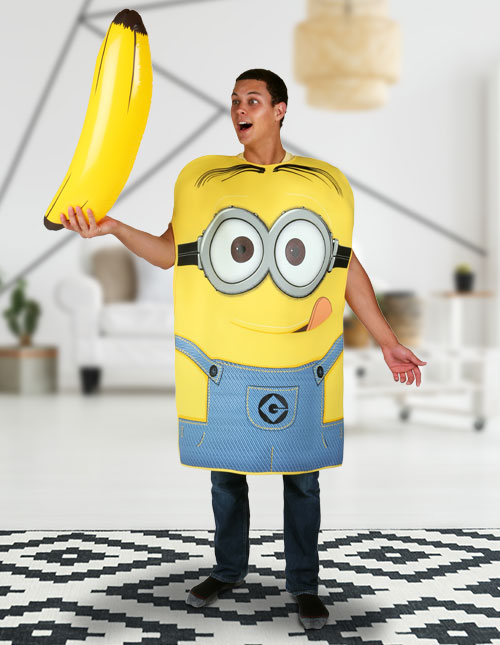 Is there anything a Minion wouldn't do for the taste of a banana It's their favorite fruit AND their favorite word. Just the mere mention of "banana" drives a Minion wild! Prepare for chaos to ensue until their banana hunger has been satiated…it may take a while.
Minions Party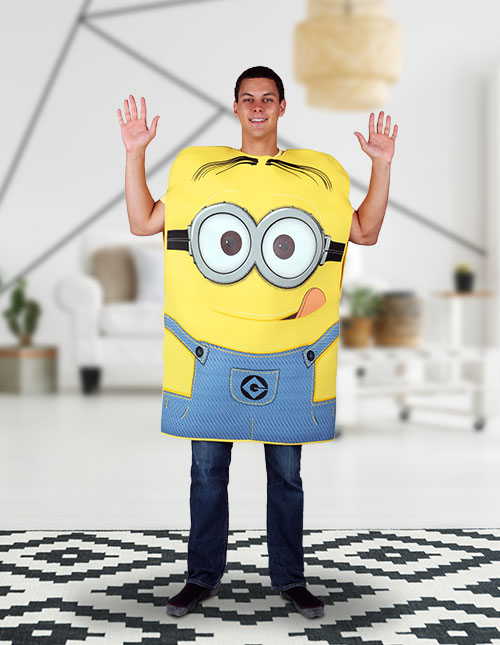 Minions are a personification of enthusiasm and excitement. These traits cannot be contained when you get out on the dance floor! To showcase your best moves, simply put your Minion hands in the air and wave 'em like you just don't care. If you're ready to rock without any props, somebody say "oh yeah!" OH YEAH!
Minion Chef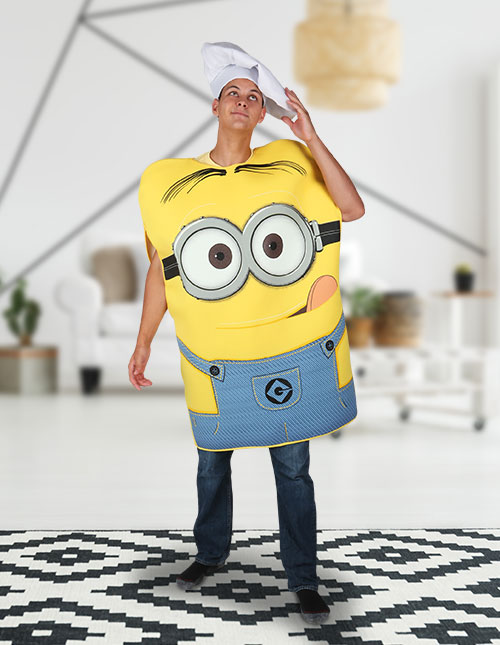 This alter ego is typically Dave's thing—he's a great chef (with so many mouths to feed)! Full disclosure: Dave's also a little clumsy, so maybe you'll want to steer clear of all kitchen gadgets that can cause harm. A knife, blender, boiling water…everything is simply more dangerous when Dave is around.
Minion Fireman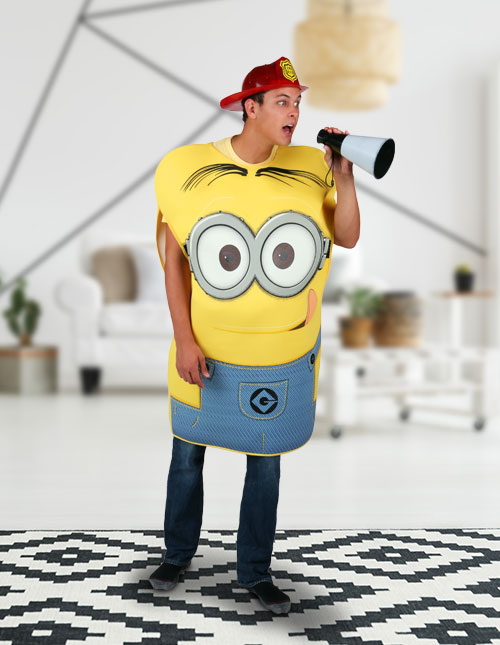 "Bee-do! Bee-do!" Teachers across the globe dread "fire drill day" on account of Carl from Despicable Me 2. The nice thing is that you really only have to know one word to stay in character so you can focus on other things, like whether your bullhorn is loud enough. Top off this look with a fireman's hat and strike fear in educators everywhere.
Despicable Me Villain Costumes
The villains always appeal to us. Maybe it's because they're courageous enough to go against the grain and do what they want to do, or maybe it's because the villains always have so much fun. Either way, these Despicable Me villain costumes are delightfully cartoonish, over-the-top and fun to wear. While wearing the Balthazar or Gru costume, scheme with fellow villains or just take it easy and relax. Remember, villains always do whatever they want.
Balthazar Bratt Costume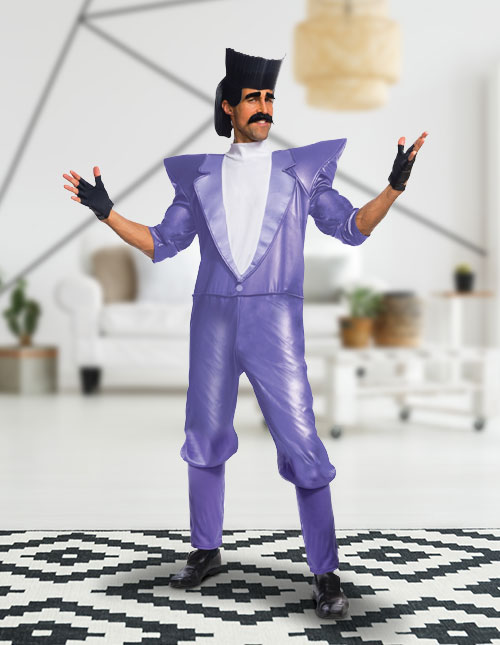 No one combines evil with fashion like Balthazar Bratt. He's a schemer with a sense of style, plus he knows how to have fun. Wear the Balthazar Bratt costume and chew some bubblegum, do the moonwalk, and try to steal a yacht if you want. This costume comes with a jumpsuit, headpiece, pair of eyebrows, mustache, a pair of fingerless gloves and a guaranteed good time!
Dru Gru Costume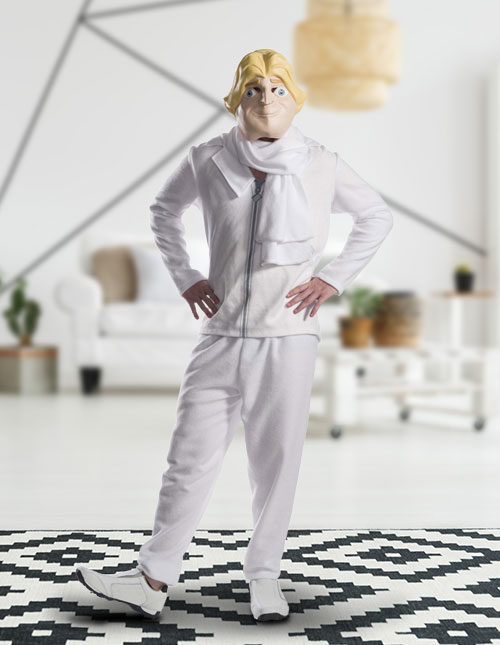 Assemble your own Anti-Villain League! This Dru Gru costume can help with that. Dru, Felonious' blonder, richer brother was an excellent addition to the Despicable Me 3 movie and his costume will also be an excellent addition to your Minion group costume. It even comes with a mask, so you'll have all of Dru's most distinguishing features, like wavy hair, blue eyes, and prominent nose. Your best friend can wear a Gru Costume and you two can get into a little bit of harmless trouble together.
Minion Quotes
Minionese, while it sounds cute, is much more than a baby-like version of the English language – it actually is rooted in a bunch of different languages, including Spanish, Italian and Japanese. You didn't know you were multi-lingual until you started understanding what the Minions were saying, did you? Let us go on record by saying that we're not sure if you can add "Minionese" to your resume (unless you're applying at Universal Studios), but it will come in handy when you are trying to stay in character at your next Halloween party.