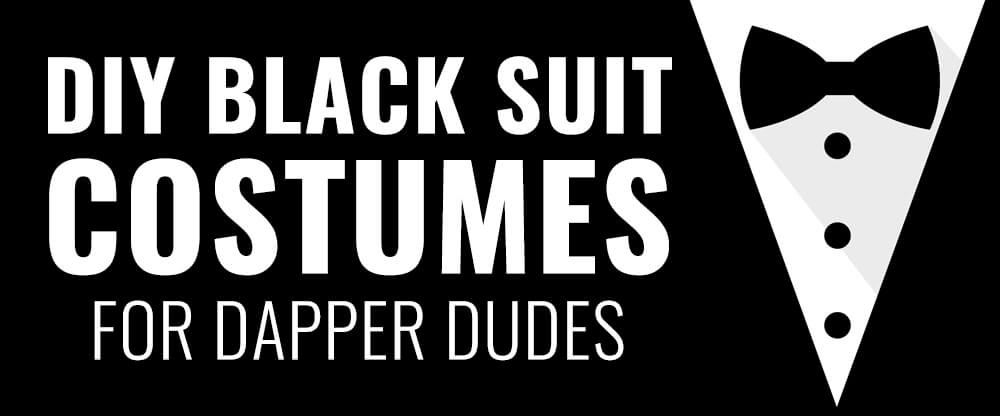 Finding the perfect guy's costume for Halloween can be tough, but it's certainly not impossible. Maybe onesies and spandex jumpsuits aren't your thing. Perhaps you want to keep up a more professional look or have the ability to take the accessories off and look business-appropriate in a pinch, even on Halloween. You could even be one of those guys who feels the most comfortable in his suit. We're not here to judge you—we're here to give you some black suit costume ideas so that you can look and feel your best! Check out these devilishly dapper (and simple) costume ideas you can toss together with your favorite black suit.
1. Clark Kent Costume

It's a bird! It's a plane! No, it's Superman! With a character as conspicuous as DC's Superman, he needs an alter-ego to blend in with the crowd when he's not doing superhero work. Cue Clark Kent, probably one of the easiest costume DIYs ever if you have a black suit on hand. Make sure to wear regular business attire like a dress shirt and matching necktie, along with a pair of large, nerdy glasses. You can even wear a Superman shield logo shirt underneath and pop a few buttons with your tie askew to look like Clark mid-transformation. Also, should you not be blessed with black hair, we have a black wig perfect for the nerdy reporter.
2. Peaky Blinders Costume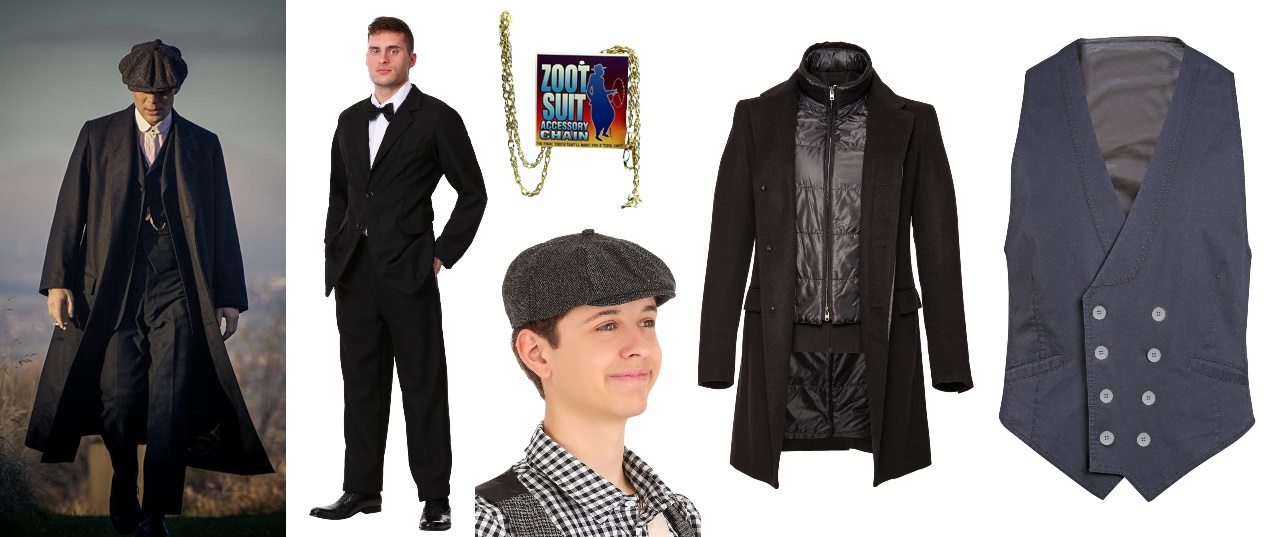 You'll look tough as nails dressing as any of the Peaky Blinders gang. However, if you want a great group costume for you and your mates that's relatively easy to pull off, this is it. In addition to your black suit, you'll want a black or dark gray overcoat and vest, a newsboy cap and a chain. (If you happen to have an authentic pocket watch on a chain, that's even better!) Don't forget to wear your suit jacket open so you can see the vest underneath.
3. Men in Black Costume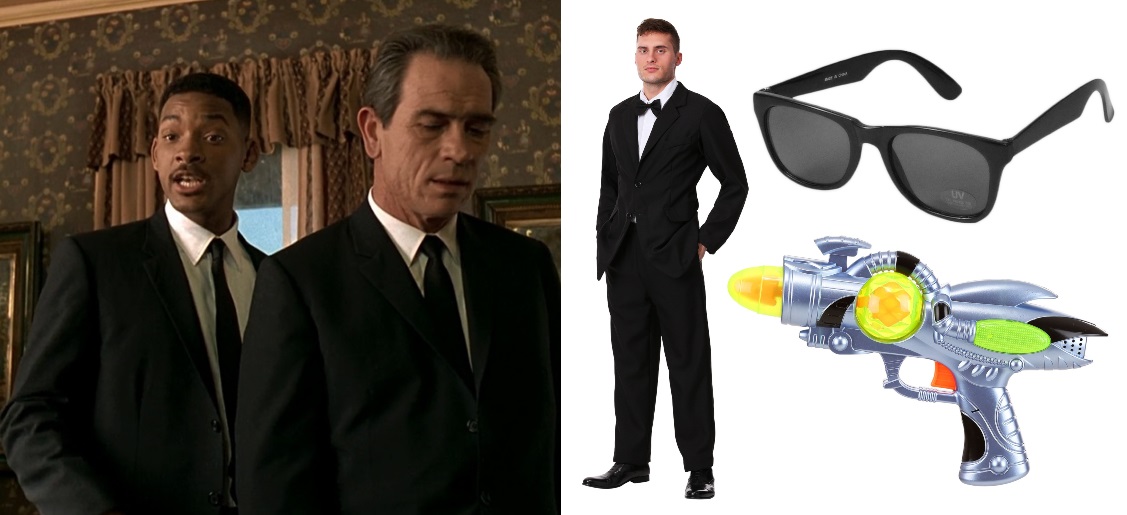 If you want a black suit Halloween costume that's out of this world, why not make a DIY Men in Black outfit? With your trusty black suit and a skinny black tie, you're most of the way done with your Halloween costume already! However, if you want to set yourself apart from looking like a secret agent or one of the Blues Brothers (who we'll get to later), you need an alien gun. They use alien technology to help keep the peace between humans and aliens. Also, if you happen to have a silver pen on hand, you might be able to pass it off as a neutralizer while you slide on your sunglasses.
4. Gangster Costume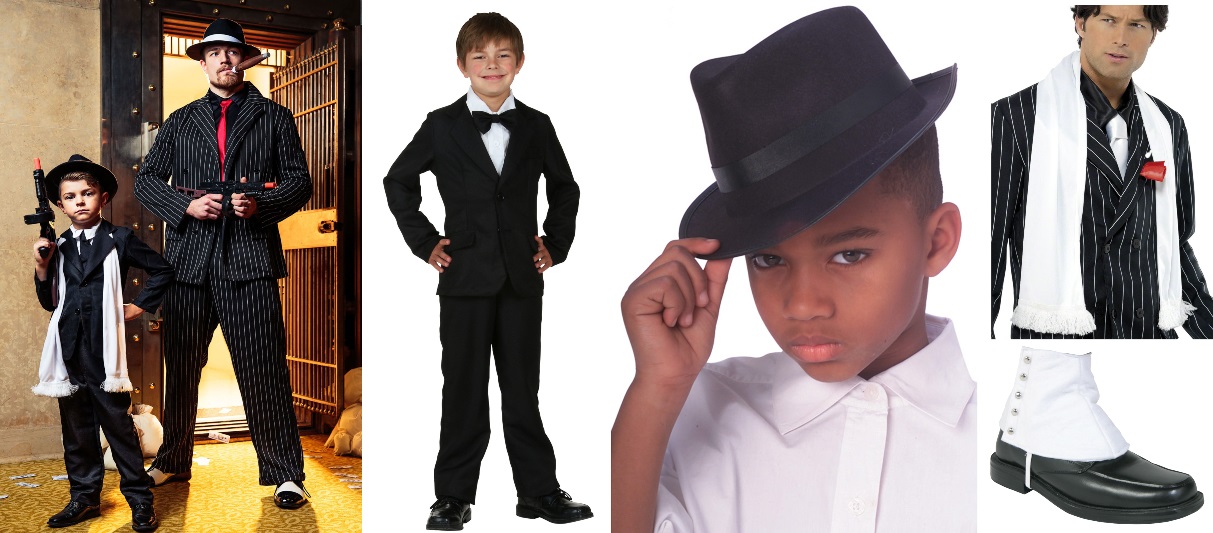 Black suits are versatile articles of clothing, but we'd like to argue that the quintessential gangster costume is also extremely flexible. Adding a fedora and spats to your suit will give people the idea already, but there are other accessories you can add if you'd like—scarves, Tommy guns, fake cigarettes, gangster shoes, suspenders—need we say more? You can even find gangster accessories to match with gray, brown or whatever suit color might suit your fancy.
5. Pulp Fiction Costume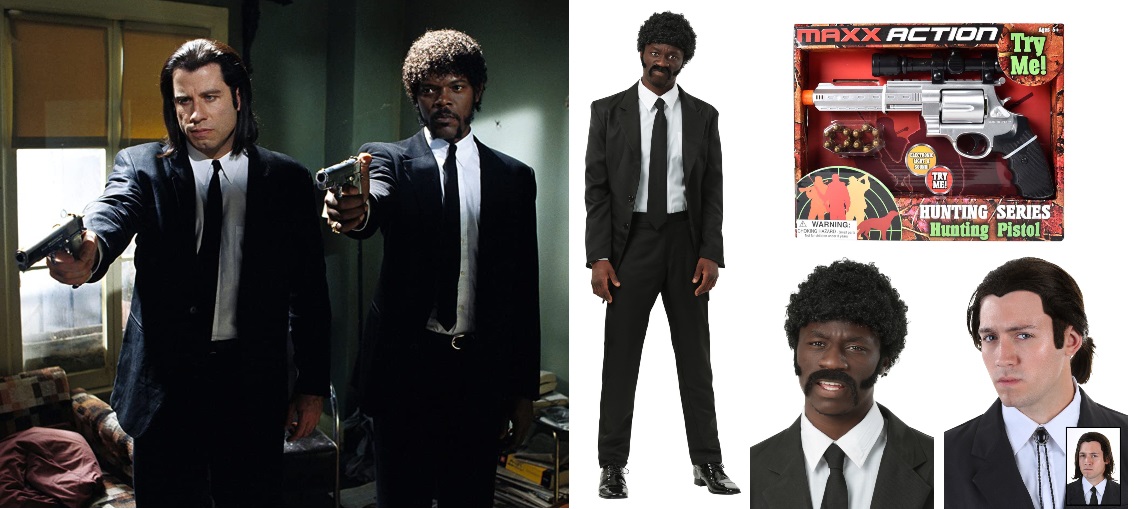 Get ready to look like a smooth criminal. Jules and Vincent aren't saints by any stretch of the imagination, but this duo is iconic for movie-lovers. Whether you want to dress up in costume by yourself or with a friend, the key to making a Pulp Fiction costume is getting the hair right. What would Jules be without his sideburns or Vincent without his shoulder-length locks? Once you have the hair and suit, you just need a prop gun to tie it all together along with a few punchy quotes.
6. Blues Brothers Costume

Simply the perfect duo costume idea for guys, Jake and Elwood are masters of making everyone break into song. (And running into other musicians!) The combination of their black suits, fedoras and sunglasses makes them instantly recognizable, but it wouldn't hurt to have a microphone or maybe a harmonica on hand. Just make sure to crank the Peter Gunn Theme in the car as you drive to the Halloween party!
7. James Bond Costume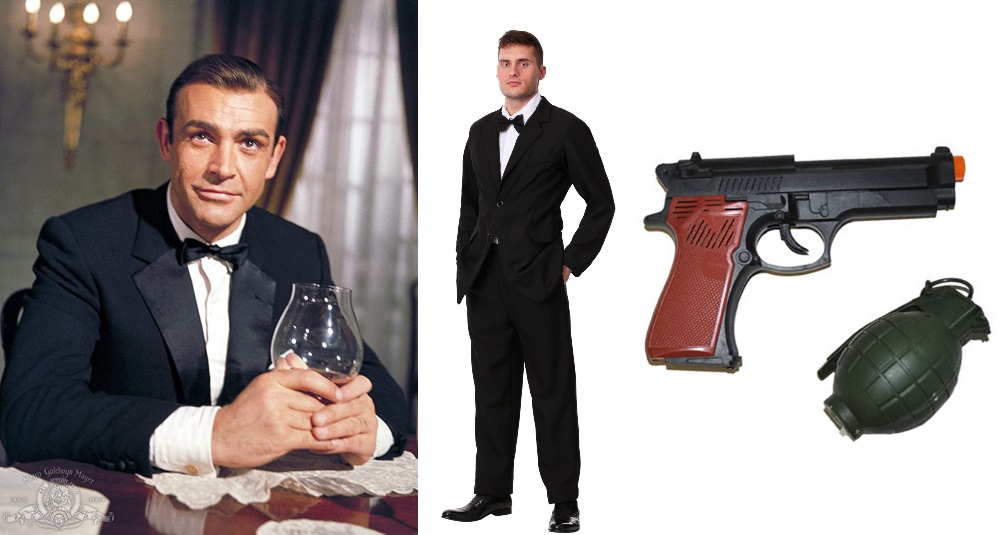 A martini, shaken, not stirred. Although he appeared to be a simple everyman, it simply suited his work as a secret agent. You shouldn't need too much beyond a black suit and bow tie yourself in order to pull off a James Bond costume, other than perhaps an arsenal of quotes and Bond's gun. If you're not a big James Bond fan, these costume accessories will still help you pull off a DIY secret agent costume.
8. Charlie Chaplin Costume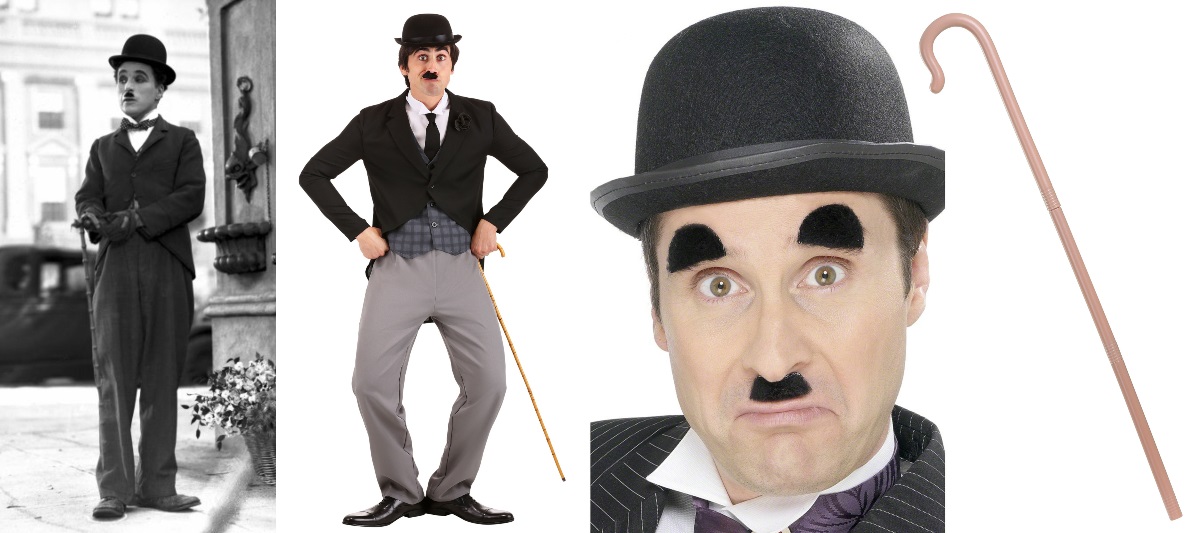 While the world of black and white movies may feel like part of a bygone era, the image of Charlie Chaplin has endured. With a black suit, some faux facial hair and a walking cane, you can transform into this beloved comedy master. (If you decide to shave for this occasion in order to avoid the adhesive mustache, kudos to you, good sir!)
9. Lex Luthor Costume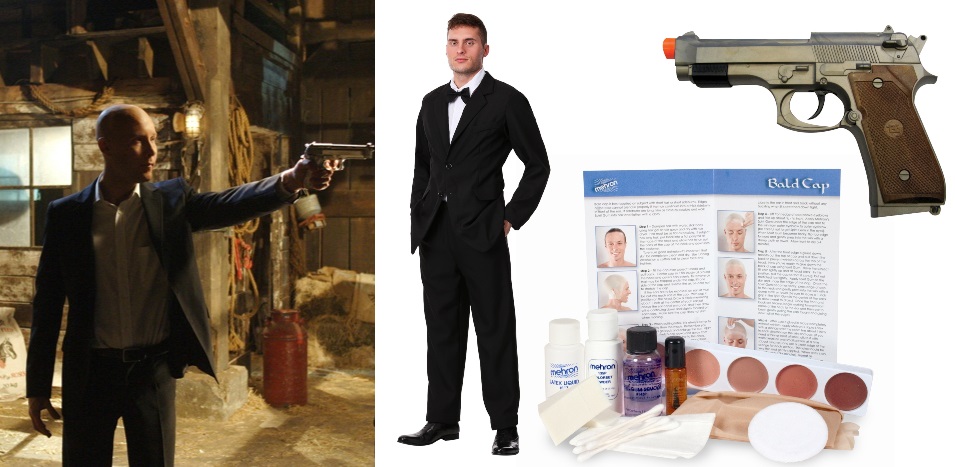 Superman as Clark Kent already made this list, but his adversary is also well-known for wearing suits. (Well, that and for being bald and always finding way too much kryptonite.) If you're not already a bald dude looking for a costume, you're going to need a bald cap kit in order to get the look down. We also highly suggest turning this into a pair costume by finding a friend willing to go as Superman! Also, if you can pull it off, try to bring along a piece of kryptonite to complete your costume.
10. Beatles Costume

The fab four have certainly had their array of iconic looks, and that includes rocking black suits on more than one occasion. Sometimes they matched, while other times they didn't. You could have one of your buddies wear a black turtleneck under their suit like George, or a sweater vest over a darker undershirt like Ringo. Maybe even put on a black cap like John! The key to a great Beatles costume is, of course, the hair. A guitar wouldn't hurt either, although unless you have a Rickenbacker guitar lying around at home, it's probably cheaper (and lighter) to get an inflatable guitar prop. Simply the best group of 4 costumes around, your friends are going to rock the town on Halloween!
11. Billy the Puppet Costume

Probably the least dapper dude on our list of black suit costume ideas, Saw's Billy the Puppet is not a character you want to encounter. With a black suit, red bow tie, white gloves and his iconic makeup, this easy costume DIY is sure to scare the pants off anyone. If you really want to take it up a notch, rent a tricycle and ride around town. It will be a Halloween the neighbors won't forget!
12. Professor X Costume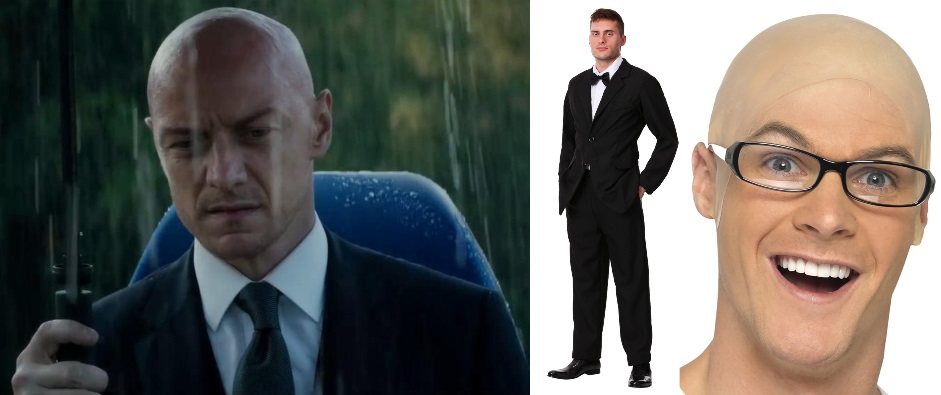 Professor X is well-known in the Marvel universe as the most powerful telepath. A relatively easy costume to put together, you just need a black suit, his chrome dome (either natural or done with a bald cap), and a wheelchair. Sure you probably won't be able to get his nifty flying sci-fi chair, but if you are wheelchair-bound, Professor X is a great wheelchair costume idea!
13. Mr. Monopoly Costume

Mr. Monopoly, also knows as Rich Uncle Pennybags, has been on the board game scene for decades. (He's rather inescapable, really.) The key to a DIY Mr. Monopoly costume is obviously the black suit, paired with a top hat, red bow tie, walking cane and his handlebar mustache. You could even up the ante by handing out monopoly money!
We hope you have plenty of ideas for turning your black suit into an easy costume DIY! Even if you don't have a black suit on hand, we have costume suits that work just as well. We also have other great tutorials, like DIY White Suit ideas or Little Black Dress ideas! Were you looking for a good costume idea for the office? Are there any other characters that you feel like we missed? Please take some time to let us know in the comments below! As always, don't be afraid to try something else. We have tons of costume accessories to help you make your DIY Halloween costumes a reality.