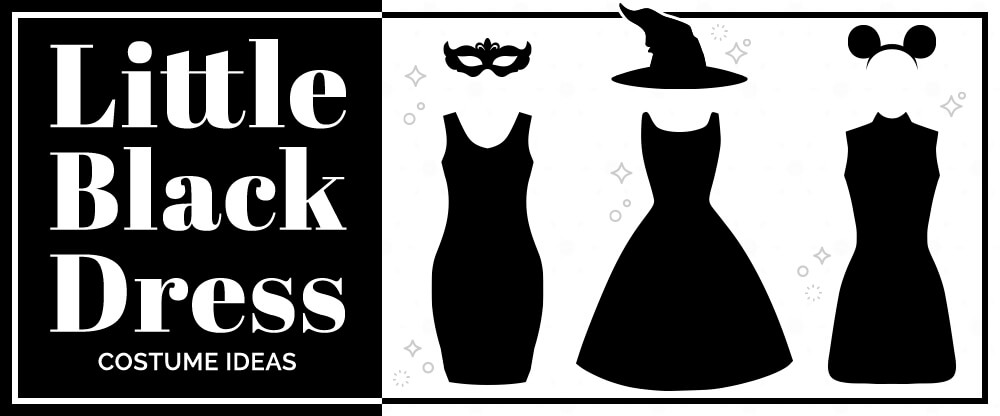 Do you have a little black dress laying around? If you do and are in the market for a last-minute Halloween costume idea, here are some quick and easy little black dress costume ideas to get that lbd to work for you! (Plus, these women's DIY Halloween costumes are soooo cute.) By incorporating some inexpensive costume accessories into your wardrobe, this little black dress costume can take you from the weekend before Halloween, to All-Hallows-Eve, to the Halloween after parties.
1. Cat Costume Ideas for Little Black Dresses

You can't mess with a classic Halloween costume idea! All you need for this black dress costume is an awesome set of ears, a tail and really cute cat makeup. (Bonus points if you're going with cat-eye eyeliner!) Check out this super inexpensive ear/tail set, or perhaps you'd like to add some furry boot covers or use sexy nail gloves. With these black costume accessories, you are sure the be the cat's meow!
2. Witch Costume Ideas for Little Black Dresses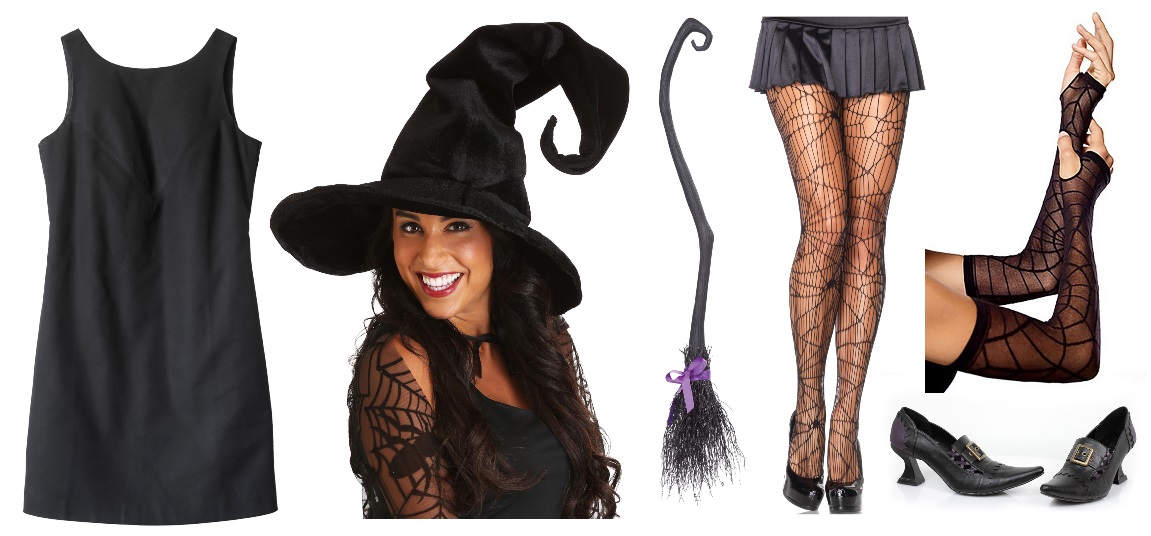 You can't fail with this cute and sexy costume idea, and your LBD is a great start to your DIY witch costume. All you need is a hat and broom to create a basic witch outfit. If you are feeling extra witchy, add other witchy accessories like gloves and tights! Don't forget to add some witchy, pointed shoes to top off your black dress Halloween costume.
3. Devil Costume Ideas for Little Black Dresses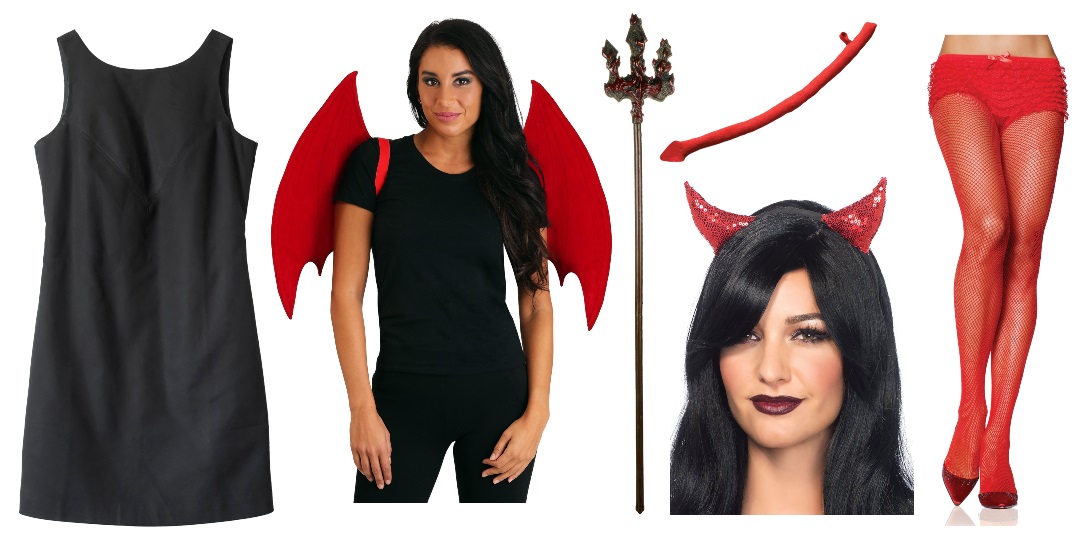 If you are feeling devilish this Halloween, take it to the next level and add a horn, tail and pitchfork to your LBD costume. If you are looking to add a little va-va-voom to your devil costume, throw a red petticoat under your little black dress and add some red stockings. Not only will you get a little more volume, but you can add this costume idea to your list of sexy DIY costumes.
4. Breakfast At Tiffany's Costume Ideas for Little Black Dresses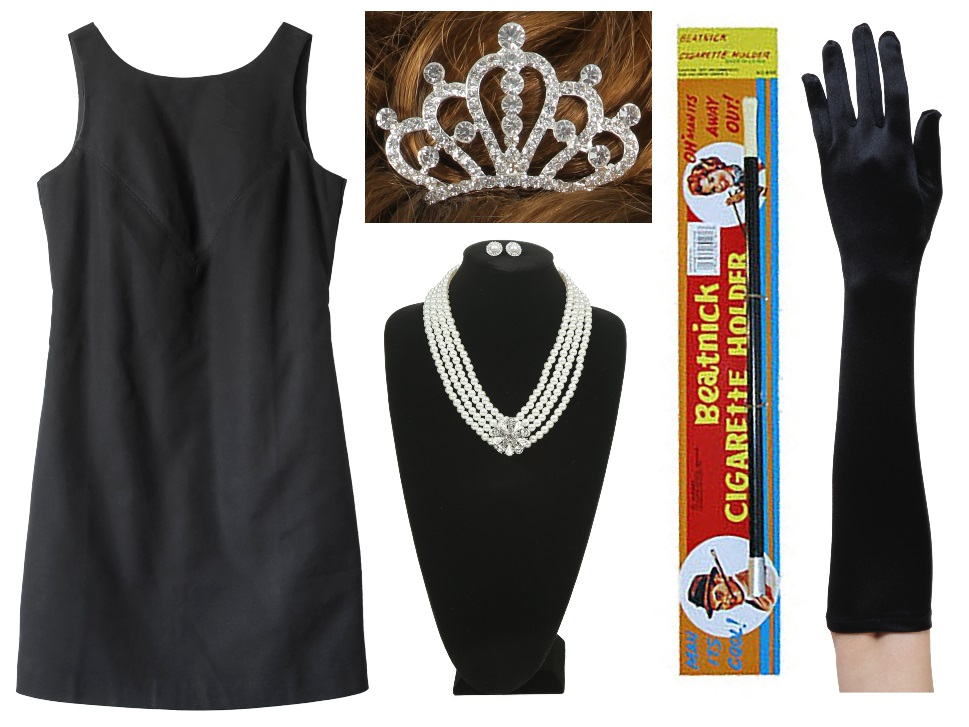 Audrey Hepburn is an old Hollywood legend and a classic beauty. What more could you ask for in a Halloween costume? Take your LBD straight back to the 60's for your "Breakfast At Tiffany's" inspired costume. Black gloves, pearls, cigarette holder, tiara, and lots of bling are sure to transform you into Ms. Hepburn. Add some voluminous false lashes if you are looking to achieve Audrey's bedroom eyes.
5. Librarian Costume Ideas for Little Black Dresses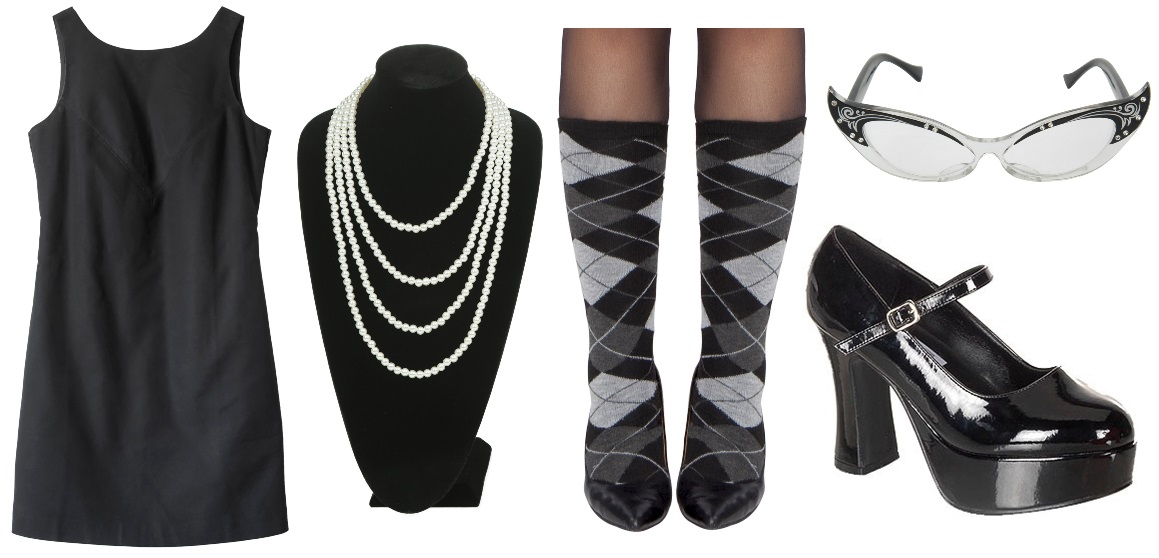 Looking to show off your brains this Halloween? Throw a white-collared shirt underneath your little black dress! Add some black frame glasses, argyle socks and opt for a slicked-back bun. Don't forget to carry a few books and shush everyone for excessive noise making. If your LBD is on the slinky side, this look can make for a great sexy costume DIY!
6. Zombie Costume Ideas for Little Black Dresses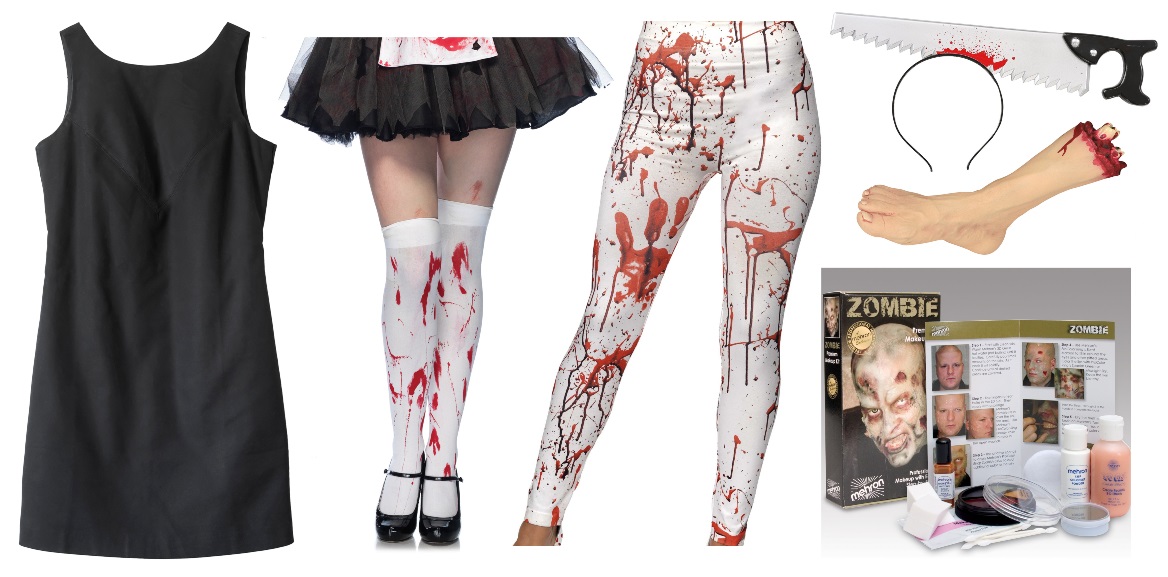 If Zombies are more your style, pick one of your little black dresses that can get a little dirty. Start off with some deadly zombie makeup with this SFX makeup kit. Add a wig, bloody accessories and possibly some body part props that are sure to freak out party-goers! Make sure to rip your dress up a bit and add some blood. You wouldn't be a proper zombie without a bit of a mess!
7. Black Swan Costume Ideas for Little Black Dresses

If you think you can pull off Natalie Portman's crazed ballet dancer from Black Swan, try out this LBD costume that is sure to get rave reviews! To achieve the ultimate dancer look, add a black tulle tutu. To transform into a true ballerina you'll need to add a few more accessories. Add a tiara, plume eyelashes, and white base makeup. Don't forget that crazy eyes are a must for this look! If you wanted to step outside the box on this costume, you could also go Black Swan post-stabbing. A Black Swan Zombie would be a great alternative for any zombie lover!
8. Police Officer Costume Ideas for Little Black Dresses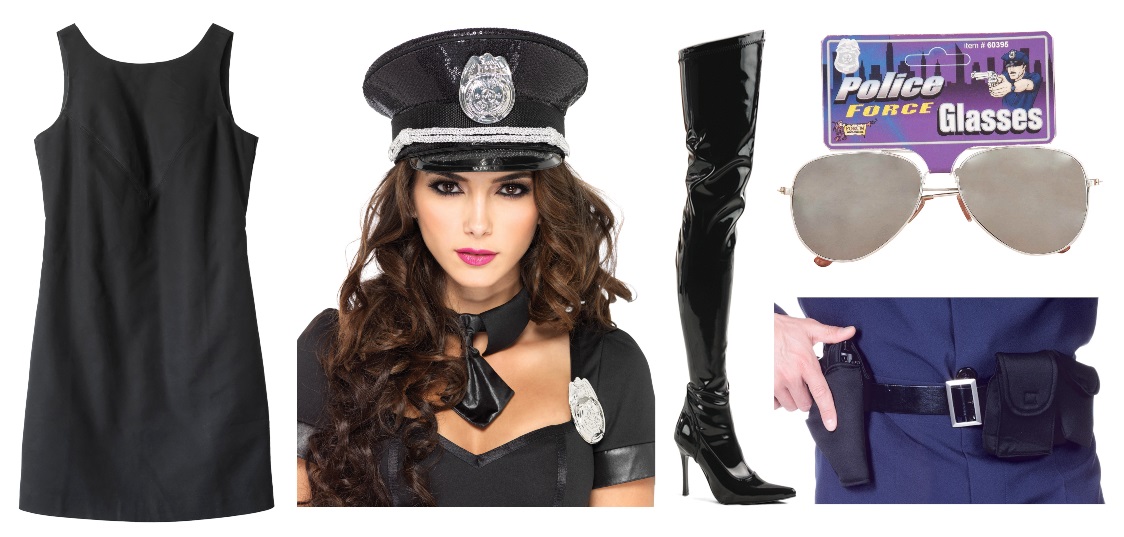 Break the law this year with an ultra-sexy cop costume. Make sure to add sexy boots, a police hat and a police badge with your little black dress outfit. Throw a cop belt around your waist that holds all your necessities like handcuffs, a gun (if allowed) and a nightstick. Before Halloween, make sure to brush up on all your police lingo by watching some cheesy crime dramas. You will impress everyone by knowing your Miranda Rights!
9. Pirate Costume Ideas for Little Black Dresses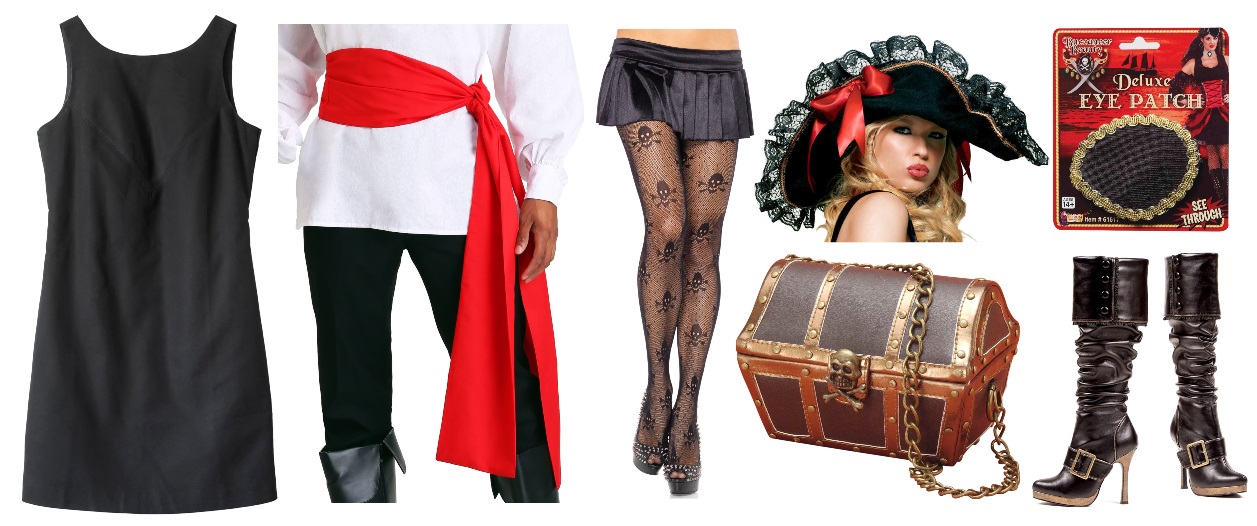 Arrgghhh! Looking for swashbuckling fun this Halloween? Add a hat, sword and eyepatch to your LBD costume idea. If you want to spice up your dress, add a red sash or belt around the waist for definition and color. Don't forget to brush up on your pirate lingo either— your accent needs to be just as convincing as your Halloween costume!
10. Minnie Mouse Costume Ideas for Little Black Dresses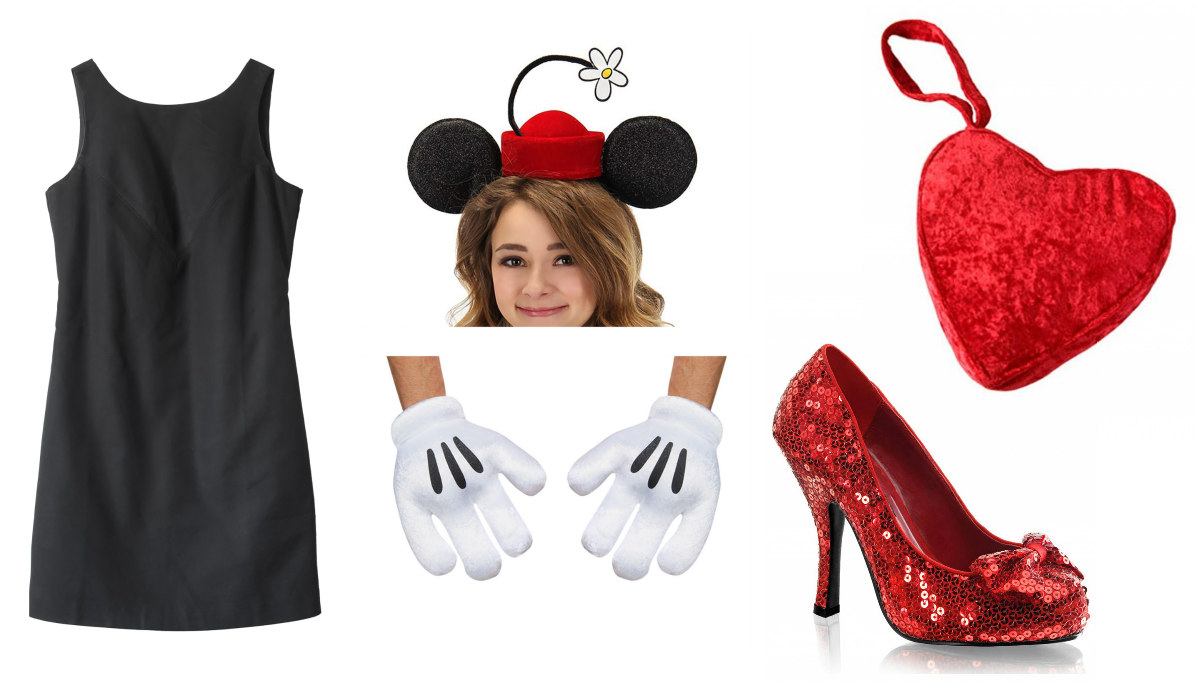 Minnie Mouse is a cute and classic Disney costume for any Halloween goer! If you are looking to make your costume a little edgy, choose your little black dress wisely! Minnie Mouse can be a great sexy little black dress costume. However, if you want to go classic, you're free to explore that route too. You'll need a Minnie Mouse ears headband, white cartoon gloves and red glitter shoes to top off your look!
11. Cruella de Vil Costume Ideas for Little Black Dresses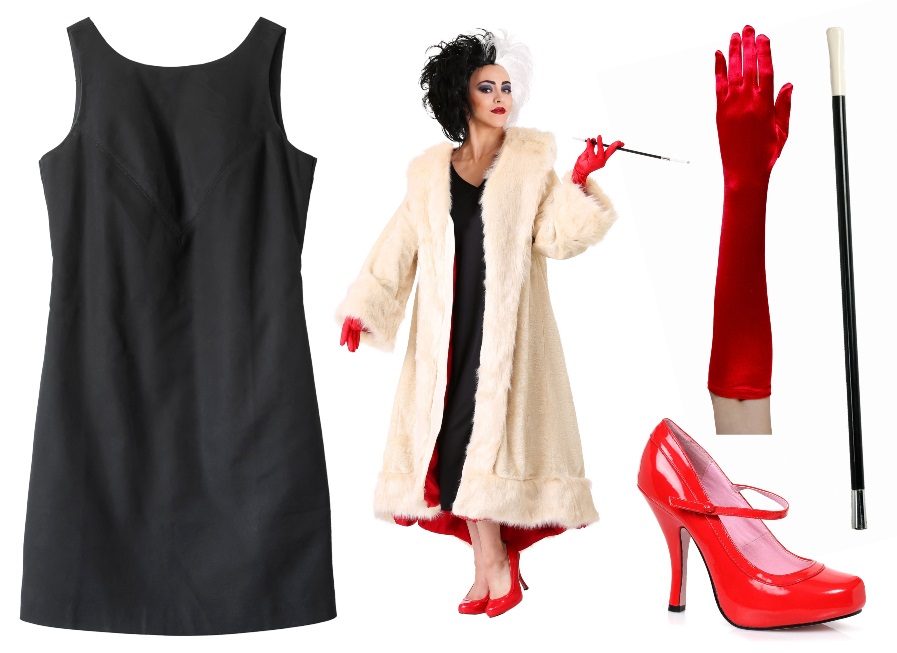 Don't think that you can only create one Disney costume with your favorite little black dress! As a woman of high fashion, Cruella de Vil doesn't leave home without her LBD. All you need is a white or ivory faux fur coat, red heels and gloves, and a fake cigarette holder. Cruella's hair can be done with either a black and white wig or some colored hair spray. This is a killer LBD costume idea that your friends will be jealous they didn't think of it first!
12. Vampire Costume Ideas for Little Black Dresses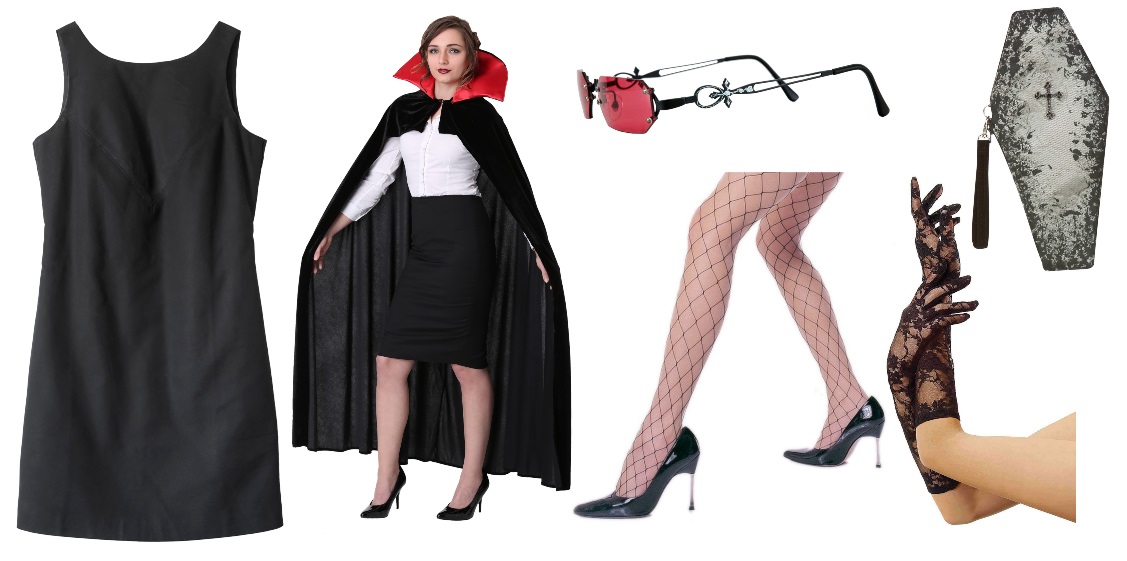 There are so many ways you can take your dress and turn it into a vampire outfit. You can go straight-up classic with a popped collar and fangs, or you can go goth with big, chunky buckled boots and wire-framed glasses with red lenses. It doesn't hurt to add even more costume accessories to your vampire DIY costume such as fishnet pantyhose, purse accessories and gloves. This is one last-minute Halloween costume idea that doesn't suck.
13. Creepy Doll Costume Ideas for Little Black Dresses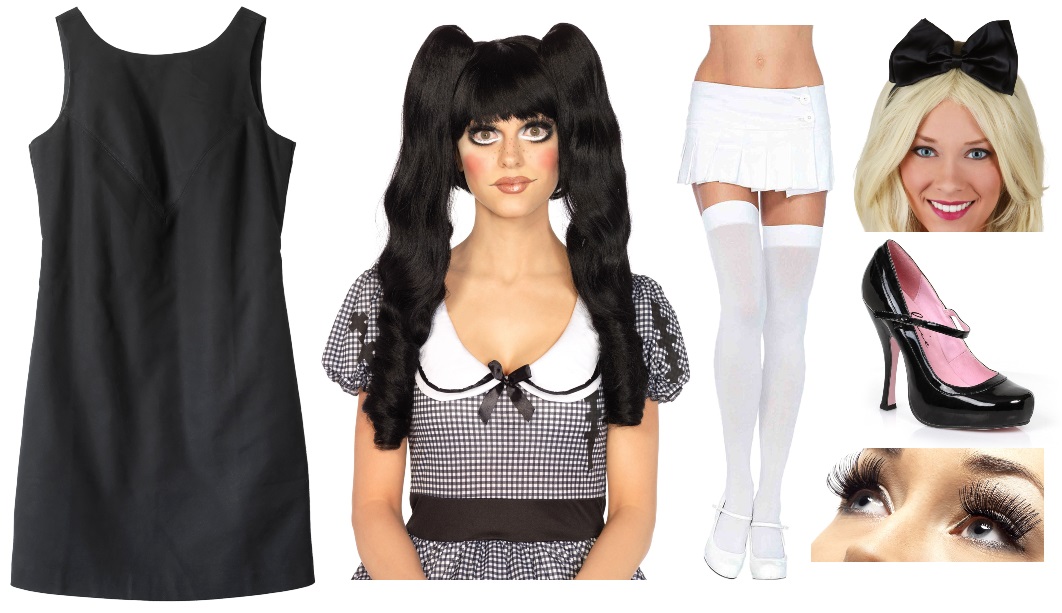 Porcelain dolls are the perfect creepy/cute mixture for a scary LBD costume idea. Wigs are essential to giving you that doll look, but items like fake eyelashes and makeup can help to make you look more doll-like. Baby doll heels are the perfect replacement for doll shoes, and stockings and hair bows are common doll accessories that you can add to your DIY doll costume. If you really want to up the ante to make your Halloween costume creepy, use makeup to give your skin a cracked doll appearance.
14. Fallen Angel Costume Ideas for Little Black Dresses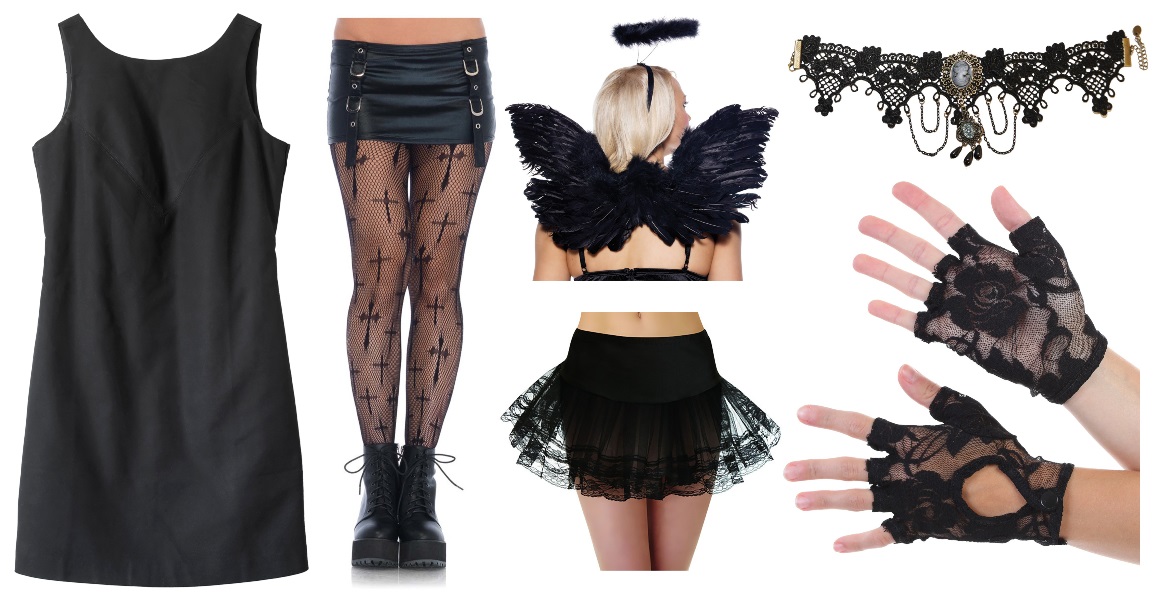 While you might get more "did you fall from heaven" pick-up lines than you can shake a stick at, a fallen angel is a great DIY sexy costume idea. Ultimately, your little black dress dictates exactly how sexy you want to go, so you're fully in control of your Halloween outfit. The black angel wings and halo are essential to this costume, but you can feel free to add as many black costume accessories as you want! Feathers and lace look great together, but you can choose the style that suits you and your little black dress the best.
15. Grim Reaper Costume Ideas for Little Black Dresses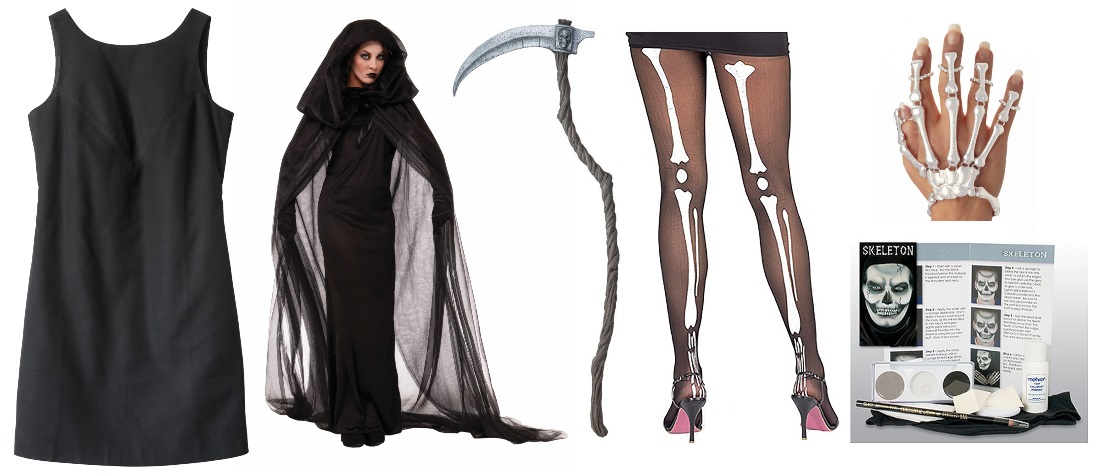 Add a feminine touch to a grim reaper costume idea with these costume accessories when you add them to your little black dress. No one will accuse you of throwing together a sloppy last-minute costume when you're this coordinated! The grim reaper is usually depicted as a skeleton with a long, black hooded cloak and a scythe, but you can do better. Wear women's skeleton costume accessories like skeleton tights and a skeleton hand bracelet along with some killer feminine skeleton makeup. You'll look drop-dead gorgeous!
16. Maleficent Costume Ideas for Little Black Dresses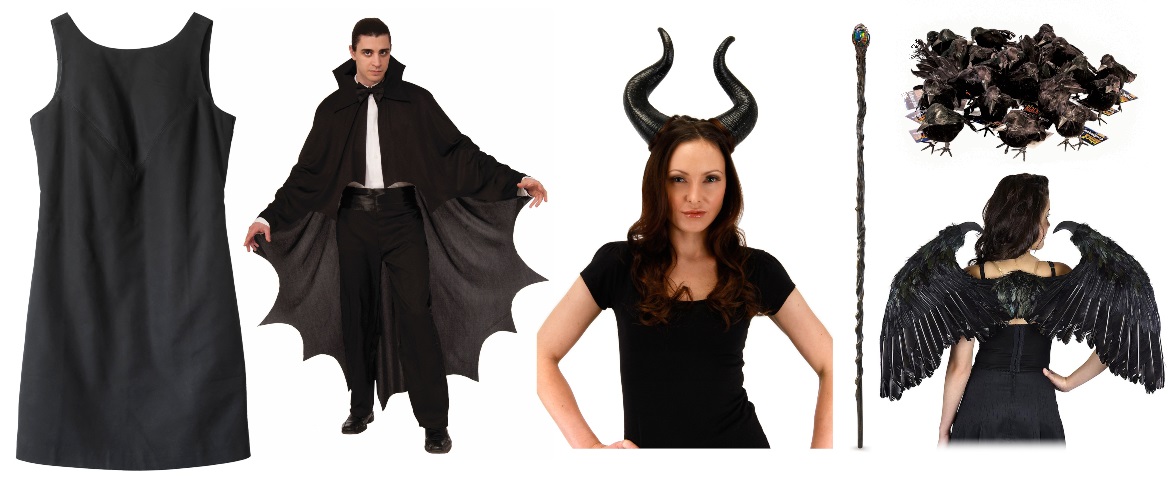 You might need to choose between wings or a cape for your DIY Maleficent costume, but as a famous Disney villain, Maleficent is a solid choice for a LBD outfit. Wear her curved black horns and wield a magic staff, and you're well on your way to becoming everyone's favorite evil sorceress. You can also add a black crow accessory onto your staff or wear it on your shoulder for extra Maleficent vibes. The key to pulling this look off is some wicked contour makeup— her cheeks are so sharp, they look like they could slice through a roast!
Take these DIY costume tips and make a great Halloween costume. Your little black dress (and your wallet) are sure to thank you! Do you have any other great little black dress Halloween costume ideas? Feel free to give a shout-out to some other black dress costume ideas in the comments, and we might just add them to our master list! You can always check out our other costume accessories for more easy DIY costume ideas.